Since blade plays a key role in managing control over the ball and predicting its trajectory, it is important to choose the best one available. With the help of vibrations and sensations from the contact with ball, a good blade enables the player to assess if the shot was executed correctly.
The right blade can be a game changer in many ways, as, if chosen according to the player's style, it can lend power, control and speed to the player. In this article, we review one of the most top-rated blades of all time, Butterfly Viscaria.
This blade is well-known and lauded among the table tennis universe. It has been used by the Chinese player Zhang Jike, who has bagged several records, including two world championships and one world cup. Let's dive into the specifications of this blade and see what makes it to special.
Butterfly Viscaria Specifications
Our Rating: 4.9/5.0
Price: $$$
Made in: Japan
Class: OFF
Style: Attack
Speed: 9.0
Control: 8.8
Head Size: 157x150mm
Thickness: 5.8mm
Plies: 7
Material: 5 wood plies; 2 Arylate-carbon
Flared Handle Size: 100x25mm
Weight: 87g
Reaction: 118
Vibration: 103
Who is this Blade for?
Viscaria is a fast blade that is designed for offensive to all-round attackers. If you are someone who desires a lot of power yet control, this blade is just for you.
However, due to the advance technique required, this blade is not for beginner.
As the blade offers powerful strikes, it is suitable for players who have had at least three years of experience in professional level play. Moreover, quick follow-up is needed to play with this blade.
Therefore, if you are someone who misses more than one opportunity to hit the ball, this blade is not for you.
This blade is specifically designed for compact looping style of play, which is significantly different from the big arm movement. Once you understand your playing style, how the blade works, and figure out if its suitable for you, you can perform powerful shots with a very compact arm movement.
This blade is not for you if you play away from the table. The blade offers good control only close to mid distance, primarily due to its low trajectory. Is performs marvelously in close combat.
Why Viscaria?
Viscaria blade is unrivalled and considered the top 10 blades of all time. Therefore, it seems viable to see the blade's performance and what makes it so fine.
Balance & Spin
One aspect about which every player keeps talking is the blade's speed. Being an offensive type blade, it is heavy. However, it still lends a lot of control to the player, which is surprising for a powerful blade as this.
This aspect lends a lot of spin to the ball due to its great speed and less dwelling time. Overall, it's a very balanced blade. You can play topspins with much greater control with this as it offers a large sweet spot.
Elasticity
One great quality of this blade is its flexibility. It has a slightly soft feel, which is at the same time very hard on the strikes. This gives the player more sense of precision over the ball, as one is able to execute right strokes; catching the ball just in time.
Vibrations
A good blade enables the player to feel vibrations and sensations from the hit, which helps one predict the trajectory of the ball. However, it also must have the right amount of vibrations as well.
Viscaria has the correct balance of shock absorption as well, so that minimum energy is dissipated. This means that more energy is used in strikes and less is wasted.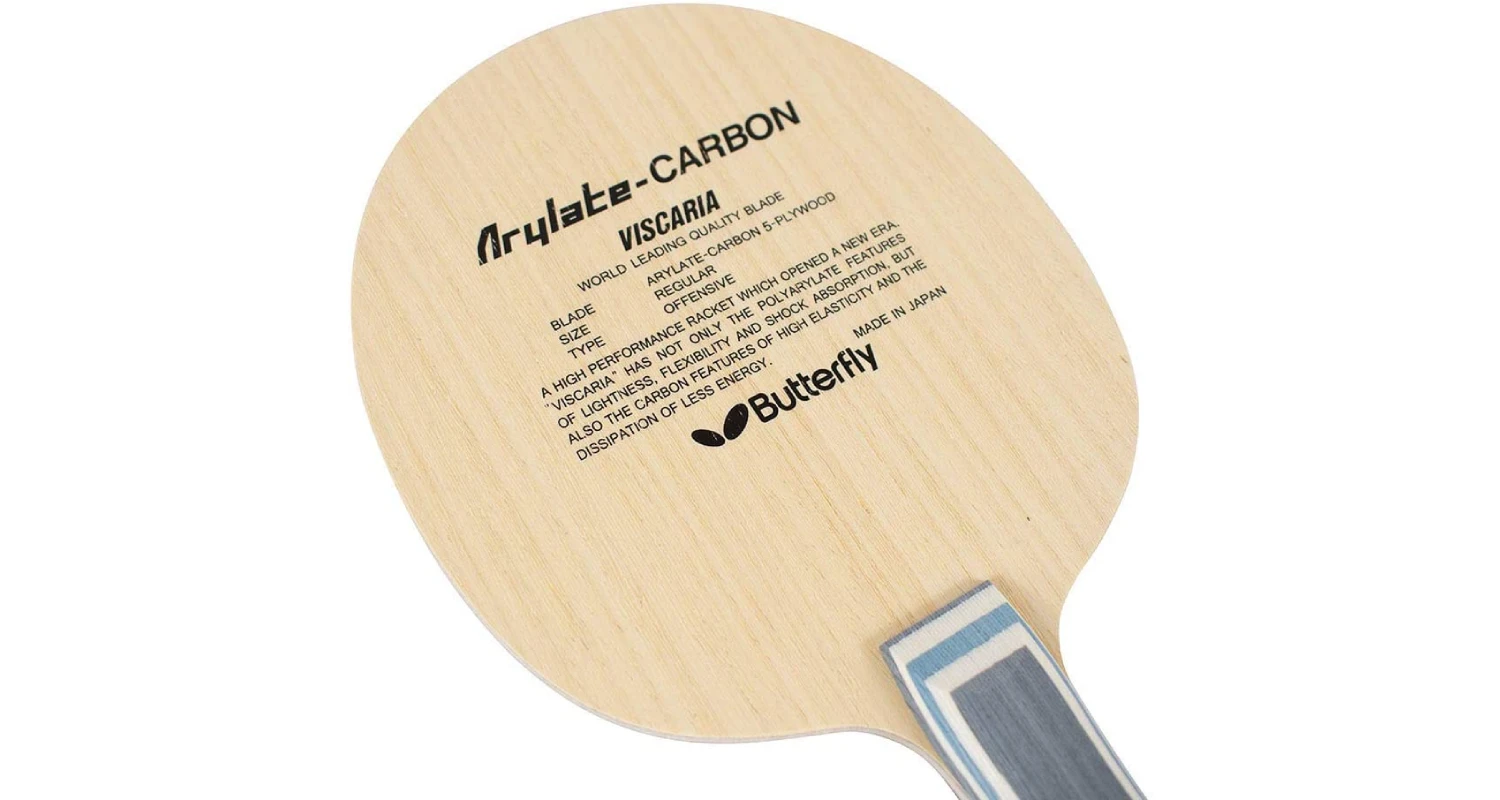 Cons: What to Consider?
Low Trajectory
This is one aspect about which players complain most often. The blade's low trajectory makes it difficult for the players to adjust their technique accordingly. However, with the right amount of practice this hurdle can be overcome. The blade is marvelous in other aspects, largely silhouetting this problem.
Price Range
Viscaria's current price is above $150, which is a lot. However, due to its durable construction and superior quality, the blade has a greater ability to fight damage and sustain its quality. It is therefore, an investment, especially if you are planning to take your game seriously.
Not for Beginners
As pointed out earlier, this blade is not for beginners as it requires a certain level of skill. If you are a beginner, you should look for less expensive blades that offer more control and less speed so that you can determine your playing style.
Our Rating: 4.9/5.0
We would rate Butterfly's Viscaria 9.8 out of 10 stars due to several factors including its superior Arylate construction and a perfect balance of speed and control. This blade truly has the potential to elevate your gaming technique and expertise over the sport.
The quality of the blade, it's feel and grip are top-notch. The only problematic feature is its low trajectory, which can be overcome with constant practice.
5 wood plies with two layers of arylate carbon are most suitable for offensive kind of play and lend a lot of spin to the ball. The handle's construction offers the perfect grip and feel. The blade has a soft touch, larger sweet spot and offers a lot of control.
The blade's advance construction offers a perfect combination of lightness, control and adaptability. Its powerful strikes grant the user the ability to execute strong/offensive attacks of all kinds. Its ideal size makes it easier for the player to adjust their position after every strike.
The balanced construction enables the player to apply extra spin on the ball, which makes it harder for the opponent to design the right combative strategy. Its solidity provides a stable yet powerful counter-effect on the balls.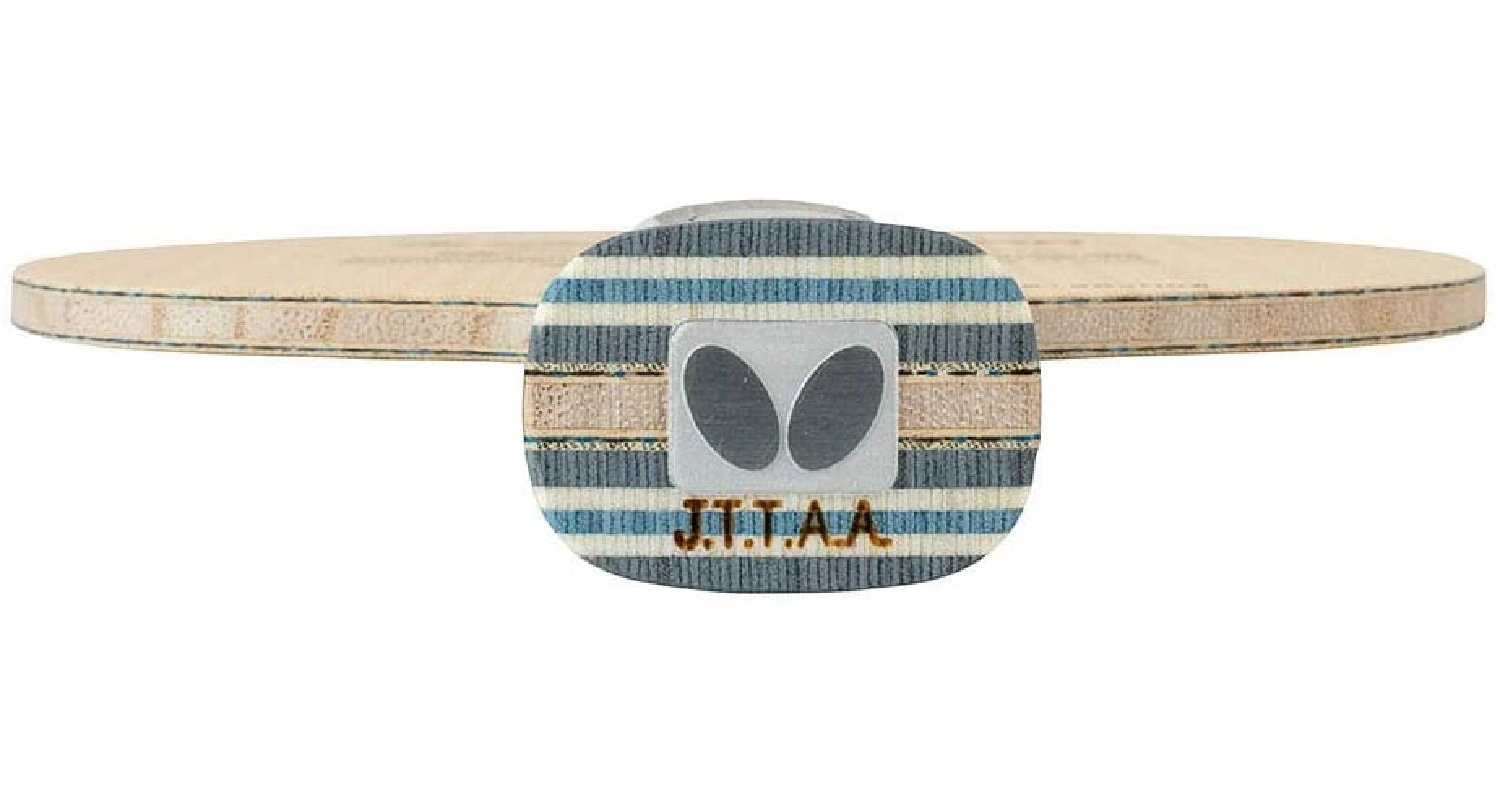 Conclusion
All-and-all, Viscaria is an ideal blade for intermediate to advanced players. If you are someone who is trying to bring your game up a notch, this is perfect for you. It enables one to generate good amount of speed and spin, without losing control.
This blade is more on the offensive side and is not ideal for either beginners or defensive style players. There are many aspects of the blade that we love–including its construction, speed and control—and would highly recommend it if you are looking forward to up your game.