The pandemic was a great example of a terrible time when you do not have a partner to play table tennis with. Even if you do, they might not be as good as you, or might be too good for you!
For this particular problem, and of course, for training, the world invented some of the best ping pong robots.
Today, we take a look at all you need to know about ping pong robots and take a closer look at some of the best ones in the market. These table tennis robots have been one of the most exciting inventions of recent time in the sport and they are bound to take your game to the next level!
Top Table Tennis Robots Overview
| Product | Name | Buy |
| --- | --- | --- |
| | Butterfly Amicus Prime | BUY |
| | Power Pong Alpha | BUY |
| | Paddle Palace A32W Pro | BUY |
| | iPong V300 | BUY |
| | Practice Partner Robot | BUY |
| | Power Pong Omega w/Tablet | BUY |
| | Chaofan 36 Spins | BUY |
| | LANFIRE Table Tennis Training Robot | BUY |
| | ZXMOTO | BUY |
| | Suz Table Tennis Robot w/ Net S201 | BUY |
How to Choose & Buy the Best Ping Pong Robot
First, it is important to know what you need to look for, in a table tennis robot.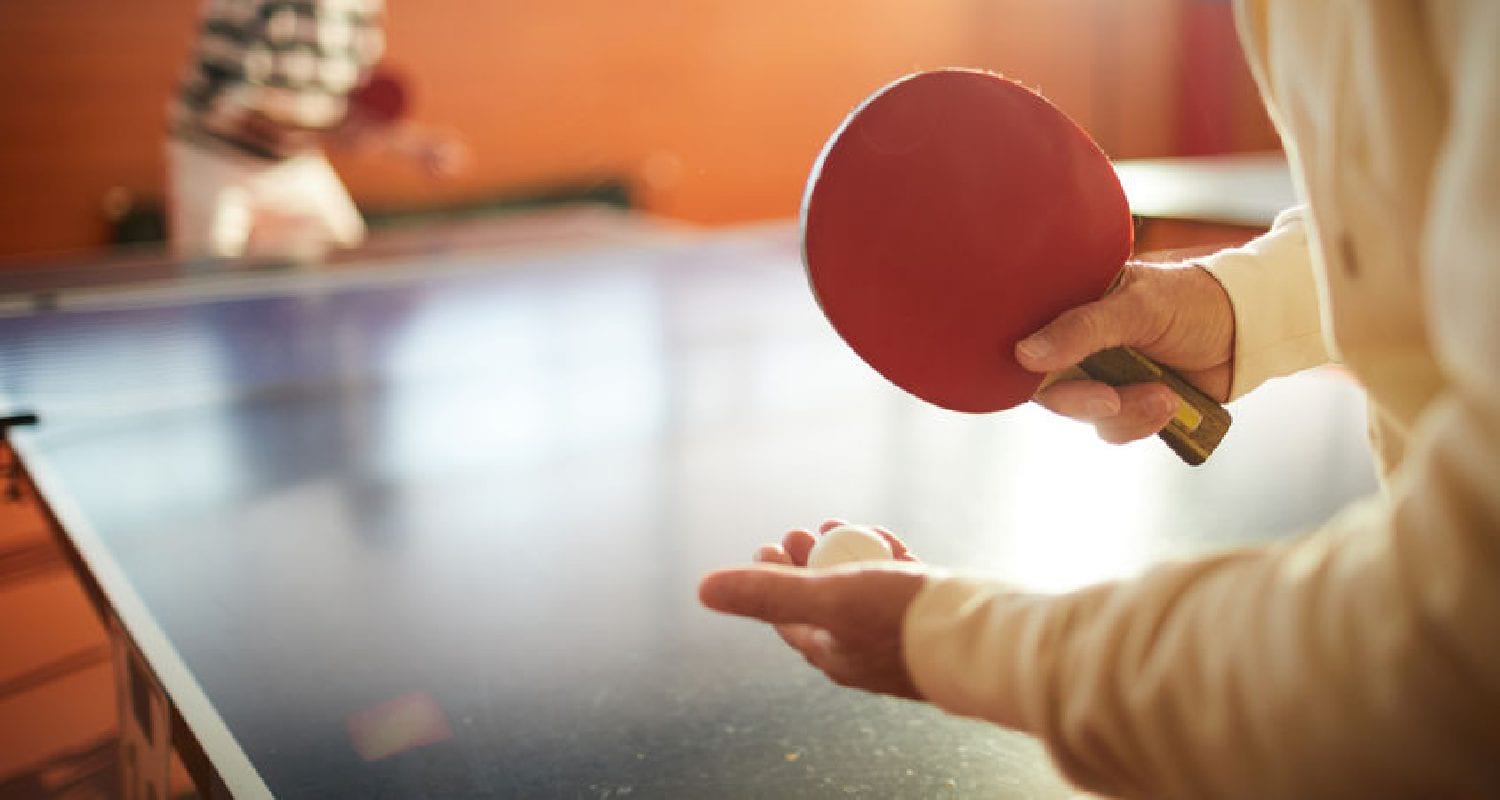 Ball Frequency
This indicates the number of ping pong balls that are served by the ping pong robot per minute. Frequency can vary from 30-80 balls per minute and at times it can even be as high as 100 balls per minute. For beginners, it is advised to look at the minimum ball frequency a robot has to offer.
Capacity
The capacity refers to the number of balls that can be held by a ping pong robot at one time. It can vary from 100 to 200 depending on the robot. A robot with a large capacity is usually very helpful and some advanced robots are accompanied by a recycling net that can collect and refeed the balls.
Spin
Most robots have seven different types of spin variations: no spin, top-spin, back-spin, side-spin, mix-spin, cork-spin, and serve. However, the basic models can generate lesser amounts of spin. Look for the one that suits your playing ability and need, the best.
Preprogrammed Movement/Drills
Some robots have preprogrammed drills that can be used for sharpening your skills. Advanced robots have greater options to choose from and vice versa. There are also provisions for adding your programmed movements.
Accuracy and Consistency
This is another factor to consider. The accuracy and consistency of the robot are measured by the ball placement which indicates where the ball will land. Again, the expensive robots offer better accuracy and consistency.
Remote and/or Mobile App
Some robots are remote-controlled, some require you to set up on your own, and some of the really expensive ones even have their mobile app. The remote control offers ease of use, as you can change the program from where you are, rather than going to change it. Some prefer manual setups as they are technologically challenged, so again, it is down to the preference of the consumer.
Noise Level
Ping pong robots can be a noisy investment. You should look at many factors, like proximity to your neighbors and whether or not your wife might end up complaining. It is ideal to go through customer reviews before you make a final decision on a ping pong robot.
Battery Powered or Plug-In
Ping pong robots can either be plugged in or are battery-powered. This is a huge factor to consider, as you need to know if you can place the robot anywhere you want to. The best ping pong robots tend to be plugged-in.
The mobility of your robot and table is an important consideration and varies from robot to robot and table to table.
How to Install and Assemble a Ping Pong Robot
The assembly and installation of a ping pong robot vary from model to model. It is not overly complicated and anyone with basic technical knowledge can set it up without any difficulty. Some robots are far easier to set up and that is why people sometimes go for the cheaper and more affordable options.
Best Ping Pong Robots in 2021
For your convenience, we have made a list of our top ten training robots. These are our picks, based on our own playing experience and research. Feel free to add more below!
Our Rating: 4.8/5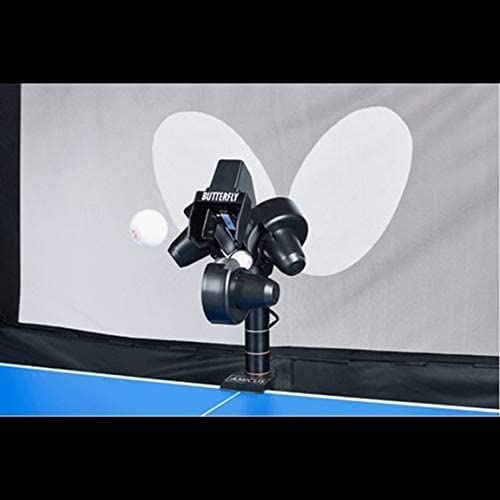 Butterfly Amicus Prime is an improved version of the earlier Amicus robot. It comes with an android tablet, enabling you to control the robot via Bluetooth. You also get a small remote that you can keep in your pocket. It has the ball frequency of up to 120 balls per minute.
The tablet has a list of 20 pre-saved drills, but you can customize a drill from scratch too. You can practice any spin combination you want in the same drill. This table tennis robot allows you to control ball placement so that you can create and save incredible multi-ball drills.
Amicus Prime is also easy to set up and transport due to its smart design. It is targeted toward professionals, so it comes with a high price. If you are a beginner, consider buying simpler machines that are affordable.
Our Rating: 4.7/5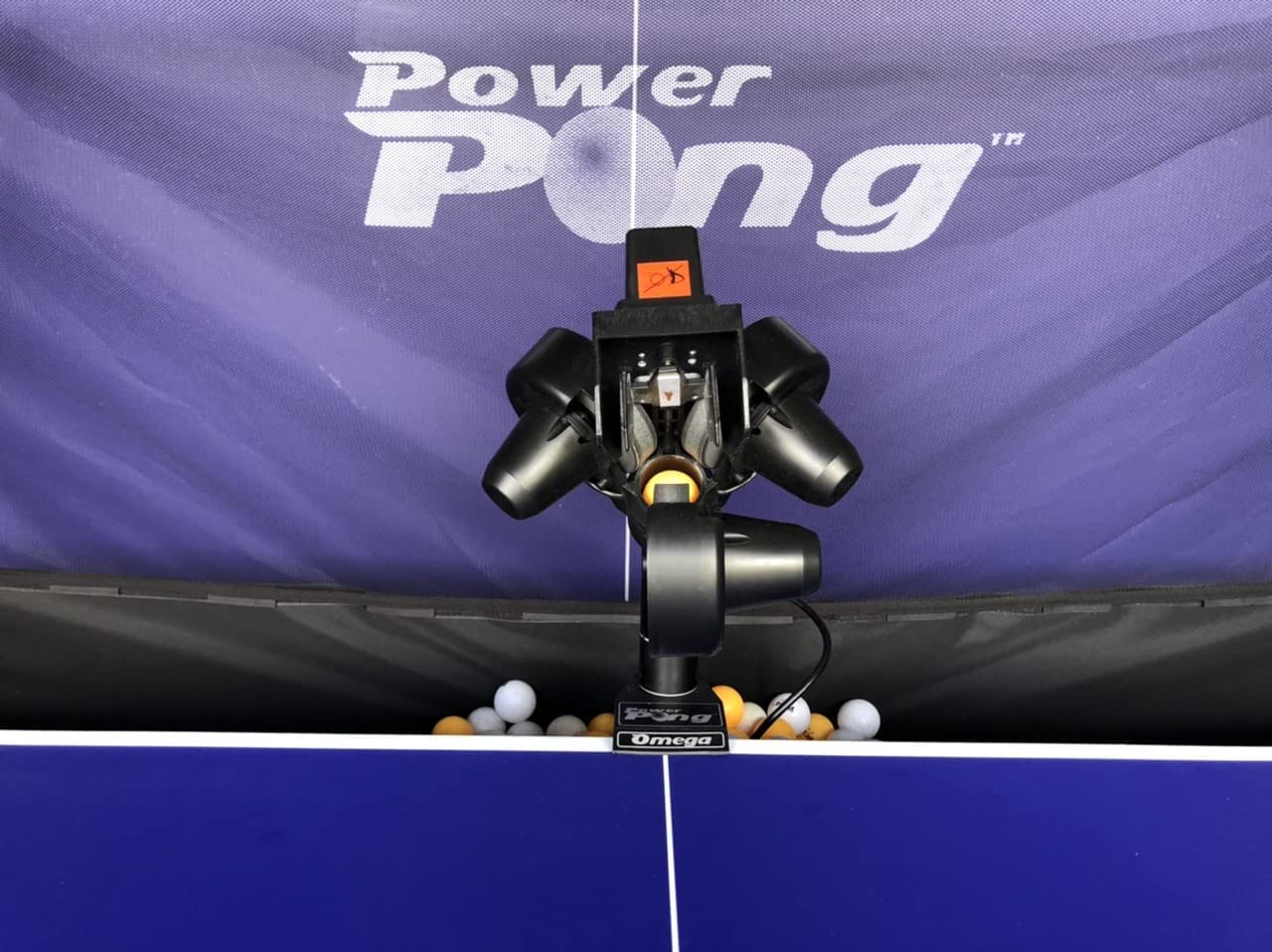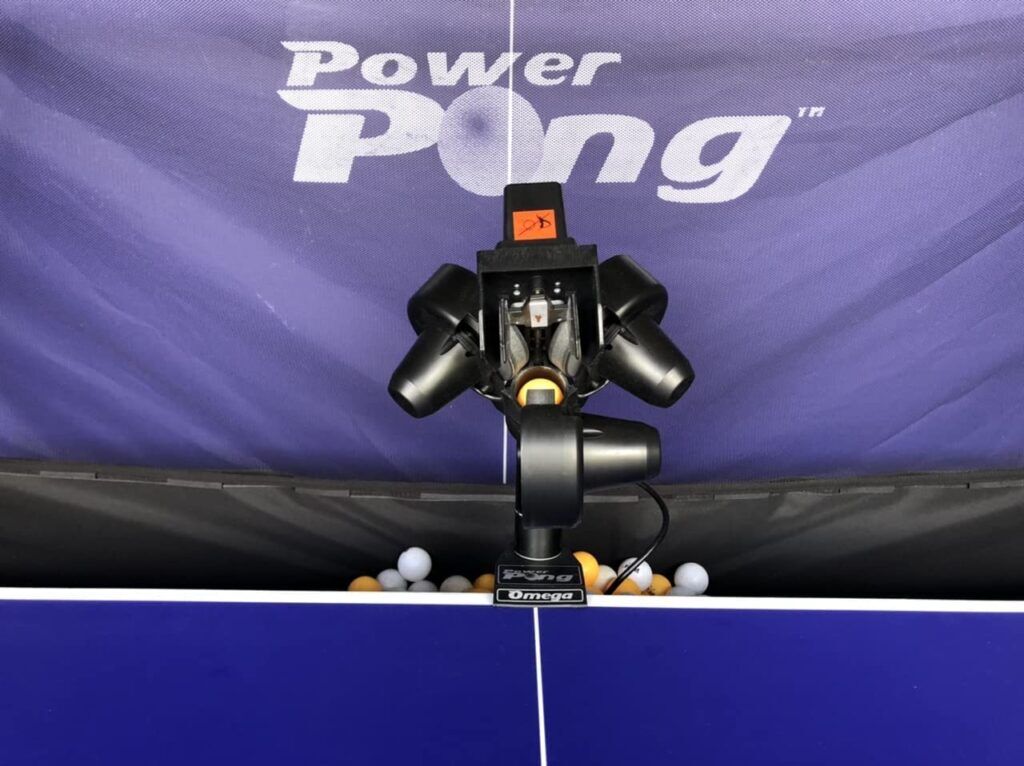 This product is among our favorite table tennis robots as it offers everything from great performance to an affordable price tag. Power Pong Alpha has analog controls but can be configured via Bluetooth and a wireless remote as well.
You can simply download the Power Pong app on your phone or tablet and get access to pre-saved drills.
You can also customize and save your drills. The robot allows you to generate unlimited combinations of spins and control how spinny you want the balls to be. It has a precise throw with 3 heads, and you can play non-spinny shots as well.
Power Pong offers a three-year warranty and a 1-day repair service.
Although the robot offers several additional features, it offers only 12 slots for saving drills. We were also a bit disappointed by ball frequency as you can program only 6 balls per drill.
Our Rating: 3.7/5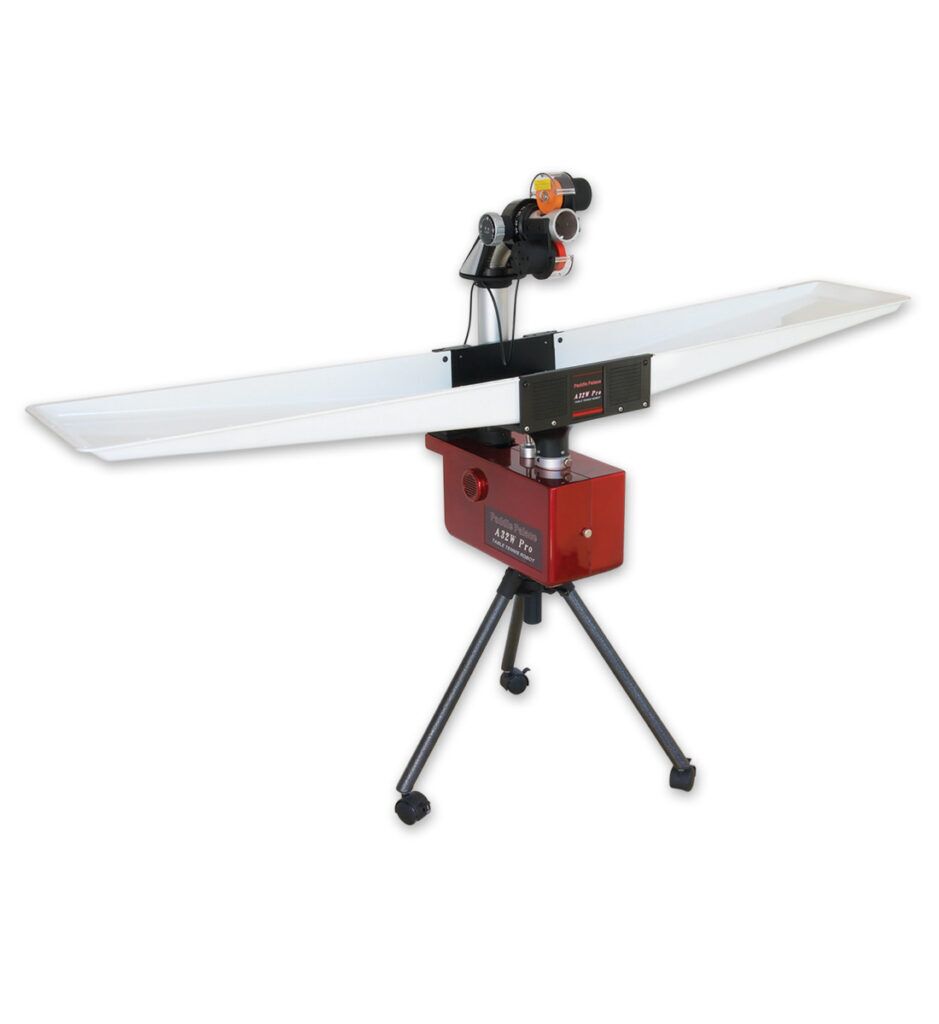 Paddle Palace A32 Pro offers all the basic features of a ball launcher at an affordable price. It is not programmable but delivers versatile speed and spin capabilities. You can practice playing a variety of shots with random or controlled oscillations.
This robot is ideal for intermediate players who want to experience a realistic ping pong game without breaking the bank. Paddle Palace A32 Pro doesn't have Bluetooth or wireless controls and uses a control box, which is set on the player's end. You can also configure the robot by rotating the knobs on the motor.
With this robot, you get a wide range of speed and spin due to two independent heads controlled by two separate motors. It doesn't allow you to save or customize drills. If you are looking for a high-end, programmable table tennis robot, then we recommend you look for another product.
Our Rating: 4.3/5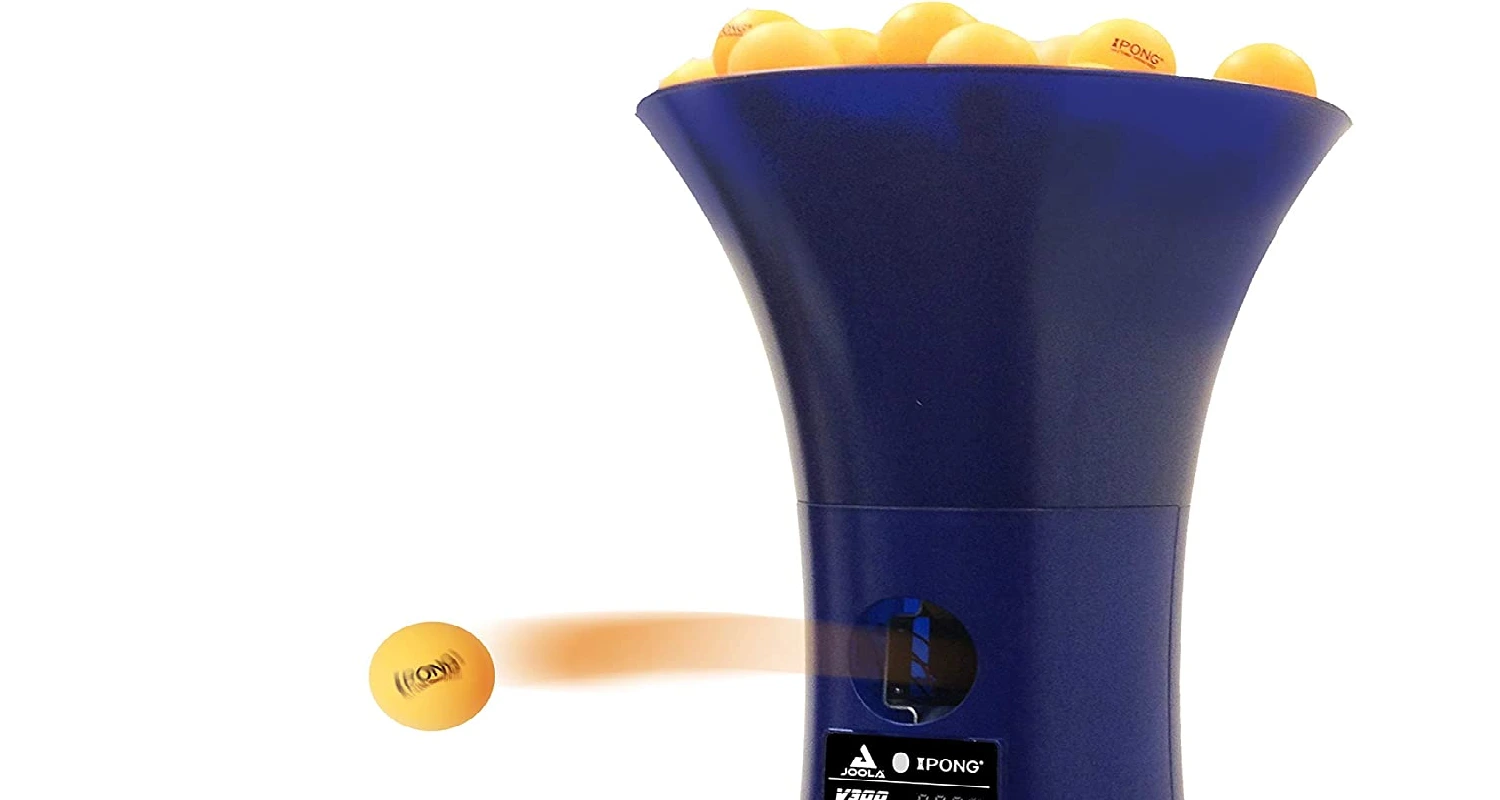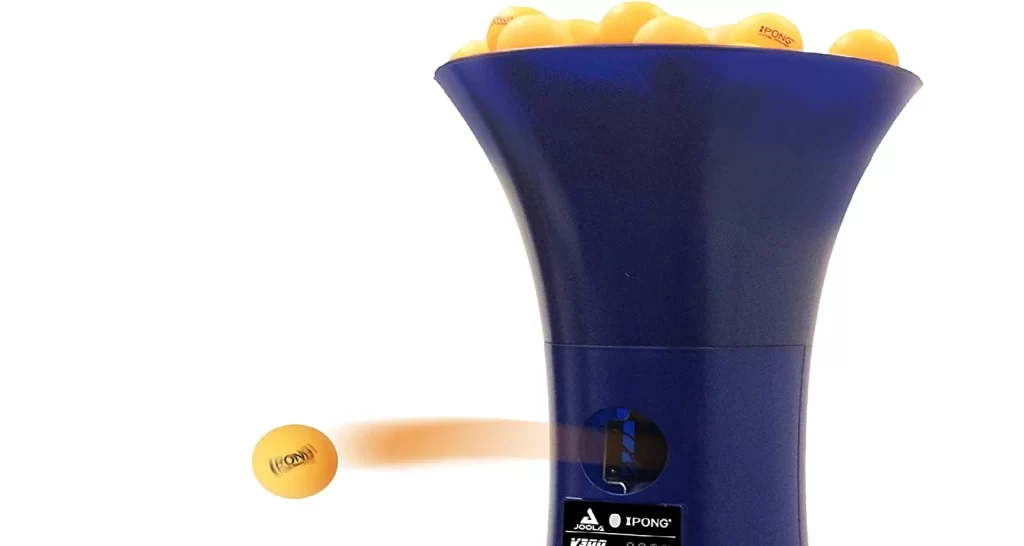 If you are looking for an inexpensive and cheap option but also want it to be a good enough robot, then you should consider spending on the iPong V300. It has a very simple setup and can hold more than 100 balls at one time. This comes with a remote control that you can use, without having to come to the other side.
The iPong V300 has an in-built oscillation option, that allows you to mix things up while practicing. Along with that feature, it is accompanied by a fantastic design that is built like a superior wheel and motor model. We love the affordability factor but there are a few downsides to it, as well.
You cannot use it to play shots with different kinds of spin. Despite being one of the best ping pong robots, this is a limitation but it is something that one can expect from such an inexpensive option. Some users have also reported a jamming issue when releasing multiple balls at once.
Our Rating: 4.3/5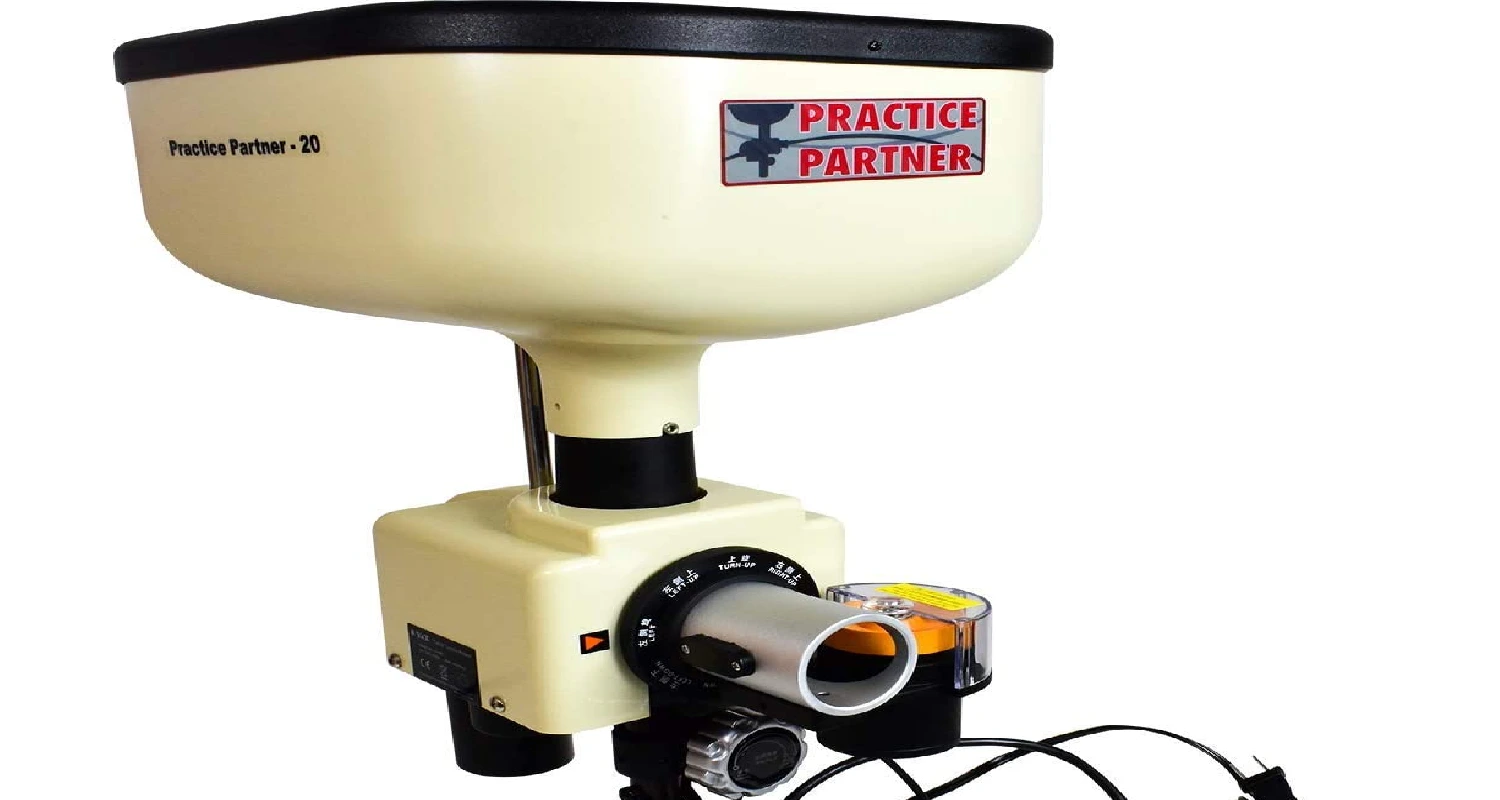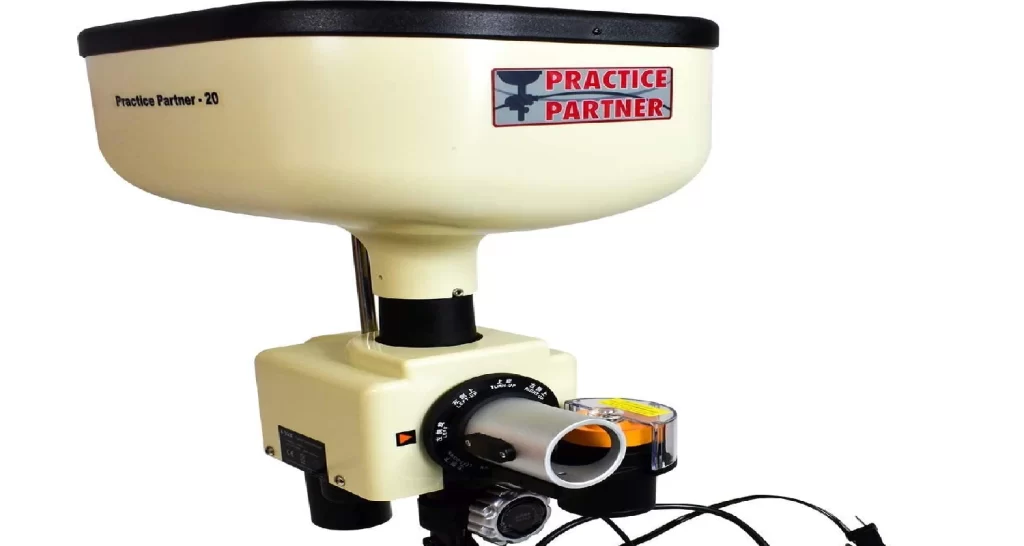 We like the Practice Partner Table Tennis Robot due to many different reasons. For starters, it is a genuinely decent piece of engineering and is sufficient for amateurs and professionals, alike. The compact-sized robot might look tiny at first glance but it is sturdy as it is made of metal.
This makes the Practice Partner Table Tennis Robot truly one of the best ping pong robots and a long-term partner because of its durability. You can place up to 200 balls at one time as it has a large capacity and you can change the frequency of the table from 25-80 balls per minute. With this range, keeps professionals and beginners, both, interested and makes for a great option.
You can also get several spin options and you can also program it to send balls all across the table making it challenging for you. While the Practice Partner is slightly on the heavier side, it still makes for a great option to consider. Especially when, you factor in the one-year warranty that it comes with!
Our Rating: 4.2/5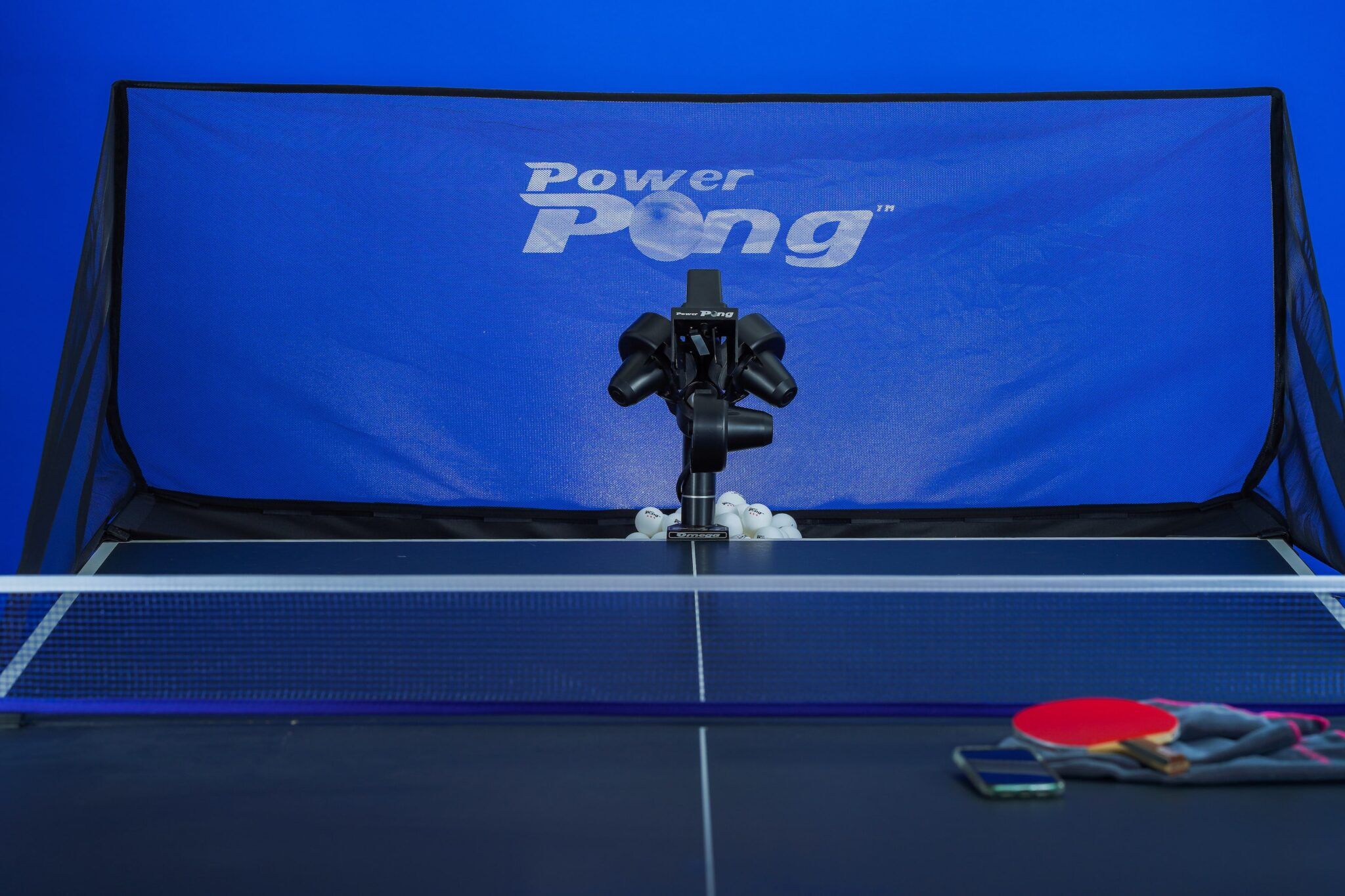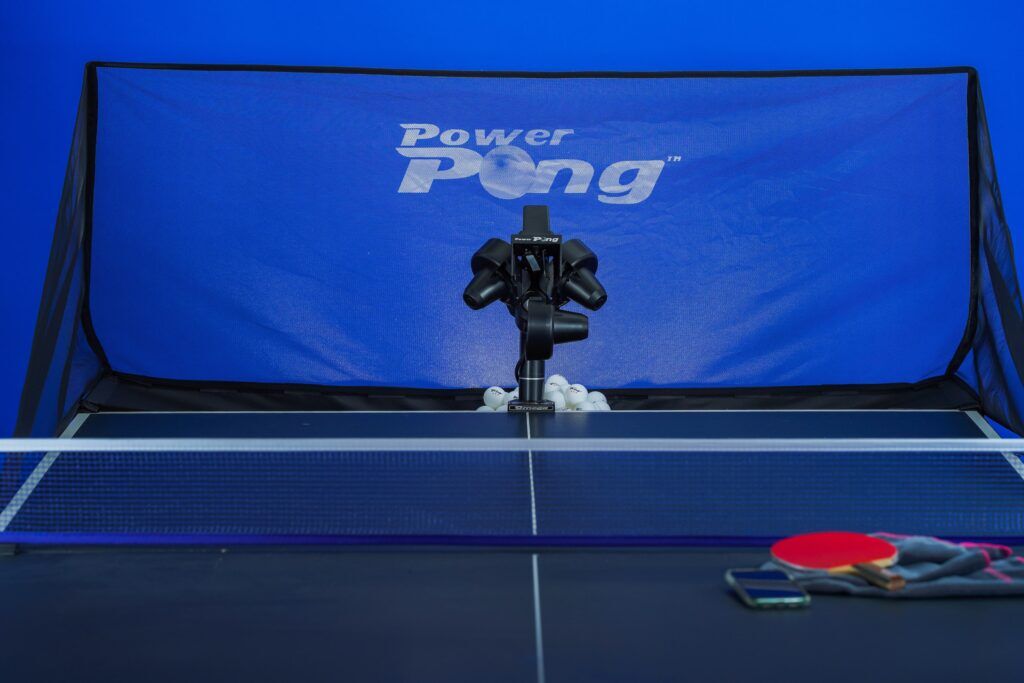 This fully programmable ball launcher comes with a tablet so that you can control the robot via Bluetooth. Power Pong Omega features 3 4-inch foam wheels with a deflector plate for random or programmed oscillation. You can control speed, spin, or ball placement for each strike by saving drills in the tablet's memory.
The tablet comes with 40 pre-saved drills with videos that can assist you as visual guides. You also get some additional features like a mirror option through which you can flip your drills and a no-spin option as well.
The additional accessories include 100 Nittaku J-Top ping pong balls, a ball recycling net, remote control, and a carrying net. If you are a recreational or intermediate player, then Power Pong Omega is not for you as it has an insanely high price tag.
Our Rating: 4.0/5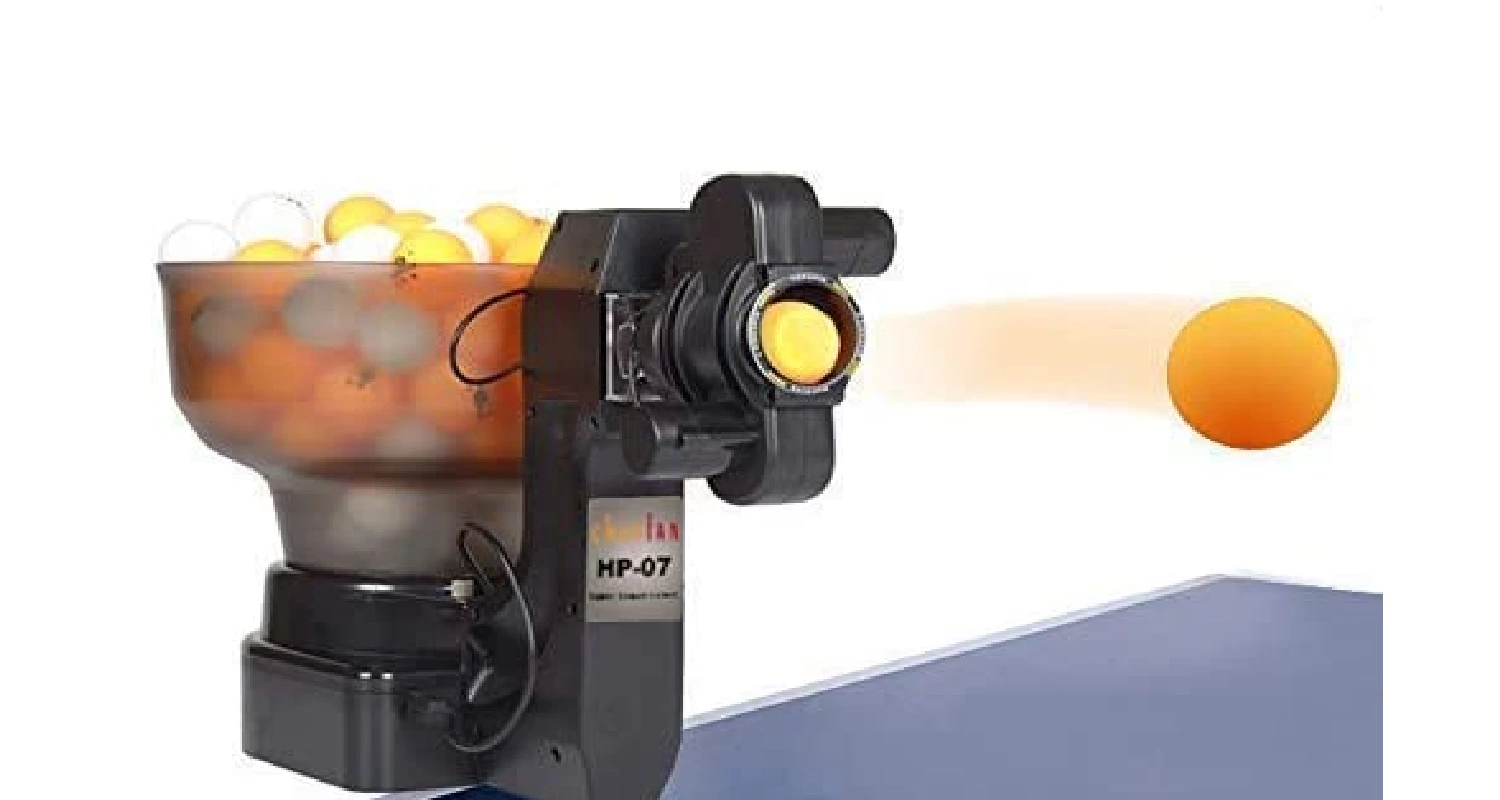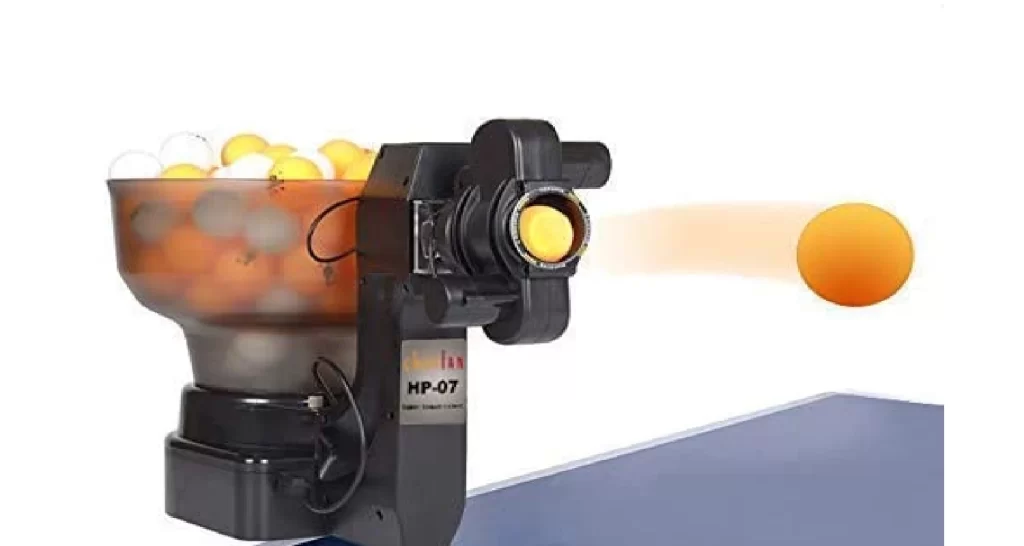 As the name suggests, the Chaofan 36 Spins Robot offers a huge variety of spin. It is not only an affordable option but it is also one of the more durable options. There is a lot to like about the Chaofan 36, so let us get straight into the pros!
The set-up of the Chaofan 36 is a piece of cake. You can get a ball frequency that ranges from 40-70 keeping all levels of players interested. You can also generate a speed frequency that ranges from 4m to 40m per second, which is a huge plus!
Not to mention the obvious spin generation. There is a wired remote-control system that makes it a lot easier to use but some people dislike it because they prefer digital, so it is down to preference. One of the letdowns with the Chaofan 36 is the lack of a net system, so you will have to catch your balls.
Our Rating: 3.5/5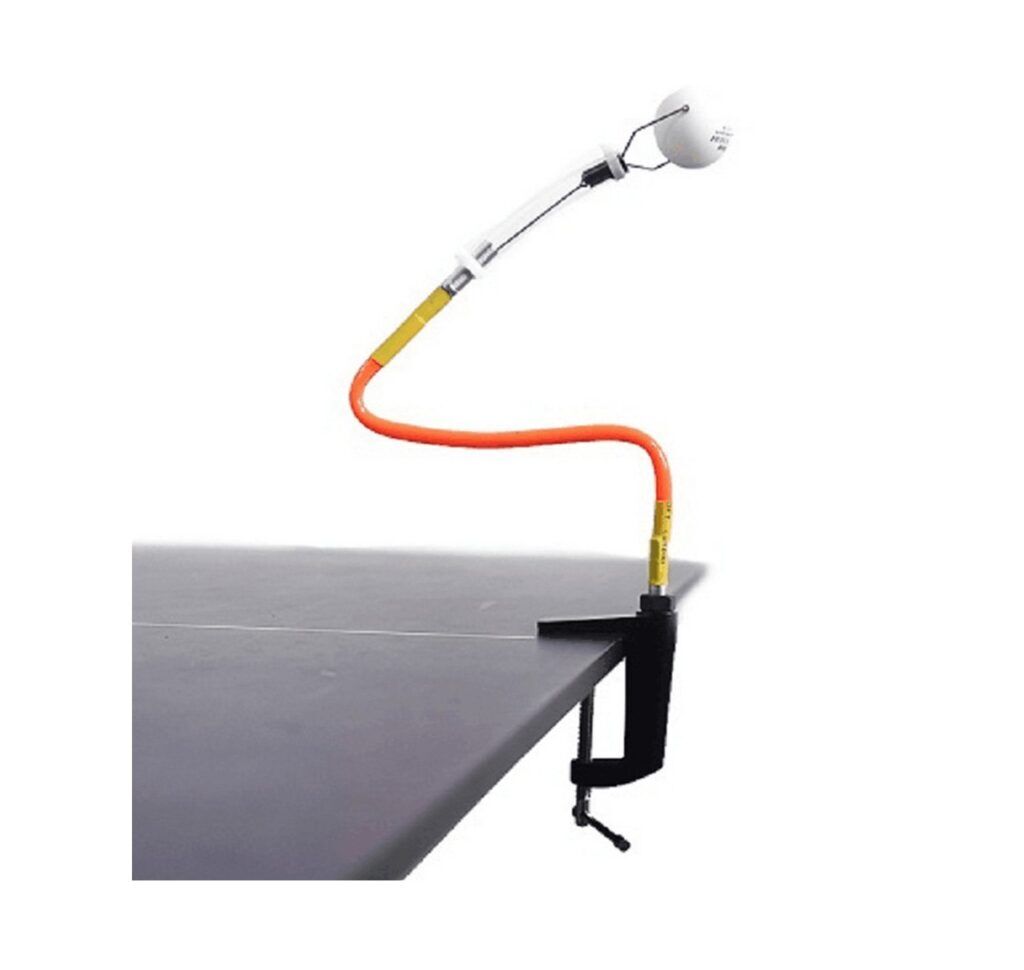 This robot is good for practicing basic strokes if you are new to table tennis. LANFIRE Professional Table Tennis Training Robot is not a ball launcher, but a retractable assisting tool.
It comes in three different styles including a clamp or a sucker-type design. It has a fixed base, so wouldn't budge even while you are practicing offensive strikes.
This tool gives you a stable, yet quick rebound due to its retractable design. As the ball is mounted on tiny swivels, you can practice spin-oriented strokes easily. This is a durable product and will last a long time.
We think that LANFIRE Professional Table Tennis Robot should be renamed as the label can be misleading for some people. As a 'professional robot' for some people could mean a high-end ball launcher, this tool should come with an authentic product description.
The ZXMOTO is a fine example of classic Chinese manufacturing. It is extremely easy to set-up and use and comes with a wide range of settings and options for various stroke play. A reliable option to choose from, the ZXMOTO has a reliable mechanical structure that offers a lot of consistency and reliability.
There are a few problems with the ZXMOTO. The obvious one being the set-up and operation instructions being in Chinese, and that creates a problem for those who do not speak or understand Chinese. It also cannot randomize shots, so it is not the best of options for professional players. For beginners though, it might still be one of the best ping pong robots in the market.
Our Rating: 4.0/5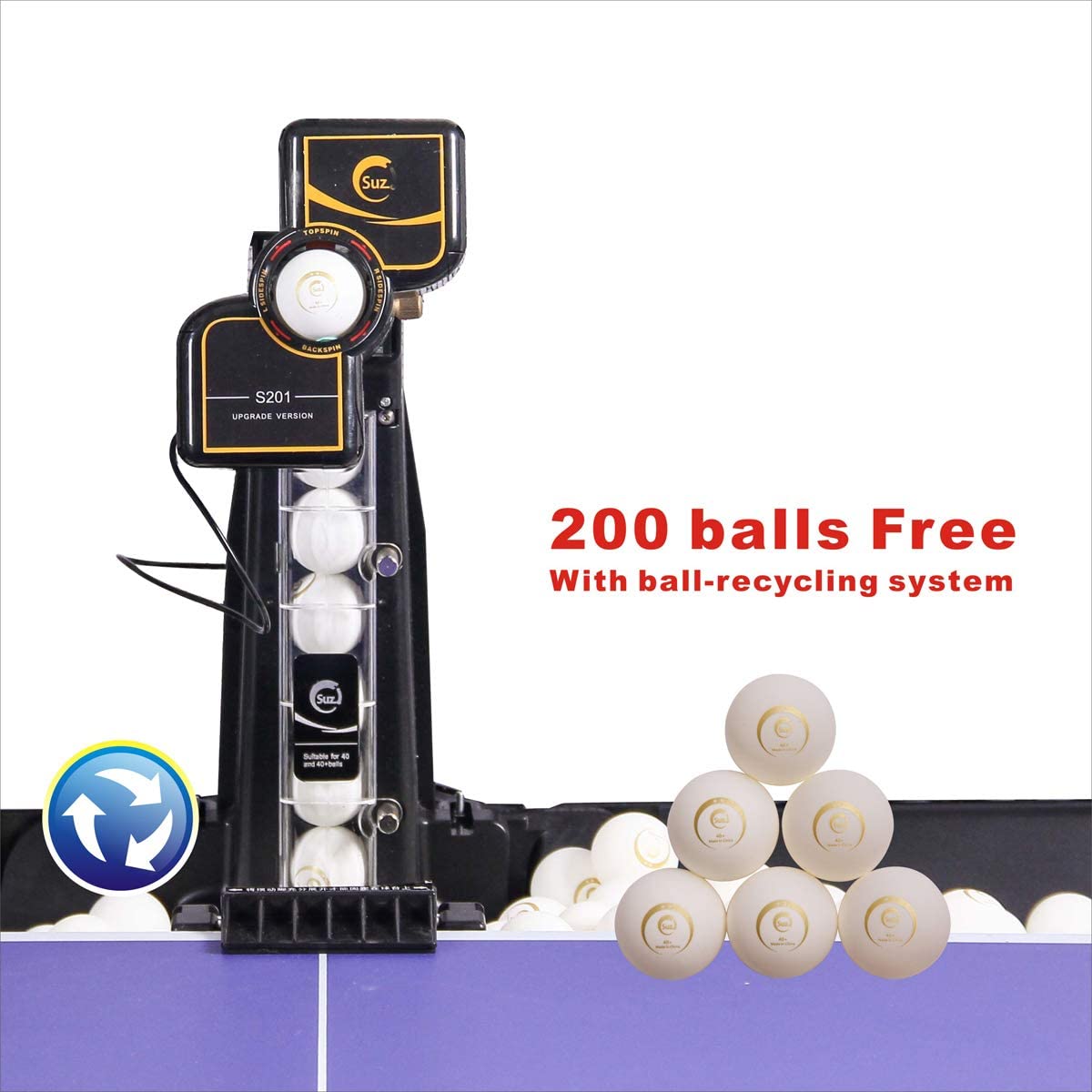 This robot is ideal for players who are looking for a decent ping pong robot on a budget. Suz Table Tennis Robot S201 is configured via a wired remote and allows you to adjust ball speed, frequency, and placement through analog control.
It is ideal for players who want to practice tackling spin as it has 9 different spin capabilities.
Luckily for this robot, affordable price doesn't mean low quality. You get a sturdy product with a one-year warranty. The robot is lightweight and compact as well. You can practice with 8 different ball locations, which gives you a realistic playing experience.
Suz S201 is not controlled via Bluetooth which is a bit disappointing. Most modern robots nowadays have wireless Bluetooth control and are programmable. At least a wireless remote should have been there!
Top Ping Pong Robot Accessories
There are some accessories you can buy if your robot lacks them. These include:
Net
Net is a decent accessory for your table as you can set it up and save yourself the trouble of looking for balls that have gone awry. Avoid a bad back and invest in a net!
Ball Picker
If you think buying a net is not a great idea, we suggest opting for a ball picker. This is an essential purchase if your robot does not come with a net.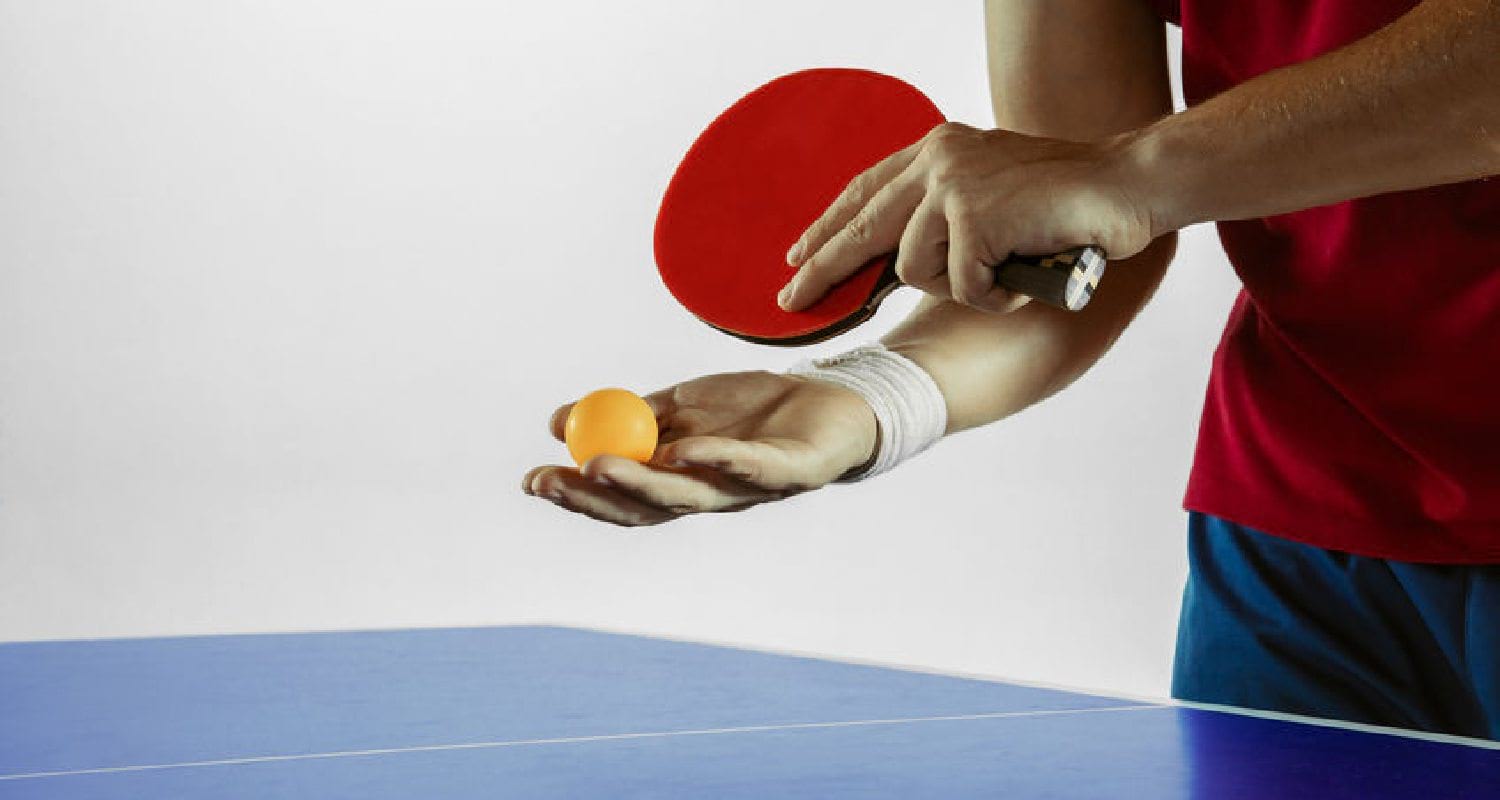 Frequently Asked Questions
How do ping pong robots work?
A ping pong robot works by firing balls at different frequencies and speeds. You can change the controls and customize them as per your likings and different robots offer different controls and customizations. Complex robots have complex capabilities and that can change the level of difficulty, improving your game in the long run.
When did ping pong robots come out?
Ping pong robots have been around for the last few years now. Companies involved in the manufacturing of these robots have been improving on the models and they are becoming more and more advanced. There are many new ping pong robots, like the Forpheus, that you can play entire rallies with, not to mention, they are unbeatable and are considered to be coaches!
Robots truly are taking over…