IPONG is known for their top-notch products. And true to their reputation, they didn't disappoint this time either.
Let us introduce you to the IPONG V300. IPONG V300 is a ping pong robot launched by IPONG in 2016. Although many newer and improved versions have been added in the later years.
It is a small-sized robot which is suitable for all standard-sized ping pong tabletops. It is easy to assemble and even easier to use, relatively portable and efficient.
This robot is well suited for players with even the basic level of experience and familiarity with the sport. The players can easily practice various kinds of strokes and shots with the IPONG V300, which comes with a wireless remote and digital display.
The robot is also equipped with a 100-ball capacity, various frequency options and an integrated oscillator, allowing the player to experience a more reality-based practice session. Below, we have discussed the product in more detail.
IPONG V300 Robot Specifications
Our Rating: 4.3/5
Product weight: 2.75 lbs (1.25 kg)
Dimensions: 19 x 11 inches (48 x 28 cm)
Compatibility: All standard size table tennis tables (9'x5′)
Wireless Remote Control: On-off, start-pause, memory, Frequency +/-, Oscillation +/-, Topspin +/-, Backspin +/-
Warranty: One-year limited manufacturer's warranty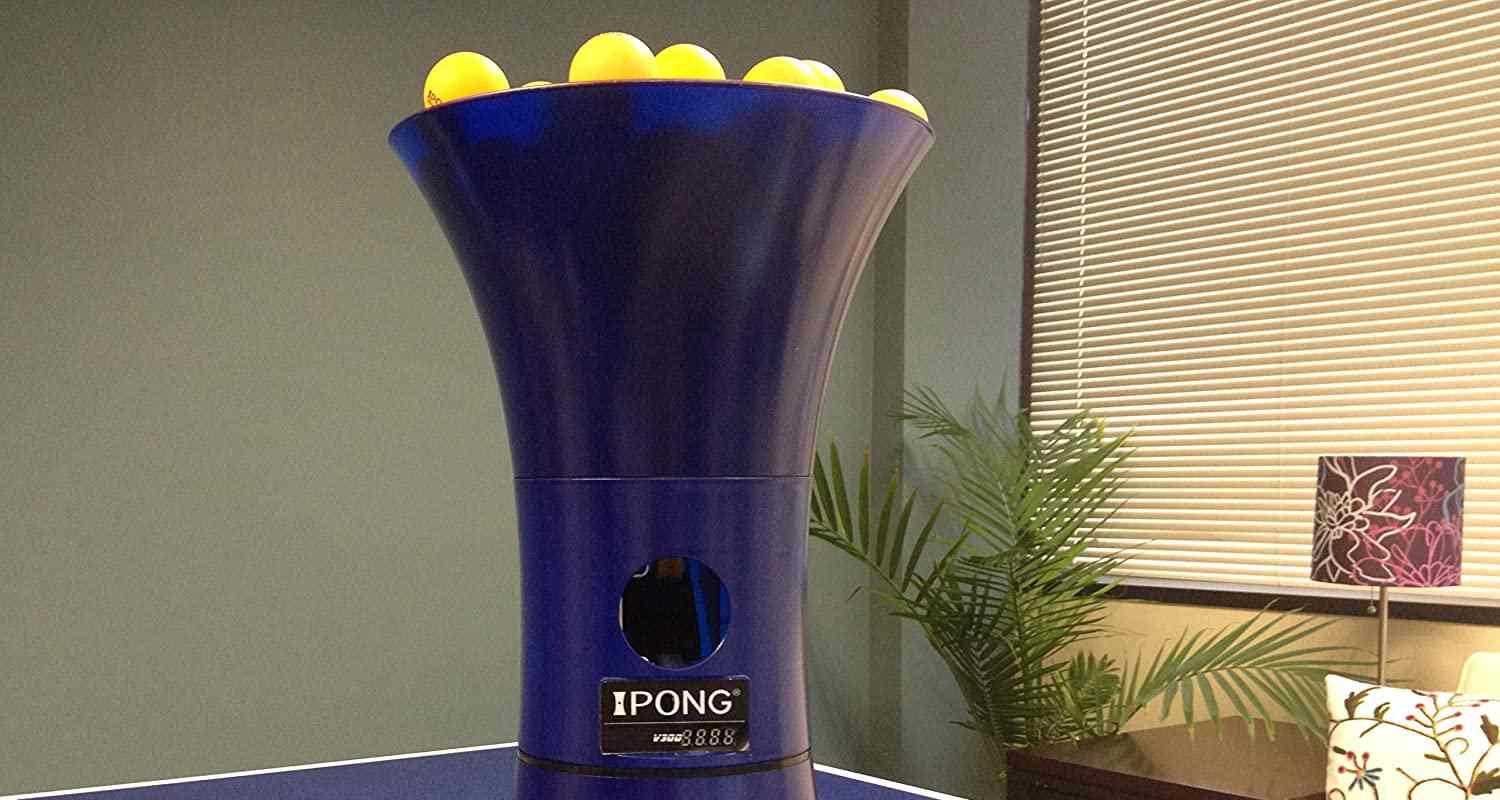 What to Expect
IPONG V300 is one of the best robots for playing ping pong out there in the market.
When you buy this product, it comes in a package including the IPONG robot, remote control, A/C adapter, tilt stand, IPONG targets and an instruction manual. Let's take a look at some of the features the IPONG V300 is offering.
Adjustable Spin Settings
This robot comes with adjustable spin settings. It offers both topspin and underspin. The oscillation feature on the IPONG V300 allows the robot to throw balls to both sides of the tables for a more realistic experience and practice.
You can also set the speed and frequency of the balls that the robot throws to your liking.
Balls Capacity
The IPONG V300 has the capacity to hold a hundred balls. The frequency of pitching balls can also be adjusted, ranging from 12 to 70 balls per minute, which is high enough speed for any advanced player. Hence you can easily practice your reaction timing.
Not only will it help your agility, but will also help you improve your hand-eye coordination. However, since the setting can be controlled according to the player's skill and expertise, it is equally useful to novice athletes.
Assembly Time
The IPONG V300 is incredibly easy to assemble. From the box to the table, this robot takes less than five minutes on average to get assembled and ready to play. The IPONG V300 comes with three main sections that need to be put together.
This is also a great feature for traveling, as it is portable and reduces the overall size of the product. It also comes with an instruction manual in order to help the user set it up safely and conveniently.
Remote Control
This robot package comes with a wireless remote control that makes it even easier to operate the robot. All you need to do is press start and begin your session.
The remote control also includes settings for the ball trajectory and the speed of the pitches, ranging from levels 0 to 9, side-to-side oscillation, topspin speed and underspin speed.
Beside the standard settings, the IPONG V300 comes with a memory button to save your favorite shots.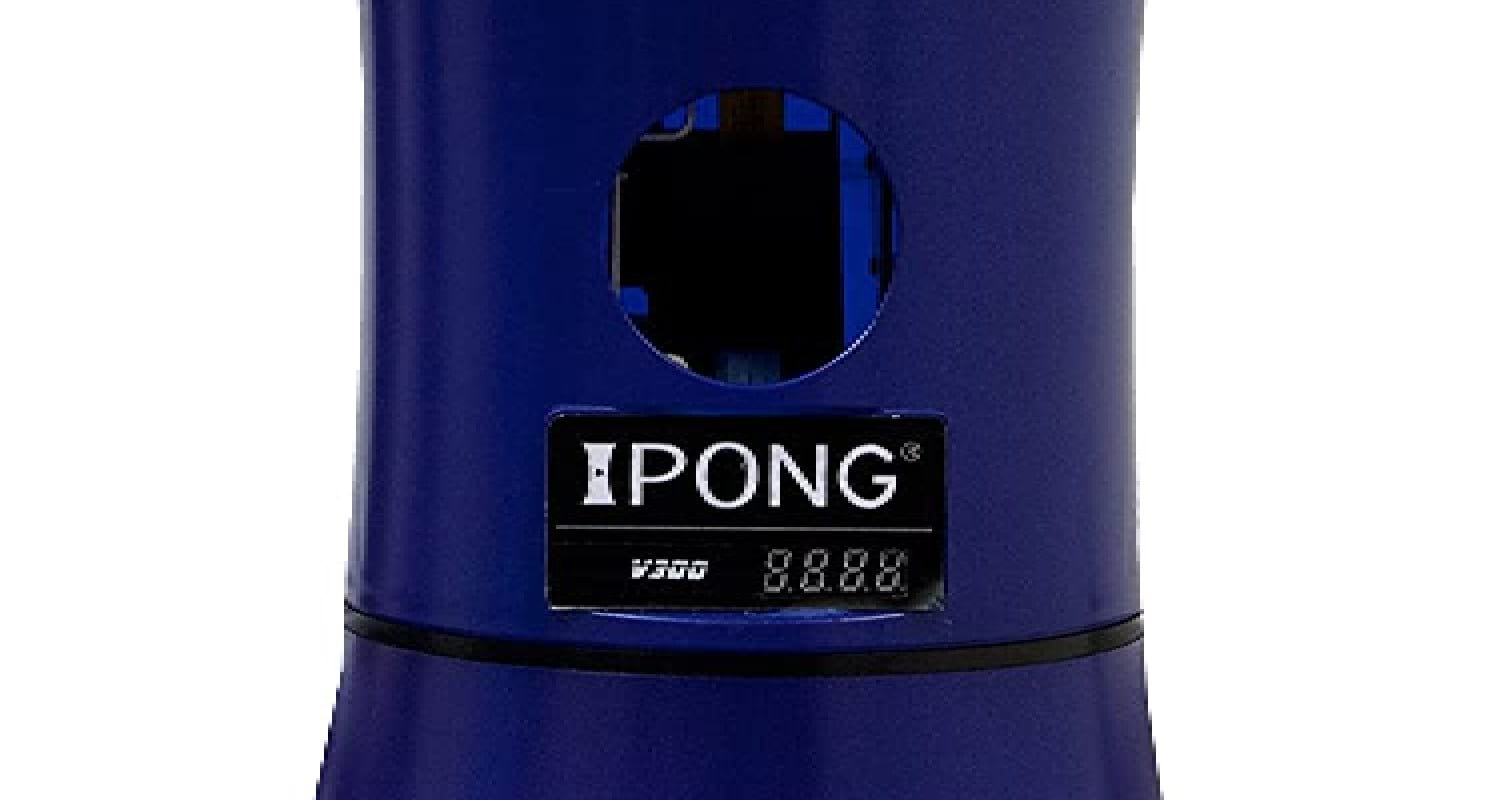 Pros
As we all know, Joola is the master of products in table tennis, so you can be sure that their products will be high in quality. Although, to assure you further, we have created a list of reasons why the IPONG V300 is worth buying.
Improved Ball Trajectory
Owing to the two-wheel design and oscillation mode, which allows the robot to throw balls alternatively to each side of the table, IPONG V300 is able to provide a more human-like experience to the player by throwing balls in a natural ball trajectory.
This is especially helpful for players who want a solo practice session but also want that touch of human experience to improve their game.
Adjustable Settings
Even though the IPONG V300 is a low-cost budget robot, it includes a fairly good number of features that can be compared to it's more expensive competitor robots. The settings available on the robot are all adjustable.
It also comes with an oscillation feature, allowing it to pitch balls side to side for an improved experience. Moreover, its features are almost at par with its more expensive counterparts in the market.
Remote Controlled
One of the best features of the IPONG V300 is that it can be controlled by a wireless remote (in addition to the buttons on the robot itself).
All of the settings on the robot – play, pause, ball frequency, oscillation, speed of topspin and underspin – can also be managed by the wireless remote.
So you don't need to worry about walking over to the other side of the table tennis table each time you need to adjust some minor setting. Moreover, the IPONG V300 has a memory button, which makes it able to save your favorite setting and shot as well.
Simplicity & Profitability
From the assembly to the gameplay, the IPONG V300 robot is pretty easy to use. Just add the table tennis balls, press play and start your game session.
In the package, the robot comes in three pieces, which are easy to put together and put apart, making it portable and easier to carry during travels.
Cons
Even the best of products has their weaknesses. Here's one we believe we have found in the IPONG V300.
Jamming
The most common complaint against the IPONG V300 is that it keeps jamming from time-to-time, especially in the oscillation mode. Some customers even reported having issues in the frequency of the first few balls pitched after the machine resumed working.
However, this problem had been addressed by the manufacturers in its later releases, fixing this and some other issues in the product.
So, make sure you buy the latest version of the IPONG V300 robot available in the market. The updated version beats its former versions in terms of efficiency and output.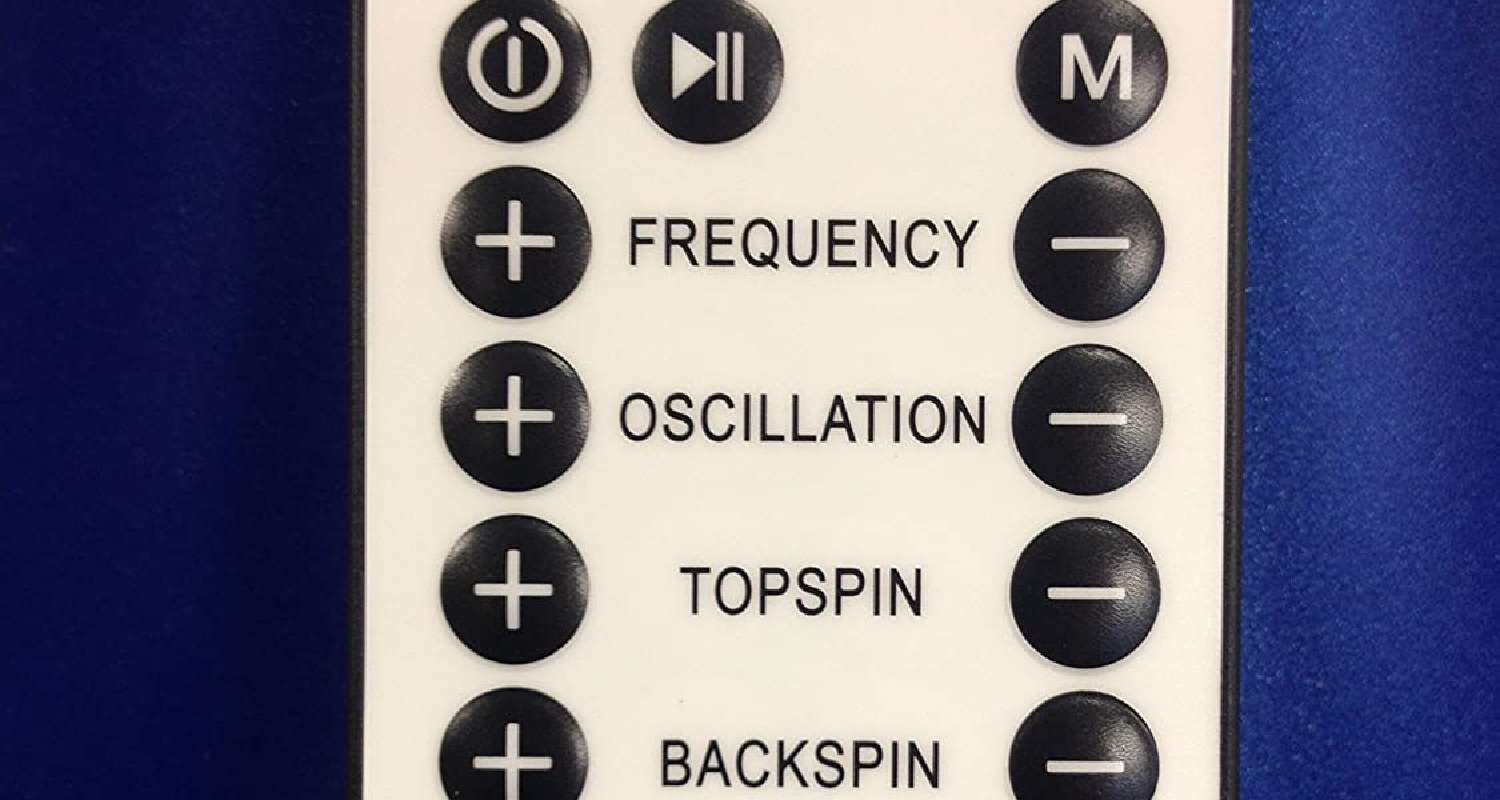 Our Rating: 4.3/5
Considering the low cost of the IPONG V300, this robot can do a lot of things. Although, that is very much what we all expect from Joola, the big name in the ping pong industry.
IPONG V300 is a great product for ping pong, not only for beginners who want to improve their game and agility, but also for expert athletes who want to practice their craft.
It can also help if you want to practice a specific shot or just work on your reaction time. However, it is not limited to any specific level of experience. It is a robot which works for all.
The IPONG V300 not only provides a myriad of features but its size is easily manageable too. The small-sized robot can fit on any standard-sized table. Besides, it can be put together and apart easily, which makes it very portable and you can take it anywhere with you.
The wireless remote makes it convenient to control the settings of the robot from the other side of the table, you don't have to go around to adjust them. Additionally, the oscillation feature can help improve your agility or just simply provide a great cardio session.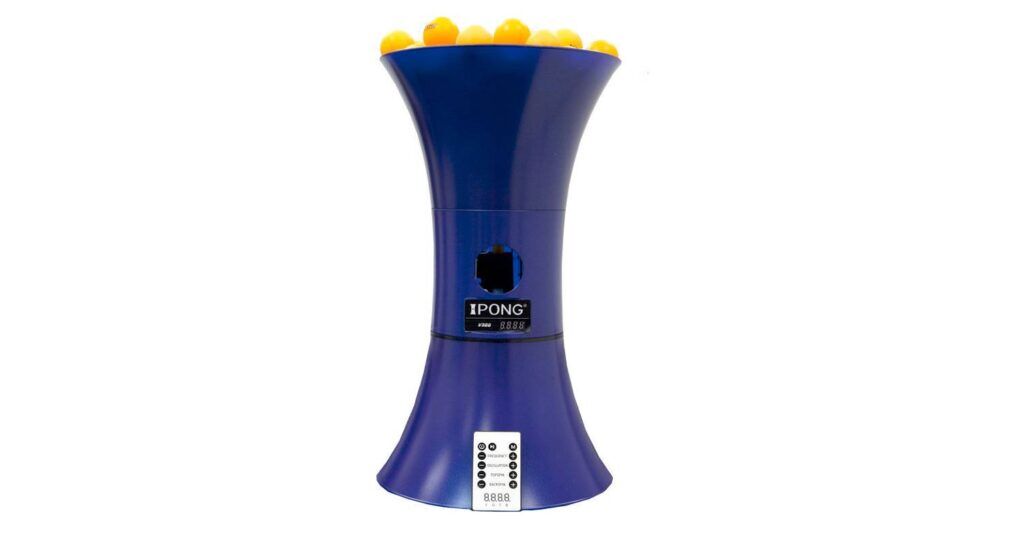 Frequently Asked Questions
What size of ping pong balls does the robot support?
IPONG V300 works well with both the old celluloid 40mm balls and the new plastic 40+ ones.
A lot of players have shared this concern over the minute increase in the size of balls that may prove to be problematic, however, there is no need to worry, as this robot supports both sizes of balls well enough.
How many volts does this product use/take?
The IPONG company has reported that their IPONG V300 is 110 volts in the United States and 220 volts in Europe.
How much does the IPONG V300 weigh?
The IPONG V300 is very light in weight. The product itself weighs 2.75 lbs, however the shipped package may weigh around 5 lbs, which is still very lightweight.
How is the IPONG V300 powered?
IPONG V300 is powered just like any other regular device, i.e. through a standard adapter that is plugged in the wall outlet.
Conclusion
All in all, IPONG V300 is a great product to invest in, especially for athletes playing at various levels of expertise. The quality is great, the product is reliable and it's not very expensive either.
Also, it comes with a one-year warranty so you can report back to the company in case you face any faults or issues in the product.
Along with all the other great features, such as the wireless remote, various speed and frequency settings, oscillation mode and ball capacity, its size is also a major plus point.
It can easily be stored away or carried around. Hence, we fully recommend IPONG V300, especially if you are looking for a good-quality ping pong robot on a budget.