If you are a recreational or intermediate table tennis player, you might want to invest in a robot or ball launcher like Suz S201 table tennis robot.
Most table tennis robots are extremely expensive, so you might end up breaking your bank over something you are not even serious about. Luckily, there are low-end robots you can use for recreational activities that wouldn't cost you a fortune.
Suz S201 is one such option that gives you the basic functionality of a ball launcher at a good value. This robot comes in four different models: S101, S102, S201, S302, and S303, so you can go for more expensive options with better features.
We present a review of Suz S201 table tennis robot here.
Suz S201 Table Tennis Robot Specifications
Our Rating: 4.0/5
Price: $$$
Weight: 9.8 Kilograms
Color: Black
Material: Plastic
Warranty: One Year
Controls: Wireless or Wired Remote Control
Max Ball Speed: 4 to 40 m/s
Frequency: 35 to 80 Balls per minute
Ball Capacity: 100 Balls
Adjustable Height: No
Oscillation: Yes
Size: 34.6 x 16.4 x 15.75 inches (L x W x D)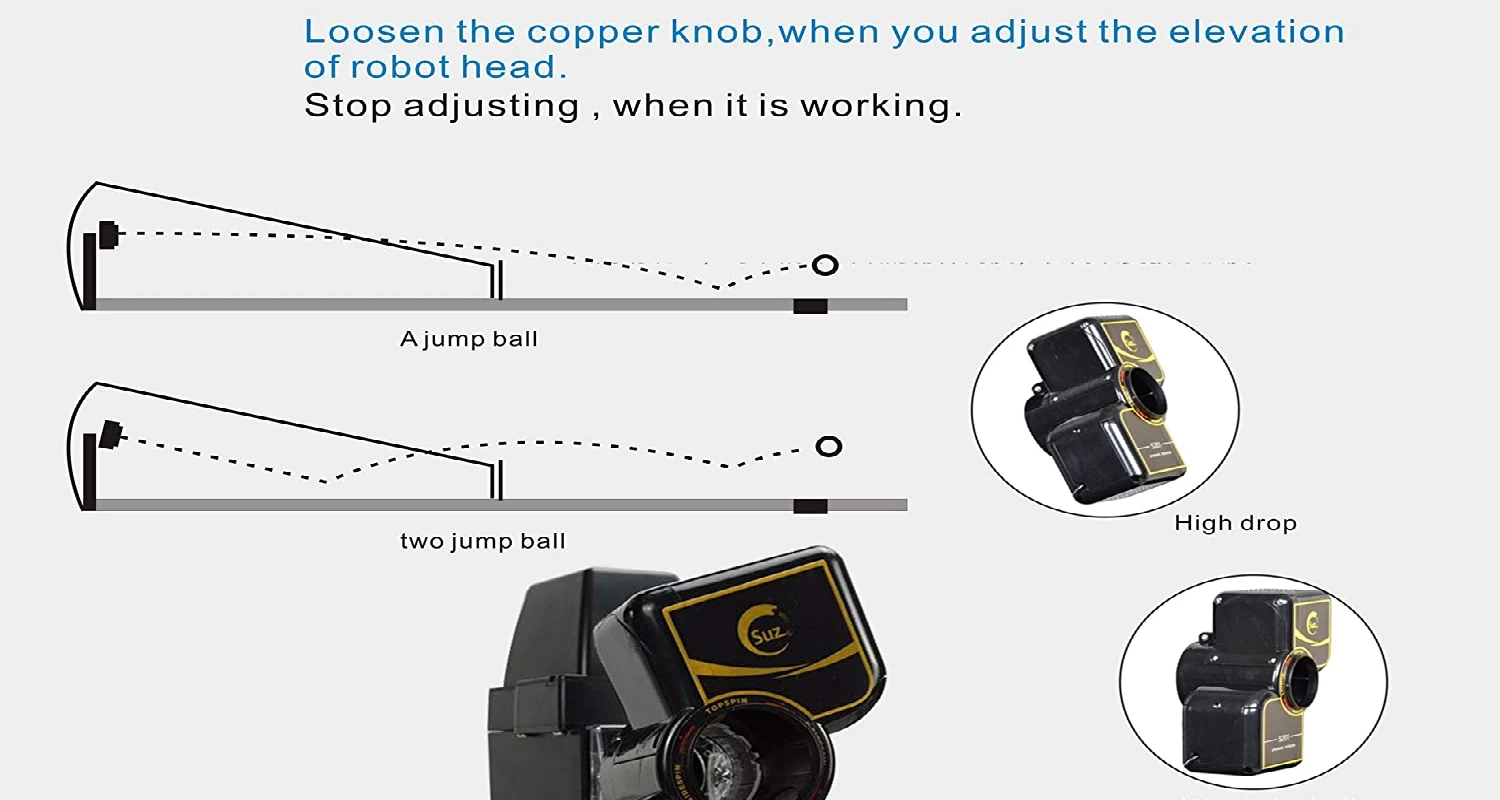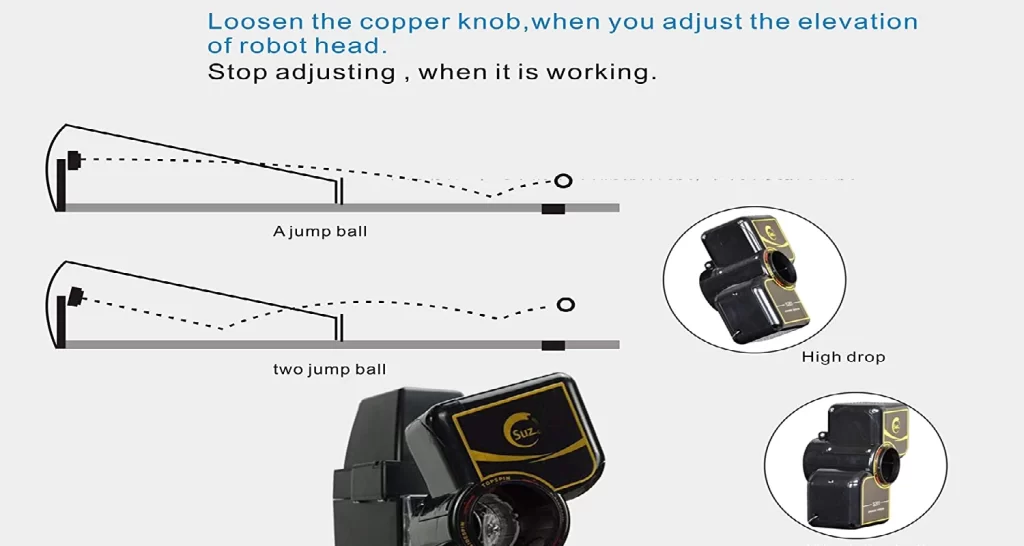 What to Expect?
Table Tennis Robot technology has evolved a lot in recent years and you get 100% programmable, highly tech-friendly robots these days. With these robots, you can customize each shot in terms of speed, spin, and ball placement on your table.
Suz S201 table tennis robot should be able to compete with the market and deliver decent performance, suited to recreational and intermediate players.
Construction
This robot features only one head which you can adjust between 180 degrees. The most outstanding feature of this robot is the automatic ball recycling net collection system.
Suz S201 ping pong robot can accommodate up to 100 ping pong balls and saves your precious time so that you don't waste your precious time picking the balls during solo play.
The ball launcher is configured via a wired remote control so that you don't have to run to the machine each time you want to alter the settings. You can control ball speed, frequency and oscillation via analog controls.
Upon your purchase, you get 200 40+ 3-star ping pong balls, a recycling net, remote, power supply, serving wheel, and an instruction manual in English as well. With a ball capacity of 100, you can play for hours on end without breaking your pace.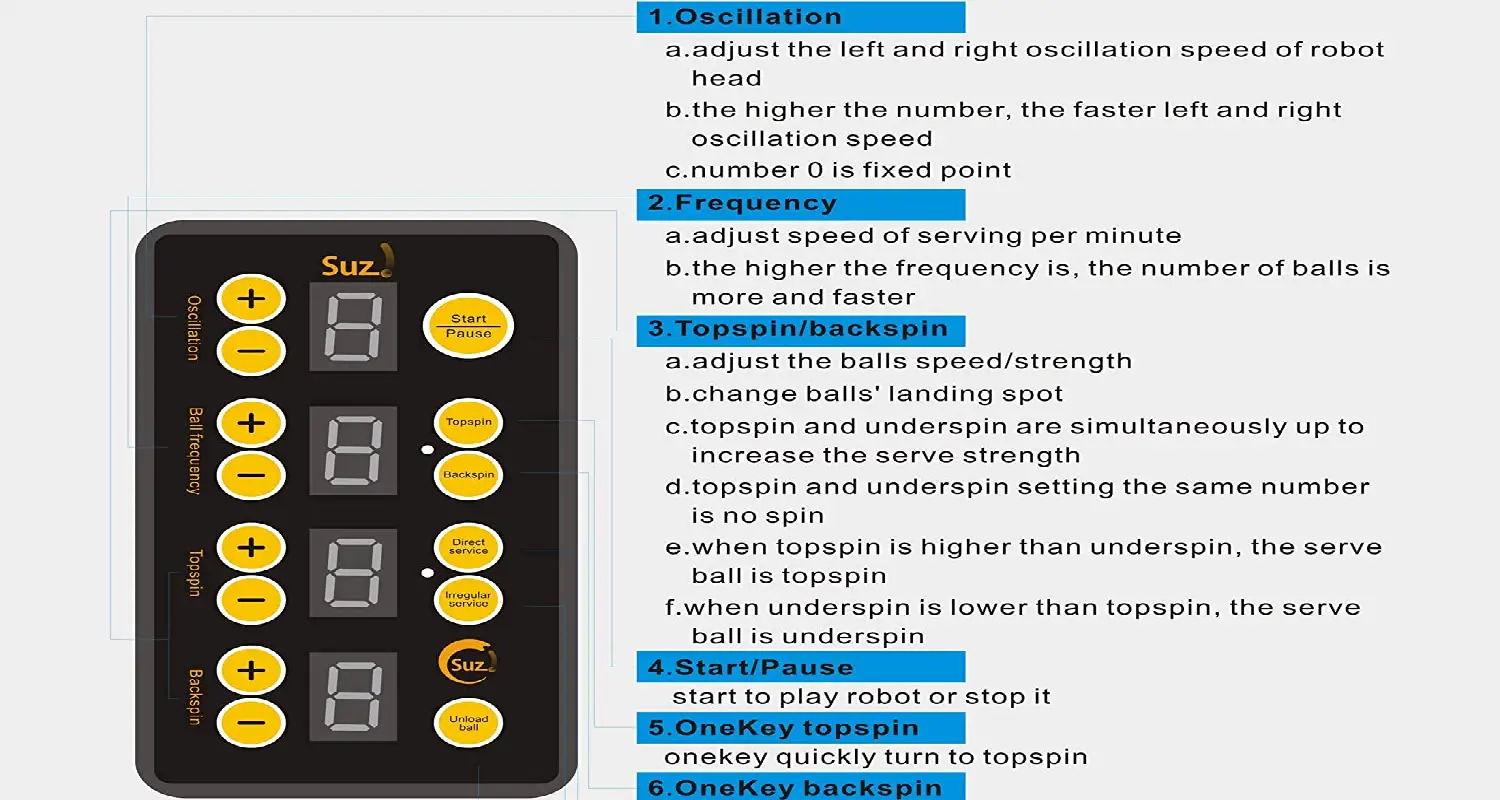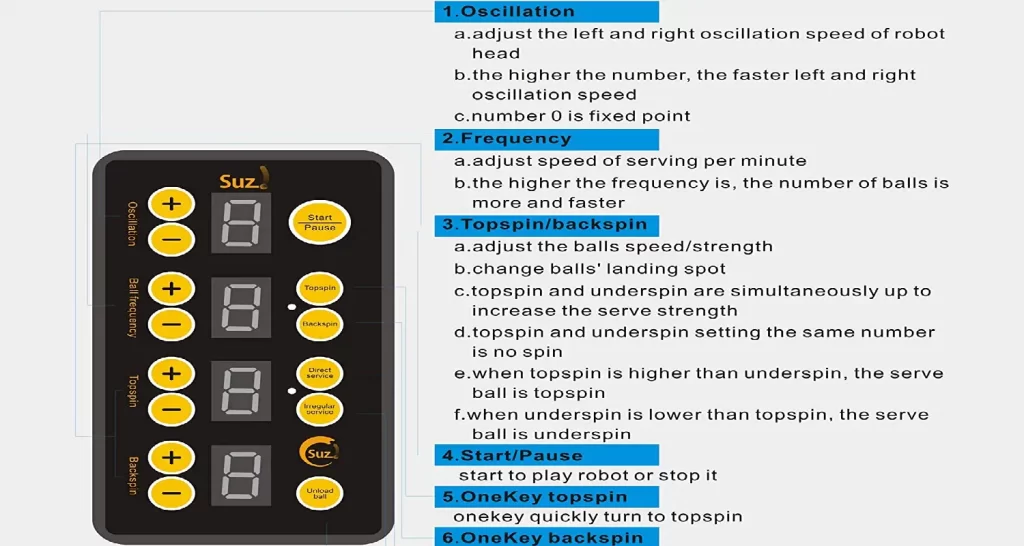 Pros
Spin Capabilities
If you are someone who wants to experience a killer spin game, so that you know how to take tackle spin, then this robot might be perfect for you. Suz S201 table tennis robot offers 9 different spin capabilities along with an irregular landing spot.
For sidespin, you can adjust the robot head left or right between 180 degrees. These features can help an intermediate player practice the game even more efficiently than with a partner.
Easy Setup
You don't need to waste your time setting up or taking down your robot as Suz S201 ping pong robot features an easy clip-on table assembly. Its light weight further makes it easy to assemble the robot.
You can easily set up the net in a matter of minutes too. Simply move the machine over to the playing surface, secure it there, and stretch the net over those dark poles and you are ready to play within minutes.
Excellent Craftmanship
Although this robot is inexpensive, it is high-quality when it comes to craftmanship. This robot is very sturdy, made to last, and a one-year warranty attests to the robot's top-notch quality. Suz S201 table tennis robot is not heavy so it is easily maneuverable.
It also features a simple and compact design and can be placed anywhere in your home without cluttering your space. Its compact design and light weight also make it very portable so that you do not have any problem moving the robot.
Oscillation
Suz S201 ping pong robot features a flexible, oscillating head that can be set to have 8 different ball landing locations. You can also achieve a realistic serve loop by manually adjusting the head between 0 to 40 degrees.
Irregular, random ball landing can further help you experience a highly realistic game so that you can refine your training to the best standards.
Great Value for Money
Suz S201 is almost 1/3rd the price of high-end table tennis robots, such as the Butterfly Amicus. Since it doesn't compromise on quality and an authentic playing experience, we consider it to be a great value for money.
It's affordability is one of its greatest qualities and we think its worth every penny due to its decent performance and quality.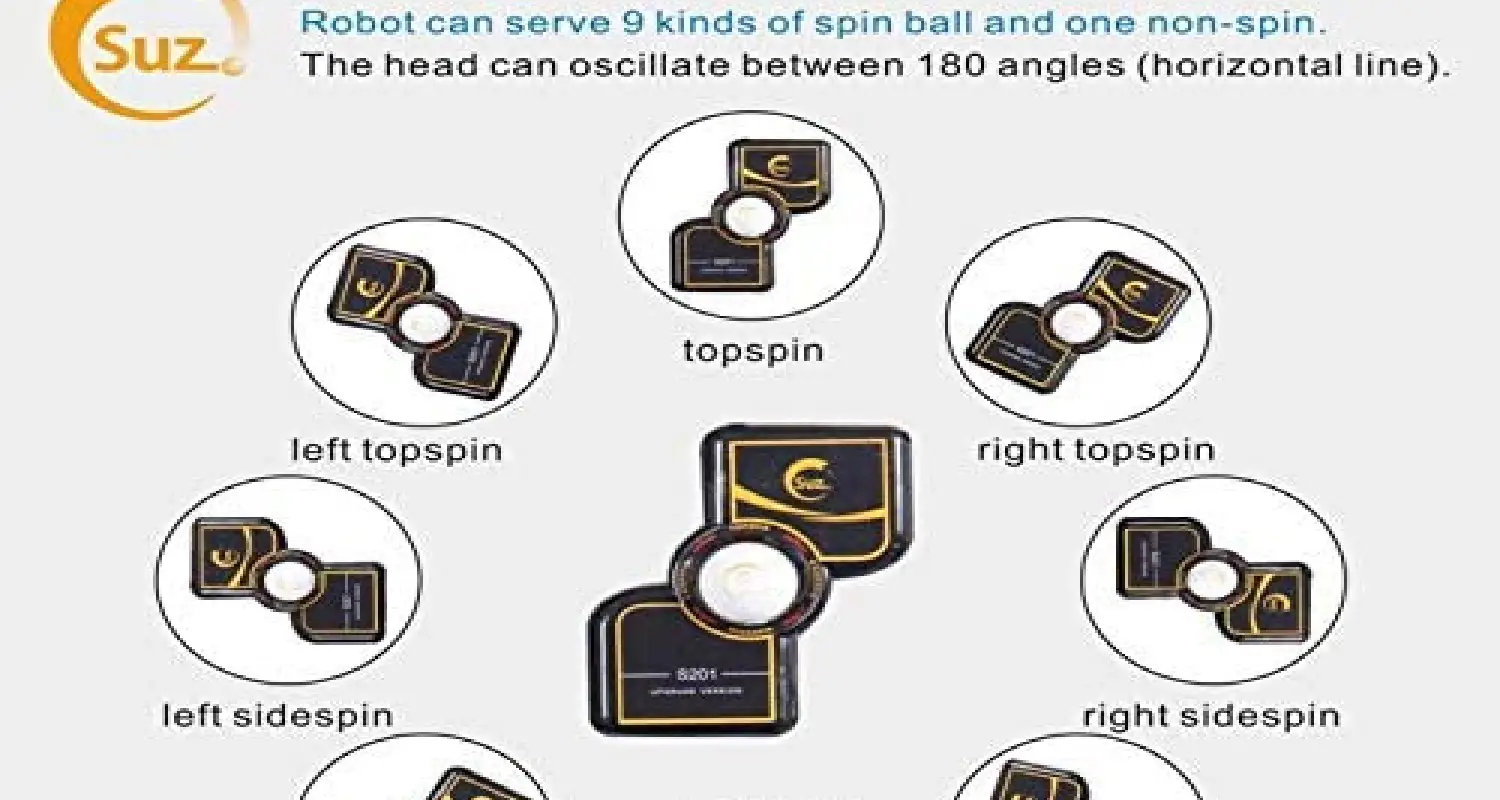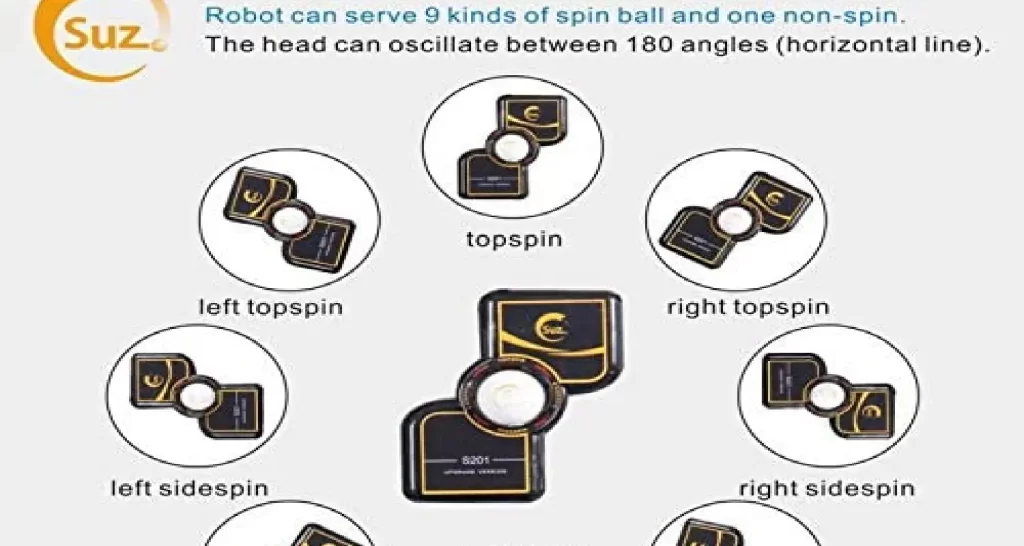 Cons
Lack of Modern Features
Suz S201 ping pong robot doesn't have many features that modern table tennis robots have these days. For example, most modern robots feature a Bluetooth control, along with a memory option where you can not only pre-program but also save your drills.
These robots can be connected to your phone or an added tablet, creating a great amount of ease for the player. Suz S201, however, features a wired robot which is not only outdated but also inconvenient. We were expecting at least a wireless remote!
Our Rating: 4.0/5
Suz S201 table tennis robot is a highly affordable, yet decent table tennis robot. It delivers most of the functions one expects from a ball launcher. We were thoroughly impressed by a comprehension spin capability and random oscillation which we didn't expect at this price.
It is also fairly easy to maneuver, set up and take down. This robot doesn't offer futuristic wireless controls and is not 100% programmable, but at this price, it delivers well.
We highly recommend Suz S201 for recreational or intermediate players who want to refine their skills through a mechanical playing partner.
Conclusion
Suz S201 ping pong robot is worth every penny if you are looking for a product that delivers basic functions without breaking your bank. This is a high-quality ball launcher, featuring excellent craftsmanship.
You get almost all kinds of spin options with this robot, along with random oscillation which makes the game further challenging for intermediate players. This robot uses analogue control and is not programmable, however, we still think it is worth the investment.