Butterfly Amicus Robot is one of the best robots available in the market. It rated the highest on our recent list, and for good reason, as well.
Few robots offer such fantastic specifications, so let's take a detailed look at what to expect from a Butterfly Amicus Robot.
Product Specifications
Rating: 4.3/5
Price: $$$$
Weight: 20 lbs / 9.07 kgs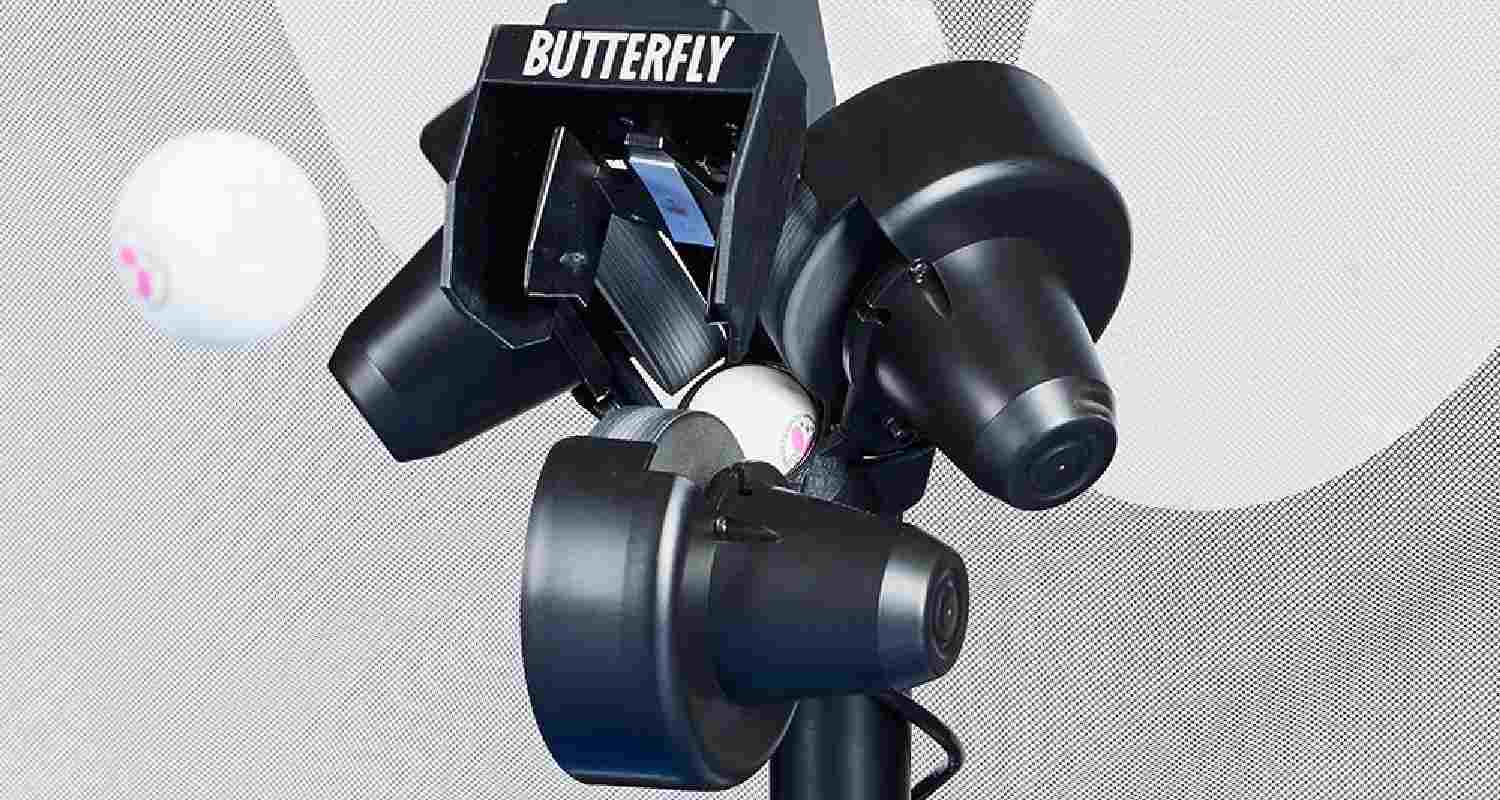 What to Expect?
There are many features of the Butterfly Amicus Robot that make it better than the rest:
Many Types of Spin
You can practice with many different kinds of spin that are available on the Amicus Robot.
From backspin, sidespin, topspin to multiple other kinds of combinations of spin that can help you take your game to the next level.
Tablet Included
There is also a tablet included with your purchase of Amicus Robot. It is an Android tablet that allows you to control the robot at your convenience. You can also download an app for smartphone usage, which would help you control the robot from your smartphone, making it much easier to control.
Ball Projection Height
The height of the ball per bounce can be adjusted into multiple different heights, which can help you train.
This is a superb feature as it allows players to get used to different trajectories of the ball, helping them train against all kinds of bounce. You can adjust the bounce from 8" to even 12".
Shot Types
Another amazing feature included in the Amicus Robot has to be the number of different shot types it offers. These range from slow loops, counters, fast loop, push chop to a normal lob, serve, smash. You get several other shot types, too, that is expert level, ranging from a dead block and flat kill, etc.
Memory Capacity
The Butterfly Amicus Robot has a very special and large memory that allows in saving the number of shots and programs you can add to the robot. These sequences allow players to play against a certain level of challenges.
The memory capacity, as a whole, is unlimited. There is around 6GB on the included tablet that comes with the robot and the storage can be extended with the Micro SD Card. When you buy it for the first time, there are dozens of pre-programmed drills to choose from, but you can add nearly 100 more.
Programmable
The Butterfly Amicus Robot Prime is highly programmable. You can add around ten shots that are adjustable to each shot as per spin, height, speed, position. In addition to this programmable feature, you can also add a multitude of random settings.
These random settings include seven different types, from scatter, type, place, and a mixture of all these three combinations.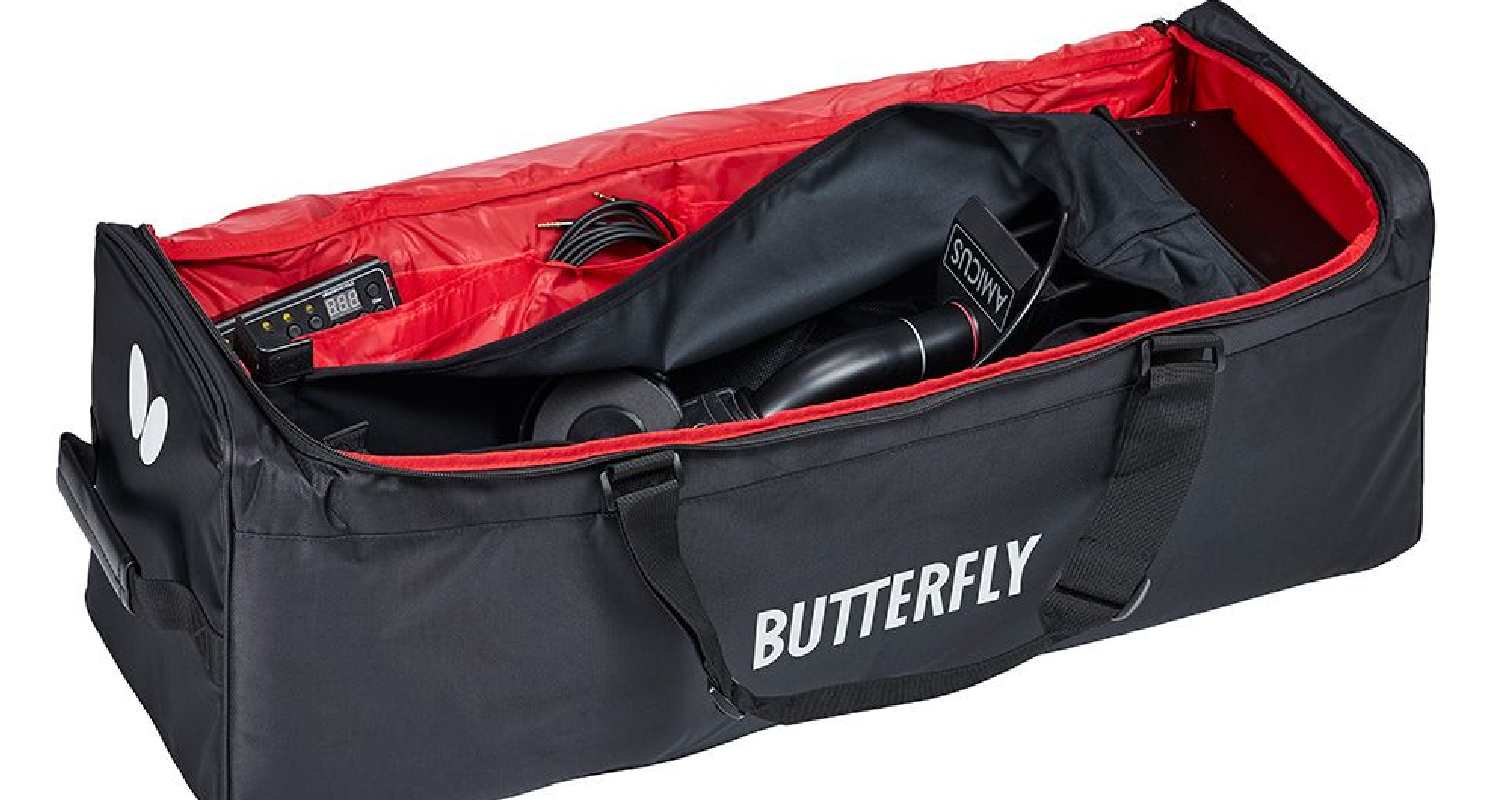 Pros
In a bid to help you make an informed decision about buying the Butterfly Amicus Robot, let's start with a few of its pros.
High Quality
The Butterfly Amicus Robot is extremely high-quality. It is used by professionals and coaches, alike, around the world. This high-quality robot is one of the best options for beginners, amateurs, and even the very best players, so if you want to invest in a robot, this should be a no-brainer!
Portable
The best part about the Amicus Robot has to be the fact that it is highly portable. Considering the quality, it has to offer its manufacturing has been done with insane precision. Due to this technical brilliance, the Amicus Robot is not only lightweight, but this also makes it quite easy to move around.
So, if you want to move the Amicus Robot and place it anywhere in the house, you can do it with ease. It is a brilliant piece of engineering and one you can get for your home, without having to worry about what the missus would think!
Long Running Time
You can use the Butterfly Amicus Robot Prime for a long time before it might heat up. This makes it a fantastic feature if you like to practice for long hours before you want a rest, so this makes it an incredibly important reason for investing. In addition to the long-running time, you can also be certain that you will have the range of capabilities that the robot has to offer.
Carry Bag & Net Included
You also get a carry bag and a net with the purchase of the Amicus Robot Prime. Butterfly knows how to make permanent customers and this is just one of the many reasons for buying the robot. Including two extra things, even though, they are not too expensive to buy separately, captures the interest of people, and that is a major reason why most people prefer to buy from Butterfly only.
Realistic Multi-ball Drills
If you often watch the Chinese players, they often start their rally with a short backspin ball for them to banana flick and then go into a fast backhand or a fast forehand topspin multiball rally. You can do this on this robot for up to 8 shots, and that can be a real help
You can set the Amicus Robot to give you a short pause in between eight-ball drills. This allows you to gain a few seconds delay so you can go back to your receiving position, before starting the drill again.
There are many pre-programmed drills in the robot, but we prefer if you use your drills. When you set up a drill you like, you can save it into the memory, as well. You can also set the speed with which it delivers the ball.
Cons
Very Expensive
The Butterfly Amicus Robot is the complete package, but its price is one of the few reasons why people might not opt for the brilliant robot. This is a major issue for many people; however, some would argue that the robot is worth its price tag. It is hard to be certain, but it is a decent investment.
Poor Manual Paper
As good as the Amicus Robot is, the manual paper is quite poor. This can be quite annoying if you do not know how to set up and use the robot. The instructions are unclear and this can be a sticking point if you rely on the manuals.
However, at the same time, there are lots of self-help videos available on the internet, that will make it easy for you to understand and do whatever needs to be done.
Robot Relies on App
People may think this is an advantage but I disagree. The robot relies on Bluetooth connectivity to work with the app. However, if the app were to crash, you will not be able to use the services of the robot.
Our Rating: 4.3/5
As we explained, previously, the Amicus Robot Prime is simply the best option around. We cannot think of a better robot and this one will ensure that you have spent money on the right product. You can use it to improve your game or train if you do not have friends who like playing table tennis.
The best part has to be the fact that the Amicus Robot is available for all levels of players, and it can help take your game to the very next level. We like the many different changes you can make and cater to improve the weak points of your game. Yes, it may be a little on the expensive side, but it makes up for it, with all the different traits it has to offer.
Frequently Asked Questions
How to Set Up the Butterfly Amicus Robot?
You might be having a bit of difficulty in setting up the Amicus Robot because the instruction manual is not much help. If that is the case, do not lose hope because there are many ways of setting it up. Here is a video that will help you in setting up your Butterfly Amicus Robot.
Is the Butterfly Amicus Robot for begginers?
As mentioned in the article, yes, the Butterfly Amicus Robot can be used by beginners. While, the price of the robot might be a reason why beginners cannot opt for the Amicus, but if you can afford it, you should buy it!
Conclusion
There is no doubt that the Butterfly Amicus Robot is a thing of beauty and a complete marvel of engineering, but you might have to think twice before investing in it. This is because, the Amicus costs an arm and a leg. It is one of the best table tennis robots you can find on the market, but is only recommended if you are a serious player.
You should remember that there is no guarantee that the Amicus will improve your game. It is only a machine, at the end of the day, and if not used correctly, it will not be beneficial for you. The best way to use the Amicus, or any robot really, is to include some coaching sessions into your training schedule to make sure you are developing the correct technique while using the robot.