Installing a hoop in your garage, fixing a net to play badminton, or getting a ping pong table is a fantastic idea, in today's day and age.
Buying a ping pong table requires a person to consider a lot of things.
There are so many variations and each of the ping pong tables cater to the needs of different players and their playing styles.
They also range from the location of where you want to play to the quality of nets. So, if you are also faced with the daunting task of buying the best ping pong table then you are in the right place and we will help you with this.
Best Ping Pong Tables Overview
Our Top 10 Ping Pong Tables for this Year
We have compiled a list of the best ping pong tables in our opinion, and these include high-end, top quality tables, as well as, the lower quality best options.
Indoor Table Tennis Tables
Our Rating: 4.8/5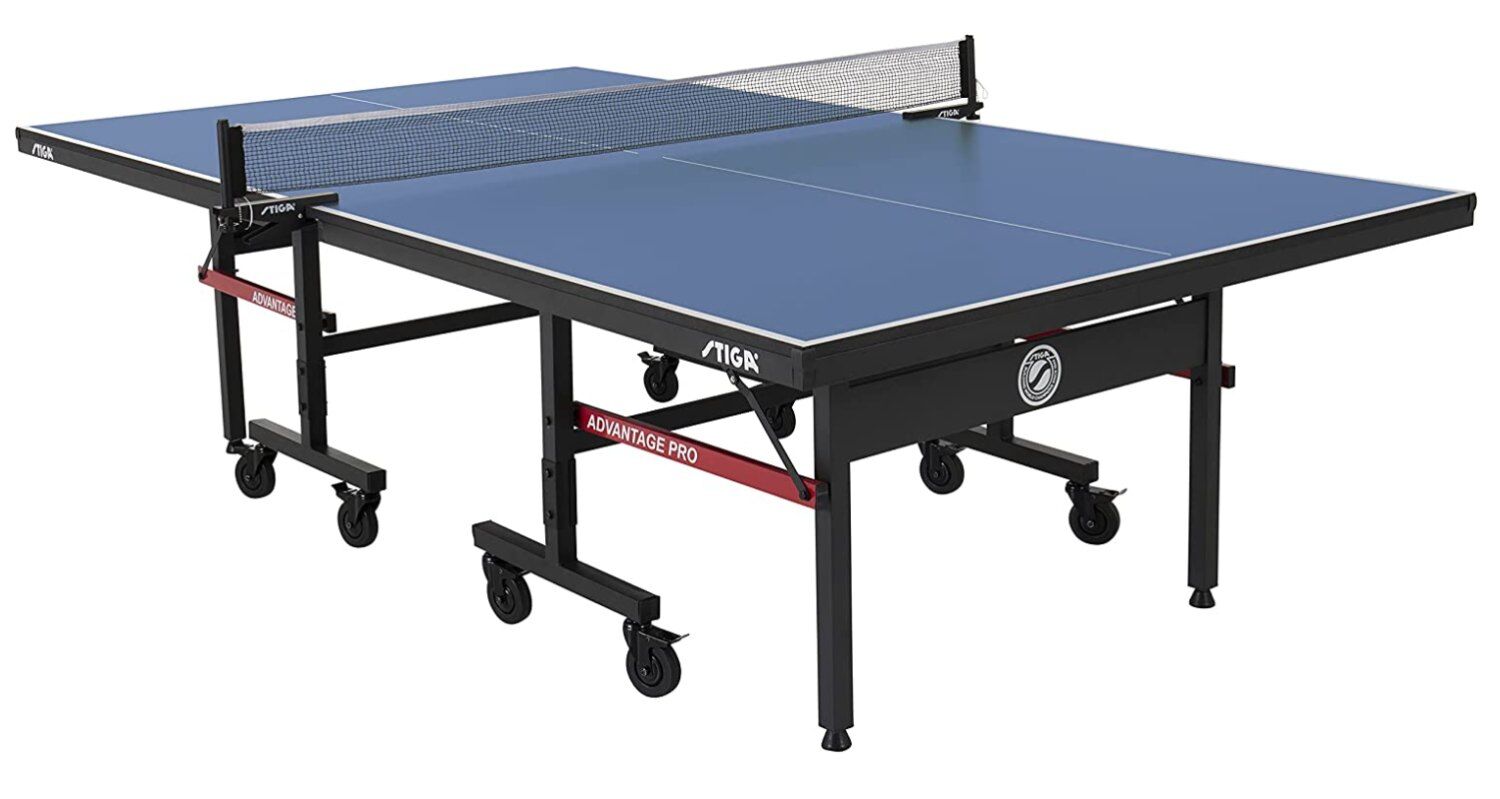 This is one of our favorite home ping pong tables and unsurprisingly the manufacturer is STIGA. The ideal product for your office use or even for your home, it is 95% preassembled. That means, you only need around 10 minutes to set it up and start playing, once it arrives.
It is available in three colors; red, blue, black so if you need to match it with the interior of your office or home, you can do that, as well. You can easily roll it if you want to move it around, which makes it perfect and portable, not to mention the net that attaches easily can be removed with ease.
Our Rating: 4.7/5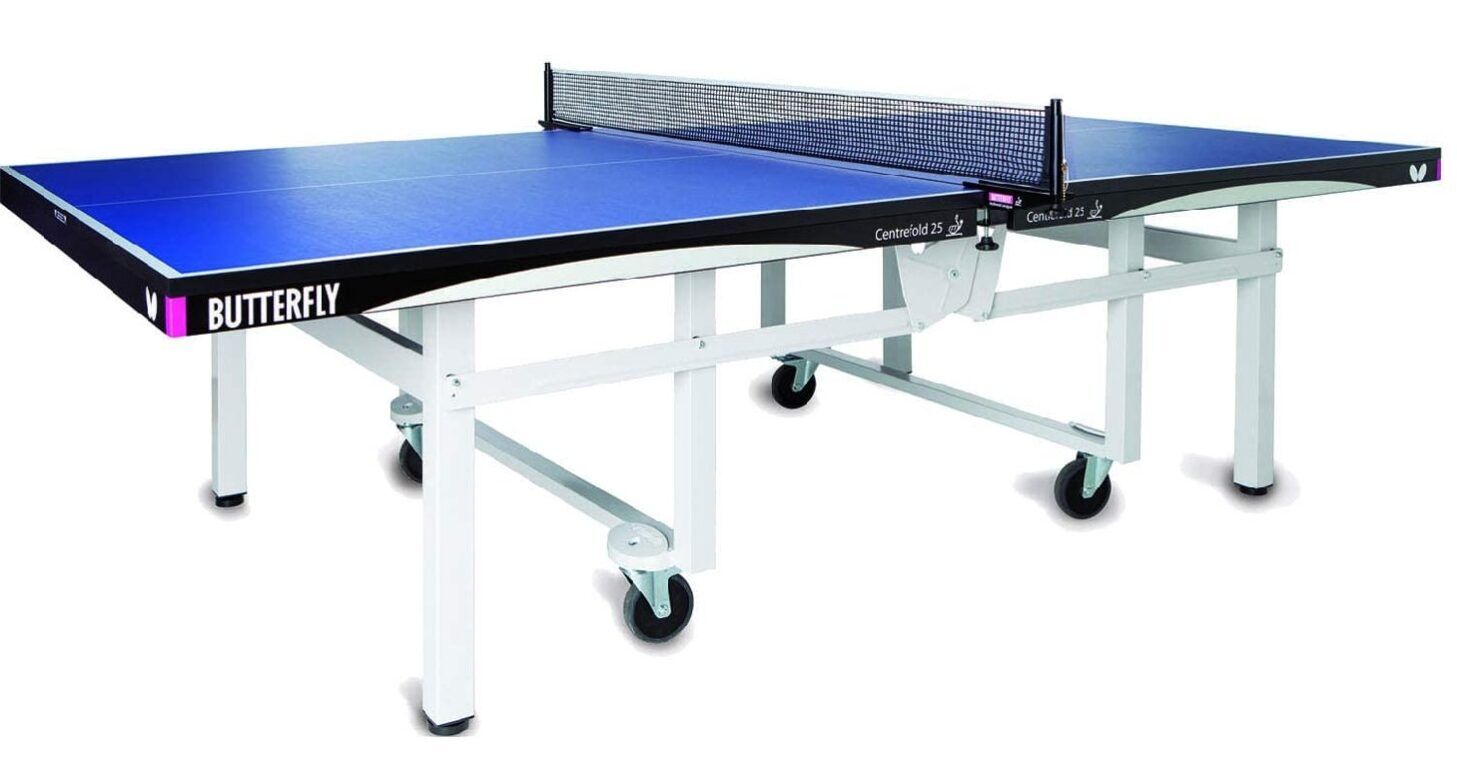 One of the high-end products, but durable and a fantastic option in the long run. Approved by the ITTF standards, it has a one-inch tabletop, ensuring consistent ball bounce, and is commonly found in clubs, schools, and institutions.
Moreover, if you are planning to set up a game room with plenty of ping pong, air hockey and pool tables, this butterfly table is a perfect option that not only provides fun but also prepare amateur and potential upcoming table tennis stars.
Manufactured by Butterfly, one of the biggest names in the table tennis industry, this durable ping pong table comes with a five-year warranty, which makes it a wonderful option and one you should consider if you have a large budget. You can easily fold it away for easy storage when it is not in use. Not to mention, it comes with a free professional, tournament-approved net!
Our Rating: 4.3/5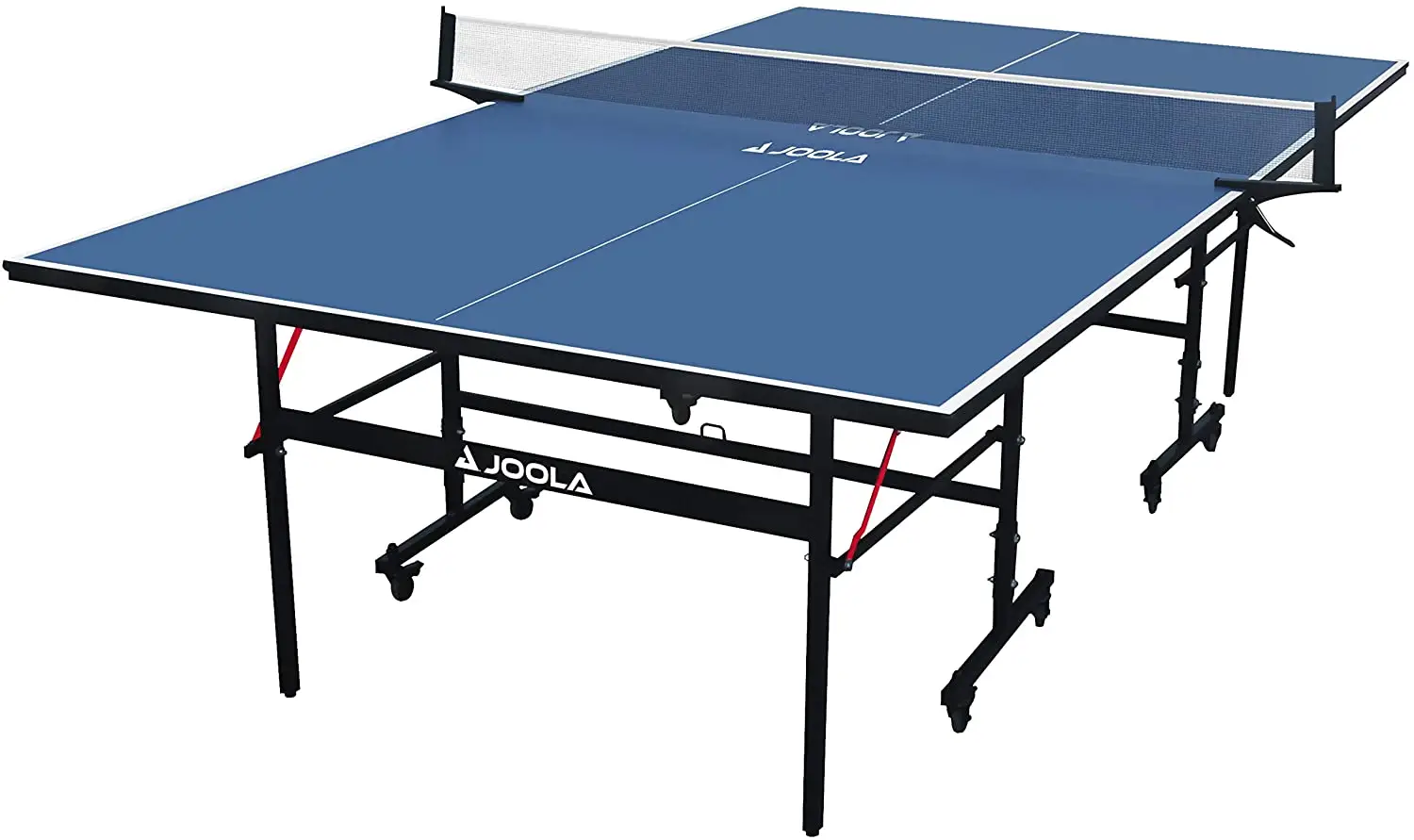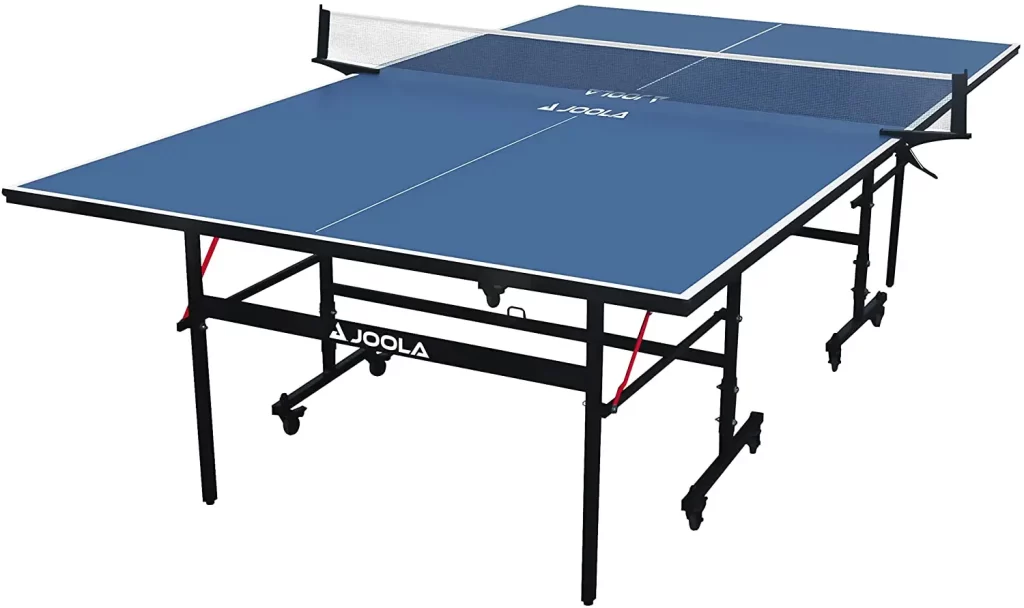 If you want to have an authentic competition grade, high quality table, on a budget then JOOLA Inside is just for you. Featuring a foldable design, this regulation-sized, professional-level table features premium construction on a budget.
This full sized table is ITTF approved, with a 25 mm thick MDF top. Two separate halves with a built-in trolly system make it easy to move and store the table. The foldable design also enables solo playback position and is a breeze to maneuver for easy storage. It comes 99% pre-assembled.
Joola Inside ping pong table is very heavy due to the thick top. The clamp-on net and post set are low-quality and you might have to get a new one. This indoor ping pong table cannot withstand humidity.
Some customers have noted bubbles on the table's surface after several uses and the metal undercarriage has also rusted.
Our Rating: 4.9/5
JOOLA Tour 2500 is a sturdy regulation size ping pong table, built to last in rigorous training. It comes as two individual halves which you can join together to make a full table. Each of these halves can be moved around separately, easing storage.
This Joola ping pong table is best for beginners to intermediate players who are looking for something to train on. Its quality and features make it a solid table that provides great value for money. The best thing is that it is solo playback mode compatible, which allows you to practice efficiently without a partner.
While we love the Joola Tour 2500 table tennis table for its superb playability and fine construction, this table is very heavy, so even the portable halves might seem difficult to move. It comes 99% pre-assembled but the weight makes it difficult to assemble it.
Our Rating: 4.8/5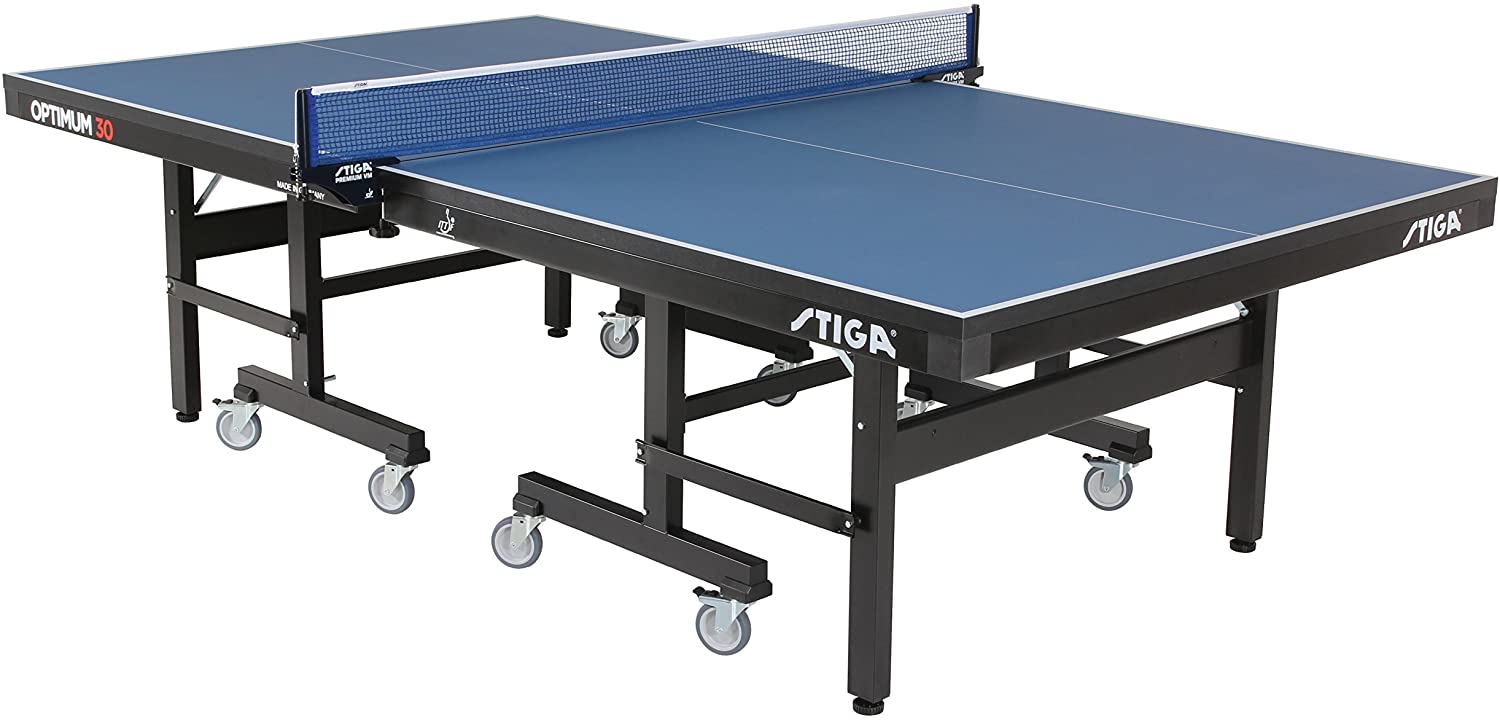 If you are looking for a competition-grade, professional tables, that has been featured in the World Championships, Stiga Optimum 30 would be among our top recommendations.
The table's most distinguishing feature is its MDF top is 30mm thick, unlike any other tables on the market. Apart from the thick top, the table also features a heavy-duty frame and legs that make it an excellent choice for tournament play. Its 30 mm top gives the optimum bounce with super spin-generation abilities.
Although it comes in two separate parts, the table is difficult to assemble due to its weight and long assembly time. The lack of convenience features, such as cup holders or ball dispensers, is also one of the downsides of this table.
Our Rating: 4.5/5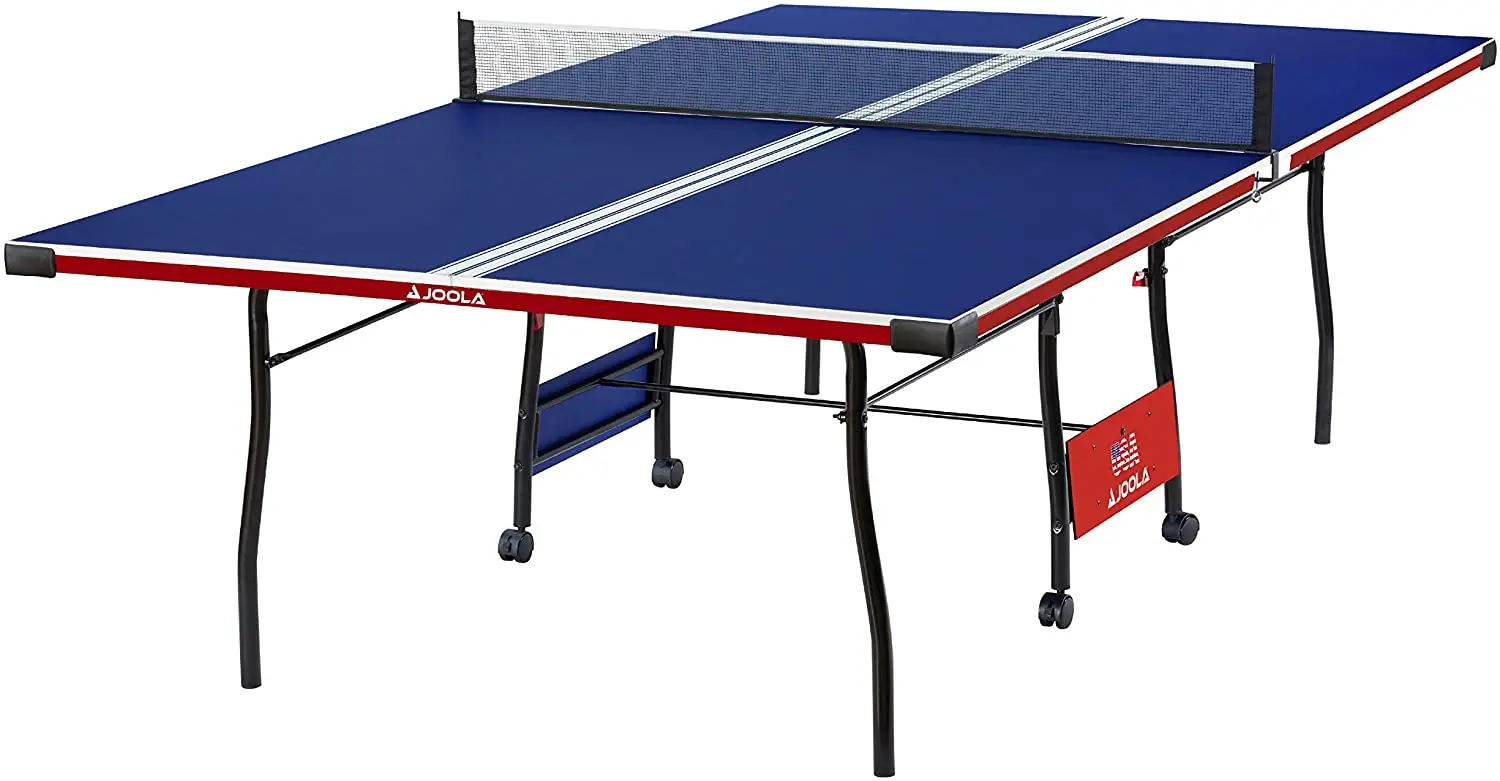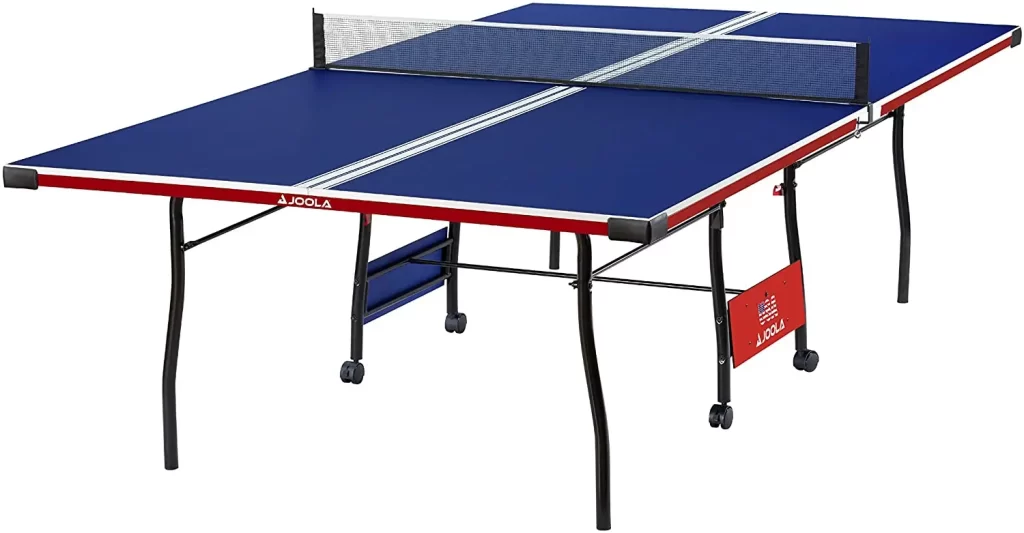 This light-weight, foldable regulation size table is perfect for recreational games, and that too on a budget. JOOLA Inside is a top seller due to its sleek design, performance, and one-year warranty. It comes 99% pre-assembled — just attach the legs and you are ready to play in 10-20 minutes. Moreover, it can be quickly slid into the storage space in minutes.
JOOLA also has come up with two other variants with 15mm and 22mm top thickness. For entry-level, this table is best in terms of price, performance, and due to JOOLA's after-sales services. On top of that, this table comes with a playback mode allowing for productive solo practice sessions.
This is not a tournament grade table as the table thickness is not suitable for professional play. It is also not sturdy enough and might get damaged in offensive games. Moreover, storing the table in an area with heat or humidity can result in warping the surface.
Outdoor & Multi-Use Tables
Our Rating: 4.9/5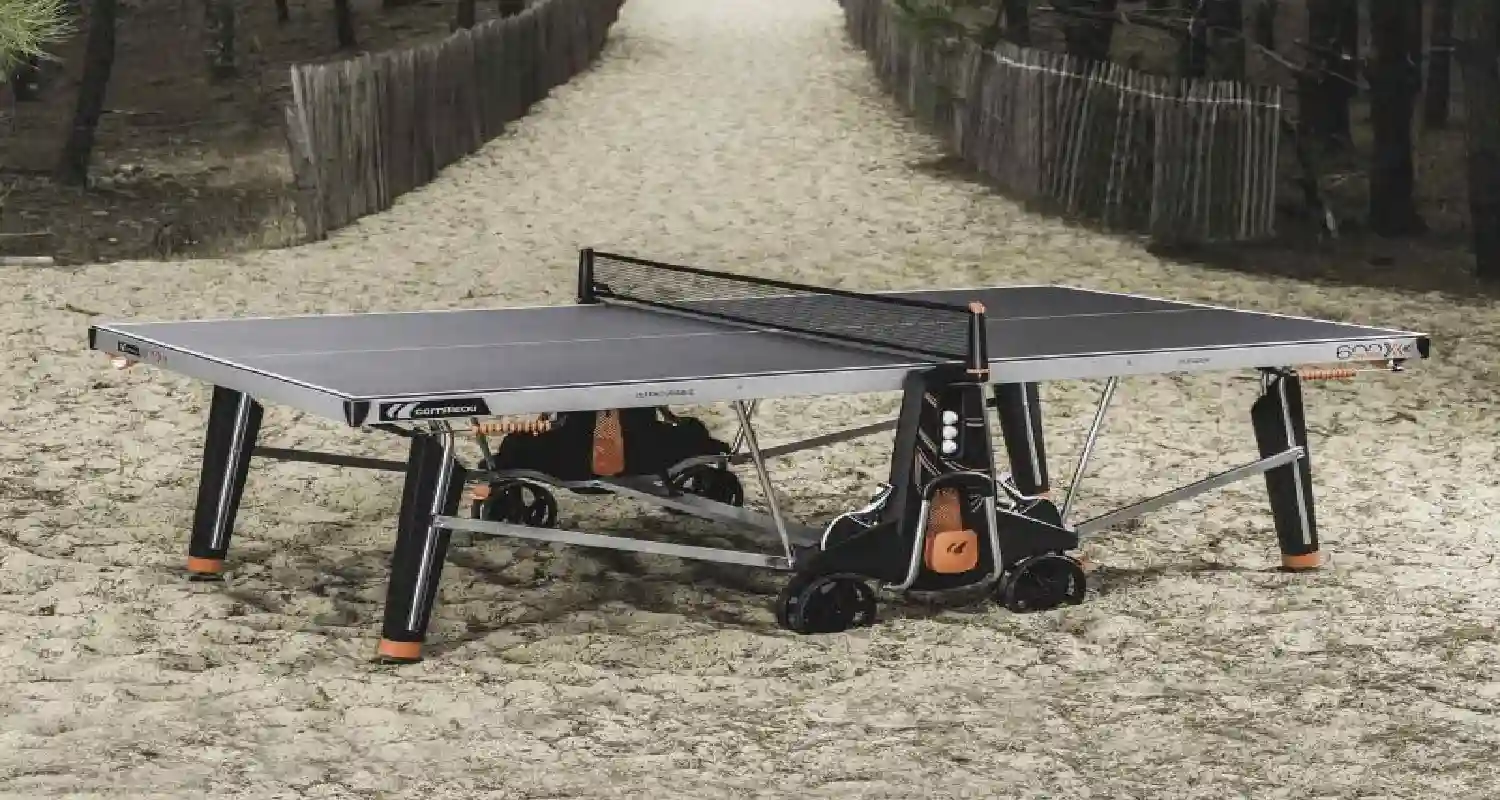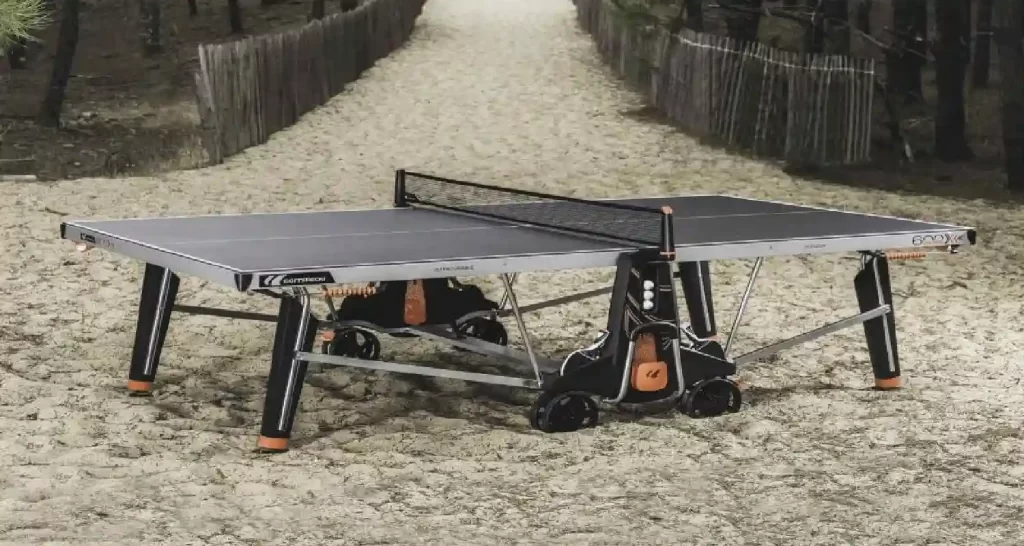 Cornilleau 600 X is not your ordinary outdoor ping pong table. It comes with exceptional features that leave the competition behind. Featuring advanced technology, it is easy to fold with compact storage. It has a 7mm thick weatherproof top. Heavy-duty wheels and adjustable legs make your table easy to move and assemble outdoor.
It also comes with a high-quality retractable tension net. The table has a 10-year warranty. You will find a storage compartment, a ball dispenser, and cup holders making it convenient for outdoor use. It has a state-of-the-art DSI locking system, for safety, that you will not find anywhere.
Even though the Cornilleau 600 X ping pong table has several convenience and safety features including playback mode, it is quite expensive for an outdoor ping pong table. It also takes 2 to 2 ½ hours to assemble.
Our Rating: 4.8/5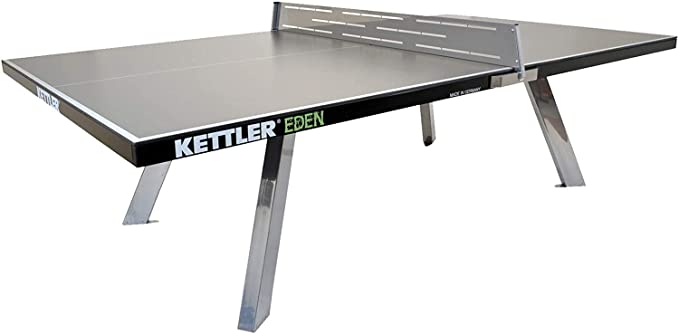 KETTLER Eden is a heavy-duty stationary, outdoor table table that promises the same feel as a concrete ping pong table. With a 10mm anti-glare melamine top, which is 100% weatherproof, the table features a sleek design, with a sturdy frame.
This is a high-end regulation size table with great playability. It also comes with a 10-year warranty for the top and a 3-year warranty for all the other components. Kettler Eden ping pong table comes with a fixed net, instead of the traditional mesh net, and not everyone likes that.
For the price and quality, we expected better protection features too, but the table doesn't have corner protectors. It is heavy and doesn't feature a folding design which is less portable and maneuverable.
Our Rating: 4.9/5
When it comes to Joola ping pong table, this is a fantastic item that makes playing ping pong a great source of fun and fulfillment. Weighing almost 175 pounds, and the frame is created from aluminum. It is waterproof, which makes it a great option for outdoor play.
This table tennis table has adjustable feet with leg levelers, which can help you adjust it on an uneven surface, and the six-inch wheels attached at the bottom mean that it can be shipped across the lawn and inside the garage without any fuss.
It has two separate halves, both of which are supported by locking wheels making it easy to store and assemble. Being one of the most highly sold tables with great reviews, JOOLA Nova DX is considered the best outdoor table available. It can be used for both indoor and outdoor use.
Mini Table Tennis Tables
Our Rating: 4.2/5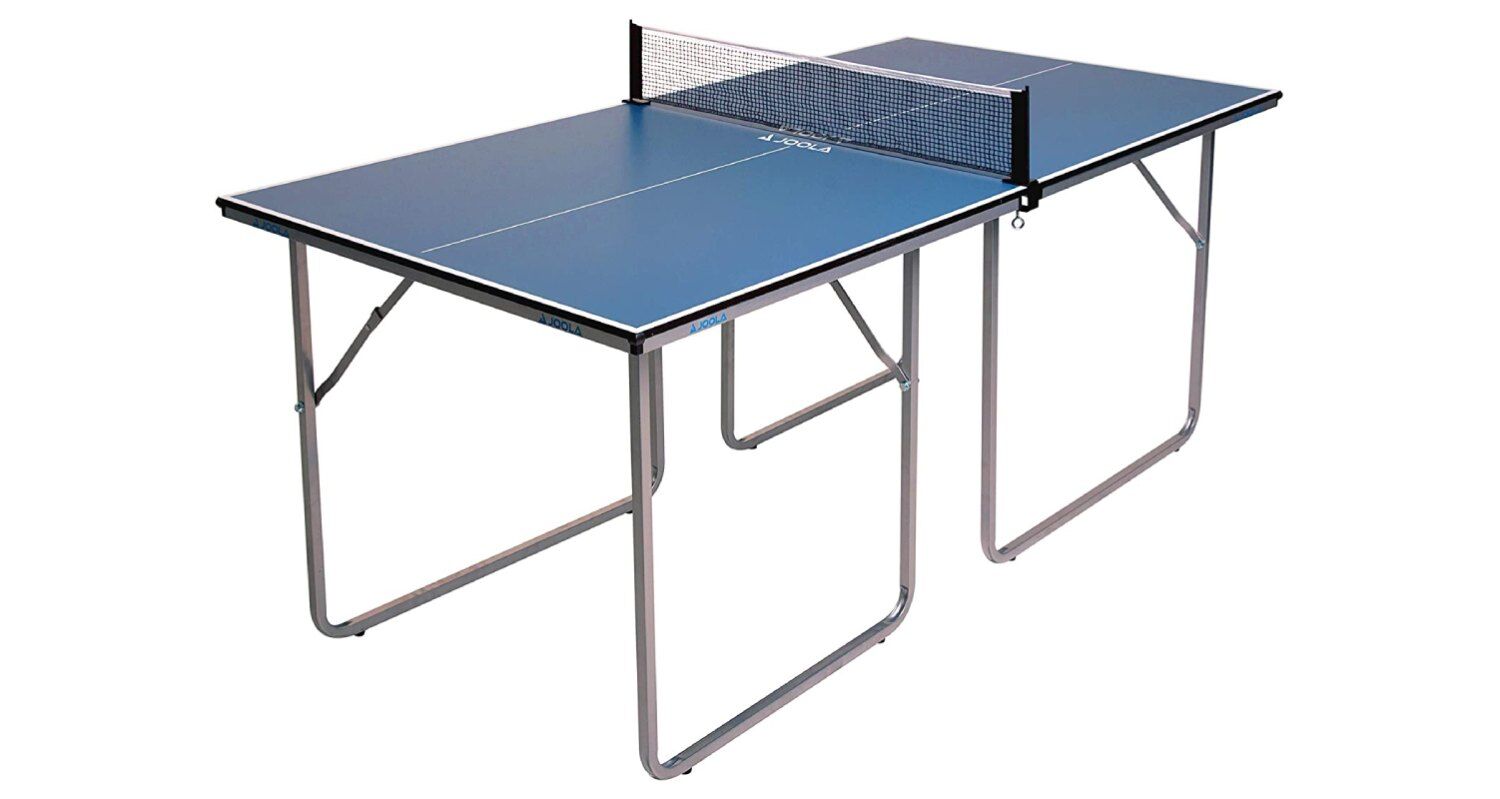 For recreational indoor ping pong, Joola mid size ping pong table is the best product. It is cheap considering you can get it for under $200 and it comes in a smaller size than your regular table tennis table.
These mid size tables takes up around 36" x 36" space for storage, which means you can put them almost anywhere in the house when not in use. This indoor ping pong table comes with the net and post set, and manufactured by one of the reliable companies, JOOLA, it is a reliable investment. It comes preassembled 100% and has two separate legs under each part of the table which makes it easy to assemble.
Features & Attributes of Table Tennis Tables
Most people that are looking to buy a ping pong table, want a quick fix.
You might be thinking, what is the best ping pong table in the market? Fair question, and the right one to ask, however, the answer is not straightforward.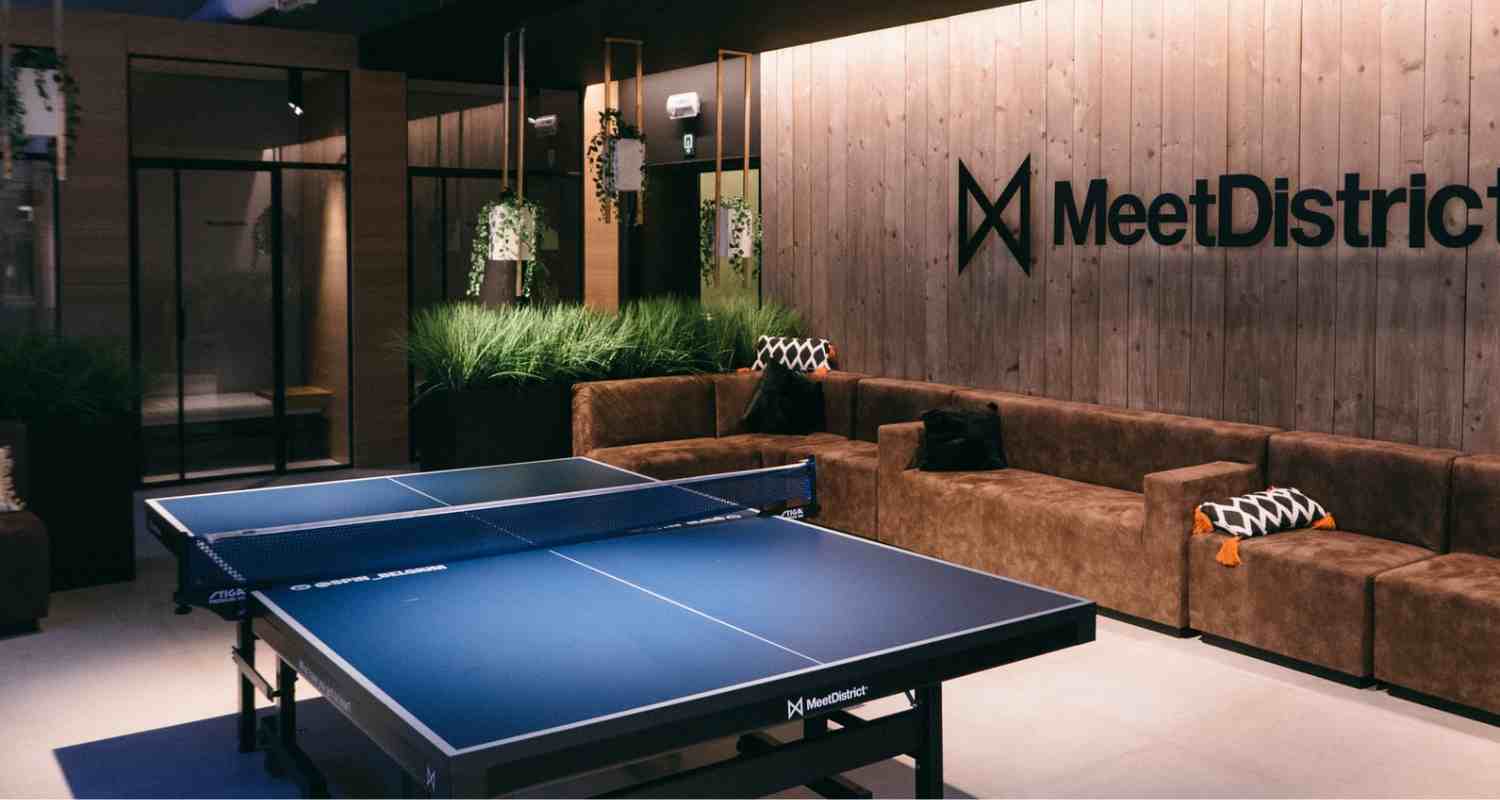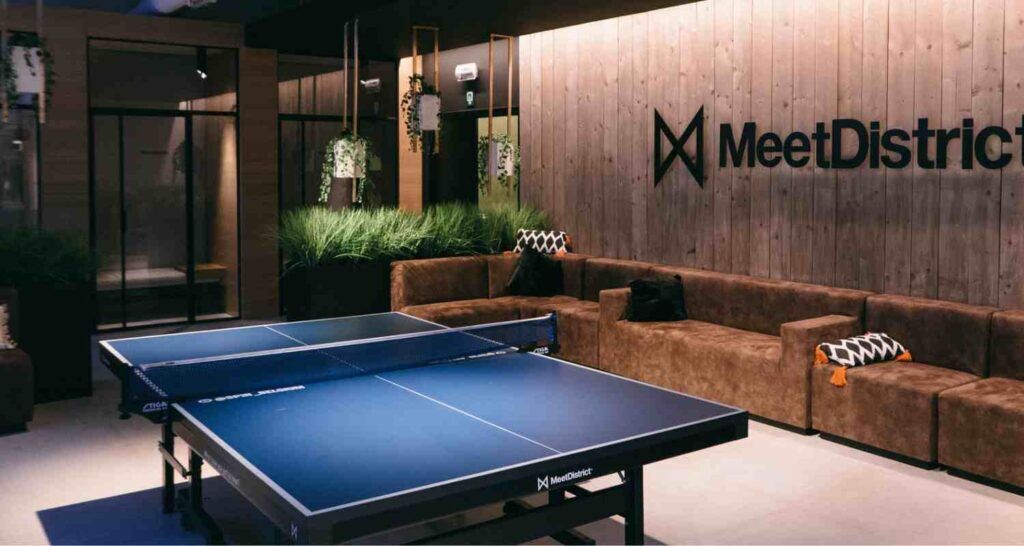 You have to consider lots of things. For example, how much space you have, whether you want one for indoors or outdoors, what kind of a playing surface is ideal for your table tennis balls. Are you prioritizing design or do you prefer bringing in a sturdier option?
Who will be playing and what is their skill level? Is this table tennis table for you or your kids? Portability, quality of bounce, racket-holders, we have you covered. Go through our guide, and save yourself thousands of dollars and buy a good product that will not be something you regret whenever you come across it.
The best ping pong tables are the ones that fit your playing style and which type of ping pong paddle that you hit with when playing. For amateurs, starting and playing less regularly, there is no point spending big on a 25mm surface table that is used for competitive games.
You also have to factor in more details like outdoor table considerations, weight, and many other things, but most importantly, how much are you willing to spend?
Ping Pong Table Dimensions: Size Matters
First of all, you have to decide on what size table tennis is ideal for your needs. This depends on where you want to put your ping pong table, for example, if you want to put it in your garage, then you should have an idea of what size would be ideal. A regulation size table can be an ideal choice for the garage.
Similarly, if you want to put a kids table in a room, look for the non-standard ping pong tables of about 60 x 30 inches. These include mini-tables and conversion table tops. Conversion table tennis table also serves multiple purposes and can be used as a pool table, dining table and ping pong table.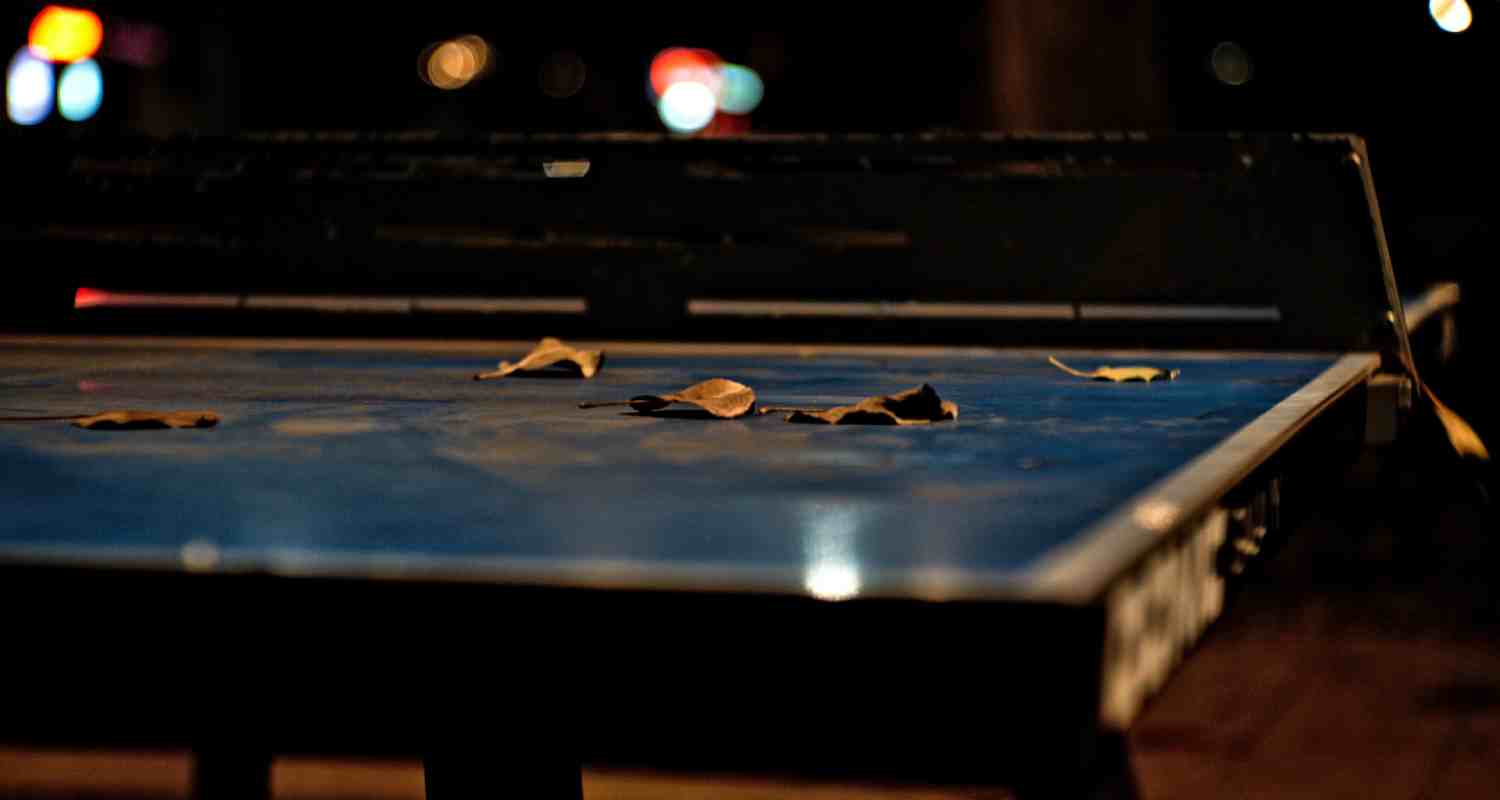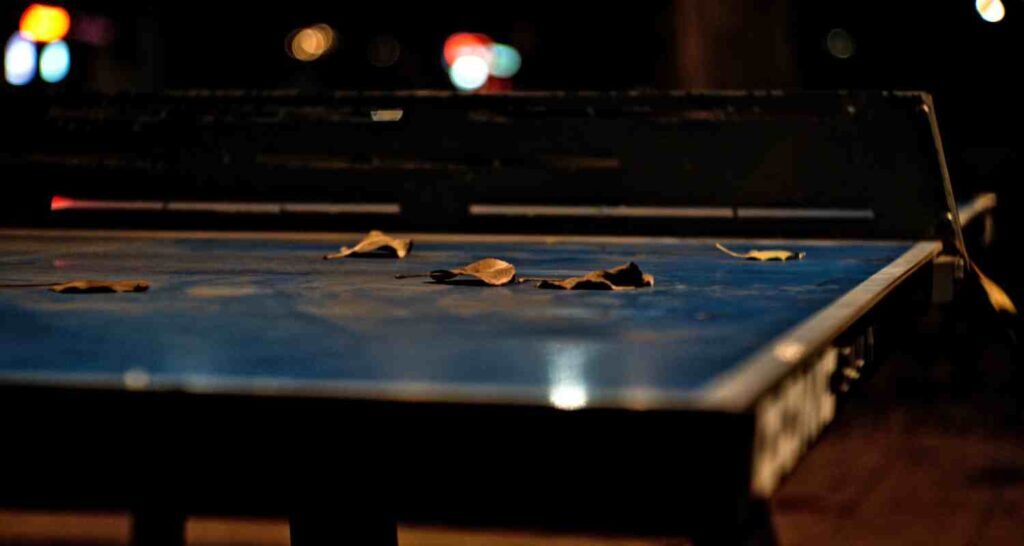 How big is a ping pong table?
According to the International Table Tennis Federation (ITTF), a professional ping pong table has only one standard size: 9 ft x 5 ft x 2.5 ft (108in x 60in x 30in), just a bit smaller than a pool table. This is the standard size ping pong table, used in competitive games. However, if you think this full size table is too big for your needs, then you can decide to go for non-standard/non-regulation size table.
These are mostly for recreational purposes and having a fun evening, burning calories with family and friends.
The non-standard table tennis table sizes vary from manufacturer to manufacturer; however, the most common non-regulation sized table is around 6ft x 3ft x 2.5ft or 72in x 36in x 30in.
Buying Ping Pong Tables: What to Look For
When you are buying a ping pong table, you might get confused as they all seem essentially the same table. However, there are a few things you have to look out for. The type of table tennis table can vary greatly – even among different brands. These are mentioned below:
Table Top Thickness and Material
The tabletop thickness or surface thickness refers to how thick the top of the table is. This is an important consideration because that is the surface with which the ping pong balls will make contact.
A thicker playing surface would mean a consistent bounce and thinner table surfaces will mean that the bounce is low. The laws of ITTF suggest that the ball should bounce at least 23cm when dropped from a height of 30cm.
You need to factor in that the thinner the surface will be, the poorer your experience will be of playing table tennis. However, for recreational purposes, you still do not need to go as thick as the actual playing surfaces of competitive ping pong. Outdoor tables tend to have thinner surfaces, but if you want one for indoor, these will be your options.
14mm or less
Not advised. This is far too less and even for beginners, it will not prove to be a good experience. We suggest buying thicker table than 14mm.
15mm
If you are cash-strapped and not willing to spend big, this is the least requirement you should match. This is fine for beginners and ideal for a lightweight purchase.
18 or 19mm
18 or 19mm table thickness are ideal for players who already have experience of playing table tennis, previously. It has a good bounce and the weight is decent enough, as well.
22mm
This is the "very good" indoor tables category. Most of these are found in clubs that have ping pong tables. It has a superb bounce, and if bought from one of the famous manufacturers, it can be durable, too.
25mm
These tables are very thick and used in competitive tournaments. Expensive and high-end but the bounce is consistent and as good as it gets.
Material
You also have to consider the material with which ping pong tables are made. Tabletops range from plywood, particle-board, plastic, metal, concrete, or even fiber-glass.
The table thickness ranges from 12mm to 30mm, as well, and the thicker the material will be, the better your table is. ITTF tables are only made of wood, though, so other materials are used for different recreational purposes, only.
Weight
The ruling regarding the weight of a tennis table is that it is linked to its durability. The heavier your table is, the sturdier it will be. For example, the tables used for competitive games can weigh as much as 300 pounds or even more! However, for recreational purposes, it is fine to use the lighter tables.
The weight of a table reflects on how thick a tabletop is, the quality of the wood used, and the sturdiness. However, we suggest going for a lighter table and a more portable one. Imagine moving one of the heavier tables during shifting, that would be a nightmare!
Frame
While there are many considerations to be made, when looking to buy a table for your table tennis exploits, the most important consideration has to be the frame. It is the building block of every ping pong table.
The highest quality of ping pong table has a Herculean frame. This is one of the major determinants behind a proper table that you should buy. Look for a table that has a durable frame, made of quality material like aluminum or stainless steel. Another tip when looking for a good table is that, the most parts a table has, the sturdier and more reliable its structure is.
Set-up
As we discussed the weight and size of a ping pong table, that would have given you an idea of how much area you need to clear before you buy a table tennis table. Even the lightweight tables weigh around 100 pounds, so we suggest skimming through these set-up suggestions, as well.
There are many different set-ups of ping pong tables, and you should find one that fits your needs, perfectly. We will take a look at some of these set-ups and help you decide the ideal fit as per your convenience.
Portability
Portability is an important factor when it comes to choosing the ideal ping pong table. You may decide that the gaming room needs a new look, or maybe playing outdoors is a good idea, but if your ping pong table does not have the wheels, you might be handicapped in this decision.
Some have legs that can be folded easily and you can move them one by one and then set it up, but if you are going to be moving your table frequently, we will advise you to go for a ping pong table that has wheels. Larger wheels allow you to move it over uneven surfaces with a lot more ease.
Folding Tables
There are so many options to choose from. Folding tables offer another range of convenience.
One Piece Folding Tables
These tables can be folded from the central position and consist of two halves, of equal size. They have a mechanism in their center that allows you to fold them and store them when not in use. This design also allows for playback mode and is available in most recreational tables, but some of the more high-end tables also have this feature.
Two Piece Table with Wheels
This table tennis table comes with two different pieces that have wheels and you can join them together to form the whole table. They are designed for compact storage when not in use and can take up lesser space as compared to the one-piece folding tables. Most of these come with detachable nets that need to be attached separately after joining the tables.
Stationary Table Design
The stationary table is a lot like the one-piece folding table, however, it has folding legs that fold beneath the table when it is not in use. These tables tend to be quite heavy but compact and can require some effort when setting them up. That is why these are ideal for people that are planning on putting them in one place and not moving the playing area frequently.
Non-Folding Table
Just like the stationary table, these are very heavy and similar to heavy furniture. Once you place them, you can forget about moving them. These are sturdy, and designed to remain in one place, only.
Playing Location
The playing location matters, quite a bit.
Table tennis is an indoor game; however, for recreational purposes, people prefer playing it outdoors, as well. If you do not have enough space indoors, we advise putting your ping pong table out in the garage or across the lawn and have a fun time with your family and friends.
Room Size
Remember, it is not only about fitting the table in a room, it is also important to consider the playing area around the table, so that you can move around easily. It is recommended that you have around 4-5 feet of space on all four sides for the optimum experience.
If you do not have such space, then we suggest clearing up the area or simply not spending on a ping pong table.
Of course, if not for our suggestion, someone in the family will ensure that you do not place the ping pong table in a room that contains fragile and expensive items. Try to place it in an isolated or soundproof area because things can get fairly competitive and table tennis tends to be a noisy game.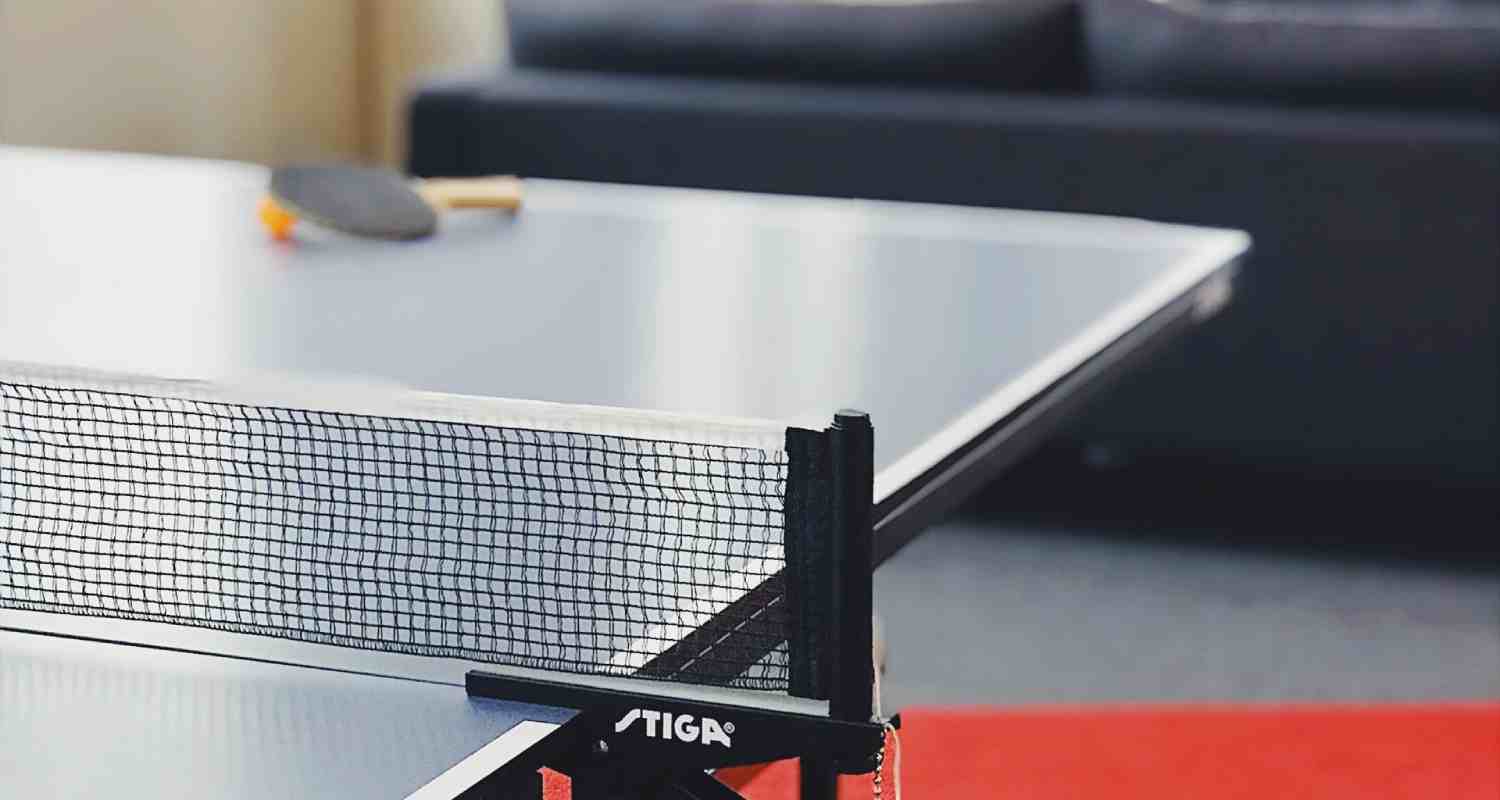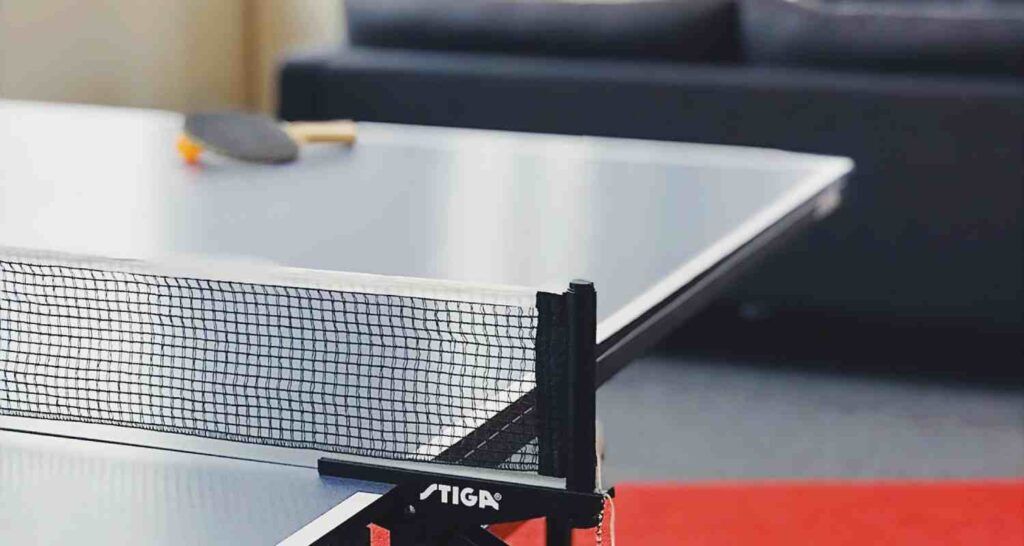 Indoor Table Tennis
All of the competitive and amateur-level games take place indoors. It is an indoor game, and playing indoors gives you the optimum experience of playing table tennis.
This is because the game indoors is not influenced by the weather like the wind can have a big impact as the ping pong ball is lightweight. Similarly, the rain can be a nuisance, so to avoid the impact of the weather, it is advised to play table tennis indoors.
The indoor table tops are made of wood. This is a major difference when compared to the outdoor tables. Indoor ping pong table having the top made of wood are used in most of the high-end tables that you can buy.
Outdoor Table Tennis
Yes, table tennis is an indoor game, but the outdoor experience of playing table tennis has gained a lot of traction over the years. Some people suggest that "table tennis" is played indoors and is competitive and a serious sport, while for recreational purposes and fun, you can play "ping pong" that can be played inside and more often, outdoors.
The main difference, as noted above, is in the making of the tabletop. The outdoor tabletop is made of a mixture of steel and wood and has a finishing that allows it to stand the test of weather which ranges from rain, wind, and sunlight. The outdoor tables are also sturdier.
You cannot use indoor tables, outside, especially if the weather in the region you live in is unpredictable. Tables made for indoor usage are prone to wear and tear in the weather but you can use them on a nice sunny day.
Age of Table
People normally prefer to buy a used table for ping pong. You can buy a used table or a new one, but either way, it is imperative to remember that you have to consider a few things before committing to buy.
New Ping Pong Tables
Most of our guide is regarding new ping pong tables. You can buy most of these higher quality tables from any of the famous vendors of table tennis tables like JOOLA, Killerspin, Butterfly, etc.
However, without care for wear and tear, your investment in a ping pong table will go to waste. No matter how much of a high-end product you buy, you have to invest the time and energy in caring for your product. This could range from covering it when not in use, storing it in the right place where there is little chance of damage, and even looking for the spare parts that you can replace once the old ones give way.
It is dependent on the manufacturer, how well the table is engineered, but it also depends on the person buying it, how well they look after the table and ensure that it is around for a long time. Most of the care goes in on the playing surface, the tabletop.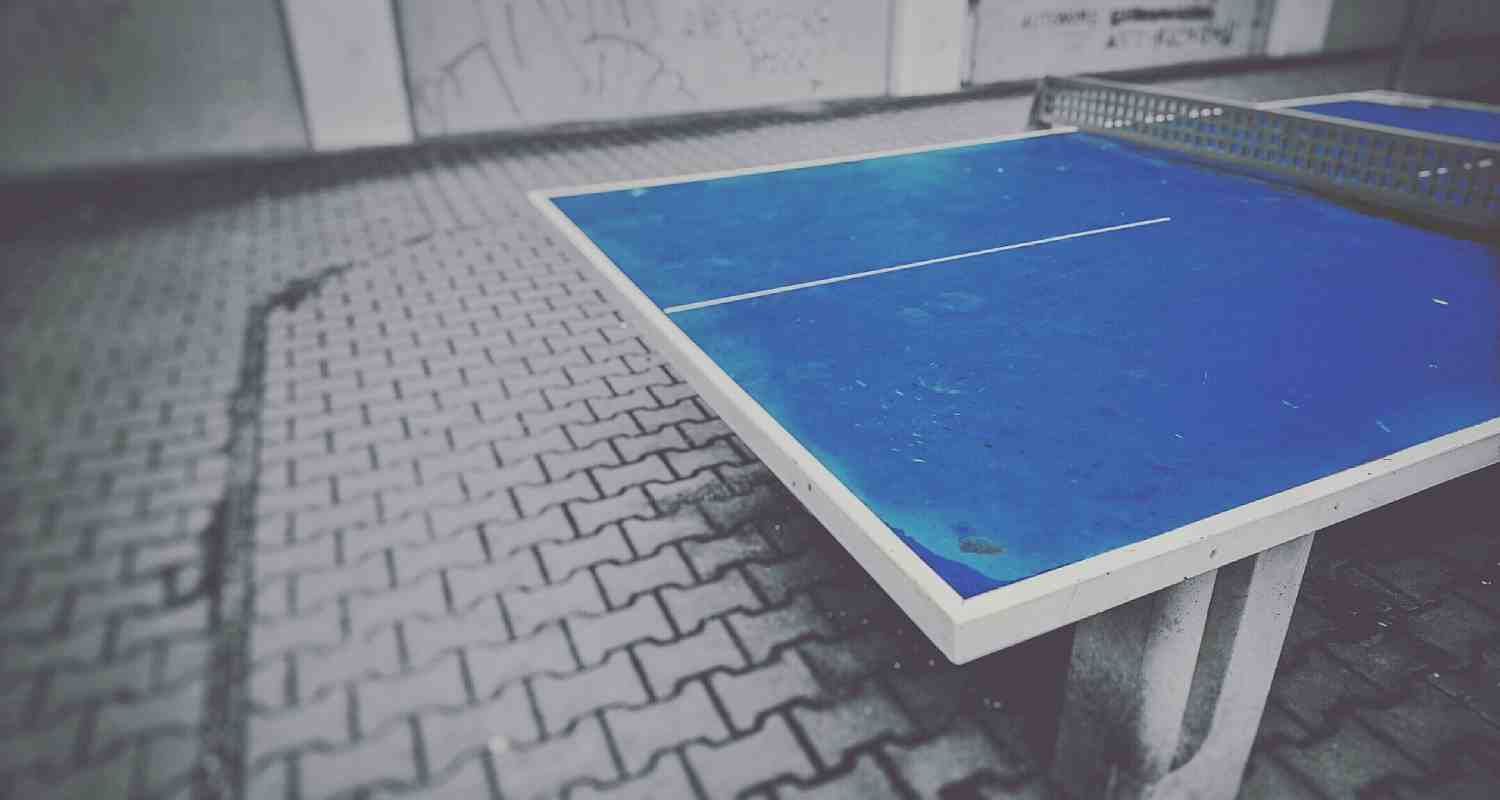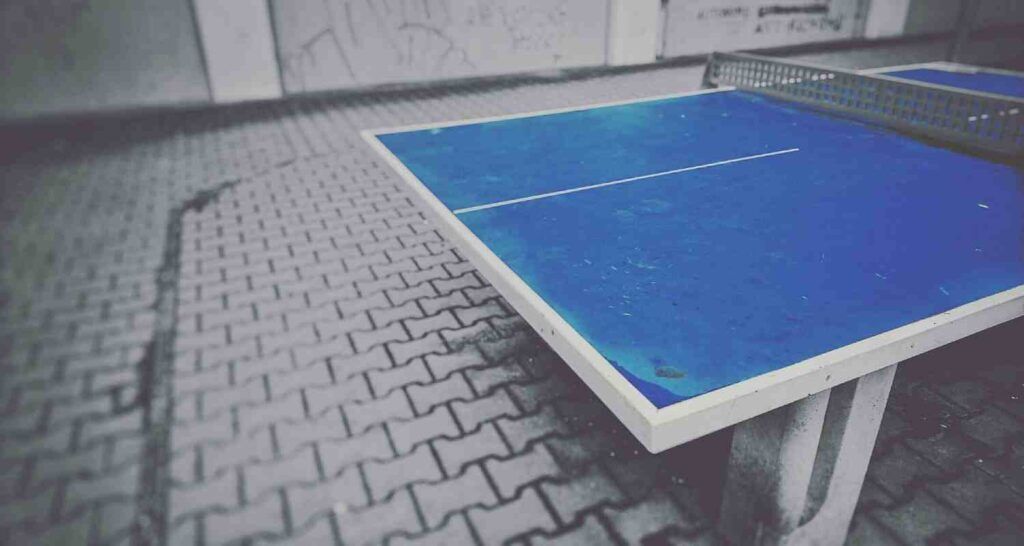 Used Ping Pong Tables
If you are looking to invest in a used ping pong table, you will have to inspect the product more carefully. Luckily for you, spotting the flaws in a ping pong table is not a tough job. Placing a hand and applying some pressure will help you see if the frame is level or not, or if it has some missing parts. It is not tough to find out if the tabletop is leveled, and most importantly of all, remember to buy a used table that has a higher availability of spare parts.
Look out for the wheels, the legs of the table, and the folding mechanisms, if they are fine and not subject to rust. The net is inexpensive to replace so it is okay if it has some wear and tear. However, do not invest in a poorer model just because it is inexpensive. This is because if you buy it, another person might read this piece and decide not to buy it from you and who wants extra, useless furniture?
Factoring in Cost
The most significant factor of all is cost. This majorly depends on your budget, as there is a wide range of prices to choose from. Ping pong tables can range from as low as $400 to as hefty price tag as $4000. However, you still do not have to spend four figures to get yourself a good table, again, it is highly dependent on your needs.
Non-regulation-sized tables
If you have a small budget, you can opt for one of these, as they are available from $100-$450. You can even find properly sized tables within this budget but of course, you will have to sacrifice the quality of the table, when you are paying so less. It can either be in the form of a very thin playing surface, which will lead to an inconsistent bounce or simply are not sturdy enough to last you a long time.
However, affordable ping pong tables can be portable, lightweight, and very easy to assemble. Some examples are:
Stiga Midi Table Black Edition
Butterfly Starter Table
Joola Midsize Compact
Low-End and Recreation Class
These are ideal for beginners and intermediaries alike. We advise getting the tables that fall in this category as they are a good return on your investment and provide the perfect balance between money spent, quality, and toggling with features as per your requirement.
They might not compare as well with the high-end products, but again, they will also not require you to break the bank. Ranging from $450 to $600, there are quite a few models to choose from:
Butterfly Active 19 Deluxe Rollaway
JOOLA Tour 1800
Butterfly Compact 16
Mid-Range and Entry Level
These tables are priced between $600-$1000. These are most suitable for local recreation centers, schools, offices, homes, game room, dining room and clubs, etc. Expensive, yes, but these tables are exceptional, as well. The thick playing surface, detachable net, strong and sturdy frame, and built to last a long, long time. You can find lots of Chinese-made products in this range which compete well with European products, as well. These are our picks:
JOOLA Inside
Butterfly Easyplay 22
Killerspin UnPlugNPlay 415 Max DeepBlu
Premium, Competition-Grade, Designer Tables
These are the high-end outdoor table tennis tables that are used in all of the competitive and amateur-level tours. ITTF approved premium quality tables which have a wonderful tabletop that provides the ideal bounce and are made for competitive players. These start at $1000 and go as high as you want to spend.
The design of the tables is impeccable, and you get the highest quality table. If you want a good sturdy table for outdoor purposes, we suggest going for one of these. If you are paying in four figures, you are getting excellent craftsmanship, use of premium quality, and incredibly durable tables that have matte finishes, optimal friction, and reduced glare, as well.
Our favorite ones are:
Butterfly Centrefold 25
Joola Tour 2500
Stiga Advantage Pro
Ping Pong Table Brands
Many different manufacturers excel in making some of the world's best ping pong tables. We take a look at some of these brands: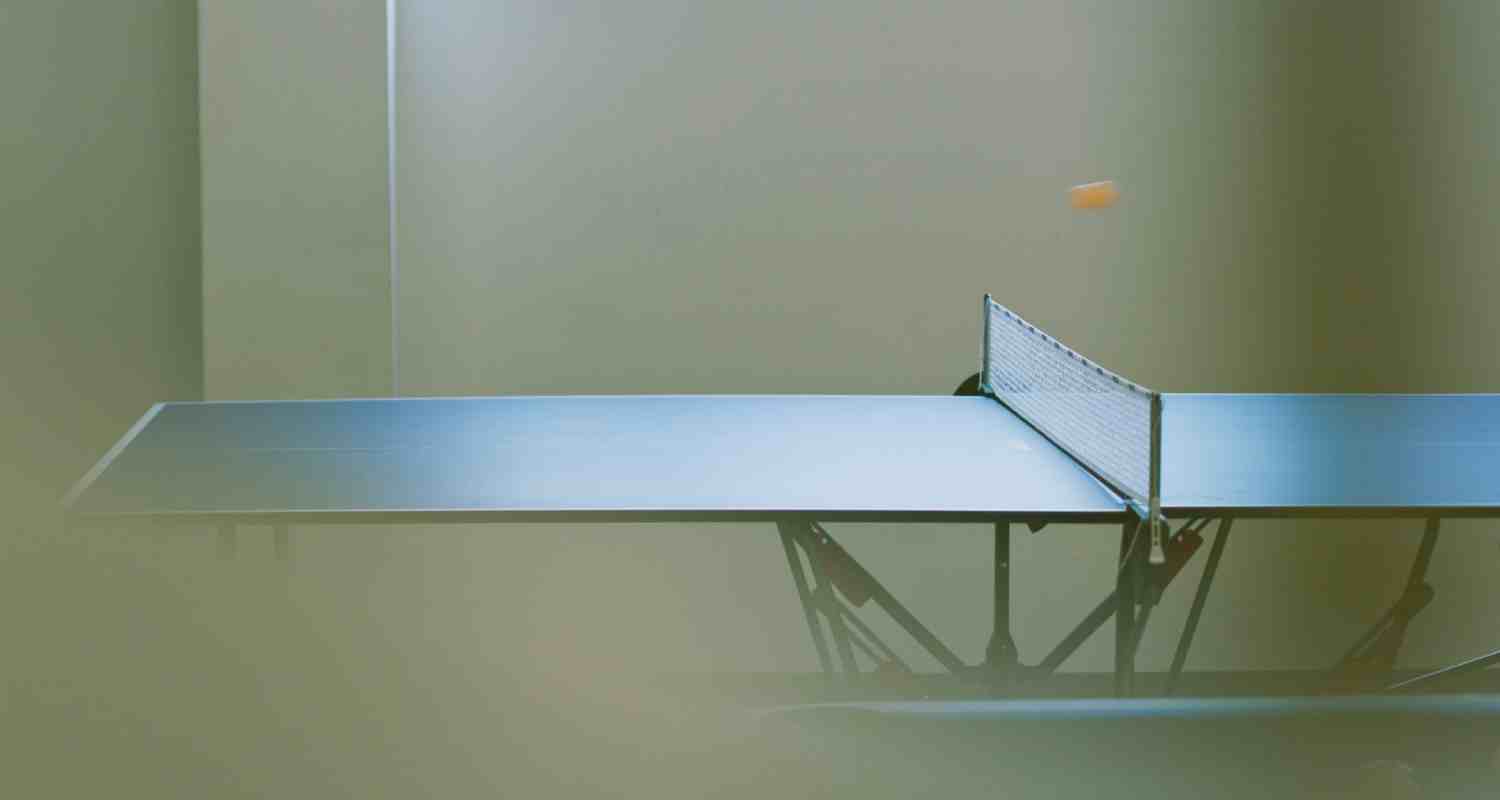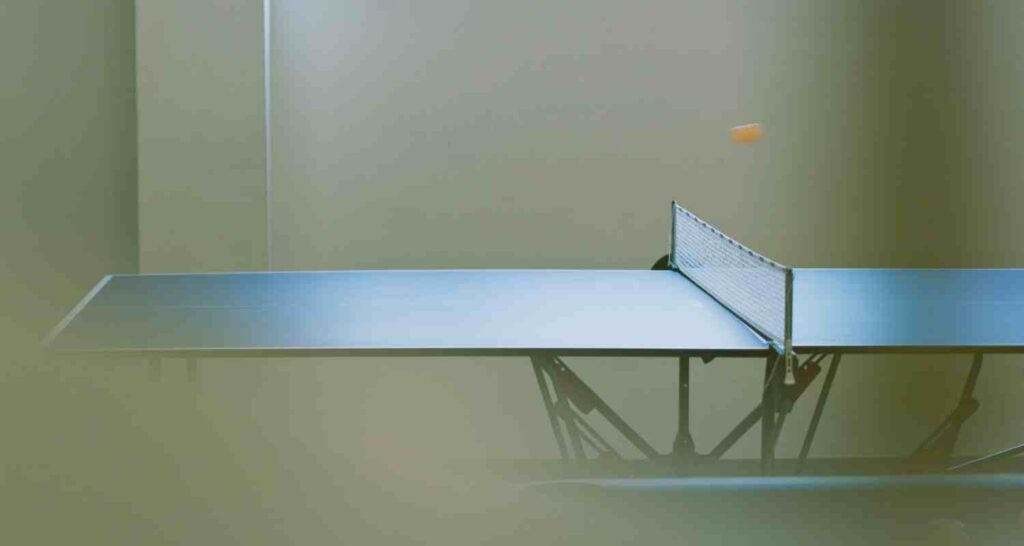 STIGA is one of the most famous tablet tennis brands in the world. They have been manufacturing products since 1944, and are Sweden-based and serve internationally, as well, to all levels of table tennis players.
They excel in making the best blades; however, STIGA's ping pong tables are amazing as well. It is a Swedish product, so you can expect the highest quality and the highest standards of safety, as well.
Since 1952, JOOLA has been manufacturing top quality table tennis products and they are the leaders in making the best ping pong tables, as well.
From fun-size, outdoor to professional, they have tables that cater to players of all levels. Ranging from $149 to $1000+, JOOLA ping pong tables are simply top-drawer and worth every penny that you spend. They also provide their products to the USATT, which is the national governing body of USA Tennis.
Butterfly, the Japanese brand was founded in the early 1950s and since then it has been delivering top-notch table tennis products. They are the pioneers of table tennis and are dedicated to providing the highest quality of products after spending big sums of money on research and development.
They have their research center in Tokyo since 1983 where highly qualified scientists work on creating the best product for you! Most of the world's best players use their products and are signed by Butterfly.
Compared to the other brands on here, Killerspin is one of the more recent brands as they came into existence in 2001.
That does not mean that their products are far behind the other brands, as a lot of work has gone on behind the scenes at Killerspin to make them the manufacturers of luxury table tennis products. Their products cater to design and style incorporated with the highest quality.
Frequently Asked Questions
There are some frequently asked questions regarding buying a ping pong table. We have answered them for your convenience.
Where to buy a ping pong table?
Amazon is the answer to everything these days! You can find the highest quality of table tennis products and most of the ping pong tables we mentioned above can be found on Amazon, as well. If not for Amazon, you can also log on directly to the websites of Butterfly, JOOLA, Stiga, etc.
How much does a ping pong table cost?
A ping pong table can cost as low as $130 to as high as $4000+. It depends on a lot of things, most of which, we have discussed above. If you want a high-end table that covers all of the requirements of ITTF, you can find one for around $1000-1300.
If you want an even more expensive table, which combines style with substance, then you can surf Killerspin for tables that will cost upwards of $3000. Similarly, reliable manufacturers like JOOLA, Stiga, and Butterfly have tables for recreational purposes and non-standard sizes that cost below $200. A regular-size ping pong table will inflict damage of around $700-900.
What is the best ping pong table?
"The best" is a variant term that has a different meaning to every person. However, if you mean a table that meets all the standard rules of ITTF and is often used in tournaments and competitions then we believe it is the JOOLA'S Inside Professional Indoor Table.
If you meant the best table tennis tables for recreational use, then we believe the Stiga's Advantage Lite Recreational Indoor Tabletops on our list.
Options like the Butterfly Centerfold and Kettler Champ 5.0 are also considered to be top quality products.
How big is a ping pong table?
The standard and approved ITTF dimensions of a ping pong table are 9ft x 5ft x 2.5ft or 108in x 60in x 30in.
Non-regulation size table tennis table can be of many different sizes. However, most common size of non-standard table is 6ft x 3ft x 2.5ft or 72in x 36in x 30in. Some tables are ¾ quarters the size of an actual ping pong table as well. You can find mini-tables, too, and smaller ones of about 60 x 30 inches seem to be ideal for training your kids.
How much space do you need for a ping pong table?
A full size table requires a lot of space. That is why people mostly prefer to keep it outdoors.
You will need a few feet of room on all sides of the table and considering that a table is nine-feet long and five-feet wide, there needs to be nineteen-feet long and eleven-feet wide space required for optimum playing experience. However, for the kids, an ideal table size can be around 60 x 30 inches.