The JOOLA Inside is an indoors ping pong table that features a foldable design.
It is known for providing great quality at a reasonable price and has garnered positive reviews. Its foldable halves provide ease of conversion and mobility, which is appealing to those with limited space.
JOOLA is a big name in the table tennis universe and no wonder this table has also been in the spotlight for a while now. It is ITTF approved and seems to have pleased many customers. Let's dive into the details and see if it's worth the hype.
The table comes in three styles of varying thickness: 15 mm, 18mm, and 25mm. Below is the review for the professional one i-e with 25mm thickness.
If you want a table for recreational purposes, you should opt for the one with 15 mm or 18mm thickness. In case you are a serious player, the one with 25mm thickness is the best.
Joola Inside Product Specifications
Price: $$$
Rating: 4.3/5.0
Type: Indoors
Weight: 209 Pounds
Dimensions (after setup): 108 x 60 inches (length x width)
Thickness: 25mm
Material: MDF Wood
Accessories: Net and Post set, Nuts, Bolts, and Bolt Plate
Assembly Time: 10-20 minutes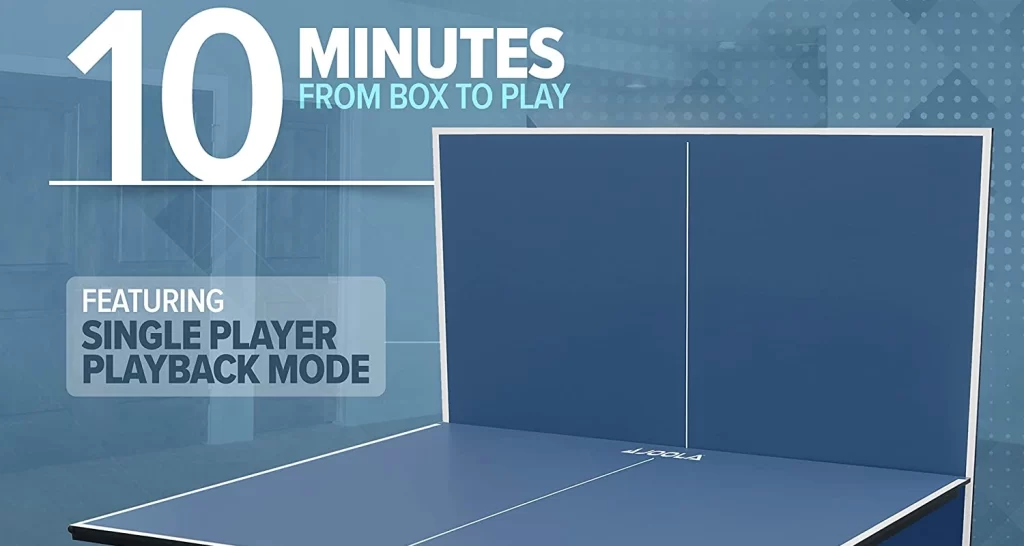 What to Expect?
JOOLA is a household name when it comes to table tennis equipment. Their products range from recreational equipment to those used in Olympics.
This table is designed for serious professional players and, coming from JOOLA, promises tournament quality. We expect it to deliver great bounce and exceptional tournament feel.
Construction
JOOLA Inside is an indoor professional table with a 25mm table top. The table features MDF wood, which is a common engineered wood used for indoor furniture. It comes in two separate halves.
A strong, powder coated undercarriage also gives the table sturdiness and is supposed to prevent rust. One and a half inches steel legs give a well-built feel. The legs also have adjustable levelers so that table height can be adjusted.
Overall, the table is built to sustain damage and provide tournament feel. The additional benefits of foldable halves add into its appeal too. These halves can be placed on trolly systems that make their mobility safe and easy.
Each half has four lockable caster wheels that provide safety and stability during play, storage or mobility.
Pros
Great Quality
With superior construction and adequate thickness for professional play, JOOLA gives you the tournament quality at home. This USATT approved table tennis table gives excellent bounce for professional play and can sustain damage in an offensive play.
Quick Assembly and Compact Storage
JOOLA Inside comes 99% pre-assembled. It takes 10 to 20 minutes to attach the legs and 8 bolts. The net set has a clamp design for quick and easy attachment. With this feature, you can start playing within 10 minutes of receiving the table.

Foldable feature allows easy mobility and a compact storage too. Since ping pong tables are pretty heavy (and this one is not an exception) two separate halves make mobility and storage a lot more convenient.
Playback Position
Two foldable halves do not only offer compact storage, this feature also allows solo play with playback mode. With this mode, you can play and practice without a partner.
For solo playback position, unfold one half and keep the other one vertical and you are ready for practice and play with no string attached!
Professional Feel
25 mm is the optimum thickness that professionals choose in a ping pong table. The table features multilayered MDF which, together with the thickness, offers a a consistent and reliable bounce.
The table's professional feel with great quality is why it is preferred by athletes everywhere.
Reasonable Price
If you want a good regulation-sized, professional table, a rough estimate would be 1500$. JOOLA Inside professional table currently retails at 574$.
Considering its quality and superior construction it is unarguably one of the best ping pong tables in the market. This is also one of the main reasons for its popularity.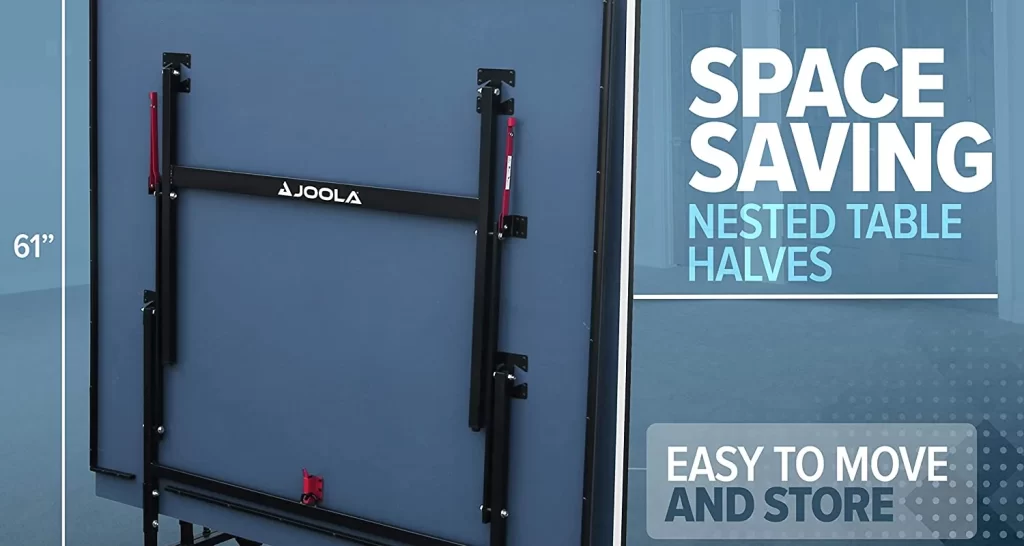 Cons
No Tolerance to Humidity
This table is designed to be used indoors and cannot withstand moisture.
Some customers have even pointed out that the surface begins to bubble even when placed indoors away from humidity. The metal undercarriage has also been reported to have rusted.
Low-quality Accessories
The net and posts that come with the table do not offer a good quality at all. Although the clamp system seems attractive, customers have reported these clamps to have gotten loose after a few uses.
However, these accessories can be bought separately and you can still enjoy your table.
Heavy Weight
Due to its thickness, the table is heavy and you would need several limbs to carry it around. Although JOOLA has tried to solve this problem by attaching wheels for mobility, the table still needs extra effort to be set up.
If you are looking for a professional 25mm table, you will encounter this problem, since this thickness is necessary for consistent and predictable bounce.
Our Rating: 4.3/5
With a foldable design, superior quality, and a great price, we find this table to be a value for money. It truly gives you that tournament feel and is excellent for professional play.
JOOLA doesn't play around when it comes to quality and this table is also sturdy and reliable. As an indoors table, it doesn't tolerate humidity or heat and must be protected.
The problem of low-quality accessories can be fixed by getting new ones if you really like the table. Although there is no manufacturer warranty by JOOLA, they offer a satisfaction guarantee and most customers have shown positive feedback.
Conclusion
If you are looking for an indoors ping pong table that gives you that professional feel at a budget, JOOLA Inside is the one for you. It is a well-built table, with great quality and a sturdy design.
The table splits into two halves which makes storage, assembly, and mobility easy. Two halves also give you a personal playback position. It is currently the most popular table on Amazon and guarantees 100% satisfaction.