Table tennis nets can impact your game massively. A sagging net would make the playing experience disappointing, and spending on a cheap product would only result in more disappointment.
Here, we have a review of a premium net from one of the best-rated ping pong brands. JOOLA premium inside table tennis net and post set seems to be a good-quality indoor product with additional features. Read on to find out if this product is for you.
JOOLA Premium Inside Table Tennis Net Specifications
Our Rating: 4.0/5
Price: $$
Size: 72 x 1.5 Inches (Length x Height)
Material: Polyester
Weight: Approximately 1kg including the posts
Included Accessories: Post
Warranty: 1-Year Standard Warranty
Color: Black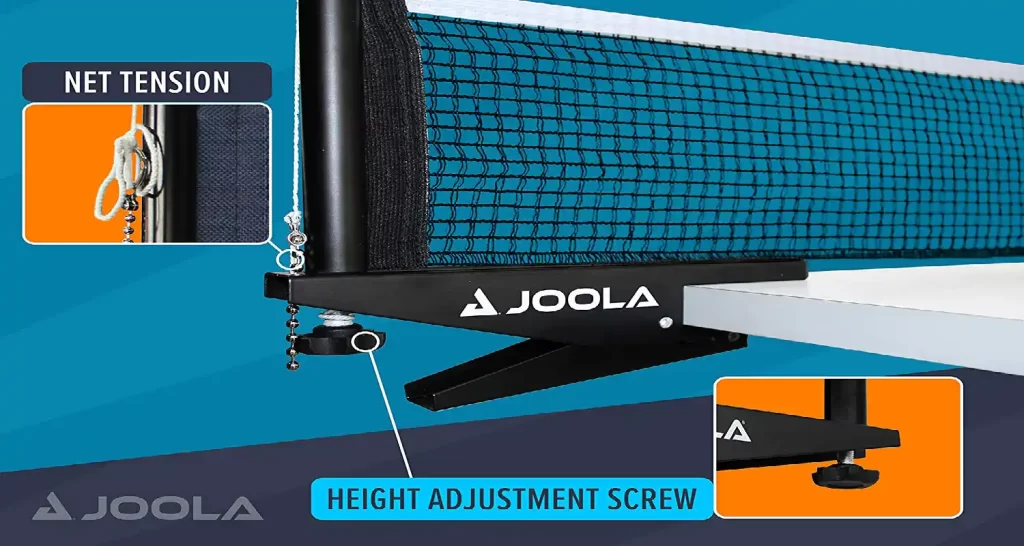 What to Expect
We used the JOOLA premium inside table tennis net indoors and we have a few key takeaways to share with you. We have noted our observations here so that you can make an informed decision about buying this net.
Here are some of the features that you might expect when you buy this product.
Convenient Design
JOOLA premium table tennis net features tightening spring clamps with protective rubber pads and an easy attachment system. You can conveniently set the net tension using the ball and chain at both ends.
The net is high-quality but incredibly lightweight, making it highly portable and easy to set up.
Excellent Customer Service by JOOLA
JOOLA is a household name in table tennis. The company specializes in professional table tennis equipment and has sponsored the Olympics and World Championships. The brand has the most prompt and efficient customer service, and you will not be disappointed.
Sturdy Material
Made of cotton mesh, JOOLA premium inside table tennis net is lightweight but sturdy and durable.
Cheap nets can get torn or ripped in time but this one lasts. The base is also thick enough to withstand offensive shots and the net wouldn't budge. The metal posts wouldn't get damaged even after years of use.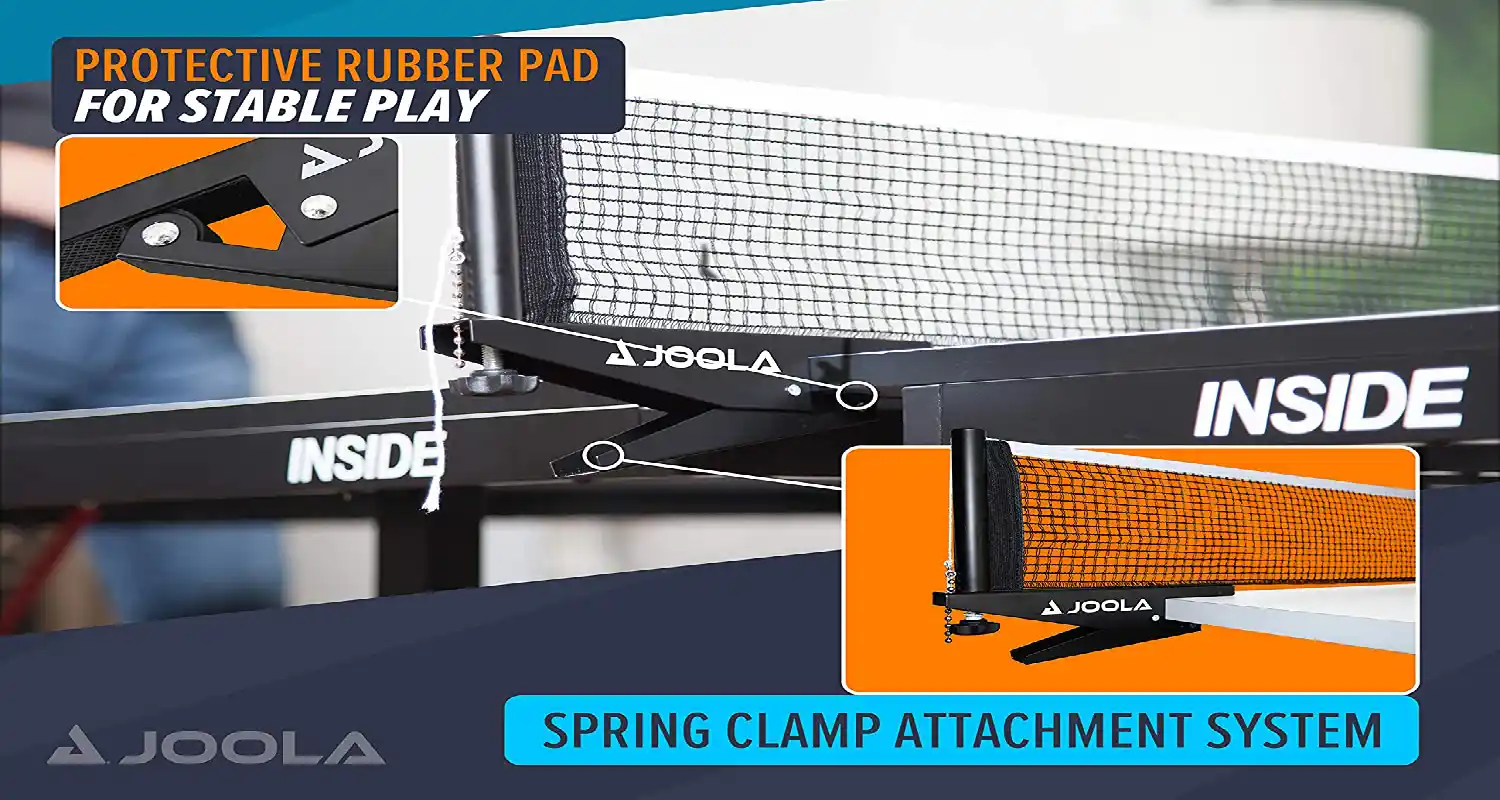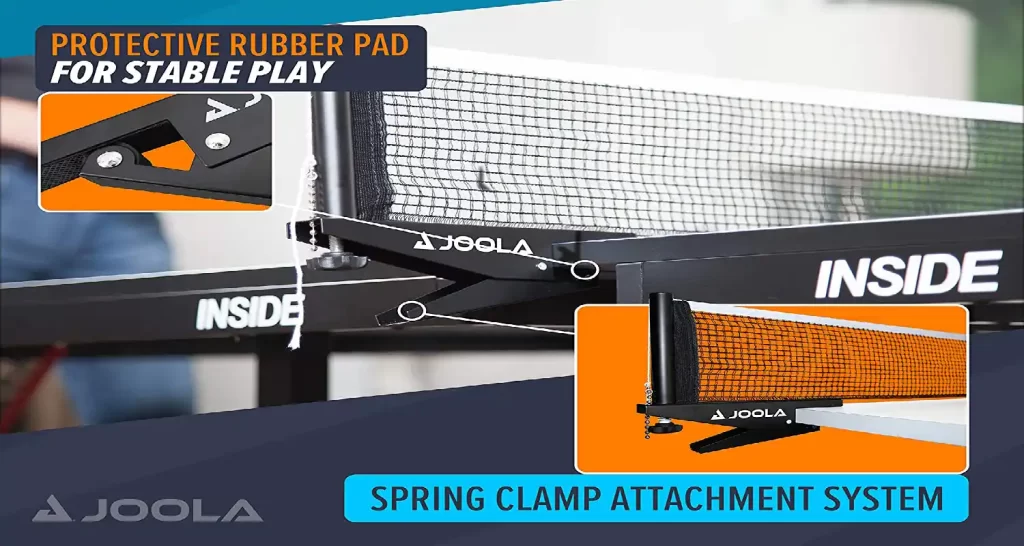 Pros
Regulation-sized
JOOLA premium inside table tennis net is regulation-sized which means that it will easily fit a 9 x 5 feet table as well. The net is 72 inches long with a height of 1.5 inches, a size that fits that ITTF regulations for net length and height.
Easy Installation
We loved how easy it was to install this net. Spring clamps make it fairly convenient to fix the net onto the table. To adjust the tension, simply use the chain beads to hook the net on the sides of the table.
Below the posts, you will find a small cut where you can fix the chain so that it remains stationary.
Premium Quality
JOOLA premium inside table tennis net is designed to be used in tournaments. This net is double-woven with cotton steel threads, which makes it both durable and flexible.
Spring clamp posts are also metal and are unlikely to break or rust. You can use this net for tables as thick as 1.5 inches.
Professional-grade Design
You would find several designs of nets in the market but the best one is the rubber-padded clamp design as it is used in professional tournaments. JOOLA premium inside table tennis net also features this design.
It has a screw-on system, and you can easily tighten it against a table.
Adjustable Height and Tension
You can customize this net according to your need, just like a professional net used in tournaments, such as the Olympics. The posts have a spring system that you can use to adjust the height of the net while the ball chain helps adjust the tension.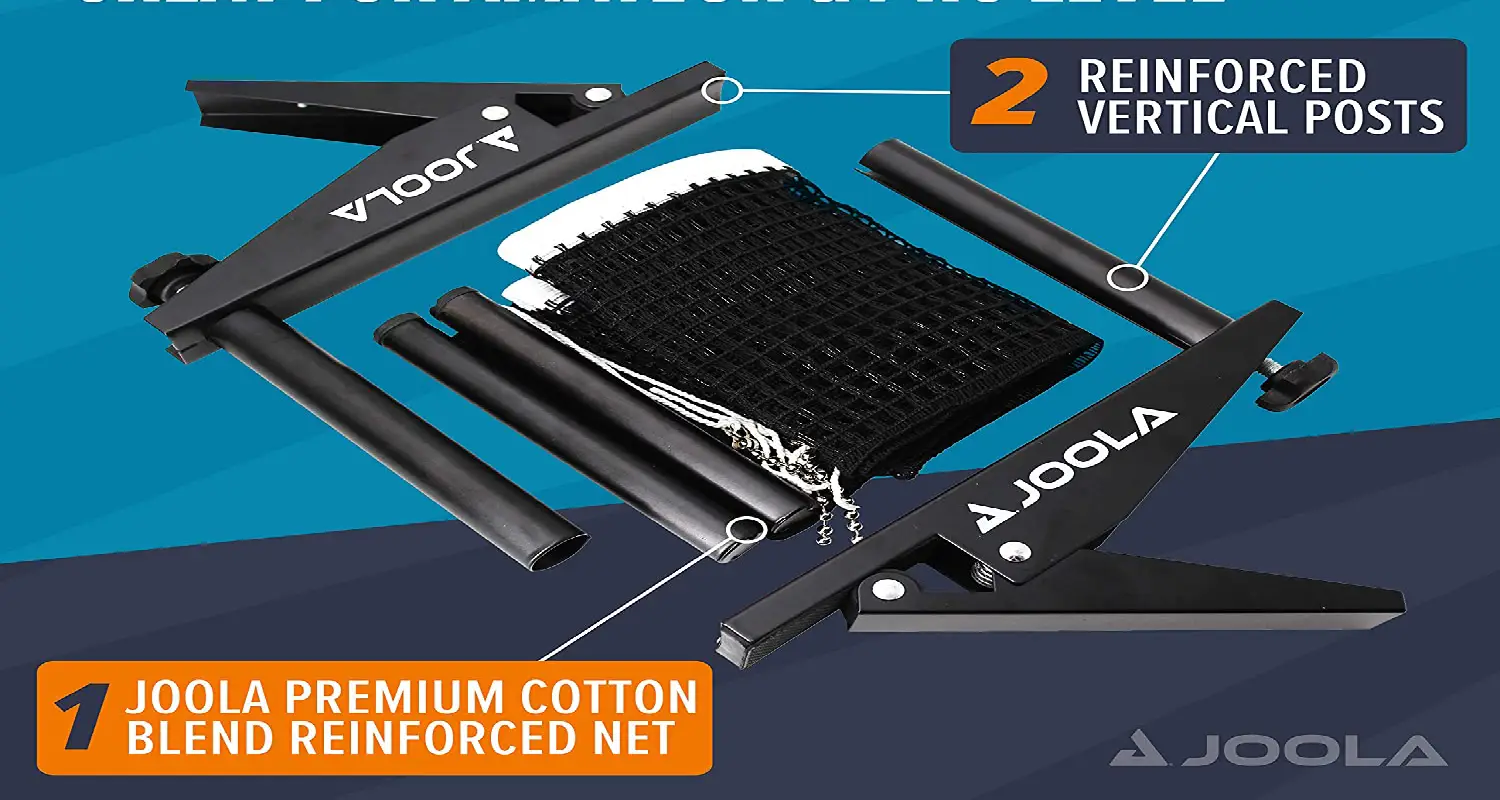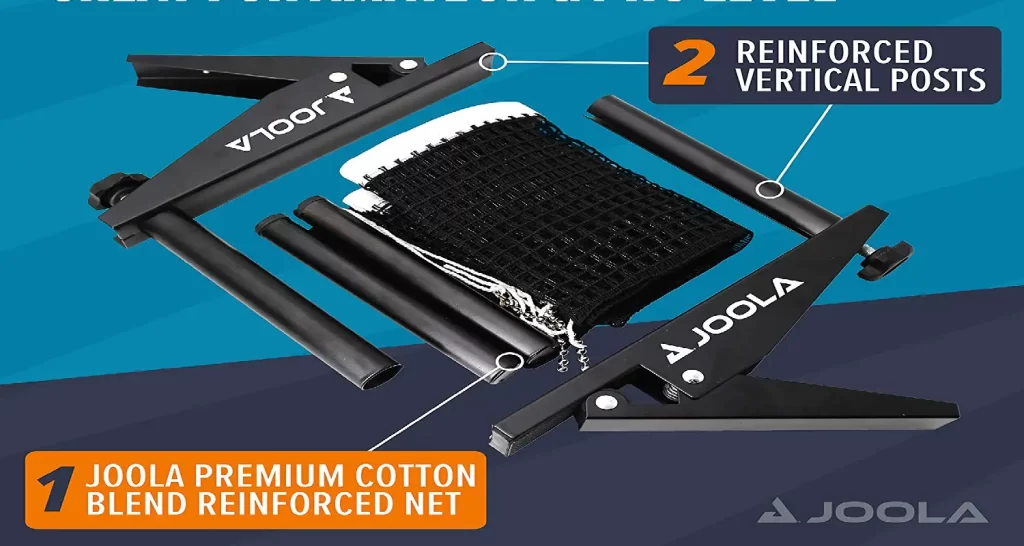 Cons
Poor Quality Control
Some customers have reported that they received damaged products and sometimes found some parts missing. Although JOOLA is a credible brand, they seem to have poor quality control for this net.
If you get the unpleasant surprise of having a compromised product, contact JOOLA.
Clamp Size
As we mentioned earlier, the clamp size of this net is 1.5 inches. It expands to a maximum of 1.8 inches and cannot go beyond. This means that if you have a table with a thicker surface, the net wouldn't fit.
We recommend measuring your table thickness before you buy this product and if your table is thicker, this net is not for you.
Expensive
We find the JOOLA premium inside table tennis net to be more on the expensive side and we believe that you could find better products at lesser rates.
For example, the STIGA Premium VM Net Set is retailed at a lower price and is even more premium quality than this one, with an extra pair of tension adjusters.
Not ITTF-approved
Although the size and dimensions are according to the formal regulations, JOOLA premium inside table tennis net is not ITTF-approved so it cannot be used in serious competitions. We recommend this net only for intermediate players who are trying to enhance their ping pong skills.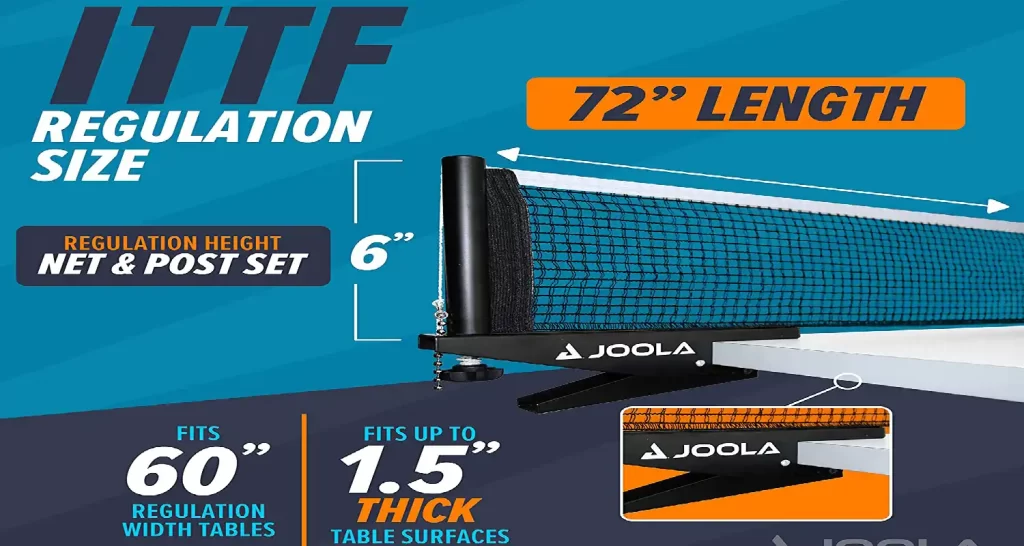 Our Rating: 4.0/5
JOOLA premium inside table tennis net is no doubt one of the best-quality nets we could come across. It is a competition-grade net and has several features that make it a worthwhile purchase. You get a premium clamp-on spring system with tension and height adjusters.
The 72-inch net with 1.5 inches of height will fit a tournament-sized table as well.
Frequently Asked Questions (FAQs)
Is this net suitable for a foldable table?
Yes, if you have a foldable table that consists of two or four halves, you can safely use this net. This net has the added advantage of keeping the two halves together if you have a table or tabletop that is split in the middle.
Can I adjust the net tension?
The JOOLA premium inside table tennis net comes with ball chains at each end that you can use to adjust the net tension. Simply hook the chain beads below the table at the clamp where you will see a notch.
This notch with make sure that chain stays still and it wouldn't budge as you go along playing those offensive shots.
What is the material?
JOOLA premium inside table tennis net features a cotton net with metal posts. You might think that cotton is not sturdy enough, but the threads are steel cotton and will last a long time.
Does this net fit all tables?
Most ping pong tables wouldn't exceed the standard dimensions of 9 x 5 feet, also called regulation-sized tables. This net is 72 inches long which means that it fits a regulation-sized table.
If you have a smaller table, you can still use this net and adjust the tension so that it wouldn't sag. Be wary about thickness though, the clamp can only expand up to 1.8 inches and wouldn't fit thicker tables.
Conclusion
JOOLA Premium Inside Table Tennis Net is a good purchase for intermediate players who want to experience a tournament-quality net. Overall, we find this net to be doing what it says, without any major drawbacks. You get premium quality, 72-inches long, adjustable net that fits almost any table.
We recommend doing your research before you settle for this product as you might be able to find better alternatives at cheaper rates. Lastly, although this ping pong net fits regulation-sized tables, it wouldn't work for tables thicker than 1.8 inches.
So, we recommend measuring your table before you settle for this net.