If you are a fan of everything classic, then you may not like the changes that continue to occur in ping pong. However, thanks to the likes of JOOLA and Butterfly, you can still grab some merchandise and products that remind you of traditional table tennis. The JOOLA Premium Avanti table tennis net can be a great option and reminiscent of the good old days!
Product Specifications
Rating: 4.3/5
Price: $$$
Type: Screw and clamp
Color: Black and white
Weight: 0.74 kg
What to Expect?
The JOOLA Premium Avanti lives up to its name. It really is a premium top-seller and here we take a detailed look as to why it should be your number one choice if you are looking to purchase a post and net set.
Made Per European Harmonized Rules
JOOLA has been redefining the ping pong market for a long time, now. The construction of the JOOLA Premium Avanti is simply magnificent, and it takes into account the standard European rules for safety. This means that the net set complies with the EN 14468-2C as they have managed to make the product a lot more secure and safe for the usage of all people.
Solid Construction
Just as you would expect from JOOLA, they pulled out all the stops to ensure they create top-class table tennis nets. They achieved this by making sure that the material used in the construction was top-tier, and the strong metallic posts are an example of this. Highly durable alloy steel material complemented with a high-quality net in-between.
Traditional Look
The most eye-catching feature of the JOOLA Avanti has to be the traditional black and white design of the net set. It will not only look glorious on your table but it will also leave you nostalgic of the beautiful time when the balls were a little faster and the game was a lot blacker and whiter.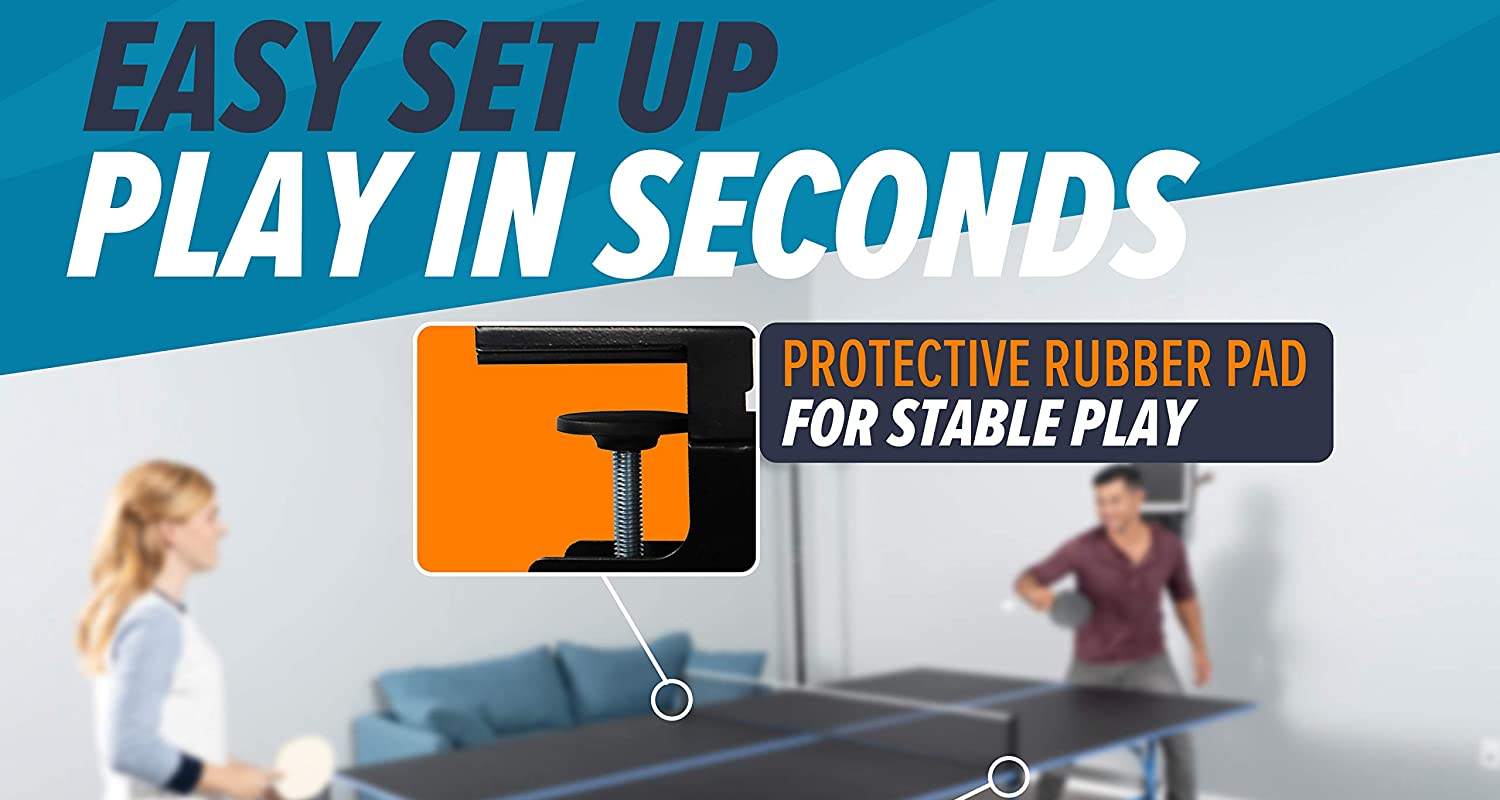 Pros
Sturdy and Durable
Once you make up your mind to invest in the JOOLA Avanti, you can be certain that your money is not being wasted. If there is one thing you are confident about, it is the fact that the JOOLA product will last you a long, long time. This, yet again, holds for JOOLA Avanti, as it is sturdy and quite durable.
The material used in its construction, as discussed above, is top class and it will not break. This is money well-spent!
Compatible With Standard Size Tables
JOOLA Premium Avanti has been made to fit almost all of the standard-sized tables, which is 9 ft x 5 ft. These tables can have tops that are up to 1.5 inches. All things considered, there is a good chance that it will fit your table, easily.
Made For Intense But Safe Play
As mentioned earlier, the JOOLA Avanti has been created as per the European Harmonized Safety Rules making it a very safe investment. However, this does not mean you cannot play intense ping pong with your friends, instead, it means that you can have edge-of-the-seat rallies and still not worry about the net post giving in.
Similarly, it has rubber padding to ensure that the net does not leave any marks on your table.
Quick Set-Up
The set-up of the JOOLA Avanti takes only a few minutes. You do not have to worry about a long and complex system, as it is a clamp and screw type mounting system, that you can get up and running.
Premium Quality and Best Seller
The Avanti is a premium product of JOOLA, a company largely celebrated in the table tennis world. While the Avanti is top-quality, it has also garnered a lot of interest from users as it quickly became one of the best sellers.
It has a large number of five-star reviews on Amazon that only further our point; JOOLA Avanti should be bought!
Beautiful Design
Another reason for splashing the cash on the Avanti has to be the fantastic traditional design it comes in. The black and white design goes really well with most tables and if you are a fan of the nostalgic design, you should be considering this!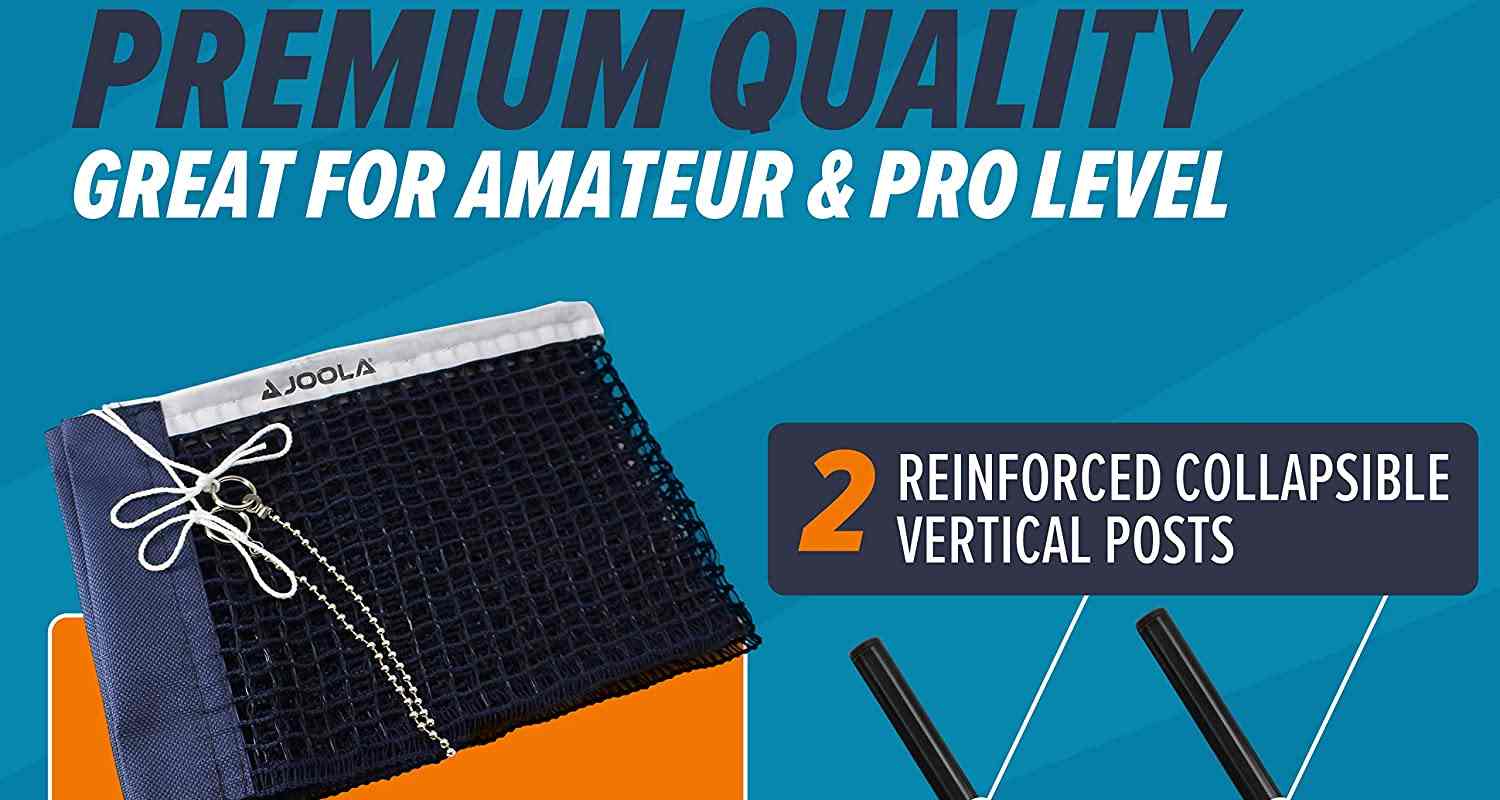 Cons
Slightly Expensive
For all that JOOLA has to offer in the Avanti, the net set is priced at almost $40. This is a little too steep when you can find, arguably, similar quality nets for a lot less. However, many would argue that the Avanti is priced fairly considering the amazing range of features it comes with.
Not for Professionals
Despite the fantastic features, the JOOLA Avanti is initially created only for recreational purposes. It cannot be used in major tournaments and considering the price it comes at, this is a drawback.
Our Rating
8.5/10
To sum it up, despite the cost, the JOOLA Avanti Premium is truly a premium option to buy. It is a best seller and has users raving about their experience and that tells you all you need to know about how good this net and post set is. It is highly durable and the construction has undertaken all safety requirements, too.
We love the design and most of the points are for the aesthetics. Either way, it is expensive, but we will say, it is just about worth it!
Frequently Asked Questions
Is the Length of the JOOLA Avanti Premium Adjustable?
No. The length of the JOOLA Avanti Premium is made only for full-size tables and it is not adjustable to fit the size of smaller tables.
What is the Height of the JOOLA Avanti?
The height of the JOOLA Avanti is just a little higher than the standard six inches.
Conclusion
We love the JOOLA Avanti Premium and all the amazing features it comes packed with. Yes, the price can be a sticking point for some consumers and that is a genuine issue; however, many would rightfully argue that it is deserving of its price tag. The icing on the cake for the JOOLA Avanti has to be its superb retro design and we cannot get enough of it!