Before buying a ping pong table, you should have the exact idea of the size of a ping pong table, so that you know exactly where you have to put it in your home or office.
For your convenience, we will discuss the ping pong table dimensions in detail and help you determine the size in inches or specs in a way you can understand and decide accordingly.
How Big is a Ping Pong Table?
The table measurement of a standard ping pong table varies from table to table.
Ping pong tables used in table tennis tournaments are of one measurement only, and that remains uniform as it is a size that is approved by the International Table Tennis Federation. It is a bigger size than most "fun-sized" tables that are used for ping-pong and recreational purposes.
We take a look at all the different sizes in which you can buy table tennis tables and find the right size. The standard size table is bigger, and if you want to buy that, you will need considerable space to place that ping pong table.
Not to worry, we will tell you the exact ping pong table dimensions making your work a lot easier!
What Size is a Regulation Ping Pong table?
The official table tennis table dimensions are 9 feet x 5 feet x 2.5 feet, which is the same size for both indoor and outdoor tables to ensure a quality experience for players of all levels. However, an outdoor table tends to be more durable and sturdier.
The International Table Tennis Federation is the governing body that regulates the game of table tennis to avoid unfair advantages and ensure an even ground for fair competition, all across the world.
Table Length
The length of full size table tennis table as per the international standards is exactly 2.74 meters. This means the length is exactly 9 feet long. As for the size in inches, your table size has to be 108 inches long for it to be considered a regulation-sized table for table tennis.
Table Width
The width of a full size table tennis table has to be 1.525 meters.
When you convert that figure, you get exactly 5 feet of width, and you have to ensure this, in order to play table tennis, as per the regulations of the International Table Tennis Federation. 5 feet in inches is 60 inches, so you have to make sure that the room size of the playing surface area is much wider than 5 feet if you want to place your table indoors.
Table Height
The height of the table tennis table has to be a standard size, as well. The official table tennis table standard states that your table should be at least 76 centimeters tall. That means the ping pong table you buy should be 2.5 feet high, which is 29.9 inches, for it to be as per the standards of ITTF.
Table Weight
Different tables made from different manufacturers tend to vary a lot in their weight. Table's weight also ensures how stable the table is, which is important because the playing surface needs to be stable enough.
The typical weight of a full size table which is of high-quality is around 300 lbs. This means that a typical ping pong table can weigh up to 136 kgs.
You can find table tennis tables that are even heavier than this size, and as long as the material used in the creation of a table is approved and offers continuity and good bounce, there is no regulation of how heavy a table should be.
Table Thickness
This is the most important indicator of the quality of ping pong tables. The rule is simple when it comes to choosing a full size table, the thicker your table is, the better it is. The thickness of most tables ranges from 12mm-25mm.
We do not advise buying thinner table tennis tables because the tabletops are flimsy, easily damaged, and the bounce is low. The standard regulation of ITTF states that a standard ball, when thrown on the playing surface of a table from a height of 30cm, should bounce at least 23cm. This is only possible if the thickness of the table is between 22mm-25mm.
The medium-sized thickness is more than fine for practicing and improving your game, especially if you are a beginner. 16mm-19mm is ideal, and anything more is even better. It ensures uniform bounce and proper care can result in years of usage.
The table tops that range from 22mm-25mm, are of the highest quality. These are Olympic size ping pong table thicknesses, and the very best players play on such surfaces. You can buy ping pong tables with a thickness of 22mm-25mm, but they will be very expensive. Always consider these dimensions while selecting table tennis equipment to ensure an optimal experience.
Ping Pong Net Sizes and Dimensions: Length and Width
A standard ping pong table comes with specific net dimensions designed to provide a competitive and fair gameplay.
The height of a table tennis net, including the net itself and the cord attached, should not be taller than 15.25cm above the playing surface. The bottom of the net should be positioned closed to the table surface.
The length of the net should be 1.83 meters long covering the entire width of the table, and the net should be as close to the playing surface, as possible. Official regulations of ITTF – the governing body for table tennis table states that the net stripe should not be thicker than 15mm.
Some players look for a separate table tennis net to ensure the highest quality when purchasing a ping pong table.
Ping Pong Table Paint Color
There is no specification on the color of the table. The official rules by ITTF states that the color should be dark enough to make the ball is visible and have a toned-down finish to minimize any kind of glare or reflection.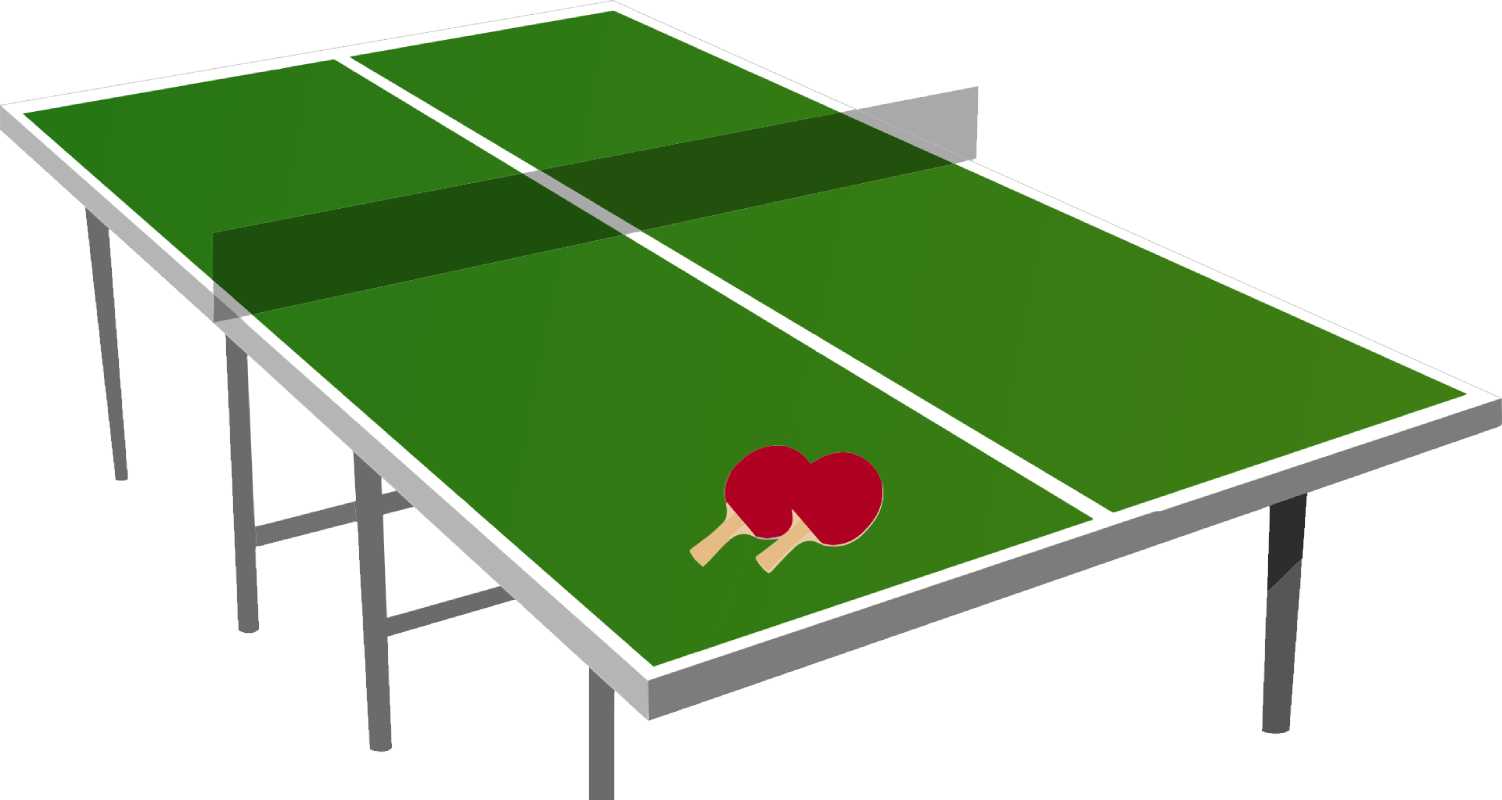 This is why, most of the ping pong tables that are used for international tournaments are either dark green or dark blue. Tables with dark green playing surface were commonly used in the past, however, dark blue is the norm now, and we often see black and purple tables, as well.
Similarly, the net is not mandatory to match the color of the table.
Table Line Size – Markings
The standard size tables must have the following markings:
White sideline of 2cm width across the length of the table
White end line of 2cm width across the width of the table
White line of 3mm width parallel to the sideline
The third line mentioned is for the purpose of double games as it helps to divide the tables into equal halves.
Mini Ping Pong Table Dimensions
Ping pong can be played on almost any surface. That is why, you do not have to follow the standard regulations for recreational fun with friends and family. For that purpose, there are many different ping pong tables that you can find in mini sizes, as well.
These smaller ping pong tables usually have a similar height to the standard regulations at 2.5 feet but vary greatly in length and width. The most commonly found mini ping pong tables are around 6 feet long and 3 feet wide. This sized table is also referred as midsize ping pong table.
There are lots of other sizes available, as well, that cater to professional and recreational play, and can perfectly fit in limited space. However, it all depends majorly on the manufacturer and your preference what you choose.
Other Small Ping Pong Tables
Like we mentioned above, you can almost find a table in any size and use it for playing ping pong.
3/4 sized ping pong table
However, ping pong for fun and recreational purposes is commonly played on compact tables that are ¾ the size of a full size table. These smaller ping pong tables are tiny versions of the actual size and have dimensions of 7 feet in length, 4 feet in width, and 2.5 feet in height.
We suggest going for a smaller table sized ¾ sized to experience closer to the official standard but do not have sufficient space to keep a full-sized table at home.
Beer pong table
You can also play ping pong on a beer pong table when you know the rules. The official regulation size of these recreational tables is 8 feet length x 2 feet width and a height slightly shorter than the regulation size of ping pong tables.
Conversion top
Another option for playing table tennis is by converting another table into a table top for ping pong. You can easily purchase conversion tops, and manufacturers of conversion tops are the same ones which make the official tables for table tennis like JOOLA, Butterfly, etc.
This allows you to convert your billiard or snooker table into a ping pong table.
Room Size for Ping Pong Table
Now that we have an idea of how much space we need for various ping pong table dimensions, it makes the next step of clearing playing space easier. Bear in mind that both outdoor and indoor tables share the same dimensions.
Ping Pong Table Clearance
For a standard ping pong table, ITTF recommends maintaining a minimum clearance space. According to it, it is important to clear 10 feet in length in addition to the length of the table. And similarly, 6 feet in width, in addition to the width of the table, to make it 19 feet long and 11 feet wide, which would make sure that space is not too cramped for playing.
One of the ideal playing spaces is a garage – though the ceiling height is a big factor in determining if the garage space will work for your play style. Don't want to slam into Dad's car while trying to recover from a slam!
Comparing Typical Room with Tournament Rooms:
The tournament rooms in international events should be 14m x 7m which means the playfield should be 46 feet in length and 23 feet in width.
National level table tennis tournaments have less demanding space requirements. Your standard sized living room, if cleared properly, can make for comfortable playing space.
Frequently Asked Questions
What Are the Dimensions of Full Size Tables According to International Table Tennis Federation?
According to ITTF, the standard table tennis table is around 2.74m long, with a height of 76 centimeters and a width of 1.525 meters, including both indoor and outdoor tables. These dimensions are fixed for official competitions.
How Much Space Is Required for a Regulation Ping Pong Table Dimensions?
An ideal table tennis room required for full size tables is approximately 11ft. However, you are encouraged to free up more room or playing area for the table as having a large space to play ping pong can enhance your playing experience and the overall thrill of the game.
For beginners, no huge space is required compared to skilled expert players, and you can easily place your indoor table of the same size in a vacant room. It might not be enough space to play comfortably, but it can allow you to start practicing.
Does Table Tennis Tables Come In Different Sizes Other Beyond Standard Size?
Yes. Ping-pong tables come in various dimensions. While the standard table is the most common, there are many other alternative sizes as well.
A few examples of non standard tables include:
Mini ping pong tables.
Oversized tables.
Conversion top tables.
Mid size table.
Super mini tables.
Custom-made tables.
These table tennis tables assist in accommodating different preferences and needs of the players.
Can Any Table Be Used as a Ping Pong Table for Professional Use?
No. You can not use any table as a table tennis table, especially if you want to learn the game professionally.
A standard ping pong table has specific surface properties, dimensions, and a support structure carefully curated for professionals. This is to ensure a consistent bounce and overall fair gameplay. Moreover, they are made with high-quality materials and come in various sizes to ensure the safety and efficiency of the player, which any ordinary table can't do for you.
Therefore we suggest you go with a table with standard dimensions. However, a pool table or dining room table can be a perfect ping-pong setup for recreational use. They might be of the same height as standard table tennis tables, but they can take up a lot of playing area.
Is It Possible to Modify the Ping Pong Table Dimensions to Suit My Available Space?
Yes. You can alter the table dimensions to accommodate your available space in several ways. You can resize the table by cutting the table top to the desired size while maintaining the aspect ratio of 2:1. It means you need to keep the table's length twice its width to attain the same size on both halves and ensure fair gameplay.
Moreover, you can adjust the table frame components, such as legs and support beams, to align them with new dimensions. However, ensure that the markings you made for the boundaries and net position are precisely measured.
Ping pong table folded up in half can also be an appropriate option to save space, reducing the storage dimensions for your ease.
Conclusion
Conclusively, anything can be considered a playing area and any surface can be created into a ping pong table. You just need to have the passion to play the game. Learning the sport's rules and techniques are foundational to starting. We also recommend checking out some online courses to see how to up your game!