Tired of staying restricted to playing ping pong only in designated areas, or do you love table tennis but don't have enough space to accommodate a permanent spot for a full-fledged ping pong table?
Fret not, because foldable ping pong tables are here to take your game on the go. These game-changer tables make a perfect balance between convenience and versatility.
These top-class tables blend innovation and practicality, enabling ping-pong aficionados to enjoy the sport anytime, anywhere.
Crafted with durable materials, they offer outstanding durability without compromising performance. Thanks to their unparalleled folding mechanisms, the table tennis tables seamlessly transform from full-sized tables into compact, easy-to-store units.
So, whether it is your home, office, game room, or any outdoor gathering, these fold-up ping pong tables will be here to lift up the mood everywhere without claiming any permanent space.
However, with a plethora of options, it can be overwhelming to choose the best table tennis table. No worries! We are here to assist you in finding your perfectly right ping pong table and simplify your decision-making process.
From professional tables to top-tier options for beginners, we have got you covered. Take a deep breath and let us guide you to discover a best foldable ping pong table that perfectly suits your desires and elevates your game.
Our List of Top Best Foldable Ping Pong Tables for This Year
We have carefully curated the best portable ping pong tables for you, considering all your possible needs and expectations. Our list contains industry-leading options based on budget, all skill levels, and convenience. So, let's see what is ahead for you!
Our Rating: 4.3/5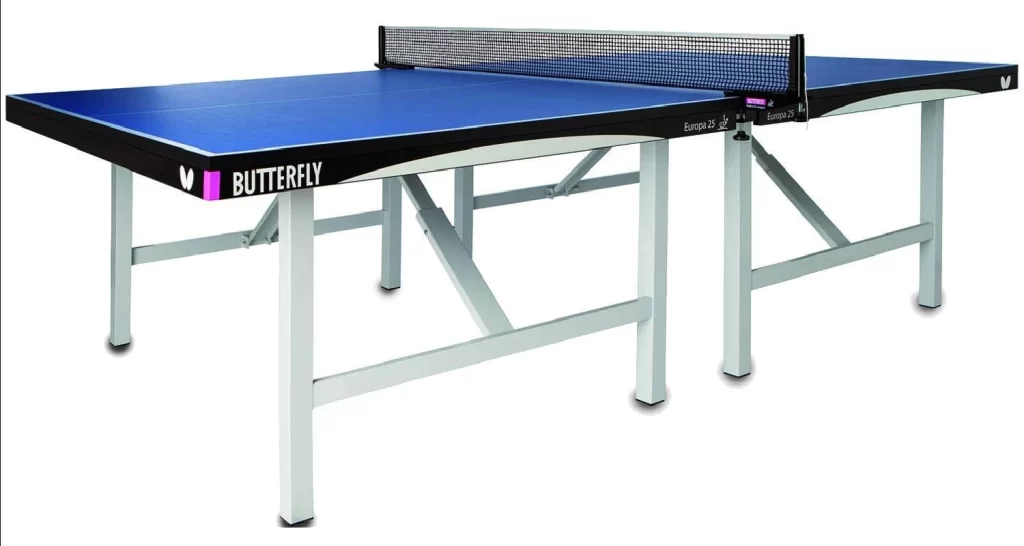 Want to meet the pinnacle of professional quality folding tables that surpasses expectations? Butterfly Europa 25 is the true embodiment of matchless performance and advanced engineering.
Approved by the International Table Tennis Federation (ITTF), it sets the standard for competitive play, making it able to stand on the top of the list.
Crafted with 1-inch-thick premium wooden top, Butterfly Europa 25 offers consistent bounce and smooth gameplay taking your table tennis experience to new heights. Its Optimal grip playing surface guarantees optimal ball response allowing you to exhibit the best of your skills.
The 25mm anti-skid table top makes it scratch-proof and is shielded with a highly durable 2 inches steel rim and PVC band. These features safeguard the ping pong table from everyday wear and tear and make it able to withstand intense matches while assisting you in the long run.
What sets Butterfly Europa 25 apart is its storage efficiency, saving you a lot of space when not in use. Each half of the foldable ping pong table is independent and allows you to fold it easily, transforming a full-size table into half, occupying only 6 inches of storage space.
After folding, all you have to do is to lean it against the wall and enjoy a pinnacle amount of space for other activities. With foldable dimensions around 60″ x 55″ x 6″ that open to the regulation size table, it makes an ultimate solution for those with limited spaces.
The best part? This super solid table comes pre-assembled. With an intelligent and elegant design, the table eliminates the need for complicated assembly. Just remove the table from the box, unfold its legs, attach a net post system, and you'll be all set to play ping pong within 15-20 minutes.
Butterfly Europa 25 table tennis tables come in two classy colors, Green and Blue, that blend perfectly with the aesthetics of any room. Furthermore, it boasts 5 inches of heavy-duty wheels that deliver effortless maneuverability and ensures smooth transportation making it a breeze to move and set up in your desired location.
The durable wheels only become functional while the table is in a folding position; this means this ping pong table will stay stationary while playing, ensuring secure and solid gameplay.
Since the ping pong table is more competition-ready, it is designed for serious 1-on-1 gameplays and doesn't offer a personal playback feature. With the absence of high-level levelers, this table emphasizes setting up the table on even grounds for promising stability and optimal gameplay.
Additionally, the Butterfly Europa 25 features a National League Table Tennis-approved net and post set. You can fasten the portable table tennis net set using screw clamps secured with felt tips to cater to a smooth playing experience while preventing any damage and scratches on the tabletop.
With its 5-year exceptional warranty, you can be assured of its top-of-the-world quality, making it a worthwhile investment for players of all skill levels.
Butterfly is undoubtedly one of the leading brands in the table tennis realm.
With a commitment to manufacturing professional quality table equipment to sponsoring elite players, this is the most trusted and successful brand in the industry. Whether you are an avid player or professional athlete, Butterfly table tennis products are built to provide excellence in every way.
Our Rating: 4.8/5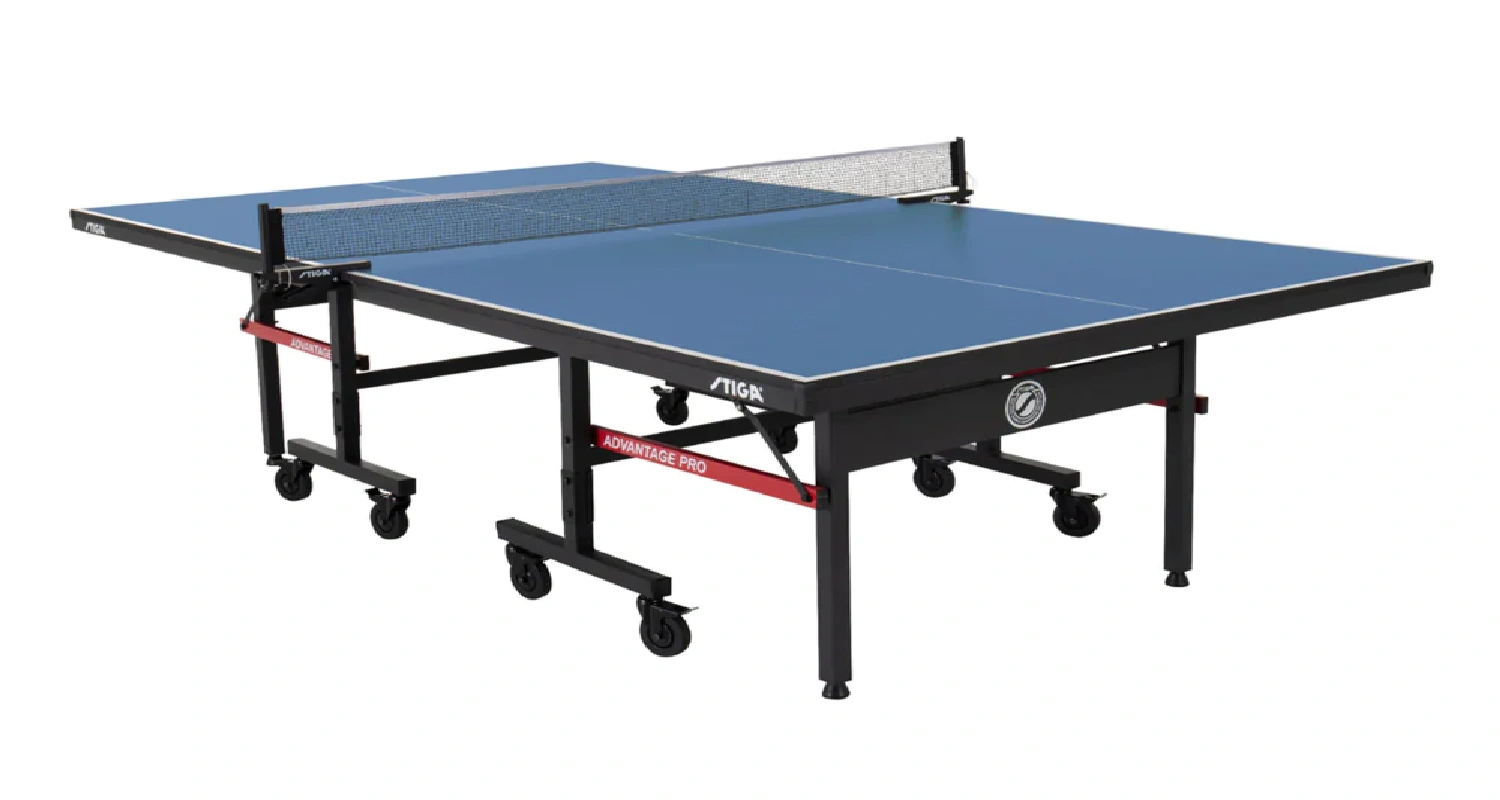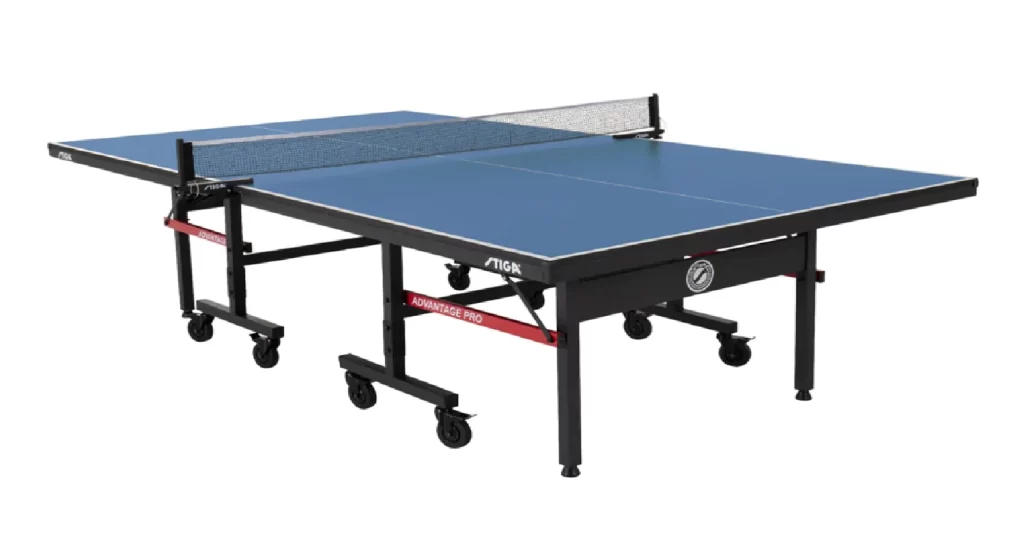 If you are looking for a best ping pong table that strikes a perfect balance between tournament-level functionality and affordability. In that case, the Stiga Advantage Pro table tennis table is a trendsetter in this regard. With its dynamic features and brilliant craftsmanship, this is the best foldable ping pong table that provides an unparalleled gameplay experience to players of all skill levels.
Starting from its construction, Stiga Advantage Pro boasts multiple roller finishes with silk screen striping that not only contribute to its durability but also add a touch of elegance to its aesthetic appeal. Its 3/4 inches of table thickness provides a smooth, uniform table surface with excellent ball response.
One of the standout features of this table is its 10-minute quick-play design that caters to a quick and simple setup. Upon delivery, the Stiga Advantage Pro ping pong table comes 95% preassembled, dramatically reducing the time and effort and making this table easy to put together.
The purpose of this thoughtful design is to make sure that players can quickly get into action without any delays. When it comes to portability, this fold-up table tennis table truly outshines other tables.
It is equipped with eight 3 inches premium lockable casters that allow you to effortlessly roll and transfer the table from one location to another without help. Moreover, it contributes to convenient storage providing versatility and adjustability for your gaming space.
Regarding the removable net post system, Stiga Advantage Pro keeps your convenience on the top. It comes with a tournament grade 72 inches clamp style net and posts set, making attaching and removing the net a breeze. Additionally, it contains tension and height adjustments that facilitate the players in fine-tuning the net according to their preferences.
Equipped with playback mode, the table halves can be folded into playback positions to bring the best out of their solo practices and sharpen their skills. Compact storage space requirements are another significant aspect of Stiga Advantage Pro.
With its remarkable space-saving design, you can store this full size table conveniently out of sight, taking up minimal space. This feature makes this one of the best ping pong tables for apartments, offices, or other areas with limited spacing.
Furthermore, Stiga Advantage Pro comes with a strong and well-built 1.5 inches thick alloy steel frame that provides exceptional support to the table while preventing any sagging.
Plus, 1.5 inches square steel legs and 2 inches leg levelers gracefully handle the table's weight while providing ultimate stability and keeping the table perfectly leveled even on unpaved surfaces. It means, you can use it as an outdoor table as well.
Stiga is a 75-year-old Swedish table tennis brand that has dominated the ping pong industry for its affordable price, high-quality, and timeless products. Their sleek and contemporary designs with marvelous practical features make them one of the favorite brands for professional and recreational players.
Our Rating: 4.9/5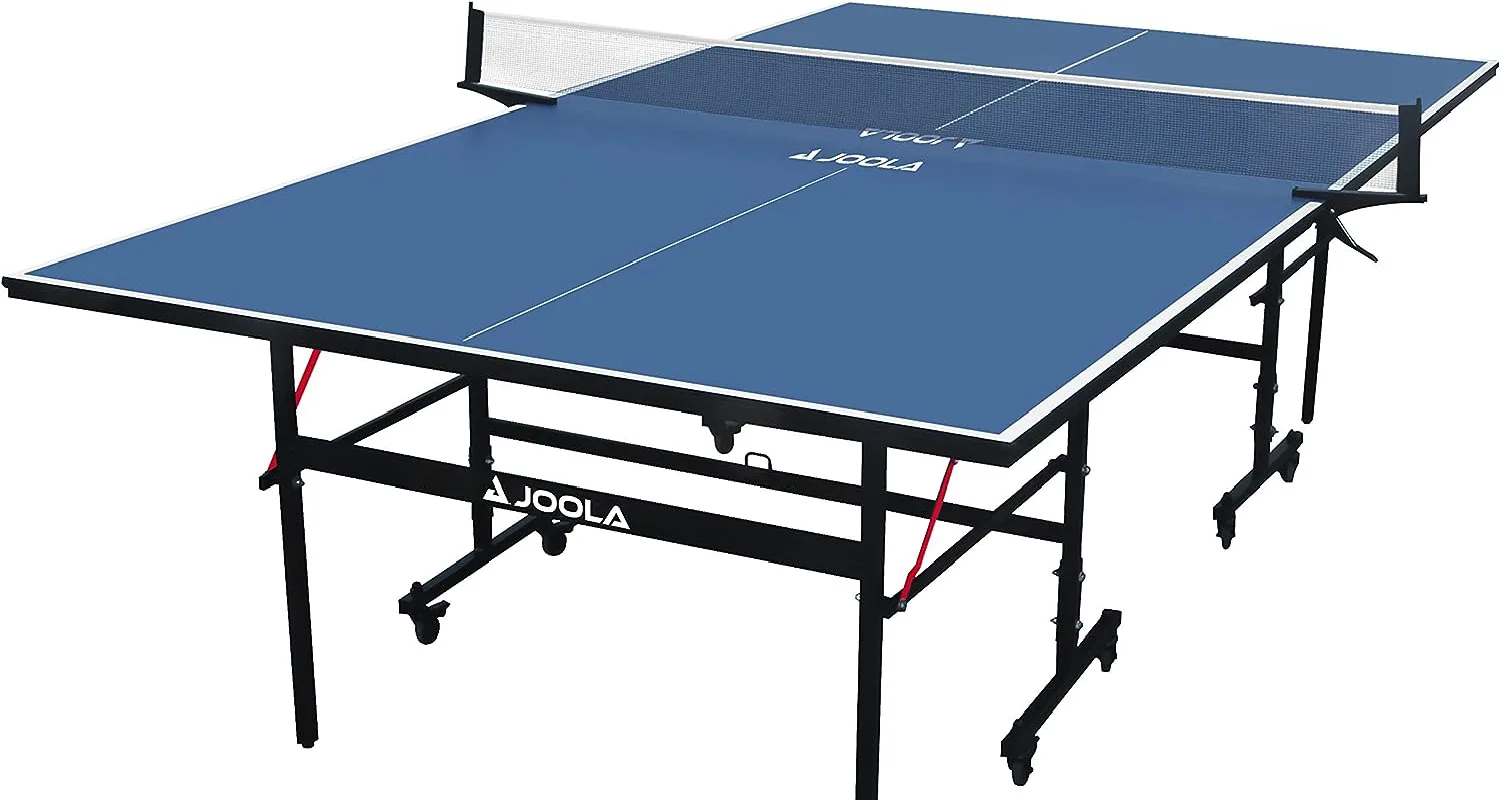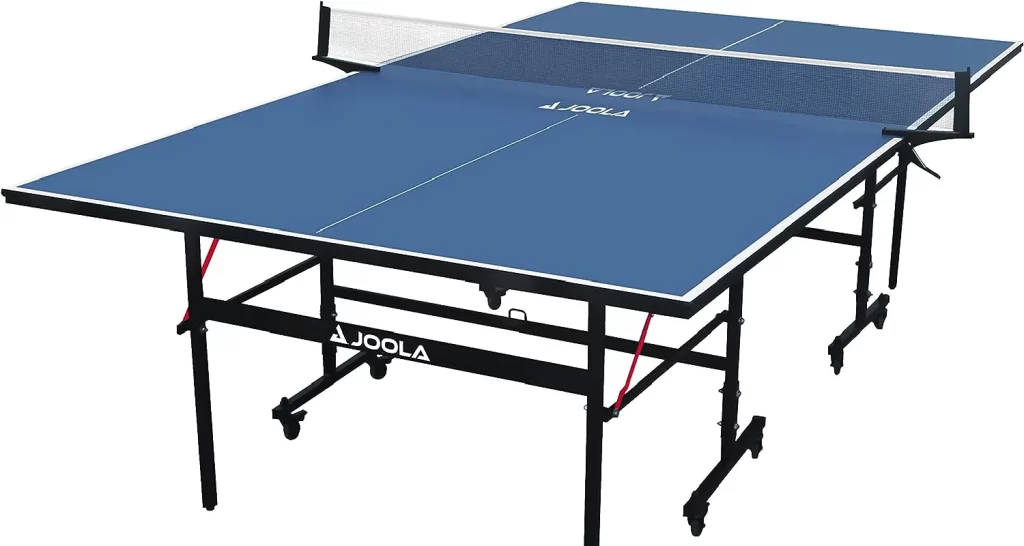 Joola Inside 15 ping pong table is designed with a clear goal: To provide a high-quality tournament-grade playing experience while bringing podium-level excitement and thrill right into the comfort of your home, office, or any other place.
Being an official brand of the US Nationals and US Opens championship, Joola has built a strong reputation as a reliable name in the world of table tennis. Joola Inside 15 truly reflects its commitment to delivering first-class equipment that meets all the rigorous standards demanded by professional players.
One of the impressive features of Joola Inside 15 table tennis tables is its adherence to a 9×5 foot regulation table size that gives you real-life experience of playing in top-level competitions. Bring these best table tennis tables to your home, and you'll experience the thrill of fierce gameplay while elevating your skills.
Setting up indoor ping pong tables has never been this easy as Joola Inside 15 has made it. It also comes 95% preassembled, so you won't have to deal with complicated assembly while putting it together, saving time and energy. All it takes is merely 10 minutes and just eight bolts; your table will be ready to slay the battlefield.
Moreover, its clamp-style net set makes installing and removing the net from the table quick and simple. The adjustable height and tension net system is designed to personalize your playing experience that perfectly suits your style.
Engineered with a heavy-duty 5/8 inch (15 mm) thick medium-density fiberboard (MDF), its multi-layer painted surface embodies exceptional craftsmanship built to withstand fierce competition.
You can expect a consistent bounce from this table, enabling you to execute accurate shots leaving your opponents awestruck. Its thick steel legs with height adjusters make your life easy by maintaining a level playing surface regardless of the flooring or terrain.
Convenience and safety are paramount in the framework of the best ping pong tables. It is equipped with folding halves that rest on four independent trolley systems that cater to effortless mobility and compact storage space.
Each half contains four locking wheels and automatic anti-tilting lock devices for added safety, transport, and peace of mind when storing the table away. You can also enjoy playing solo by folding one half of the table in an upright position creating a playback mode that assists you in polishing your skills without having a partner.
When it comes to durability, Joola never disappoints. Professional-grade wood composite table surface withstands the rigors of intense matches, ensuring quality performance for a long time. Reinforcing its sturdiness, the 1.5 inches apron and steel legs make it a king of stability and support. However, we don't recommend using it as an outdoor table.
It is worth mentioning that this Joola portable ping pong table and removable net post system are approved by the United States Association of Table Tennis (USATT). It serves as an endorsement of its phenomenal quality and exceptional performance.
To enhance the value of your purchase, Joola Inside 15- foldable ping pong table comes with Joola Hit Set, a perfect complement to your table containing eight ping pong balls and four hit paddles.
This inclusive package is meticulously designed to make sure that you have every piece of equipment available right at your fingertips so you can start playing the game right away.
Cirocco Foldable Table – For Beginners
Our Rating: 4.7/5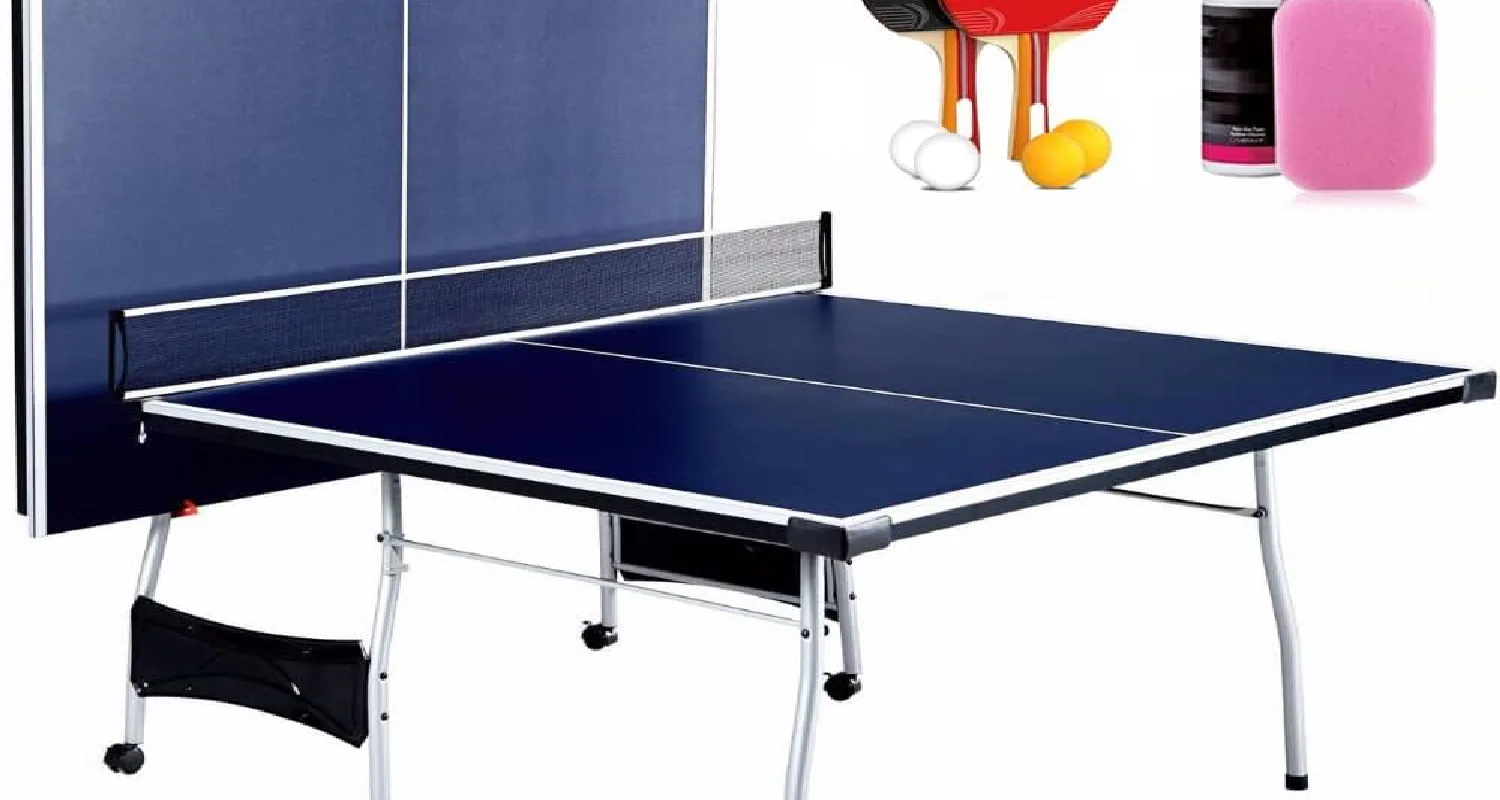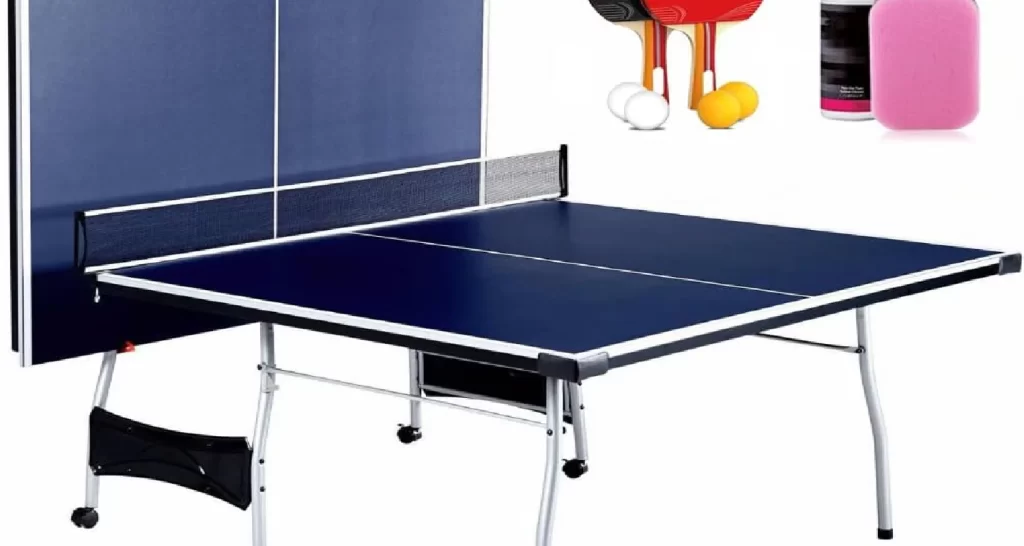 Cirocco is a perfect family ping pong table – an ultimate choice for all table tennis enthusiasts who want to get a hold of the game or spend a thrilling weekend with their friends and family.
With an official tournament size of 9′ x 5′, these best ping pong tables allow you to experience professional-level gameplay while playing in your room or garage. Cirocco foldable ping pong tables offer a perfect fusion of exceptional playability and convenient storage space.
Designed with four-piece construction, the table makes its setup and dismantling quick and effortless. Its foldable design makes this foldable ping pong table a jackpot deal for those with compact spaces who need versatile options for their playing area for other activities.
When not in use, simply fold it up and store it away, saving much space in your home. The Cirocco table tennis table is configured with a standard 5/8″ (15mm) playfield that imparts consistent bounce and smooth gameplay.
The 1-1/8″ aprons deliver additional support and stability, ensuring that tables don't wobble during intense matches. Whether you are a seasoned pro or a novice player, Cirocco portable ping pong tables assist you in honing your skills at every step as your unpaid coach.
One of the notable features of this impressive foldable ping pong table is its PVC waterproof finish on the tabletop, which provides excellent resistance to moisture. It not only protects but also seals the porous playing surface underlying the table top to ensure that it maintains its pristine condition while eliminating the risk of warping, swelling, and any water-related issues.
Stay worry-free and play hard, knowing your table is well shielded from accidental spills and water damage. Cirocco folding tables come with a bag full of essential accessories to ensure you get to play ping pong right after unpacking the table.
The package includes a robust net with two superior net posts catering for easy attachment and removal from the table for a secure fit. Moreover, you'll get two balls and two paddles, which make it a perfect gift for your friends and family.
Even if you want to practice your shots solo someday, simply fold the ping pong table into the playback position, and you'll be ready to master the sport. Cirocco's exceptional build quality, tournament-level dimensions, heavy-duty constructions, and quick accessibility to two paddles make it a fantastic choice for players of all skill levels.
Our Rating: 4.2/5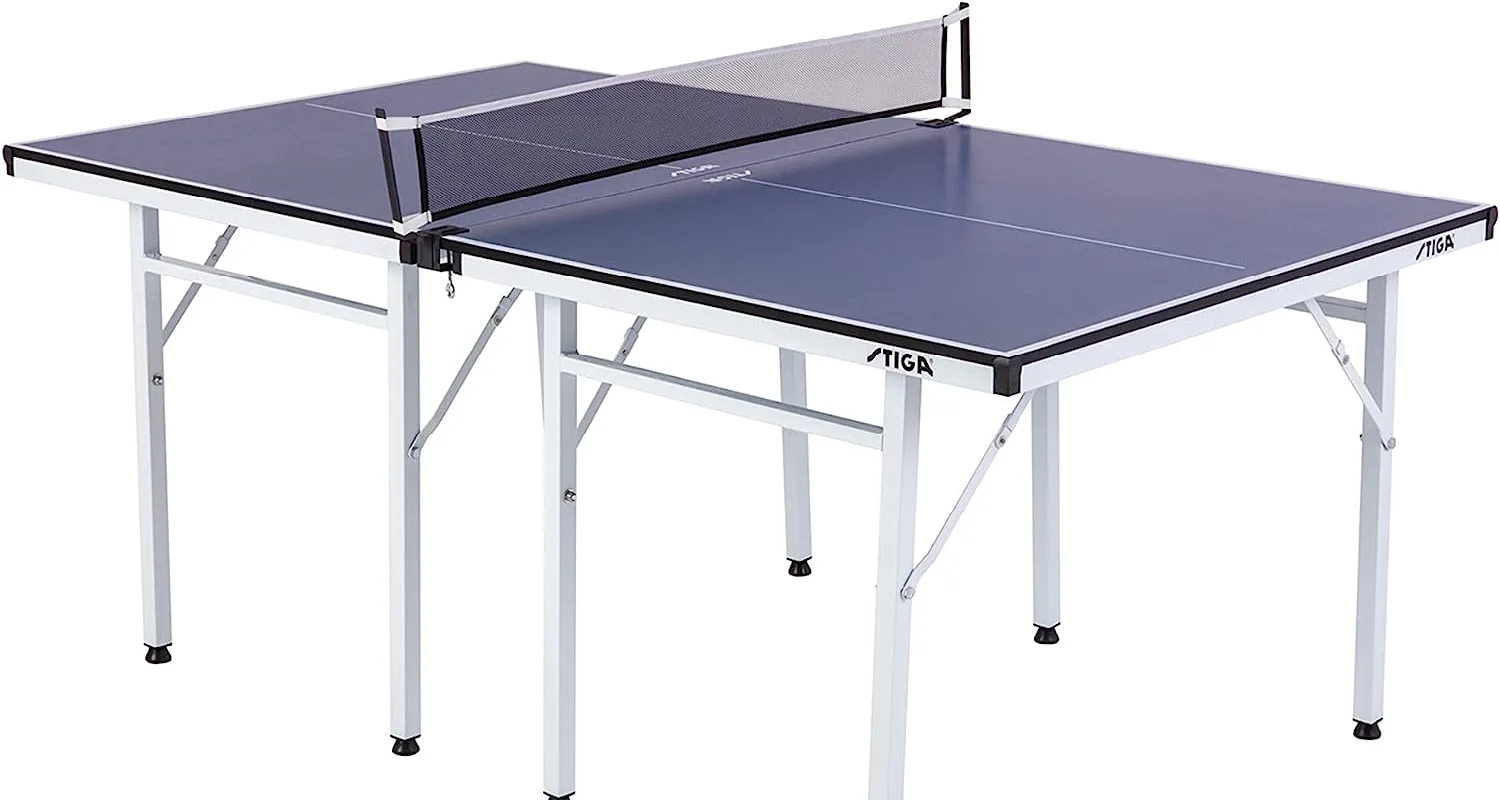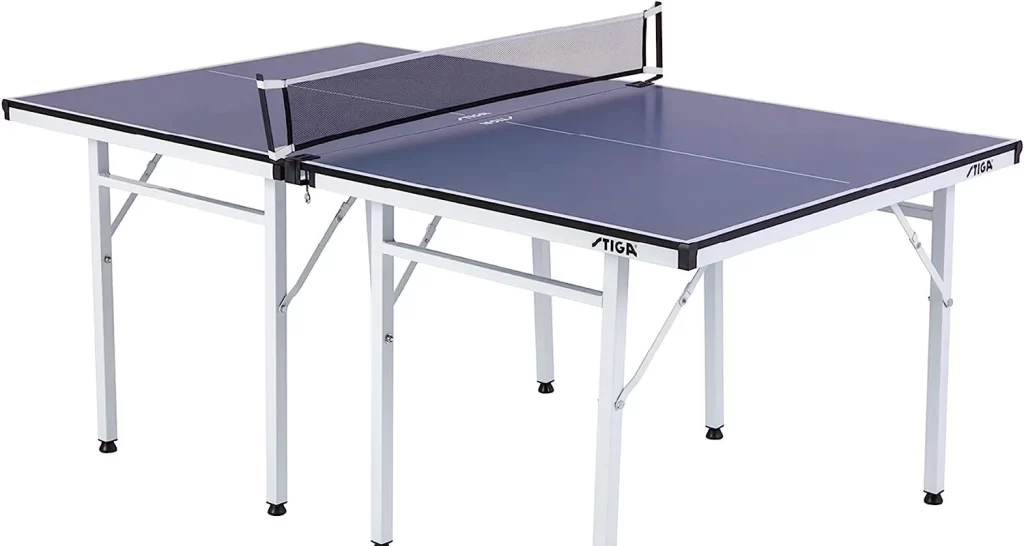 Stiga space saver table tennis table is an optimal fusion of class and innovation to level up your playing experience while making the most out of your available space without breaking the bank. This compact ping pong table is designed to deliver phenomenal results without compromising on style or performance.
Your purchase of a Stiga space saver table tennis table includes a high quality table with a cutting edge 38.5-inch net and post system that elevates the quality of your performance without needing to be adjusted repeatedly. You may find it tricky to adjust, but once settled, it will make your life easier than ever.
Molded leg levelers serve a dual purpose. They take care of the height adjustments to achieve an impeccably flat table surface that prevents wobbling and caters to accurate and consistent bounce, enhancing the overall playing experience. It further safeguards your floors from getting scratched during fierce matches.
The most exciting part about the Stiga space saver table tennis table is that it comes 100% preassembled, removing all the load of putting it together from your shoulders. This means you just need to unpack, unfold the table, and start playing. Since it is a space-saving table, its size is smaller than others.
When fully assembled, the foldable table measures 70″ in length, 40.5″ in width, and stands at a height of 30″. On folding, the dimensions get reduced to a compact 35.5″ in length, 40.5″ in width, and a mere 3.6″ in height.
Coming towards the surprisingly thick table top, the Stiga space saver ping pong table is carefully crafted using top quality medium density fibreboard (MDF) allowing the players to execute precise shots without worrying about damaging the table.
This robust playing surface caters to incredibly smooth and consistent ball bounce with utmost control and accuracy. The quality of the tabletop is further strengthened by sleek silk screen striping that is seamlessly printed onto the surface.
This detail-oriented table top creates a visually appealing ping pong table that performs flawlessly and adds a touch of sophistication to any space. Bear in mind that this table is exclusively designed for indoor play allowing you to get the most out of your games.
Engineered wood helps the table to maintain a balance between strength and portability, and the wood grain table surface adds to the vibrance of the table.
Furthermore, these foldable ping pong tables come with robust 1.25″ square welded steel legs, which form a solid foundation that guarantees the table's stability and durability. The legs are powder coated, which adds to the table's aesthetics.
All of these components ensure that the table can be conveniently stored in small spaces and transported without any hassle. Thanks to their independent foldable halves, the Stiga table tennis table comes super handy than your expectations.
This table gives you full freedom allowing you to use it for multiple purposes. Be it a centerpiece at the party for dining purposes or playing card games or puzzles, etcetera, its versatility has no limits.
Buying Foldable Ping Pong Tables: What to Look for?
Buying a perfect portable table tennis table can be a daunting task, especially when so many options are available in front of you. Here are some of the most significant factors you can consider while purchasing to ensure you make a suitable choice.
Table Top Thickness
If you want a quality performance from your foldable ping pong table, the thickness of the table is the most crucial aspect to consider. The thicker the table's surface, the better would be the bounce and durability. Opt for a table thickness of around 19mm and more for a superior bounce and resilience.
Higher quality tables with thicker surfaces, such as 25mm table tops, provide incredibly crisp and quick bounce with utmost accuracy. The tabletop thickness below 19mm works fine for beginners or recreational players. However, if you want to hop on to serious practice sessions, table thickness above 19mm will do wonders for you.
Folding Mechanism and Portability
The types of folding mechanisms can make or break the deal. Make sure the table you get has a smooth and multi-functional folding mechanism with retractable net and post system to easily store them without taking up too much space. Ensure that the table is equipped with playback mode to allow you solo practice sessions by folding one half of the table in an upright position.
Weight
Don't forget to consider the table weight, especially if you need to move or store it frequently. Lighter table tennis tables, around 200 pounds, are easier to handle. Look for the features such as casters or wheels to assist you in transporting the table from one location to another conveniently.
Built Quality
If you are looking for an outdoor ping pong table for long-term use, make sure it is made of heavy-duty steel, aluminum, or metal frame. Opt for a table with a sturdy playing surface constructed with high-quality wood, particle board, or medium-density fiberboard (MDF) to avoid inconsistent bounce and impart better gameplay and longevity.
The best part about foldable outdoor ping pong tables is their weatherproof surface that keeps them safe from damage and warping for a long time. You can conveniently store them in small spaces without any hassle.
Leveling System
Foldable ping pong tables with adjustable feet keep your table level by allowing you to compensate for uneven surfaces. Look for the outdoor table with a lock and safety latch system to securely hold the table in both folded and unfolded positions, ensuring stability and preventing accidental collapses.
Bear in mind that indoor tables are not suitable for outdoor use; however, you can use outdoor tables both indoors and outdoors. There are tables designed for both uses. If you want one, you'll need to research accordingly to get your hands on a quality table tennis table.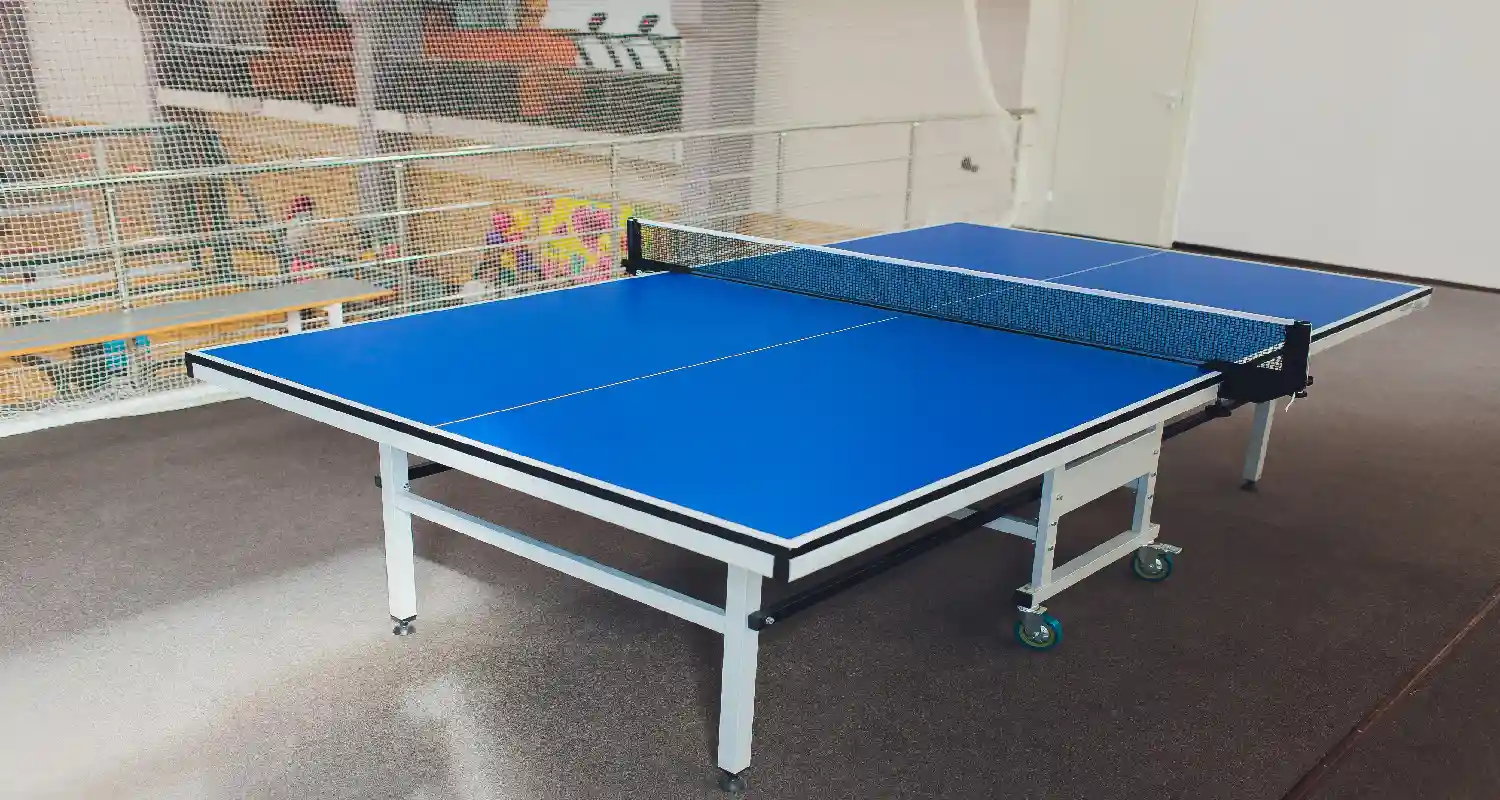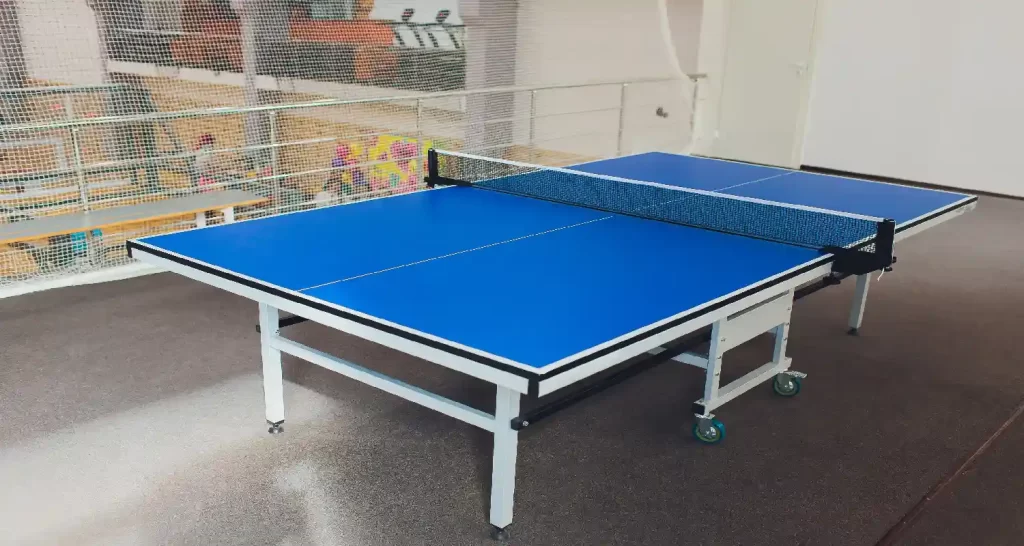 Frequently Asked Questions FAQs
Do All Ping Pong Tables Fold Up?
While most ping pong tables have acquired this feature for easy maneuverability and compact storage, there are still tables that don't fold up. You can categorize table tennis tables into stationary or fold up ping pong tables.
Stationary tables are designed to be set up in a fixed location and offer excellent stability during the gameplay. They are designed to be placed in large areas to be installed permanently. These tables usually provide a more solid and robust feel as compared to portable ping-pong tables.
Once assembled, they don't require additional setup, so you can continue playing immediately. Most tournament-grade tables are stationary to provide you with a realistic experience of playing table tennis in the arena.
Fold-up ping pong tables are designed keeping portability in mind and can be folded up for easy storage and transportation. They are ultimate space savers and work best for outdoor use and places with limited space or multi-functional rooms. They can vary in durability and might not be as stable as stationary tables.
However, choosing between these two tables- fixed or foldable ping pong tables depends on your preferences, mobility requirements, and personal space. You can also use conversion top tables that securely fit on your pool table or dining table, transitioning into a high-end ping pong table in a blink.
What Size Foldable Table for Beer Pong?
The most common dimensions of a beer pong table revolve around 8 feet in length by 2 feet in width (8'x2′). This size provides plenty of space for the players to set up the cups and play the game without any hassle. These measurements allow for a typical setup with ten 16-ounce cups arranged in a pyramid shape on both ends.
If you are looking for a foldable beer pong table, you'll find plenty of options in the market designed to meet these dimensions. Moreover, these tables come with added features, including ball holders, markings, cup holders, etcetera, to enhance your beer pong experience.
What are the Measurements of a Folded Ping Pong Table?
The measurements for a foldable ping pong table can vary depending on the model and design. Generally, when a ping pong table is folded, it reduces its length by half. For instance, a typical regulation-size table has measurements approximately 9 feet long by 5 feet wide; when folded, its dimensions will be around 4.5 feet.
The height of a folded table might vary; however, it is likely to be in a similar range as an unfolded ping pong table. The measurements of a fold-up ping pong table can vary based on manufacturers and the folding mechanism used.
If you are interested in purchasing a best foldable ping pong table, go through the product specifications or contact the manufacturer to get accurate information about the table.
What are the Dimensions of a Ping Pong Table When Folded Up?
When we talk about a foldable ping pong table, it is not always the same size regulation table. You'll encounter many sized tables that can overwhelm you for the day. Here is a sneak peek at the most commonly sized folding tables.
Standard size (9 feet long by 5 feet wide): On folding, its dimensions reduce to approximately 4.5 feet (54 inches) in length and 5 feet (60 inches) in width. Height varies on specific models but might stay in a similar range to unfolded table height.
Midsize Table (6 feet long by 3 feet wide): Approximately 3 feet (36 inches) in length and 3 feet (36 inches) in height.
Mini table (3 feet long by 2 feet wide): Around 1.5 feet (18 inches) in length and 2 feet (24 inches) in width.
Bear in mind that all these measurements are approximate and can vary based on different models and manufacturers.