Are you ready to unleash your inner champion and overpower your opponents on the table tennis table? JOOLA ping pong tables can be a perfect secret comrade you need to assist you in taking your game to the next level. With their tough construction and innovative features, these tables are an ideal fusion of style and performance.
Whether you are looking to practice for your tournaments or just want to set up a thrilling activity for your weekends, a high-quality table tennis table is the ultimate powerhouse to get you in the game like a pro.
You don't settle for any subpar table tennis table. Therefore, we have compiled some of the best JOOLA ping-pong tables to help you reach your full potential. From design to durability, functionality to their price, we have got you covered in everything.
Be sure to read on to discover which one suits you the best.
2023's Top-Rated JOOLA Ping Pong Tables
We have narrowed down 2023's top-rated JOOLA ping pong tables for players of all levels. From superior construction to innovative features, and value for money to performance, our list has covered all the essential factors. Let's dive into it.
Outdoor JOOLA Table Tennis Tables
Our Rating: 4.9/5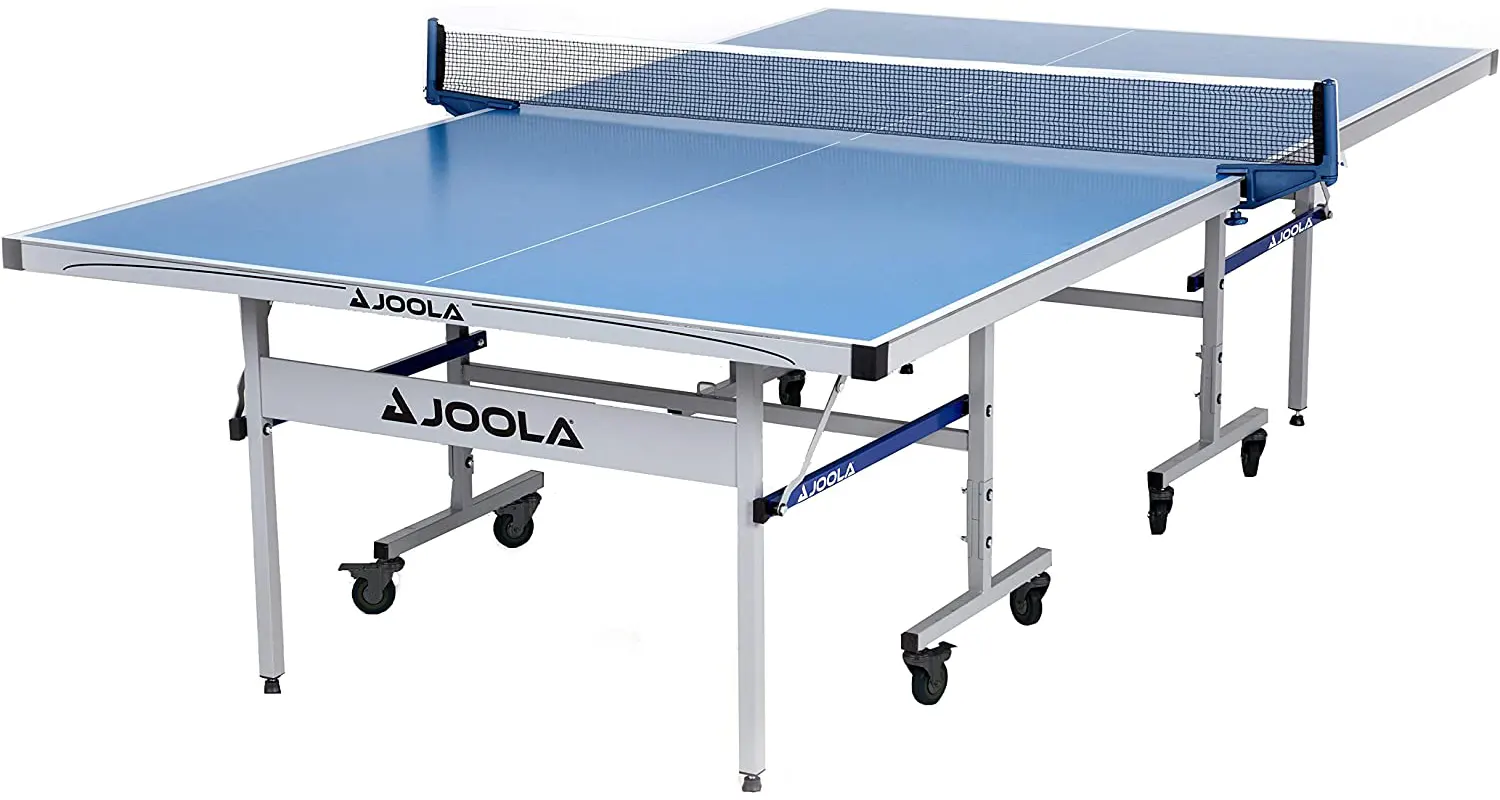 Check Price
If you want to buy JOOLA ping pong tables that are not only of great quality but also versatile in their performance, then JOOLA Nova can be a perfect choice. It is constructed with a high-quality aluminum composite that makes it suitable for both indoor and outdoor use.
Moreover, it provides great resistance to chipping and warping while guaranteeing a consistent bounce even after years of regular use. Setting up JOOLA Nova is child's play; thanks to its 95% pre-assembled design, it will hardly take you 20 minutes to complete it.
JOOLA Nova has an easy-to-install weatherproof net set with adjustable posts that make it convenient to play even in damp conditions. This table is perfect for playing solo by folding the table in half in the playback position.
Equipped with a bunch of exciting features, JOOLA Nova can be an excellent family investment and a great addition to your deck or backyard.
Our Rating: 4.8/5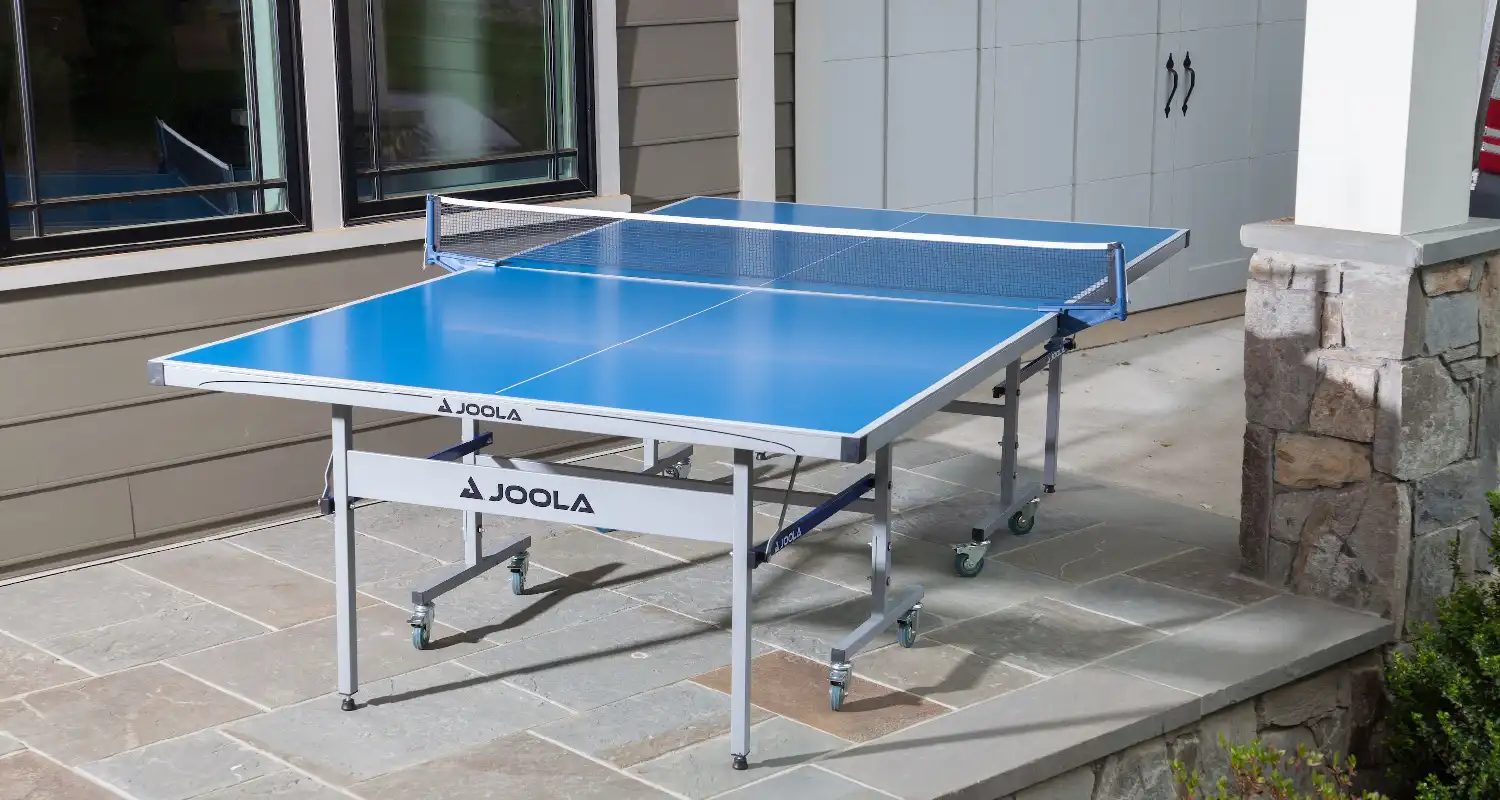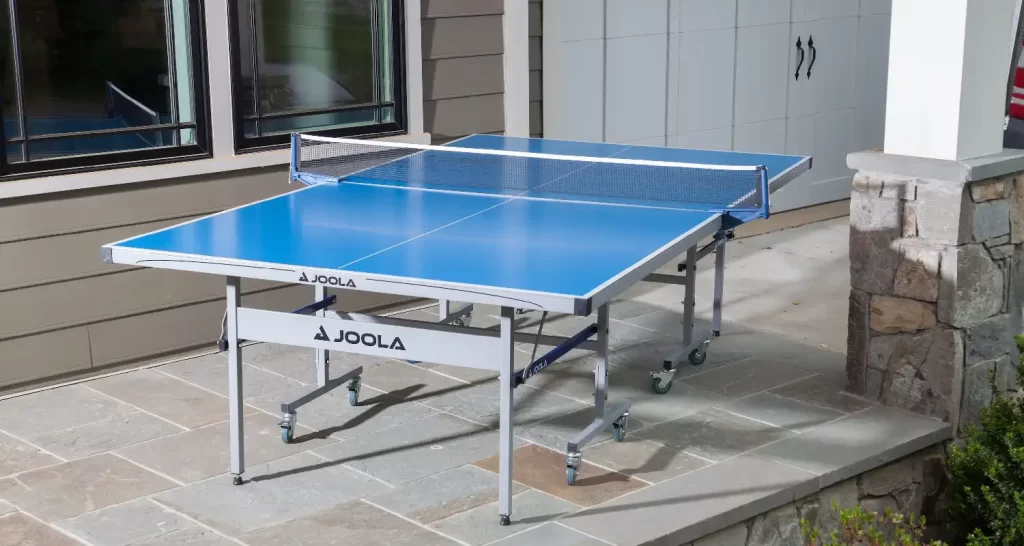 Check Price
JOOLA united pro offers a wide range of practical features, making it an ultimate choice for ping pong enthusiasts who love to play table tennis outside. This table comprises 6mm aluminum plastic, making it robust enough to withstand even the toughest outdoor conditions.
It is equipped with adjustable leveling feet that ensure the table conforms to any terrain allowing you to experience an ideal playing experience no matter where you set it up.
You can easily fold the table into two pieces to turn it into playback mode and for compact storage. Furthermore, its sleek and contemporary appearance and matching weatherproof net set make it a sophisticated addition to your backyard or office.
In terms of safety, JOOLA United pro has no match. It includes locking casters on 3-inch wheels and double anti-tilting devices, keeping your mind at peace while playing.
Indoor JOOLA Ping Pong Tables
Our Rating: 4.3/5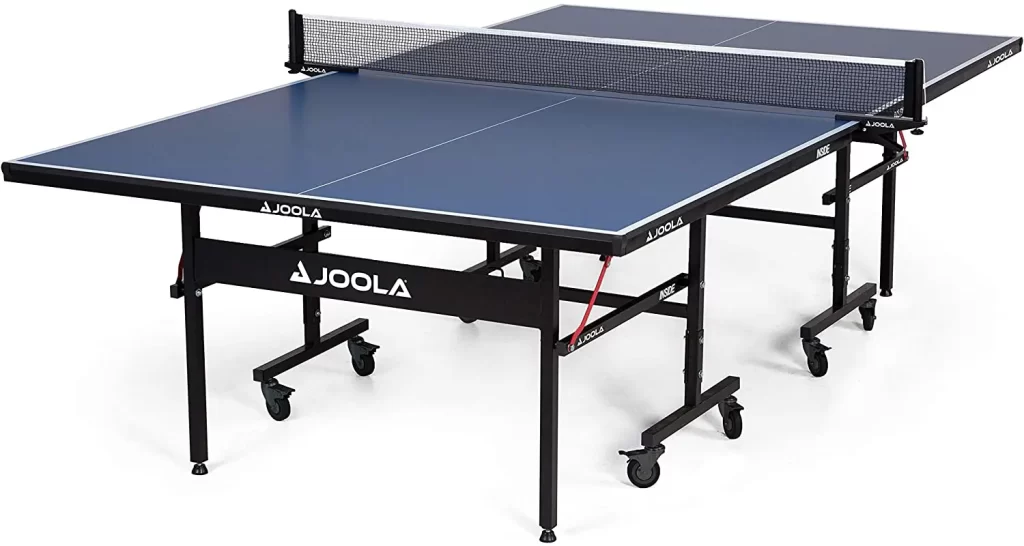 Check Price
JOOLA Inside table tennis table is a top-notch blend of performance, durability, and stability and makes a perfect match for serious ping pong lovers. This impressive table is built with superior quality MDF that provides the crispy bounce, perfect spin, and smooth control over the ball for a true playing experience.
These JOOLA ping pong table sales never go out of business because of their commitment to quality and innovation in every product. One of the key features of JOOLA inside is that it comes with a quick clamp table tennis net and post set that allow for easy setup and removal of the net so you can get to playing without delay.
What sets this table apart is its single-player playback mode, which you can achieve by folding one half of the table and using it as a rebound surface for solo training.
Combining all these features, JOOLA inside makes an ideal option for players of all skill levels who want to start having a real table tennis experience that can only be possible with professional-grade tables.
Our Rating: 4.2/5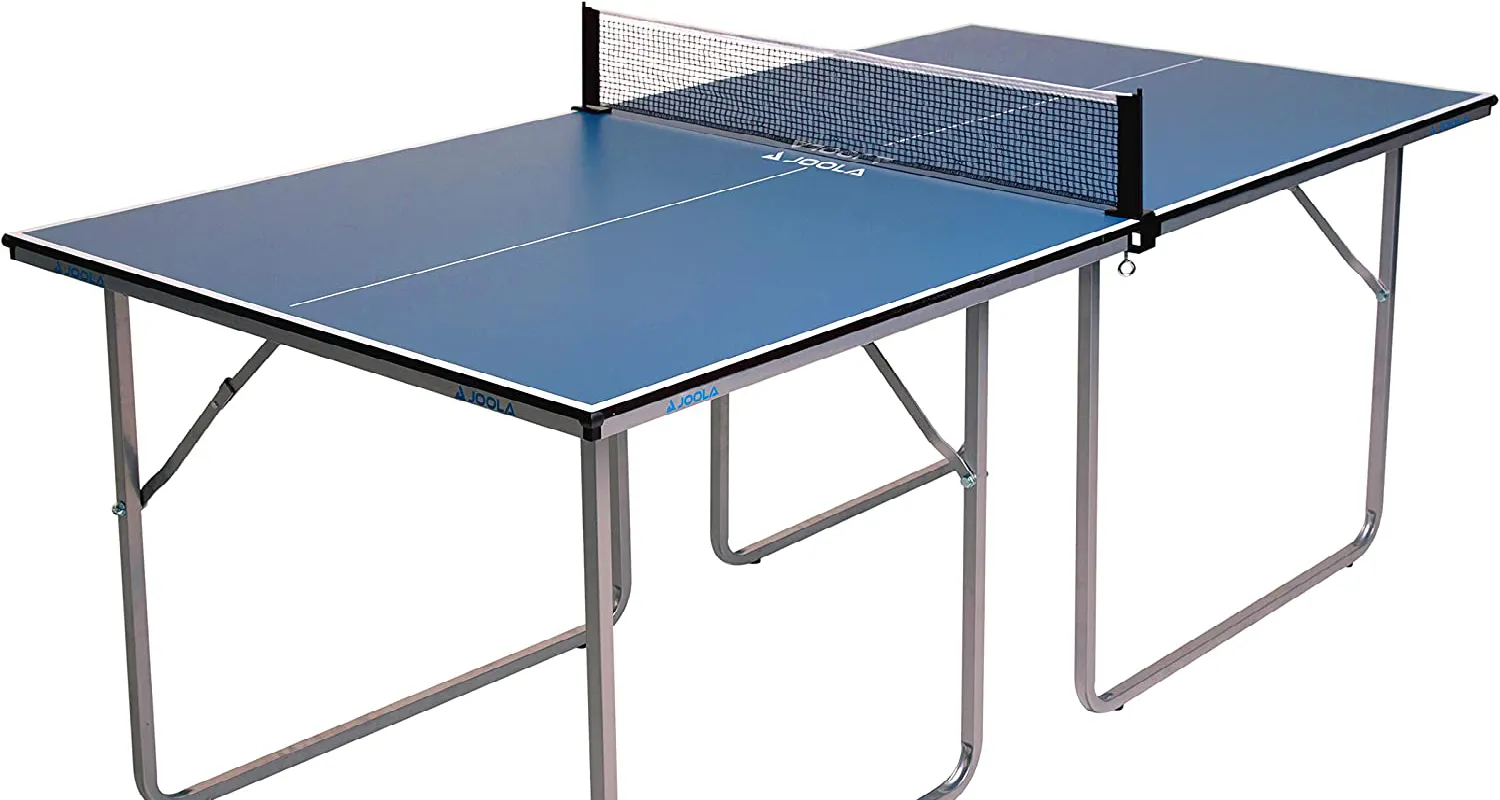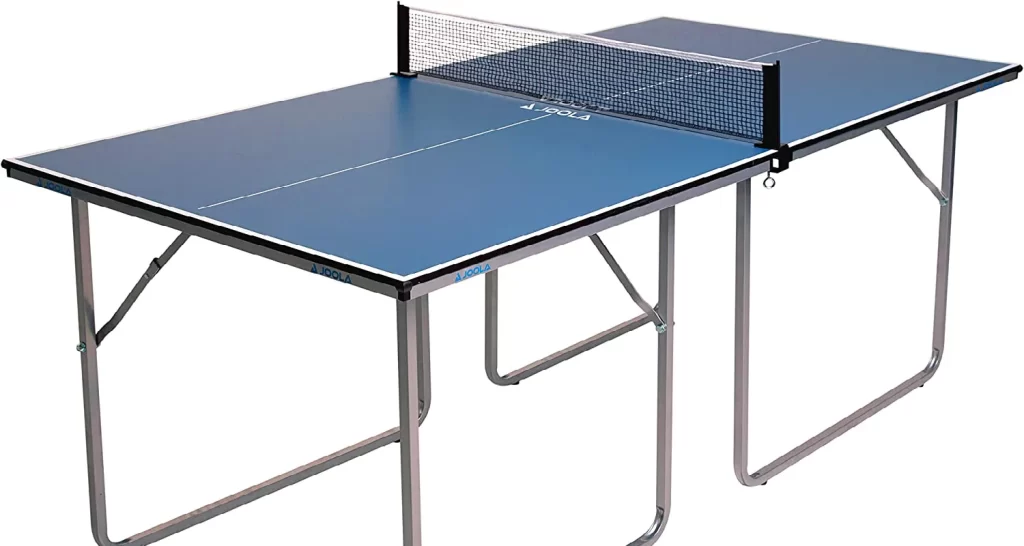 Check Price
If you want to buy JOOLA table tennis tables that can fit in your apartment and small spaces, then JOOLA midsize ping pong table can be a superb option.
With its easy-to-store design and compact size, this table is a perfect choice for those with limited space. It is a free-standing table that you can use for many other activities, such as a workspace for your laptop, playing cards, creating craft projects, etcetera.
The best thing is that the JOOLA Midsize table comes at a great price and provides a professional playing experience without sacrificing your budget. Thanks to its compact size and foldable design, you can store it easily in a closet when not in use without permanently sacrificing your floor space.
Our Rating: 4.5/5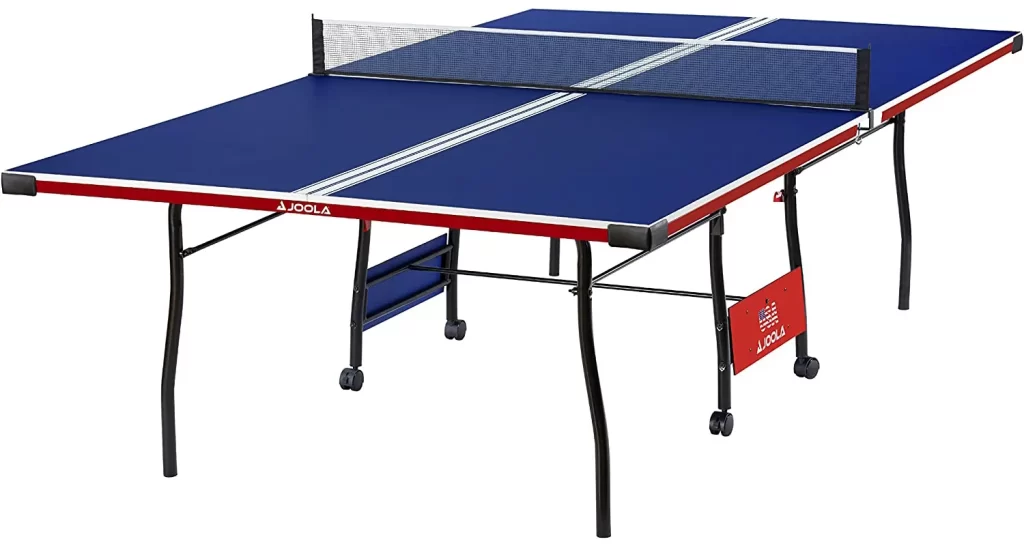 Check Price
JOOLA Indoor provides a great playing experience to those looking to hone their skills in assistance with high-performance tables. This JOOLA ping pong table features a regulation-size playing surface that provides consistent bounce and a smooth playing experience.
On top of that, it offers a solo playing mode that works great for beginners who want to practice more often than others without a playing partner.
An exciting fact about JOOLA Indoor 15mm ping pong table is that it is approved by the USA table tennis federation – USATT for tournaments. This means that if you seek to become a professional, you can use it openly for your competitions and official tournaments.
With caster wheels and locking safety devices, JOOLA Indoor takes storage and transportation to another level. You'll be thrilled to know that this table comes with the simplest instructions, making its assembly easier than ever.
So, even if you are not very good at assembling things, you can still do it in less than 20 minutes.
Our Rating: 4.9/5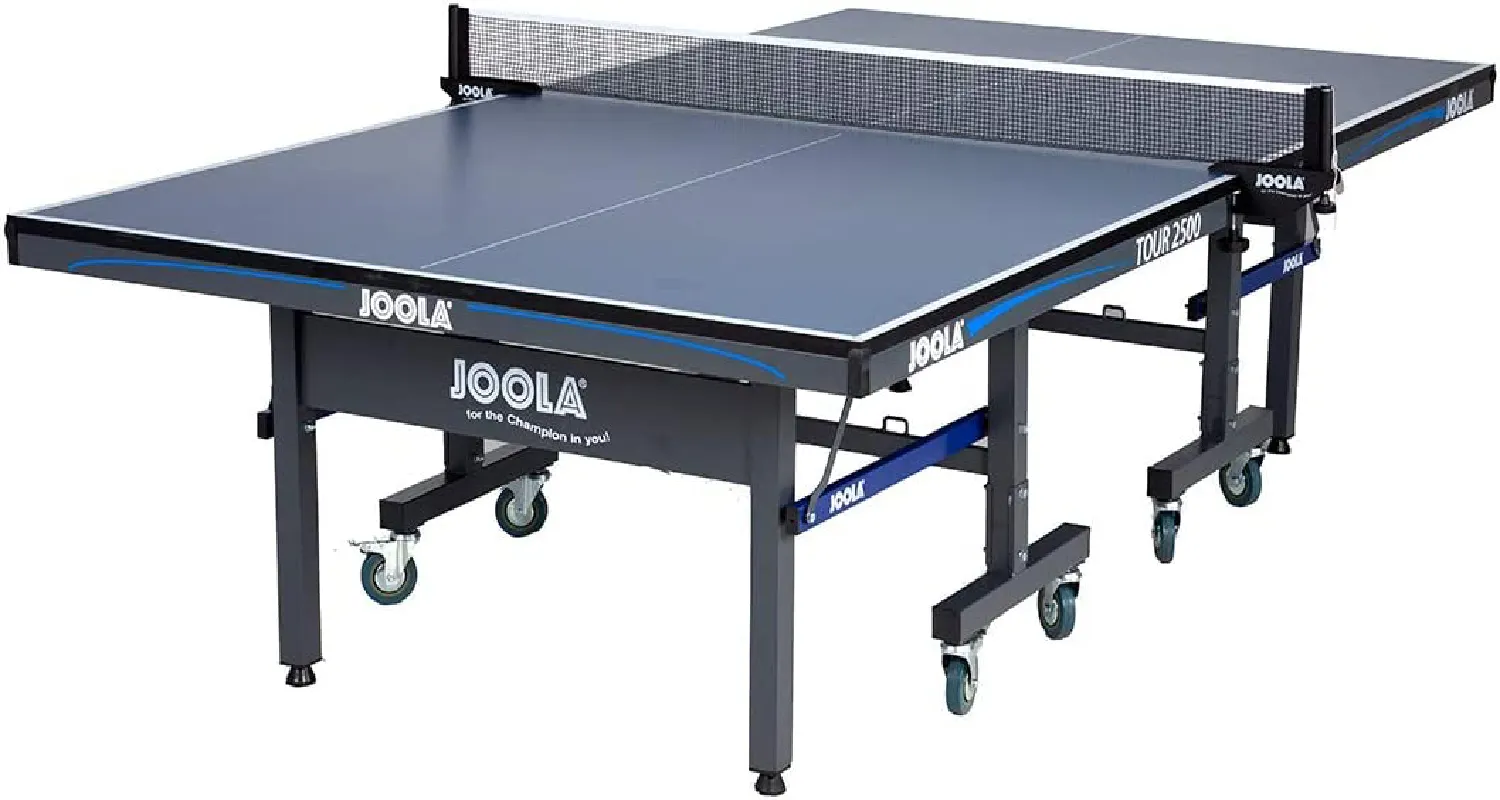 Check Price
Whether you are a seasoned pro or just an amateur trying your luck with this dynamic sport on a professional-grade table tennis table, JOOLA Tour can be your best companion in this journey. The table comprises high-quality MDF that imparts exceptional durability and consistent ball bounce.
It features a unique net and post set, allowing quick, convenient adjustment and tensioning. The sturdy powder-coated steel frame provides excellent stability during intense sessions, and four locking wheels make it easy to maneuver and store.
Thanks to its weather-resistant construction, it can finely combat rust and corrosion and shield the table from moisture and sunlight, making it a suitable option for indoor and outdoor use.
Overall, the JOOLA tour offers durability, versatility, and playability, making it a great investment for homes, offices, or other recreational facilities.
Where's the Best Place to Buy JOOLA Tables?
You will find several platforms to buy the best JOOLA ping pong tables; however, make sure you buy them from a renowned sports gear store or an authorized dealer.
Since JOOLA is one of the leading brands in the table tennis industry, its equipment is widely available at several retailers, both online and in stores. Here are some of the most common places you can check out to buy JOOLA table tennis tables.
JOOLA Website
JOOLA website is the most convenient way to get your hands on a wide variety of high-quality JOOLA products, including their table tennis tables.
Amazon
Amazon is one of the largest marketplaces you can check out to grab some of the best JOOLA ping pong tables at the best prices. They offer tables in various shapes and sizes, so you can easily find the one that best fits your needs and budget.
Walmart
Walmart is another giant retailer that offers JOOLA ping pong tables at competitive prices. They also offer free shipping options that make it a great platform for those looking for savings.
Sports Authority
It is another quality sports retailer option that you can opt for JOOLA table tennis tables and other accessories. They are available both online, and in-store at competitive prices and mostly have JOOLA ping pong tables sales going on.
So, make sure to keep an eye on promotions and sales so that you can get premium quality products at the most reasonable price.
How are JOOLA Tables Different from Other Brands?
There are several table tennis table brands in the market; however, what sets JOOLA apart is their strong commitment to quality, innovative products, and always meeting the needs of their customers.
JOOLA has been in business for more than half a century and with time their craft has only improved. They have a wide range of ping pong tables on their portfolio, each suited to a certain demographic from beginners to very advanced level players.
You can rely on a JOOLA ping pong table for reliability, consistency, and an authentic playing experience. Remember that the brand offers the whole range of table tennis accessories and no just the tables.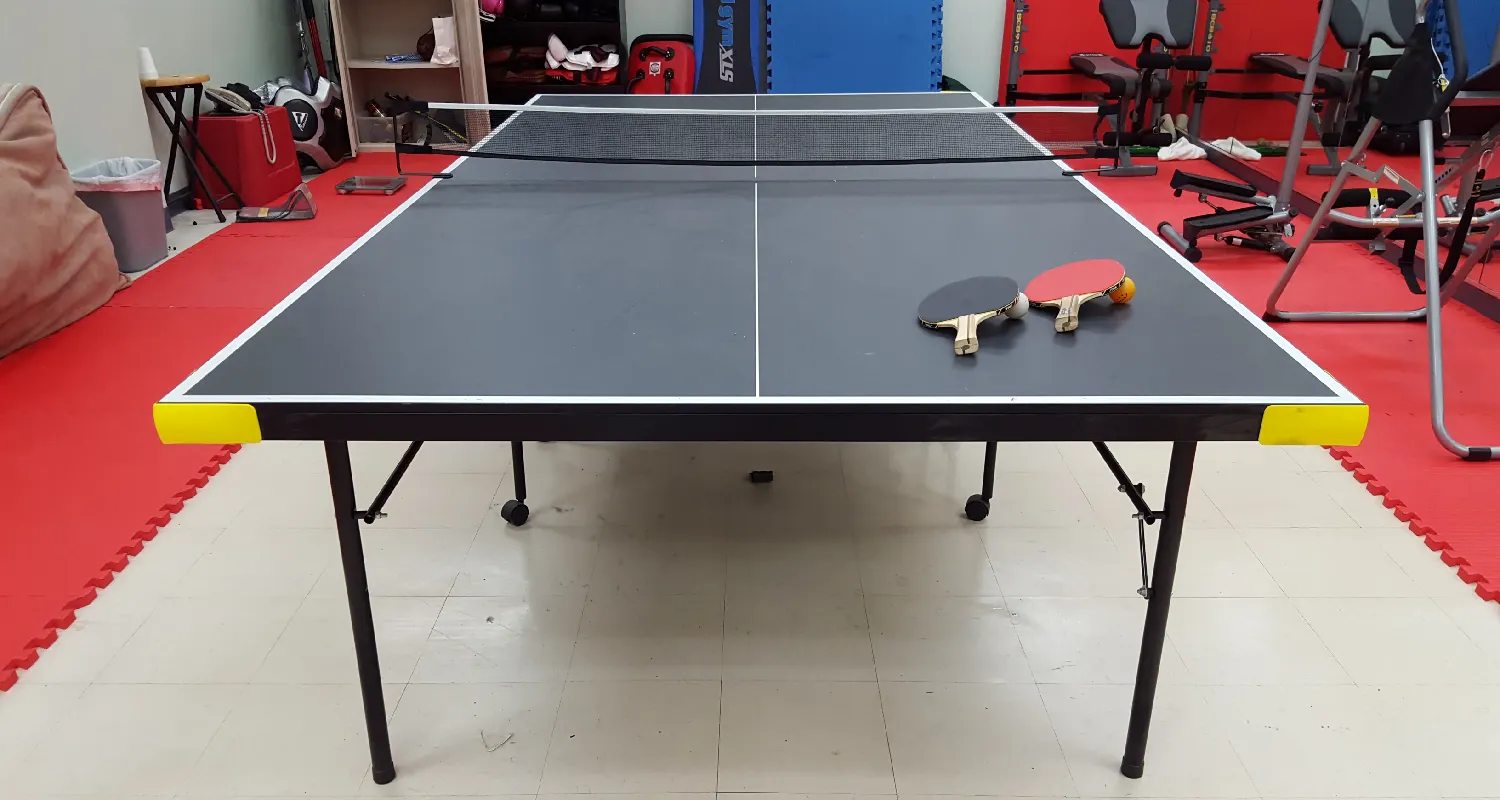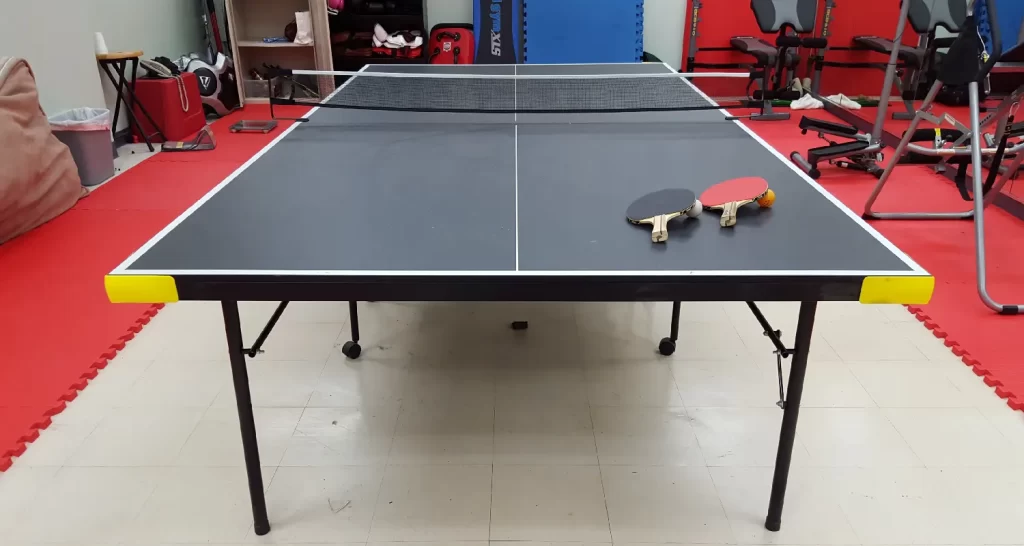 Frequently Asked Questions (FAQs)
Is JOOLA a good ping pong brand?
Yes, JOOLA is a leading brand in the world of table tennis and has had a strong reputation for producing top-tier products for over 60 years. Many professionals, novice players, and even organizations conducting international tournaments trust JOOLA for their table tennis needs.
Where are JOOLA tables manufactured?
JOOLA's manufacturing facilities are widespread in Asia and Europe; however, its headquarters is in Germany. Some of their products are also manufactured in Germany, Taiwan, and China.
Is JOOLA an American company?
No. JOOLA is not an American company. It is a Germany-based company that was established in 1952. However, it has a strong presence in the USA and is quite popular among American table tennis enthusiasts.
Who Owns JOOLA?
Since JOOLA is a private company, its ownership changes with time. However, it was originally founded by Michael Bachtler and his wife, who ran the company for several years. In 2009, the company got into the hands of Sport Squad, Inc., a USA-based company specializing in sports equipment, and is still run by them.