The JOOLA Midsize Compact Table Tennis Table is best for anyone who loves table tennis and an ideal table for small spaces. This portable table is one of the fastest-selling products by JOOLA that is an olympic table tennis brand, part of world championships, and it is fantastic for table tennis.
JOOLA is a proud sponsor of the biggest tournaments including olympics. It compares fairly well with other ping pong tables with similar specifications, especially, because it costs well under $200.
Buy JOOLA Midsize Compact Table
JOOLA Midsize Compact Table Specifications
Our Rating: 4.2/5
Price: $
Size: Mini (6 feet x 3 feet x 2.5 feet)
Assembly Time: 0 minutes
Weight: 62lbs or 28 kgs
Storage Dimensions: 36in x 36in
What to Expect
For your convenience, we have compiled a list of features that will ensure your experience buying this ping pong table will be perfect.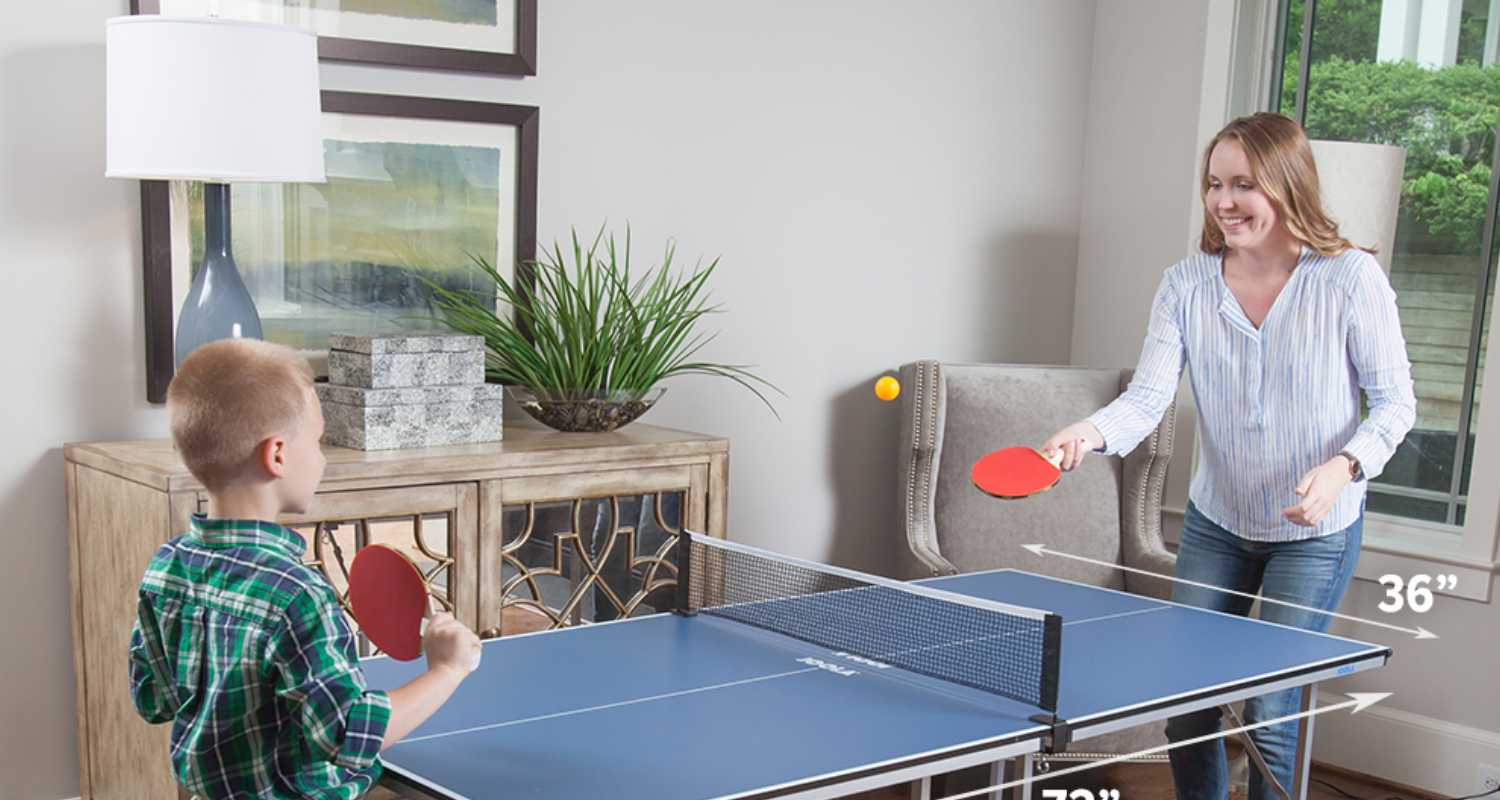 Made for Small Spaces
The JOOLA Midsize ping pong table is made in a unique size, being two thirds the size of a regulation table – slightly smaller than the Franklin Sports table. That is why the Midsize ping pong table is ideal for small spaces that can't accommodate full size tables. The equipment designed is for all levels and multiple use tables are a must-buy for people living in apartments where this mid size table can be easily stored in most closets.
Moreover, its compact storage fits in a game room, too, and the best part is, you can start your kids getting interested in table tennis by having them play on a smaller table or use each half as a card table. It comes with net set included.
100% Preassembled
The JOOLA Midsize table tennis table is a mini ping pong table that sets up with two halves. However, you can save the hassle of having to set it up because the JOOLA Midsize table tennis table always comes 100% preassembled and in the form of one solid piece. It also has a net included and it will not take a lot of time from unboxing to playing.
The assembly required the pre-connected folding legs, that you have to open up, join the two table halves, and start your game within seconds. The playing surface delivers true and consistent bounce as expected from full size ping pong tables.
Ideal for Multi-usage
JOOLA Midsize table tennis table is not only the best table for table tennis usage but multi purpose table halves are also perfect for other usages like playing poker, card table for kids games etc.
You can use free-standing multi purpose table halves for all kinds of different uses, making it great not only for playing table tennis but also for hosting a fun and entertaining game night. From beer pong to card games, playing poker or indoor games, this is a useful ping pong table as each half is a near perfect square and can easily stand alone!
The separate halves of the tables can be placed together, used as game tables or card table for entertaining guests and compact storage fits in most closets, behind the sofa or even under the bed.
Pros
Lightweight
One of the best features of the JOOLA Midsize tennis table is that the equipment designed is super lightweight with a thinner frame. Compared to the regulation-sized ping pong tables, this tennis table is featherweight. Weighing under 30 kgs, the JOOLA Midsize table tennis table offers a lot of options with portability and convenience. While it may not be a regulation height table, it is perfect for the kids to play and move around.
The problem with the heavier ping pong full size tennis table is always about the fact that you cannot move it, but this gives you so many options. Especially, when you consider the fact that the two table halves can be used independently, as well.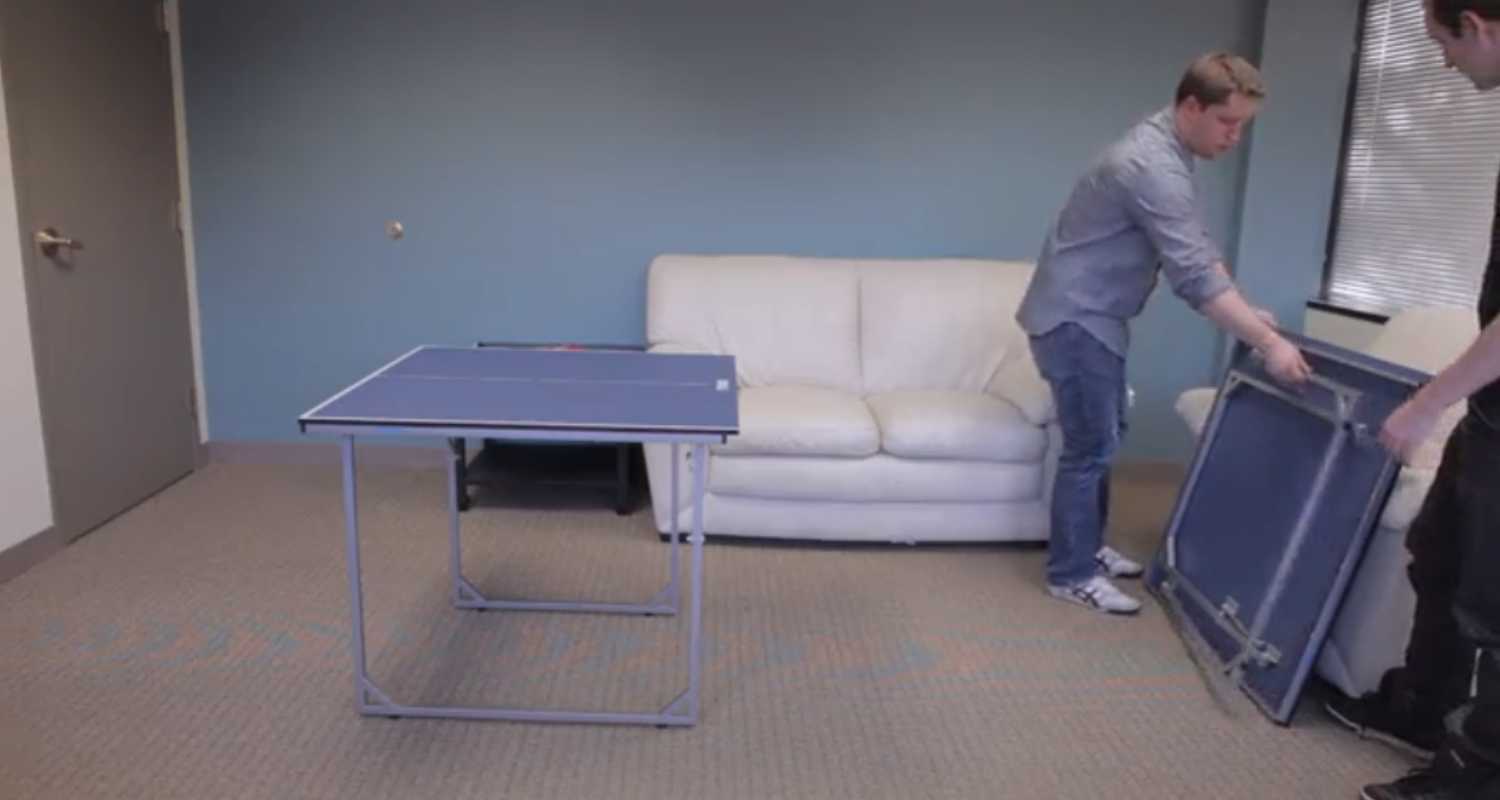 Compact and Ideal for Storage
Due to its size slightly smaller than the Franklin Sports table, and ease of separation, and of course, the preassembly, you can set the tennis table up within minute. With net set included and no assembly required you can wrap it up within seconds.
This means you do not have to worry about getting an earful from the missus and due to its compact half size you can put this mini ping pong table almost anywhere and it will be out of your sight. Each half of the table can be used as a card table for guests etc.
Similarly, for apartments and places where space is a luxury only and keeping a full size table is a dream, but you also do not want to give up on your ping pong career, then your ideal investment should be the JOOLA Midsize ping pong table instead of a full size table, as due to its easy storage and half size it will fit about anywhere in your apartment.
Comes Preassembled
Some ping pong tables can take up hours to assemble before you can start playing. It can be demoralizing, especially, when you see the package arriving after days and you are excited about playing table tennis, as soon as it comes.
This is where the JOOLA Midsize table tennis is the best option because it comes preassembled 100%, and for the assembly all you have to do is open the legs of the tables, attach the two half ping pong tables with the net and start playing!
Even kids can do it, and you can set the tennis table up without needing the help of another person. Other than table tennis, these multiple use tables are perfect for card games or any of your other card table needs.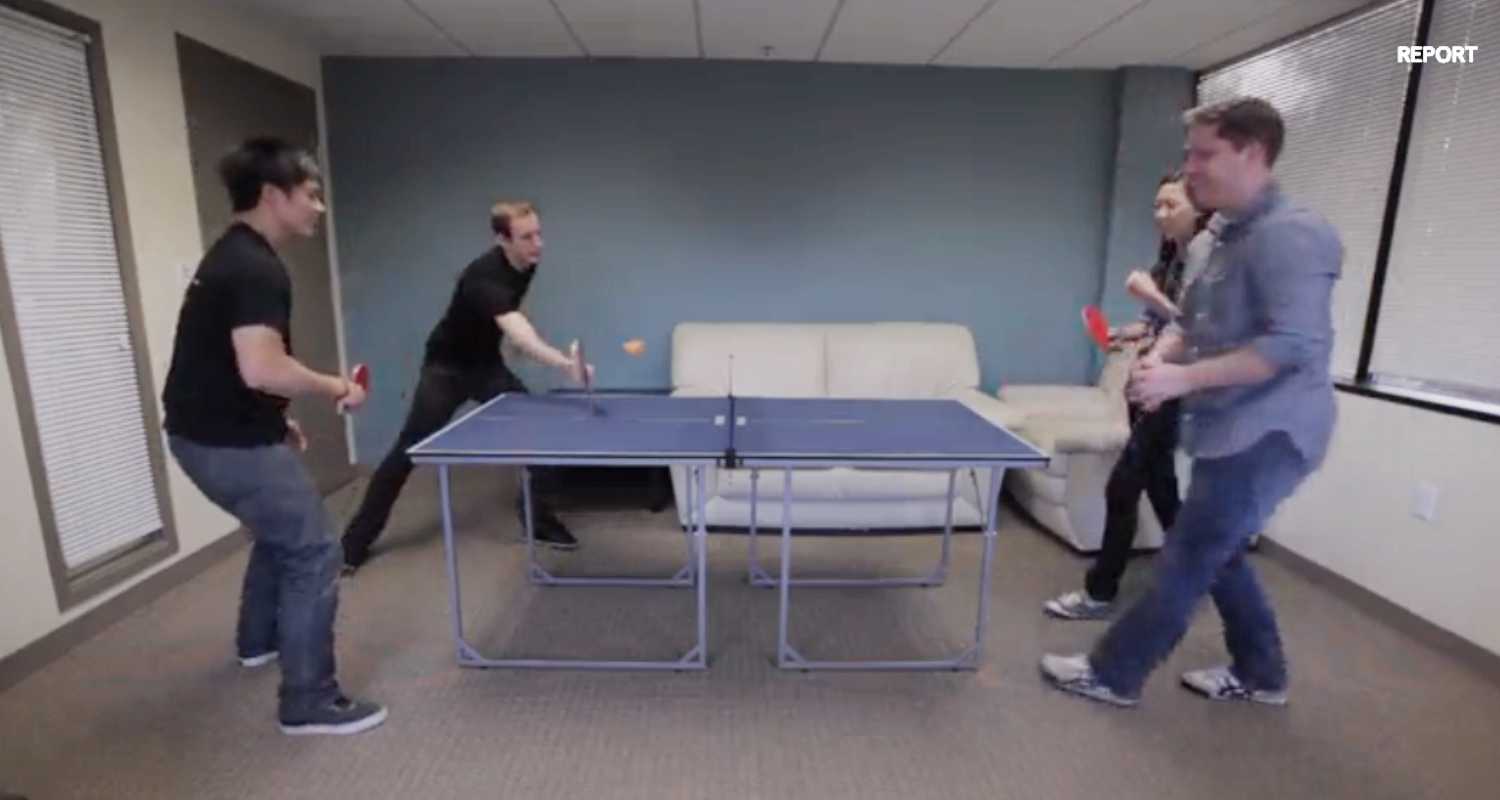 Net and Posts Included
The JOOLA Midsize ping pong table comes with a sturdy screw clamp net and a post set for the assembly. The net and post set attaches to the table with a classic screw clamp and it is very inexpensive to replace, too.
Perfect to play table tennis leisurely and for ping pong with friends and kids, and you can set the table up within seconds, too.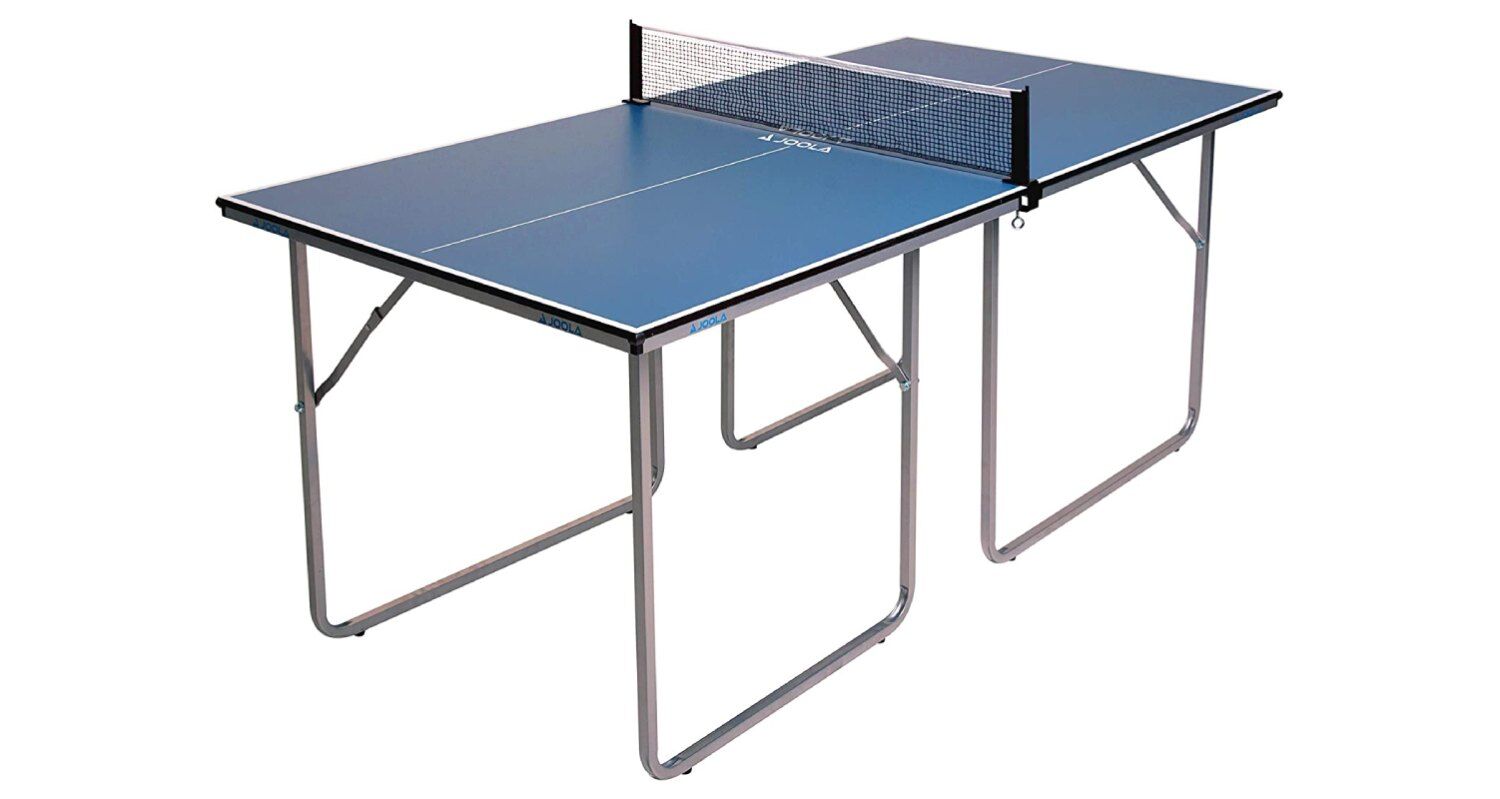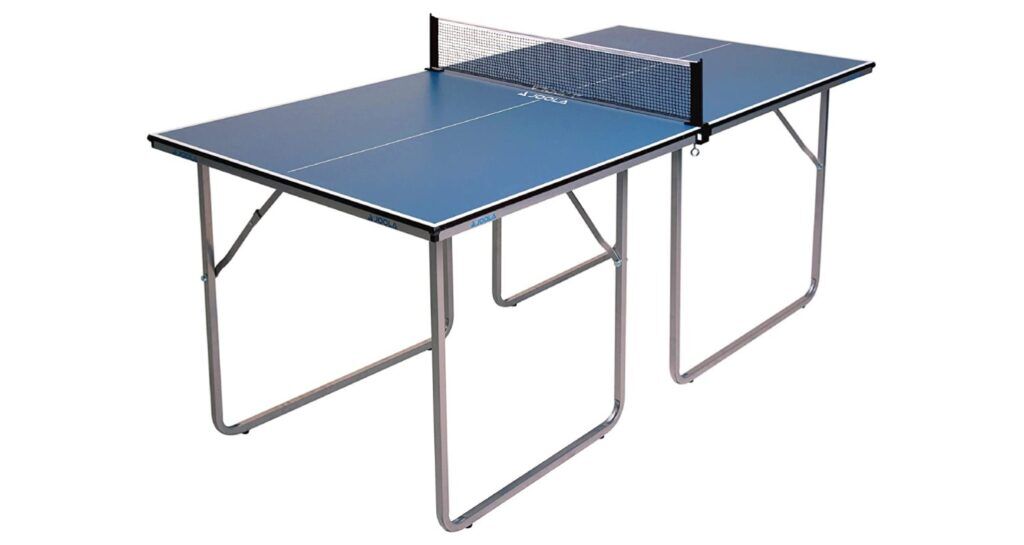 Cons
Smaller than Regulation Size
Being a mini ping pong table, this is not a standard-sized, regulation ping pong table so you should adjust your expectations accordingly in this price. It is a mini table smaller than the actual full size table tennis table, so if you are used to playing table tennis on full size tables then this half sized mini table will take you some time to adapt to this.
Poor Bounce
The mini table is ideally made for ping pong and recreational purposes only, so the bounce is not consistent as the table top is quite thin, opposed to other ping pong tables from JOOLA like the NOVA DX outdoor table. If you use a playing surface with a thicker table, then you will find it slightly hard to adjust to this poor surface.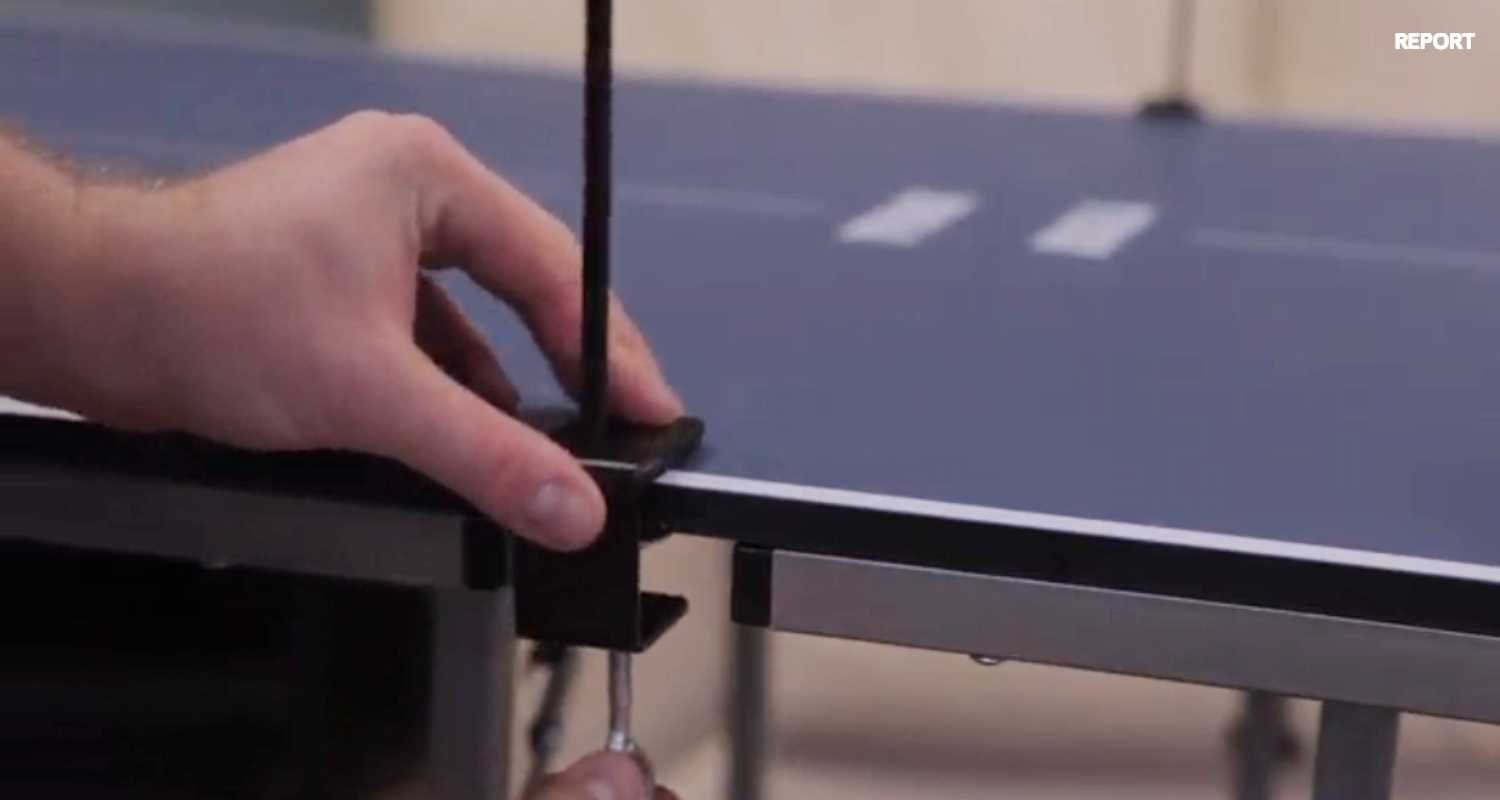 No Paddles or Balls
The ping pong mid size table costs a lot less but most customers expect it to come with paddles and balls. However, that is not the case, as you only get the table in this price. You will have to buy the paddles and balls, separately.
Missing Screws
Some customers had a poor experience buying this mini ping pong table because they reported missing screws. We suggest inspecting for any missing screws as soon as the table arrives so that you can either report it or get it fixed.
Our Rating: 4.2/5
While this mini ping pong table is not ideal for professional play, for its cost and its purpose, it makes a very decent purchase among ping pong tables.
You can keep it almost anywhere in your apartment it hardly takes up any space, you can also use it to play other indoor games like beer pong or cards, etc. It is also ideal for ping pong because you can make up your own rules and play for bargaining rights with friends and family.
Frequently Asked Questions
How to Clean Joola Midsize Table?
We would suggest taking care of your table top, although it does not have the greatest table surface, it is still ideal for recreational purposes, for kids and upkeep of the table is important. As for cleaning the JOOLA Midsize table tennis table, it is similar to how you would clean any other ping pong table. Use a clean dry cloth, initially, to wipe any superficial dust that may be on the surface, and then use a spray cleaner or you could use a cloth dipped with vinegar solution to clean it properly.
Remember to lubricate the metal part and the moving parts of the ping pong table, because they could quickly rust. Do not use harsh cleaners on the surface and avoid getting the table top too wet.
How to Assemble Joola Midsize Table?
The JOOLA Midsize indoor table tennis table comes 100% preassembled. That means, once you cart add it and your order arrives, only unpacking stands in the way of the game. Forget the long duration that other tables might require in setting up, your JOOLA Midsize comes preassembled, and all you have to do is open the legs of the ping pong table and set up the net. Oh, and of course, start enjoying table tennis!
How to Fold Joola Indoor Table Tennis Table?
The folding of the JOOLA Midsize indoor table tennis table is also extremely easy. This is why, it is perfect for storage, too. If you have less space in your apartment, the JOOLA Midsize table tennis table can be a lifesaver as you can fold it with ease and put the sturdy tables and net away almost anywhere in your room. The folding is fun and easy.
All you have to do is fold the legs beneath the table, take off the net and it comes in two separate parts, so storage becomes far easier. Anyone can do it, as the ping pong table is very lightweight.
How to Store Joola Indoor Table?
The JOOLA Midsize table tennis table is engineered in such a way that it has two separate table halves. Both of them fold separately, and you can fold them up and store them at any place in your room or apartment. They require very little space to be stored and they are also not heavy, which means you can put them away anywhere, without the ping pong table taking up a lot of space.
Conclusion
JOOLA is proud sponsor of many world championships and the biggest tournaments. It is one of the more reliable manufacturers of table tennis products and they compete as with the top-end companies of table tennis products like Butterfly, STIGA, etc. That is why, this olympic table tennis brand has earned a lot of recognition among players and coaches, alike in world championships. Their products are not only top-quality but also versatile enough to suit the needs of all levels.
The JOOLA Midsize table tennis table is the biggest example of their adaptability in the market. This ping pong table is produced primarily to play table tennis recreationally and a great addition for having fun in tight spaces like apartments, etc. You can store it with ease, anywhere in closets, and it is ideal for people who live in apartments and there is not a lot of space to keep a full regulation size table.
Despite its reduced size, this mini ping pong table does not compromise on the fun. You can set it up anywhere in the room you like, and if anything, the play will be faster because of the shorter but good size of the table, making it more exciting and kids-friendly.
It is a great investment especially with the price tag that it comes, and you could sharpen your skills by playing on a smaller surface.