Tired of those flimsy, unstable tables that are hard to carry everywhere, and their subpar quality totally ruin the fun of your game? If so, then the Pro-Spin midsize ping pong table has got you all sorted.
This table is a true game-changer for ping-pong lovers. It is 100% pre-assembled and can be conveniently carried from one place to another, making it an ideal option for apartments, outdoor patios, offices, etcetera.
Apart from its ideal size, the table offers exceptional quality that takes the thrill of the game to another level.
But don't just take our word for it. We have curated a detailed Pro-Spin midsize ping pong table review to help you witness all the reasons why it is an ultimate choice for ping pong enthusiasts. So, let's dive in.
Buy Pro-Spin Midsize Ping Pong Table Now
Pro-Spin Midsize Ping Pong Table Specifications
Our Rating: 4.5/5
Price: $$
Size: 71″L x 41″W x 30″H
Assembly Time: 5-10 minutes
Material: Aluminum
Weight: 35 pounds
Table Top Thickness: 15mm
Color: Blue
Warranty: 1 year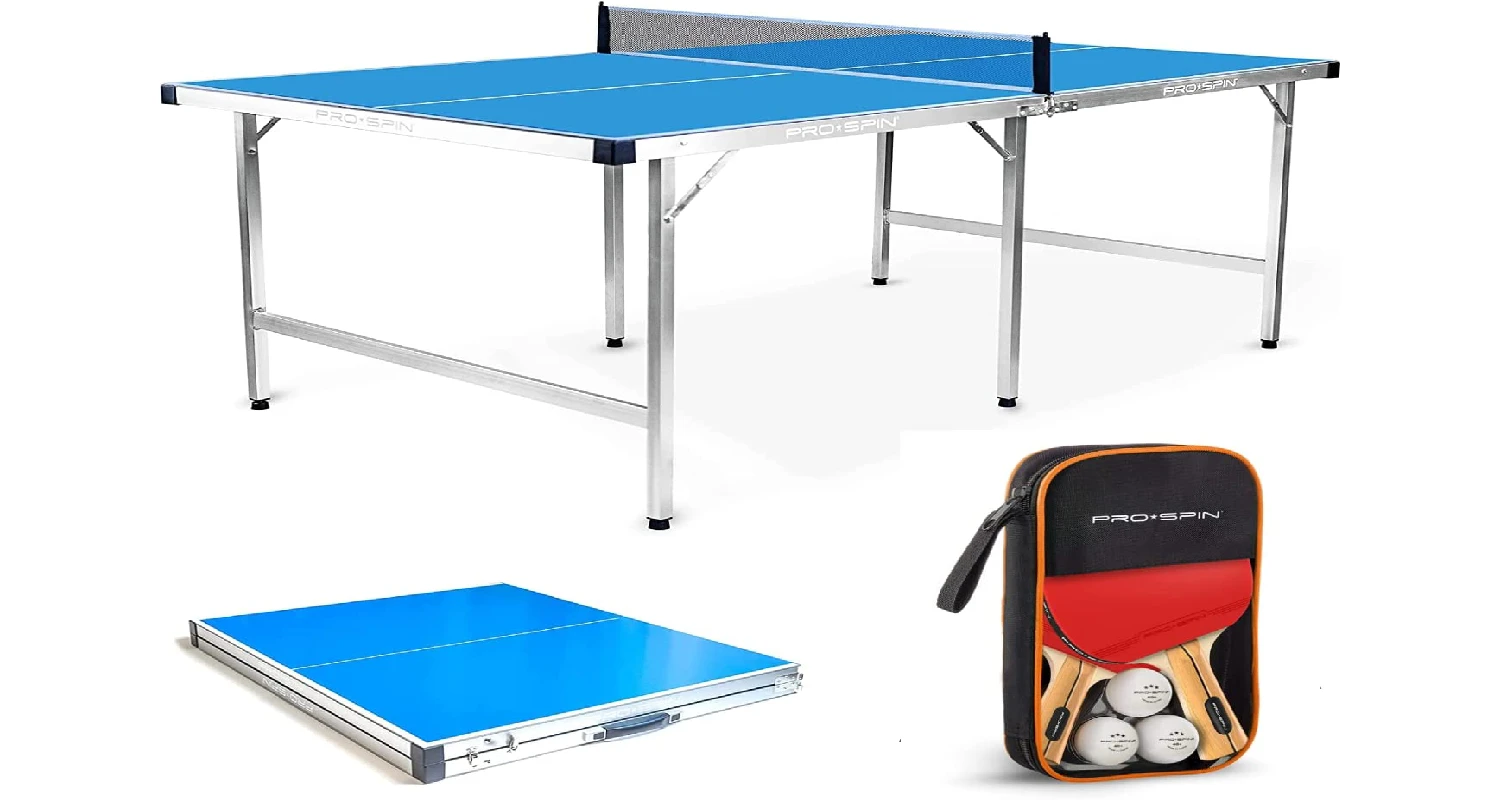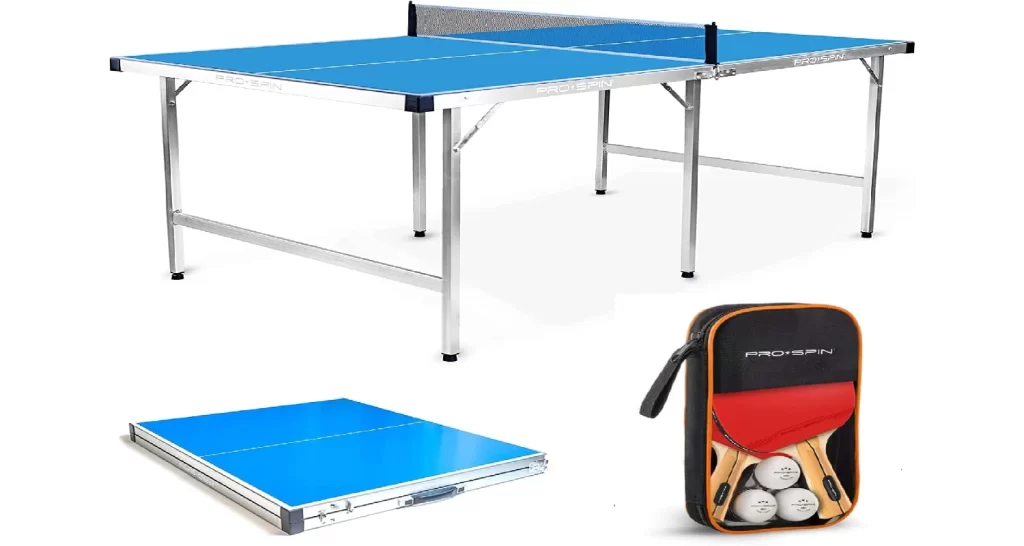 What To Expect
Pro-Spin midsize ping pong table is highly playable and offers easy maneuverability.
With our keen interest in table tennis, we had the opportunity to use and observe Pro-Spin tables, and we discovered some remarkable features that we would like to share with you. Let's have a look at how this table is stealing the spotlight.
Midsize Design
The biggest flex of Pro-Spin midsize ping pong table is that despite being smaller than standard-size tables, it caters to professional-grade table performance.
This feature makes this table ideal for those who want to practice ping pong but quit keeping one at home because of limited space. With the dimensions of 71″L x 41″W x 30″H, you can hold intense matches in the basement, living room, and garage without sacrificing too much space.
Easy Assembly
Pro-Spin midsize ping pong table comes pre-assembled for your convenience so that you won't have to juggle with the instruction guide and spend hours putting the table together. Moreover, it comes with a custom cover to protect against wear and tear.
Foldable for Storage
Since this amazing table tennis table is designed specifically for compact spaces. It is also easily foldable in half, making it easy to store when not in use, clearing up extra space in a room.
You can fold and place it under the bed, in the corner of your room, or the closet. This is a perfect option for those who need to move the table frequently and want to take it along on trips, parks, or to a friend's house.
Compatible for Both Outdoor and Indoor Use
Pro-Spin midsize ping pong table is constructed with high-quality materials that make it suitable for both indoor and outdoor use.
It is constructed with weather-resistant materials that can cope with the rigors of the outdoor elements without affecting its quality making it a versatile option for ping pong lovers.
Rubber Corner Guards
Pro-Spin midsize table tennis table is designed to prioritize your safety. Each corner of the table is equipped with rubber corner guards to prevent accidental hits and injuries while simultaneously avoiding any damage to the table.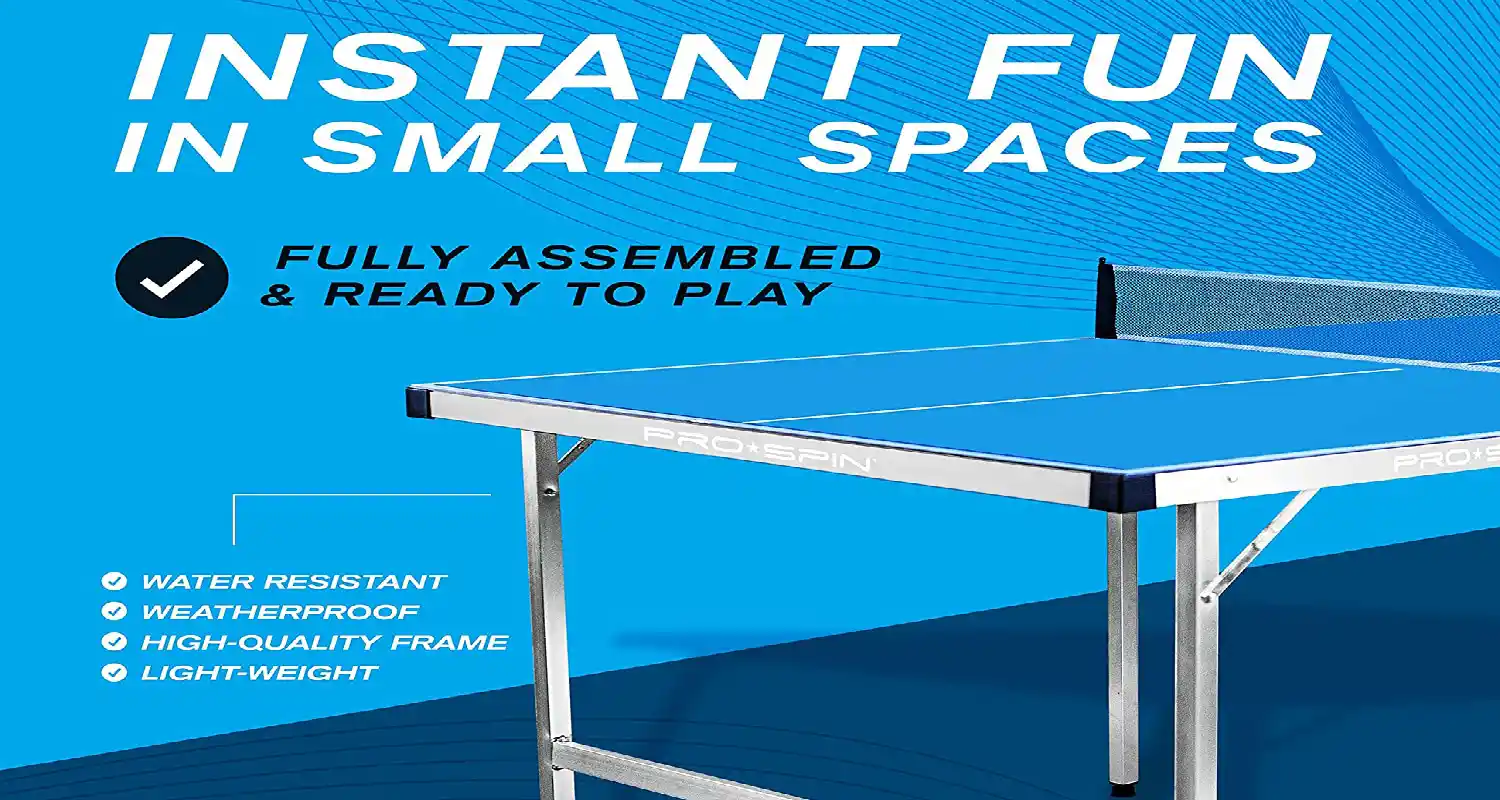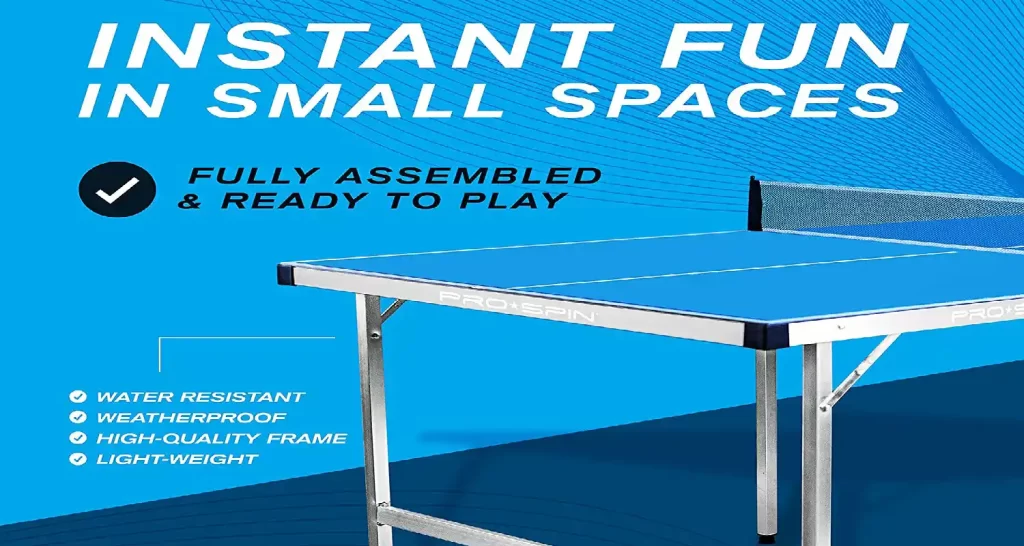 Pros
Durable Construction
Pro-Spin table tennis table boasts robust construction and upgraded hardware to cater to both safety and durability. The playing surface comprises premium quality aluminum commonly used in outdoor tables.
This element makes this table resistant to corrosion, warps, and wear and tear caused by frequent use to extend its lifespan.
Affordable Price
This ping pong table makes a great choice for those looking for top-tier ping pong tables without breaking the bank.
Whether you are a novice or a seasoned pro trying to hone your skills, this table makes a great investment and promises exceptional value for your money with hours of fun and entertainment.
Great for Beginners and Kids
In addition to its ideal size, this table works great for those just starting in the world of ping pong. Pro-Spin midsize ping pong table is an impressive blend of safety, convenience, size, and quality that make it win the trust of players of all levels.
Includes All Necessary Accessories
Pro-Spin ping pong table comes with every accessory you need to play immediately. Apart from balls and paddles, it also features a custom table cover that keeps the table away from any damage.
This exclusive package makes it a wonderful option for friends or families who want to start playing table tennis without making multiple purchases.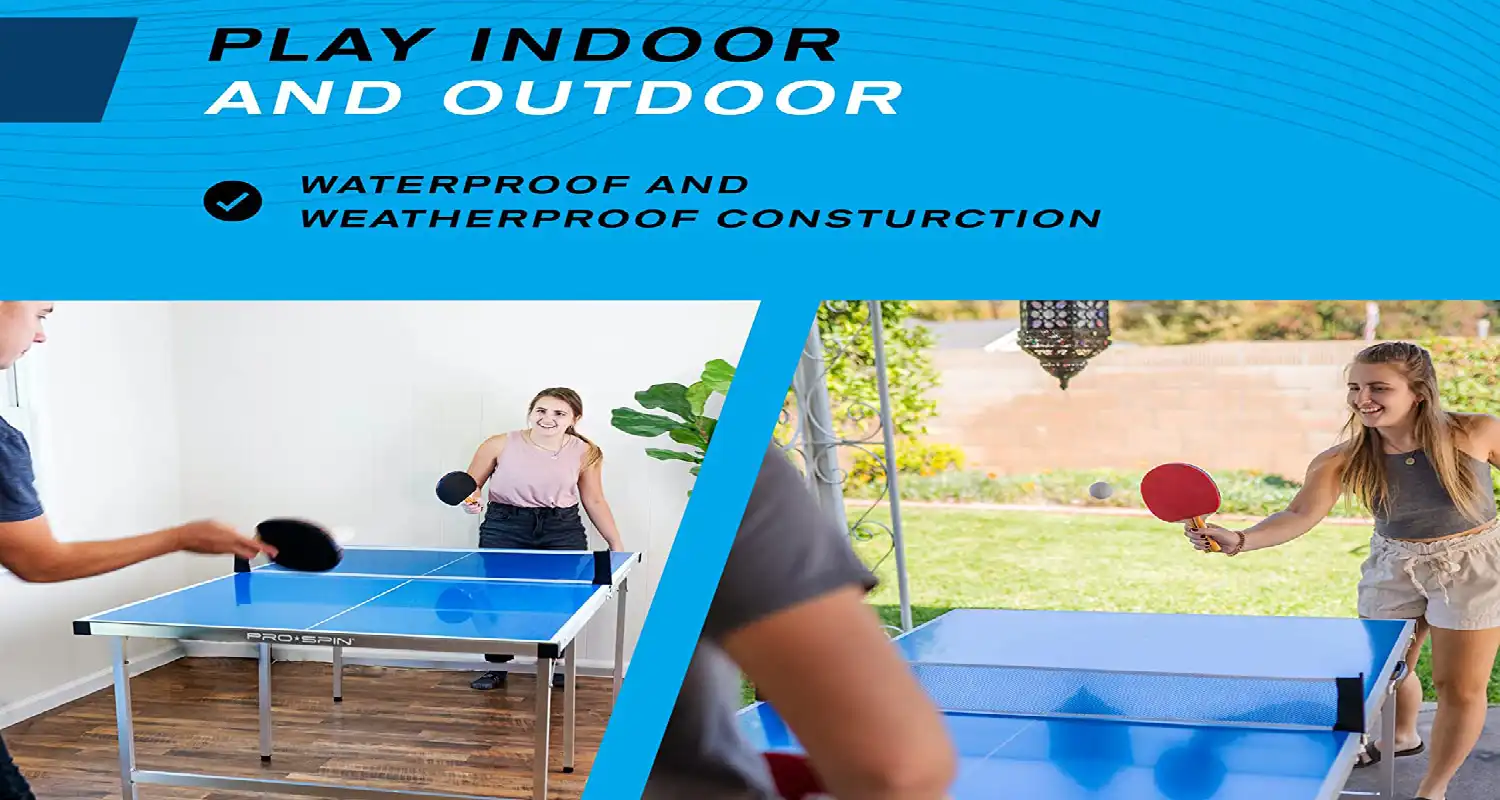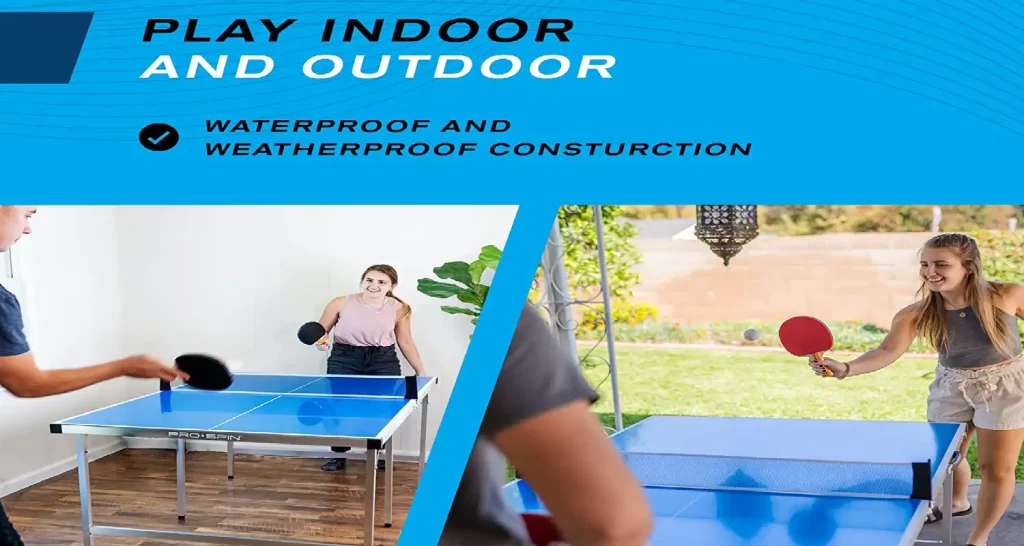 Cons
Size
Since this Pro-Spin ping pong table comes in mid-size, they might not provide the same playing experience that professionals expect from a regulation-size table. This is because the small size table limits the playing surface to move around and can affect the ball's trajectory.
Average Quality Accessories
Some players find paddles and balls not to be of the highest quality. This statement mostly comes from professional-grade players rather than casual ones. If that's the case for you, you must purchase high-quality gear for intense matches and regular practice to get the most out of this table.
Stability
Due to its intermediate size and lightweight framework, this table tennis table might not provide as much stability as high-end models. This might not be an issue for beginners or casual players. However, more serious players will notice this void during their gameplay.
Non-Adjustable Legs
Another significant drawback noticed by users of the Pro-Spin midsize ping pong table is that it has fixed legs which means players can not adjust its height to the desired level.
Moreover, the table can not be leveled on uneven surfaces, affecting ball bounce consistency and overall gameplay.
Our Rating: 4.5/5
Pro-Spin midsize ping pong table is greatly admired by its customers for its quality, versatility, and affordability. Its midsize design makes it accessible for all level players, including beginners and kids.
Despite its small size, it provides a great value, playing experience, and the accessories in a package are a nice bonus. Thanks to its super sturdy aluminum construction, it can hold up with frequent use very well.
Last but not least, the fact that it comes pre-assembled eliminates all the hassle you might expect from any other table and provides you with a ready-to-play table right out of the box.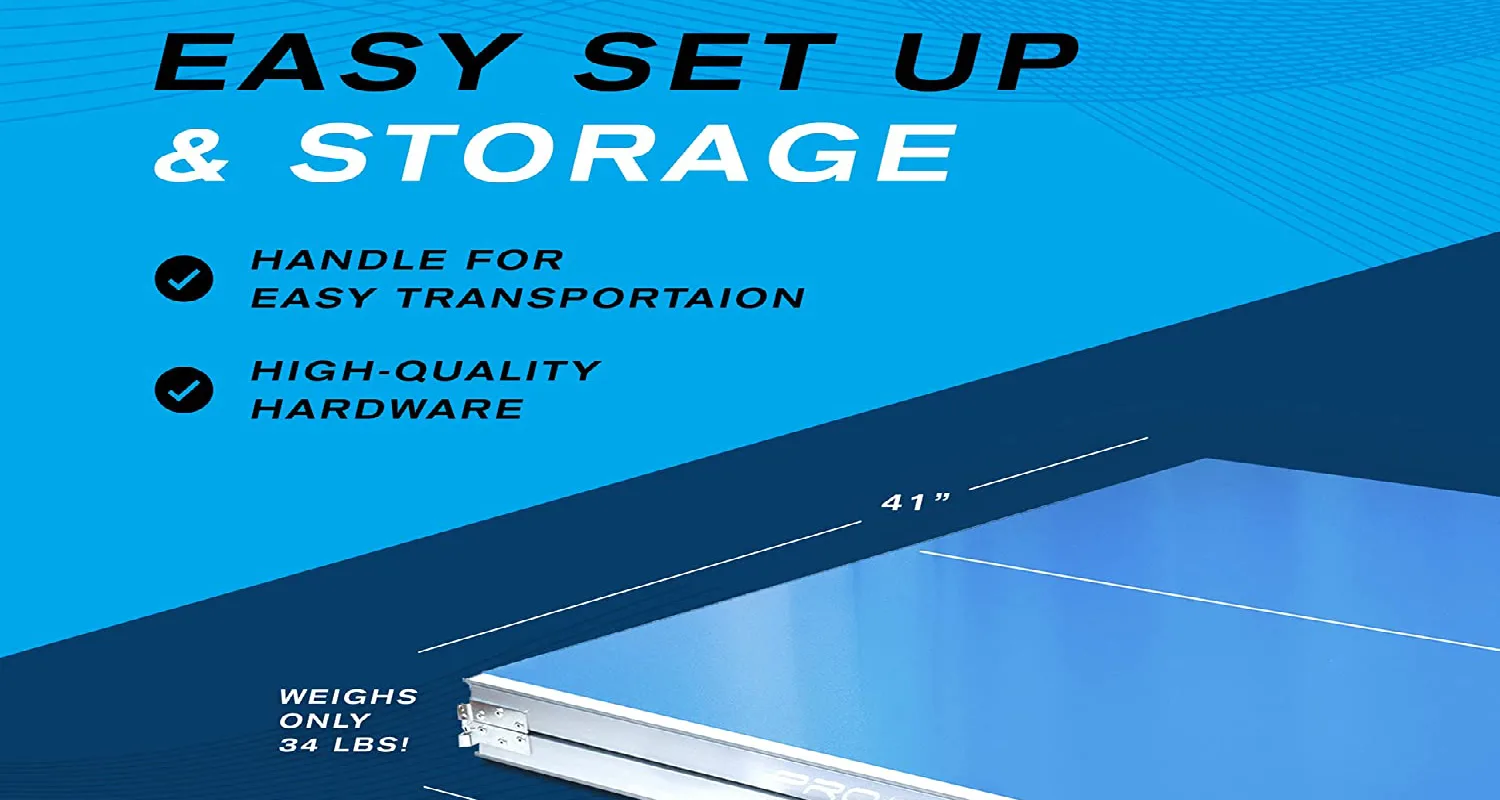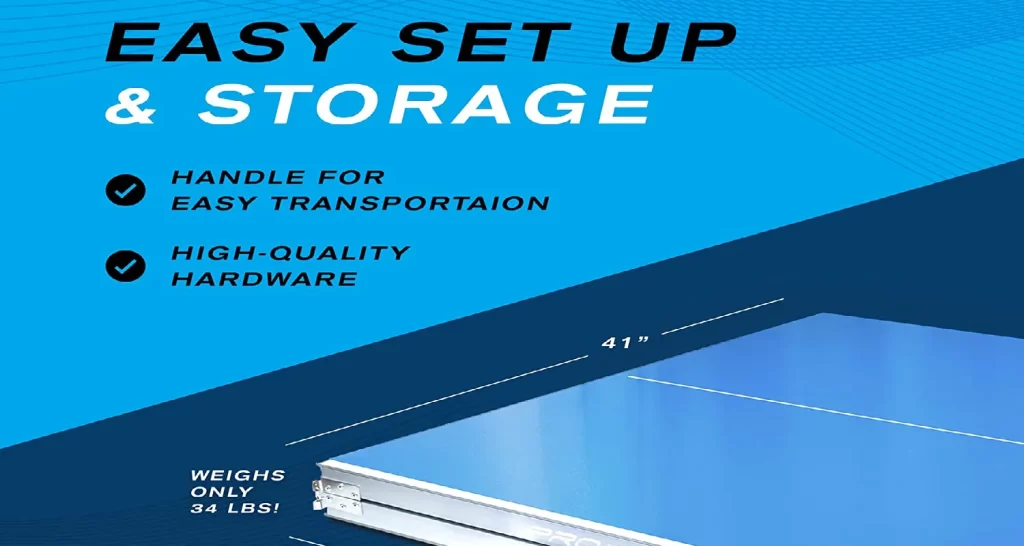 Frequently Asked Questions (FAQs)
What is the size of a Pro-Spin mid-size ping pong table?
The average size of this table measures 71″L x 41″W x 30″ H, which is smaller than a standard-size table; however, it is larger than a compact table top.
How long will it take to assemble a Pro-Spin midsize ping pong table?
The table comes pre-assembled, so you don't need to spend extra time putting it together. However, a minimal setup like attaching net and post set might be required that you can do in 2-3 minutes.
Can the table be used outdoors?
The table is constructed with high-quality materials that can withstand elements up to some extent. It is not highly recommended to use the table outdoors as continuous exposure to elements can reduce its lifespan.
Conclusion
Hopefully, this comprehensive review of the Pro-Spin midsize ping pong table has provided you with valuable insights into it. With its pre-assembled design, budget-friendly rates, and sturdy construction, this table works great for beginners, kids, and professionals with tight budgets.
Its mid-size design might not provide the same gameplay experience as full-size tables. However, it offers highly durable and functional designs that promise seamless performance and strength to withstand frequent use.
So, if you are roaming in the market looking for an ideal mid-size table, the Pro-Spin midsize ping pong table is worth considering.