Purchasing a real ping pong table is not always possible, especially if you don't have the room for it.
One of the deciding factors in a ping pong game remains the table top. It is true for every game; the playing surface plays a big part in almost any game. For football, a wet pitch and a dry pitch can make all the difference, in cricket, if the pitch is grassy, you get swing. When you look at tennis, clay courts play slower as compared to grass courts.
While there are not many variations in ping pong, the playing surface remains important. The rule of thumb when it comes to table tops is that, the thicker the table, the better the bounce will be. We will take a look at table tops, in detail, and discuss conversion tops, today.
Best Conversion Tops Overview
What is a ping pong table top?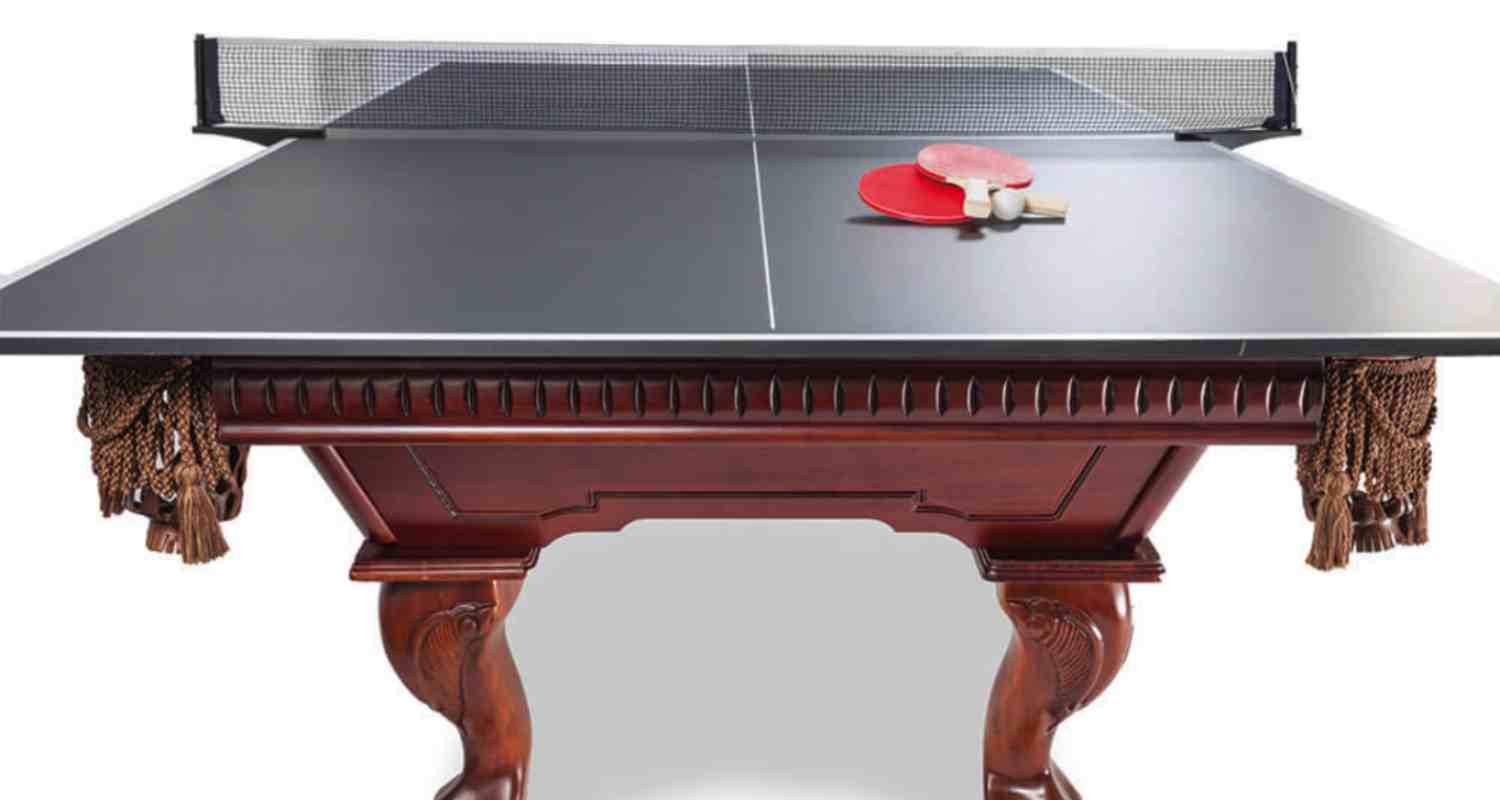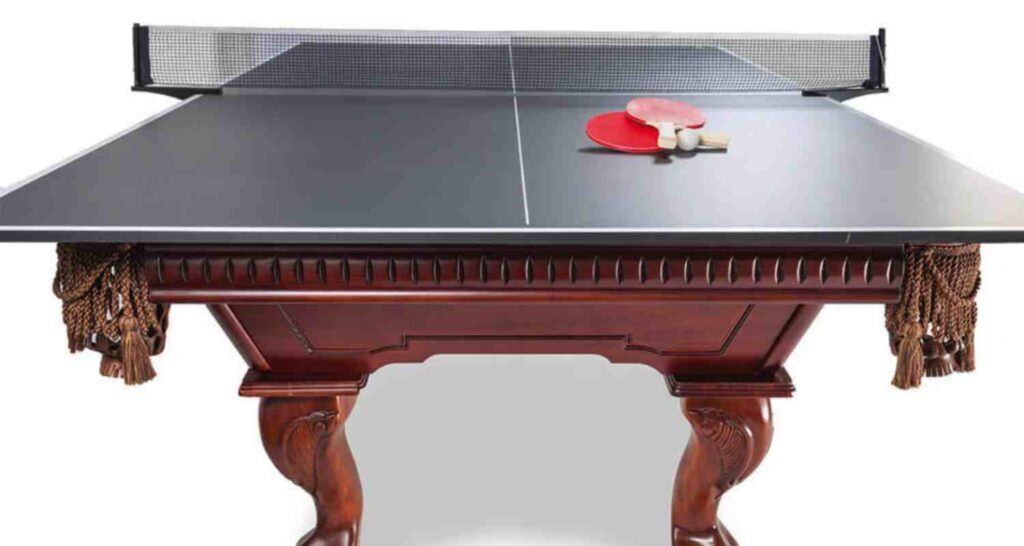 A ping pong table top is the playing surface in table tennis. There are specific table tops that can be bought without the legs and the rest of the body of a table. This allows you to convert a pool table or even a dining table for that matter!
Material
Table tops are made of many different materials. The material used in making table tops for indoor usage, most commonly, is plywood. It is strong and easy to paint, as well, making it a very good option. It also helps to have a good bounce with the right type of ping pong balls.

For outdoor tables, the materials used are different. This is because the tables have to acclimatize to different weather conditions, and it makes sense to use something more durable. The materials used in making outdoor tables can range from particle board, plastic, metal to even fiberglass.

As for the professional table tops, they are built with the highest-quality and high-density fiberboard or plywood.
Dimensions
The size of a table top remains the same as of a proper-sized table. You can find them in slightly smaller sizes, as well. However, the determinant of quality remains the thickness of the table top.
The thickness of table tops varies from 12mm-30mm. As discussed earlier, the rule of thumb states that the thicker the table top is, the better it will play. That is why the professional table tops of the highest quality have a thickness that ranges between 25mm-30mm.
For recreational and semi-professional purposes, the thickness of the table top is advised to be above 18mm, and it will still play decently.
Storage
You can store the table top, wherever you find convenient. However, as table tops tend to be expensive, you should take proper care of your table top and store it in a good place. This can help increase the lifespan of your table.
Make sure you store the table top by getting a table top cover and store it in a cool place to avoid the surface from getting warped. Also, make sure you do not move the table a lot, because warm and cold conditions can harm your table. Over time, the surface starts becoming shiny and less adhesive, allowing the ball to skid rather than bounce and that is an indicator of the table top getting older.
To rectify this problem, you will need an expert to re-paint and repair the table, or you could replace it. Although, we suggest taking care of the table to avoid this from happening. A table cover is a crucial investment! This is also true for your ping pong paddles, as areas with extreme changes in temperature can be detrimental to the wood and rubber over time.
Indoor Ping Pong Table Top
Indoor ping pong table tops are mostly made of wood. This is because wood is the best option for playing table tennis. Similarly, the highest-quality table tops are also made of plywood and fiberboard. However, at the same time, wood is not as durable as other materials.
Outdoor Ping Pong Table Top
Outdoor ping pong table tops are made of durable materials because they have to withstand the weather changes. These materials can be made of plastic, fiberboard, etc. Even though durable material is used in the making of these table tops, it still requires a lot of looking after, if you want your table top to last you a longer time.
Best Ping Pong Table Tops
However, if you decide to buy a ping pong table top, it will be a tough decision because there are so many to choose from! For your convenience, we have listed the best ten conversion tops:
Our Rating: 4.7/5.0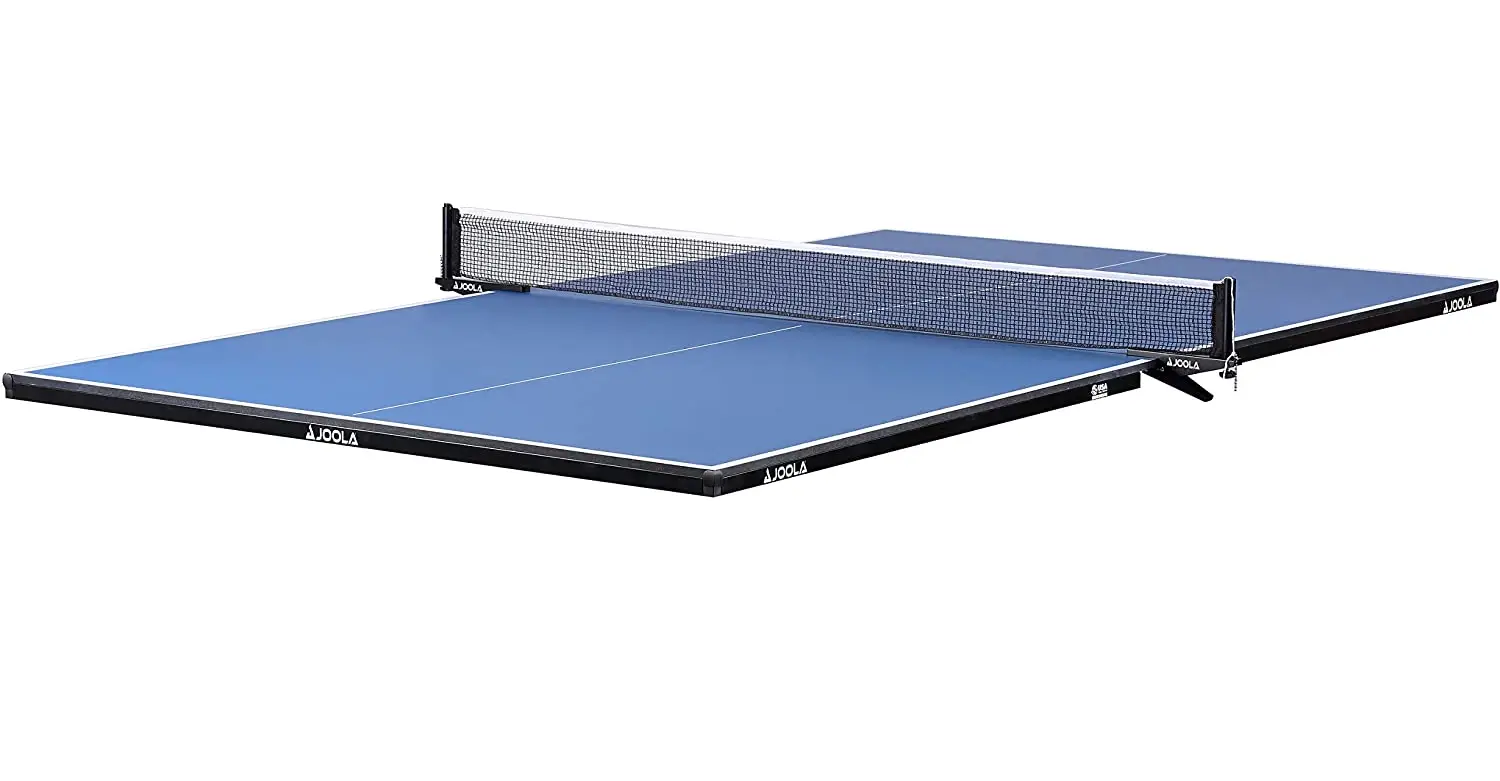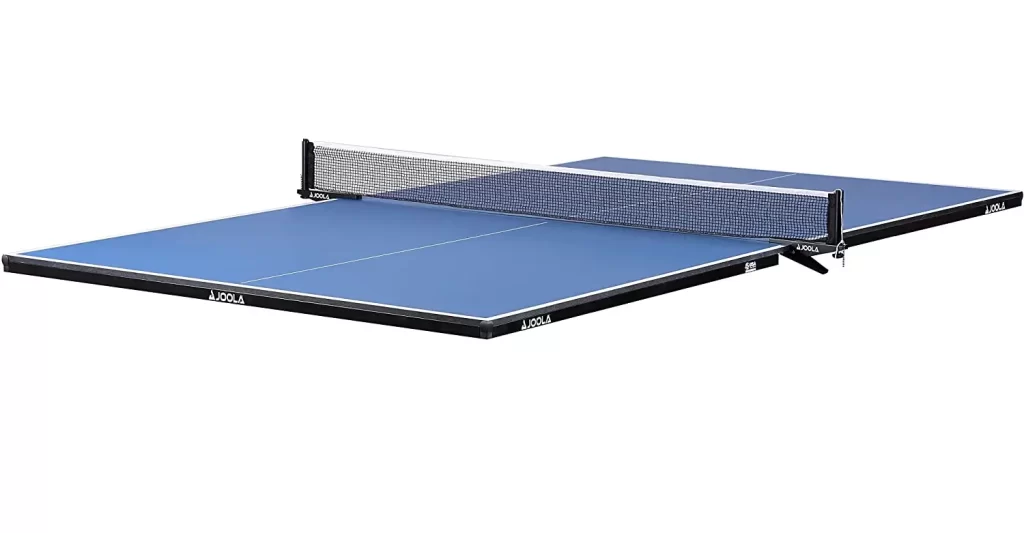 JOOLA Regulation Top is one of the best options, around. It has the dimensions of a proper table at 9×5 feet. The assembly time of the table is around five minutes and it has a thickness of 15mm.
Weighing around 50kg (115 lbs), we rate it highly despite the thickness being lesser than advised, because of its durability and is a lot like the JOOLA Inside (we think it could be the same one except for the undercarriage).
You can move it around easily because it comes in two pieces and has a 1.5inch steel apron to protect it, as well. Ideal to be put on a pool table, it can fit tables of sizes around 8 feet. Beneath it, there are foam pads, which allow for lesser damage when it comes to your billiards table. Closest you can get to the real thing with a table top!
Our Rating: 4.8/5.0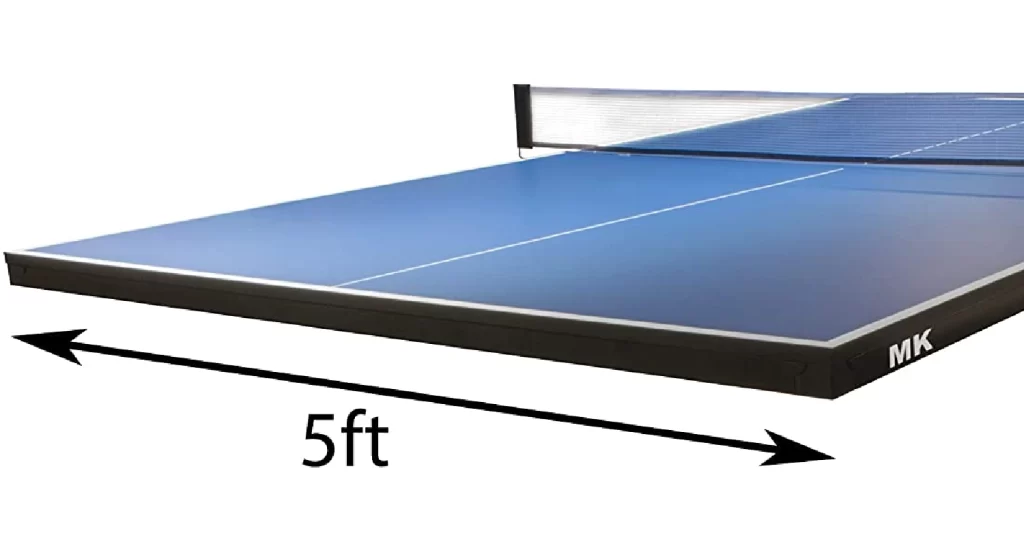 Cheaper than the JOOLA Regulation, the Martin Kilpatrick Conversion Topper is a fantastic option. Weighing just over 40 kgs, it will take less than five minutes to set up. It has a table thickness of 19mm, ensuring a smooth and quality bounce.
It also has a dovetail connection system between the two pieces and has an underside with foam that will allow you to use the top without leaving scratches. The pads are not as good as the JOOLA Regulation Top, but they are still very decent. However, nothing is better than the consistent bounce it offers with that thickness. It is true and feels like an expensive table because of the bounce.
Our Rating: 4.0/5.0
Featuring a 4-piece fold-up design, MD Sports Conversion Top is a mid-sized ping pong table top. At 37.5 lbs., it is highly portable and compact storage. The surface is 12mm thick and comes with a retractable net and post set.
This conversion top has a highly affordable price tag, and we recommend it for beginners or recreational players.
MD Sports Conversion top has all the pieces joined by hinges and you cannot separate them. Since you will be carrying all the pieces together, it can be difficult to maneuver the top. It is also NOT regulation-size so it won't fit most tables and cannot accommodate 4 players.
Since this top is for beginners, the material and thickness are not ideal for a consistent bounce. Overall, this top can be a good addition to your game room, without costing you a fortune. We do not recommend it for serious players.
Our Rating: 4.4/5.0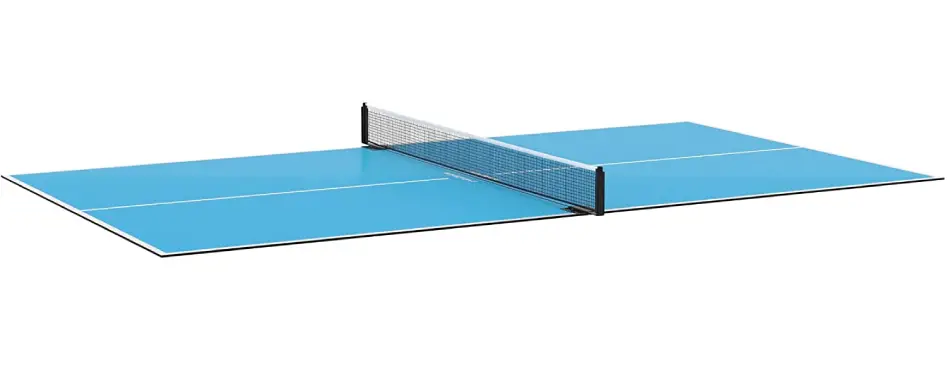 The GamePoint Conversion Top is a more affordable version of the JOOLA Regulation Top. If the attractive blue scheme is not enough to convince you, the reviews on its durability will do. The surface is also responsive, quite consistent, and very durable.
We love it, majorly because it is a lot lighter as compared to the JOOLA Regulation, and that makes it a better option because you can move it around the house and the garage and store it easily. The priority was on design, and it is made to last you a long time. You will have to take care of the conversion top, but it is a great investment.
Our Rating: 4.5/5.0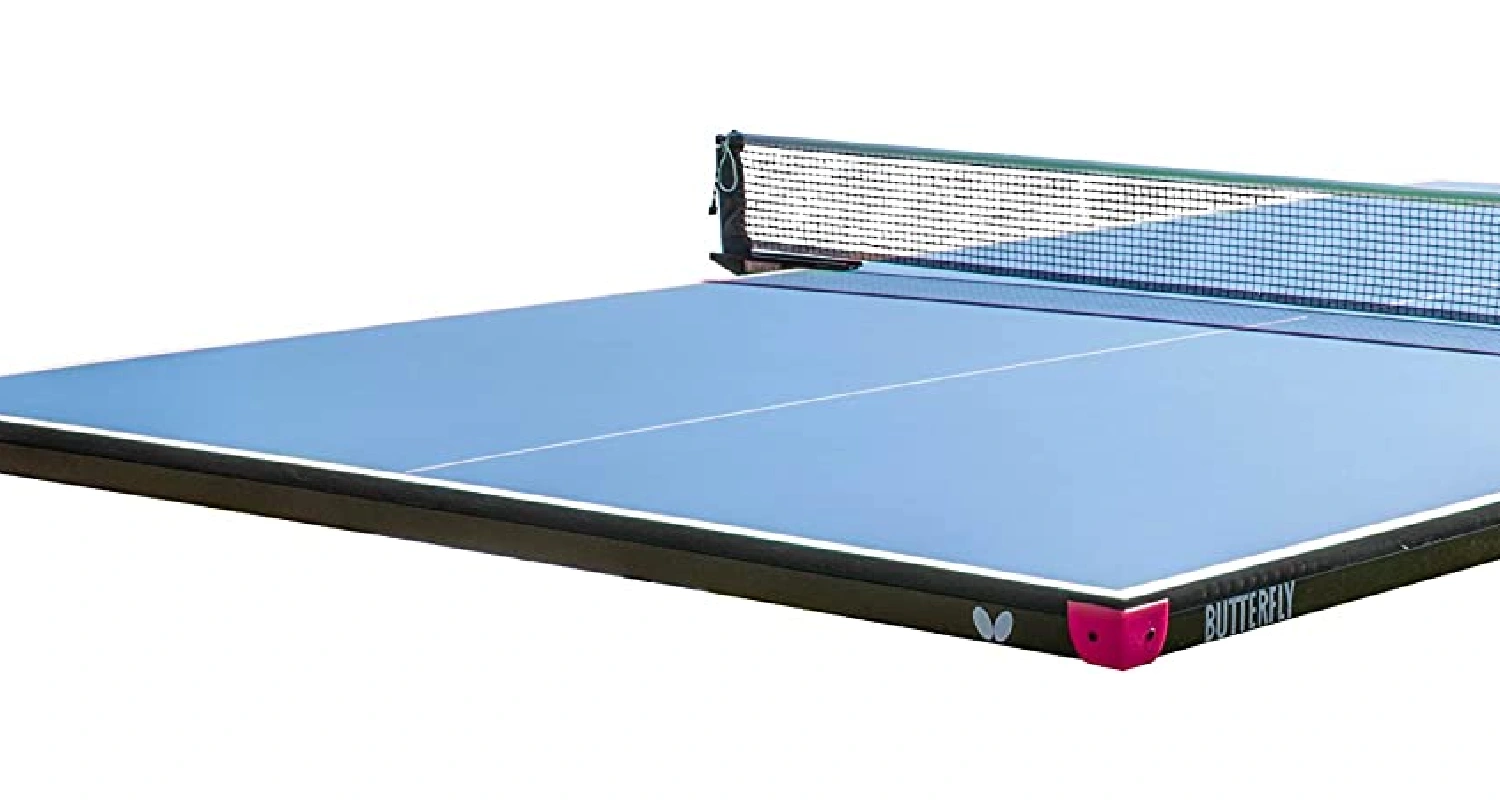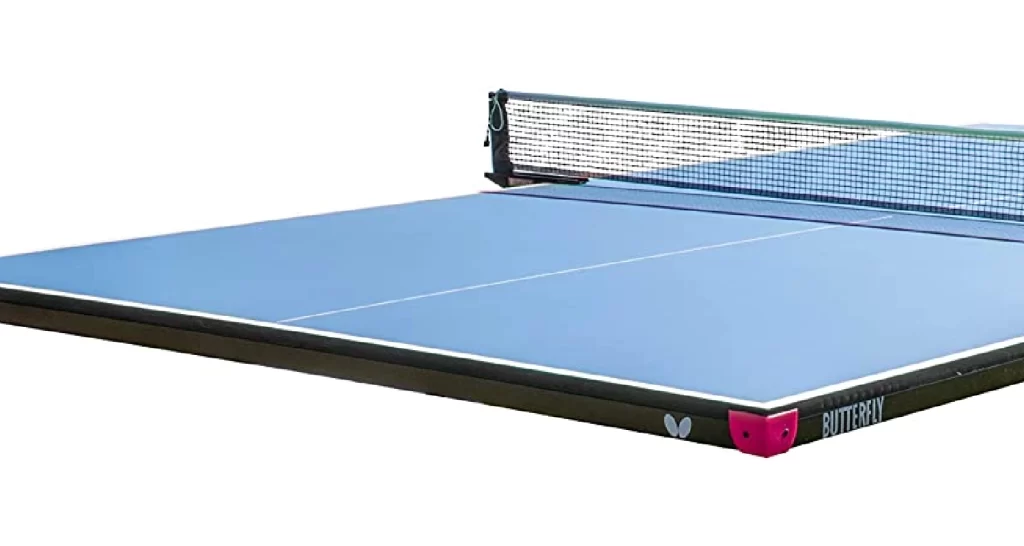 Butterfly Pool Table is our favorite option if you want to buy a conversion top. The dimensions are the same as a proper full-sized table, and it takes around a minute to set it up. It is not cheap, but it is also not too expensive and for that kind of money, it offers 19mm thickness and extremely consistent bounce.
Butterfly tables are the epitome of quality and that is why this conversion top is not any different. The metal apron is supreme and helps with any potential knocks. The table splits into two halves, but we suggest that you ask the help of a second person in setting it up. It also has foam attached to the entire underside, which protects your pool table.
Value for money, despite being expensive, is delivered. On top of it, it has a three-year warranty in case of defects, so it makes this conversion top, a reliable option. We suggest splashing the cash on this one!
Our Rating: 4.1/5.0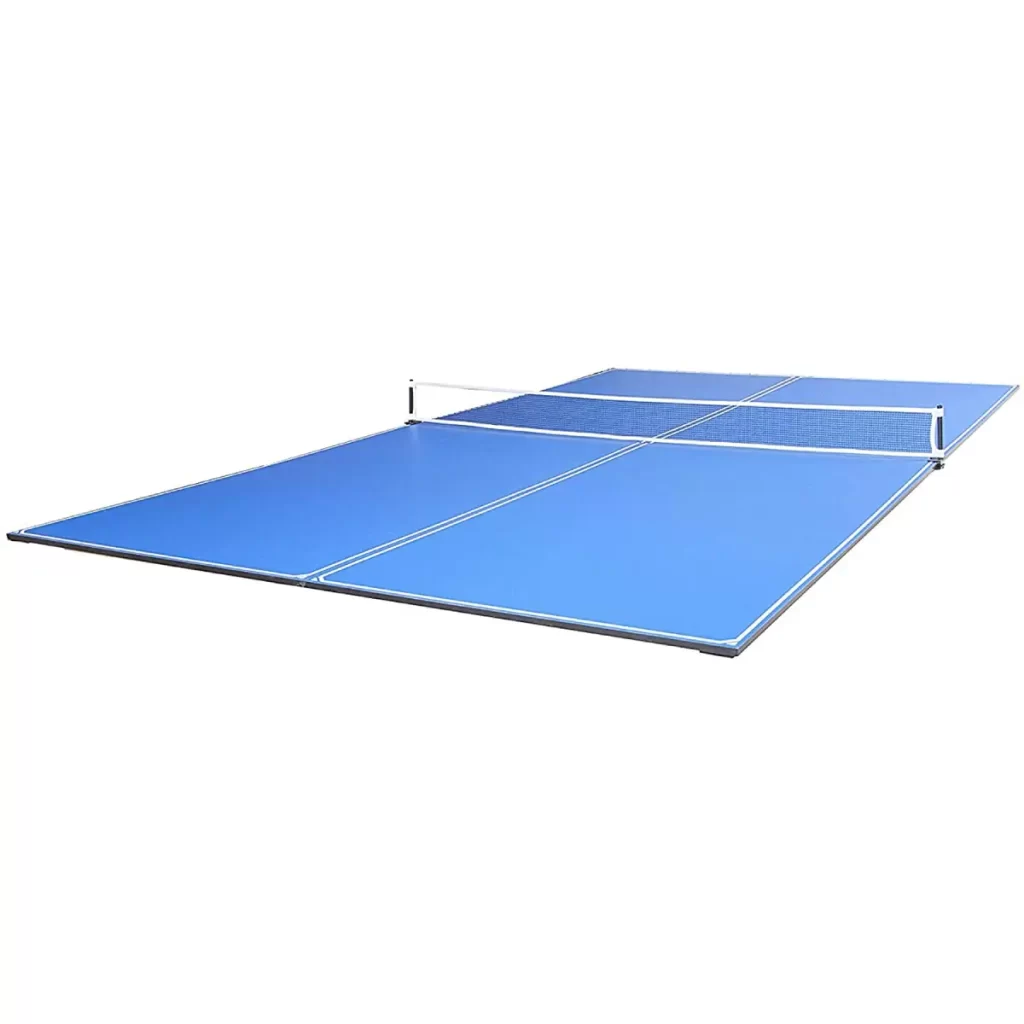 The JOOLA Tetra is a really good cheap option. It can fit tables of dimensions even at 7×3 feet, meaning you can fit it on a dining table, pool table, or even a medium-sized coffee table! It is light and comes 99% pre-assembled, meaning you would need a few minutes to set it up and start playing.
It is the cheapest topper on the list, here. However, with a thickness of only 12mm, it does not have a great surface to play on. The bounce is inconsistent, but it still makes a fantastic option for beginners and recreational usage. For the price, it is a very good option, however, if you have serious aspirations regarding table tennis, we would not advise going for this.
Our Rating: 3.3/5.0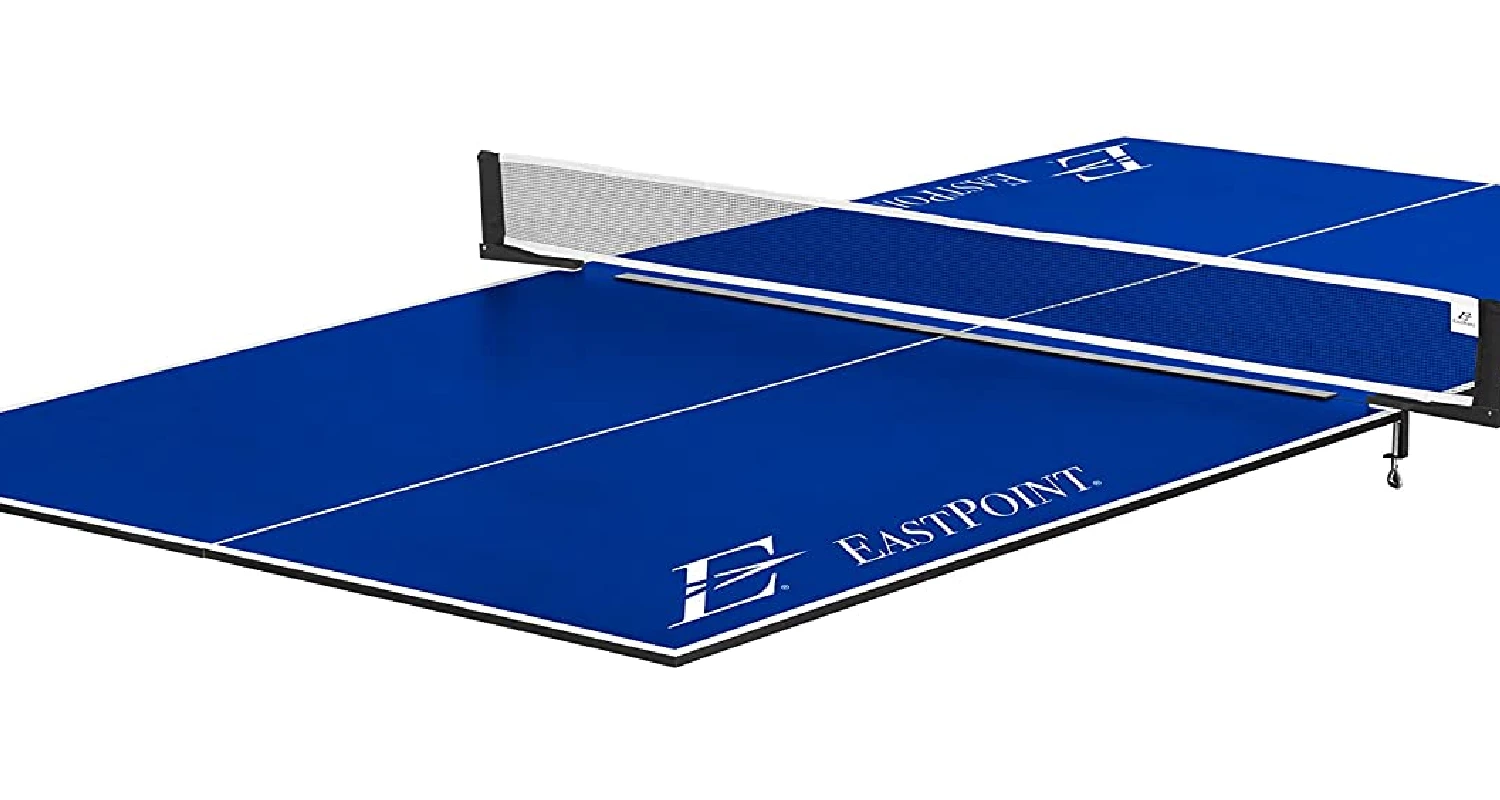 Another cheap option for recreational usage, the EastPoint Sports Table is a great option for beginners and if you want to play recreationally. The assembly time on the table takes around five minutes and weighs less than 40kg, almost the same as the JOOLA Tetra. It splits into two pieces, and each half is foldable making it easy to store, wherever possible.
The foam protectors are not too reliable, so you should keep that in mind. However, because of how affordable it is, we like what it has to offer. It is very similar to the JOOLA Tetra with the 12mm thickness and the rest, as well. Ideal for kids' usage, and if you are not willing to spend a lot!
Our Rating: 4.0/5.0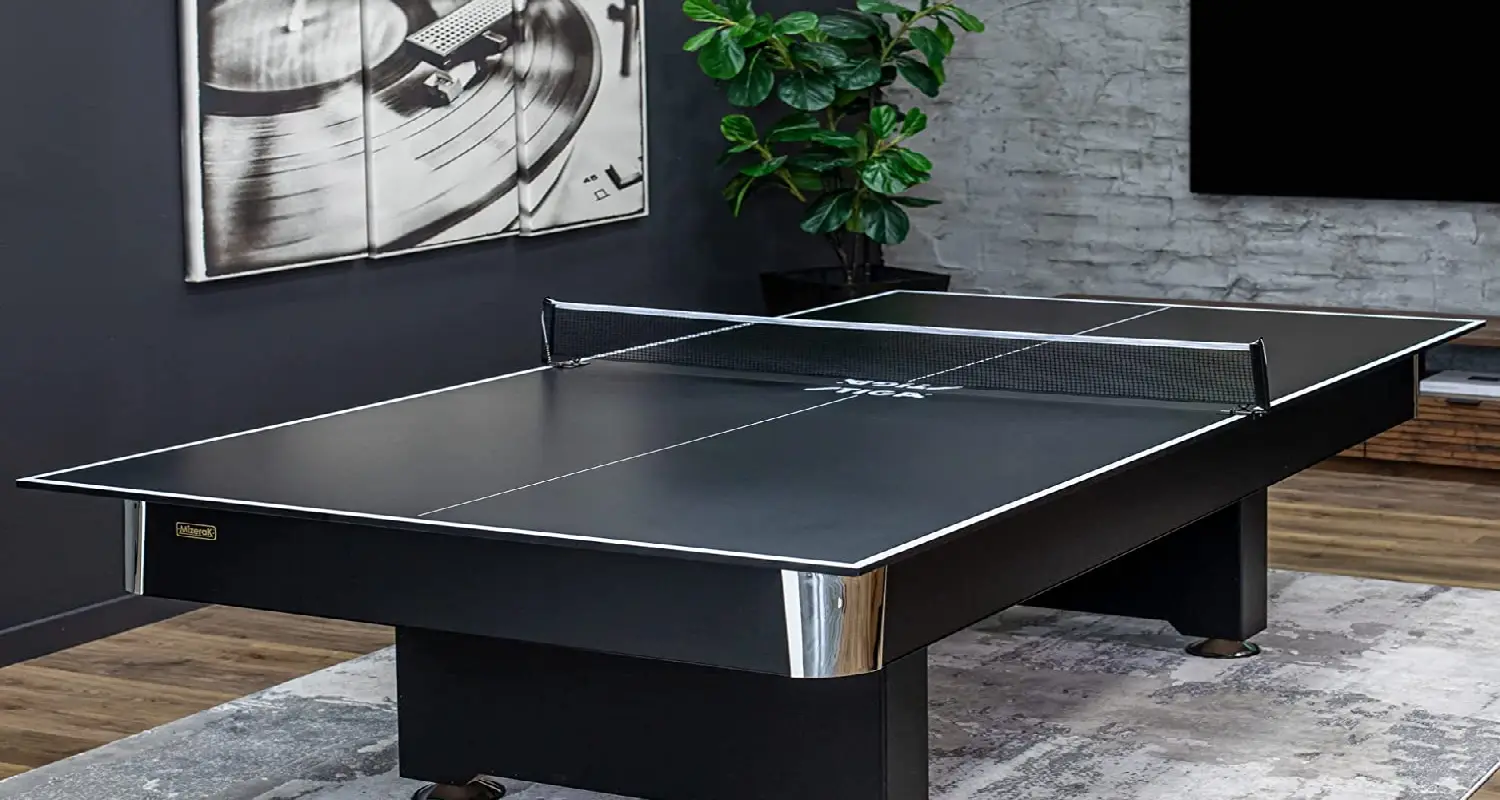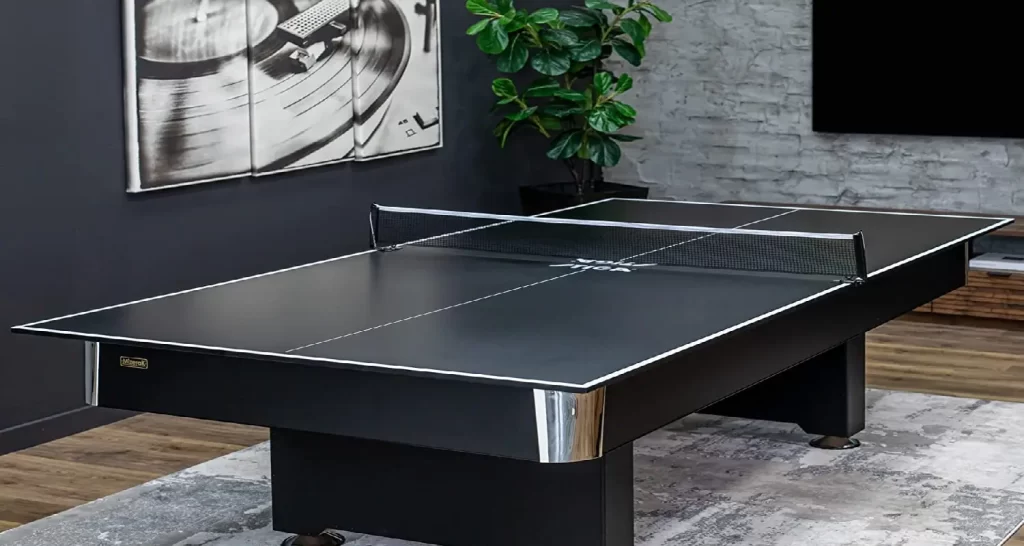 Looking for an affordable, regulation-sized, and sturdy conversion top for recreational use? You should check out STIGA Premium Table Tennis Conversion Top.
This top comes in two variations: You can choose either a two-piece or a four-piece design. These pieces are joined by hinges which are almost seamless and do not affect playability.
The underside of the top has adhesive pads to protect your existing table. You can also set up a solo playback mode. The silk-screen-painted surface is 15mm thick. Although this thickness is not ideal for professional players, it produces a decent and consistent bounce, suitable for beginners.
Even though the material is good quality, the surface is vulnerable to warping. To avoid this, do not store it in a moist or humid place. We do not recommend this table top for serious players as it doesn't deliver competition-grade performance.
Our Rating: 4.2/5.0


This regulation-sized conversion top is an affordable and compact option for beginner table tennis players. It features two vertical independent halves. Simply place these pieces on your billiard, pool, or even dining table and kitchen Island, and you are ready to play.
This is one of the very few tops in the market that feature a steel frame. The laminated top is 15mm thick and offers a decent bounce for beginners. You also get a competition-grade clamp-on net, which is fairly easy to install.
This top comes with an affordable price tag, and we consider this a good value due to its solid build and decent performance.
At 117 lbs., this top is very heavy. We are also disappointed with the 'handles', as these were simply storage compartments to hold table tennis balls or paddles and you cannot use these to handle the top.
Our Rating: 3.5/5.0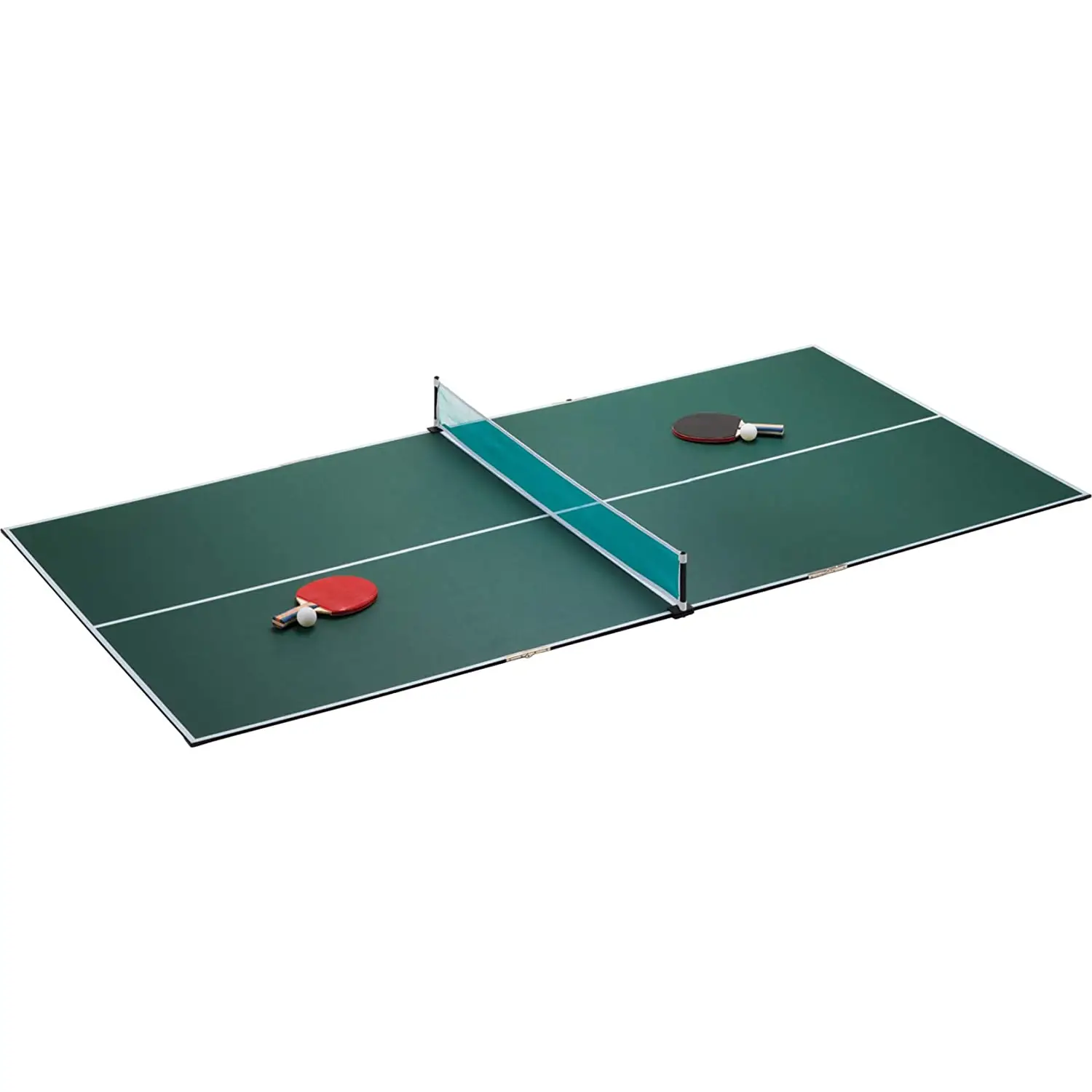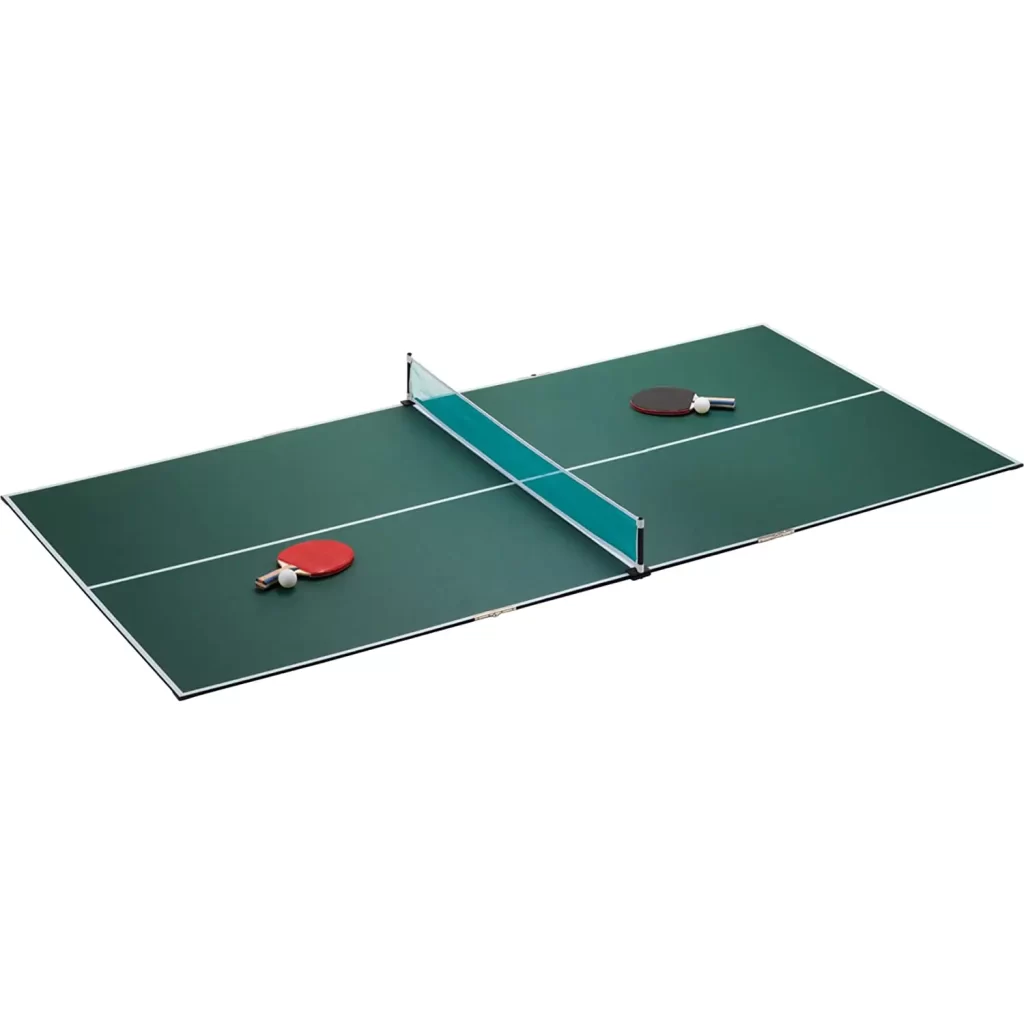 Viper Portable Conversion Top is the cheapest option you can purchase. If you are on an extremely tight budget, but still want to buy a conversion top, this should be your priority. It comes in a dark green color and weighs only 28 pounds.
Due to its lightweight, you can set it up on any traditional table, pool table, kitchen islands, even. It is made of medium-density fiberboard core and it comes with a net, post set, two paddles, two ping pong balls, and also a convenient carrying case. Setting it up is also easy, it has a trifold assembly, so that means you can get it up and running very quickly!
How to Set-Up and Use a Conversion Top:
Setting up a conversion top is easy. The purpose of a conversion top is to use any table and convert it into a playing surface for table tennis. Ping pong table tops are made of different materials to ensure consistent bounce, level the playing field, unlike the surfaces of regular tables and pool tables.
That is why you have to invest in a table top to convert any table into a playing surface for ping pong. Once you buy a conversion top, the set-up is fairly easy, as you only have to place it on the table you want to convert. This can be helpful to understand what it takes to set it up.
Conversion tops usually have foam support underneath them to avoid any scratches during a contact on your existing table. In addition to that, some come with frames and steel aprons providing more support.
Some conversion tops can be quite heavy, so they might require a couple of people to set-up. Most come in two or four-pieces, and you only have to attach them and place them on the table. These setups take up less than five minutes, and you are ready to play!
How to clean a ping pong table top?
Cleaning your table top is a crucial step if you want it around for a long time. They require proper looking after, and you can do it by cleaning your table top. There are a few things to remember, though:
Do not use harsh cleaners. Most of the household cleaning products are not ideal for table top cleaning, so avoid that. Vinegar solutions and homemade solutions can be a better idea.
Do not get your table top too wet. Water and moisture can ruin a table top, especially one made for the indoors
As for cleaning, take a clean cloth and wipe down the table to remove any dust particles or debris. Use a spray cleaner and wipe it down the table, or use a vinegar solution to wipe it down.
Clean it again with a slightly wet cloth, in the end, especially, if it is too dirty.
Here's a video tutorial for your help, as well.
Where to Buy Ping Pong Table Tops?
You can buy a conversion top from many of the e-shopping brands like Amazon, etc, and have them deliver it to your place. This is the most convenient way, as you do not have to worry about moving it from the store to your place.
If you prefer buying from the store, then you can get it from Target, Walmart, Costco, or any place that keeps sports equipment.
Conclusion
Conclusively, table tops are a good way of saving money and space. They are also being manufactured by the best brands around, which means they come in high-quality. The playing experience also does not take a hit because if you buy the right conversion top, it can even play better than a ping pong table!
For beginners and recreational purposes, it is the ideal investment, especially because it will not cost you an arm and a leg. Keep it clean and look after your conversion top and it will be around for a long time.