Having a table tennis conversion can give you access to a ping pong table in minutes—and that too without sacrificing any additional space. We decided to review the MD Sports conversion top with a retractable net. This top has largely positive reviews on Amazon and is considered ideal for everyday use.
This conversion top features a 4-piece foldup design. In just a few minutes, it can convert any table into a table tennis playing surface. You can use it on your billiard table, air hockey, pool table, or even on a kitchen island.
Read on to find out if it's suitable for you.
MD Sports Conversion Top Specifications
Our Rating: 4.0/5.0
Price: $$$
Type: Indoor
Size: 7 x 4 feet
Assembly Time: 5 minutes
Weight: 37 lbs
Table Top Thickness: 12mm
Warranty: 90 Days
Accessories: Retractable Net and Post System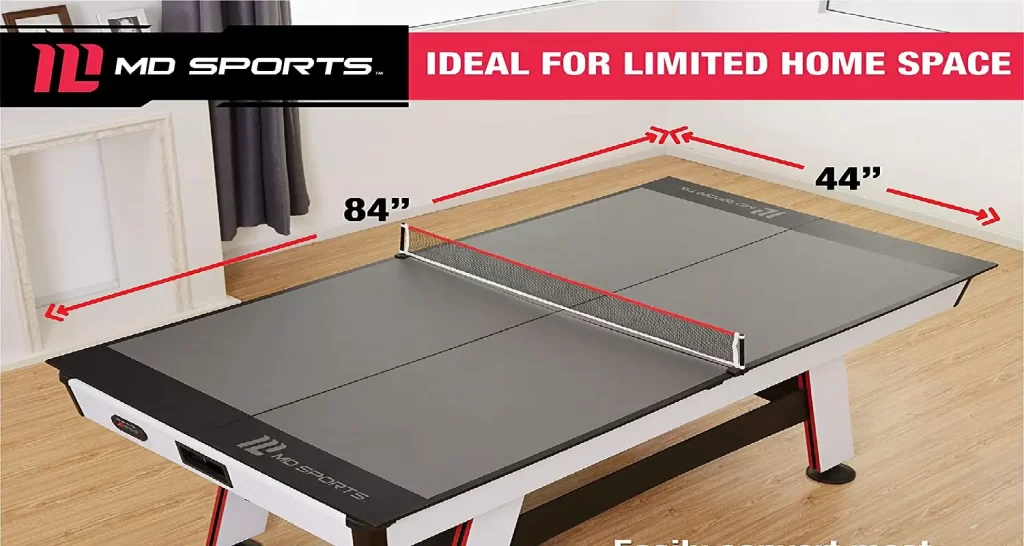 What to Expect?
Table tennis conversion tops are not for serious ping pong players as they do not offer authentic competition-grade playability. They are usually for every day, recreational use, ideal for people who do not want to invest money and space in a full-fledged ping pong table. It marries well with other portable designs.
Here are some standards you should have in mind for a good conversion top.
Size and Weight
Since a table top is supposed to be carried often, it must be lightweight and have at least two independent pieces. When it comes to thickness, the general rule of thumb is that thicker tops offer better playability.
It is important to invest in a regulation-sized top, as it allows doubles games and you can have an authentic, professional-grade playing experience.
Price and Quality
Conversion tops are supposed to save you money, so buying one that costs the same as a table wouldn't be ideal. Getting a cheaper top doesn't have to mean sacrificing quality. Most tops are made of MDF wood and are good for indoor games.
If you want a waterproof surface, look for laminated tops.
Construction
MD Sports conversion top is a mid-size conversion top made up of four pieces. The 84 x 44 inches top has all its pieces joined by hinges, so there is no assembly required.
You get a 12-inch-thick synthetic laminate top that is water resistant. It comes with a retractable net, further making storage and assembly easy. The underside of the top has EVA foam padding to save your supporting table from damage. The foam padding also keeps the top stable.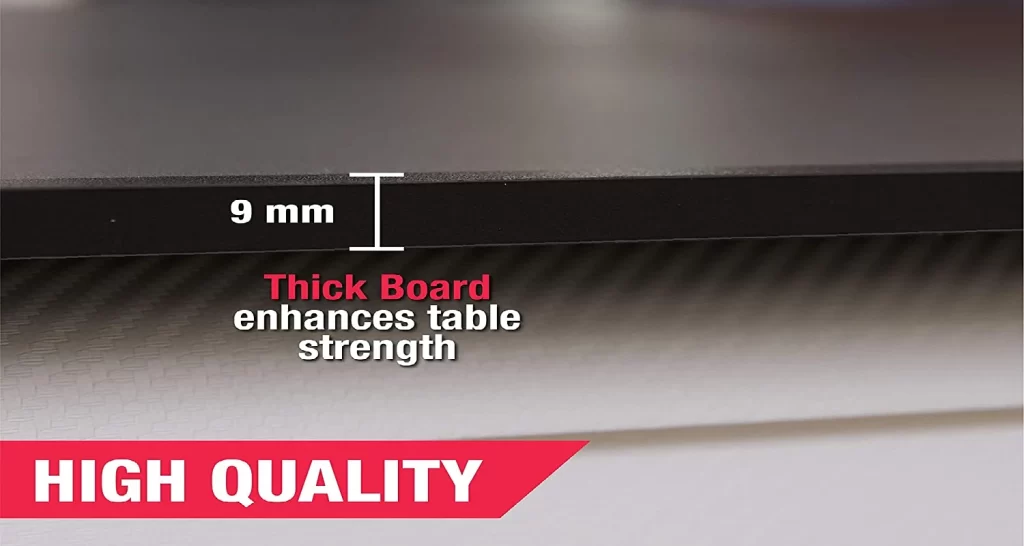 Pros
Smart Design: Ultraportable
MD Sports conversion top features a very smart and handy design. Four panels are very easy to set up and take down. This design is ideal for everyday users who need a handy product that they can easily carry.
This table tennis top is by far the most portable conversion top we have ever come across.
Compact Storage
Most conversion tops come in 2 pieces, taking a lot of storage space. When folded, MD Sports conversion top takes less than two square feet of space. This is possible due to its 4-piece design.
You can easily store it under the furniture, as it doesn't require much space and is very easy to carry around.
Quick Assembly
This table tennis top features a hinged design so you don't have to spend hours assembling it. Simply take it out of the box, place it on the supporting table, adjust the net and you are ready to play within minutes.
Retractable, clamp-on net further makes assembly and disassembly easier.
Highly Affordable
MD Sports conversion top is 1/3rd the price of high-end table tops in the market. If you are looking for a highly affordable, mid-sized conversion top, this one is your best bet. It offers some good features such as a smart design and portability, making it worth the price.
Cons
Difficult to Maneuver
This top is made up of four pieces, all joined by hinges. These pieces cannot be carried independently, which means you will be carrying all of these pieces together.
Although the weight of 37 pounds is easier to handle than most tops available in the market, if all the pieces could be moved independently, it would be even easier to carry and store.
NOT Regulation-Sized
Conversion tops must be ideally a 9 x 5 feet size. MD Sports conversion top is not a full-sized top, which can be a huge disadvantage. It wouldn't fit on most tables, and you might have to look for a specific size. Moreover, you cannot have team matches on a smaller playing surface.
NOT the Ideal Thickness
This conversion top has a thickness of 12mm which is far from the ideal 19mm thickness. Although it's difficult to find a conversion top with 19mm thickness, most of them are at least 15mm thick. This affects playability, so do not expect a consistent bounce.
Vulnerable to Damage
Several consumers have reported that this conversion top is highly suspectable to damage. Firstly, it can get scratches or nicks during offensive games.
It can also get warped easily, although the description states that it is water-resistant. The hinges can also come off easily, Buy MD Sports conversion top only if you are planning to use it occasionally.
Our Rating: 4.0/5.0
MD Sports conversion top is a good purchase for beginners or recreational players who want a quick, handy table tennis surface in minutes. This is highly portable and offers compact storage, although handing four pieces together might be difficult.
The design is not ideal, and you get only a 12-inch-thick mid-sized top, which cannot handle much traffic.
Conclusion
MD Sports conversion top can be a good addition to your game room if you are looking for an affordable yet portable table top.
The top takes minutes to assemble and take down due to its smart design doesn't take much space. Although the material is subpar, you can use it for occasional games.
The size and thickness are not ideal for professional games so you should look for another product if you are a serious player.