Opting for a conversion top in place of a standard ping pong table will save you a lot of space, hassle and money. Conversion tops are a much smarter option with their portability, and a multi-purpose setup. One such set is EastPoint Sports Conversion Top.
This top comes in four pieces and is the size of a tournament table. It can be set up on any table top surface including a dining table and a billiard table. This top is complete with all accessories and is easy to assemble and store.
This top has been launched very recently and became popular in a short period of time. Let's see if it ticks all boxes and is truly worth the hype or not.
EastPoint Sports Conversion Top Specifications
Our Rating: 3.3/5.0
Price: $$$
Type: Indoors
Weight: 85.5 pounds
Dimensions (after setup): 108 x 60 inches (length x width)
Dimensions (when folded): 53 x 30 inches (length x width)
Thickness: 12mm
Material: Synthetic Laminate/ Wood Surface
Color: Blue
Warranty Time: 90 days
Accessories: Metal posts, net and protective foam pads
What to Expect?
EastPoint Sports is one of the most well-known brands that manufacture gaming equipment including outdoor and indoor games accessories. This company specializes in compact, space-saving designs that are apt for modern houses.
We expect the table to be durable, of high-quality and be highly portable as well. It also promises the same experience as that of a standard ping pong table. Let's see if it meets our expectations.
Well-built yet affordable
Although this top comes at a cheap price, it is durable, well-built and therefore has good quality. Its dimensions meet tournament specifications and are equal to any standard ping pong table.
It also features 8 high-quality foam pads to protect your dining/billiard table from scratches and damage. This table top comes with a steel net and metal posts so that all you need is some rackets and a ball to begin the fun time.
It is 0.47 inches think which increases sturdiness and density, hence producing excellent bounce. Foam pads protect the existing table (on which the top rests) from scratches and keeps the top steady.
Easy Assembly and Quick Storage
Most standard ping pong tables cannot be folded and are therefore extremely difficult to set up and store. EastPoint Sports' Table Tennis Conversion Top features a four-pieces foldable hinged design and therefore makes the process of installation and storage easy.
Four panels also ease assembly and offer a compact storage. Additionally, due to its foldable design, it offers compact storage. Therefore, when finished playing, you can fold it and simply store in a closet or under any piece of furniture.
Who is this for?
If you are looking for an affordable one at a decent price, this conversion top is for you. It is to be kept in mind that its performance is not on par with high-end brands. Therefore, this table top cannot withstand aggressive matches.
If you want a full time table that is durable and can tolerate a highly offensive tournament then this top is not for you. Moreover, although it offers good quality in less rates, it can only be used by someone who takes table tennis as a hobby and plays casually.
If you are serious about your craft and want a full-time, proper surface to practice or play tournaments we would recommend investing in an elite ping pong table. It is good for kids or any beginner who just wants to have fun and is not a serious player.
Pros
Good Price Performance Ratio
This conversion top is one of the cheapest alternatives to ping pong tables available in the market. However, in terms of quality, it doesn't disappoint. Synthetic laminate will last you years if it is carefully used.
Moreover, it serves the purpose of being a handy conversion top that can be assembled and stored with ease. Considering its performance and ease of use, we think it's a good bargain at a cheap price.
Large Size
This top can accommodate four players at a time due to its large size. It's dimensions match to those of standard tournament ping pong tables, and has the playfield that is equal in size to standard ping pong table.
Excellent Feel
The top is designed to produce bounce that mimics a standalone ping pong table and we agree! Due to its thick and sturdy surface, this top produces an excellent bounce and a gratifying crackling sound.
Cons
Delicate Structure
The hinges of this top are loose and come off very easily. Moreover, since the edges are not protected properly, some players have reported them to have gotten chipped after frequent uses.
Due to the four-piece design, the top also tends to sag in the middle if not supported properly. Folding and unfolding this top again and again makes the hinges come off, and you might damage it during constant shifting from one place to other.
Heavy
The table is very heavy and therefore cannot be assembled or stored by one person. Weight also makes transfer difficult, so portability is also low.
Cannot Fit a Pool Table
This table top is too big for a pool table. Moreover, since it tends to sag in the middle after continuous use, it wouldn't be appropriate for pool table where only edges have support.
Additionally, this top has leather pockets, due to which it cannot work on a pool table.
Ridges
Due to its design, this table top has ridges in the middle. Some people have reported that ridges impact the game negatively and thus the top doesn't perform like a standard table.
Therefore, two-piece tops are better than four pieces, as they do not affect the gaming experience in any negative way.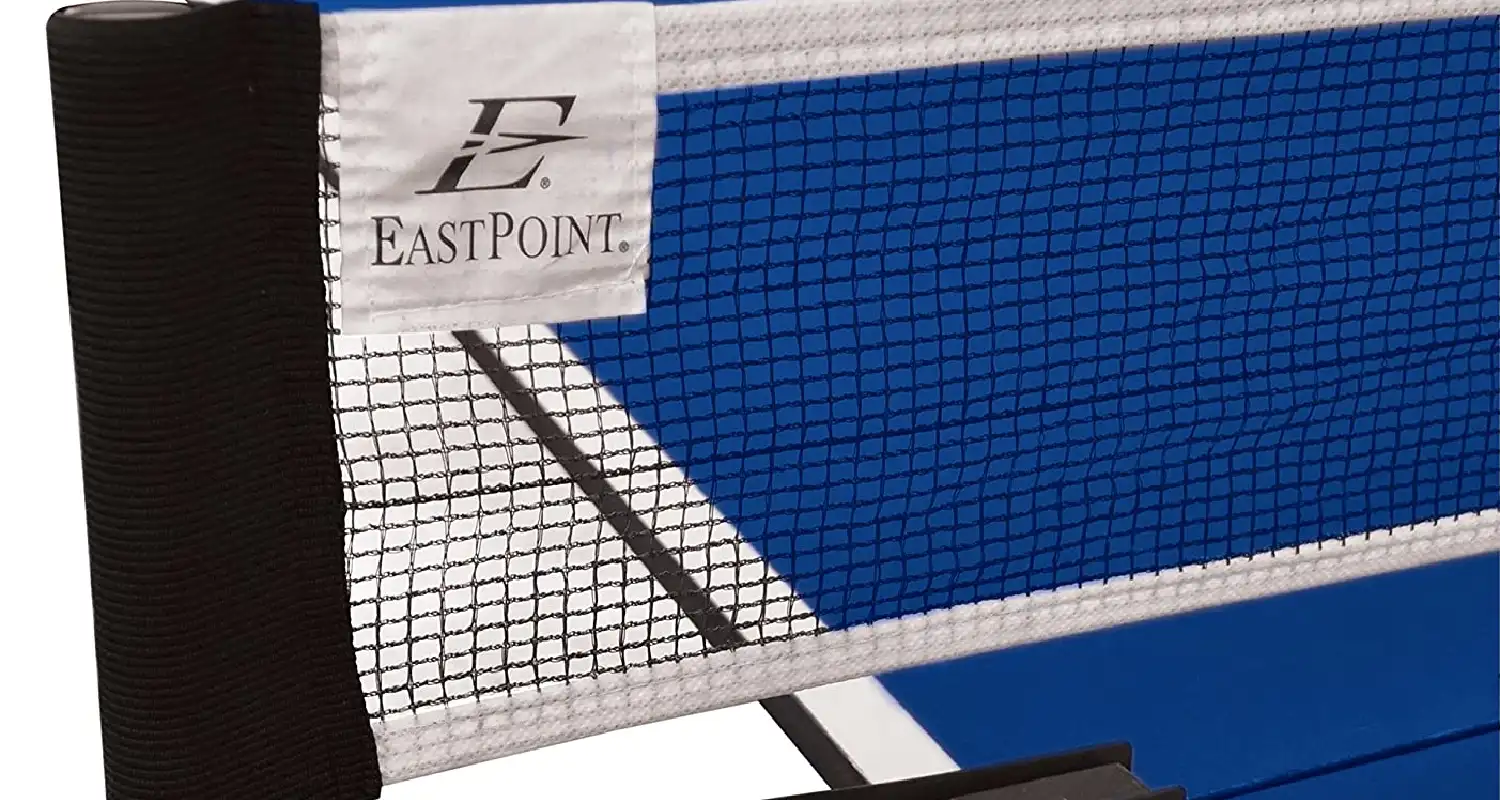 Our Rating: 4.1/5.0
We would recommend EastPoint Sports' Conversion Top to any player who wants an affordable and casual set up. It comes with all the necessary accessories and is affordable.
This table top features good-quality, is easy to store and is large enough to hold tournaments. However, it is not designed for serious competitive matches due to its delicate structure.
Therefore, If you want a top for serious offensive matches, we would recommend buying a standard table or at least an expensive, high-end top. Moreover, it's very heavy and not that portable, and due to its large size doesn't fit on every table.
Conclusion
The EastPoint Sports Foldable Table Tennis Conversion Top is ideal for residential setups such as in a game room, basement or garage. It is one of the most famous conversion tops in the market right now, mainly due to its large size and compact storage facility.
Assembling the table is a matter of seconds and the top comes complete with all the necessary accessories. Moreover, it fits on a reasonably sized dining table or a billiard table. However, due to its large size and weight, its portability is very low.
Additionally, moving the top again and again can cause hinges to come off and edges can also get chipped. This is a fun set up but not appropriate for serious matches. Therefore, if you are a serious player, we recommend investing in a high-end brand such as Butterfly.