The wooden structure of the ping pong paddle is called a blade. A good blade, with the right balance of speed and control, can bring you one step closer to victory and also allow you to truly harness your skill.
Ping Pong Blades also play a key role in transferring vibrations from paddle to the player, thus allowing the player to asses the execution of the stroke.
Today, the best ping pong blades are at least 85% wooden, and the rest of them can be made up of carbon, fiberglass or compressed paper. The paddle used in Ping Pong also has a handle which is a part of the blade.
It comes in different shapes depending on what type of grip the player uses. Choosing the right blade, suited to your personal playing style, can be an arduous task. This guide will help you determine what style of blade to opt for and how to choose the perfect one.
Top Table Tennis Blades Overview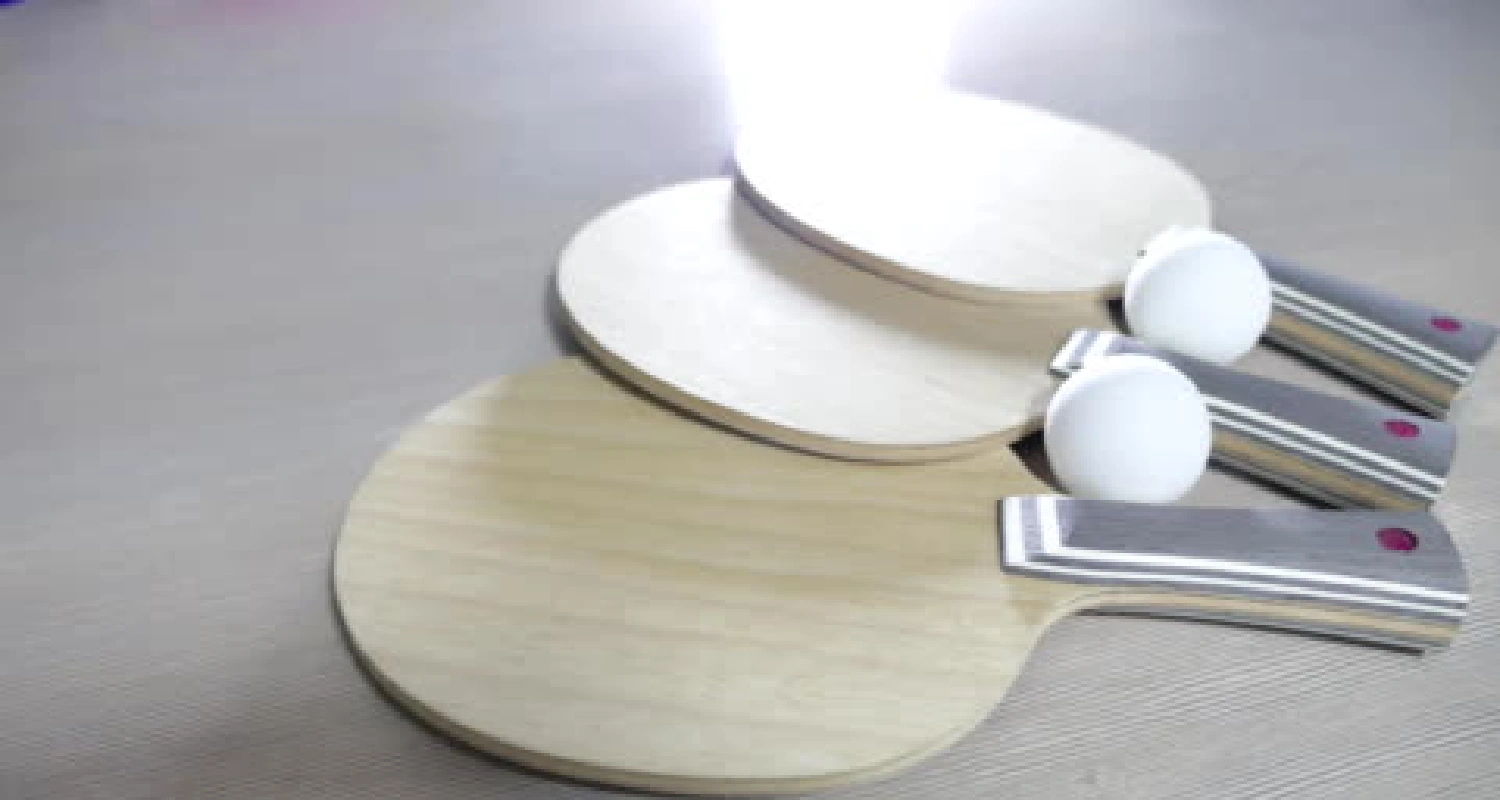 What to Look for in a Ping Pong Blade?
In order to understand what kind of ping pong blade you need, you must understand several factors including your playing style and grip. There are three basic types of players in Ping Pong in terms of their attack style. Each one requires a different kind of blade.
All-Round Players use both offensive and defensive mode to play Ping Pong and are therefore neither too fast nor too slow.
Defensive Players require more control over the game and less speed. Defensive players are more focused on the defense and must rally against the opponent.
Offensive Players use the offensive strikes/mode to play Ping Pong and therefore require a high-power drive.
In terms of material, there are two main kinds of blades available in market, carbon and wood.
Carbon vs Wood
Earlier table tennis blades were made of wood, which had less predictability. However, wooden blades are unique and some players still prefer them over carbon blades.
Blades made of 100% wood allow better spin and control, if a player learns to harness them. Today, ITTF sanctions the blades made of at least 85% wood, however, modern blades have carbon in them to increase speed, flexibility, stability and precision.
Types of Ping Pong Blades
Once you determine what kind of player you are depending on your attacking strategy, and if you want to go for wood or carbon, it is fairly easy to choose the perfect blade.
There are three basic types of blades depending on your playing style and three different handles. There are also two distinct kinds of blade depending on your grip.
After knowing your attacking style and the grip you use, it might become easier to decide which blade will suit you best. The choice of handle depends on your comfort (for the most part).
The three different types depending on your playing style are:
Defensive Blade
This blade is designed for those players who mainly use the defensive strategy. This blade is heavy in weight and therefore slow, which gives the user more control over returns. Remember! The slower the blade, the more control you have over it.
Offensive Blade
Since offensive players need more agility and speed, this blade is designed to be fast and therefore light in weight. An offensive player must choose faster blades that are at the same time flexible and have more bounce to them. 7 and 5 ply blades are fast and therefore most suited for offensive play.
All-round Blade
This blade is perfect for beginners. If you consider yourself an all-round player, it is recommended to choose an all-round wooden blade. Most of the blades available in market are all-round blades, with a speed rating of 50-70.
The most used styles of blade according to the grip of the player are:
Penhold Style Blade
If you hold you paddle in a penhold grip, meaning as if holding a pen, the penhold style will suit you the best. Most Asian players use the penhold style blade.
Shakehand Style blade
If you hold your paddle in a shake-hand grip, meaning as if you are shaking hand, you will need a shake-hand style blade. It is also called the western style blade.
Choose the Handle Wisely
There are three styles of handles available in market: flared, anatomic and straight. The selection of handle is mostly up to your personal choice. It is recommended to feel all the three styles and choose whatever seems most comfortable.
Your choice may vary with time and your experience in the game. Additionally, flared handle is recommended for beginners, anatomical handles offer a lot of comfort and straight handles are suitable for players who change their grips.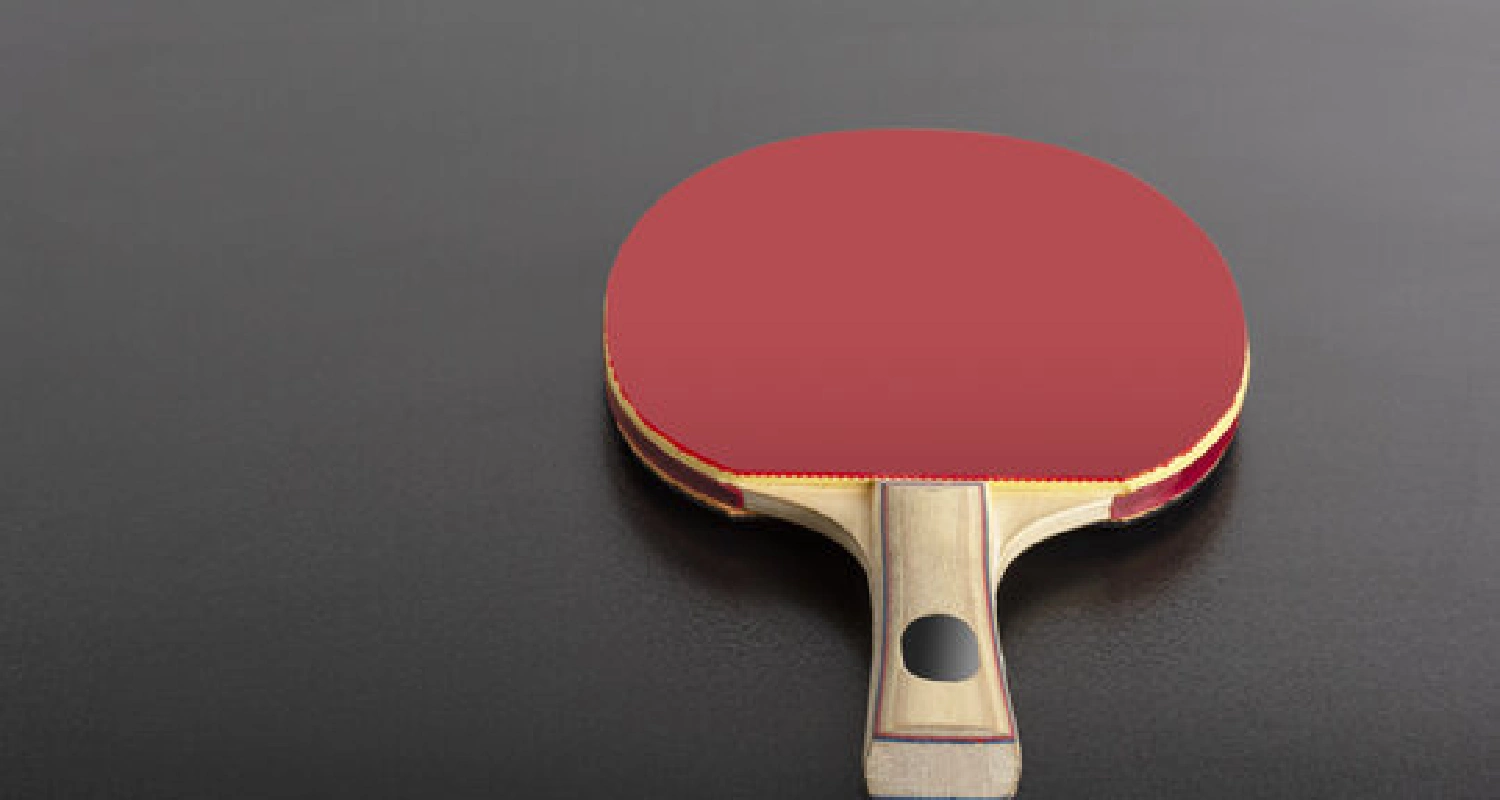 Best Ping Pong Blades
In this section we have reviewed what we deem the best blades available in market. Most of them are used by professionals and are not cheap. However, you will find good quality, cost-effective blades here as well, which are suitable for beginners.
Butterfly is a world-known name when it comes to table tennis equipment. Their blades are also very popular and do not disappoint in terms of quality. Our most favorite is Butterfly Balsa Carbo X5 table tennis Blade.
This Blade is perfect for those players who play game in offensive mode as it is light weight and therefore able to generate high spin and speed. It has a Balsa center ply, which increases power.
Butterfly Viscaria is another commendable option, known for excellent flexibility. This blade is lightweight and has Arylate fiber, which lends it bounce and shock absorption. It is perfect for offensive and all-round style of play.
This play is suited for intermediate to advanced players and is not recommended for beginners.
Viscaria is very popular among professionals as it enables players execute powerful shots, with excellent balance of speed and control. Being a top-notch quality product, it's expensive. However, if we look at the fact that it sustains damage received from hard training, this might seem a good investment.
This blade is an excellent example of great balance of speed and control and excellent craftsmanship. This blade is where Butterfly perfected their ALC technology. Five piles wood and 2 piles of Arylate-Carbon lend this blade a great amount of flexibility and a high-power drive.
Timo Boll Spirit is not suitable for beginners, as a certain level of skill is required to control this blade. One of its outstanding features is that it's suitable for both all-round and defensive style play.
Yasaka is among the top manufacturing companies for Ping Pong blades as they have created the top selling blades in the world like Ma Lin Carbon and Ma Lin Extra Offensive. Both of the aforementioned blades are designed for shake-hand grip and suitable for defensive style play.
The former is known for the ease it creates for block and lope, without compromising speed. The latter is a powerful paddle lending insane amount of speed, suitable for offensive strikes. Both are available at a relatively low price.
Yasaka's Sweden Extra is one of the most lauded blades in the Ping Pong world. This is light-weight, thus fast, specifically designed to execute offensive shots. The blade might feel powerful, however, it designed to lend precision and control at the same time.
One of the most laudable quality of this blade is its comparatively low price. A top-quality blade in this price is a catch. This blade is also for beginners as well as advanced players. Some players call it the most underrated blade due to its cheap price.
Nittaku is another well-known table tennis name. the brand manufactures high quality table tennis equipment including blades. Some of the best quality blades are Nittaku Barwell Fleet and Nittaku Acoustic Carbon.
The former consists of two synthetic layers, adding more bounce and elasticity to the blade. It is good for both defensive and all-round players. The latter is made to be more fast but controllable. Its heavy weight makes the user have more control over it.
If you are looking for cheap, yet high quality blades, Xiom is the brand for you. Xiom has been selling table tennis equipment worldwide since 2007. Their blades are well-known for their high quality.
Their most popular blade is the Xiom Strato, which is known to provide a great level of control, comfortable feel and ease with experimentation of new techniques. This blade is expensive, so not recommended for beginners.
If you are looking for an offensive type blade, Xiom Axelo is one of the best option. It has accelerated speed yet thick construction gives it a lot of power for offensive strikes. Its fast speed balanced with incredible spin makes it the best option for an offensive type of play.
Its carbon technology allows less dissipation of energy and a flexible feel. One standalone feature of this blade is its ability to mix attack and defense. Depending on the player's skill, it therefore can be used for offensive and all-round strikes alike. Its superior construction allows topspins as well.
STIGA is another world-known name in the table tennis world, with the best table tennis equipment in the market. STIGA is one of the first companies to make paddles according to playing style. One feature which makes this company stand out is that they offer good quality equipment in relatively low price.
One of their most versatile blades is STIGA Offensive Classic. Since its more on the offensive side, the blade is very fast yet controllable. It's perfect balance and convenient vibrations make it easier for the players to judge their swing. This powerful blade is perfect for beginners as it is very flexible.
If you are looking for a more professional level bat on a budget, STIGA Raptor is just for you. This is an ITTF approved blade for tournament play. The paddle has the right amount of control and a good speed and spin, ideal for offensive type play. However, if you are a beginner, you might find its speed overwhelming.
Our Choice
In terms of price, quality and specifications, Butterfly's Timo Boll Spirit is our best pick. This is one blade that that offers a strong ability of topspin, without compromising control.
It is also considered one of the fastest blades in the world. Its Arylate-Carbon construction lends it the right amount of flexibility, with minimum energy dissipation. It's light weight and great control make it best suited for offensive play, with a very compact arm movement.
Frequently Asked Questions (FAQs)
What are custom table tennis blades?
Custom table tennis blades are components of the paddle which are bought from the market. It means that you can buy each separate part and assemble it yourself. Custom made blades allow you to experiment with paddles and assess what suits your playing style the most.
What table tennis blades are used by professionals?
Majority of professional athletes these days use carbon blades. Carbon blades have the right balance of solidity and flexibility. They are also faster than wooden blades.
What wood glue should you use on Ping Pong blades?
In order to glue your paddle, you must use a water-based glue. Butterfly and Joola make the most reliable glues. Some recommendations are: Butterfly Free Chack Glue and Joola X Glue Green Powder.
Conclusion
Table tennis blades are a crucial part of the equipment and must not be ignored. Overtime, according to your personal preference and gaming style, you will develop a knack for knowing which blades work for you and which simply don't.
We have also reviewed a collection of what we think are the best available blades in the market, so that you can pick the most suitable one. It is important not to ignore the fact that blades play an important role in predicting the trajectory of the table tennis ball.
Therefore, you must research well before getting your blade. After all, the right blade might bring you several steps closer to the victory!