Nittaku Barwell Fleet table tennis blade is an improved, more technologically advanced version of its predecessor, Nittaku Barwell. The main difference between the two is that the latter features glass fiber layers which are supposed to enhance the speed, spin and power of the blade.
This is a high-end superior quality blade, designed for professional athletes. It is suited to be paired with the new generation rubbers and poly balls. If you want an offensive blade, without losing control, this is the best choice for you.
Nittaku Barwell Fleet Specifications
Our Rating: 4.8/5.0
Price: $$$
Class: OFF
Plies: 9
Material: 6 walnut plies and 2 glass fiber plies
Control: 7.0
Speed: 9.4
Stiffness: 6.2
Consistency: 9.4
Thickness: 6.1mm
Weight: 88g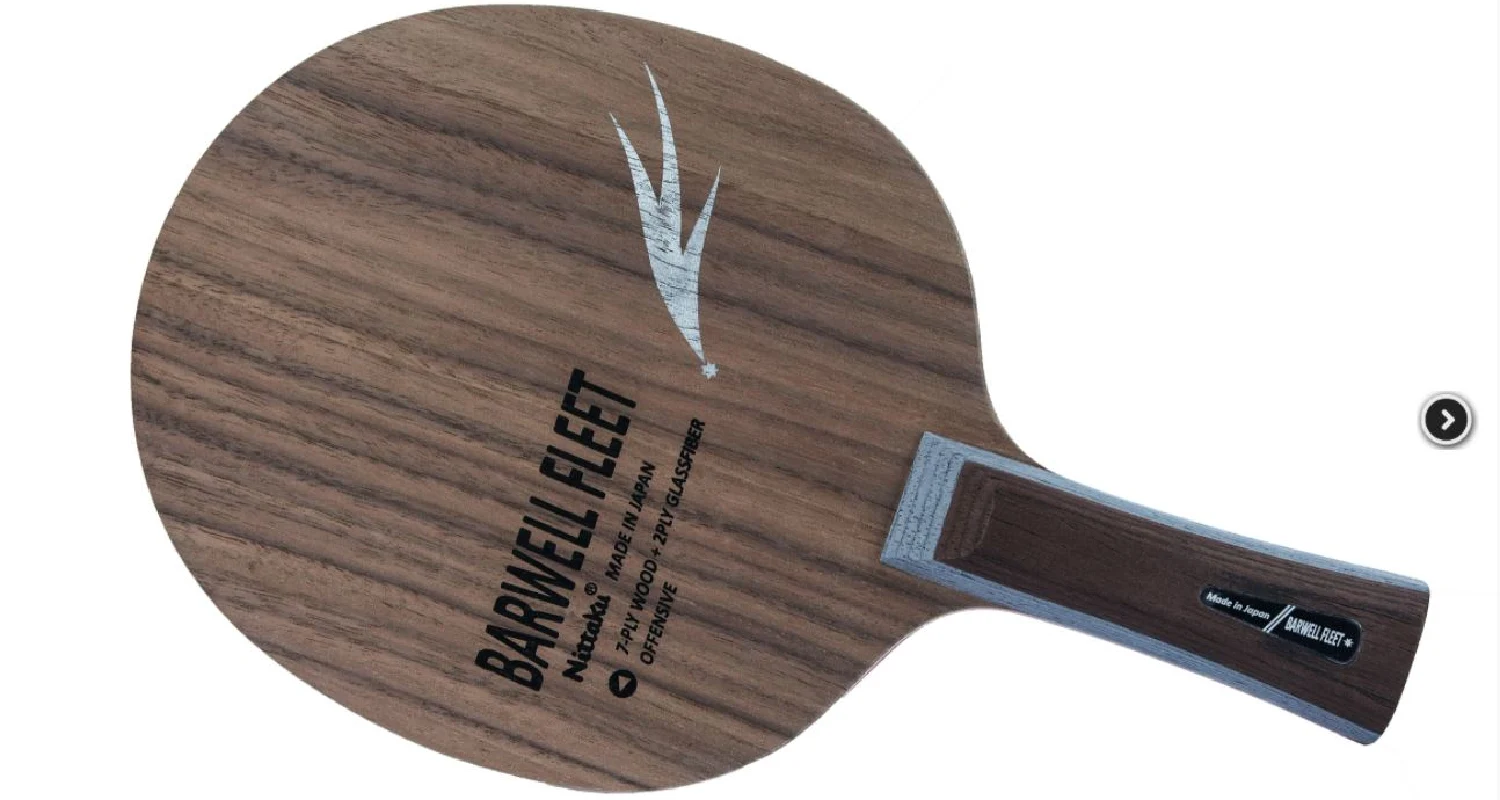 What to Expect?
Barwell Fleet is the new generation, premium quality blade by Nittaku. The materials used in it promise a better control, speed and power than its all-wood predecessor, Nittaku Barwell.
Glass fiber layers guarantee a better spin performance, with convenient vibrations. This blade is one of the most lauded ones in table tennis, let's see what makes it so popular and revered.
Elite Construction
Nittaku Barwell Fleet is one of its kind 9-ply blade, with 7 walnut and 2 synthetic layers. 9 plies promise power and the blade delivers. Its structure allows easy serves, active returns and precise shots. You can witness its power when smashing and looping, as the blade thrives in these areas.
Although the exterior veneer is walnut, the blade is not too stiff, as the plies are thinner. The handle grip is nice and comfortable, easing offensive combat. Additionally, this blade is able to cause a lot of damage even with a very compact arm movement, mainly due to its weight and power.
Speed
The speed of this blade is slower than some other high-end table tennis blades—let's say Butterfly Timo Boll Spirit—which owes to the 9-ply construction.
However, this is not a point to ponder as less speed gives more grip to the ball, resulting in harder smashes and powerful strokes. Moreover, low speed is silhouetted by the blade's powerful looping capabilities with incredible control.
Spin
You can execute a variety of spins with this blade, regardless of you looping style. It helps you generate a lot of spin, thus giving you an upper-hand in offensive combat.
The low speed of the blade is conducive to good spin, increasing the dwell time. It allows you to maximize spin by looping from close to mid-distance, and thrives during topspin serves.
Feel
Although Nittaku Barwell Fleet has a solid, walnut outer-layer, the blade is soft to touch and has a pleasant feel. It's walnut surface gives a crispy feeling to the ping pong ball. The smashes sound like broken glass, the sound of success!
Moreover, the blade gives one a unique feeling due the vibrations and sensations from the ball. The convenient yet not overwhelming vibrations enable one to predict the trajectory of the ball and foretell its landing.
Distance from the Table
Playing close to the table with this blade is threating enough for the opponent, but it is from mid to far distance where the blade reveals its true power. Dwell time is increased, making it easy to generate low-angled arcs. Spinning from backhand is also easy at mid to far distance.
Offensive Style Game
This blade is designed for offensive combat, and it is a true weapon for professional players. Moreover, it is not suitable for beginners, as its heavy weight and spin generation might feel overpowering to novice players.
For intermediate players, it has the potential to truly raise their craft, adding to their offensive style.
As an offensive style blade, it delivers what it promises; with excellent spin generation, incredible power, great lift and active blocks. Additionally, this blade is very easy to use and controllable. It also gives you a wide range of shots, with great stability.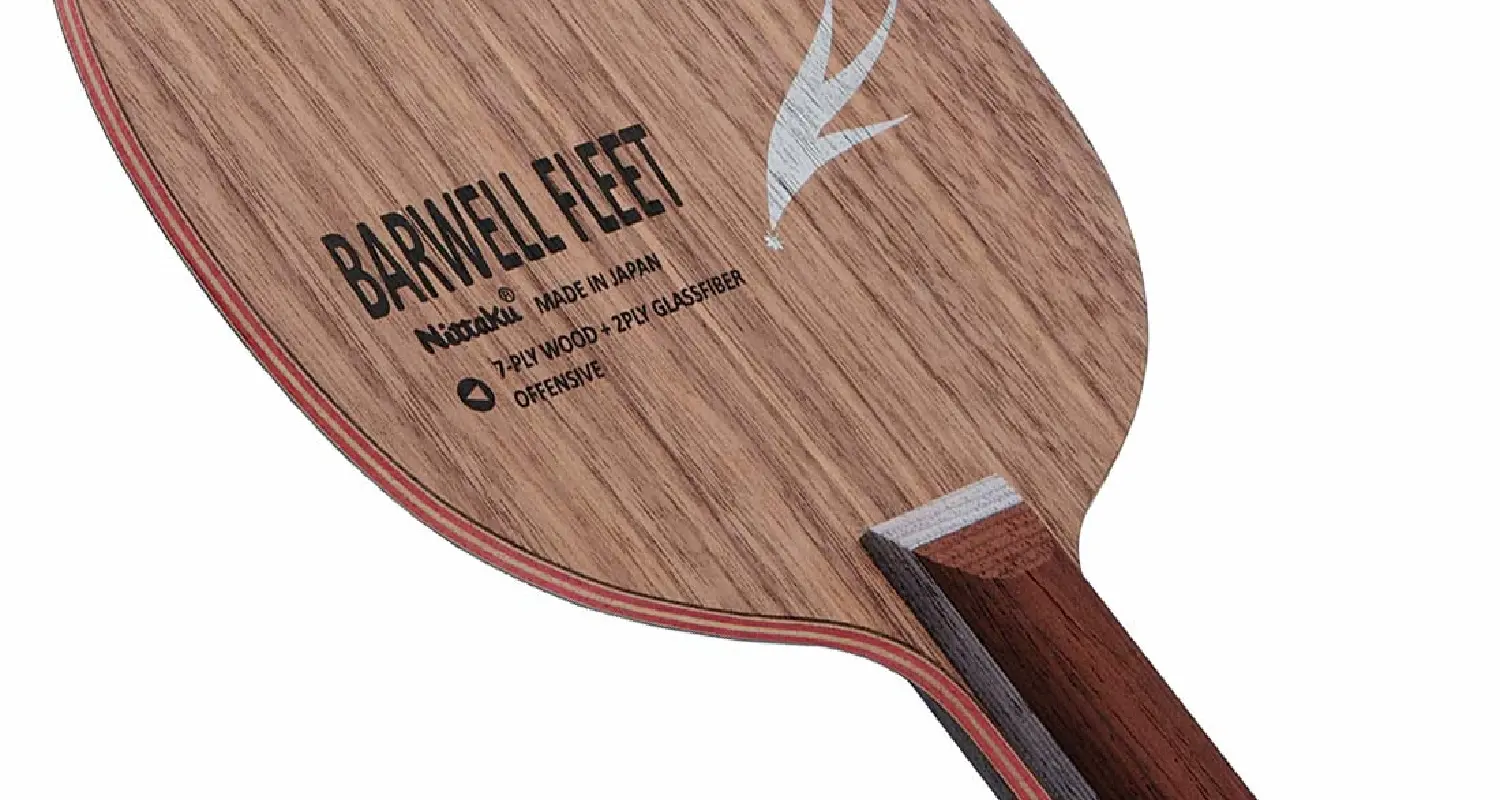 Pros
Backhand
Nittaku Barwell Fleet shines in backhand performance, enabling you to execute effortless and consistent backhand loops. The blade also has the right flexibility to perform backhand strokes. It also gives you a solid bounce.
Looping
Looping with the blade is very convenient yet powerful. The blade gives you precise hits, with great speed and control, helping you execute neat strokes. If harnessed, this blade has the potential to give you the proper athletic agility and feel.
Power
The glass fiber panels and a large sweet spot lend a lot of power to this blade. It gives one a very powerful and dominant feeling while looping. It is able to create precise counters and active blocks during an offensive game.
As an offensive style player, it gives one the necessary aggressive force to hit and smash the ball, not compromising on the control needed for counters and blocks. It allows one to change easily from forehand to backhand as well, without causing uncomfortable vibrations.
Durability
Nittaku Barwell fleet has 9 plies which make it very hard and durable. This blade will last—even in offensive games and rigorous battles—for years. Due to its high-quality and durable nature, this blade would be a true investment for a professional player.
Cons
Price
Nittaku Barwell Fleet is worth USD 230. This is a very high price for a blade, even for a high-end and premium one. Unless you want a heavy 9-ply blade, there are other options available in the market, suitable to offensive attack. Some notable options are YASAKA Ma Lin Offensive or STIGA offensive classic.
Weight
This is a 9-ply blade with walnut wood; its structure makes is heavy. Although heavier weight aids in destructively powerful strikes, one might be overwhelmed by it. The blade's speed is also affected by its heavy weight.
It is recommended to use the right rubber—preferably less heavy—to balance the weight. If you are particularly sensitive to heavy weight, this blade might be manageable in short game for you, but would be a nuisance in longer sessions.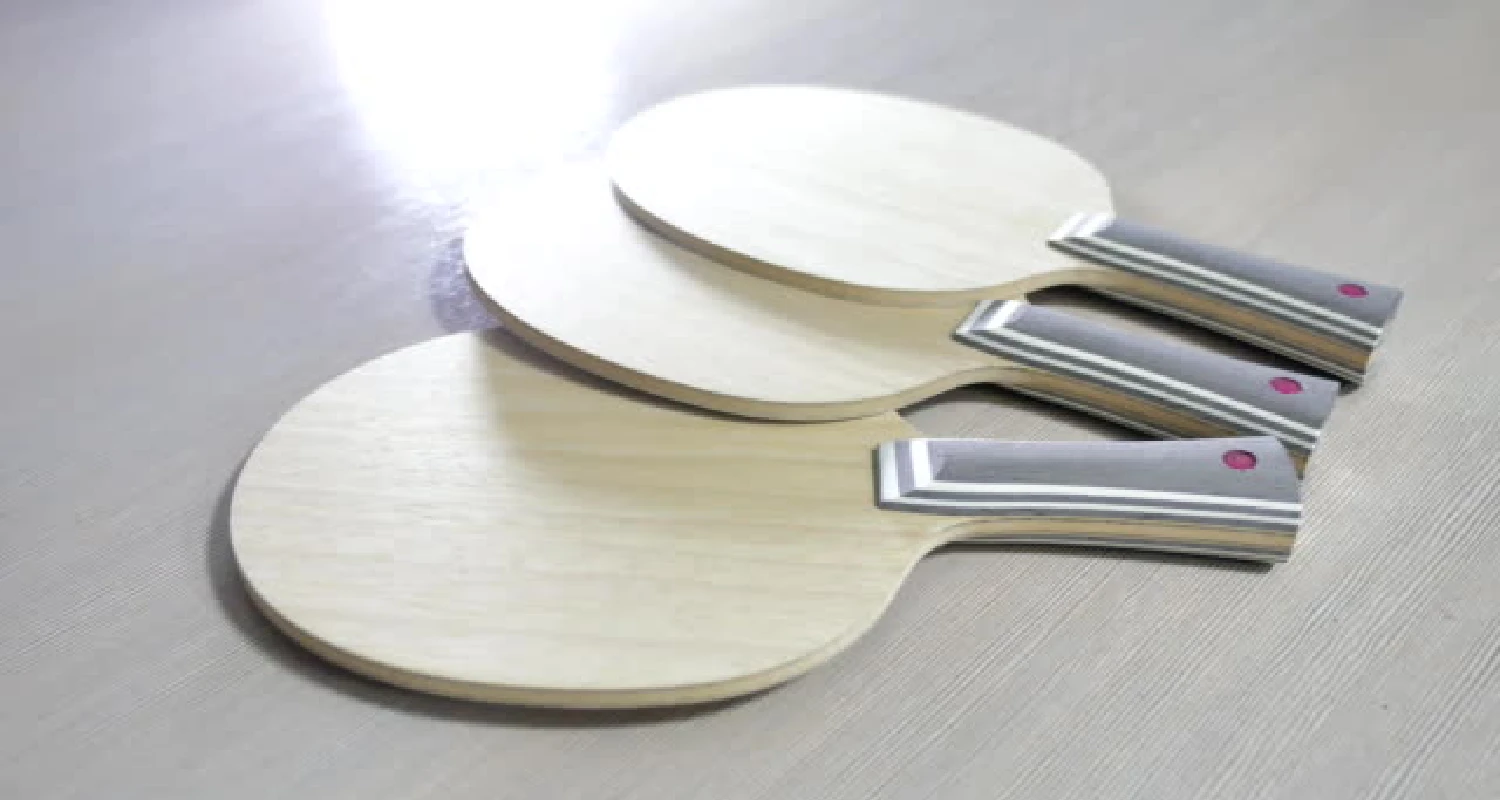 Our Rating: 4.8/5.0
Coming from Nittaku, Barwell Fleet is expected to be a good blade, but it surpasses expectations and thrives in all areas including superior construction, power and ability to generate and combat spins. It is a high-quality blade with excellent performance.
The only sticking point is its very high price and heavy weight. However, if you are a professional level player, you would absolutely love the power and control of this blade, giving you the ability to execute neat, precise shots.
With the right technique and skill, it can help you with active blocks and precise placement as well.
Conclusion
We would highly recommend Nittaku Barwell Fleet to any professional athlete who has the budget to buy this blade. The blade's advanced construction lends you the right sensations in an offensive environment, giving you a lot of power over the game.
Its speed is slow due to its weight but its spin ability is matchless. The contact with the ball is hard, crispy yet bouncy. Low throw angle is threatening for the opponent and will give you a dominant position on the table.
If you want the uniqueness of an all-wood blade combined with the power of synthetic layers, you must give this blade a try. This blade will definitely improve your gaming experience and overall performance.