Yasaka Sweden Extra is undoubtedly one of the best all-round blades in the world. Made in Sweden, this blade exhibits sufficient speed reserve/s and a good amount of control.
Despite the advent of new carbon technology, this classic all-wood blade is still adored by many athletes, even though it doesn't conform to the modern standards of offensive play.
It was originally named Yasaka Gatien Extra after Jean-Philippe Gatien, who won the World Championship title in 1993 using this blade. After that, the blade's name was changed to Yasaka Sweden extra.
Even though this blade is a complete package, it is one of the most underrated blades—partly due it its low price. Let's dive into its specs and see what makes it so special.
Yasaka Sweden Extra Specifications
Our Rating: 4.7/5.0
Price: $$$
Class: ALL+
Weight: 84g
Thickness: 5.5mm
Size: 157 x 151mm
Plies: 5
Material: All-wood
Control: 9.2
Speed: 7.9
Stiffness: 3.8
Consistency: 9.6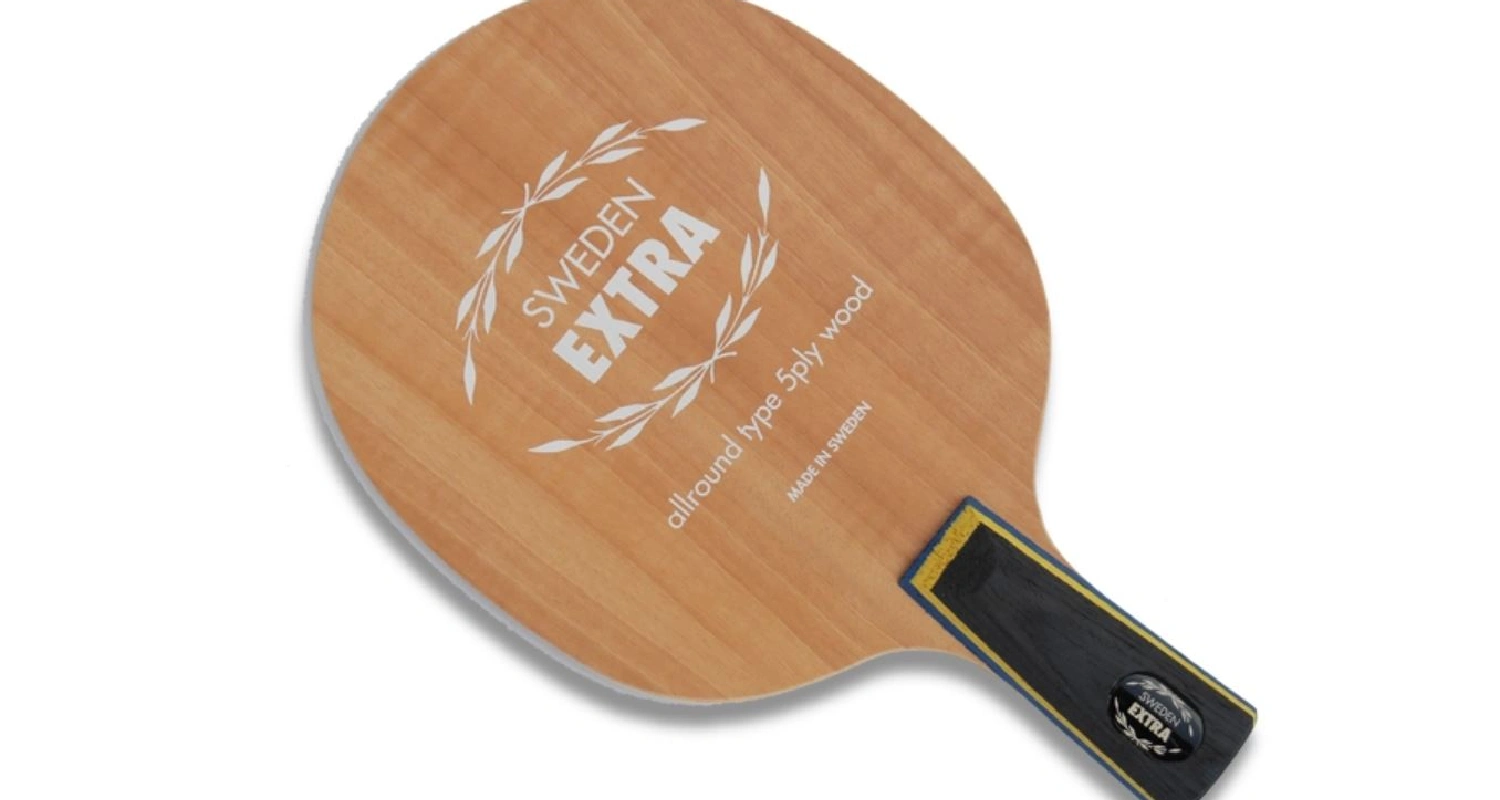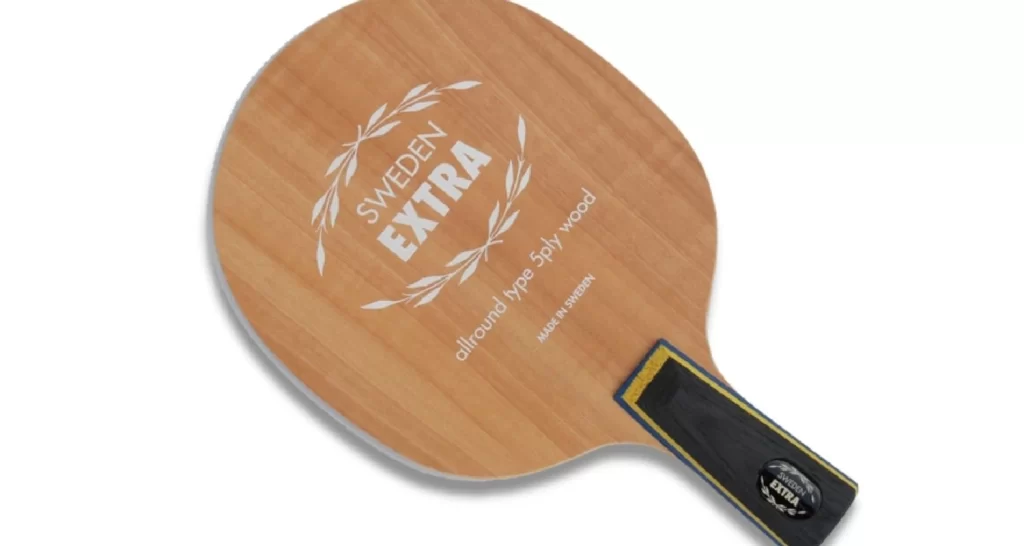 What to Expect?
This blade is considered incredible for its price, as it considered the master of good all-wood blades. Being an all-wood blade, we expect this to tick all boxes including good speed, spin generation, power and control.
We also expect suitable contact with the ball and appropriate dwell time.
Yasaka is famous for fine blades, that have incredible performance at a low price.
All-wood blades are great if you want to improve your technique, and some players still prefer them, even though next generation carbon blades promise more speed and power. Let's see if this blade balances our expectations or not.
Excellent Craftsmanship
Yasaka Sweden Extra has an elite construction with fine, sealed finish. Crafted with five superior quality wooden plies, the blade is among the heaviest in the market. Although the heavy weight seems to be a problem, it helps in speed reservation.
Heavier weight is also conducive to more control. The handle is available in all four styles; flared/concave, straight, anatomical and penhold.
The inner veneers are stiffer, with a very precise cut, and the outer ones are soft and flexible. This combination is one of the best-selling points of this blade, as it known to give the players a unique feeling, exclusive to wooden blades. This blade is also very durable and can sustain intense training sessions.
Feel Solid
Yasaka Sweden Extra feels solid but not hard, therefore moderately flexible. Overall, the blade has a soft yet crunchy feeling, which means that it is solid enough to block and flexible enough to execute spin-oriented shots.
Suitable for Offensive Play
The standard of offensive play has massively transformed in the recent ages, due to the introduction of innovative technology that brought extra speed and power. The insertion of carbon veneers added a lot of speed and spin to the blade technology, to which all-wood blades couldn't compete.
Yasaka Sweden Extra may not correspond to the modern offensive play, but doesn't disappoint either. When paired with a fast rubber, the blade is able to execute powerful shots, without losing control.
However, it is good for only beginner-level offensive play. Therefore, we do not recommend this blade to expert athletes.
Who is this for?
If you are an offensive player and looking forward to upgrade your gaming experience, we recommend using this blade only for training. For tournaments, we would recommend going for a heavy-duty offensive blade such as Butterfly Viscaria or Nittaku Acoustic Carbon.
As a beginner offensive player, this blade is excellent when paired with a fast rubber. It will give you the right amount of control and power without the overwhelming feeling you might get from other fast ping pong blades.
Sweden Extra doesn't exhibit great power or control far from the table and is therefore suited to close combat only. If you try to play far from the table, you will need powerful arm movement, in order to hit the ball hard, and might lose control.
Therefore, we recommend this blade to only those players who play close to the table.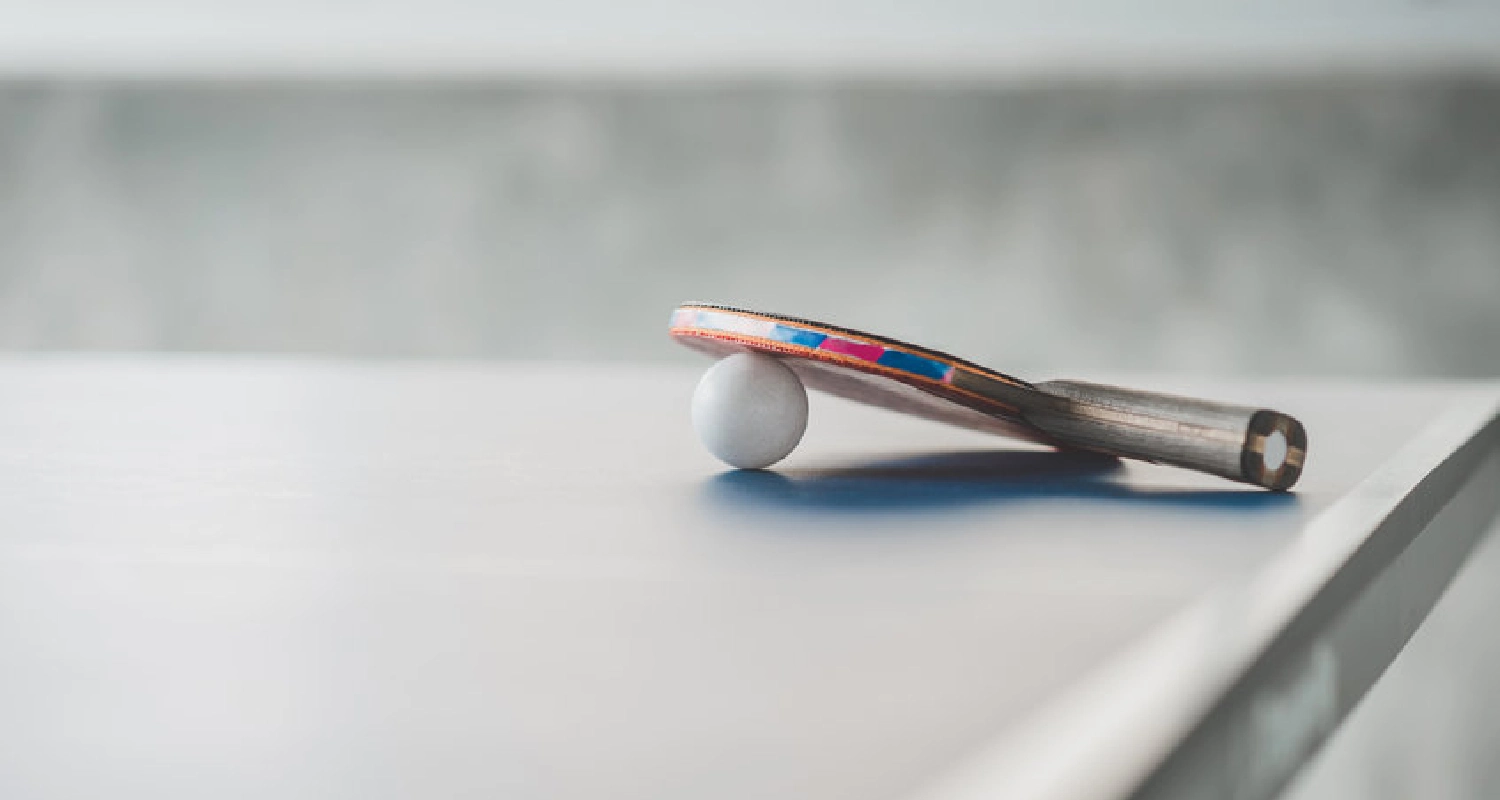 Pros
Great Control and Power
One of the most selling points of this blade is its control and power. With the right strokes, you can deliver an incredible amount of power and execute tricky shots for the opponent. You can play a high-power driven game, without losing control in a close to mid-distance play.
Quick Response, Speed and Versatility
This blade is not very fast, considering modern standards. However, its response is very quick, and you can execute moderately fast shots with a very compact arm movement. It allows you to change your movements quickly as well, thus proving tricky to the opponent.
Low Price
Some players consider this blade to be underrated due to its low price. Its price is USD 45 dollars, which is very cheap as compared to some high-end table tennis blades, by let's say Butterfly or Nittaku.
This blade is of superior quality and will last you a while, so we consider this an investment that wouldn't poke a hole in your pocket.
Consistent Performance
The blade has a good balance of offensive power and defensive stability, and is very consistent. It exhibits consistency in terms of control and strikes.
Yasaka Sweden Extra shows its true potential in hard shots, with a quick response time, but is adaptable. It also lends the players consistent smashing.
Cons
Uncomfortable Vibrations
Some players do not like too much vibrations from the blade, and might find them overwhelming. It is to be noted that vibrations help one evaluate if the shot was executed perfectly or not.
Moreover—with constant use—frequent vibrations can lend you a helping hand in mastering your technique. This blade has a medium sweet spot, due to which it sometimes has a lot of vibrations.
Small Size and Less Balance
Some players have complained that the blade's head and handle are smaller, as compared to some other blades such as Butterfly's Viscaria.
Moreover, the blade's weight is not balanced and its head feels heavier. If size matters to you, we would recommend to think twice before getting this blade.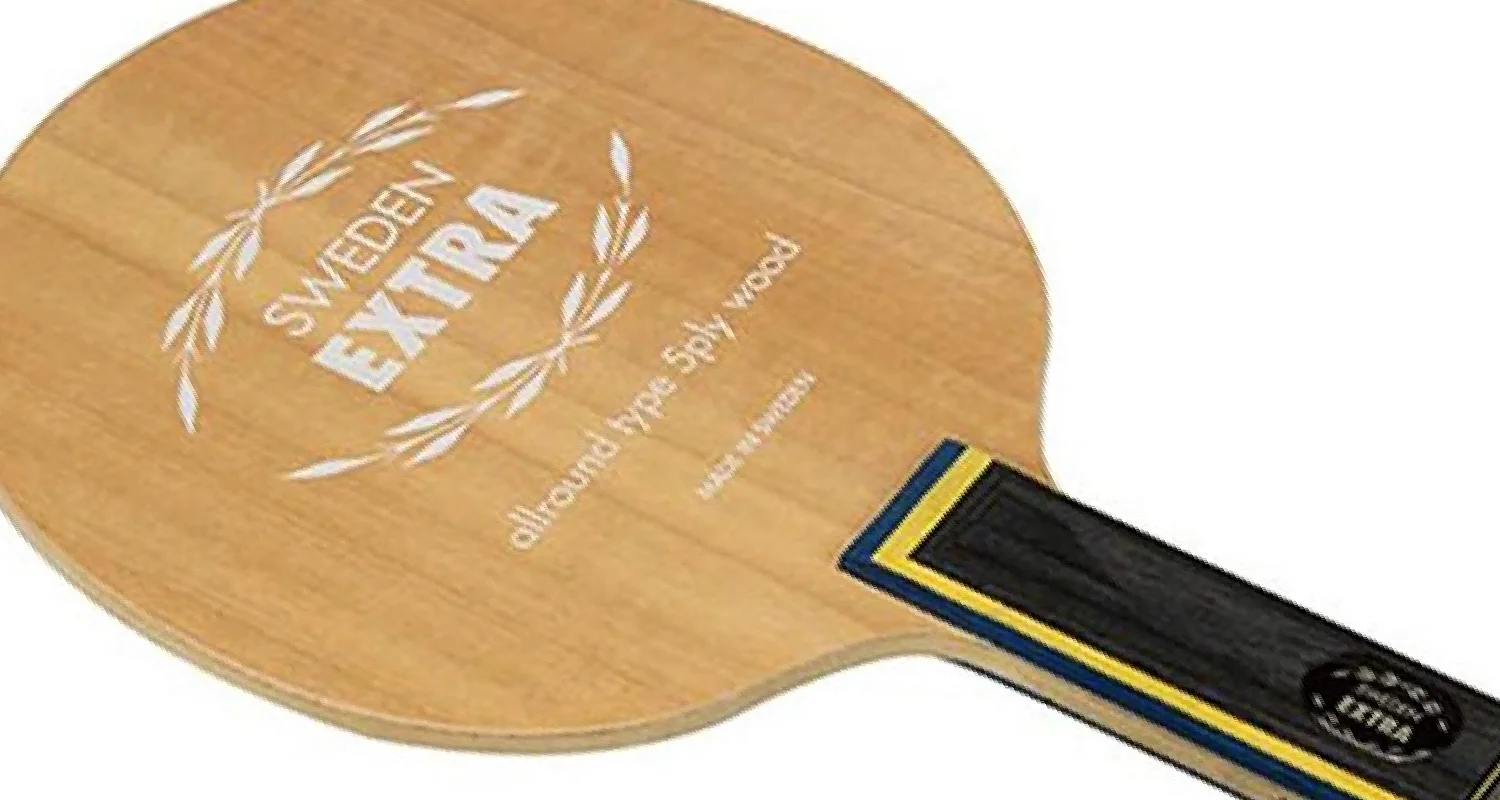 Our Rating: 4.7/5
We recommend this blade to every beginner who wants to raise their level to an intermediate player, as we think that this blade can assist you in attaining professional-level expertise.
Its softer outer plies bite hard into the ball and increase dwell time, allowing a moderate level of spin generations. We would not recommend this blade to anyone who loves insane power or speed.
Moreover, due to frequent vibrations, this blade might seem overwhelming to someone who is not used to vibrations.
Conclusion
We consider Yasaka Sweden Extra a good value for money, with great performance and reliability. If you are looking for an extremely fast blade, or absolute control, or incredible spin generation, this blade is not for you.
It combines a moderate level of all of these aspects and presents a complete package to beginners/all-round player. This is a high-quality blade as well, in a comparatively lower price.
If you a beginner and want to work on your technique, this blade is sure to give you a steady progression. This is an all-round blade, and not suited to extremely offensive play. However, when paired with the right rubber, it works amazing for beginner level offensive play.