In this article, we review one of the most popular table tennis blades from XIOM — labelled the fastest blade in the world — XIOM Axelo. Axelo literally means acceleration.
It is a part of three Energy Carbon series by XIOM, the other two being Strato and Ignito. This blade is marketed as perfect for hard smashes and also excellent for topspin.
XIOM Axelo is called the ultimate speed weapon, and if speed is what you need in a good blade, this might be the one for you. Let's see if the manufacturer's claims are right, and whether this blade delivers what it promises.
XIOM Axelo Specifications
Our Rating: 4.2/5.0
Price: $$$
Class: OFF+
Material: 5 plies (2 Energy Carbon and 3 Kiso Hinoki wood)
Speed: 9.4
Stiffness: 7.0
Consistency: 9.4
Thickness: 7.3mm
Weight: 90g (approximately)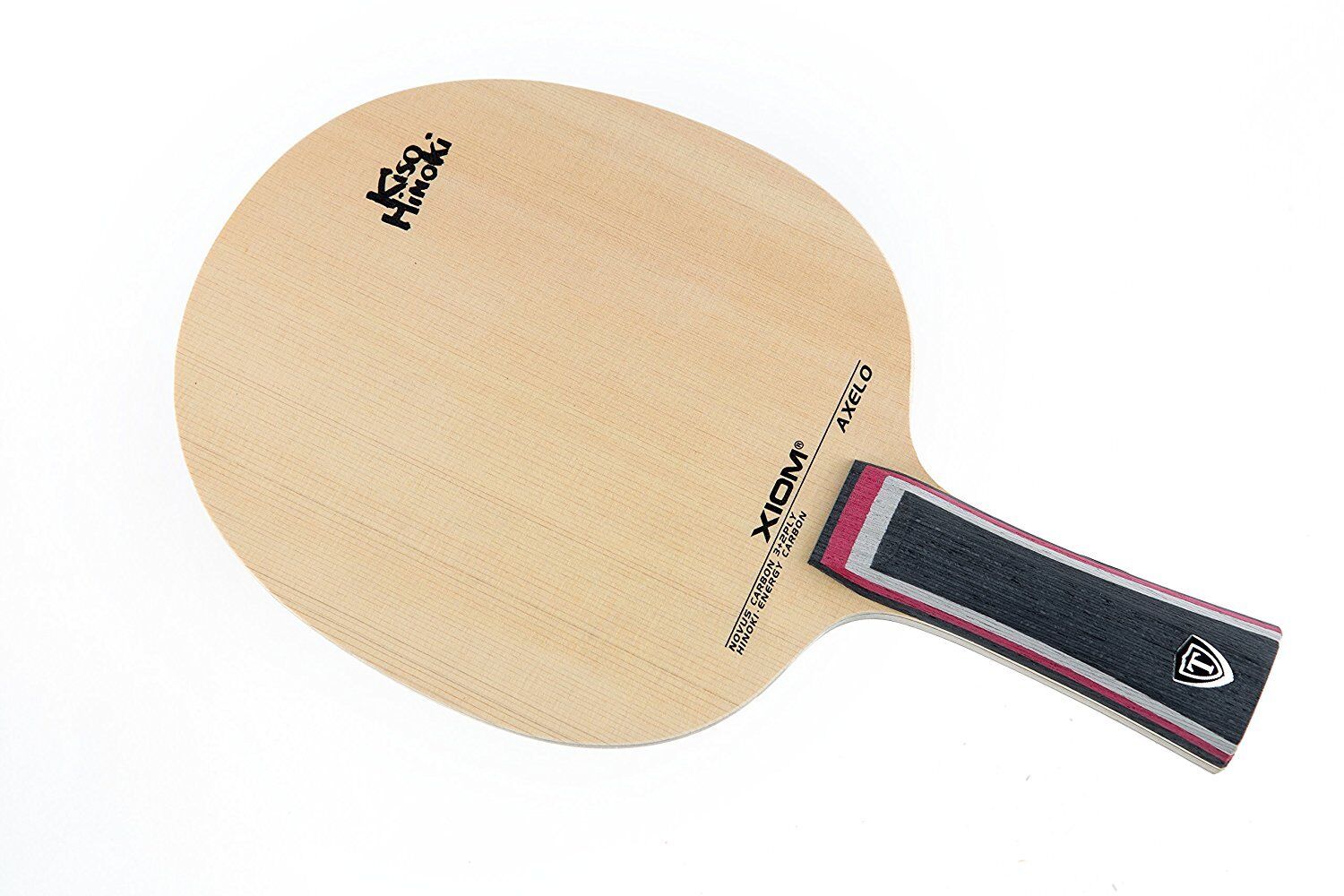 What to Expect?
The blade is suited to an extremely aggressive and fast gaming style. The manufacturers claim that the blade has incredible acceleration properties.
Being an offensive type blade, it is likely for it to not compromise on stability, directness and control. We also expect the blade to perform well and sustain damage in offensive style game. Let's see if it is worth the hype!
Superior Construction
XIOM Axelo is thicker than its brothers, Strato and Ignito. All of these afore-mentioned blades are 5-ply blades with 2 Energy Carbon and 3 Kiso Hinoki plies.
Even though it's thick, this blade is not heavy, making it lightweight and therefore fast. The killer combination of carbon layers and hinoki wood lend the blade excellent speed characteristics and energy transfer.
The use of Energy Carbon ply is the newest technology used in blades. It is very light and therefore exhibits insane speed and appropriate level of stiffness. Hinoki wood lends the blade a pleasant feeling and control.
The blade showcases a lot of potential during aggressive shots and counter-shots, one can execute extremely fast strokes and very controlled topspin. The handle is also very comfortable to use, enabling one to execute controlled, light yet powerful strokes.
Energy carbon used in this blade produces comfortable vibrations at the impact. This aspect helps you have more control on the ball, because the sensations transferred from the table tennis ball via the blade help you predict the correct execution of a stroke.
Spin Generation and Combat
One of the most outstanding attributes of this blade is the generation of strong topspin. This blade is not only able to create topspin from any distance from the table, it is also equipped to combat it.
Additionally, it is incredible at rallying and smashing topspin. Its fast pace coupled with heavy rallying make it ideal for generating and combating spin. Attacking the ball with an amazing speed and spin would have the gratifyingly destructive impact on it, suited to offensive style game.
Impeccable Balance
This blade gives one great control on even extremely fast strikes, which is partly due to the weight vis-à-vis speed balance. Its light weight enables one to play incredibly fast strokes with a very compact arm movement. Even though the blade is very thick, its dimensions are well-balanced according to its light weight.
Feel
This blade has a soft yet crispy feel to it. The smashes produce a gratifying 'crack' sound which most people would find rewarding, as one would feel invincible listening to the sound of hard smashes.
Its compact size makes it easier for one to pull off swift change of position, allowing a variety of strokes. XIOM Axelo is also appropriately stiff to counter topspin. Even though the blade is thick, the materials used in it allow it to be very flexible and bouncy.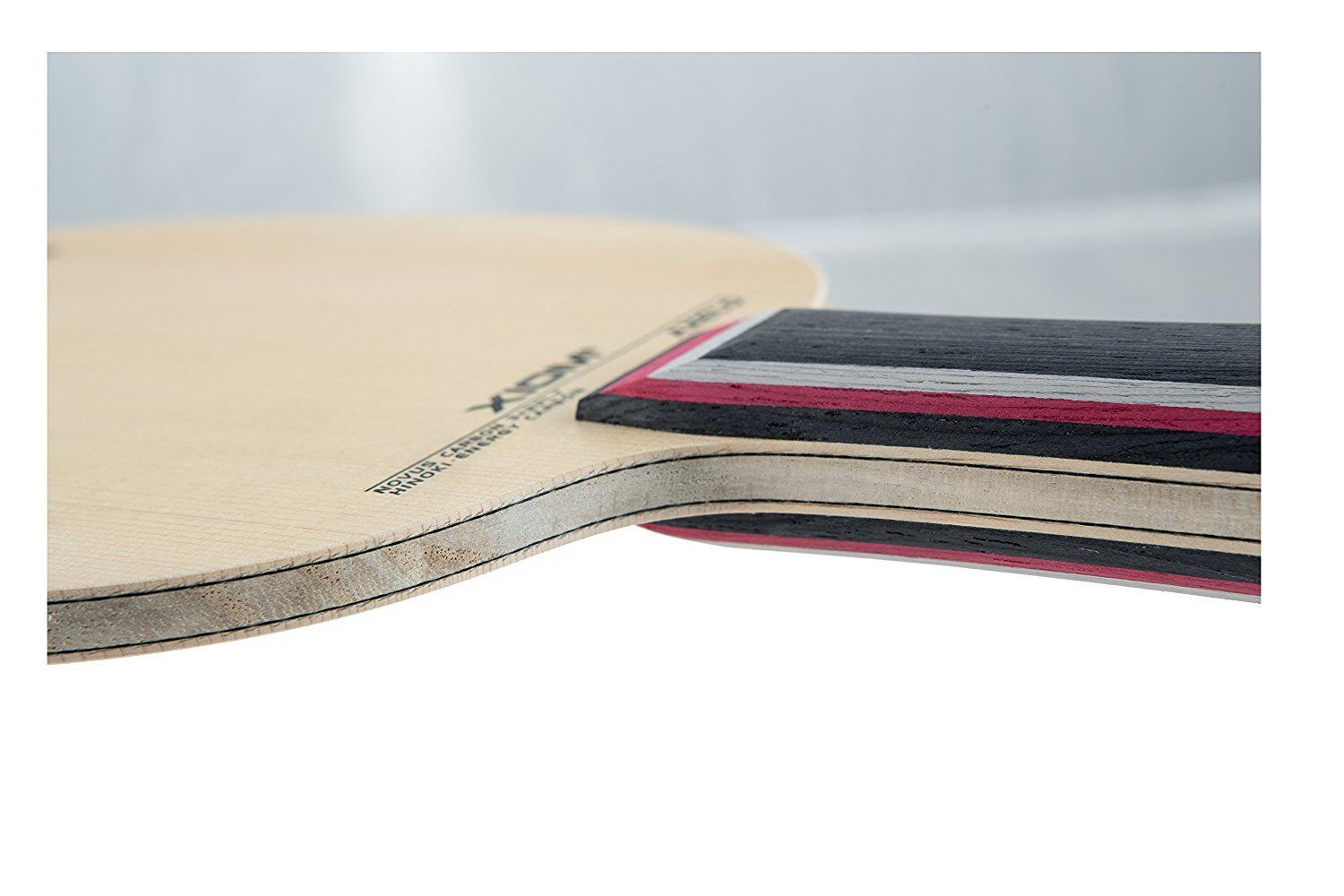 Pros
Speed
If you are looking for the word incredible acceleration in a blade, XIOM Axelo is just for you. This blade is designed to exhibit marvelous speed.
The material used in its construction provide high energy efficiency, which means that minimum amount of energy is dissipated during each stroke and maximum energy is transferred to the ball via the hit.
This blade is very powerful, allowing you to create mighty smashes. Another significant attribute is the fact that the speed is not affected by distance from the table. This blade performs equally well in close to mid-distance and far from the table.
Price
The quality that this blade promises and delivers is on par with some of the high-end, expensive blades such as Butterfly Viscaria. This blade is worth USD 90, which is a considerably reasonable price for a good quality, high-end blade, suited to professional level combat.
Block and Counter-shots
XIOM Axelo is great at producing spin and smashes. However, it exhibits its true potential in counter-shots and blocks.
Even in an accelerated environment, it will not compromise on control, hence, enabling one to not only construct but also maintain a powerful rally against the opponent. Moreover, not just smashes, its counters and blocks are also very fast and controlled.
Cons
Not for beginners
When it comes to blades, there are very few which have the "one size fits all" feature. If you are new to table tennis, this blade would feel overwhelmingly fast to you.
You will need a professional level of skill and technique to control this blade. We suggest STIGA Offensive Classic if you are still learning the art of offensive style game.
Durability
XIOM Axelo is very thick, which makes it stiff and susceptible to damage. Since this blade is made for offensive combat, is it expected that the construction would sustain damage in an aggressive setting.
However, this is not the case. Players have reported this blade to be less durable than other high-end blades such as Butterfly's Viscaria. It lasts only 2 to 3 months if you train two hours every day and are fond of aggressive smashes.
Unfortunately, the blade would become chipped and useless after 4 to 5 months of regular usage.
Our Rating: 4.2/5.0
Overall, XIOM Axelo is one of the fastest blades we have ever used. It gives you aggressive powerful hits, controlled counters and active blocks without compromising on control.
If you are looking for a fast blade under budget, that would have the added benefit of generating and combating spin, this blade is perfect for you. However, due to its incredible speed and high power-drive, this blade is not for beginners or even intermediate players.
One must have a professional level of expertise to truly unravel the potential of this blade. One factor which affected our appreciation (negatively) was the mediocre durability. In terms of sturdiness, XIOM Axelo is not on par with most high-end offensive blades available in the market.
Conclusion
We think that Axelo ping pong blade by XIOM is a good value for money as it gives you the craftmanship, technology, speed and power of its rather expensive counterparts. This blade is designed to suit offensive style game; from its light weight to thickness and ability to generate spin.
If you are a pro at table tennis, and like an offensive, incredibly accelerated combat, this blade would allow you to create and counter a variety of strokes. Its killer speed will give you the necessary power to execute powerful smashes and hits.
One downside is the fact that this blade is not durable and would affect your game after 2 to 3 months of regular usage.