The original Nittaku Acoustic blade has been a top favorite among table tennis athletes for decades. However, wooden blades are not fast enough for modern day offensive battles.
With the invention of carbon technology, more speed and spin were added to blades, so this staple blade also had to upgrade.
Nittaku (successfully) attempted to blend the original Acoustic's finesse with carbon technology's speed and spin, and created Nittaku Acoustic Carbon. This blade lives up to the expectations ascribed to Japanese blades made by Nittaku.
If you want to have the softness of a wooden blade, but speed of a carbon one, Nittaku Acoustic Carbon doesn't disappoint and is arguably the best. It is considered one of the finest blades in the market. Let's see what makes this blade worth buying.
Nittaku Acoustic Carbon Specifications
Our Rating: 4.9/5.0
Price: $$$
Class: OFF
Weight: 90g
Thickness: 5.5mm
Size: 157 x 150mm
Plies: 7
Material: 5 wood + 2 FE carbon
Control: 8.9
Speed: 9.2
Stiffness: 6.1
Consistency: 8.8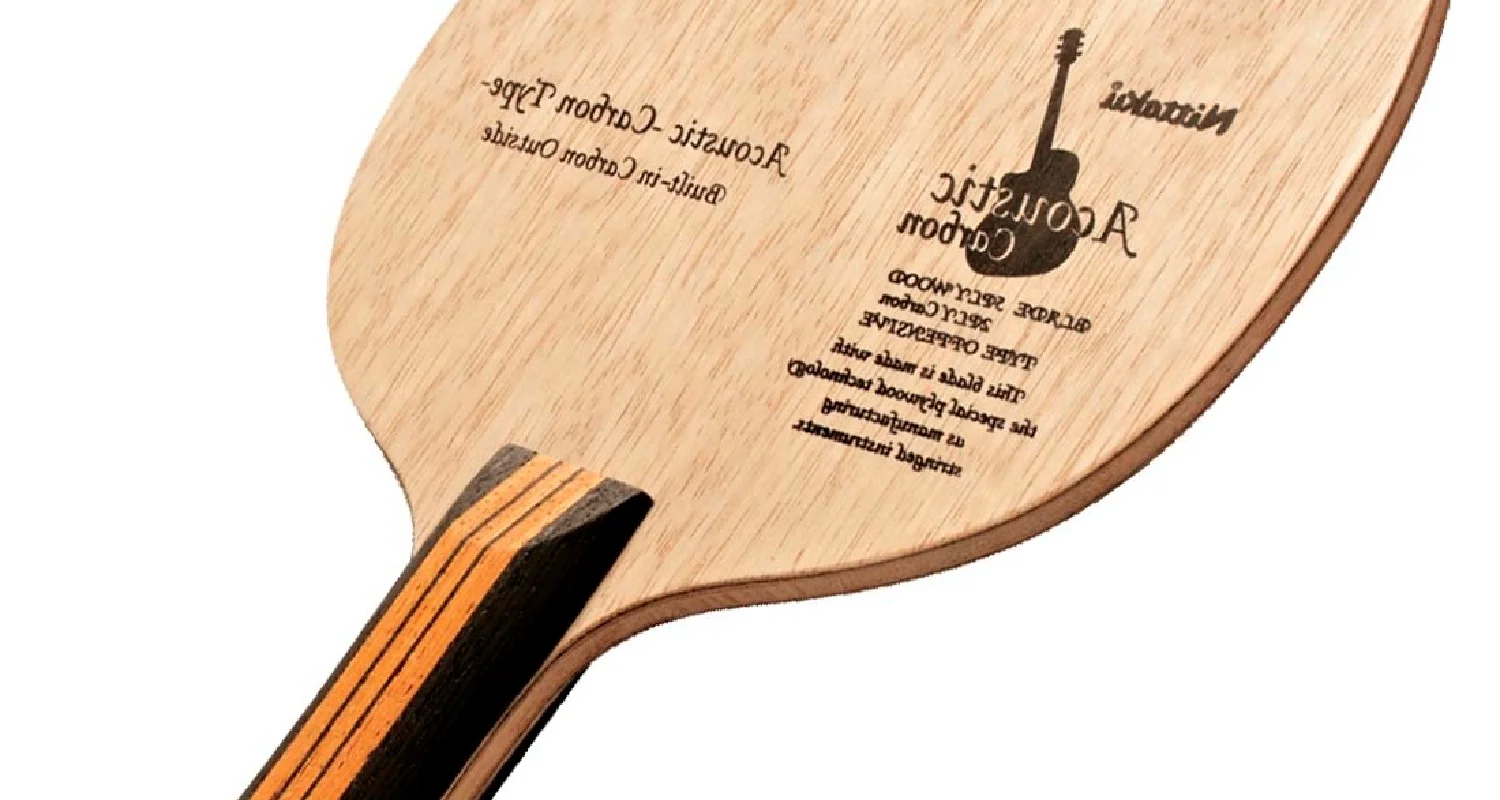 What to Expect?
Players have revered the original Nittaku blade, as that blade offered a certain feel and touch that is very unique to allwood blades.
However, the original lacked speed and people expected Nittaku to up its game and introduce a new generation blade that would have the same finesse the original had. Coming from Nittaku, we expect the blade to live up to its reputation and offer first-rate quality and noteworthy performance.
Moreover, being an offensive blade, it should also give the player sufficient power with balanced control. This blade was used by Ma Long, who is considered the greatest table tennis player of all time. Let's see if it lives up to the hype.
Elite Construction
The blade features string instrument manufacturing technology, produced with high quality wood. This technology is supposed to add more softness and a larger sweet spot.
The construction feels even more superior with laminated strings. FE stands for FEEL carbon, and the use of this technology is directed at adding softness to the blade. This technology is similar to the standard ALC Carbon (Arylate Carbon) blades.
Nittaku tried to retain the feel and uniqueness of a wooden blade but introduced innovative technology, suited to modern day combat. This blade almost feels like an allwood one with added speed, spin and power. Its thick outer layers prevent the ball from bouncing too fast or too excessively, thus giving you more control.
Feel
This blade feels wooden but performs like the new generation carbon blades. It feels hard, and is therefore very stiff. We can safely say that is it the stiffest blade produced by Nittaku, and doesn't have a catapult effect.
However, if you like a rigid blade, and the crisp smashing feeling while hitting powerful shots, this blade might be the perfect choice for you. The toughness and solid feel give you the necessary power for offensive strikes.
The blade also has a smooth grip and a comparatively larger sweet spot. One can execute fast yet spin oriented shots, without losing control. Although it's a heavier blade, its weight is balanced, giving you a low throw angle.
Offensive Strikes
The blade responds incredibly well towards offensive and speedy strikes. You can get a good amount of dwell time with medium bounce, and a convenient push. Returns are smooth as well. It works great with an offensive type opponent, as blocking is very comfortable with both forehand and backhand.
With the appropriate rubber, you can play perfect loops and drives. It is also very consistent when it comes to smashing, perfect for offensive combat. If you are playing with low to medium power, this blade is going to give you the right amount of spin as well.
Who is this for?
Nittaku Acoustic Carbon is one of the very few blades in the market which is suitable for all levels of players; it works equally adequately for beginners as well as professional athletes.
Although players have reported that its also suitable for allround athletes, it truly shines in an offensive battle. This blade works best close to mid-distance from the table and responds well to spin oriented shots.
Moreover, it is among the heaviest in market and thus the weight must be balanced with an appropriate rubber. The blade is also perfect for the new polyball.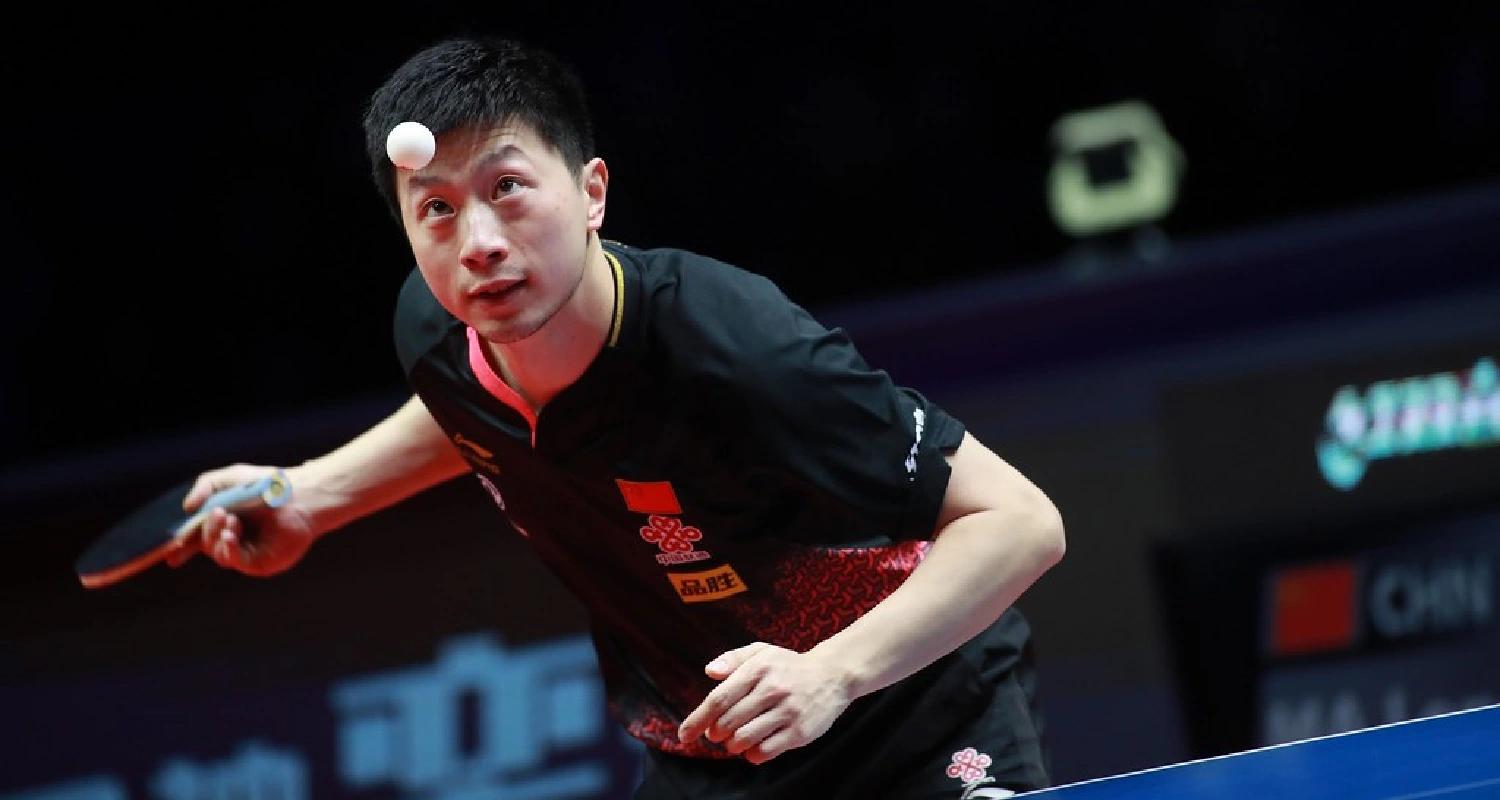 Pros
Balanced Speed and Control
The blade is remarkably fast but not too fast, primarily due to its weight. This aspect works in players' favor because appropriate speed lends a lot of control.
As, with most of the fast blades, one might experience less control—over the game or the execution of perfect strikes. However, Nittaku Acoustic Carbon worked well on this problem and provides you the perfect amount of control.
As pointed put earlier, due to its rigidity, it gives you a smooth play. It doesn't feel excessively springy, which is a good point as springiness might cause one to lose control. Moreover, the blade transfers little to no vibrations to the player, and is adaptable to various techniques.
Superior Quality
One of the most unique features of this blade is its thickness. The outer layers of the blade are thicker than the inner ones, which doesn't only increase the dwell time, but also adds to blade's durability.
This blade is going to last you a while and retain its superior quality even with aggressive play and excessive training. The standard Nittaku FL handle has a convenient grip as well. The blade truly is an investment.
Cons
Weight
If less weight of a paddle of important to you, this blade might feel very inconvenient. It is heavier than most offensive ping pong blades due to 7 layers which are considerably thick. However, you can compensate the heavy weight with using lighter rubbers, as the blade performs exceptionally well.
Not Suitable for Far-distanced Battle
This blade is not appropriate for the players who play far from the table, as its performance is affected in negative terms. If you prefer to play far from the table, you might feel that the blade is less consistent. You might also experience a lack of control. Additionally, spin generation is not as exceptional as it is close distance.
Our Rating: 4.9/5
We could hardly find fault with the Nittaku Acoustic Carbon, and it secures the top place in our list for best offensive blades. We highly recommend this blade to both novice and expert players, as its superior quality and awesome control are matchless.
The right amount of stiffness coupled with precise shots are sure to up your gaming experience. Moreover, it's soft but rigid touch is perfect for controlled yet powerful strikes.
Conclusion
If you are looking for an all-wood feel but want the benefits of the new generation carbon blades, then Nittaku Acoustic Carbon is hands down the best table tennis blade for you.
This blade presents a perfect blend of all the best qualities we look for in an offensive blade. The blade is perfectly discreet when passive but explosive when it comes to offensive shots.
Moreover, it is fast but not overwhelmingly fast. It allows you a full swing destructive shot as well as a compact arm movement. It has a gratifying crisp sound and a soft feel. This blade delivers what it promises and we highly recommend it.