If you are into table tennis, it's highly unlikely that you haven't heard of the Butterfly Balsa Carbo X5 blade. Today, let's see what the hype is about.
The table tennis blade is considered the soul of your playing style. Choosing the right blade is crucial in table tennis as it decides 80% of your playing strategy, lending a crispier feel during ball contact, giving it the ability to spin.
A good blade is supposed to accelerate the speed of your shots and provide the kick effect based on stiffness of outer layer. Butterfly's Balsa Carbo X5 blade is the company's first lightweight blade.
It combines a light wood that creates an excellent hitting feel with a strong carbon fiber. If you are an offensive or all-round player, in search of a versatile, lightweight blade with great drive and control, you have landed in the right place.
You may try this if you want a product that will provide you good control while also maintaining a balance between considerable speed and a strong spin.
Balsa blades are becoming increasingly popular across the world! Let's see what this blade has to offer you.
Butterfly Balsa Carbo X5 Specifications
Our Rating: 4.7/5.0
Price: $$$
Type: Offensive, All-round
Weight: 80g
Size: 159 x 150 mm
Speed: 9.0
Control: 8.0
Plies: 5
Materials: Balsa core, 2 carbon layers
Thickness: 7mm
Stiffness: 4.7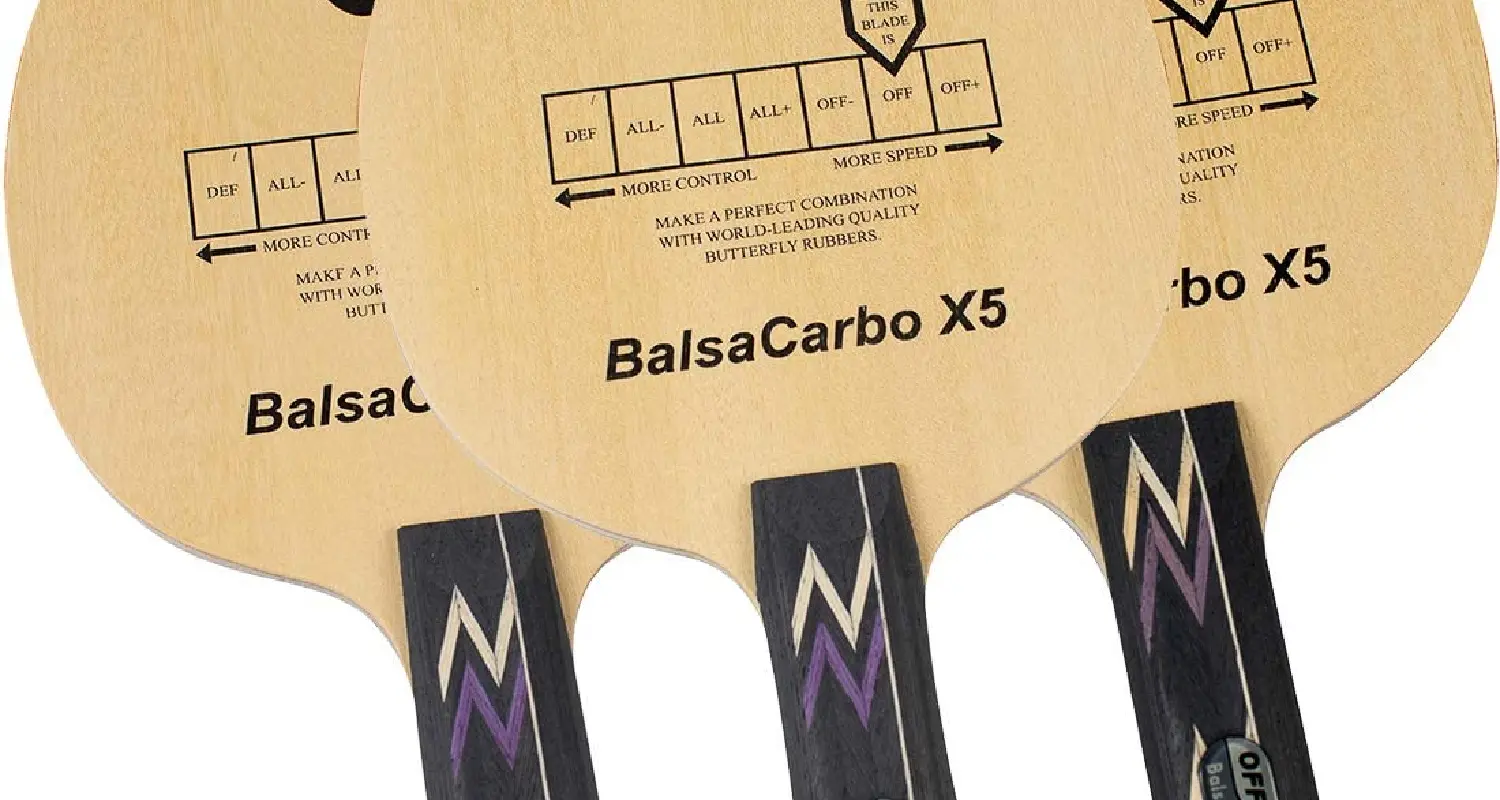 What to Expect?
Balsa Carbo X5 by Butterfly utilizes balsa cores and therefore promises a unique touch and excellent control. It is supposed to be light-weight, giving incredible consistency and ability to play a variety of techniques.
We expect this blade to be well balanced and suitable for offensive play. Let's see of it meets our expectations or not.
On-Point Construction
Balsa Carbo X5 is one of Butterfly's most popular and lightest table tennis blades. It is made of 5 plies, 3 layers of Balsa wood, 2 layers of carbon.
The balsa core of the blade is combined with two layers of carbon which enhance speed and power while providing the soft feel and ensuring effortless and effective blocking.
Balsa is a premium, special wood that is very light. It lends table tennis blades an exceptional lightness that cannot be achieved with regular wood. Balsa wood also gives blades the ability to play different backhand and forehand strikes.
Maximum Control
The level of control it gives a player sets it apart from other ping pong blades. It is undoubtedly one of Butterfly's most controlled carbon composite blades. You may effortlessly do world-class blocking, primarily due to its large sweet spot.
Powerful Shake-hand Grip
The grip is indeed quite smooth, a relatively thick handle which can increase the speed and intensity of the throw. It provides powerful topspin for attacking players who prefer shake-hand grip.
Power, Speed and Dwell Time
Though not the fastest blade, it does give reasonable speed when used with fast rubbers like as the Butterfly Bryce Speed FX or Butterfly Tenergy 80.
Additionally, as it is a soft, lightweight blade, it has a longer dwell period, which allows you to easily create a variety of topspin. Longer dwell time also allows enhances the blade's power and speed.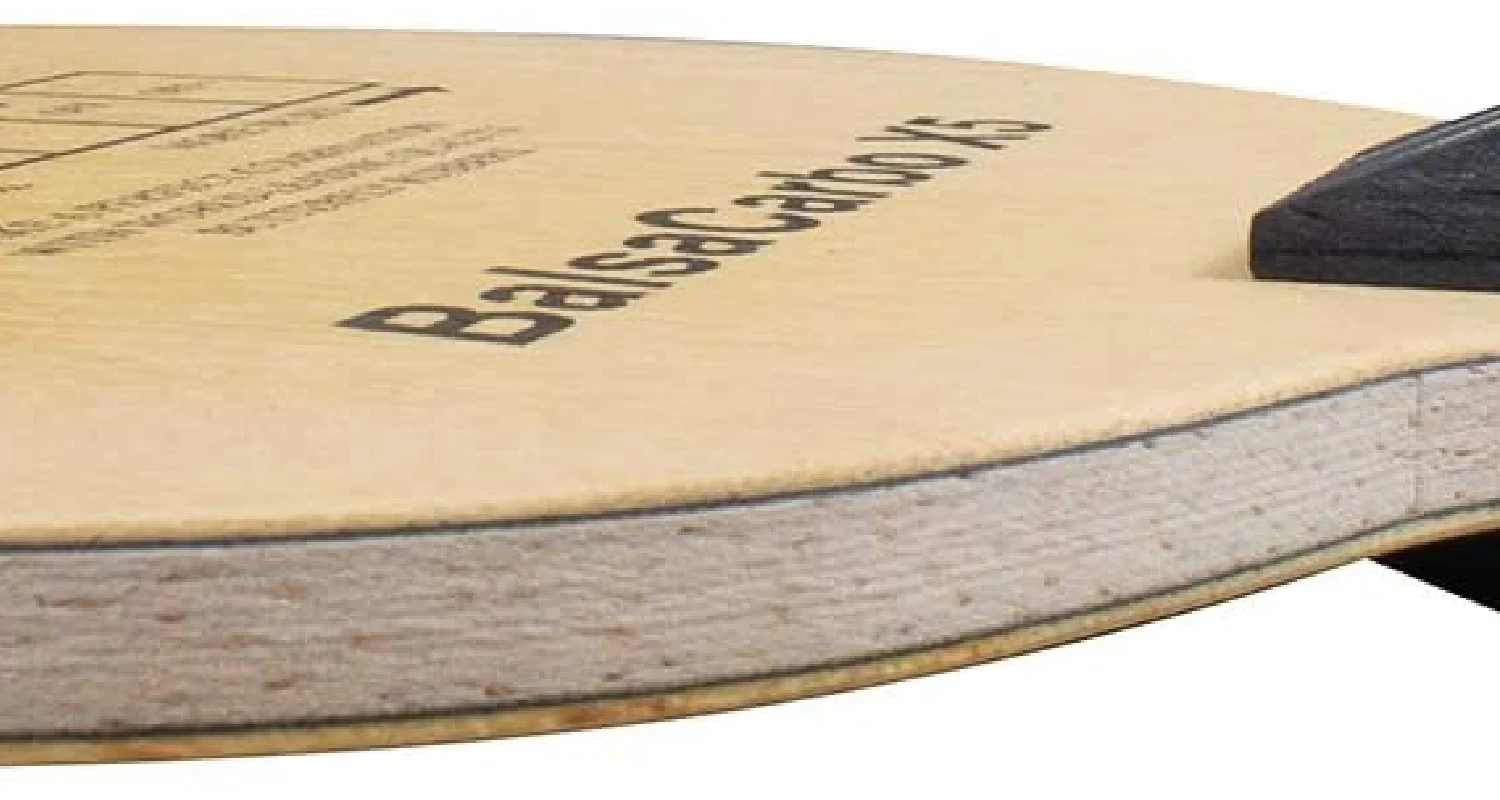 Who is this Blade for?
Butterfly Balsa Carbo X5 is for intermediate to advance table tennis players, specifically those who like a perfect balance of speed, spin, and control. We do not recommend it to beginners, as it requires a certain level of skill.
Moreover, because certain players may feel insufficient power while playing from a long distance, it is best suited for attacking close-to-the-table play.
Pros
Lightweight
When shopping for sports equipment, the most significant consideration should be the weight. While playing, you should conserve more energy by playing rather than holding the gaming equipment.
When it comes to the butterfly Balsa carbo X5, however you need not worry because it is incredibly light in weight and helps improve your gameplay.
The material used is two layers of carbon making it light and strong with high elasticity and enabling high performance.
Offers Good Speed to Control Ratio
Speed, spin and control are the most important features that make table tennis blade different and worth investing in. Butterfly Balsa Carbo X5 stands out from other top table tennis blades with the degree of control it provides a player.
An excellent balance between speed and power, allows for a high level of control. It is, without a doubt, one of Butterfly's most versatile carbon composite blades.
Superior quality
The Balsa Carbo X5 combines a light wood that creates a superb hitting feel with a strong carbon fiber. It has a pleasant soft feel and the carbon fiber provides excellent technique when playing.
The carbon layers enable you to smash with a reasonable force and exceptional precision, allowing you to strike some of the finest shots.
Perfect for Loopers
The blade is perfect for loopers as you can generate loads of spin with this blade, because it gives an excellent feel when performing both topspin drive and loop.
It works fine with smash and flat hitting if used with right rubbers.
Throw Angle
Overall, the blade allows pretty high throw angle which is ideal for close-to-the-table, offensive players. Balsa Carbo X5 blades allows you to smash with reasonably high power and exceptional precision. The smashes produce a gratifying, crisp sound.
Close Combat
Balsa carbo X5 blade is primarily intended for close-to-the-table strikes, but it also has enough strength to perform from a mid-distance with strong topspin. from mid to close distance, it also allows you to counter topspin drive and loop easily.
Affordable
Butterfly Balsa Carbo X5 is an excellent table tennis blade with a friendly price. It utilizes excellent craftmanship and offers you a great mix of speed, spin, and control, at a comparatively low price.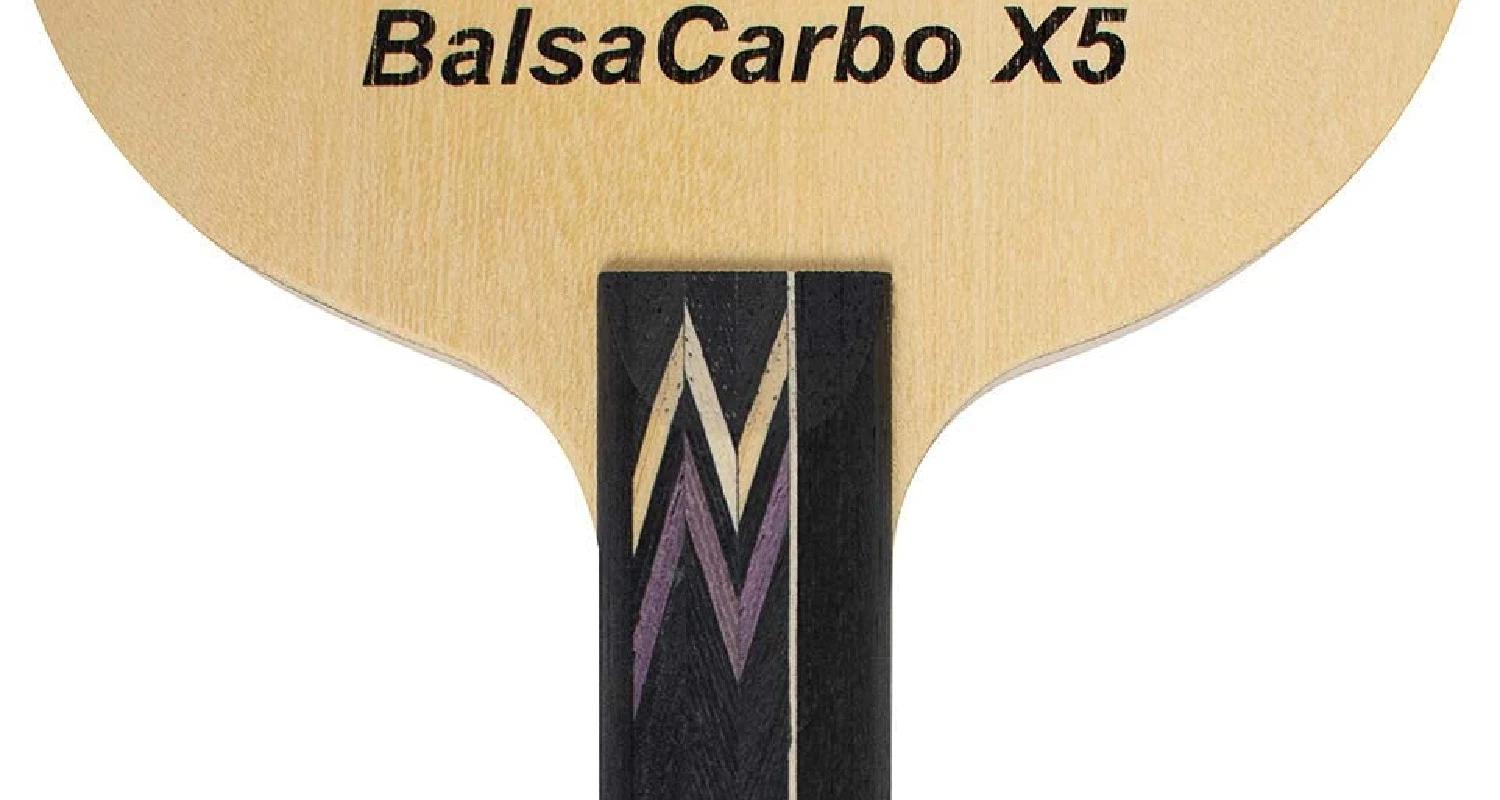 Cons
Durability
When compared to other Butterfly table tennis blades, its durability and consistency are quite low. The blade has a very soft surface and somewhat thick handle.
As a result, the soft surface may readily get damaged and edges might get chipped, especially during offensive training.
Sensitive to Hard and Fast rubbers
This blade is very sensitive so you need to be careful with hard and fast rubbers on it but works great with soft butterfly rubbers.
Our Rating: 4.7/5
This table tennis blade is a popular and reasonably priced option. The Balsa composite core of this blade makes the blade light, allowing you to swing at high speeds. Carbon fiber layers have been added to increase the power of the racket.
The rubber minimizes energy loss by up to 18% more than other rubbers making it worth an investment for effective and enjoyable play.
Conclusion
Butterfly Balsa Carbo X5, with exceptional speed, touch and control is an excellent choice for intermediate or professional players. The ITTF's approval attests to its excellence.
The Balsa Carbo X5 core combines a light wood that creates a superb hitting feel with a strong carbon fiber. This lightweight table tennis racket is also suitable for aggressive players who wish to take advantage of spin and speed to increase their chances of winning the game.
The blade provides superb control as well as an incredible mix of speed and spin. Those who like to play little offensive and attackers may find this product exceptionally pleasing.
It would be a good experience for intermediate players as well due to it's amazing features. This blade delivers what it promises and we highly recommend it.