Butterfly Balsa Carbo X5 FL 80 proline is one of the better all-rounders in the market. For every playing style, there is something of benefit, if you buy this paddle.
One of the best paddles to come out of Butterfly, in recent times, and it is highly rated, due to many different reasons!
Butterfly Balsa Carbo X5 FL 80 Proline Paddle Specifications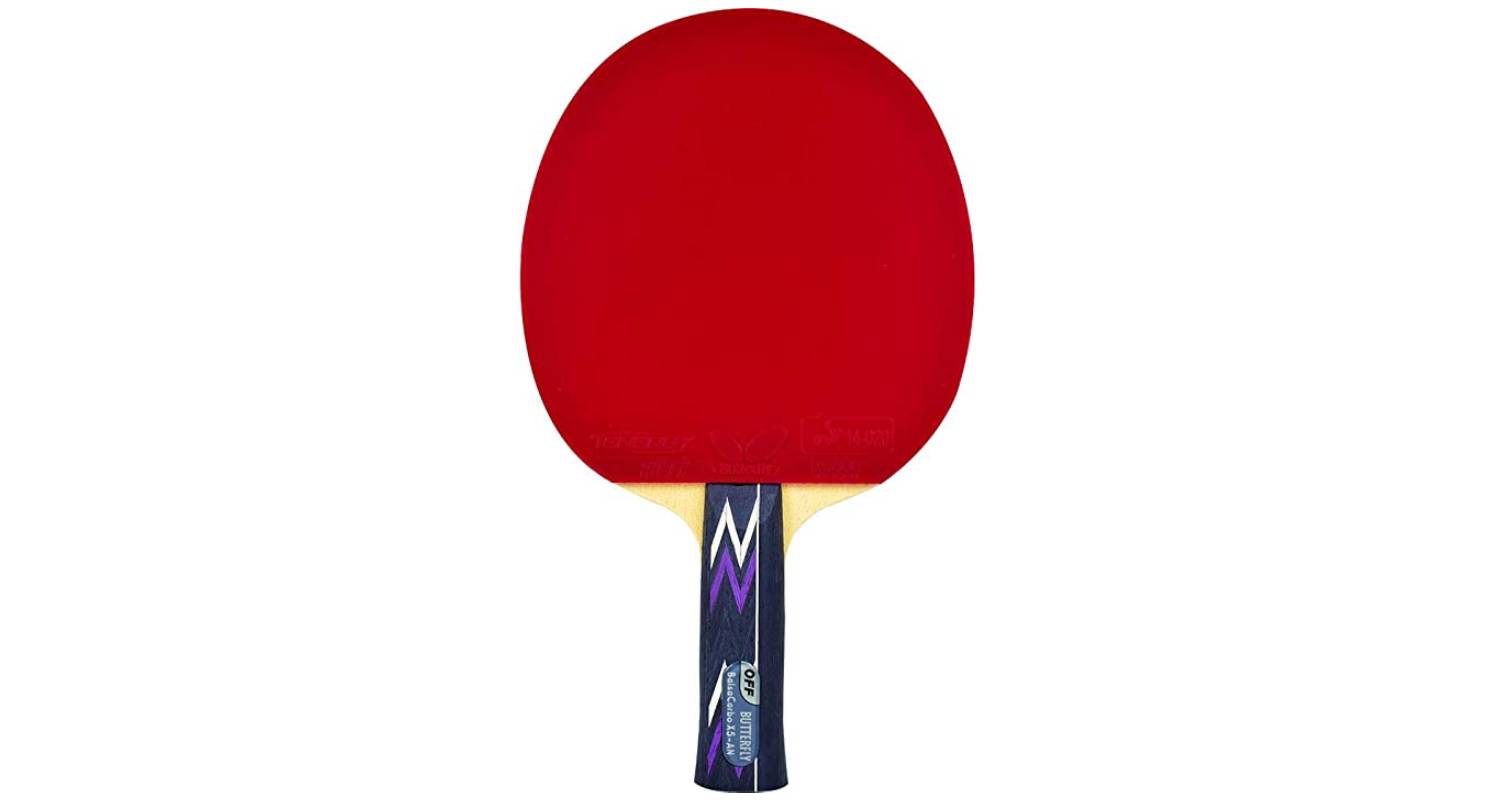 Our Rating: 4.2/5
Grip Type: Shakehand
Price: $$$$
Weight: 2.8 oz / 80 grams
Play Rating
Speed: 8.5/10
Spin: 8.5/10
Control: 8.7/10
Durability: 5.5/10
Materials
Plies: 5 plies (Balsa with 2 carbon)
Rubbers: Tenergy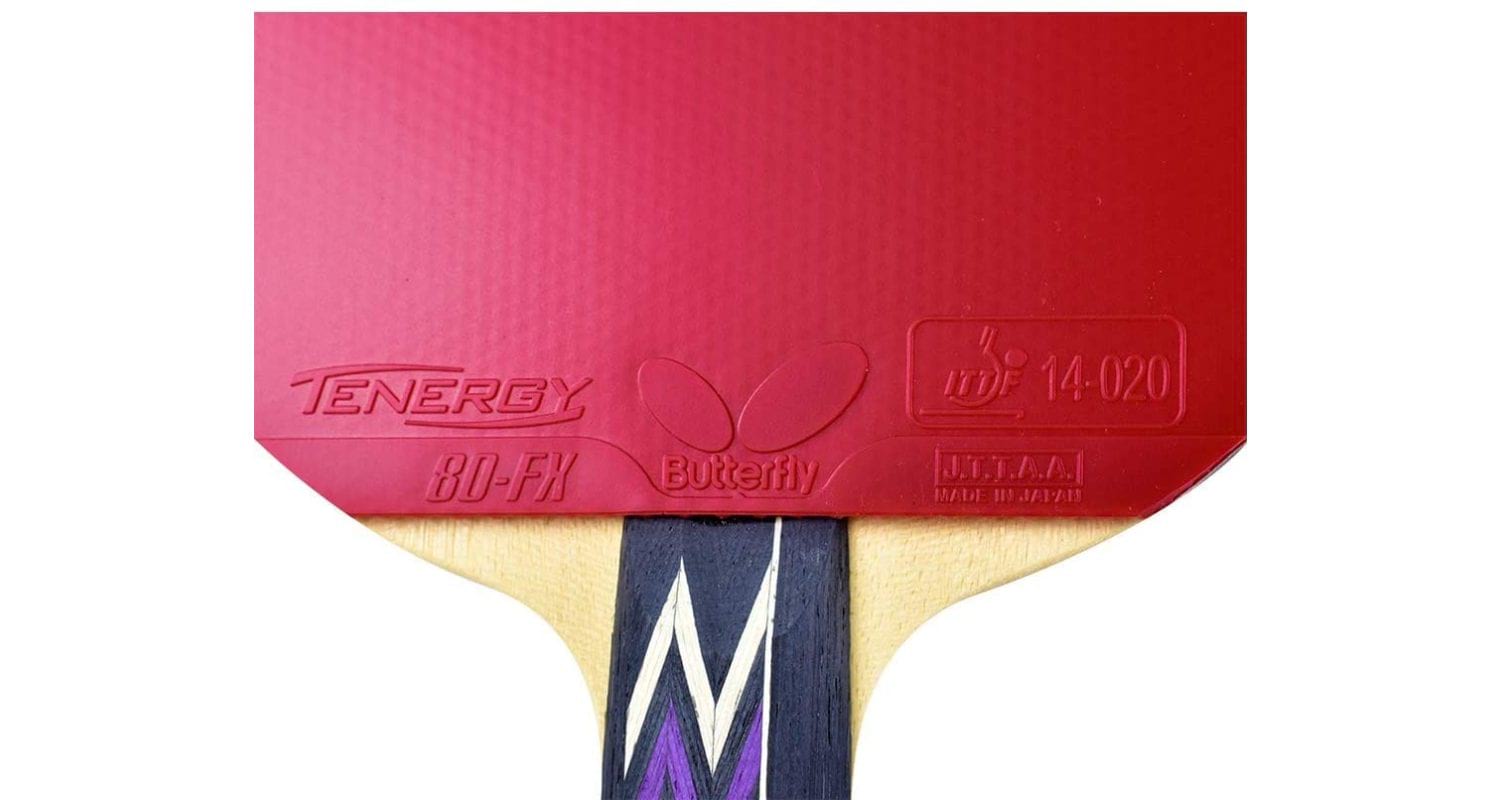 Paddle Ratings
Speed: 8.5/10
Spin: 8.5
Control: 8.7/10
Durability: 5.5/10
Our Rating: 8.5/10
What to Expect?
The Butterfly Balsa Carbo X5 Tenergy 80 FX is one of the best paddles in the world, given the multitude of things you can do with it. It has a host of features, and we cannot wait to dive right into them.
Hand Assembly
Butterfly Balsa Carbo X5 FL 80 proline is assembled by hand in the USA. They use the Butterfly Free Chack glue to ensure maximum stick on and it is placed inside the Butterfly blade box. This increases the sophistication needed in the creation of the Butterfly Balsa Carbo.
Balsa Carbo X5 Carbon Blade
Like many paddles made for aggressive usage, this one is also accompanied by carbon plies. This not only makes the paddle lightweight but adds to the power and speed you can generate. Balsa wood is considered to be extremely lightweight and soft without sacrificing strength and durability.
Tenergy 80 FX Rubber
This is a high-quality rubber, that is used majorly by professionals for tournament uses. It provides the optimum balance required between complete aggressive play and defensive strength. The high-speed generation along with spin is a part and parcel of the Tenergy 80 FX rubber, however, the addition of Balsa wood being soft means that you also do not lose control.
Butterfly Production
Butterfly Balsa Carbo X5 FL 80 proline is made in Japan by Butterfly. It was created custom-made, and the idea was to make a paddle that can be molded into anything at will. When joined together with the Tenergy 80 FX rubber, it becomes a beast! Some metrics have rated its speed and spin as high as 10/10. What more can one say?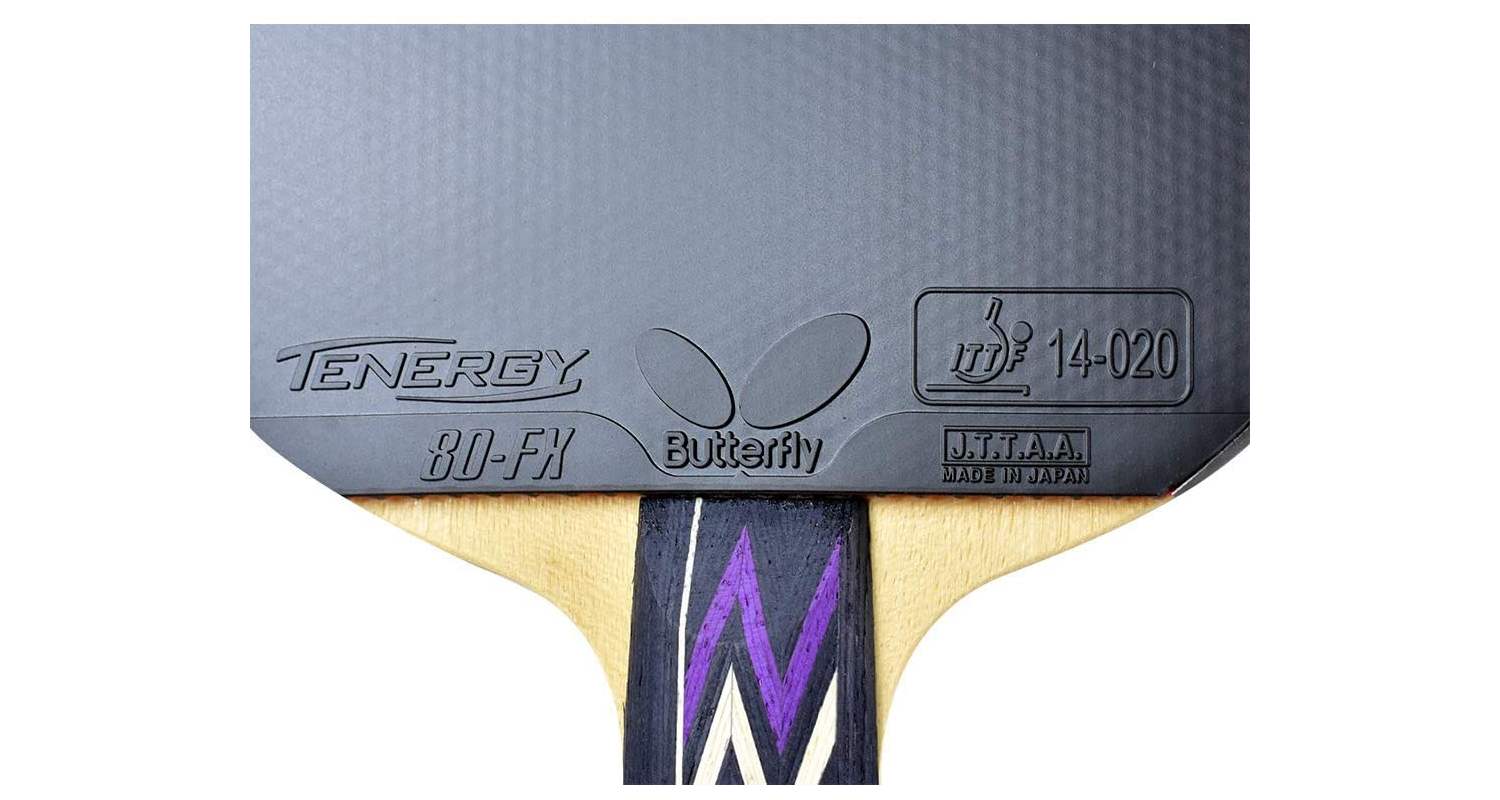 Pros
All-in-One
If you need extreme speed, along with the above-average generation of spin, ensuring that you do not sacrifice a lot of control, then your best bet has to be this Butterfly ping pong paddle. It is not only a supreme paddle; it comes with the promise of taking your game to the next level! There is so much you can do with it, so many different types of shots can be played, that you are invincible and so unpredictable!
Tenergy 80 FX Rubber
One of the highest quality rubbers you can ever buy. It is top of the line and used in ITTF tournaments. Tenergy 80 FX mixes spin and speed, and this blend is lethal. The lightweight of the paddle itself is a huge help in making the combination unbeatable!
Super Lightweight
Lightweight paddles can be a gamechanger. Even though the Balsa Carbo X5 has quite a lightweight blade, it does not waver even in the most intense rallies of the match. It can take a beating, and you might only need to change the rubber, but even that, won't be any time soon!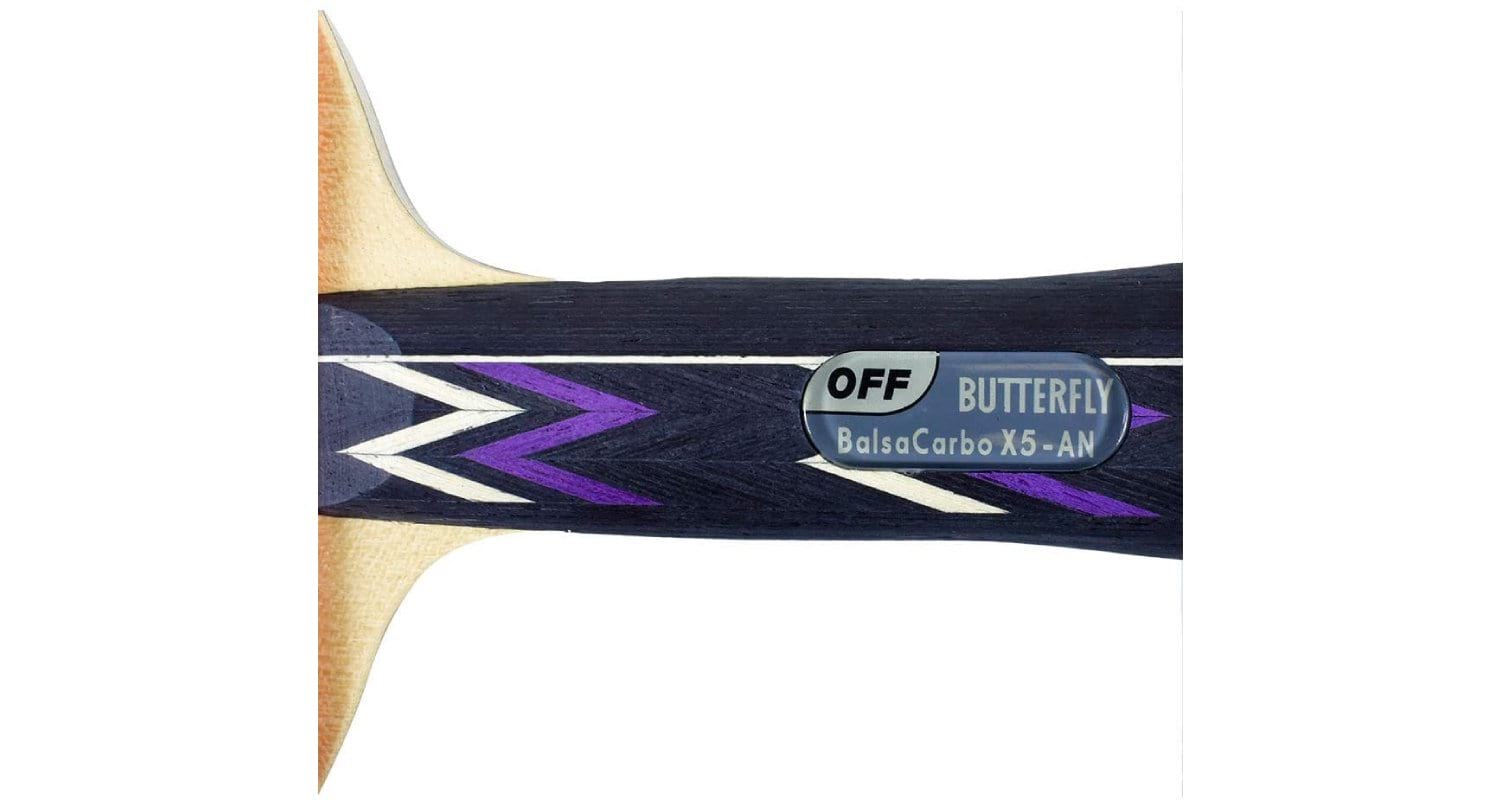 Cons
Very Expensive
The biggest drawback of the Butterfly Balsa Carbo X5 Tenergy 80 FX is the fact that it costs way too much. Most custom-assembled things are expensive but even considering all of those things, you realize that this is too much! If you are not a regular, it makes no sense to spend so big on this paddle.
Flimsy & Delicate
Butterfly Balsa Carbo X5 FL 80 proline comes as no surprise that an item that is this lightweight, is always at risk of being broken. Of course, it is not fragile and will not snap while you are playing. It is more about ensuring where you keep the paddle and whether or not you are careful in storage.
Balsa wood is still considered to be durable, however, we do not recommend taking your chances on a paddle that costs so much. It is, after all, a good investment, if you do buy it, so we would suggest taking good care of it, as well!
Not For Beginners
For all of its features, it is simply not suitable for beginners. Until and unless, you are playing at an intermediate level, we will not recommend making this purchase. It is quite suitable for senior-level players because of its multiple features, but it comes at a steep price and it makes little sense for beginners to break the bank over a product that they will not fully appreciate.
Our Rating: 4.2/5
Butterfly Balsa Carbo X5 FL 80 proline could have been rated higher. The biggest drawback for us has to be its steep price and the fact that it is just not durable. However, it does have several redeeming features.
It is not just an aggressive-styled ping pong paddle. It is a superb all-rounder.
You get all kinds of shots, and you can push the opposition and keep them guessing. This is a huge plus and of the major reasons why we like this paddle so much! All in all, if you are an intermediate or professional player, you should give it a shot, because there is a good chance that this might become your favorite!
Frequently Asked Questions
Is this the actual name of the paddle, Butterfly Balsa Carbo X5 Tenergy 80 FX?
Yes, the name of the paddle is Butterfly Balsa Carbo X5 Tenergy 80 FX. It is different when compared to other names of paddles in the world. It is nice, though, gives a bit of a custom feel, which is similar to the nature of the paddle itself.
Is Butterfly Balsa Carbo X5 Tenergy 80 FX accompanied by a cover?
No. You will have to buy a cover separately, and it is highly recommended that you buy a cover because the paddle costs quite a bit!
Can I change the rubber on backhand?
Yes, it is up to the player to decide what rubber they want. Usually, the preference is getting Tenergy 80 FX on the forehand and Tenergy 05 on the backhand, but this is for high-level players, who are used to such skillful play.
What handle does it have?
There are three options to choose from. You choose the handle, and it up to you to decide which one you want.
Conclusion
Conclusively, this Butterfly table tennis bat is amazing but it depends on who is using it. For professionals, there are fewer options better than this one. Initially, it can be observed that the paddle is made for close-to-the-table attacks but at the same time, you can generate enough to keep the opponent at bay from mid-distance.
There are some issues, though. For instance, some users have found Butterfly Balsa Carbo X5 FL 80 proline quite delicate, and for the price you are paying, it ends up being a little too expensive. There is no doubt that the price is justified, at the end of the day, but it also rules out many people who cannot afford it!