Table tennis paddle plays a huge role in allowing you to perform better (or worse), as its properties highly influence the style of one's game. Most blades already come rated as all-round, offensive, or defensive, however, sometimes, the blade might not perform as it is marketed.
Butterfly Timo Boll Offensive Proline w/Sriver is also one such blade where marketability is a bit deceptive. No matter the level or style of game you play, this article will help you decide if this blade is good for you–unlike the label on the package.
Let's dive into the blade's specifications and see if it holds to what Butterfly is known for.
Butterfly Timo Boll Offensive Proline w/Sriver Product Specifications
Overview
Our Rating: 4.2/5.0
Grip Type: Shakehand (flared)
Price: $$$
Play Rating
Speed: 8.0/10
Spin: 8.0/10
Control: 9.0/10
Durability: 9.0/10
Materials
Type: OFF
Weight: 85g (approximately)
Dimensions: 11 x 6.5 x 1 inches
Thickness: 7mm
Material: Wood
Plies: 5
Rubber: Sriver (Black and Red)
Sponge: 2.1 mm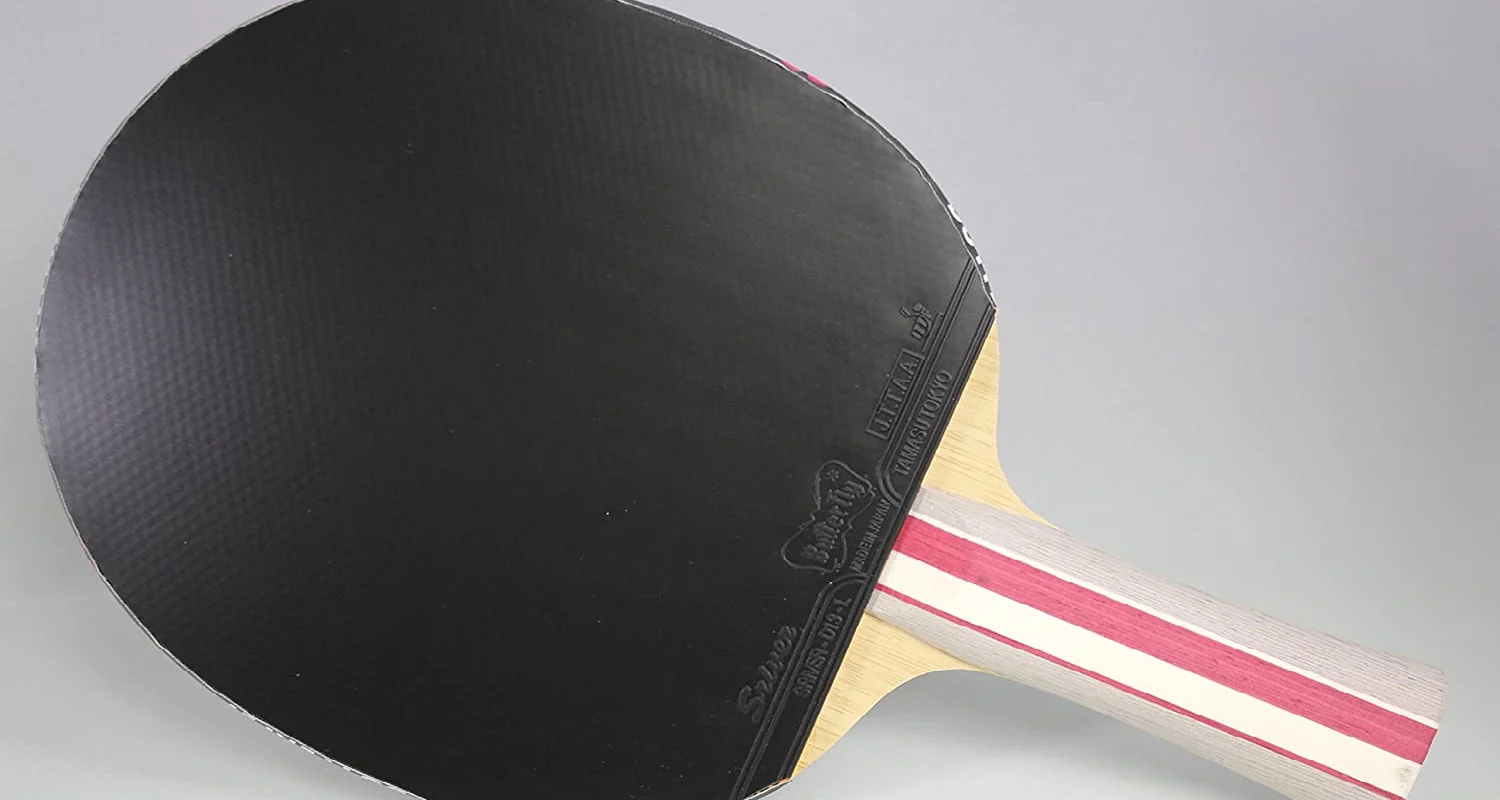 What to Expect?
Butterfly is a household name in table tennis. Their products, especially blades, are preferred by professional players worldwide. Butterfly's Timo Boll comes in various versions–from all wood to carbon and offensive to all-round–and is known for speed, control, and quality topspin.
This paddle is ITTF (International Table Tennis Federation) approved, which adds to its merits. As an OFF rated blade, we expect the blade to have hurricane speed, without compromising on consistency and control.
Good offensive blades are also expected to be light, able to generate aggressive spin attacks, and durable. Let's see how this one holds up.
Construction
Like most Butterfly paddles, Timo Boll Proline doesn't disappoint when it comes to construction. Allwood blades are known for their consistency and even with the latest carbon technology being featured in most offensive blades, some players opt for them as they are unique.
This blade features Sriver 2.1 rubber which is a very famous all-around rubber that has been loved by players for the last 25 years and is appreciated due to its spin and control. It is also considered the best rubber for beginners.
Butterfly Timo Boll Offensive Proline w/Sriver Paddle comes fully assembled, with a flared handle that is concave at the center. This is the most popular style of the handle as it is supposed to give a firm yet comfortable grip.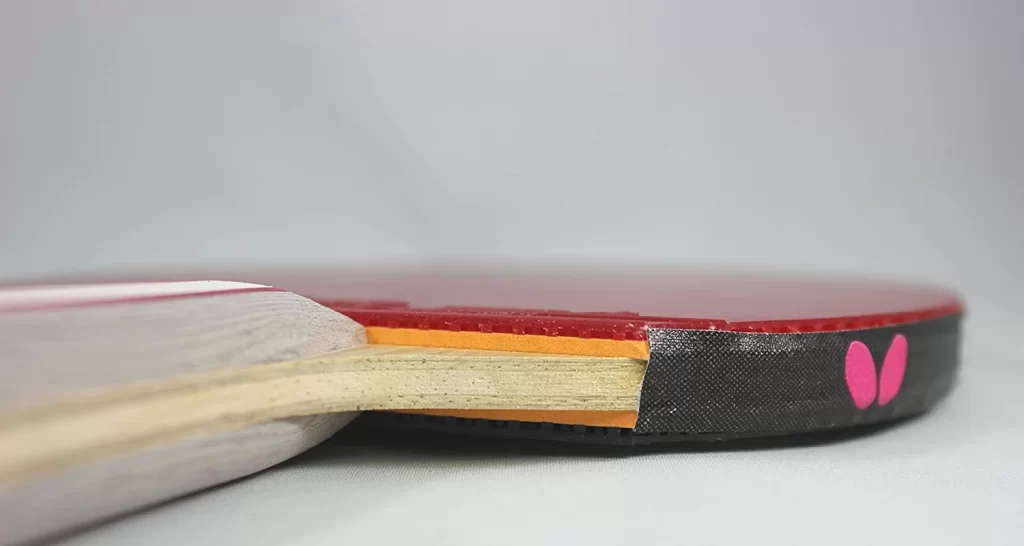 Pros
Control
Allwood blades, especially the ones with 5 plies, are known for their control and Butterfly Proline Offensive meets the mark. This paddle enables controlled yet moderately powerful shots.
It is also very effective in blocks and counters as due to its weight; things never go out of hand. It is perfectly suited to a more controlled, safer style, which is the hallmark of all-around players.
Durability
Butterfly creates quality equipment, able to withstand damage. If properly cared for, Timo Boll Proline will last for years. With consistent use, the rubber can get worn out, which is replaceable.
The glue or rubber will not leave residue and you can replace the rubber yourself or take help from a professional. This blade is one of the most reasonably priced table tennis blades by Butterfly and when it comes to sturdiness and durability, it is worth every penny.
Backhand and Forehand
The Boll Offensive Proline has a good amount of dwell time which helps with backhand and forehand. As consistency is one defining characteristic of this blade, you can create or counter spins without compromising control.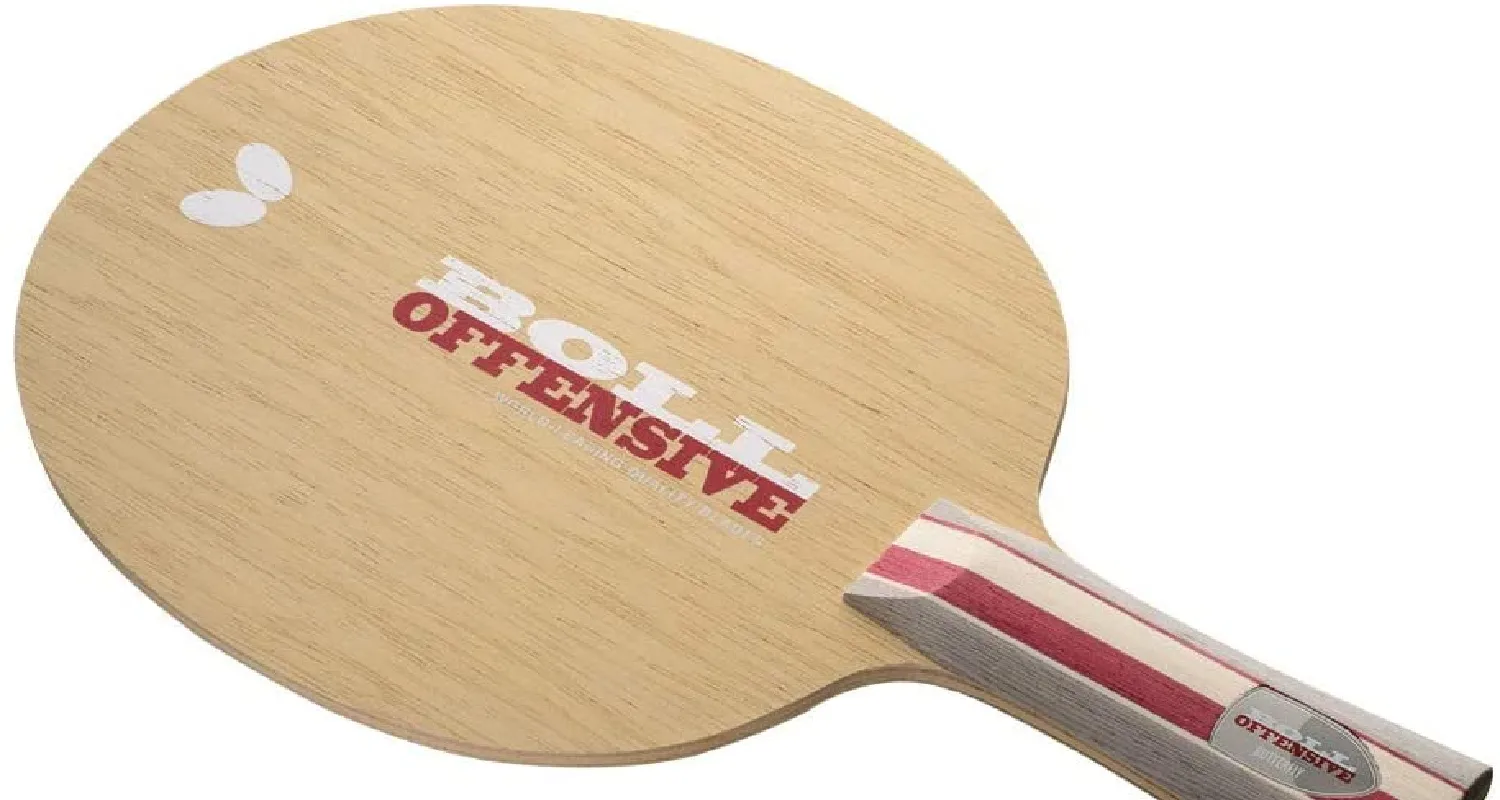 Cons
NOT an Offensive Paddle
As pointed out earlier, an all-wood blade with 5 plies is considered the definition of an all-round blade. Additionally, although this paddle is rated OFF, it performs like an all-round one. The blade simply lacks the power and speed that the most recent carbon arylate paddles possess these days.
If you are looking for an offensive paddle, you should go for the ones with 7 to 9 plies and might try the latest carbon ones. They provide extra strength and are faster.
Slow Speed
Speed is one of the most important characteristics of an offensive blade and Butterfly Timo Boll Proline Offensive disappoints. It will not give you the power shots that you so desire and might end up wasting your money.
You can train with this blade, but not worth it if you are a professional with an offensive style.
Heavy Weight
Offensive paddles are supposed to be lighter in weight so that they could generate spin without much effort.
However, at 80 grams, Boll Offensive Proline w/Sriver is a relatively heavier paddle and might hinder the player from creating faster, more powerful shots.
Not Tournament Level
Butterfly Timo Boll Proline Offensive w/Sriver is marketed as a tournament-level paddle, made for professionals. However, this paddle is not for professional players at all as it lacks the power and speed that a professional-grade paddle possesses.
You cannot use it in tournaments, as the paddle is not even tournament-grade. If you are an all-round, intermediate player, then you can use this for training purposes.
Our Rating: 4.2/5.0
Even if Timo Boll Proline is rated OFF, we see it as an all-round blade, simply not suited for an offensive play. Although there is a clash between how the blade is marketed and how it performs, in terms of quality and durability, Butterfly doesn't completely disappoint.
It is a consistent blade, with a large sweet spot, excellent for looping and for generating spin. We would recommend this blade to anyone who is an all-round intermediate player, wanting to up their table tennis game.
Conclusion
Butterfly Timo Boll Offensive Proline w/Sriver is an excellent paddle if you are looking for an all-round blade that is very slightly offensive-minded. You can generate a well-balanced and controlled attack and can train with this paddle to develop good technique and mechanics.
However, this is not an offensive blade and disappoints, especially when compared to the latest carbon ones, as it doesn't have much speed due to its heavy weight and so cannot produce power-packed shots.
Its construction and performance align well with an excellent all-round blade and we believe that Butterfly must market it as one.