Butterfly is one of the most famous names in the world of table tennis and for good reason. They have continued to produce top-notch products and those products are good enough to be a part and parcel of the very best athletes around the world.
The Butterfly Dignics 05 remains a highly used option for backhand and forehand and has been the bread and butter of big names like Jun Mizutani, Yukiya Uda, Tomokazu Harimoto, etc.
Butterfly Dignics 05 Specifications
Our Rating: 4.9/5.0
Speed: 8.2
Spin: 8.9
Control: 8.0
Gears: 8.0
Consistency: 7.8
Durability: 7.7
Tackiness: 2.0
Weight: 5.0
Sponge Hardness: 6.9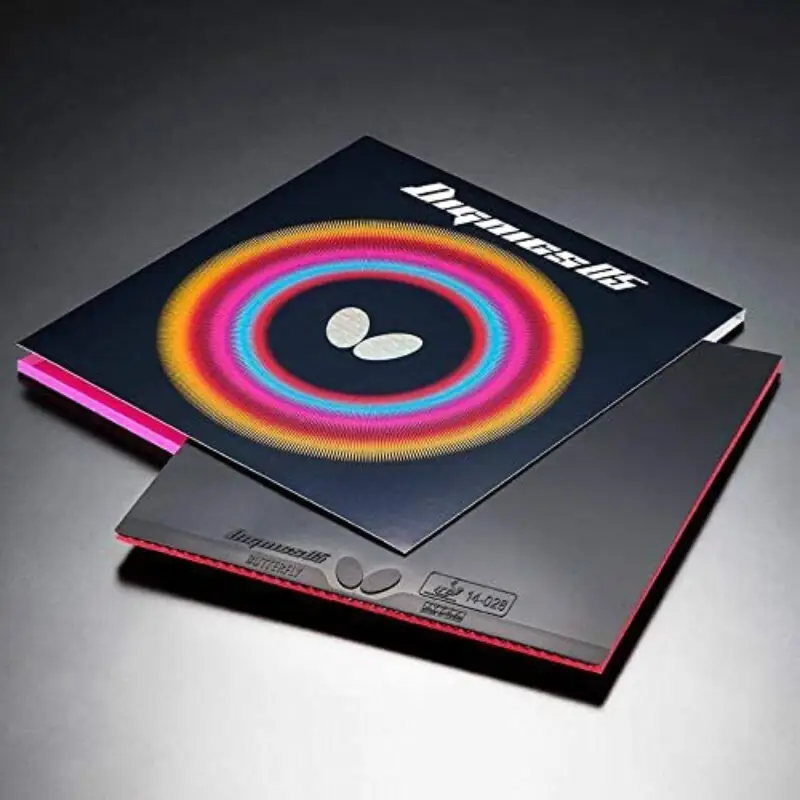 What to Expect?
If you have recently invested in the Butterfly Dignics 05 or are planning to try your luck with it, you are at the right place to read what we have to say. This should help you prepare for what you can expect from Dignics 05 and whether it is the right option for you, or not.
Spring Sponge X Technology
Applied to Dignics 05, the Spring Sponge X technology gives both more flexibility and exceptionally high elasticity. It allows for a larger arc and a stronger stroke. It has been intended to provide more elasticity than even the Tenergy series.
With enhanced abrasion, the unique composition of the top sheet demonstrates exceptional surface resistance, which gives a sense of impacting the ball.
Improved Control
Timo Boll, the great, said that after using the Butterfly Dignics 05 and the Tenergy 05, he concluded that the Dignics 05 had better control than the Butterfly Tenergy 05.
This is, actually, spot on! You will be surprised to know that despite being a rubber for aggressive play, the Dignics 05 is phenomenal when it comes to controlling.

This can be a great alternative to the Tenergy 05, although, it will cost you in the same ballpark. If you prefer greater control, we suggest going for the Dignics 05 as it is going to help you deal with aggressive shots, a lot more easily.
High Tension Pimples
With this rubber and its high-tension pimples, you can use the topspin and produce higher performance in rallies. The rubber plays out much better as you can feel it biting against a spin in the ball.
This ability to grip the ball is outstanding and enables a huge volume of spin to be generated and generates a lot easier.
Higher Arc
Your grip is quite noticeable with the Dignics 05 as something unique about Dignics 05 is its arc. The arc is very high and direct containing insane amounts of spins.
This spin is often only observed with rubbers such as the Tenergy 05 that have much higher top arcs or the Hurricane 3 which has a lower arc in comparison but a reduced speed.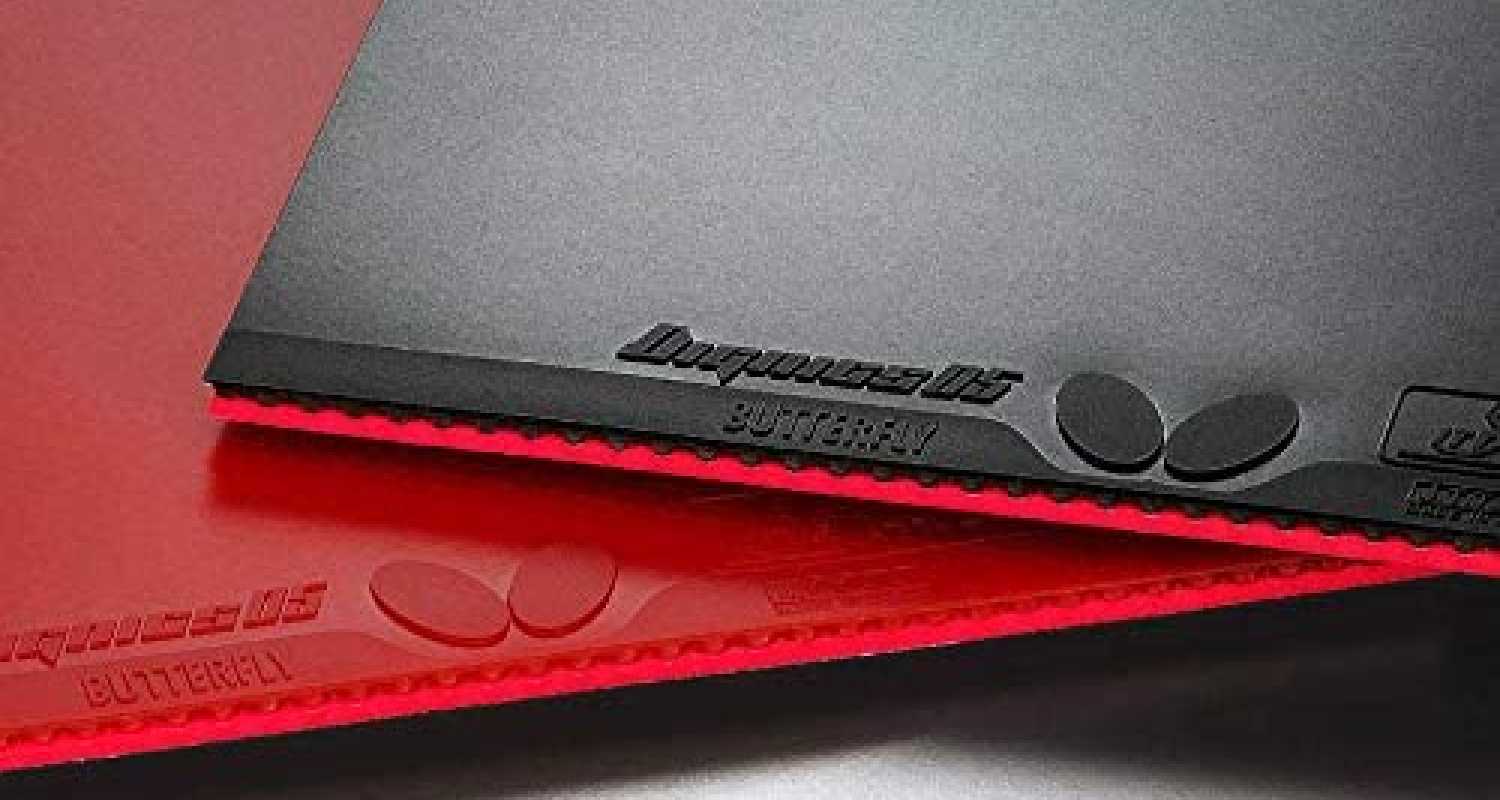 Pros
Beneficial for Top Spin
This relates to the speed at which you can get onto the ball, while you also gain tons of spin. The top sheet has a lot more grip-felt sensation, and if used in combination with the sponge, the result is very quick and shots full of spin.
Increased Options for Passive Play
When playing off the table, Butterfly Dignics 05 provides you with steadiness and extra control. When you are under pressure and need to block, block, block, Dignics 05 provides superb control on your defensive shots.
As a result of grip and control, you can play these passive shots quite easily. Flicking with the forehand generates a lot of extra options with the rubber, as with backhand movements.
The ball won't just fly off the table and you'll have so much quality control.
Short Game Dynamite
Dignics 05 is an equally decent option for short rallies and clever flicks. When you have to serve with the Dignics 05, the rubber performs similarly in the top spins works as it does when there are plenty of spins.
However, since it is a quick rubber, you need to manage it well enough so that when you try to serve short serves, the ball doesn't go long. It is fantastic to serve with this rubber and many spins are available and may be easily kept short.
Suitable for Backhand
This rubber will be ideal if used on your backhand side. Several people have observed how the application was consistent on both sides but the backhand is more beneficial due to the top spin generation.
The rubber creates a grip that works nicely in the middle of the table. It also lets you take a step away from the table and still keep your shots steady and keep you confident in putting away the ball.
Cons
Very Expensive
For a paddle rubber, the Butterfly Dignics 05 is priced at an exorbitant amount of money. Unless you play the game professionally, you would not want to spend high amounts of money on this rubber and it makes perfect sense not to do so.
A lot of professionals would disagree and they would be right in their regard, considering it is a terrific all-rounder, but that is hardly the point here; it is very expensive and only a small proportion of people can afford to break the bank on it.
Lacks Tackiness
As an aggressive all-rounder, the Butterfly Dignics 05 lacks a lot in tackiness. Yes, we realize it shouldn't be too tacky, but this is a little too less. If you haven't played with these rubbers previously, they may limit your game and take you a lot of time getting used to them.
Our Rating: 4.9/5.0
The Dignics 05 Butterfly is one of the world's most popular tennis table rubbers. This new rubber model is one of Butterfly's latest inventions created with the Spring Sponge X.
It is interesting to note that several world-famous players such as Apolonia Tiago, Lin Gaoyuan, Timo Boll, Hamamoto Yui, and of course many more have played with the Dignics 05, and that speaks volumes.
If you've been looking for a high-quality rubber for your aggressive topspin game, this invention has just given it to you on a silver platter. Dignics 05 will become clearer to you as the ideal rubber for you. Dignics 05 is an advanced rubber that is ideal for players who want to attack while maintaining control at fast speeds.
With attacking flicks, you can produce powerful spin shots with the Dignics 05 and simply spin your way out of the rally. Topspin attacks can be played nearer the table and further back from the table. I think you're going to find it to be of the best table tennis rubbers to play with, based on playing topspin.
Conclusion
The Butterfly Dignics 05 has been positively judged as the classic rubber for spinning the ball both during serves and during rallies by a significant number of great players and through rigorous measurements.
It offers an excellent and consistent record for advanced loop shots and is strongly advised to be used by those players.
Dignics 05 will surely increase your level and take it much higher. The higher price is a cause for concern but when you witness the quality it gives is, you realize that you need to get yourself a Dignics 05.