Finding the right rubber might be the key to improving your table tennis skill. If you are familiar with the game, even remotely, you must be aware of the famous Tenergy series rubber by Butterfly. So far, Butterfly has released 3 products in this line and each one beats the last in terms of performance and quality.
Butterfly Tenergy 80 table tennis rubber is the third addition in the Tenergy line after Tenergy 64 and 05. It is popular among professionals like Zhang Jike and Miyu Kato. It is said to have combined the hurricane speed of Tenergy 64 and the destructive spin of Tenergy 05.
In this review, we test the properties of this rubber to see if it is worth the hype.
Butterfly Tenergy 80 Table Tennis Rubber Specifications
Our Rating: 4.7/5
Price: $$
Weight: 68g
Thickness: 1.7, 1.9, and 2.1 mm
Surface: Inverted
Play Rating
Speed: 9.2/10
Spin: 9.4/10
Control: 9.0/10
Sponge Hardness: 6.0/10
Durability: 7.0/10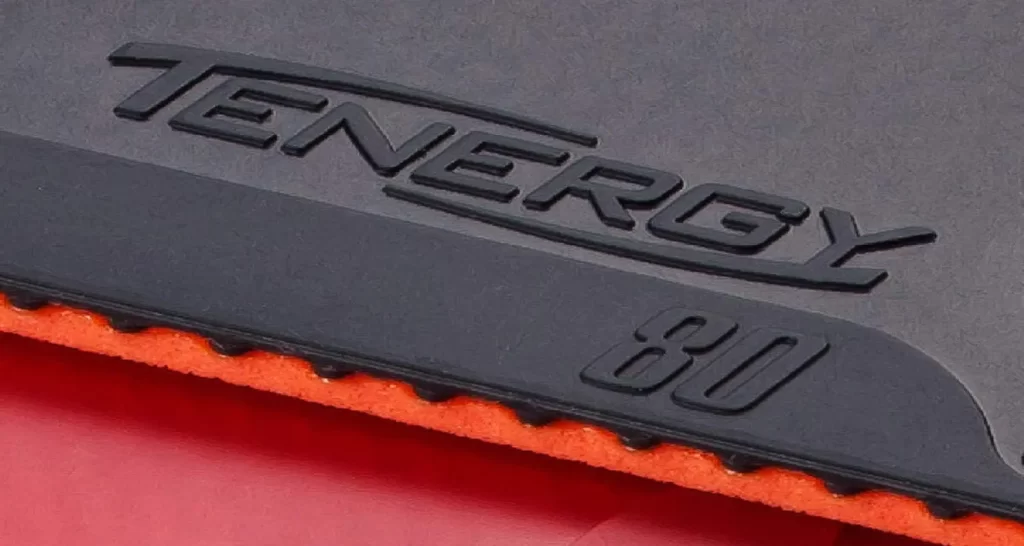 What to Expect?
According to the official description of Tenergy 80 on the Butterfly website, this rubber features the ideal amount of speed and spin without compromising control, which seems too good to be true.
Butterfly Tenergy 80 ping pong rubber is also marketed as suitable for allround players and the ones who have a more offensive-oriented style. The Tenergy series is already the most popular line of rubber in the history of table tennis. Let's see if this one holds up.
Ideal Blade Combinations
As Butterfly Tenergy 80 table tennis rubber is very hard, with a fast speed, so we recommend using it with 5-ply allwood table tennis blades, although advanced players can still use it with carbon blades.
The new carbon blades enable killer speed and spin, so using a rubber like this with them can be overwhelming, especially for intermediate players. Some ideal blades for this rubber would be Nittaku Acoustic, Yasaka Ma Lin Offensive, and Stiga Allround Evolution.
Construction
Like most other rubbers by Butterfly, Tenergy 80 also features high-tension technology, with an inverted, pimples-in, tacky surface.
The sponge is Butterfly's famous Spring Sponge X which gives the rubber flexibility and the ideal hardness for developing spin. This combination of features is considered ideal for power topspin shots.
A high-tension top sheet maintains the tension without deforming, to effectively transfer energy to the ball. This quality also increases reaction and rotation.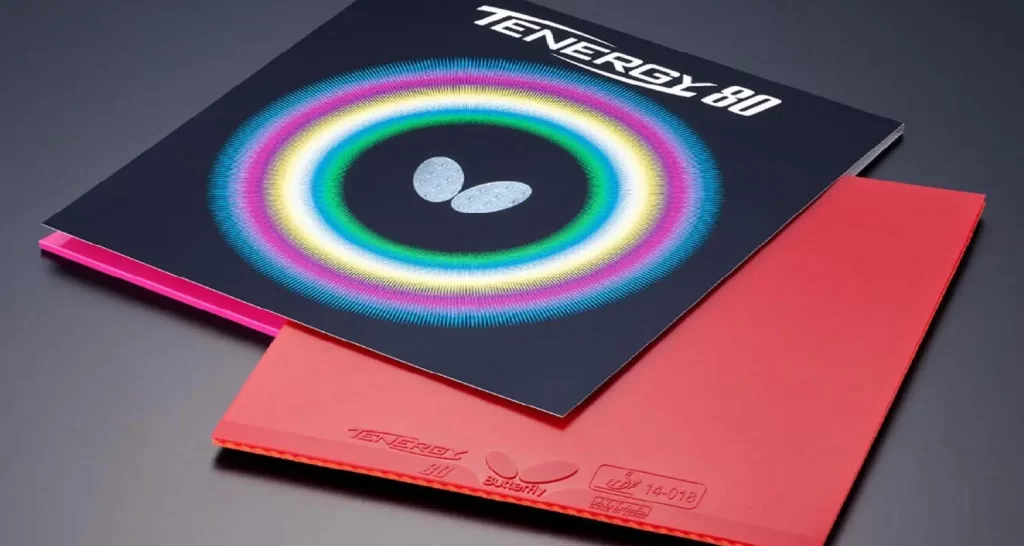 Pros
Destructive Spin Capabilities
We all know that Butterfly's Tenergy series has been a benchmark for spin-oriented rubbers, and this one is no exception. Butterfly Tenergy 80 table tennis rubber has brilliant spin development and maintenance capabilities that set it apart from its predecessors.
The ideally tacky top sheet grip and pimples-in structure, along with the springiness of the sponge create a killer spin.
Hurricane Speed
There are three different variations in terms of thickness in this rubber, and the higher you go the faster the rubber. Butterfly Tenergy 80 table tennis rubber enables the right catapult effect to generate high speed while looping.
Most players regard this as the ideal offensive rubber, as with the right arm movement, this rubber can be very fast.
Ideal Control
Butterfly Tenergy 80 ping pong rubber is a bit less spin sensitive than Tenergy 05 and 64, a characteristic that largely eliminates possibilities for errors. It requires fewer adjustments on the part of the table tennis players to make the shots, with a slightly lower throw angle.
Also, this is less bouncy than other rubbers, which makes it ideal for even intermediate players, as they can control their shots with greater ease.
Long Dwell Time
Even beginner table tennis players know the importance of dwell time in spin generation. Butterfly Tenergy 80 table tennis rubber enables a long ball contact due to its inverted surface, with a soft feel, that helps with counter-attacks and technique development on the backhand.
High Power
The Spring Sponge X in Butterfly Tenergy 80 ping pong rubber provides additional power to each hit due to its flexibility. You don't have to rely on massive muscle energy and arm movement to generate power with this rubber.
This rubber creates ease for the learning player as you don't have to be on your toes all the time to hit the ball.
Suitable for All Playing Styles
Whether you play close to the table or far from it, you are an offensive player or an allrounder, Butterfly Tenergy 80 table tennis rubber works well for almost all playing styles. You can generate allround topspin whether you want to perform an attack to counter-attack.
This rubber is so balanced in terms of flexibility and spin sensitivity that it allows you a variety of techniques so that you get to experiment a lot until you find the right one.
Supreme Quality
Most rubbers lose their tackiness over time which affects spin development and the overall game. This is not the case with Butterfly Tenergy 80 ping pong rubber as it lasts a long time, without losing its tackiness.
The unique pip structure of this rubber makes it abrasion-resistant too so that it retains its shine even after months of use.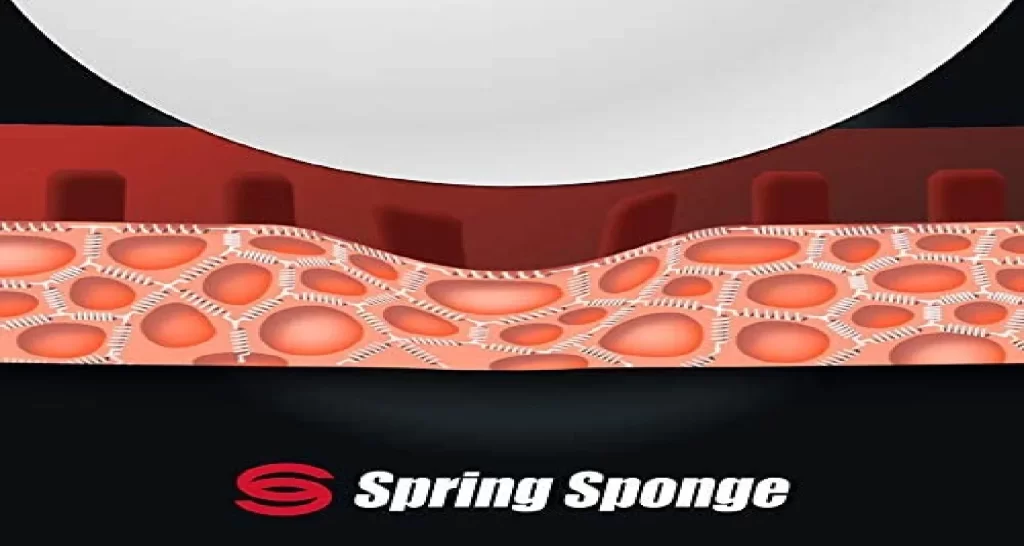 Cons
High Price Point
Some table tennis players think that Tenergy 80 is too expensive for its performance and we agree. You can find similar rubbers at a lower price, a notable example is Tibhar Evolution MX-P.
The lower price-performance ratio of Butterfly Tenergy 80 table tennis rubber is the only downfall that we could find.
Our Rating: 4.7/5
Butterfly Tenergy 80 ping pong rubber is a versatile choice that is suited to the allround table tennis player who tries to experiment with counterattacks and blocks. It enables the right balance of speed and spin, with an ideal bounce and control.
Due to the superior craftmanship of Butterfly, it is also one of the most durable rubbers out there. The only con was its price, which we consider too high for an allround rubber.
Conclusion
Butterfly Tenergy 80 table tennis rubber takes the perfect center stage between killer spin and destructive speed by creating a perfect harmony between the two. It is perfect for all-around players who like to experiment with offensive strikes. This rubber can work well for intermediate players as well as professionals.
Its superior quality doesn't only give it the right speed, spin, and flexibility, but it also makes this rubber very durable. If you have the budget to experiment with top table tennis rubbers and have failed to find your ideal choice, then you should give this one a try.