Standard ping pong tables take a lot of space, and are a hassle to assemble and store. Moreover, they might not go with you indoors setting. Conversion tops are a practical solution if you don't want to allot a separate space to a ping pong table. They also allow quick assembly and a fast storage.
If you want a quick, easy and portable set up for a ping pong game that doesn't poke a hole in your pocket, Viper Portable Conversion Top by GLD Products is just for you. This features a tri-fold design, making it easy to assemble and store. It is lightweight and therefore portable.
It is to be noted that this table top is among the cheapest conversion tops available in the market. Therefore, the quality is not on par with some high-end products such as those by Joola or Butterfly.
If you are looking for an affordable yet versatile table top that allows a variety games such as chess, cards, backgammon, then this top is an ideal choice.
Viper Portable Conversion Top Specifications
Our Rating: 3.5/5.0
Price: $$$
Type: Indoors
Weight: 28 pounds
Dimensions (after setup): 84 x 42 x 1/4 inches (length x width x height)
Material: Medium density Wood
Color: Green
Warranty Time: 90 days
Accessories: Complete accessories including rackets, balls and chess pieces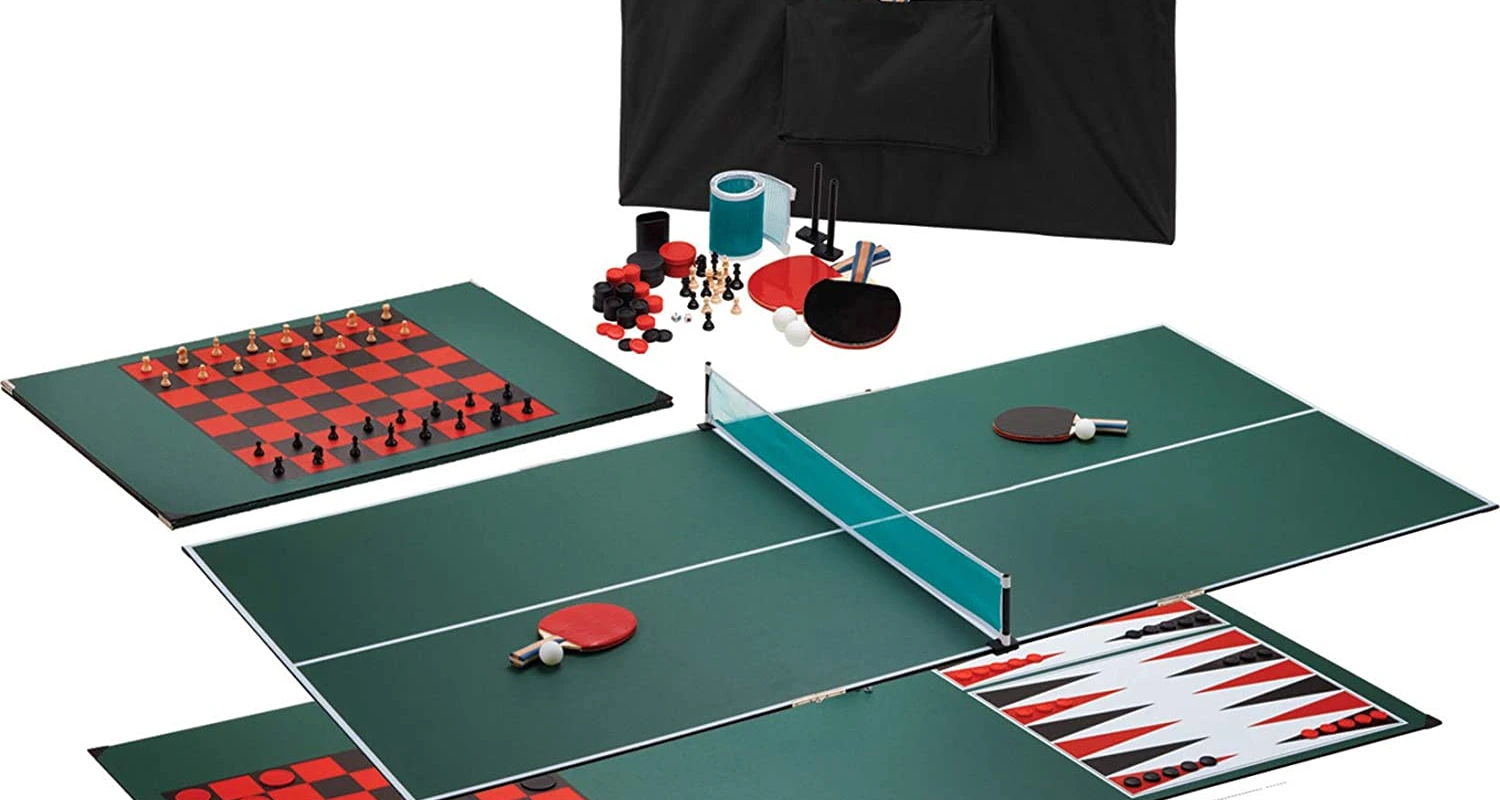 What to Expect?
GLD Products is a well-known brand for creating excellent quality yet reasonably priced products. They manufacture a range of game room products including game tables, darts and home casino.
With the GLD tag, Viper Portable conversion top also promises quality in reasonable rates. Moreover, since it comes with a wide range of accessories, we expect them to be of good quality as well.
Additionally, a good conversion top must give the player the same experience of playing on a standard ping pong table and should be a suitable replacement for it.
Light-weight Construction
Viper's Portable Conversion Top is available in green color and features dense wood. Tri-fold design allows easy assembly and storage and therefore supreme portability.
It's light-weight also allows it to be portable so that you can set it up wherever you find a table surface. The top also feature pockets to store rackets, balls or other items.
The reverse side of the top has boards for chess, backgammon and checkered. It comes with almost all accessories including two table tennis paddles, two balls, chess pieces, checkered pieces, net, posts and even a case for storage and transference.
Compact Storage
A very impressive feature of Viper's Conversion Top is it's easy to store design. As it features a tri-fold, it takes minimum space when stored. Moreover, it's easy to pick and store due to its light weight.
It also comes with a storage case, thus requiring no additional expense. Moreover, it will not cause any issue in transportation due to its light weight.
Who is this for?
Viper Portable conversion top is for anyone who is looking for a conversion top but cannot afford high-end options like those from Martin Kilpatrick, Butterfly or Joola. It is suitable for indoors and can be used in competitive sports as well as beginner level training.
If you are looking for something light-weight and portable, this top is for you due to its compact design. Moreover, this top is versatile and can be set up on any table top surface.
However, due to low quality and less stability, this table is not ideal for those players who play offensive style game.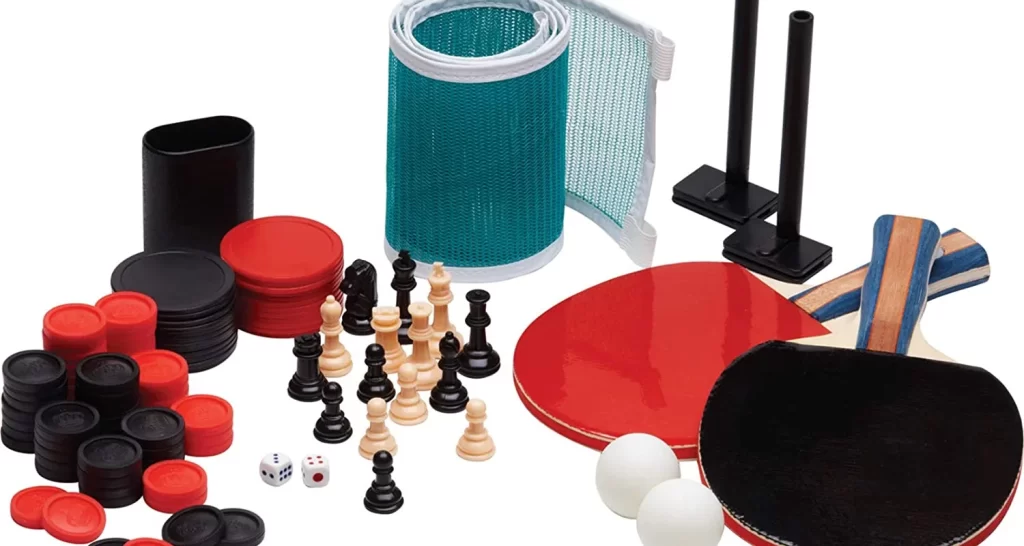 Pros
Versatility
This is a multi-purpose top and can be used to play other indoor games as well. It is suitable for both professional level play and beginners as you can not only train using this table but also play competitive sport.
This table top fits a wide range of tables including dining room tables, pool tables, table saw platform, kitchen Island and many more.
Affordable
This top is one of the most affordable conversion tops available in the market. If you are looking for a conversion top on a budget, complete with all accessories and even offers additional games, this tops our list.
Easy Installation
Viper Portable conversion top makes the process of installation easy and quick due to its design and weight. Tri-fold design is easy to install, fold and store. Due to its lightweight, it takes seconds to assemble and one person can do it without any external help.
Reversible
Another space saving aspect of this conversion top is the fact that it can be used on both sides. The underside has options for other games as well.
Cons
Low Quality Material
Wood is not a suitable material for conversion tops as it cannot withstand moisture. It is also susceptible to warping. The material used therefore is of low-quality.
Moreover, this table top is also vulnerable to chipping and scratches. The storage case is of very delicate material as well, and can be torn easily.
Another concerning point is the facts that it doesn't come with any underside rubbers thus causing damage to you existing billiards or dining table. Users have found scratches and chipping to their pool tables. Moreover, the accessories with which it comes are not durable and can get damaged very easily.
The hinges are flimsy, and seem to be on a breaking point after every setup. Moreover, due to not being thick enough and lack of density, the bounce on the ball is not adequate.
Low Stability
This top doesn't have any foam padding to make it stable in a game, it is also very light -weight and therefore bound to move during aggressive play. If you are an offensive type player, we would suggest you to think twice before getting this top as its stability is low.
Our Rating: 3.5/5
Viper Conversion top is an affordable option to those looking for a multi-purpose, space-saving, light-weight conversion top. It fits almost all table surfaces and can be used by novice or professional players alike.
Its reverse side has boards so that it can also serve as multiple surfaces for various indoor games including chess, checkers and backgammon. Moreover, because of to its design and weight, it can be assembled in seconds without any external help.
Unfortunately, due being on a budget, high-quality is not this product's main feature. The material used is of low-quality and cannot sustain damage in the long run.
Conclusion
Overall, Viper Portable Conversion top is ideal for people on a budget. It is highly portable, easy to assemble and convenient to store. It comes with a number of accessories, so that you don't have to buy anything additionally, thus saving you a lot of money, time and hassle.
However, it will not give you the same feeling of a high-end standard ITTF tables due to its low-quality. It cannot withstand an offensive environment or moisture over long period of time. This table top is a good option for those looking for a decent, budget friendly conversion top but are not serious players.
It's a good top to have fun with, and a suitable 3-in-1 entertainment product. However, if you are a serious player, we would recommend investing in a high-end, high-quality setup that is durable and gives you the best playing experience.