High-quality conversion tops are a great option if you cannot accommodate a full-fledged ping pong table. A high-end, reliable and credible option is Butterfly Pool Table Conversion Top. This top is available in two variations and meets the ITTF standards.
Not only just pool table, this top can also be used on a dining table or any other appropriately sized table top. It promises excellent performance and incredible bounce as it come from a reputable company, Butterfly.
Butterfly Pool Table Conversion Top is a high-end, finest quality top and is very popular among table tennis lovers. Let's dive into its specifications and see if it really is worth the hype.
Butterfly Pool Table Product Specifications
Our Rating: 4.5/5.0
Price: $$$
Type: Indoors
Weight: 150 Pounds
Dimensions (after setup): 108 x 60 inches (length x width)
Dimensions (when folded): 108 x 32.7 inches (length x width)
Thickness: 19 mm
Material: Wood and Metal
Color: Blue and Green
Warranty Time: 3 Years
Accessories: Net set and Protective Foam Pads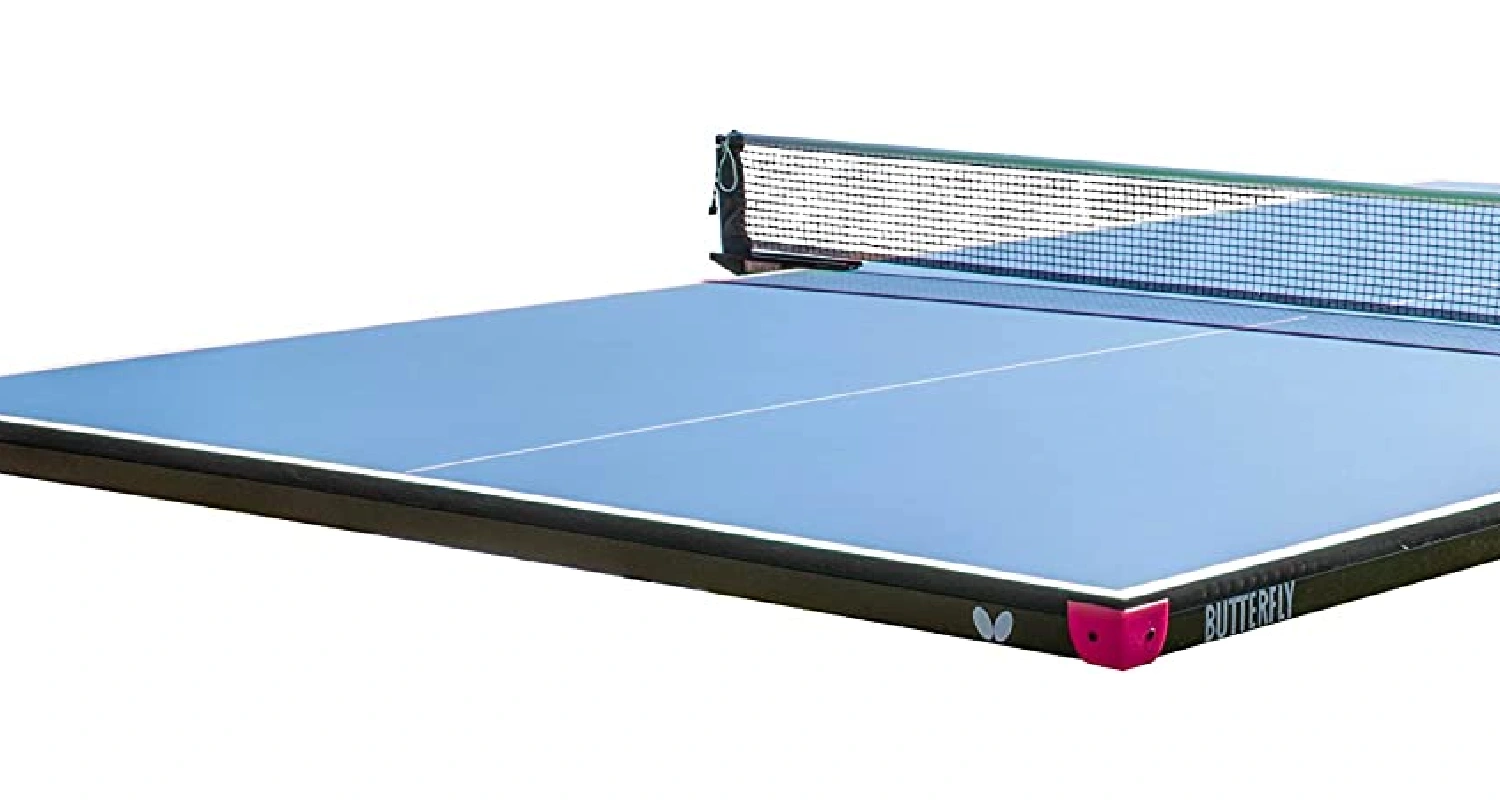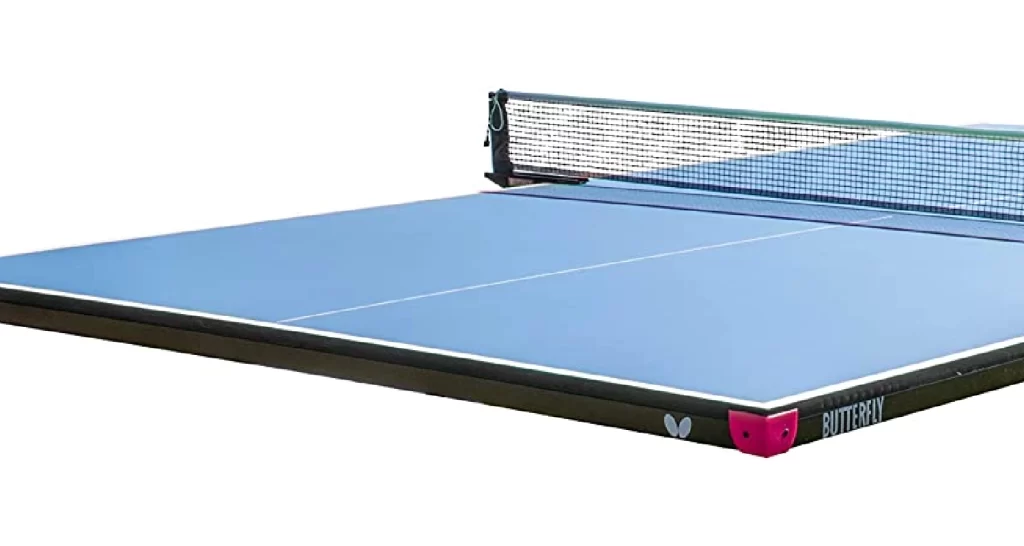 What to Expect?
Japanese based company Butterfly is one of the most trustworthy and high-profile table tennis equipment and apparel manufacturers. It has sponsored top players around the globe and also sponsors table tennis tournaments.
Being from Butterfly, it is anticipated that this product is also of finest quality and has great performance. We also expect that being expensive, this would be a worth buying product and offers the same experience as that of a standalone ping pong table.
Let's see if it features high-quality material, is well-built and durable.
Construction
Butterfly Pool Table Conversion Top features elite construction and superior craftmanship.
This 19mm thick top is made of wood and is backed by a metal support. Its underside is fully covered by foam backing in order to protect your pool table from scratches and prevent sliding and skidding.
Thus, increasing stability and also adding into surface sturdiness. Corners are also protected by rubber covers which decreases chances of chipping.
The dimensions are same as that of a full-sized, professional ping pong table. However, it can fit billiards table, air hockey or even a dining table as well.
Moreover, although it fits tables with the length of 8 feet, if you remove metal rails it can easily work for 9 ft. tables too. Overall, in terms of craftmanship, Butterfly has not sacrificed integrity and this top is dense and highly durable.
It comes with first-rate Butterfly Clip Net Set, which is very easy to clip on the surface. This set is also very fine, easy to clip on and can be adjusted according to your need. You won't need to buy another one.
This is a fully assembled conversion top so you won't have to spend any extra time and effort in setting it up. It comes in two halves and is available in blue and neon green color.
Who is This For?
This is one of the very few conversion tops in the market that can be used by beginners, intermediate or professional level players alike. It gives almost the same experience as that of a standard ping-pong table, promises and delivers excellent playability and high-quality.
If you are someone looking forward to invest in a good ping pong table, but don't have space for it, then we highly recommend this top. Additionally, this table top can be used indoors for both residential and official use and is therefore sure to be perfect addition to your game room.
Pros
Consistent Bounce
This conversion top has a thick base and therefore produces excellent, consistent and tournament worthy bounce. Since, unlike four-piece tables, it is properly levelled and does not alter the ball's natural trajectory.
Regulation Size
Butterfly's Pool Table conversion top can accommodate two to four players and meets the standards of a regulation table. It is also perfect for highly competitive / offensive matches as its durable and thereby able to withstand offensive shots.
Great Playability
Due to being thick and heavy, this table top offers high performance. It also doesn't sag in the middle unlike most tops available in the market. Foam underneath also makes it stable and minimizes the chances of movement or sliding.
No Assembly Required
With this table top, converting your pool table into a ping pong table is fairly easy, as it comes pre-assembled. You just have to place the halves on the pool table, clip the net set and voila! you are ready to have the fun begin.
Warranty
Butterfly values business integrity decidedly when it comes to its products. In the case of this top as well, the company provides a warranty for three years, which is the lengthiest warranty time when it comes to conversion tops.
Durable
This is a 19mm thick table top and is very heavy. These aspects make it very durable and therefore, no wonder Butterfly offers a 3 years warranty. Metal rails also protect the table from damage, making it sturdier and also prevent it from warping.
Pre-attached foam pads also protect your billiard, pool or dining table from scratches. Overall, this conversion top will last you years even in a highly offensive environment.
Cons
Expensive
This table top is one of the most expensive top available in the market. There is not much difference when it comes to rates between this conversion top and a decent standalone ping pong table.
Some other companies like JOOLA also have good-quality conversion tops but in lesser rates. Therefore, we would recommend to do proper research before you go for this one.
Heavy Weight
Butterfly Pool Table Conversion Top weighs approximately 68 kgs. This makes it less portable and therefore you cannot move it again and again once it's set up at a place, since it's not only difficult to move but constant mobility also makes it susceptible to damage.
Heavier weight also means that you have to have help in assembling it.
Additionally, storing the top is also a hassle. Each half weighs approximately 75 pounds and is 5 feet long. Therefore, unlike many table tops in the market it doesn't offer a compact storage.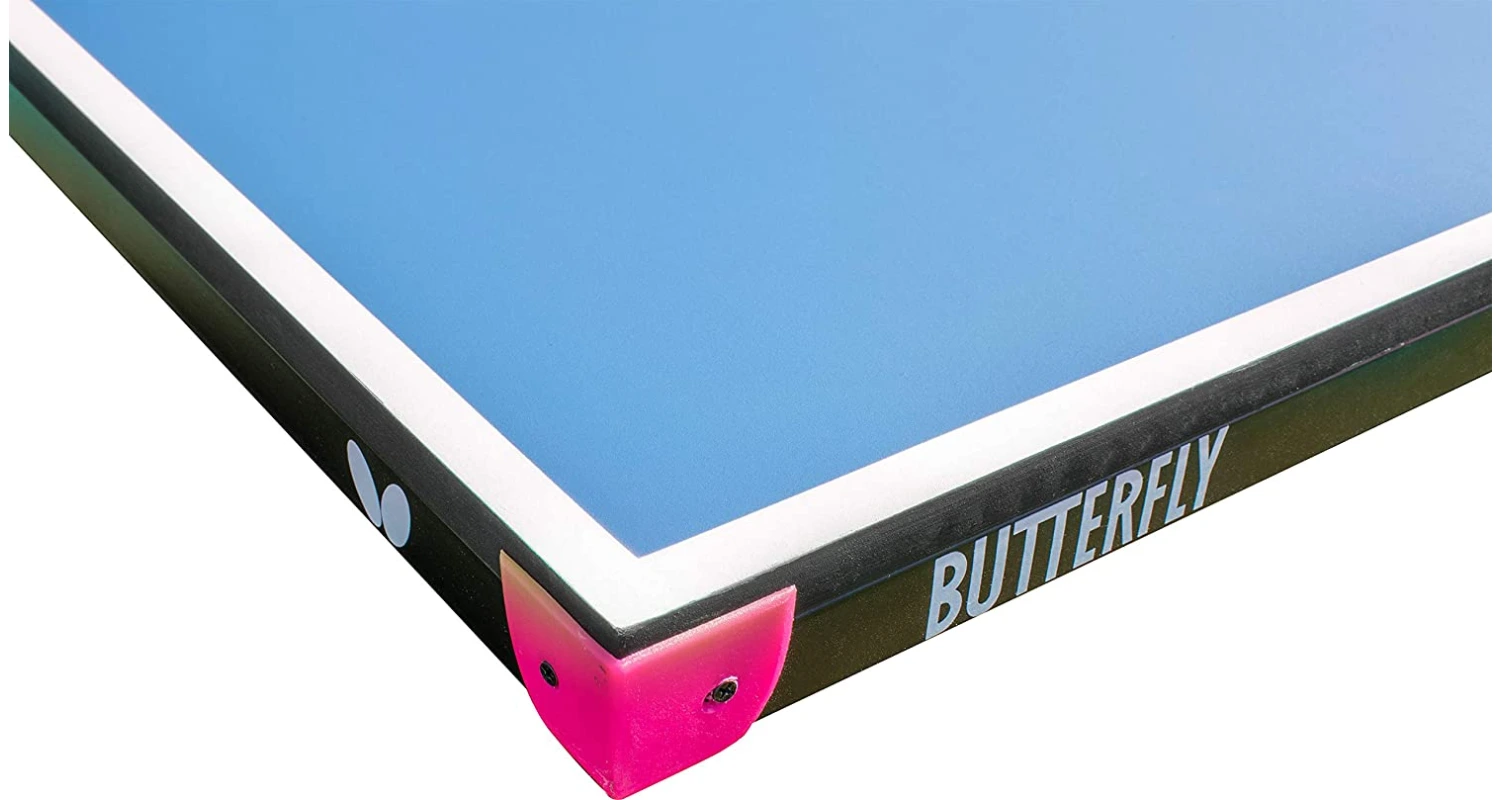 Our Rating: 4.5/5.0
Butterfly Pool Table Conversion Top is an ideal choice for users who want an eminent experience of a ping pong table but do not have the space for it. It is well-built, sturdy and has incredible playability.
Permanent foam backing on the underside is one of the most unique characteristics, as most tops come without permanent foam pads. We highly recommend it due to its excellent quality, regulation size, great playability and of course warranty time.
The only downside is its heavy weight and less compact storage. Moreover, this is also very expensive.
Conclusion
Butterfly Pool Table Conversion Top is a well-built conversion top that delivers high performance and superior quality. It comes pre-assembled and fits any appropriately-sized table.
It has a 3 years warranty and comes with a superior-quality net set that can be clipped directly on the table. However, there are two things which must be kept in mind before buying it: it is very heavy and therefore cannot be assembled by one person and it is fairly expensive.
Overall, it can be unarguably titled as one of the best conversion tops for pool tables in the market and we highly recommend it.