There are many conversion tops available in the market that can help you convert any appropriate-sized table into a standalone ping pong playfield.
One such option is Martin Kilpatrick Conversion Top by Butterfly which is unarguably the most prominent product in the table tennis universe.
This table top promises quality and performance that is comparable to medium-level free-standing tables. An expertly crafted product, this often tops the charts, due being the most reliable and incredible conversion top in the market.
Let's see what is the hype about, and if the speculations are actually true!
Martin Kilpatrick Conversion Top Specifications
Our Rating: 4.8/5.0
Price: $$$
Type: Indoors
Weight: 120 Pounds
Dimensions (after setup): 108 x 60 inches (length x width)
Thickness: 3/4 inches
Material: MDF Wood and Metal
Color: Blue, Green, Grey
Warranty Time: 3 Years
Accessories: 2 Paddles, 3 Balls, Net Set and Foam Sticker
What to Expect
Martin Kilpatrick Company/Butterfly North America, is a household name in table tennis equipment. This company has a long-standing reputation of being one of best providers of quality ping pong items.
Therefore, we anticipate that this product meets our expectations as well, and truly represent the company it belongs to.
Construction
One of most marketable point of this product is its unique construction. Manufacturers have used MDF wood embedded in a metal hardware. MDF wood is more reliable than regular wood as it is weather-resistant, warp free and is easy to clean and maintain.
The product features removable metal rails. These not only provide durability to the product; they support the structure and add into its appearance. These rails are 1.5 inches thick and when on, the top's length is 8 ft. Remove the rails and the top would fit a regulation-sized table too.
The table comes on two halves which are joined by a dovetail connection. This setup eases assembly and disassembly. It also keeps the top stable preventing movement during competitive games. Net is also adjusted through these connectors as they act like net brackets.
The top comes with self-adhesive foam pads which are very easy to stick on the underside of the top. These protect the table top from any damage including dents and scratches.
They also help in keeping the top steady. There are also foam coverings on the outer edges as well, to save the top from damage and protect the player from injury.
Who is this for?
Most conversion tops are designed for entertainment purposes and not for serious matches. However, Martin Kilpatrick is a different product in this respect as it can actively work for serious tournaments and hardcore matches. This top is for you if you are a serious player but don't have space for a ping pong table.
If you are looking for a product that would serve recreational purposes and can be set up quickly, then this one is not for you. Not only this tabletop takes time to set up and connect both halves, it is very heavy and difficult to maintain as well.
Another important point is the fact that this table top is very expensive. Therefore, if you have a tight budget, you must give buying it a second thought. Moreover, it is also important to know that there is not much difference between the price ranges of this table top and a standalone table.
Therefore, considering the rates, getting a table would be a wise decision, if you have the space.
Pros
Exceptional Quality
This Table Top is top notch when it comes to material, reliability, sturdiness, business integrity and overall quality. It features superior workmanship; it is durable and well-built.
This top is sure to last you years, no wonder the manufacturers offer a 3 years warranty time. It is exceptional in terms of output as well, as it not only looks like a regulation size ping pong table, it also performs like one.
Excellent Bounce
This conversion top is thick and sturdy, ensuring consistent and incredible bounce for short-paced games. It gives you almost the same experience as that of a ping pong table in terms of performance and playability.
Fits a Variety of Table
One of the major selling points of this top is the fact that it can fit a variety of tables including surfaces that are 7 ft, 8 ft and 9 ft. in length. As, when metal rails are on, it can fit 8 ft. tables and can work for 7 ft. tables too.
Remove the metal rails and you have a regulation size table that can accommodate four players. Due to this feature, this table top can fit billiard table, pool table, dining table, air hokey and even a kitchen island.
Easy Assembly
Martin Kilpatrick Conversion Top provides easy assembly due to its structure, provided that there are two adults to help in the setup, as this table top weighs a lot. After taking it out of the box, simply set it on the table.
Make sure that the dovetail connectors are in place. Just slide the metal rail into pool table and voila! You are ready to play.
Cons
Sags in Center
One of the major complaints that people have faced when it comes to Martin Kilpatrick Conversion Top is the fact that, overtime, the top sags in the middle.
Since the metal railings extend around three sides of each half, it doesn't surround the pieces from all four sides. Due to the absence of support in the middle, the top can sag after a while.
While this seems to be a minor issue, it can become worse over a period of time and thus negatively impact playability. Some users have fixed it by setting up a rail or any other support in the middle, which fixes the problem.
Absence of Full Foam Backing
This conversion top comes with self-adhesive EVA foam stickers, and doesn't have 100% foam backing. Due to this, there is a chance of damage to the surface of billiards or pool table.
If this problem bothers you, we would recommend getting other option with full foam backing such as GamePoint Conversion Top or Butterfly Pool Table Conversion Top.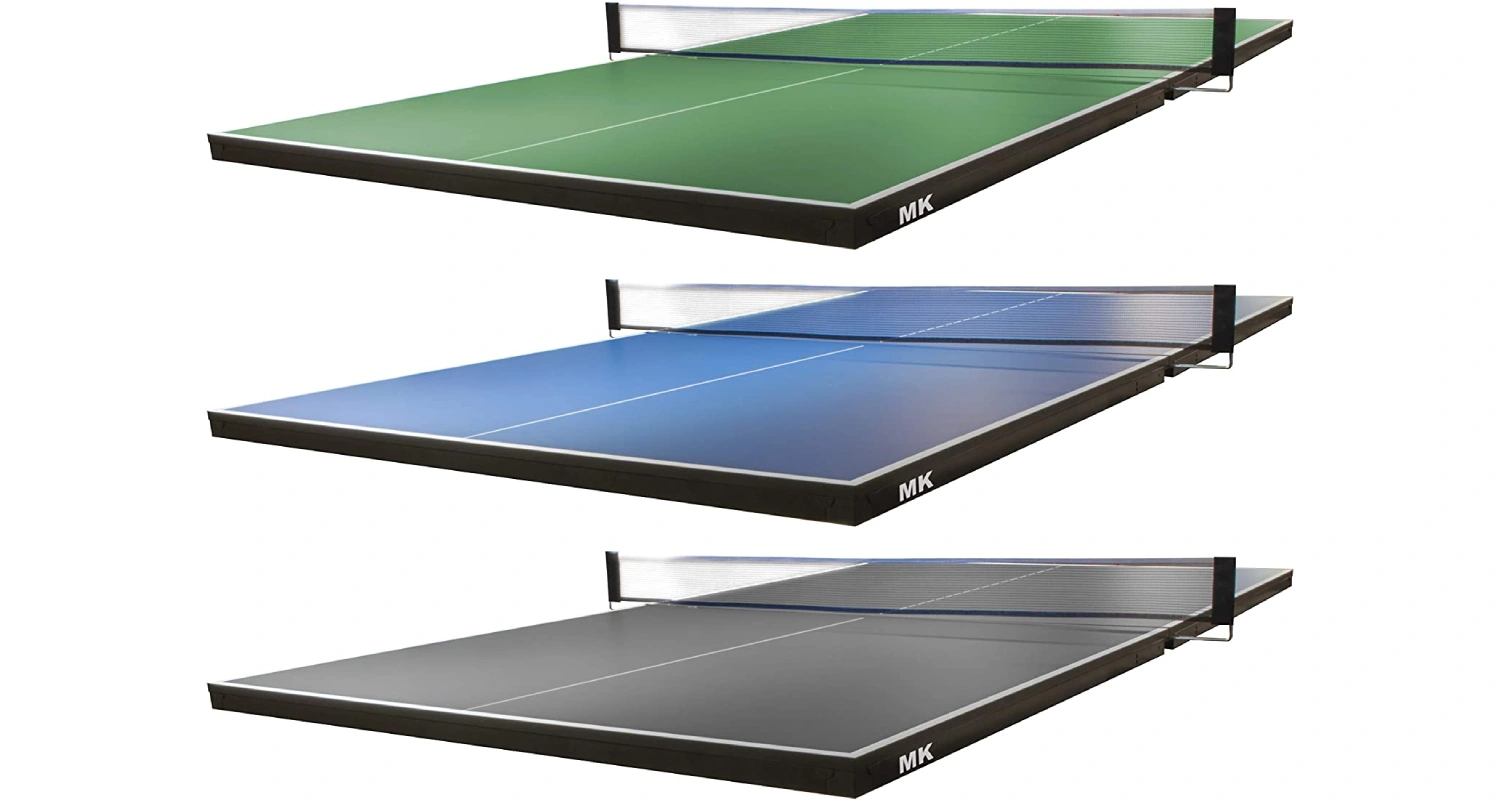 Our Rating: 4.8/5.0
Martin Kilpatrick Table Top is hands down the most famous and highly-regarded conversion top in the market. It is built to perfection and has an exceptional performance.
This tops our list and we would highly recommend it to any player looking for a high-end experience. Some things which might be a bit problematic are its huge weight and high price. It also tends to sag in the middle after continuous use and you might need a bit of DIY to get it to perfection.
Conclusion
If you are a serious ping pong player, looking for a space saving option, then Martin Kilpatrick Conversion Top is ideal for you. It is exceptional in terms of quality and playability, and we highly recommend it for competitive players.
It also comes with complete accessories, which are also of finest quality, and is available in 3 colors. One point to consider is the fact that it is heavy and tends to sag in the middle. Overall, even though this top is very expensive, we consider it an investment due to its reliability and longevity.