A conversion top is an alternative for a ping pong table if one has less space or budget to affordable a standalone table. It's a product that can convert any appropriately sized table into a fully functional ping pong table.
JOOLA Regulation Conversion Top is one of the most reliable options in the market. With this table top, you can convert your billiards or pool table into a fully functioning ping pong table in minutes. It offers an easy and quick setup and promises high quality and excellent performance.
This table top is one of the best reviewed in the market, as it often tops the charts. Let's see if it truly delivers and is worth your time.
JOOLA Regulation Conversion Top Specifications
Our Rating: 4.7/5.0
Price: $$$
Type: Indoors
Weight: 106 Pounds
Dimensions (after setup): 108 x 60 inches (length x width)
Dimensions (folded): 54 x 60 inches (length x width)
Thickness: 15 mm
Material: MDF
Color: Charcoal Black
Warranty Time: 1 Year
Accessories: Net and Post Set
What to Expect?
JOOLA is an Olympic table tennis brand that has been trusted for more than 60 years. This company has been sponsoring ping pong tournaments around the world since its launch in 1950's.
It designs equipment for all various levels of play and has been one of the most popular, high-end brands in the table tennis universe.
Coming from JOOLA, we expect this table top to deliver quality and performance. It is labeled regulation size; therefore, we expect that it would fit appropriately-sized tables without sagging in the middle.
The table also promises easy and quick setup and a compact storage. Let's see if it meets our expectations.
MDF Surface
JOOLA has presented a fine table top in terms of both looks and quality. The MDF surface features a charcoal black color. MDF is known to be better than wood as it not only prevents warping, but is also water-resistant.
The surface is 15 mm thick providing consistent and even bounce. The top also comes with a net and post set, so that you can assemble it in minutes.
This table top is heavy, which not only adds into its durability, but also makes it steadier. The top features a three-hinge system, ensuring stability of the conversion top by fastening it to your billiard/pool table.
Since it comes preassembled, it can be set up in minutes with ease. Two separate halves also make the process of setup easy; providing compact storage as well.
One feature which is very unique is the existence of 1.5 inches steel tube aprons. These provide support to the top and thus prevent sagging.
This system provides a flat playfield, that is sure to not get damaged; lasting you years.
It is recommended for billiard tables that measure up to 9 feet in length, but can work for a 7 ft. table too. You can arrange tournaments of 2 to 4 players due to the table's size and high-end construction. It is perfect for aggressive combats too.
Who is this for?
JOOLA Regulation Conversion Top is built for both residential and non-residential use. You can use it in your game room or office. Additionally, it has been developed for professional players, but can be equally used by beginners or people who just want a fun, entertaining experience.
Although it is appropriate for entertainment purposes, we wouldn't recommend it to casual players due to its high price. This is worth investing in for professionals but casual players should get a fun product that doesn't poke a hole in their pocket.
Pros
Bounce
This table top's playability is similar to that of a high-end standalone table. Foam backing on the underside provide Olympic-worthy, and consistent bounce. The bounce is not only first-rate, it is also predictable, as the top doesn't alter the natural trajectory of the ball.
Quick Setup
JOOLA Regulation Table Tennis Conversion Top is 99% preassembled, saving you the fuss of screwing bolts and consuming your time. The table comes in two individual halves which take seconds to assemble.
It takes one minute to screw on the ping pong net, and voila! You are ready to play. When done playing, it takes seconds to unscrew the net and store the halves.
Versatility
Since it can fit tables that are from 7ft to 9 ft in length and 3 ft in length, this table top offers versatility. You can set it up on your billiard, pool, dining table and even on a kitchen island.
Transform you existing tables in a professional-level ping pong table in minutes without sacrificing additional space. When done playing, remove the conversion top in seconds and get back to your own table!
Protective Foam Pads
EVA foam padding serves two functions: it provides a cushion between the table surface and the conversion top and protects your existing billiard or pool table from damage.
Additionally, foam padding also allows you to assemble and disassemble your conversion top without causing scratches to your table. Foam pads also help keep the conversion top stable, preventing unnecessary movement.
Cons
Low-quality Net
Several players have complained that the net which comes with the table top is of cheap material to the point that bringing tension in the net might even break it.
You might even end up snapping the string if you pull it taught while setting it up. Thus, we recommend getting a high-quality net with this table.
Heavy Weight
At 106 pounds, this top is heavier than average. While heavy weight adds into the stability and sturdiness, it might make it difficult for you to move it again and again. This factor decreases portability massively.
Additionally, due to its heavy weight, it cannot be set up by one person only. Therefore, you might need help to assembles and store it.
Sharp Edges
This conversion top has razor sharp edges. Therefore, some people have reported getting cuts and bruises. However, this problem can be solved by sanding the edges or using protective tape to save yourself from injury.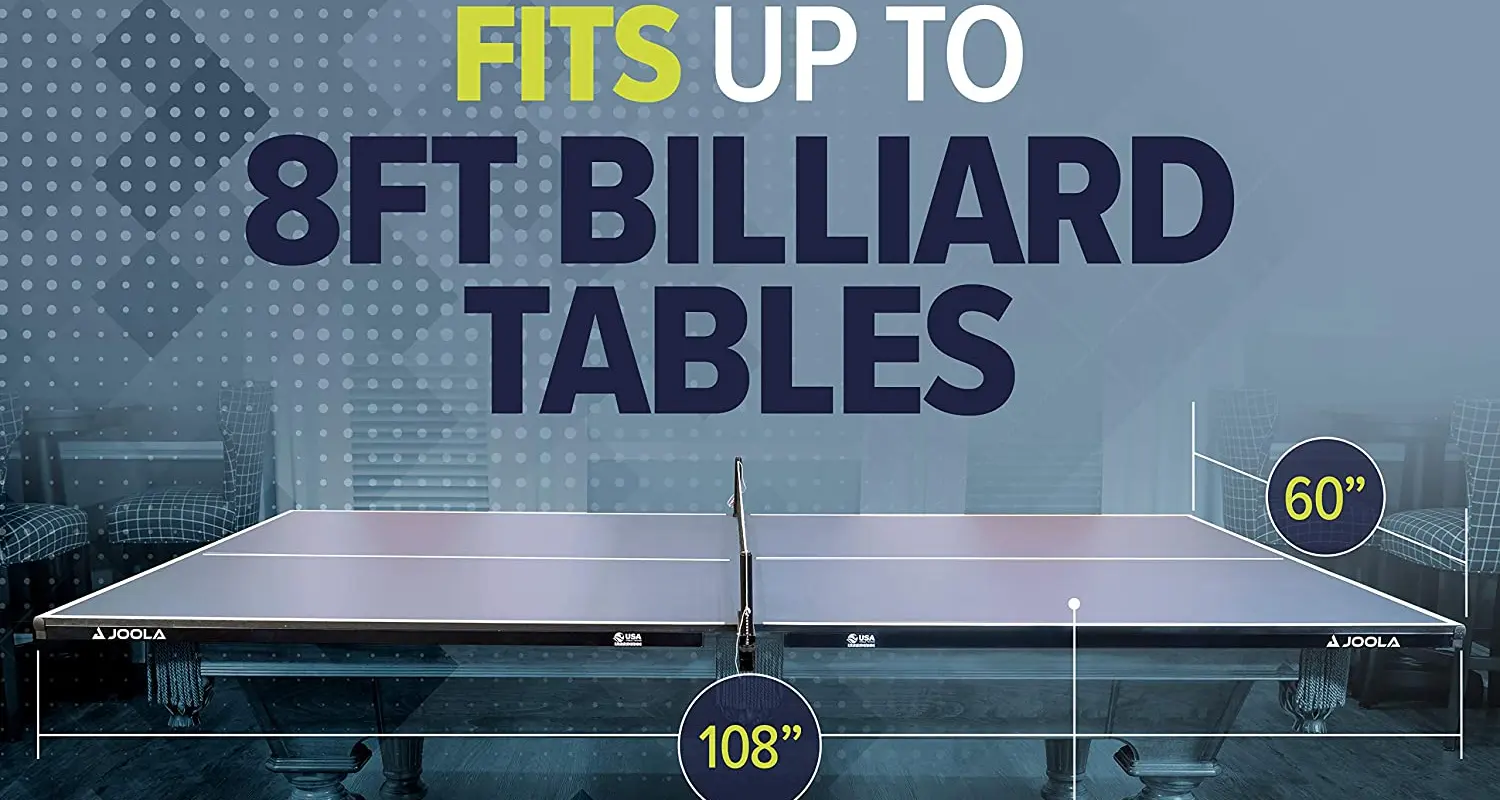 Our Rating: 4.7/5.0
JOOLA Regulation Conversion Top is a high-quality option if you do not have the space for a ping pong table but want the same experience. We highly recommend it to serious players who want to experience the finest playability.
It uses top-quality materials, is easy to set up and store and provides excellent bounce. The sleek design with charcoal black color is sure to brighten up your space too. We do not recommend it for recreational purposes as it is very expensive.
The only problems are cheap accessories, sharp edges and heavy weight. Overall, we love this product and would definitely recommend it to anyone looking for a great experience.
Conclusion
JOOLA regulation conversion top is an ideal, high-end and space saving option if you cannot afford a standard ping pong table. You can use JOOLA Regulation Conversion Top to transform any surface into a regulation-sized ping pong table.
It takes minutes to assemble and detach and we highly recommend it to professional players who are looking forward to Olympic-level combats.
It provides you a similar experience to that of a normal ping pong table, offering excellent craftsmanship, consistent bounce, and durability. Lastly, even with highly offensive combats and vigorous training, this table will last you years.