Table tennis conversion tops are ideal for people who enjoy casual tournaments with friends and family. It is a space-saving, on budget option if you cannot accommodate a standard ping pong table.
Most conversion tops can be assembled on an existing dining table, pool table or even a billiards table.
One of the most trusted and popular table tennis conversion tops is JOOLA Tetra. This is a tournaments-sized table top and can be assemble on any appropriately-sizes table.
It also offers compact storage and an easy assembly due to its four-piece design. Let's dive into its specifications and see if it really is worth the hype.
Joola Tetra Conversion Top Specifications
Our Rating: 4.1/5.0
Price: $$$
Type: Indoors
Weight: 81 pounds
Dimensions (after setup): 108 x 60 inches (length x width)
Dimensions (when folded): 57 x 32.7 inches (length x width)
Thickness: 12mm
Material: Engineered Wood
Color: Blue
Warranty Time: 90 days
Accessories: Metal posts, net and protective foam pads
What to Expect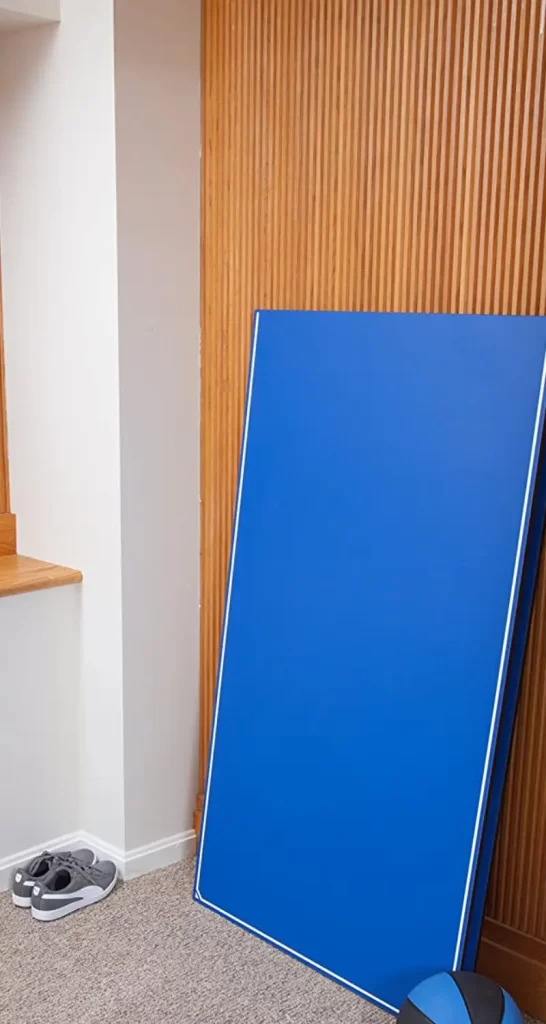 JOOLA has been manufacturing table tennis equipment since 1953. It has been a sponsor in the Olympic games in the past and is the current sponsor of USA Table Tennis. It is one of the most well-established and trusted brands in the world.
Being from JOOLA, we look forward to this conversion top to meet our expectations. It must serve the purpose of a conversion top; it must be portable, easy to assemble and offer a compact storage. Let's see if this table top delivers what it promises.
Durable and Sturdy
Being from a high-end brand, JOOLA Tetra features excellent craftmanship. It's level matches to those of Olympic grade ping pong tables and has been among the top favorite since its launch.
JOOLA Tetra comes in two halves. Each half has two pieces attached together with hinges. Simply unfold these pieces and set it on the table, thus enabling quick assembly and easy storage.
Additionally, the table is very heavy which some people might find problematic but this feature adds to its durability, sturdiness and allows a steady game.
It is warp resistant and durable. It comes with three accessories: metal posts, net and protective foam pads. Foam pads protect your billiard table and keep the table steady during tournaments. Simply place them under the top to save your table from scratches or damage.
One point that must be kept in mind is the fact that this top is made from engineered wood and therefore susceptible to damage if placed in a moist environment. It is therefore also difficult to clean.
Who is this for?
JOOLA Tetra is for people who do not have the space or budget to accommodate a standalone ping pong table. However, it is designed for entertainment purposes solely.
This top is not for serious players who want at least intermediate level of training. If you are looking forward to competitive championships, we would highly recommend investing in a good-quality standard ping pong table.
Moreover, you must have the dimensions of your table in mind before purchasing this, as this top cannot be assembled on a small-sized table.
Pros
Great Quality in a Budget
Coming from JOOLA, this is an affordable conversion top has excellent craftmanship, produces great bounce and gives the same feeling as that of a standalone ping pong table.
Price performance ratio is good and the table doesn't disappoint although it is available in reasonable rates.
Adaptability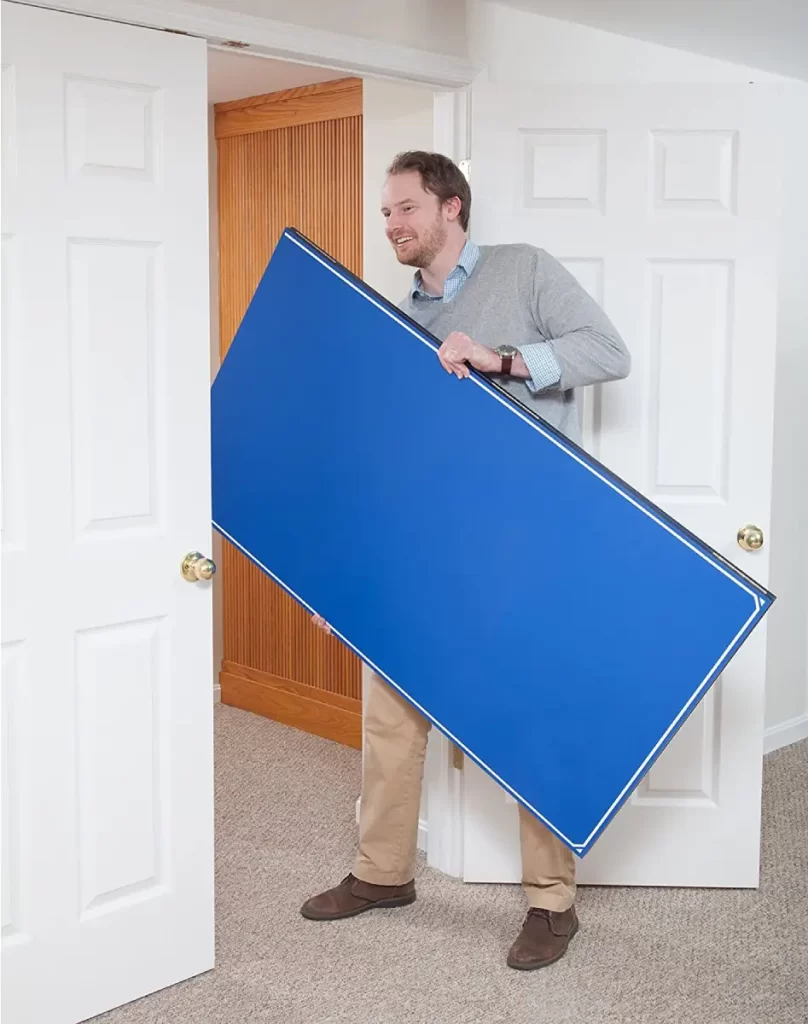 One of the most rewarding features of this top is the fact that it can be assembled on any table. You can install it on a billiard, air hockey, pool and even a dining table.
The only point that must be considered is the fact that minimum length of your table must be 7 feet and minimum width must be 3 feet. With JOOLA Tetra, you can convert any appropriately-sized table into a solid playfield for table tennis in a matter of minutes.
Additionally, this conversion top fits most table also due to the presence of protective foam pads and being leveled. You can even install it outdoors (but it must be protected from moisture and direct sunlight).
Quick Assembly, Easy Storage
The four-piece hinged design makes assembling this table top quick and easy. It mostly comes pre-assembled and you are just required to place the panels in the correct position and fix the net on the surface. Get a buddy to help you and let the fun start in minutes!
Disassembling the table also takes a very short time and you are back to your existing table. Additionally, due to the presence of four pieces, when stored, this top doesn't take much space. Simply place it under a table or in a closet.
Cons
Seams Affecting Game
This table consists of four halves, which means a great number of seams. Some customers have reported that the seams affect performance and even alter the natural trajectory of the ball.
However, the folds affect the hits minimally and only matter of you are going for a professional-level tournament.
Although ridges in the middle create a minor inconvenience but in case, they bother you, we would recommend getting a two-pieces design.
Low-quality Accessories
This top comes with a steel net and posts. Unfortunately, these are very low-quality and you might need to spend extra money to get better ones.
Moreover, the height of the net is not according to tournament regulations; it is only 5 inches high as opposed to the normal 6 inches. Posts are also of low-quality material and can get crushed easily during transit.
Low Portability
This conversion top is heavy, which might make it durable and sturdy but also makes the process of transit difficult. Shifting it from one place to other repeatedly is not an easy task and therefore makes it less portable.
Moreover, heavy weight also means more collisions, and therefore you might damage the top during transit.
Our Rating: 4.1/5.0
JOOLA Tetra 4 Piece Ping Pong Conversion Top is one of the most high-rated and finest products in the market and we highly recommend buying it. It offers quick assembly and a compact storage.
Beautiful blue color is also bound to brighten your indoor space in seconds. The material is durable and will last you years if used with care. If you want a fun, supreme-quality yet affordable product that saves you space, time, money and hassle, this conversion top is among the best options in the market.
It offers a perfect combination of quality, durability and ease of use. The only problems are: low portability, ridges which affect game and low-quality accessories.
Conclusion
Conversion tops save the day when you have a limited space and a tight budget. JOOLA Tetra is one such product that is ideal for residential use. It is a tournament-sized table top that can accommodate two to four players at a time.
It features excellent craftmanship, is easy to assemble, dismantle and allows a compact storage. It is to be kept in mind that this product is heavy and therefore cannot be assembled by one person.
Moreover, larges size also demands specific dimensions for assembly. Overall, we love this product and would recommend it to anyone who wants to convert any table to a ping pong top in minutes.