If you play table tennis, you know the struggle with frequently losing or breaking ping pong balls. High-end, ITTF-approved balls are expensive so it's difficult to keep buying new ones. It is a good idea to own low-end, affordable training balls so that you don't break your bank.
While looking for these, we came across the ones from Butterfly Training Ping Pong Balls. These 40mm, regulation-sized balls promise a 3-star ball feel. They are not ITTF approved, but they are fairly inexpensive when compared to high-end competitive balls—ideal for training and practice.
Let's dive in to the specs and see if they live up to Butterfly's reputation.
Butterfly Training Balls Specifications
Overview
Our Rating: 3.5/5
Price: $$$
Weight: 3g
Diameter: 40mm
Color: White
Play Ratings (out of 10)
Roundness: 9
Speed: 6
Consistency: 7
Hardness: 10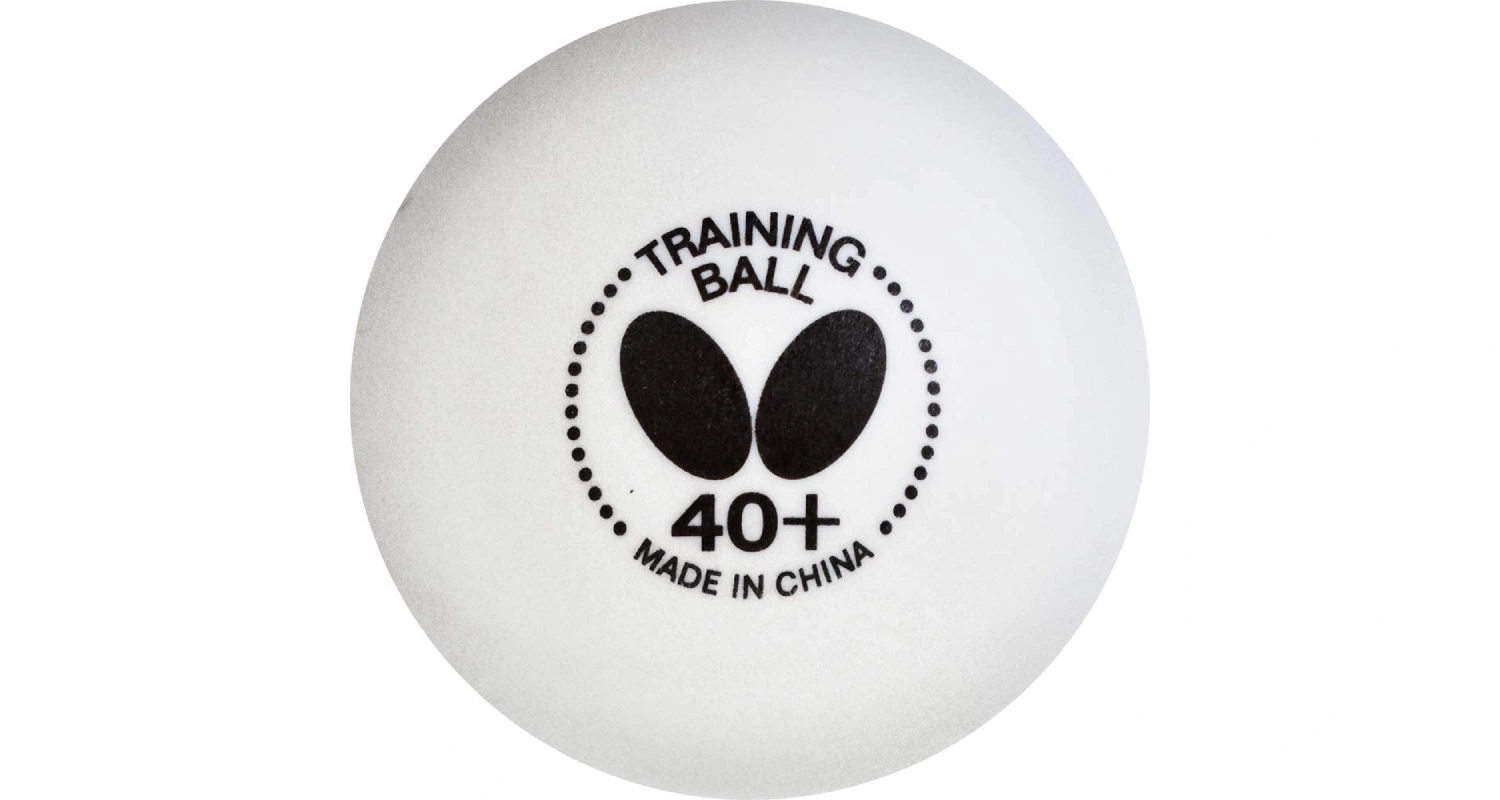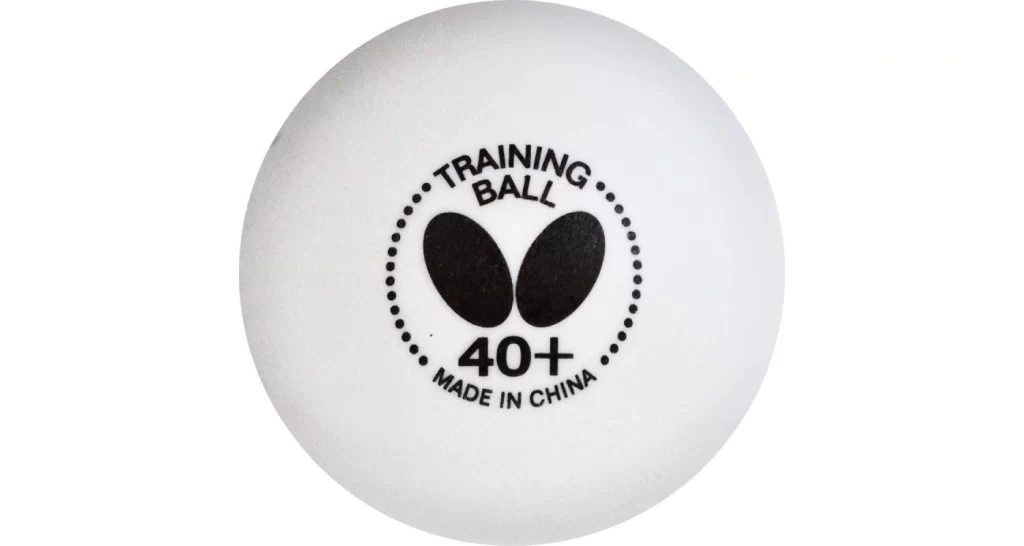 What to Expect?
Butterfly is a well-reputed Japanese table tennis equipment and apparel brand. You would find its equipment in every lineup of top ping pong products. Their products are loved by beginners and professionals all over the world.
Training ping pong balls must be sturdy and robot-friendly with a consistent bounce. There are many affordable options available in the market which deliver a performance similar to 3-star balls. Since these are from Butterfly, we expect them to stand out in terms of quality, durability, and performance.
Construction
Butterfly Training ping pong Balls are marketed as comparable to 3-star training balls, but they are 2-star balls. These are plastic poly balls, manufactured under Butterfly's strict quality control.
They are round and ideally hard with an even thickness. The 40mm diameter of the ball is according to the standard regulation size for table tennis balls.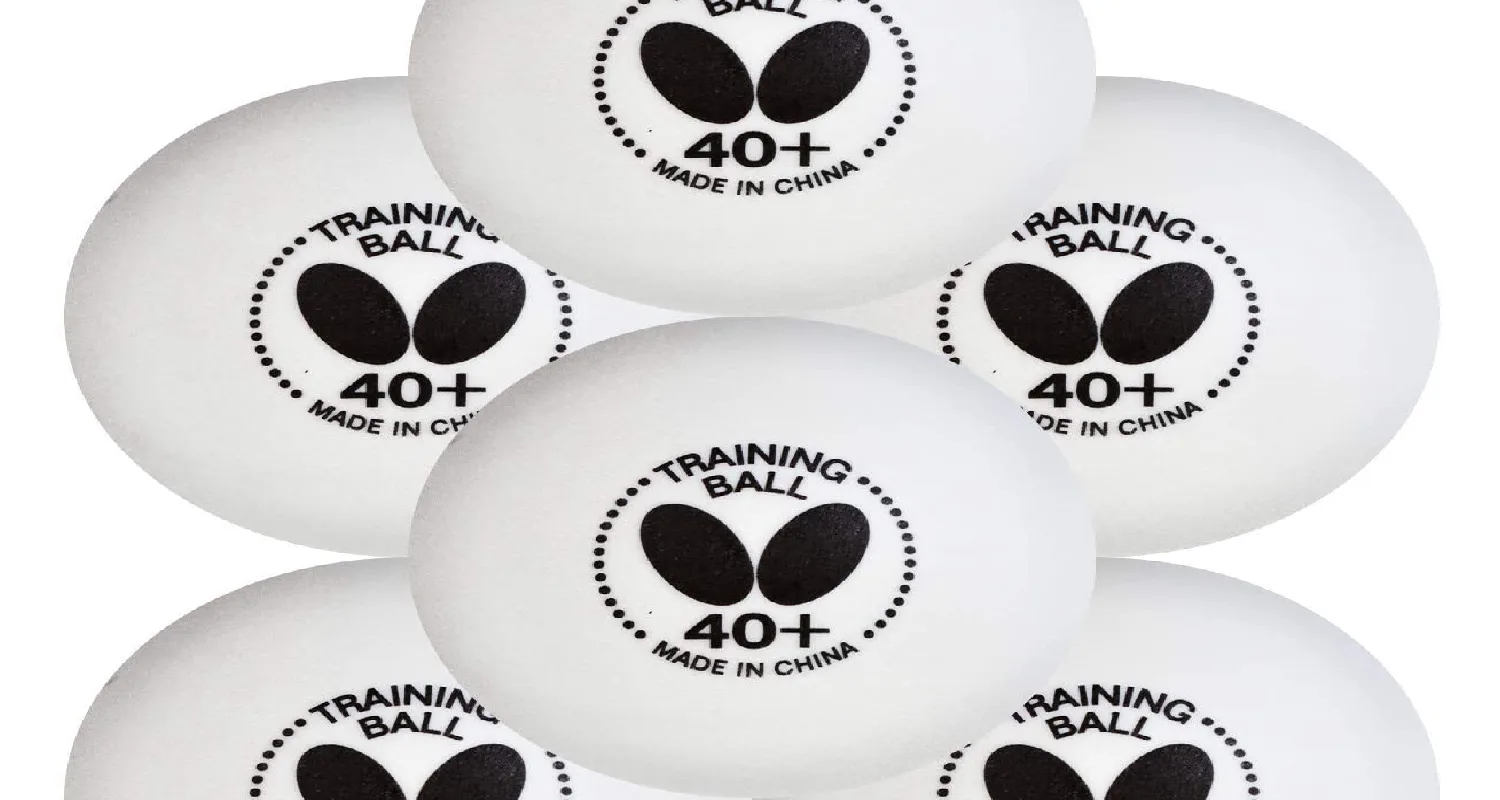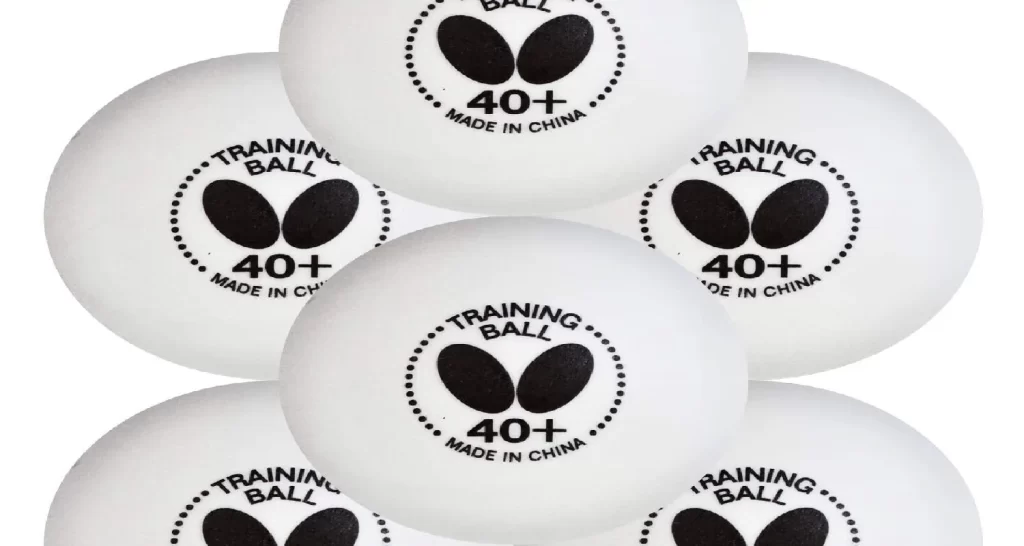 Pros
Training-friendly
If you are an intermediate player, you might find high-end ping pong balls overwhelming due to their speed and power. Butterfly Training table tennis balls are ideal for training as they are beginner-friendly.
You can use them with a robot or for multi-ball practice. Since they are comparable to a 3-star ball, you have a training and practice experience slightly similar to table tennis tournaments.
Great for Rallying
Butterfly Training balls are a bit heavier than the standard 2.6 g balls. Their weight and even thickness make them durable, which is great for rallying and offensive shots too.
You will hardly see a dent or a crack even after several uses. Higher weight also means that these are great for refining your technique.
Consistent Bounce
These practice balls will deliver great bounce and a power-packed performance on each shot and even after several uses.
Their higher weight contributes to executing an ideal bounce for training and practice. You can play hard strikes without overshooting the ball off the table.
Well-made and Durable
We like these balls for their sturdiness and durability. Butterfly never disappoints when it comes to craftsmanship and the same is the case with these balls. You can play power-packed strikes with these for days and they will not budge.
Their solid, even construction and weight make them very hard, durable, and long-lasting.
Great Packaging
Most companies that deliver a bulk of low-end table tennis balls have poor packaging and they can get damaged during shipping. Not having a container also results in storage problems.
Butterfly lives up to its name and you will have nicely packed balls whether you order a set of three or more, minimizing shipping damage.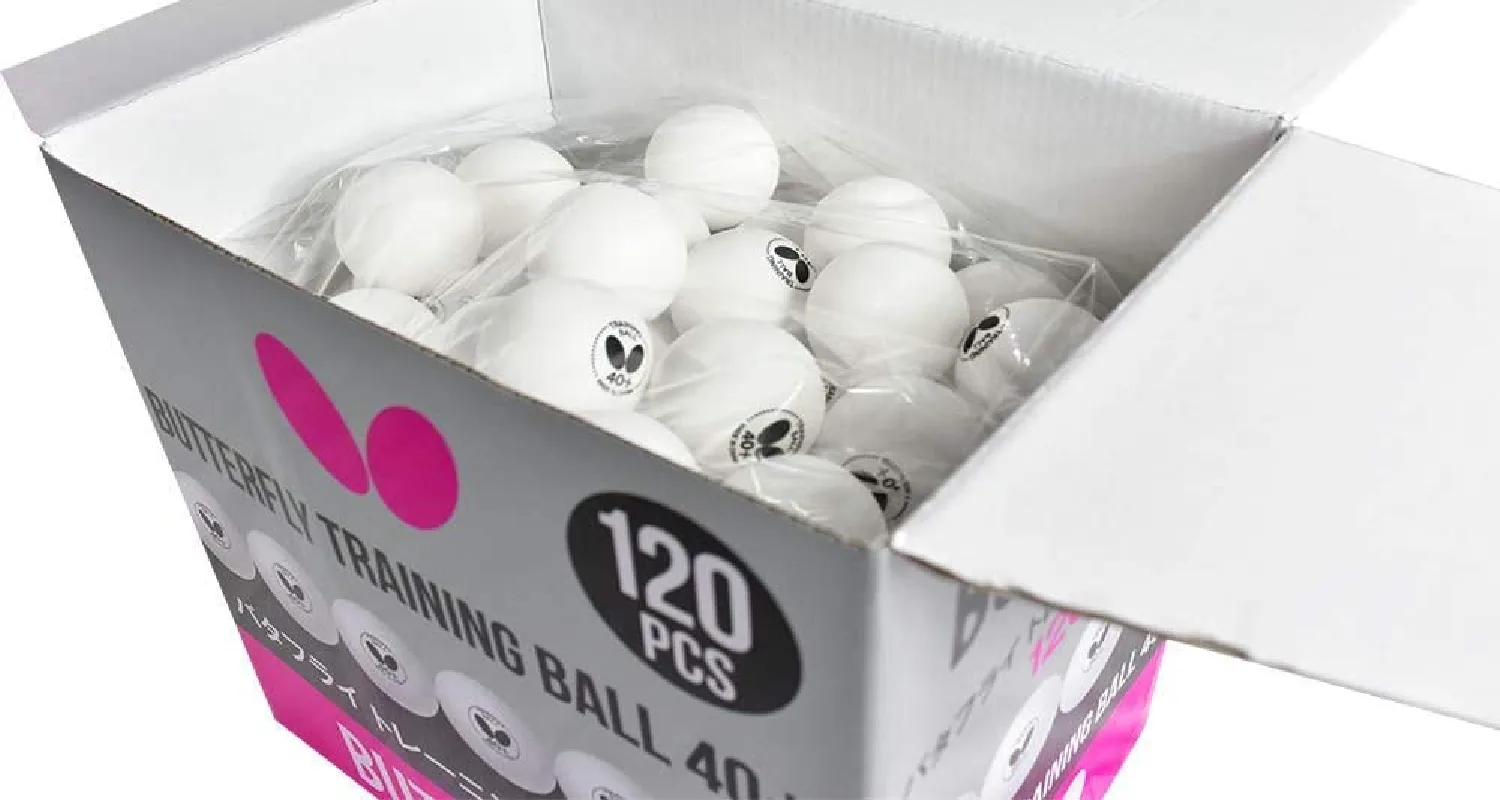 Cons
Wobble Effect
Creating and mastering spin are some of the most significant techniques in table tennis. To execute spin, you need training balls that help you master the technique. If you like a spin-oriented game, then Butterfly Training Ping Pong balls are not for you. These wobble a lot and do not spin evenly.
Better Alternatives are Available
You can find better alternatives to Butterfly Training Table Tennis Balls and that too in a lower price range. There are many options available in the market, such as those by MAPOL or KEVENZ. These brands offer better quality, 3-star training balls.
We will recommend you do your research before choosing your ideal pick.
High Price Point
Butterfly Training Ping Pong balls are very expensive for what they do, as you can get similar or better balls at the fraction of their price. There are many lower-priced 3-star balls available in the market.
You can either go for training balls that come at a cheaper price or go for 3-star balls that are a bit more expensive than high-end professional ping pong balls, such as Stiga 3-Star balls.
Not Suitable for Professionals
These table tennis balls are suitable for beginners only and you might not like them for training if you are a professional. They are prone to veering, which means that you cannot predict their trajectory with accuracy.
Moreover, they are slow too—primarily due to their weight. As a professional, you might prefer high-end balls and these are not up to the standard of a 3-star ball.
Seams
Most professional ping pong balls are seamless as seams make the ball vulnerable to damage and also affect the overall game including spin ability and bounce. Standard 3-star balls do not have seams as per the ITTF regulations.
Butterfly training balls, however, have very visible seams. If seams bother you even during practice and training, we do not recommend these balls.
Our Rating: 3.5/5
Butterfly Training Balls are suitable for practice and training for beginners. They are robot-friendly, durable, and perfectly spherical. These also have a great, even bounce and will not disappoint with it comes to rallying or serves.
We think they are a bit expensive for their performance and you can find many other options at a lesser price. These are not for professional table tennis players as they are not on par with 3-star balls.
They are also less spin-friendly as compared to other training balls available on the market.
Conclusion
Butterfly Training Balls are decent practice poly balls, good for beginner table tennis players.
You will like them for their consistent bounce and roundness. They are a bit heavier than standard regulations, which makes them ideal for rallying. We think that you can find slightly better-quality ping pong balls at a lower price.