High-end ping pong balls are not only expensive, they might also seem overwhelming to novice players due to extra spin, bounce, and speed. For training, you need a product that is suited to your level and is also inexpensive so that you are not afraid of losing or cracking the balls.
Ideal training is only possible if you use something similar to professional-level ping pong balls so that you can practice what it's like being in a tournament. Luckily, 3-Star Kevenz Premium Ping Pong Balls 40+ are at your rescue.
These balls are among the highest-rated in the category for recreational ping pong balls and are suitable for training, practice, and entertainment.
3-Star Kevenz Premium Pig Pong Balls Specifications
Overview
Our Rating: 4.0/5.0
Price: $$$
Weight: 2.75 g
Diameter: 40mm
Wall Thickness: 0.86 mm
Color: Orange with Green Print
Play Ratings (out of 10)
Roundness: 10
Speed: 9
Consistency: 7
Hardness: 8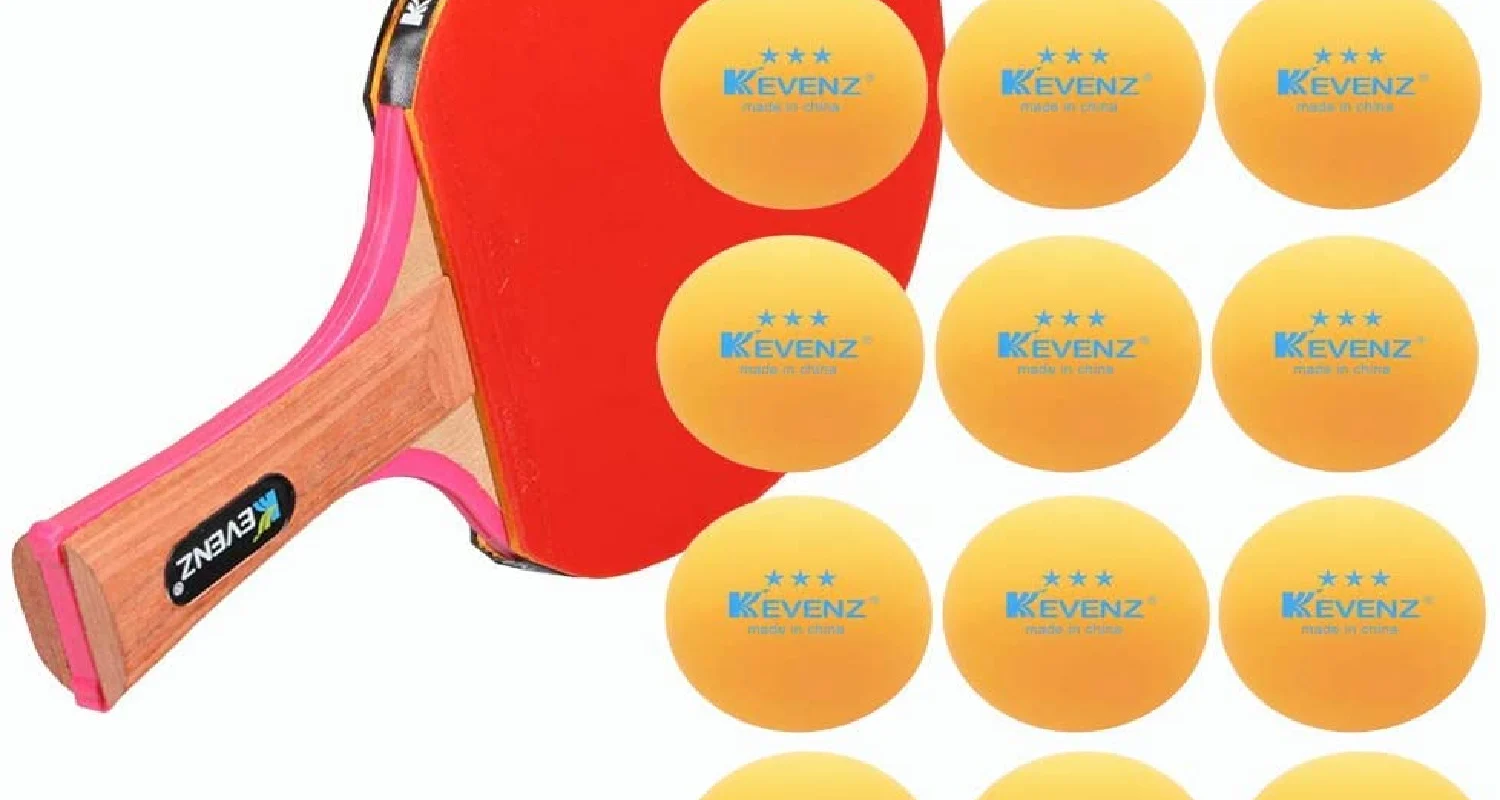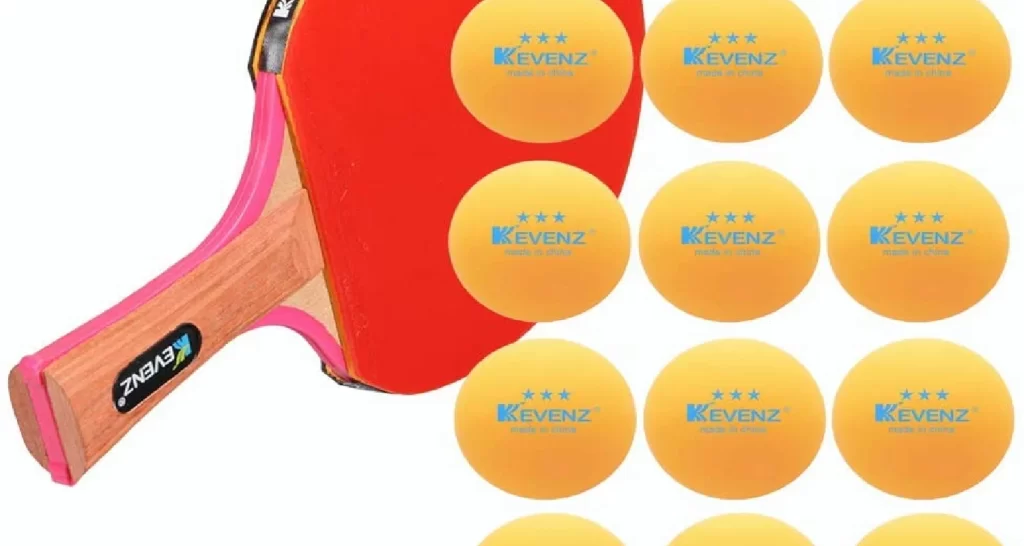 What to Expect?
3-Star Kevenz Balls are too good to be true as they are 3-star and regulation-sized. Since they are marketed as best for training and practice, we expect them to be durable, inexpensive, and robot-friendly.
Kevenz also makes high-end table tennis paddles that are loved by players. Lets see if Kevenz 60 Counts 3-Star Premium ping pong balls meet expectations.
Construction
At 2.75 grams, these Kevenz ping pong balls are a little heavier than standard ones. They are crafted to be perfectly round, with the right amount of hardness. These plastic poly balls have a wall thickness of 0.86 mm, which further contributes to the spherical shape and hardness.
The 40mm diameter is also according to the standard ITTF regulations. The bigger size and bright, orange color makes it easy to spot and follow the ball, especially for amateurs and beginners.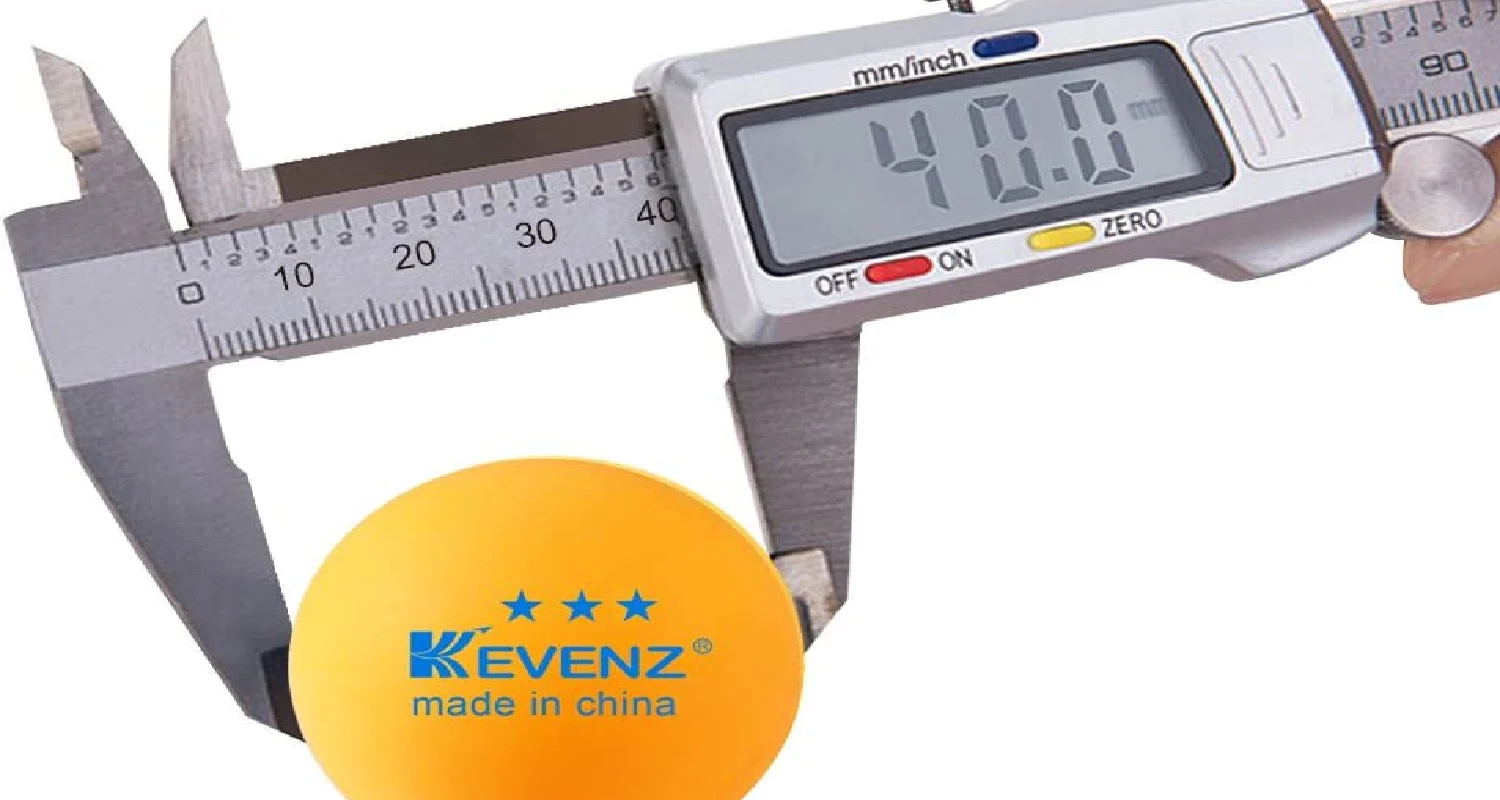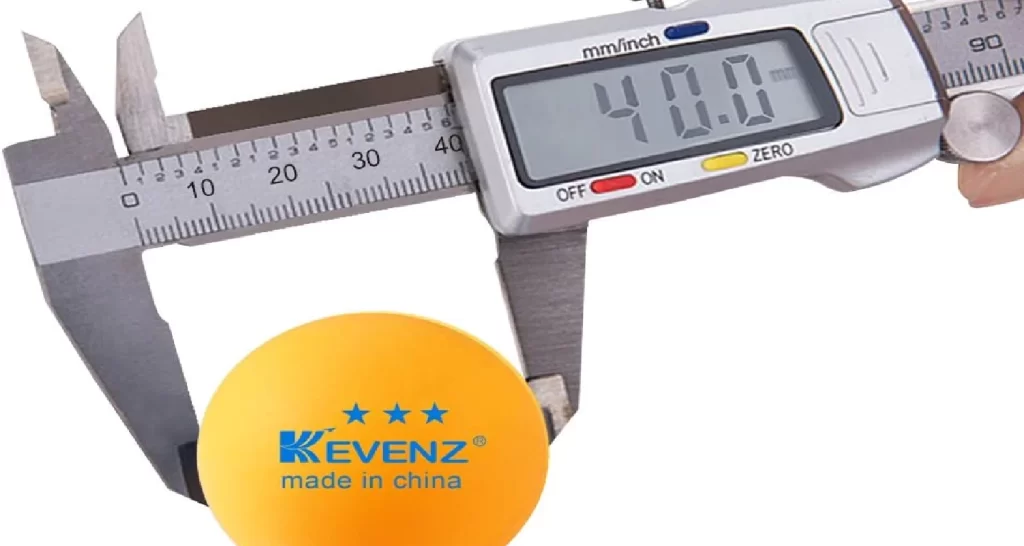 Pros
Excellent Craftsmanship
The most outstanding quality of these balls is the premium construction and that too on a budget. Higher weight is a huge plus as it contributes to the overall momentum and increases accuracy.
Thick walls make 3-Star Kevenz Premium Table Tennis Balls sturdy and long-lasting, and these balls will not easily crack or dent even in an offensive game. Each ball in the pack is regulation-sized, with standard weight, diameter, and thickness.
The weight and size make the ball more spin-friendly and easy to spot and hit. It is perfectly round, with even thickness from the left to the right hemisphere of each ball, enabling a perfect shot at every strike.
Good Price-Performance Ratio
3-Star Kevenz premium balls are very sturdy and durable and each one can last you a month. These are solid with good spin and come in good packaging. Ping pong balls are never enough, and with these, you have 60 balls at a very affordable price.
They also have a crip feel to them, giving beginners a slightly tournament-grade feel. These are 3-star balls and we think they perform well at this price.
The Kevenz Premium balls are not suitable for professionals or advanced players but they perform as they are marketed — best for recreational purposes. Their long-term use makes them worth the money too.
They are great for training as you get to practice with various shots and angles, without worrying about damaging the ball.
Spin-Friendly
If you like spin-oriented games, then these balls are perfect for training. They are slightly tacky with an increased dwell time and will not wobble due to their consistent thickness and heavier weight.
The green print on the 3-Star Kevenz Premium Table Tennis Balls makes it easier to see the spin too.
Great Packaging
Unlike other low-end ping pong balls, these balls are packaged well. They are shipped in a box, reducing the chances of damage or dirt.
You can place the box beside you when you play so that you don't waste time trying to retrieve balls during the game, and rather just grab another one from the box. The box also makes the process of storage and movement easier.
Superior Control and Precision
Each 3-Star Kevenz ball goes through rigorous testing and an advanced process to ensure a precise, controlled strike, and we agree. Increased dwell time and appropriate weight of the ball allow one to predict the ball's trajectory and execute the right shot every time.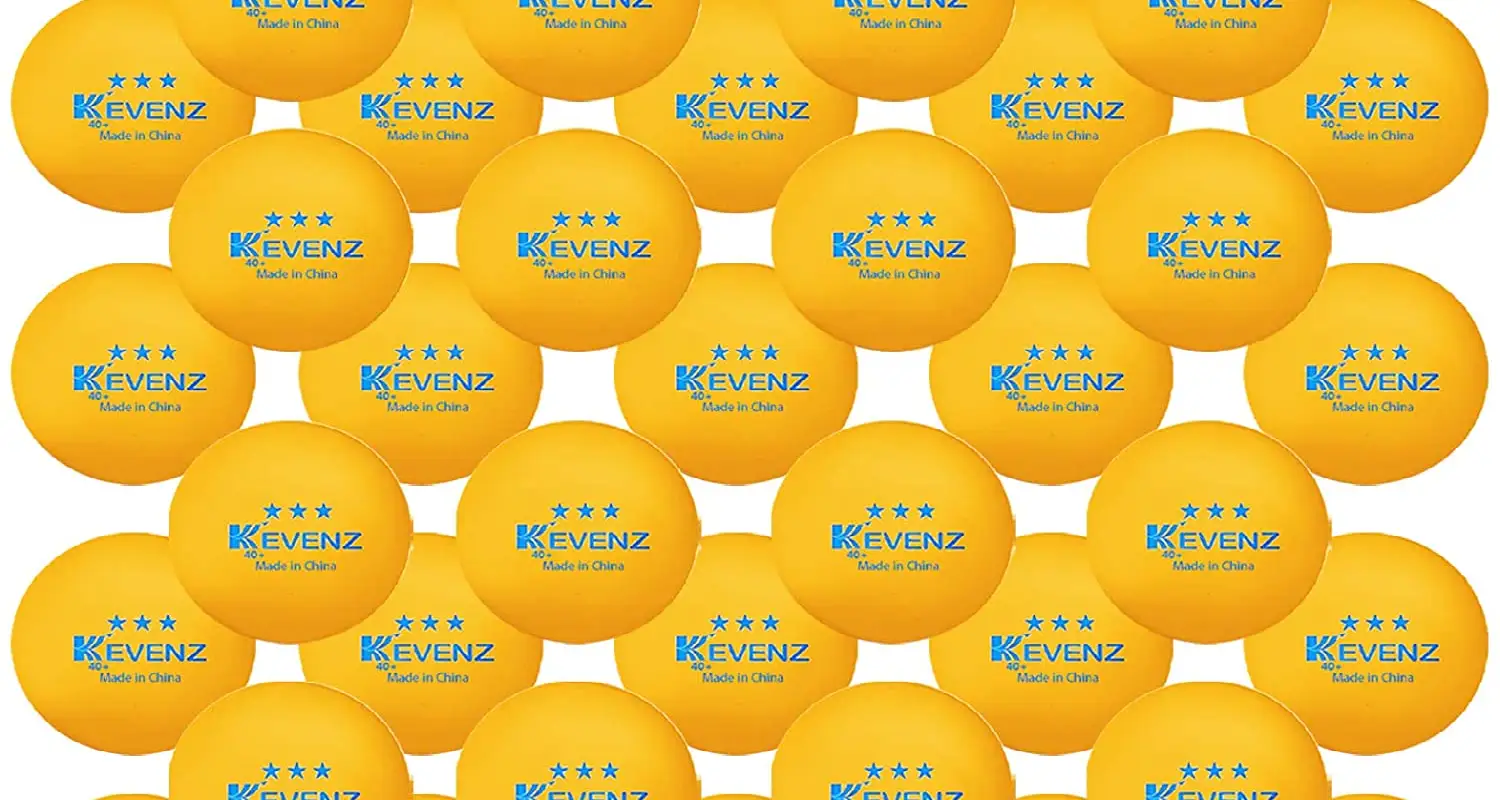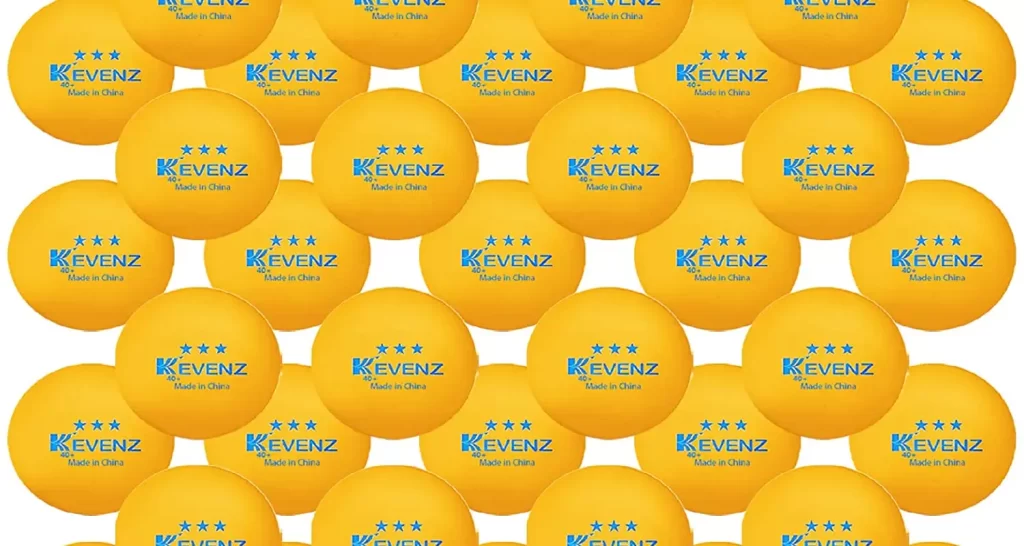 Cons
NOT Seamless
One disappointing fact about 3-Star Kevenz Premium Ping Pong Balls is that, unlike the description, they are not seamless. Seams affect the quality of the game and might end up making the ball vulnerable to damage.
If seams bother you, then you should think twice before getting these balls.
Leaves Stains
Some customers have complained that the Kevenz Premium Table Tennis Balls leave stains on the paddle and the tabletop. The orange-colored spots on your expensive table tennis gear might not be something that you admire.
If you are particular about the looks of your table and paddle, you might not like these balls very much.
Our Rating: 4.0/5.0
If you are looking for recreational ping pong balls, suitable for practice, 3-Star Kevenz Premium Ping Pong Balls would be among our top recommendations.
These are regulation-sized and deliver 3-star quality. These are not for professional players and they are marketed for recreational purposes only. They can be very helpful in training due to their craftsmanship and affordable price.
We especially liked how the balls are friendly to spin generation and are delivered in premium packaging. These balls are not seamless, although they are marketed as such, and are likely to leave stains on tabletops or paddles.
Conclusion
The ideal ball size, an even thickness, sound hardness, and a perfectly spherical shape make 3-Star Kevenz balls ideal for practice and training. They are robot-friendly, allow massive spin-generation, and are very affordable.
Novice players might feel that they perform like a high-end 3-star table tennis ball for a fraction of the price. You also get 60 balls in one package, and each ball goes through rigorous testing to assure quality.
If you are not bothered by seams or stains, we recommend these to beginners who want to refine their skills.