4-Star Killerspin ping pong balls 40+ are one of the most high-rated and popular table tennis balls today. The balls are ITTF approved, and are designed according to the latest standards for tournament-level table tennis balls.
These are the new poly balls, which are completely made of plastic and are bigger, harder, and lighter than the traditional celluloid balls. Celluloid balls have become outdated now as ITTF only approves the poly ball or plastic balls for competitive table tennis.
The dimensions and key features of Killerspin 4-star balls promise tournament-level quality and performance, let's see if this promise holds up.
4-Star Killerspin Ping Pong Balls Product Specifications
Overview
Our Rating: 4.5/5
Price: $$$
Weight: 2 g
Diameter: 40mm
Warranty: 30 days
Material: ABS polymer plastic
Color: White with black print
Play Ratings
Roundness: 9/10
Speed: 7/10
Consistency: 8.5/10
Hardness: 9/10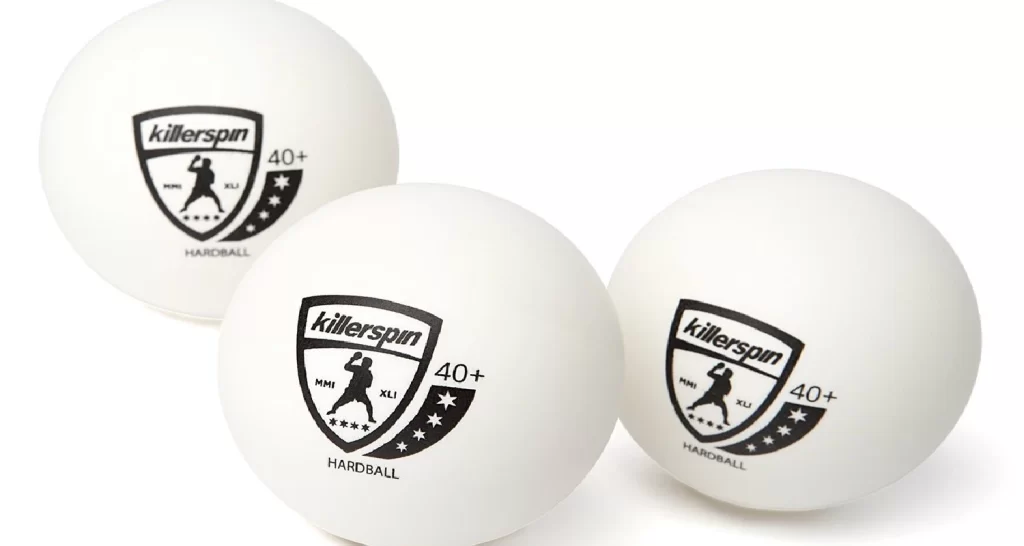 What to Expect?
According to the official changes made by ITTF (International Table Tennis Federation) in 2017, the new poly balls have reduced speed, more weight, and increased diameter. These changes were made to make the game more viewer-friendly.
Killerspin is a Chicago-based company, known for manufacturing high-end table tennis equipment. It is known for popularizing the sport by creating premium ping pong gear, and specializes in manufacturing recreational as well as competitive table tennis equipment.
Due to the ITTF certification, each ball undergoes rigorous testing to ensure the highest quality and performance. The ITTF approval and Killerspin's reputation make one expect a lot from this product. Let's see if these ping pong balls meet or defeat expectations.
Construction
Ping pong balls are usually rated 1, 2, or 3 stars — with 3 being the highest possible quality. Killerspin 40+ Ping Pong Balls have 4 stars, which means they are tournament level.
At 2 grams, they are some of the lightest balls on the market, but do not defy the tournament specifications approved by the ITTF.
The size of 40+ mm is also as per competitive sport, which increases air resistance due to the ball being larger and leads to more bounce, superior control, higher consistency, and increased spin.
The use of ABS (acrylonitrile butadiene styrene) further promises increased lifespan and added spin. The balls are seamless, which is considered to be a huge plus, as seams make it vulnerable to damage.
Unlike celluloid balls, they do not have a smooth structure but are slightly gritty. The balls are also aesthetically pleasing, as the chalky white surface stands out even in dark environments.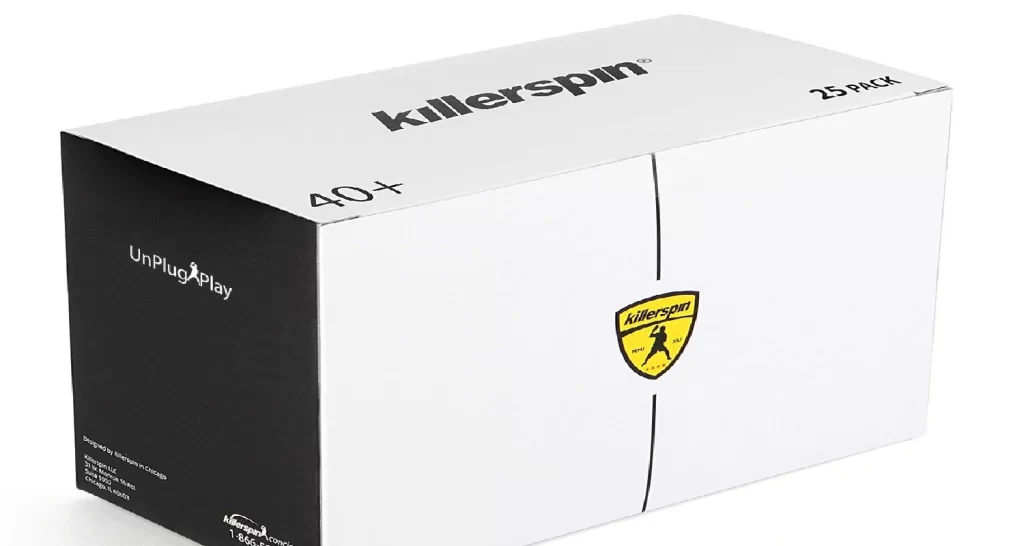 Pros
Tournament-level Game
4-Star Killerspin Ping Pong Balls 40+ were designed to be used by professionals—and they deliver. Rated 4 stars, the balls are highly durable and respond well to spin.
Their hardness and perfectly spherical structure also make them ideal for tournaments. The slightly gritty texture increases dwelling time, making the game consistent and controlled.
Great Bounce
4-Star Killerspin Table Tennis Balls 40+ have a great bounce due to the lighter weight of the ball and the ABS material. The ball doesn't wobble, even with high spin.
Durability
This ball will not disappoint in terms of durability and even heavier smashes aren't able to crack or even dent the surface. It will last you several games even if you are an offensive-style player. Due to its long lifespan, it is best for training too.
4-Star Killerspin Ping Pong Balls 40+ are rated as one of the sturdiest balls and wouldn't budge even after several uses.
Defined Trajectory
Due to its heavier weight and bigger diameter, the ball has a defined and curved trajectory, which leads to a highly consistent game. You can predict the path of the strike with great accuracy and can create curves however you like. A defined trajectory also allows you to have superior control over the ball.
Great Spin
We found 4-Star Killerspin 40+ to be among the best table tennis balls in the market when it comes to spin generation. It doesn't wobble at all and allows you to create deadly topspin or backspin. Killerspin does live up to its name.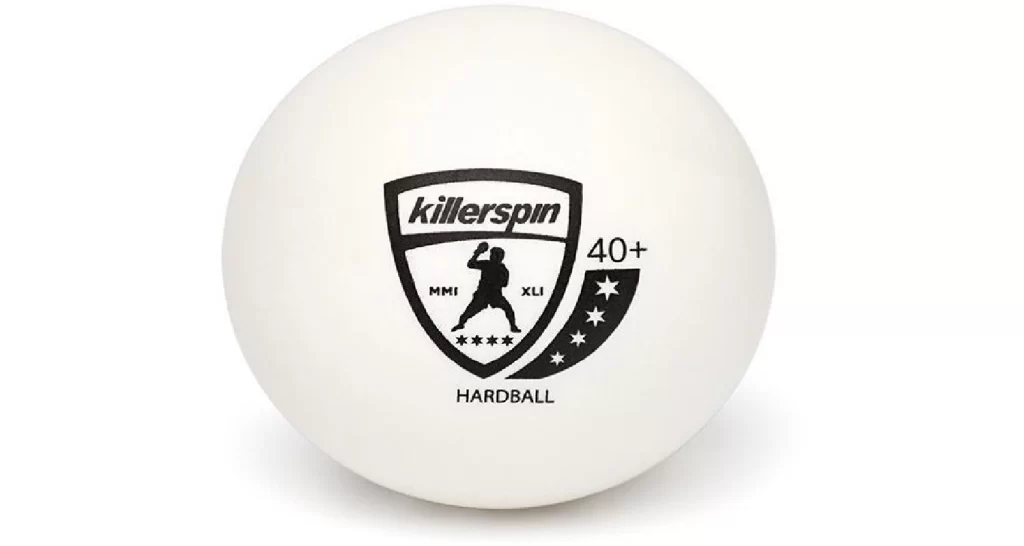 Cons
High Cost
4-Star Killerspin table tennis ball is very expensive and you can get similar quality at much lower prices. If you are looking for tournament-level, 3-star ping pong balls on a budget, we would recommend Butterfly R40+ table tennis balls or Nittaku 3-star Premium 40+ balls.
These offer a professional-level game at a considerably lower price, when compared to 4-Star Killerspin ping pong balls.
Slower speed
Due to the larger size and the ABS material, this ball is a little slower than most ping pong balls. If speed is one of your most desirable traits, then this ball is not for you. It is suited to a more spin-oriented game and might not work well in fast-paced games.
Higher Pitch
4-Star Killerspin Table Tennis Ball 40+ is a plastic poly ball and does not have the same sound as that of a celluloid one. It produces a high-pitched smashing sound which might be uncomfortable to some players.
Our Rating: 4.5/5.0
4-Star Killerspin Ping Pong Balls 40+ are tournament-level balls with superior consistency and control. These feature the size, material, and dimensions as approved by ITTF and wouldn't fail you in any tournament or training.
They are also very long-lasting and can bear damage without breaking or cracking, even in an offensive environment. One major downside is the fact that the balls are too expensive, as you can get decent 3-star balls at lower rates, and that too made by high-end companies like Butterfly and Nittaku.
Conclusion
Whether you want to train as a professional ping ball player or win games at a tournament, 4-Star Killerspin table tennis balls will not disappoint you. Similar to Killerspin's JET 800, they respond well to spin, enable amazing control, and are highly durable.
These are not for recreational sports or even for intermediate players due to being very hard and larger than traditional celluloid balls. These balls are quite expensive too, so if you are looking for something on a budget, you could search for other 3-star balls that offer the same performance.
If slower speed and a higher pitch are some things that bother you, you should think twice before getting the 4-Star Killerspin ping pong balls.