Killerspin is renowned for manufacturing expensive, beautiful, and high-quality table tennis products. The Killerspin JET 800 table tennis racket is not an exception to this rule. It is expensive, it is a great paddle in quality, and it is a thing of beauty!
The JET 800 is the latest in the line of the JET series by Killerspin. As explained by the company, JET 800 was created for an aggressive play style, perfect for players who like to use exceptional power and pace in their gameplay. Dive into this Killerspin Jet 800 review to see if it suits your needs.
Killerspin JET 800 Paddle Specifications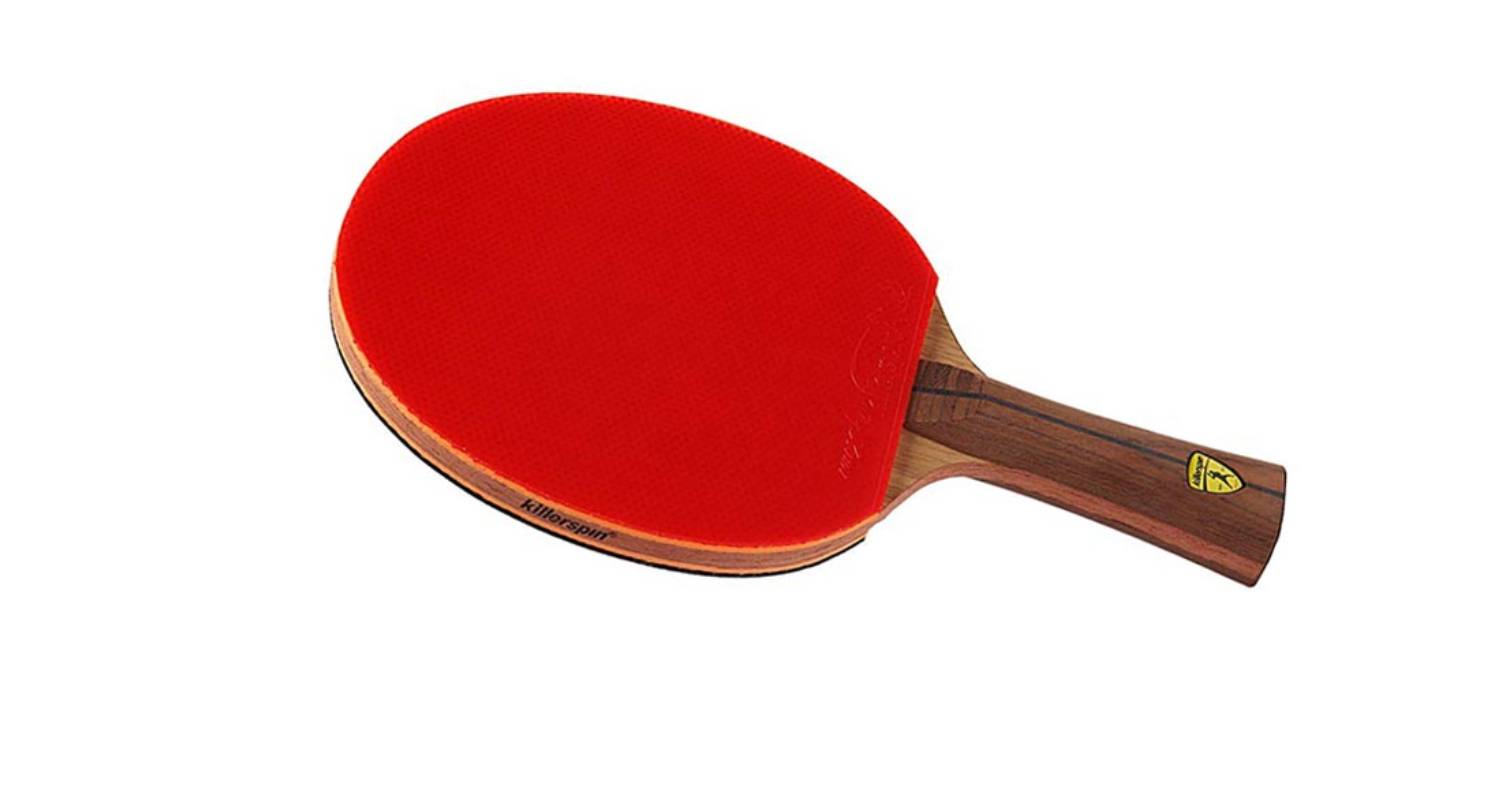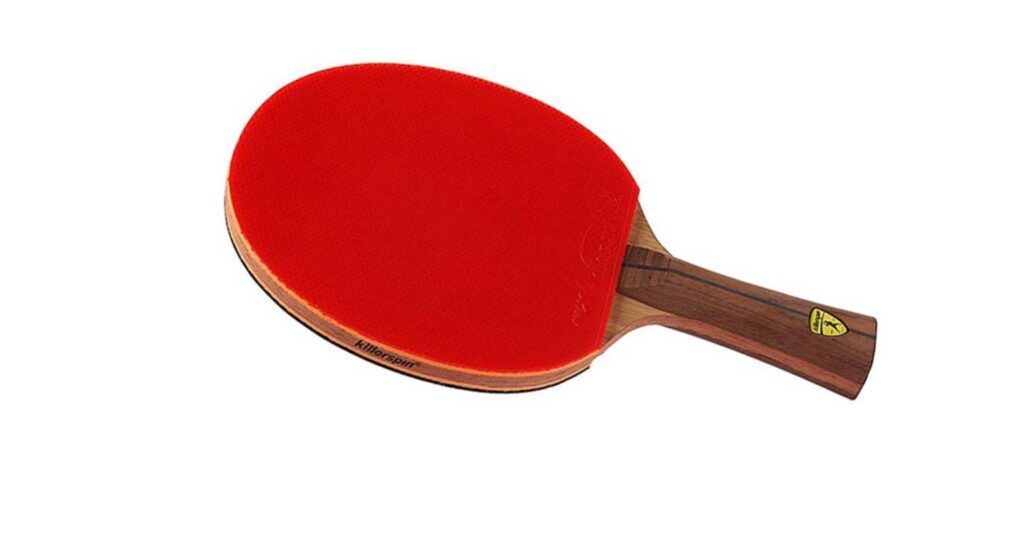 Our Rating: 4.0/5
Grip Type: Shakehand
Price: $$$
Weight: 6.7 oz / 190 grams
Play Rating
Speed: 9.1/10
Spin: 8.8/10
Control: 7.5/10
Durability: 6.5/10
Materials
Plies: 7 plies (5 wood, 2 carbon fiber)
Sponge: 2 mm
Rubbers: Nitrx-4Z Rubber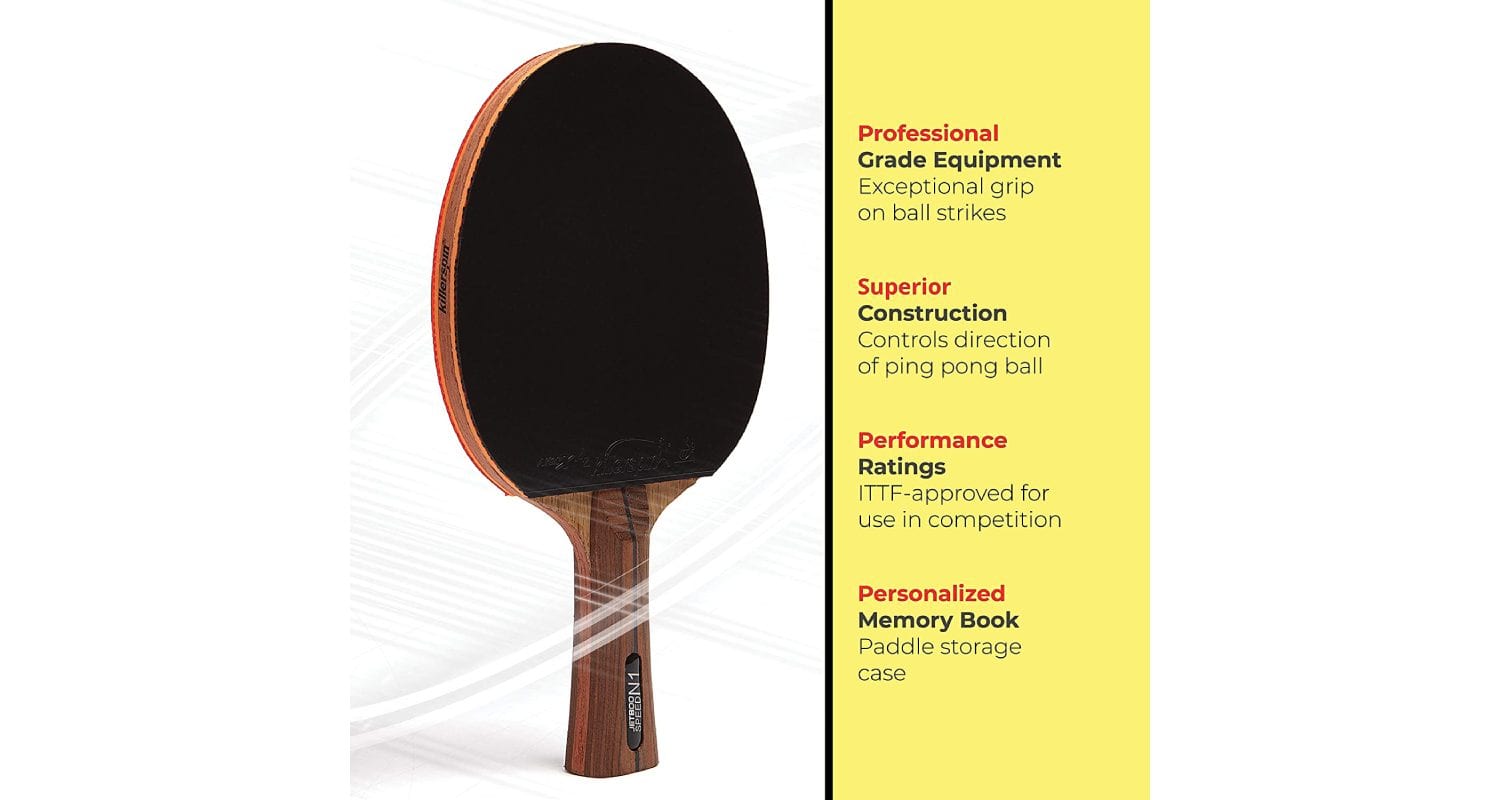 What to Expect
The expectations of the buyer are high when they are spending their money on some of the best table tennis rackets. Same is the case JET 800-Killerspin ping pong paddle. It is a great bat and the modified version of Killerspin jet800 speed N1 that will not disappoint! For that price, you get a host of fantastic features, and we take a look at some of these.
Nitrzx-4Z Rubber
The Nitrzx-4Z rubber is a fantastic addition to this table tennis paddle and does wonders for professional players. It is an ITTF-approved, high-tension rubber that excels in producing exceptional grip on ball strikes and counter-heavy spin shots, in addition to the generation of pace. The ball tends to ping off the rubber surface at a very high speed.
The rubber is firm and has a 2mm sponge backing it to ensure that every shot played and spin generated by the table tennis paddle pushes the opponents on the back foot. This premium rubber and sponge are some of the best features of this ultimate professional grade paddle.
The overall weight of the Killerspin jet800 speed n2 falls between 175-190 g, which is preferred range for many professional table tennis players.
Incredible Blade
The blade of the Killerspin ping pong paddle has a speed rating of 9.5, a control rating of 7.5, and a spin rating of 9, according to Killerspin. This high-spin blade has seven layers of wood called plies, five of which are made of high-quality wood. Within those five meticulously chosen complimentary wood layers, there are two other plies of carbon fiber that make it one of the most balanced table tennis rackets in the Killerspin range.
These plies allow for greater power generation that can help you pace the game, aggressively with enhanced accuracy. You have to factor in the heavy handle, and despite factoring in, you realize the Killerspin table tennis paddle is quite light. This is primarily because of the beautifully constructed blade.
Made for Pros
Killerspin JET 800 table tennis racket is made primarily for top-level and aggressive players. Advanced players prefer using it, and it has been the go-to paddle for many big names in the sport to cater to their unique playing style. These standards are upheld thanks to careful and fantastic manufacturing making these products high-end.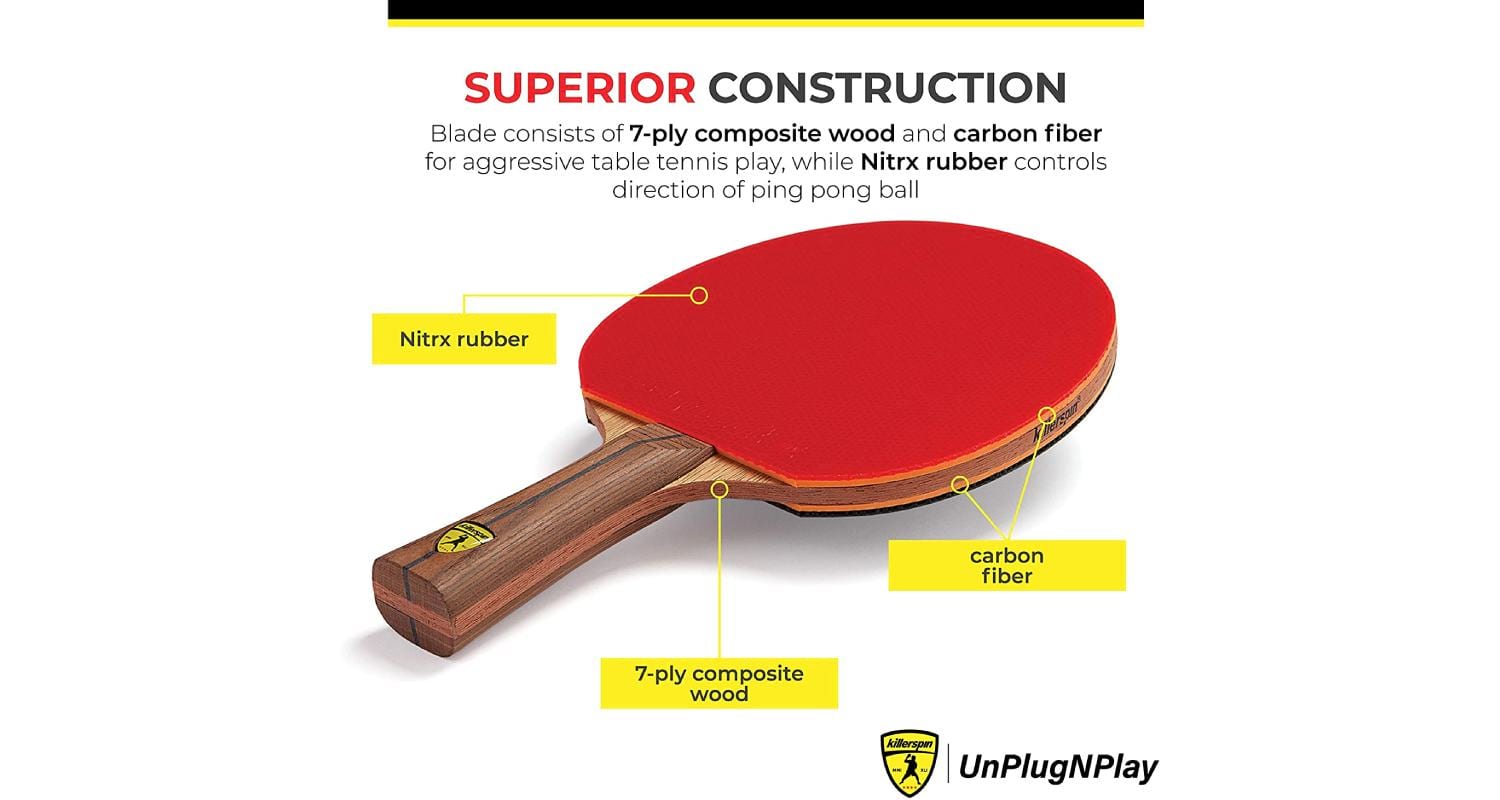 Pros
Aesthetics on Point
In the simplest of words, Killerspin JET 800 table tennis paddle is a very good-looking racket and is made up of high quality material. Thanks to the carbon fiber built into this wood blade, it enhances its durability and provides a large sweet spot on the blade. It has a nice little wooden side tape that adds to the aesthetic and looks brilliant in your hand. You not only get an all-round perfect paddle, but it also is stylish enough.
All in One Blade
The blade of the Killerspin ping pong paddle is incredible, to be honest. It has seven plies, that make it more powerful than Stiga Pro Carbon table tennis paddle and to accompany those plies, it also is very lightweight. These things are so important if you are looking for an ITTF approved paddle to play fast paced games, as they allow you to generate a lot of power and speed.
The table tennis blade is also pretty large. This allows you a better chance to return all kinds of powerful shots and give your opponent a real headache! Size always adds to the advantage, as you can even play a couple of defensive shots, thanks to this feature. Jet 800 uses the same composite blade as Killerspin jet800 speed n1 ping pong rackets, as there are not many differences in their features.
However, the company has discontinued Killerspin jet800 speed n1, and N2 has stolen all the attention allowing you to produce your own advanced spin on tricky serves.
Top Speed
The biggest positive of buying a Killerspin ping pong paddle is the speed you can generate with it. Speed is a crucial element for advanced players. However,
being able to generate speed rating of up to 9.5, control rating of 7.5, and spin rating of 9, despite having a lightweight blade is a big advantage. JET 800 table tennis racket will fast become your partner in aggressive gameplay.
Nitrix-4Z Rubbers
The rubbers pf Killerspin table tennis paddle are made of special quality. Nitrix-4Z rubbers are a favorite of ping pong players because they help massively to generate plenty of spin, as well as the generation of pace and power. The sponges underneath the rubber add to this and provides exceptional ball grip to both serious and intermediate players.
Killerspin paddle comes in an exquisite package including personalized memory book box to collect scores, signatures and personalized messages etc.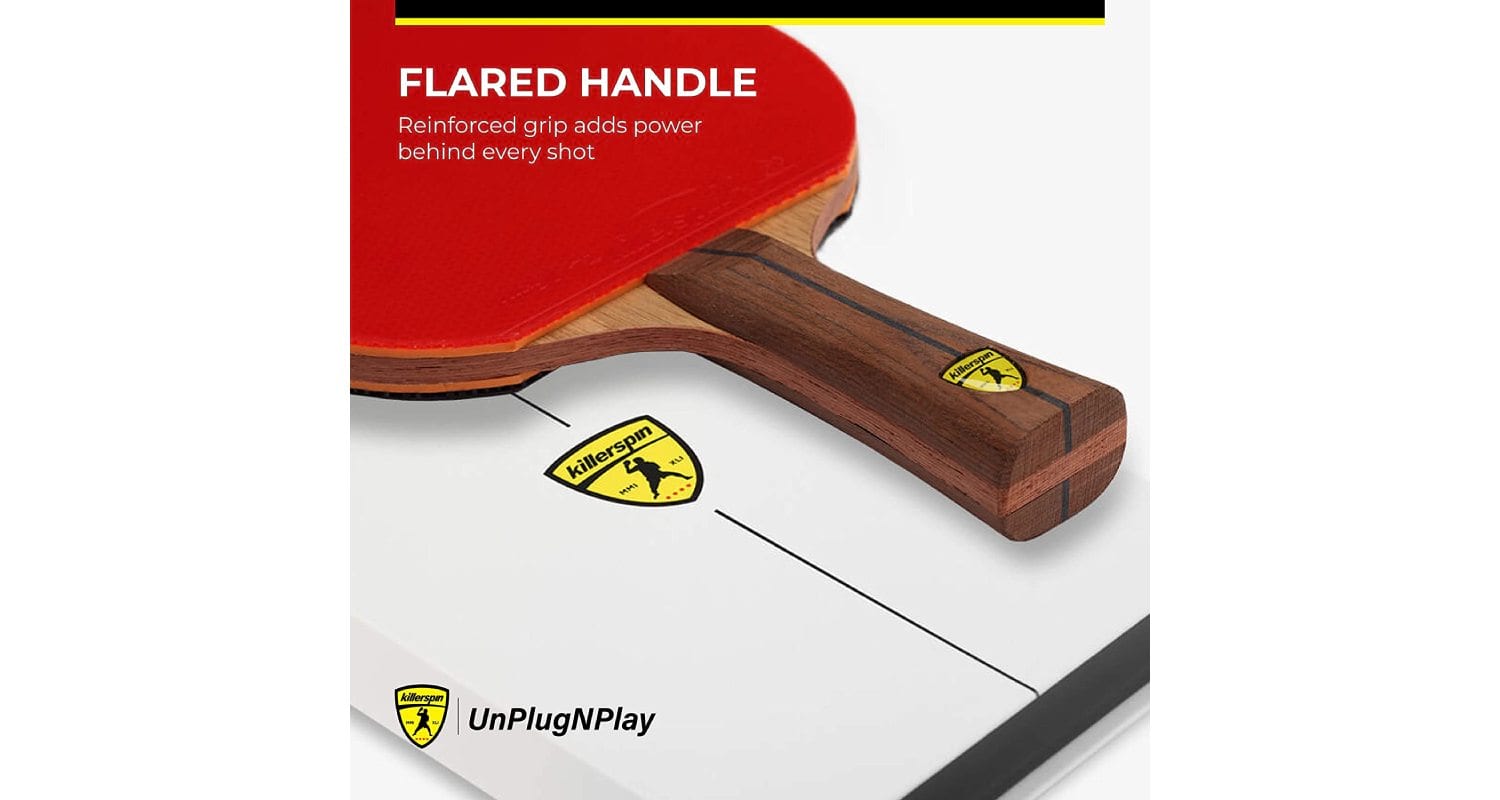 Cons
Lacking in Control
Of course, when you buy a powerful ping pong paddle, you are sacrificing control. Most professionals and intermediate players have rated the control to be quite less. This can be a deciding factor and a major reason why most people do not opt for this Killerspin ping pong paddle.
Very Expensive
JET 800 table tennis paddle appeals to the high-end consumers of table tennis goods. All of their products are priced higher than the normal prices of their competitors, Butterfly, STIGA, etc. There are lots of reasons for still splashing out money and buying the Killerspin table tennis bat, but the price is a limitation for lots of people.
Another problem regarding the cost is in terms of the warranty. Despite being made of carbon fiber, Killerspin ping pong racket offers a 30-day warranty only. This is a relatively lesser time, to ensure that your paddle does not have any defects.
Shorter Handle
The handle of the JET 800 table tennis racket is relatively shorter. This is a shortcoming of the Killerspin ping pong paddle and a reason why some a serious player with larger hands, do not find it comfortable enough. Some people have also reported that the handle can come off.
Quite Heavy
At 190 grams, Killerspin JET 800 ping pong paddle is heavier than most of its competitors. This can be a good thing, but most people find the bat's weight extra enough to be harder to cope with. It requires multiple adjustments, and when mixed with the shortness of the handle, people tend not to buy the JET 800 when better options are available.
Our Rating: 4.0/5
We like the JET 800 table tennis paddle more than Stiga Pro Carbon, but there are multiple issues with it, too. However, it still managed to rate well, and that is majorly down to its aesthetics and high speed rating. It remains a beautiful ping pong racket, without a doubt! Carbon fiber used in its construction impart an exquisite boost to its overall performance.
Another major issue about this Killerspin ping pong paddle is regarding the cost. It is very expensive for a premade table tennis racket and we feel it prices out so many people. The handle could have been so much better to increase its control rating from 7.5 to more.
On the other hand, the blade is exceptional for an aggressive table tennis player! This difference in the quality of the two components of the ping pong paddle is the reason why the Killerspin JET 800 did not rate over 9, in our ranking. Overall, Killerspin jet 800 is a definitive racket for people looking for a perfect balance between power and control.
Frequently Asked Questions
Can I play using the penhold grip with the Killerspin JET 800?
The Killerspin JET 800 ping pong paddle is made for the shakehand style grip, but you should be fine with the penhold grip, too. This is because the handle is slightly shorter in size.
Is there any difference between the black and red rubber?
Apart from the color, of course, there is no difference. Both are the same kinds of rubbers and offer the same kind of response to a shot.
Can the cover of the JET 800 table tennis paddle be used as a case?
The cover of the table tennis paddle will not offer a lot of protection against dust, and it is not advised to be used as a case. We suggest buying a case separately to provide the needed protection. It also comes with a personalized memory box containing spaces to collect scores, personalized messages, and signatures.
Conclusion
Conclusively, the Killerspin JET800 speed n2 table tennis racket is a gorgeous paddle that is worth the hype and is ideal for players who prefer an aggressive playing style. We like the extra generation of extra pop, good speed and great spin, which is possible thanks to its two-carbon fiber plies. There are a few issues, as well, due to which the ping pong racket does not rate as high as its rivals.
For instance, we did not like the fact that the table tennis paddle has very little warranty time, along with the fact that it is so expensive. In addition to the cost, its handle has a few shortcomings, which is a major reason professional players do not prefer splashing cash on it. However, Stiga pro carbon is also a great bat that offers more flexibility and better control.
The blade, though, is simply fabulous; it is made to achieve accurate and precise shots, and it makes up for the limitations of the handle.