Nittaku Premium 40+ is one of the best balls around. The shift towards non-celluloid balls came with a bit of a downer for the players as these balls were not playing out as well as the celluloid ones.
However, Nittaku has manufactured a top-quality ball that not only matches the celluloid balls but perhaps, plays out even better, and it has great reviews!
Nittaku Premium Balls Specifications
Our Rating: 4.8/5
Play Ratings
Roundness: 9.6 (perfect round shape)
Speed: 9.0 (plays out fast enough)
Consistency: 9.3 (highly consistent bounce)
Hardness: 8.6 (medium hard)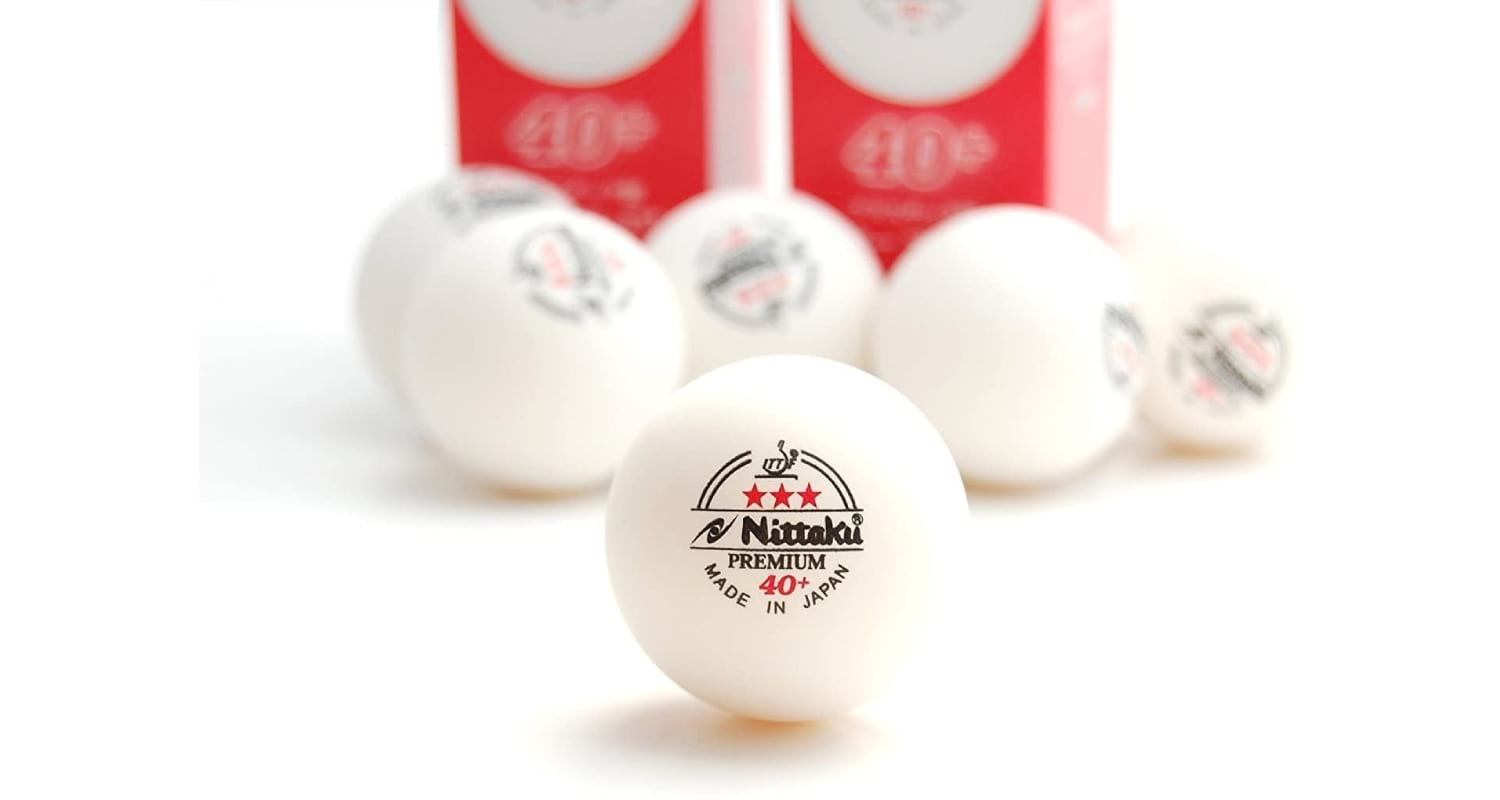 What to Expect
So, here's a list of everything that you can expect if you buy the Nittaku Premium 40+?
ITTF Approved
The Nittaku Premium 40+ is one of the best balls around. The fact that it plays out so well is the biggest reason why the International Table Tennis Federation (ITTF) has approved it. As we know, the ITTF is the global regulatory body of table tennis and they approve table tennis products that are top-tier and simply incredible, just like the Nittaku ping pong balls.
Non-Celluloid balls
Nittaku Premium 40+ is a non-celluloid ball. After 2014, the ITTF decided to move away from the long-established celluloid balls. This decision came at the expense of a massive outrage considering the celluloid balls were loved, worldwide. However, ITTF put safety first, as celluloid balls have always been a potential fire risk due to their flammability.
Highest Quality Poly Balls
Players and coaches were skeptical about the new material used to make these balls. However, this skepticism disappeared when they tried the Nittaku Premium 40+, which has turned out to be an incredible ball. It is made from a poly material that plays out just like the celluloid balls, and is a safer option, as well, considering they are not flammable.
Used in ITTF-Sanctioned Tournaments
The Nittaku table tennis balls are used in major tournaments that are approved by the ITTF. This shows that the ball is not only fast becoming a favorite for us but also for the professionals who seem to love how well it plays out!
Pros
Consistent Bounce
It has the most consistent bounce of all the ping pong balls around. We are yet to see a ball that keeps its shape and offers a bounce that is perfect and follows the predictable trajectory that you can expect only from a top-class ball. It is truly a shame that there are only 3 stars awarded to ping pong balls because the Nittaku Premium is surely at least a 4-star ball!
Approved by the ITTF
The Nittaku Premium 40+ is approved by the highest authority of table tennis, ensuring that it has the stamp of approval of the pros. It is a fantastic ball and ITTF sanction it to be played in their tournaments as well. This makes it a major reason for buying it, as you can practice with the best ball around.
Perfect Durability and Roundness
It is a highly durable product, that will last you more than your average ping pong balls. The Nittaku Premium 40+ comes with solid roundness, which is one of the major reasons behind the ball not losing its shape over time.
Non-Flammable
The Nittaku Premium 40+ is made from poly-materials, which are non-flammable, unlike the flammable celluloid balls which were used previously. This makes the Nittaku Premium 40+ a safer option.
Cons
Very Expensive
For a ball of that much quality, it comes without shock that is costs more than your average 3-star balls. The Nittaku Premium 40+ is the most expensive ping pong ball in the market. Some would argue, that it is expensive for good reason, others might say that they can get dozens of balls for a lot less. So, it depends on the consumer if you prefer quality over quantity.
Available in White Only
Ping pong balls are usually available in many different colors, but the Nittaku table tennis balls are only available in the white color. That is one of the reasons why people prefer not to buy these, as the white color is often seen as slightly boring, especially, when you are playing for recreational purposes.
Bigger than 40mm Celluloid Balls
The change by ITTF which saw the celluloid balls being discontinued was important in terms of safety. However, it also has an impact on the gameplay and how the balls perform during rallies. There is a significant difference as the larger non-celluloid balls tend to be slower as compared to the celluloid ones.
We dislike the slower balls because we like the fast game and ping pong is supposed to be played at a faster pace.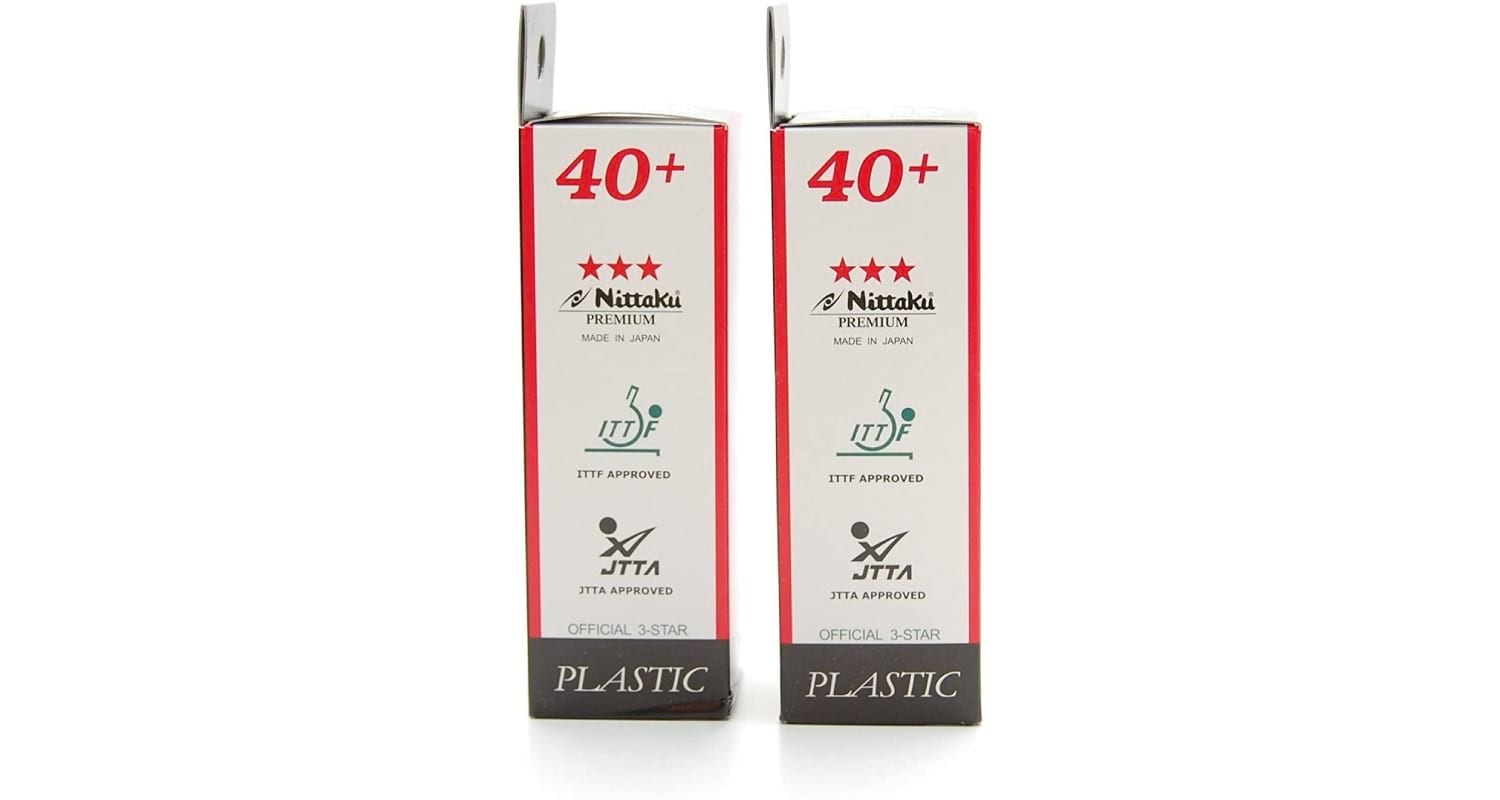 Our Rating: 4.8/5
We love the Nittaku Premium 40+. All of the balls had the same level of roundness and were equally hard. There are no manufacturing faults and we love how consistent they play out to be. They offer an insanely consistent bounce and we do not know any potential downsides of purchasing the Nittaku ping pong balls.
The only reason why it did not get a complete 5/5 rating from us, was that the ball is quite expensive. Most consumers are not happy spending almost $3 for a single ping pong ball. Then again, some do prefer quality over quantity!
Conclusion
So, here is everything that you needed to know about the Nittaku 3-Star Premium 40+ table tennis balls.
Conclusively, it is a no-brainer decision. We love the Nittaku Premium 40+ and we know anyone who has a bit of knowhow will grow to love the Nittaku Premium 40+. It is quite expensive, without a doubt, and that can be one of the reasons why people do not opt for it.
Some critics do not like it because it is seamed, and they prefer seamless balls. This is a common misconception that the seamed balls have a "weak point" on their seam, however, we have been playing with the Nittaku Premium 40+ balls for many years and we never experienced any weak points.
Again, it comes down to preference, if you are willing to spend and you do not mind giving new balls a chance, then you should try out the Nittaku Premium 40+.