The Butterfly 3 Star R40+ is a thing of beauty. It is the latest ping pong ball released by Butterfly and our expectations have been met, once again. There are so many things to like about this one.
We will review the Butterfly R40+ in detail and dissect everything there is to know about it.
Butterfly 3 Star R40+ Balls Specifications
Our Rating: 4.6/5
Play Rating
Roundness: 9.8/10 (incredibly perfect round shape)
Speed: 7.9/10 (plays out fast enough)
Consistency: 9.5/10 (very high and consistent bounce)
Hardness: 7.6/10 (medium to slightly hard)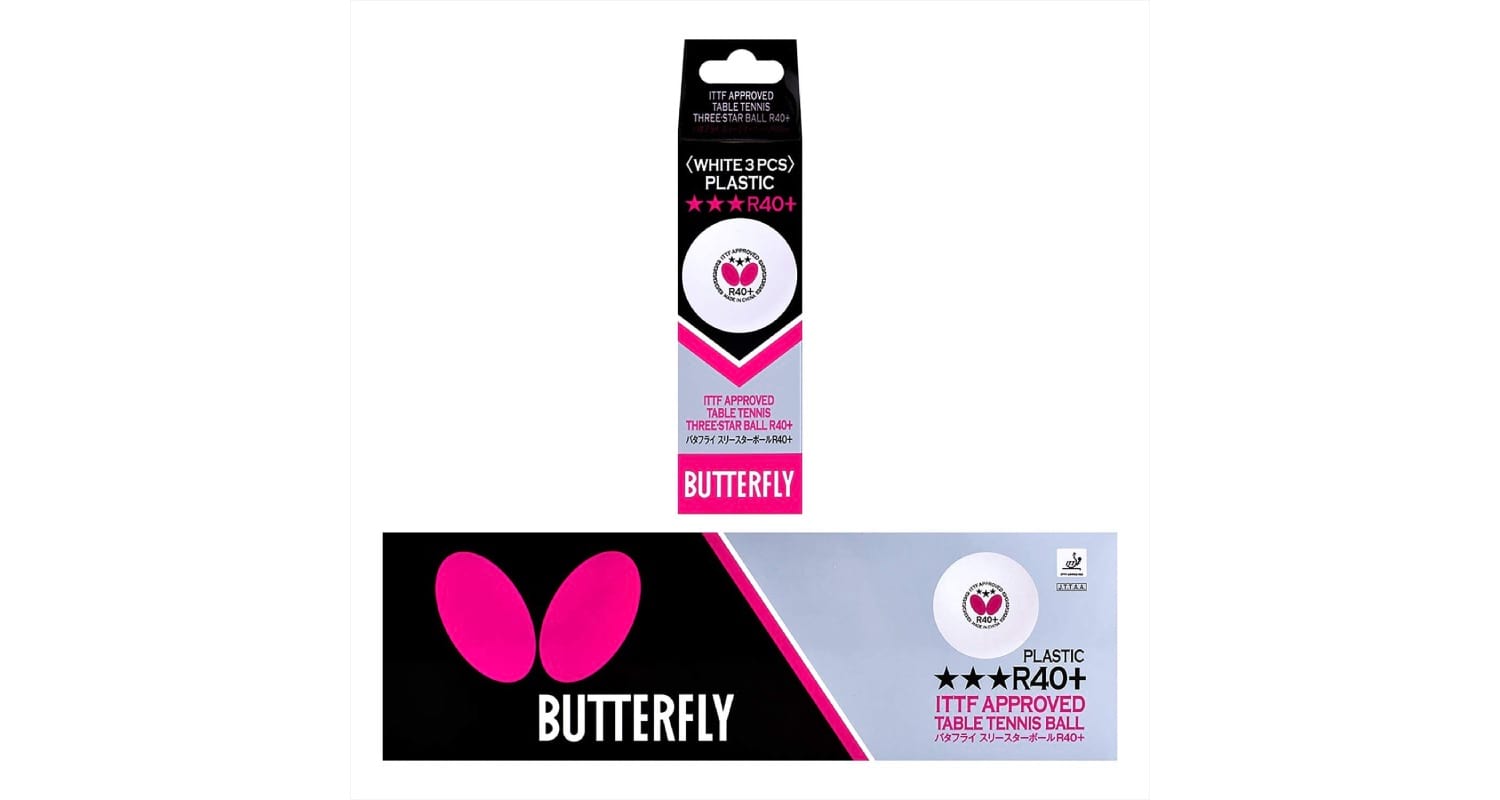 What to Expect?
The early reviews from all over the world have been positive and this one will not be any different. Butterfly believes that the ball is accompanied by the following features:
ITTF Approval
The Butterfly ping pong balls have the approval of the federations around the world. The R40+ has the stamp of approval from ITTF ensuring that it is, indeed, a quality product. As it came out in 2020, it is yet to be used in some international tournaments, of note. Rest assured, there is no doubt that it will be used competitively.
Plastic Ball
As expected, the R40+ came out in 2020 so it is made from plastic. According to the official regulations, all the celluloid balls were supposed to be phased out by 2020, and that has been the case. This does not mean that the ball is by any means worse off when compared to the celluloid ones.
The R40+ has a remarkable bounce, incredible consistency and even the sound is highly similar to the celluloid ones. It seems that table tennis manufacturers from all around the world have found the key to making sustainable and ideal plastic balls.
Made in China
There was a time when this was seen as a point of negativity. However, now, the tag of "made in China" is considered to be a point of pride. This is a deserved praise because the Butterfly 3 Star R40+ is manufactured under strict quality control and stringent production has allowed for the birth of a top-class ball.
Pack of 3 and 12
The Butterfly 3 Star R40+ comes either in packs of 3 or packs of 12. This makes it a good option for buying in a larger quantity, as well as, in a smaller quantity. You can buy as per your convenience, and this can be seen as a plus point because the ball is slightly costlier when compared to others.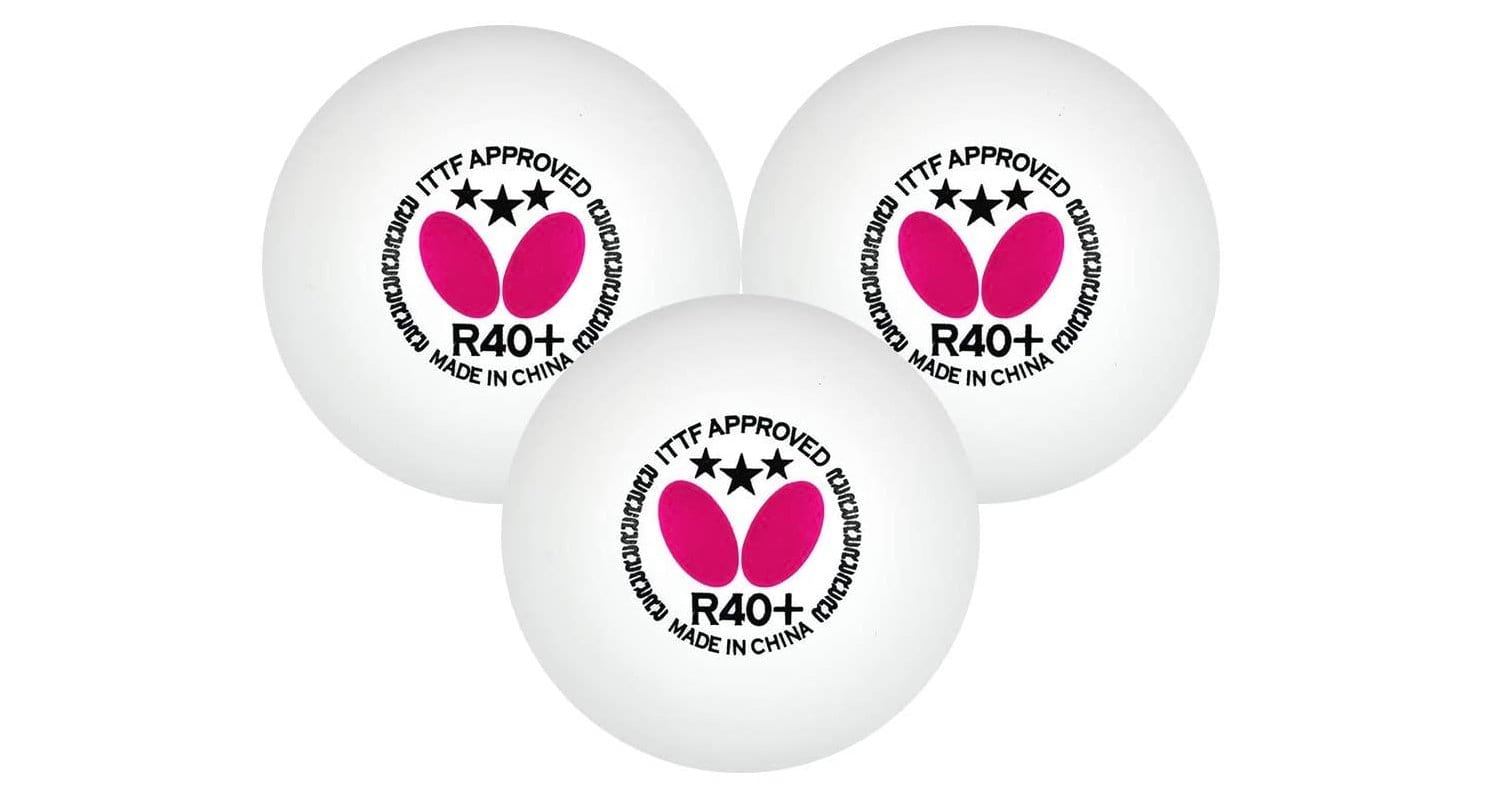 Pros
Top-Class Consistent Bounce
There is only so much that we can say about the bounce. It bounces better than the A40+ and it has remarkable consistency. Members of our team believe that it has a better consistency than Nittaku Premium. I guess, that is a claim, that can only be justified over time.
Selected for ITTF Tournaments
It comes as no surprise that the Butterfly 3 Star R40+ has already been approved as the official ball of the World Table Tennis Championships 2021 taking place in the US. How it performs in the Championships will be directly related to its success in the coming years and we expect it to pass this test with flying colors!
Uniform Roundness
This is something that we all agree on. It is very uncommon to see every ball of every batch have the same perfect round shape. We love the effort put in the construction of the R40+ and this review is an ode to that!
Spin Generation
You can easily generate lots of spins thanks to the construction of this ball. It is ideal for all levels of play, and having such a ball can take your game to the next level. It spins a lot more than some of the other 3-star balls that we have played with.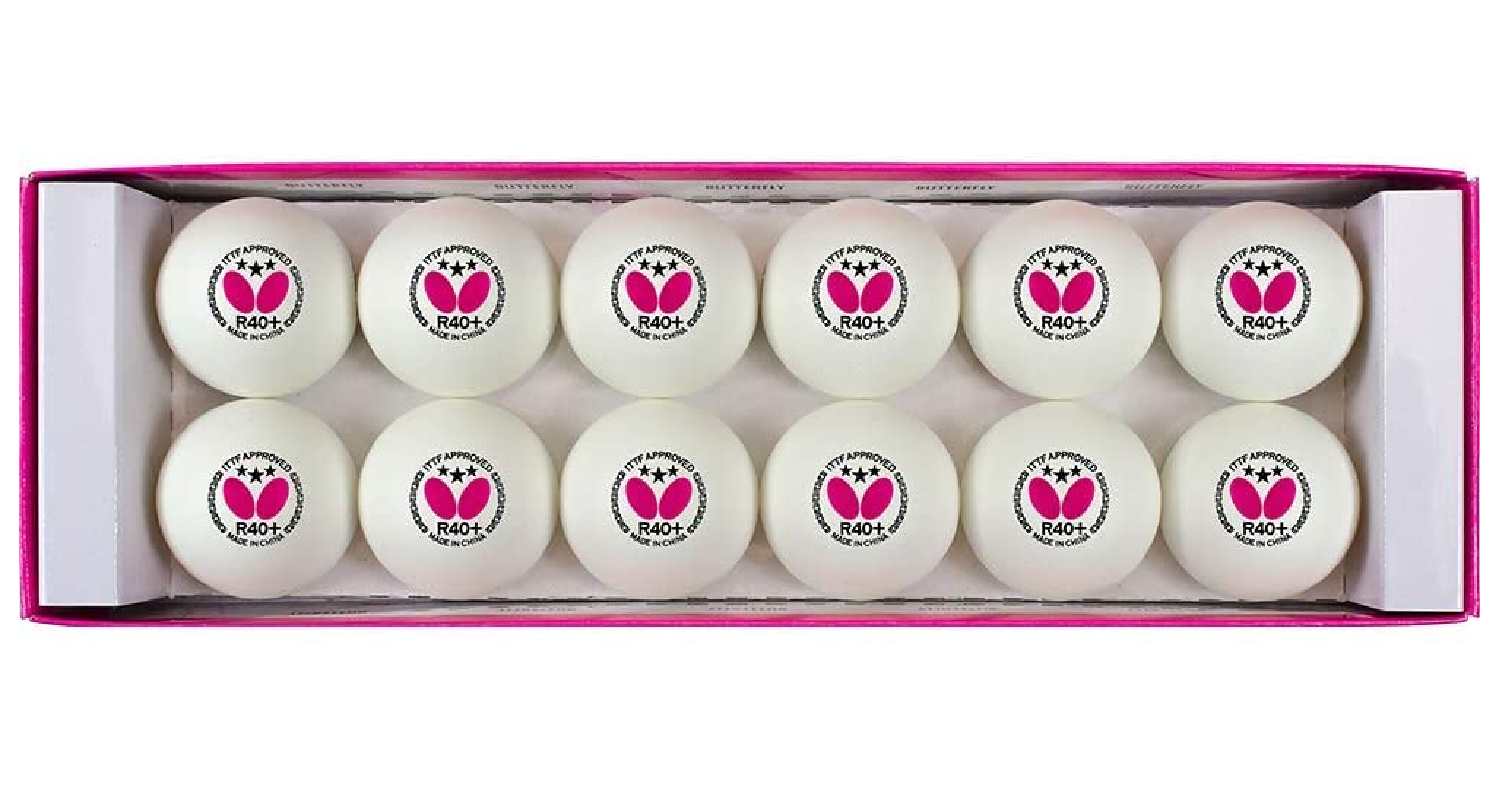 Cons
Quite Expensive
There is no doubt that the Butterfly table tennis balls are always of high quality, however, they are also mostly overly-priced. In a market full of Sanwei ABS's, XuShaoFa, etc, a new product having that kind of a price tag can put off lots of potential buyers. However, the Butterfly manufacturers would argue that it deserves that kind of price tag.
Questionable Durability
Our reviews for the top-class balls are relative when being compared to other 3-star top-tier balls. The durability of the R40+ is only questionable when it is compared to Nittaku Premium and other balls. It is still highly durable and a fantastic option for recreational usage. It can take a beating and is made for high-intensity rallies.
Relatively New
This is only seen as a downside because fewer people around the world have used this ball. The R40+ was released in 2020 and the world was largely dealing with a pandemic, and that meant it was not used in international tournaments but it is expected to be the official ball for the Championships in 2021. However, over time, we expect it to be used for major tournaments as it is ITTF approved.
Our Rating: 4.6/5
The Butterfly 3 Star R40+ for its many features is a decent enough option for all levels of play. If you are a recreational player or play table tennis for fun, the R40+ will be surprisingly good. It may require a bit of adjustment, if you are shifting from 1-star and 2-star balls, and will be a revelation!
On the other hand, it has a few questions over its durability and whether or not it can be seen as a long-term option for professionals. We dislike the fact that it costs so much, especially for a very new ball.
Conclusion
The Butterfly 3 Star R40+ is a terrific ball. There is so much to like about it, and so much to be excited about. We cannot wait for the Championships, as they are set to be highly competitive, but we also want to see how the R40+ performs at the international level.
It is an ideal purchase for all levels of play. While some may be ruled out of buying it because it is expensive, you should remember that it is a top-class ball with incredible features. So, if you can afford it, what are you waiting for?