The DHS 3 star D40+ balls are one of the superior options when it comes to playing table tennis.
These rank amongst the best balls ever manufactured, regardless of the material, even if it is celluloid or non-celluloid. Whether these claims are justified or not, we will leave it up for your interpretation. We have reviewed the balls after putting them under our microscope, for your convenience!
DHS 3 Star D40+ Balls Specifications
Our Rating: 4.4/5
Play Ratings
Roundness: 9.0 (perfect shape)
Speed: 9.2 (plays out fast enough)
Consistency: 9.2 (highly consistent)
Hardness: 7.6 (medium hard)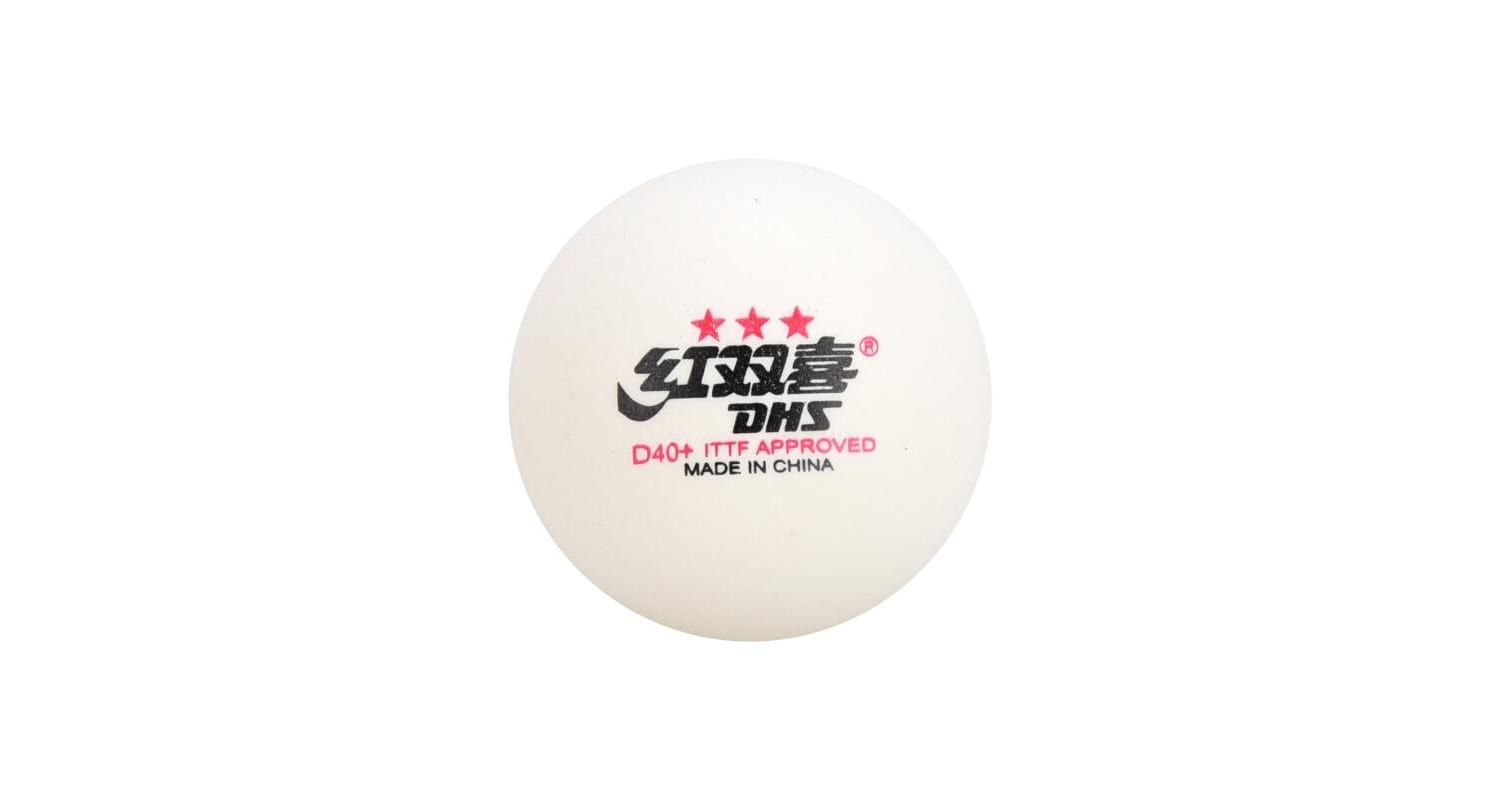 What to Expect?
When it comes to DHS, people automatically have lots of expectations, no matter what the product. DHS ensure that these incredibly high standards set by themselves are met, and that is why we have seen some amazing reviews for the DHS ping pong balls. You can expect lots of the following features if you opt for the DHS 3 star D40+.
ITTF Approved
The DHS 3-star D40+ has been the cornerstone for many successful World Championships, now. This showcases just how highly the officials rate this ball, and for the right reasons. We have to say the hype around the ball is rightly justified, now that it has been more than 3 years since it came out and the ball has been the official table tennis ball for many ITTF tournaments around the globe.
Incredibly Consistent Bounce
The bounce of the DHS table tennis balls is very consistent. It is high enough, and for a plastic ball, it is high-quality. DHS tried to copy the old celluloid balls and the DHS 3 star D40+ is one of the closest balls manufactured to the beloved celluloid balls.
Durable
One of the major features of the DHS ping pong balls has been the increased durability. Made from plastic, these seamed balls last a long time and can take a beating in hard-hitting rallies. Most people have compared the longevity of the DHS table tennis balls with the Nittaku Premium.
Lightweight
These ping pong balls are super lightweight. This adds to their playability as you can generate extra speed, power, and spin, thanks to their new plastic construction.
Pros
Affordable
For the top-tier 3-star ping pong balls, it is very hard to find such an affordable option. These are the balls that have been used in many ITTF international tournaments, and the fact that they have such great consistency, make them fantastic value for money. To add to this, you can find a great deal on the DHS 3 star D40+.
Highly Durable
We found the DHS 3-star D40+ to be one of the most durable options, around. They do compare well to the Nittaku Premium (although the Nittaku Premium is more durable). For a ball that is largely constructed from plastic, these are a safer option when compared to the old celluloid balls and last a long time, too.
Perfect Roundness
The roundness on the DHS 3 star D40+ is rare to find. They are truly ITTF-level round and it is almost impossible to find an irregularly shaped DHS ping pong ball. This is surprising because these are seamed balls, and they add to the whole new experience of playing with such consistent balls.
Attractive Colors
Don't get us wrong, white is also attractive. However, there is something different and fashionable about having the orange balls. DHS 3 star D40+ is available in both colors, giving you the option to choose the ball you want! Not all of the top-tier balls are available in both colors.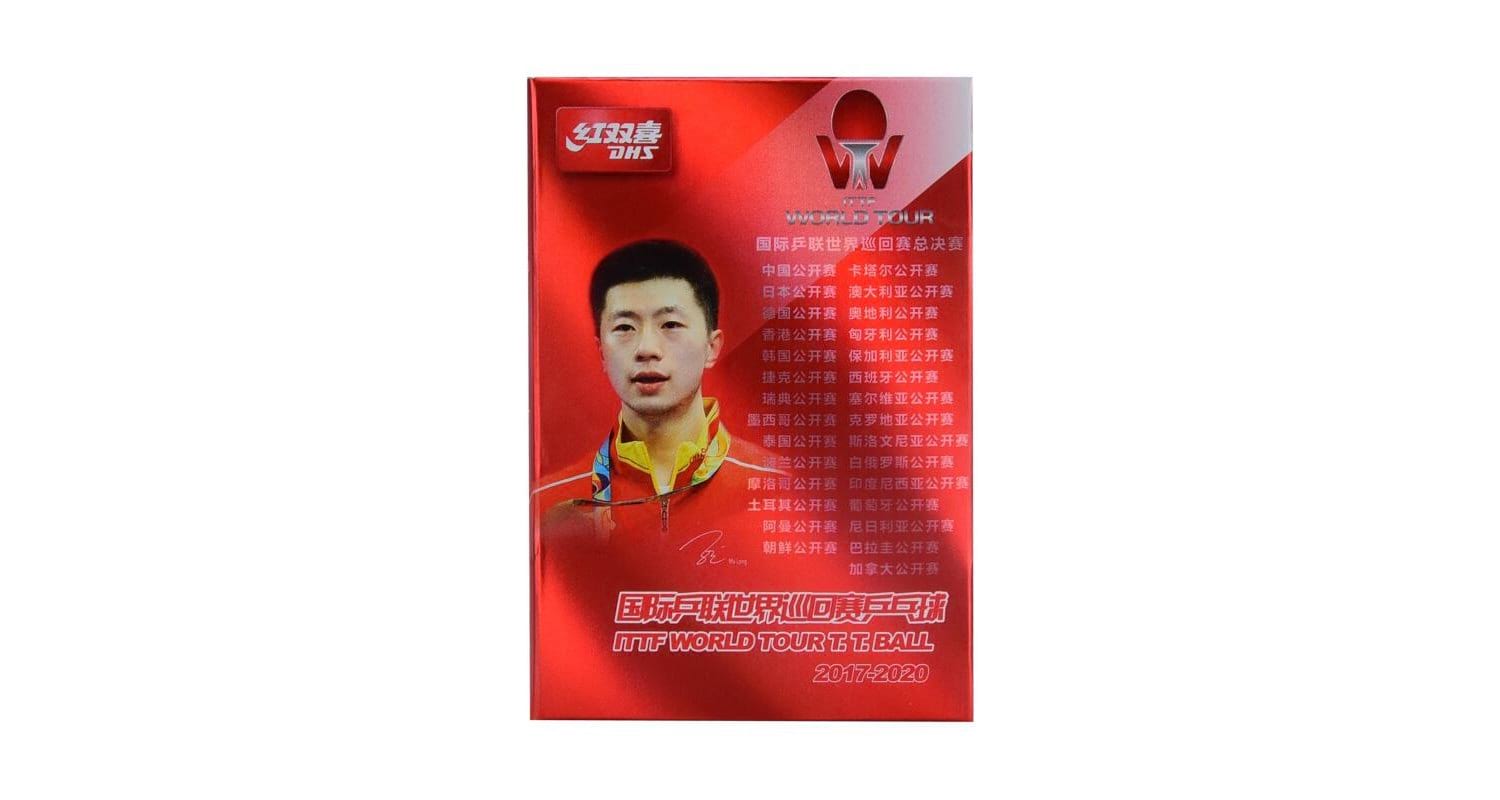 Cons
White Color is Not White
Unlike the white color we have been accustomed to, the DHS 3 star D40+ does not come in the white color.
It is slightly yellow, and many customers do not like this tinge of yellow and believe it affects the aesthetics. Well, what can we say? It seems like a matter of preference but we can confirm it is not as white as the other balls.
Dull Sound
If you are an enthusiast of good sound aesthetics, then this might be a slightly average experience. The sound is not as good as the Nittaku Premium or as dramatic as the Butterfly G40+.
Although we should mention, that it is not too bad, either.
Wears Out Quickly
While the DHS 3 star D40+ balls are durable enough, they do seem to "wear out" fairly quickly. This comes as a bit of shock because we are accustomed to such high standards from DHS. However, this is not a regular complaint and could be related to batch manufacturing.
Our Review: 4.4/5
There is so much to say about the DHS 3 star D40+. It has a good consistent bounce; it plays out superbly during rallies and we love the trajectory of the ball. It is an affordable option, too, when compared to the likes of XuShaoFa and Nittaku Premium.
There are a few drawbacks, too, as some people complained about the sound and the white color not being up to the standards.
We had problems over the wearing out of the ball and in particular with the lack of spin. It spins, but not as much as the other 3-star options. Although, when you look at how affordable it is, it makes up for a few limitations.
Conclusion
We think it is a fantastic option for almost every level of play. For the recreational players and the young children, we will suggest practicing before you can form an opinion, as the ball will require a bit of adjustment and getting used to.
For the pros, they know better, it is a superb ball and its appearance in worldwide ITTF tournaments speaks for itself.
It has a few limitations with the spin not being enough, however, the speed and power thanks to its lightweight, makes up for it. The DHS 3 star D40+ is a superb option, especially, when you consider how affordable it is.
The DHS table tennis balls have great reviews, too, and we can see why almost everyone is glad to have invested in them. Would you like to give them a go as well?