A ping pong conversion top comes with several advantages: They save space, are usually cheap, and do not require much assembly. Investing in a table tennis top should give you all these advantages so it's important to do your research before you buy.
We have compiled a review of STIGA Premium Table Tennis Conversion top, so you have zero confusion before buying this product. This table top has generally received good reviews.
Let's see if it is worth the hype.
STIGA Premium Conversion Top Specifications
Our Rating: 4.0/5.0
Price: $$$
Type: Indoor
Size: Regulation (9 feet x 5 feet)
Assembly Time: 5 minutes
Weight: 110 lbs
Tabletop Thickness: 15mm
Variations: 2 Piece and 4 Piece
Warranty: 30 Days
Accessories: Net and Post Set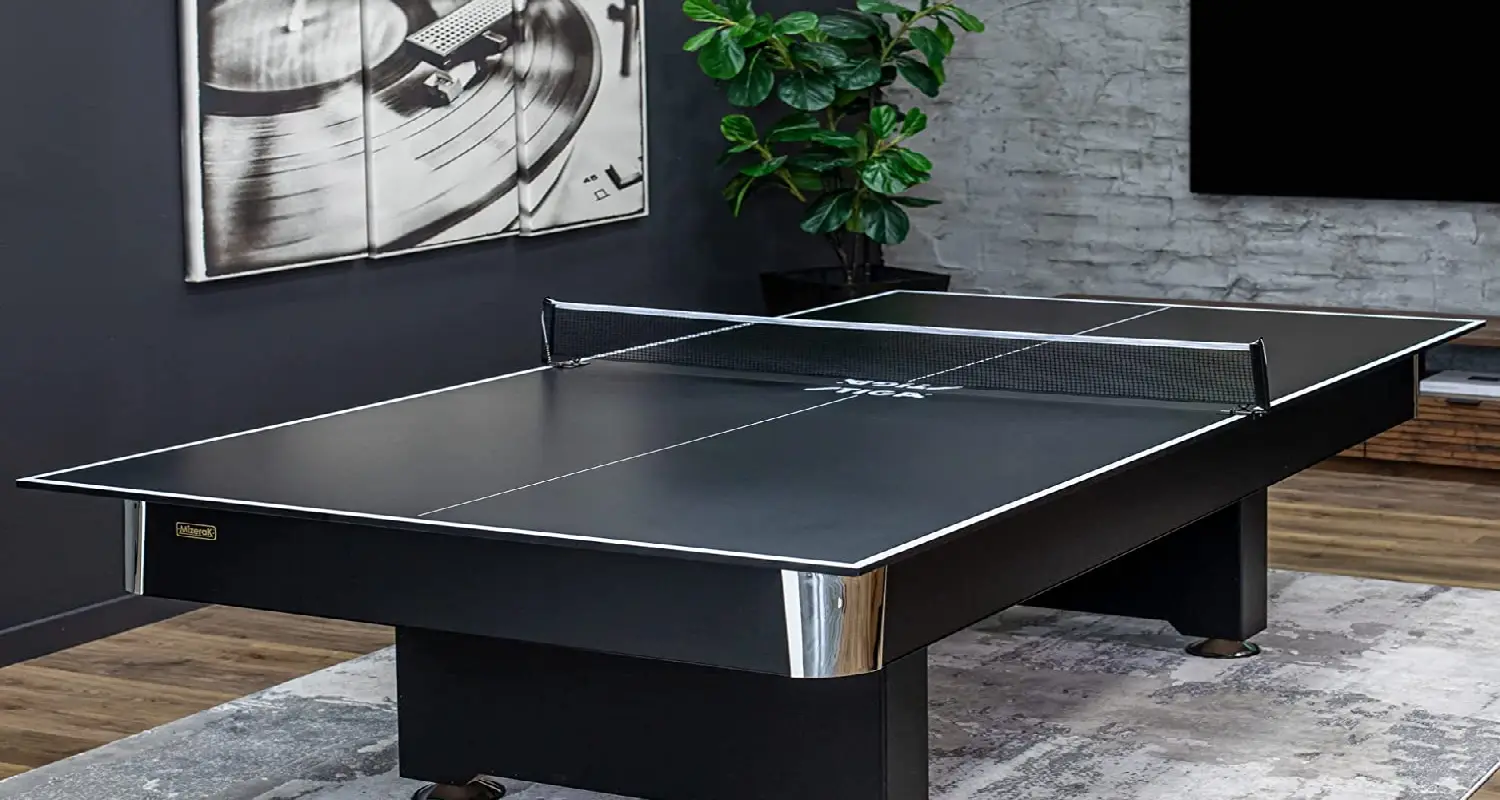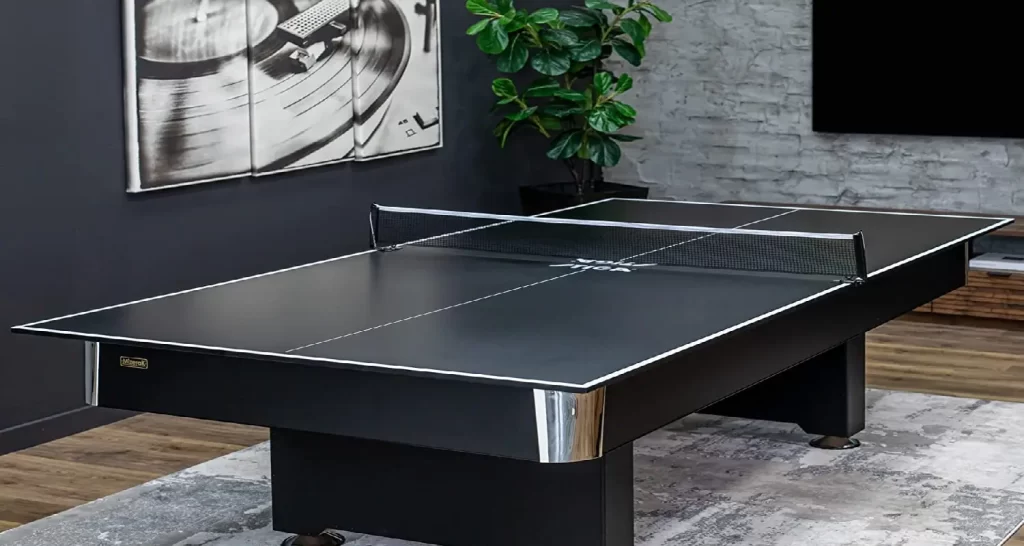 What to Expect?
STIGA is a household brand when it comes to table tennis equipment and apparel. That brand is known for manufacturing quality products that cater to every need and pocket.
Since this table top is labeled 'premium', we expect it to deliver good performance. If you are thinking of buying this conversion top, here are a few things to you should expect:
Size and Weight
Whether you are buying a conversion top or a full-fledged table, it must be regulation-sized. The dimensions of 9 x 5 feet are ITTF-approved and this size gives you room for a doubles game too. When it comes to weight, lighter table tops are preferred because they are more portable and easier to store.
Top Thickness
When it comes to thickness, the general rule of thumb is that thicker tables deliver better playability. You should expect a conversion top to have a thickness of at least 19mm for a consistent bounce.
Ping pong tables or conversion tops that are lesser than 19 inches think are not considered competition-grade. Additionally, thinner tops are also less durable.
Design
Table tennis table tops with 2 or more pieces are generally considered ideal due to several things: These are easy to transport and store and can be set up for solo playback mode.
Let's see what STIGA Premium table tennis conversion top has to offer.
Construction
STIGA Premium ping pong conversion top is regulation-sized and 15 inches thick. There are two variations and you can either choose a two-piece or four-piece design. Improved playability and longevity are offered by the repeat roller coat painted play surface with silk screen paint.
For maximum protection for your existing table, a thick EVA foam layer covers the whole backside of this table top. You may begin playing as soon as you receive the product, as it is almost assembled and comes with a net and post set.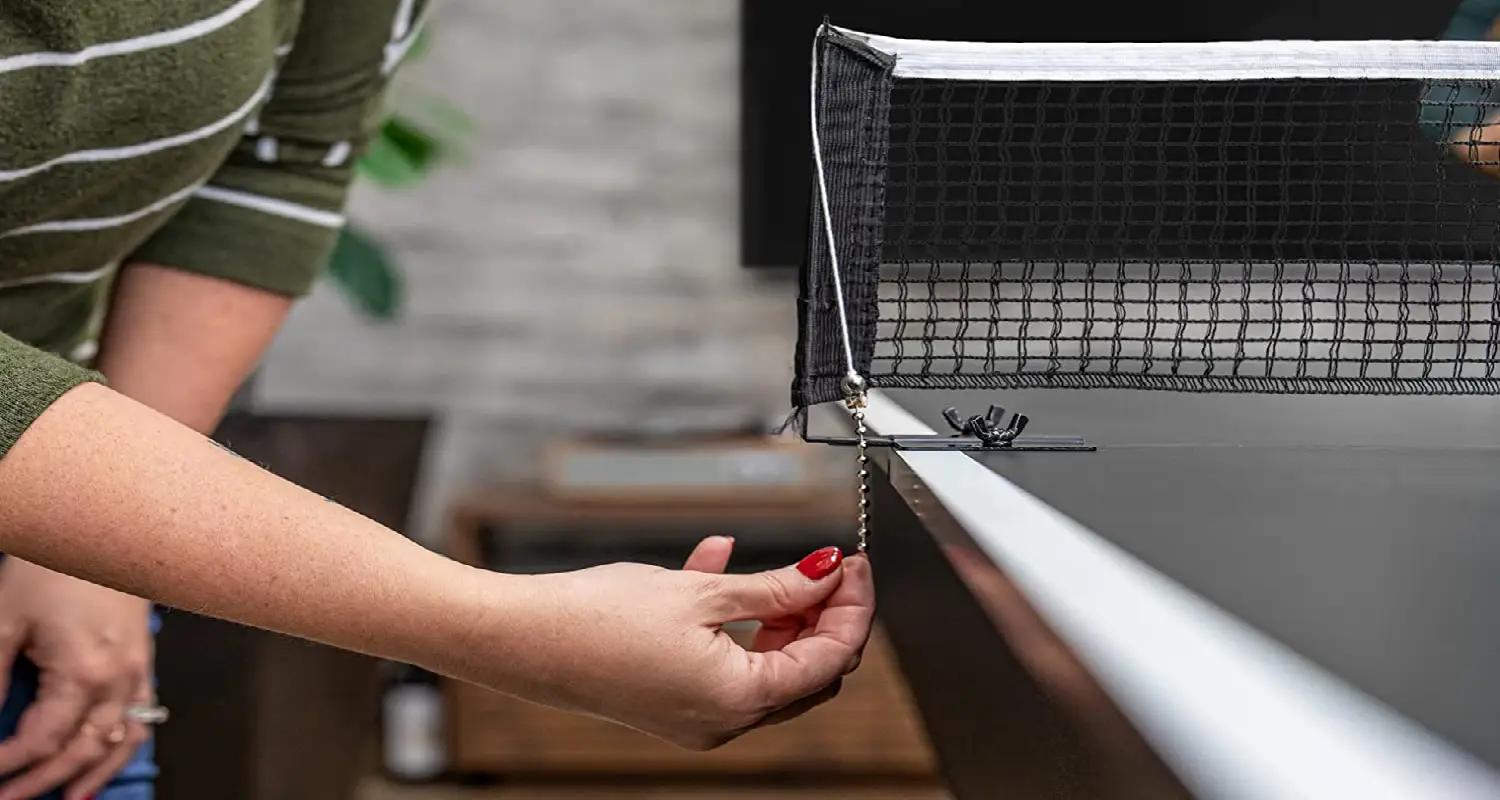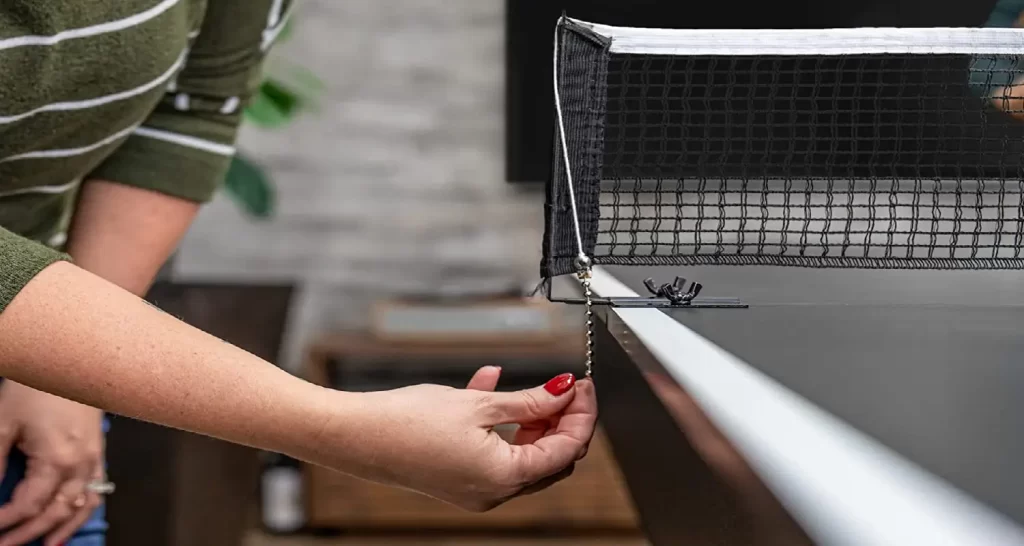 Pros
Superior Craftmanship
STIGA Premium table tennis conversion top is intelligently designed and made to last. The top consists of two or four panels that are joined together with hinges. These hinges are almost seamless and do not affect the game.
The top's lightweight and hinged design makes it easy to maneuver. It has adhesive pads on the underside which save your existing table from scratches or marks. Silkscreen paint further saves it from nicks and chips.
Solo Playback Mode
It's not possible to get a partner every time you want to practice your strokes. Luckily, STIGA Premium ping pong conversion top comes with a solo playback option. Due to the hinge design, you can simply pull up one half of the table and play against the surface.
Lightweight and Portable
At 110 pounds, this top is lighter than most other options on the market. You don't need anyone to carry, store, and assemble the top.
As the top consists of panels that are joined together, you can easily move each panel separately. This feature adds to its merits since conversation tops are expected to be space-saving and this one offers compact storage.
Fits on Almost Every Table
STIGA Premium table tennis conversion top is a full-size conversion top, but this doesn't mean that it wouldn't fit smaller surfaces. Even if you have a 6 feet long table, this top wouldn't budge at all.
The foam padding underneath keeps it stable. Moreover, the top has an ideal weight, not too heavy that it would flip on a smaller table, or too light that it could slide.
Good Value
Most conversion tops in the market exceed the $1000 price mark. For less than $500, this conversion top is a true value for money. It is intelligently designed and has decent performance. Coming from STIGA, it also doesn't disappoint in terms of customer care.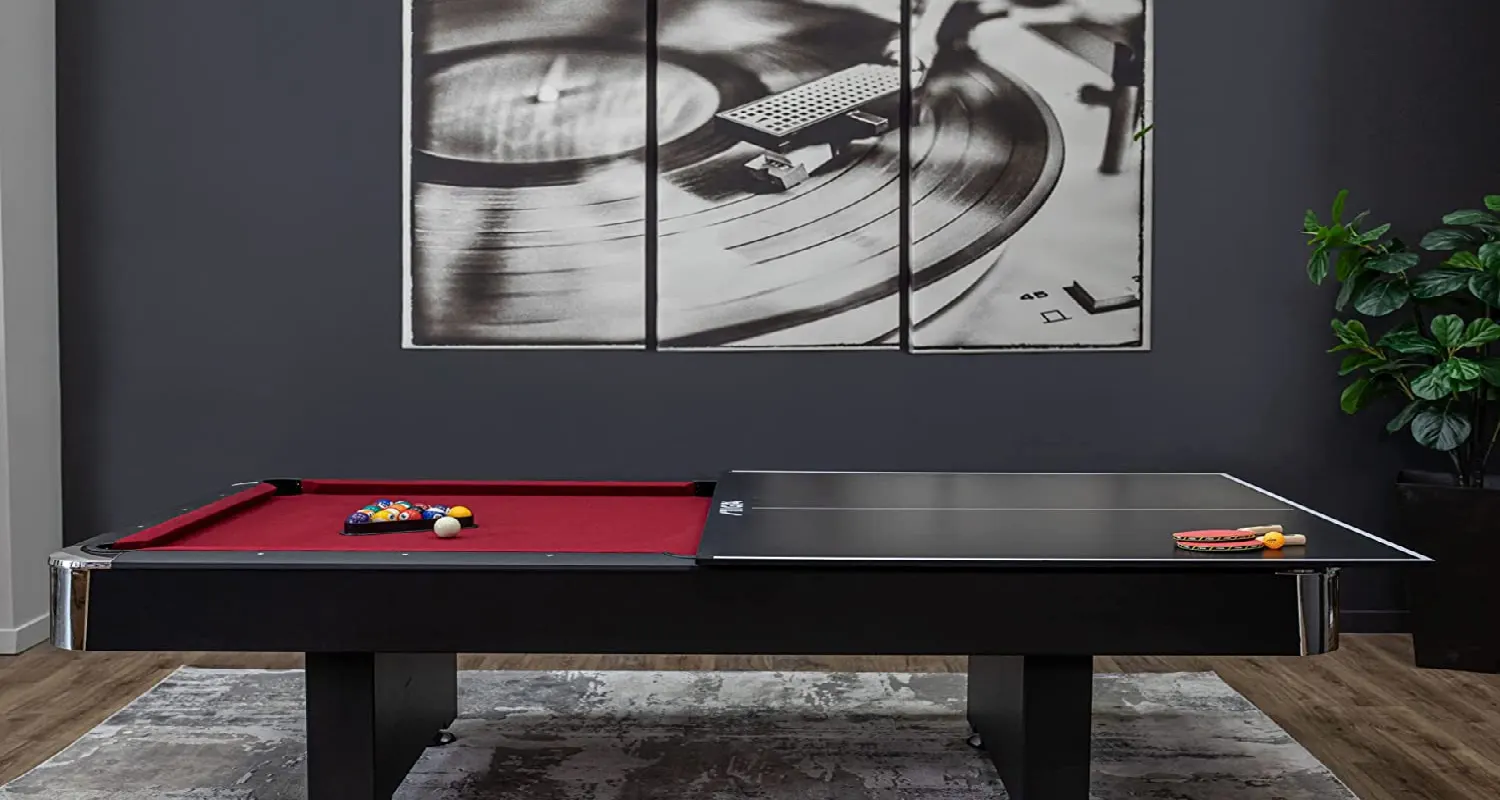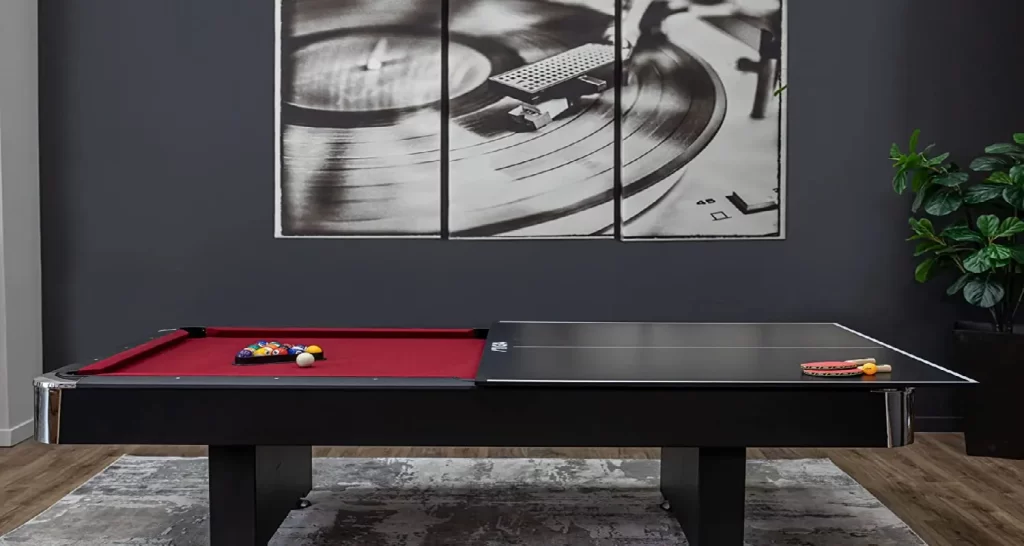 Cons
NOT for Professionals
For an ideal and consistent bounce, table tops must be at least 19mm thick. STIGA Premium ping pong conversion top is only 19mm thick, which affects playability. We also did a ball drop test to check bounce.
Ideally, a ball dropped from a height of 30cm must bounce to at least 21cm. With this table top, the ball only bounced to 15cm. Although it will be fine for recreational players, if you are a professional table tennis player, this top is not for you.
Susceptible to Warping
The lesser thickness of the table tennis top also affects durability. Since this top is already made of blended wood and is thin, it cannot handle moisture or humidity, resulting in warping.
You need extra care with the STIGA Premium table tennis conversion top or you wouldn't be able to enjoy a quality table tennis game for a long time.
Our Rating: 4.0/5.0
STIGA Premium ping pong conversion top is an affordable, regulation-sized table top, that can effortlessly transform any surface into a fully functioning ping pong table.
The top features a compact, yet lightweight design and delivers a decent performance for the price. This top doesn't have a minimum thickness of 19mm, which is required for professional tournaments.
Conclusion
Overall, we think that STIGA Premium Table Tennis Conversion Top is good for recreational uses or novice players. It is highly affordable and features an intelligent design.
We do not recommend this top for professionals, as it is not durable and doesn't have the ideal bounce of a professional table tennis table.