Ready to smash some powerful shots and compete in a high-octane table tennis match? But before you go for it, have you ever wondered: what are ping pong tables made of?
A table might seem like an inanimate object that doesn't hinder your performance; however, this is only one side of the story. The materials used in making a table directly affect how you play the game. From the ball's speed to the sound it makes upon bouncing, a table affects everything.
Fret not! This article is all about exploring the exciting world of table tennis table construction so that you can understand the sport in more depth and potentially improve your gameplay. So, let's get straight into it!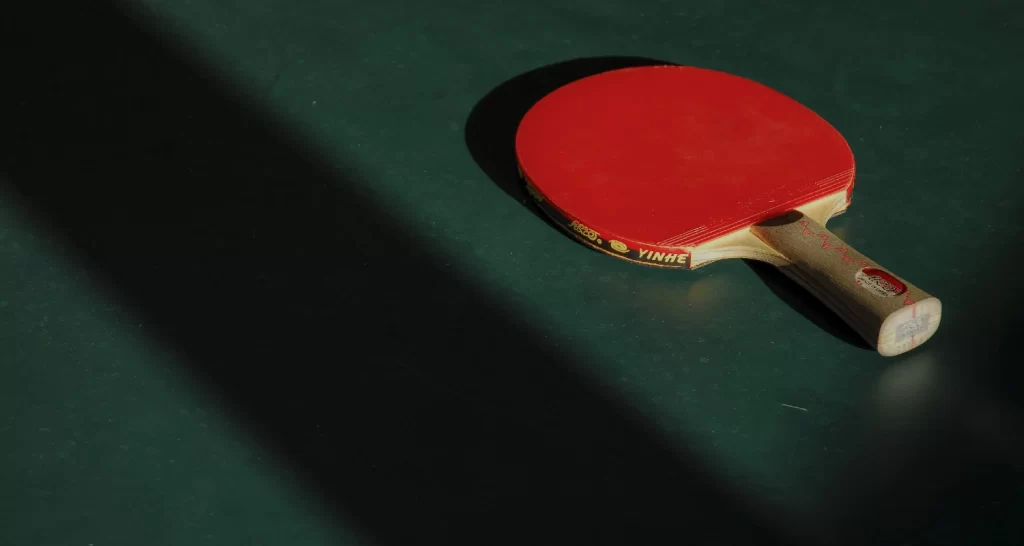 What Material are Table Tennis Tables Made of?
The material used to construct table tennis tables is critical in determining their performance. According to the International table tennis federation (ITTF), specific standards have been set for table materials and dimensions to ensure consistency and fairness in the game.
In this professional arena, most modern table tennis tables are made using high-density fiberboard because of their durability and consistent bounce.
Ping Pong Table Top Material
The tabletop is the most crucial element in the table where the ball bounces and the game is played. The three most commonly used materials in table tennis table construction include wood, concrete, and MDF (medium-density fiberboard).
Wooden tabletops have been the most common and traditional choice in the table tennis world. Various types of wood, such as plywood, particle board, and oak, are used.
Wooden table tennis tables are not less in providing a powerful bounce, but they are likely to crack or warp over time, affecting your game's quality. MDF is another popular option for its durability, strength, and affordability.
It is engineered wood manufactured with wood fiber that delivers a more robust and uniform bounce than wooden ones.
On top of that, concrete table surfaces are also manufactured by some table tennis enthusiasts that provide a hard, consistent, and crispy bounce. However, they are a bit heavier and more expensive than the other options, which is why they are not so popular.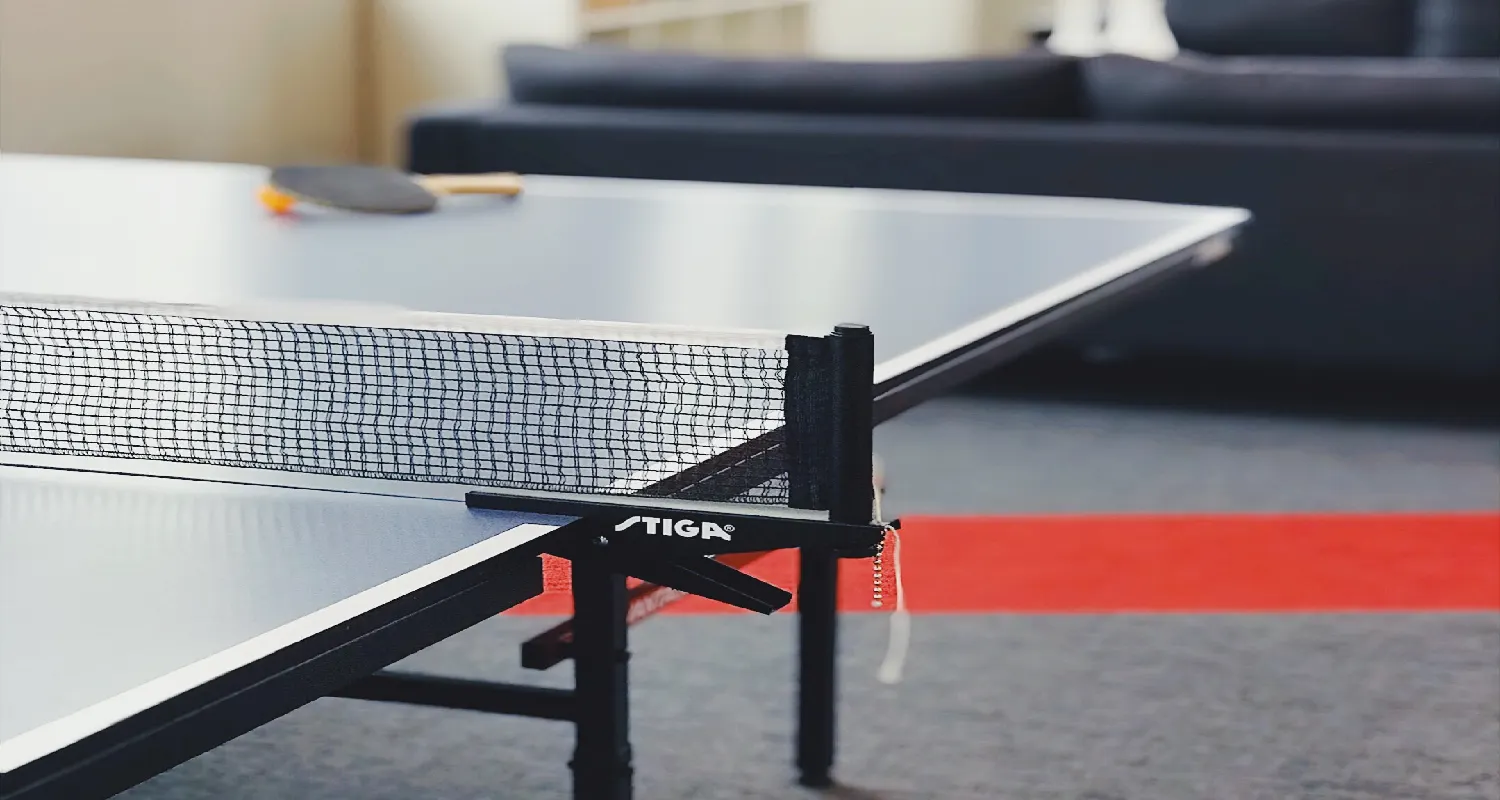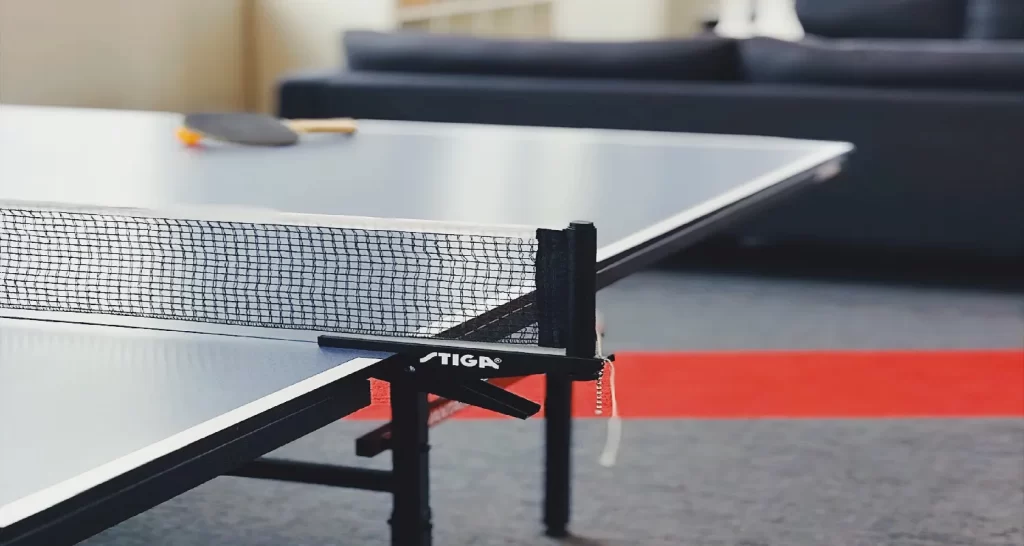 Standard Table Top Thickness
Most table tennis tops are constructed with a thickness of around 12 to 30 mm, with 12, 25,16, and 19mm being the most common sizes. The table top has a thickness of about 12mm, provides a moderate bounce level, and is budget friendly.
These tables are typically used for recreational purposes. On the other hand, professional players prefer tables that are a bit thicker to gain high-quality bounce and uniformity in the game.
A Tabletop with 16mm thickness is a good option for intermediate players. In contrast, 19mm is considered a standard thickness for professional gameplay and is used in most tournaments.
Table Tennis Table Net Material
Table tennis table net might seem like just a simple piece of equipment, but it significantly impacts the overall experience of playing ping pong. Table tennis nets are typically made of synthetic materials such as polyester, nylon, and cotton cloth.
These materials are super lightweight and durable and provide excellent tension, which is vital to maintaining a uniform height throughout the match.
Apart from the material, mesh size is also significant as the size of holes directly affects the ball's trajectory as it passes through them. An ideal mesh size revolves around 15-20mm, maintaining a good balance between ball speed and control.
The official height of a good ping pong net should be around 6 inches and be evenly tensioned across the table.
Ping Pong Table Legs: How It's Supported
The legs of the table are constructed in several shapes, such as oval, rectangular, and square, and are mainly adjustable to accommodate uneven floors. Ping pong table legs are mostly made up of wood and metal.
Metal legs are durable and sturdy and provide excellent support for the table. The best thing is that they are incredibly lightweight, which makes them easy to move and store when, not in use. However, metal legs will likely get rusted over time, compromising strength and stability.
Wood tables are pretty expensive than metal ones; however, they are still preferred over metal ones. They are eco-friendly and more aesthetically pleasing and can be conveniently painted or stained according to the room's decor.
They might be good in everything but can't be as sturdy as metal ones and are susceptible to warps and cracks.
Heavy steel is gaining more popularity because of its strength and stability. The wheels of the table are made up of rubber. Ultimately, the choice is all based on your personal preferences.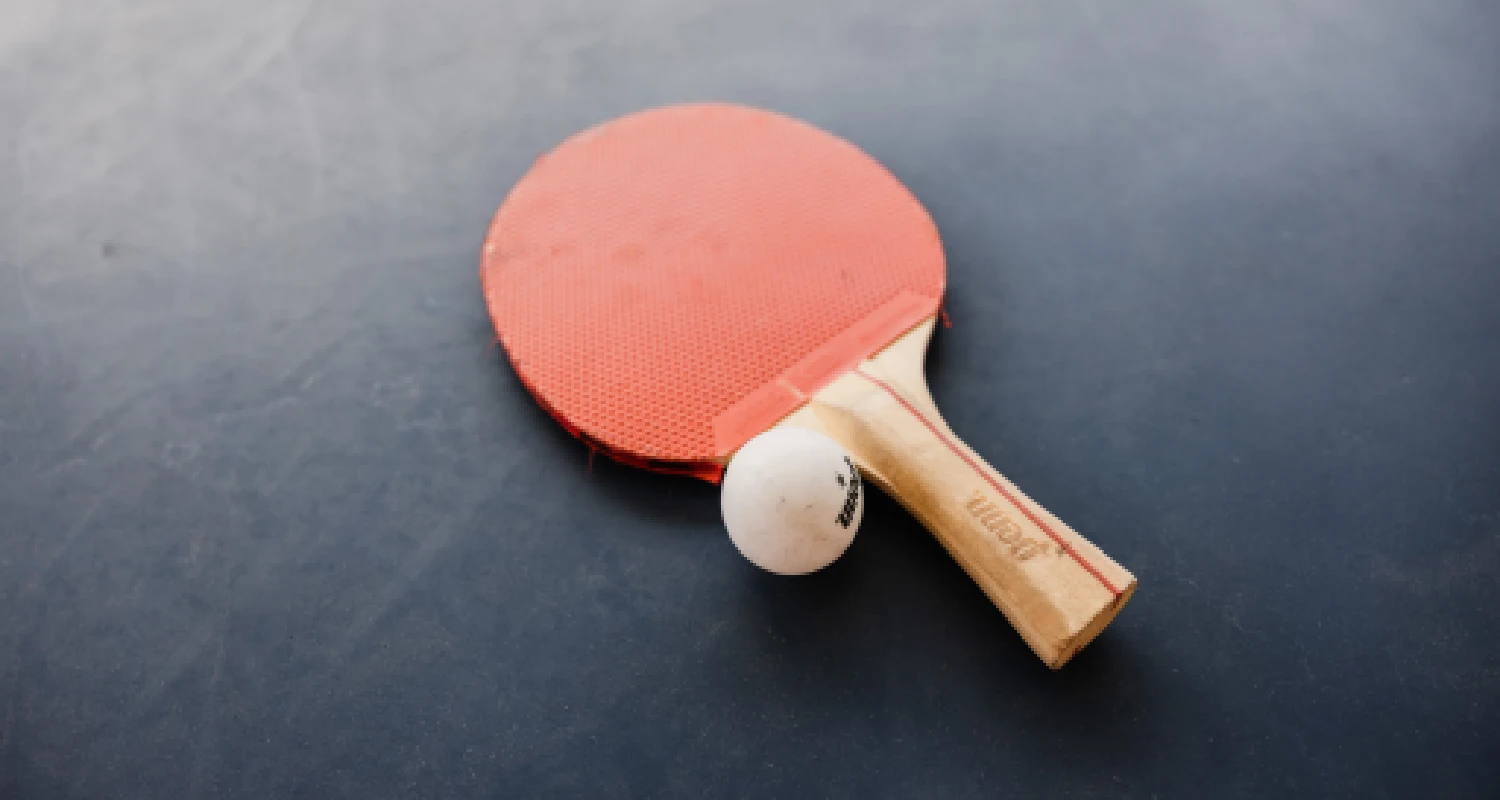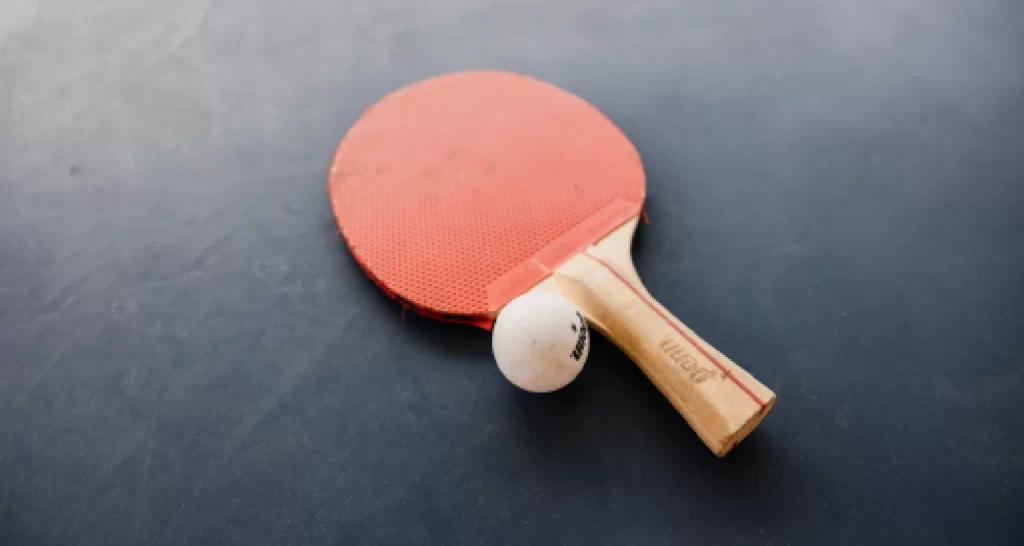 Table Tennis Table Undercarriage
The undercarriage material of a table tennis table is mainly made up of wood and metal, the same material as used in legs. Metal undercarriages are primarily composed of aluminum and steel and are popular for their durability and strength.
They can also be powder coated to protect against rust and corrosion. Wooden undercarriages are made of premium wood like birch and beech and are used for professional tournament settings. They are heavier and more expensive than metal ones but provide excellent support.
Frequently Asked Questions (FAQs)
What are Olympic Table Tennis Tables Made of?
Olympic table tennis tables are usually made of plastic, wood, and metals. The frame is traditionally constructed with aluminum or steel. The table top comprises high-density wood, plywood, or MDF. The table is usually coated with non-slip paint to ensure durability.
What Surface is a Table Tennis Table Top?
Since table tennis is the main area where the game is being played, it is made with medium or high-density wood to ensure consistent and fair gameplay.
What is the Best Material for Table Tennis Top?
The best material for table tennis tops is a medium-density board with a high amount of resin to give an ideal bounce and warp resistance.
What Kind of Wood is a Ping Pong Table Made of?
Ping-pong table comprises various kinds of wood, such as oak or plywood. However, when it comes to quality, plywood is the most popular one of all.
What is the Difference Between a Table Tennis Table and a Ping Pong Table?
Ping pong is a colloquial term used for table tennis. They are the same sport, and there are no significant differences between them.
What Type of Paint is Used on a Table Tennis Table Top Surface?
Table tennis top is usually painted with alkyd paint, preferred for its durability against abrasion and scratching.