Looking for an electrifying ping-pong experience? Choosing a perfect table is the key! However, when it comes to choosing the right types of ping pong tables, there are several factors you need to consider.
From indoor and outdoor tables to mini and conversion top options, there is something out there for everyone. Moreover, you will also find some wacky crazy ping-pong tables with unique features that take the fun and gameplay experience to a whole new level.
However, with so many options available, it can be overwhelming to make one choice that fits perfectly to your needs. Fret not; we are here to guide you through the process.
In this article, you'll explore all the key features you must consider while choosing the best ping pong table for you. So, without any delay, let's get straight into it.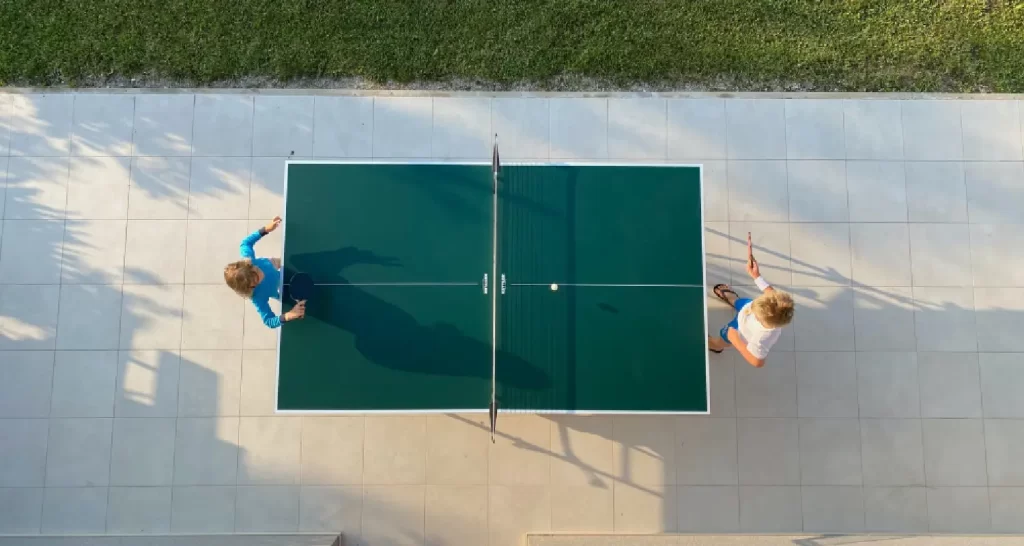 Evaluating the Different Types Of Ping Pong Tables
Indoor Table Tennis Tables
Indoor ping pong tables are an ultimate addition to any indoor space, whether a recreational center, home, or office.
They come in various sizes ranging from tournament-size tables to smaller ones to cater perfectly to your needs.
Size
The standard size of these tables is 9 feet long, 2.5 feet high, and 5 feet wide, providing plenty of space for competitive matches.
However, if you have limited space in your home or office, no worries! There are several smaller indoor ping pong tables capable of providing hours of fun and entertainment.
Portability
Another compelling feature of indoor table tennis tables is their portability. Some of these tables are constructed to be easily folded up for transport or storage in a closet when not in use.
This feature makes them an excellent option for those who want to take their table with them on picnics or trips and those with limited spaces.
Material
Indoor ping pong tables are constructed with various top-tier materials, including aluminum, composite materials, and wood.
Composite and aluminum are mainly chosen for their high-grade strength, durability, and weather resistance. On the other hand, wooden tables are popular for their classic appearance and feel.
Outdoor Ping Pong Tables
Outdoor table tennis tables allow you to enjoy the game while enjoying the weather, sunshine, or fresh air.
They are designed for outdoor spaces such as the backyard and parks and are constructed to withstand elements such as rain and ultraviolet rays.
Size
The size of outdoor ping pong tables is no different from standard-sized tables, measuring 9 feet long, 5 feet wide, and 2.5 feet high.
It ensures you get the optimum playing experience, the same as with indoor tables, with the added benefit of being outside.
Portability
Most outdoor table tennis tables are designed to be easily transported from one place to another without struggling. Many of them are equipped with wheels that make it easy to maneuver the table around.
Moreover, some tables come with detachable legs and folding frames, making it convenient to disassemble, move and store in compact spaces.
Material
Outdoor ping pong tables are usually made of weather-resistant materials like treated wood, composite materials, metal, and aluminum.
The quality of these materials is not compromised so that they can withstand sun, rain, and other elements without warping, rusting, and deterioration.
Some tables are also constructed with plastic and synthetic materials capable of resisting outdoor weather conditions.
Mini Ping Pong Tables
Mini table tennis tables are a great option for kids and people with compact spaces and for those who want a table that is easy to move around.
Size
The average size is around 4 feet in length, 2 feet in height, and 2 feet in width, making them an ultimate option for kids and small spaces.
Portability
Most of the mini tables are super lightweight and are designed to be portable with outstanding features like foldable legs and carrying handles.
These elements make these tables a breeze to move from one room to another and take with you to a friend's house or a park.
Material
Mini tables are mainly constructed with various materials, including plastic, wood, and composite materials.
Moreover, they are also made up of materials like fiberboard or particle board that can be more budget-friendly but might be less durable than others.
Conversion Top Ping Pong Tables
Conversion tops are ping pong tables that work great for those who want to transform their existing table into a table tennis table.
Size
Conversion top ping pong tables are typically the same size as standard tables. This ideal size allows these tables to be secured perfectly on the top of your dining tables, catering to a stable playing surface.
Portability
These tables take portability to another level. Whenever you want to play, just place it on the top of any table at your house and remove the board when not in use.
It makes them a great option for those who want to play ping pong at home without investing in a separate table.
Material
Conversion top ping pong tables are mainly constructed with the same materials as others, including wood, metal, and composite materials.
Most high-quality tables are also coated with PVC laminate that provides smooth, crispy bounce and prevents scratches, scuff, and other damages.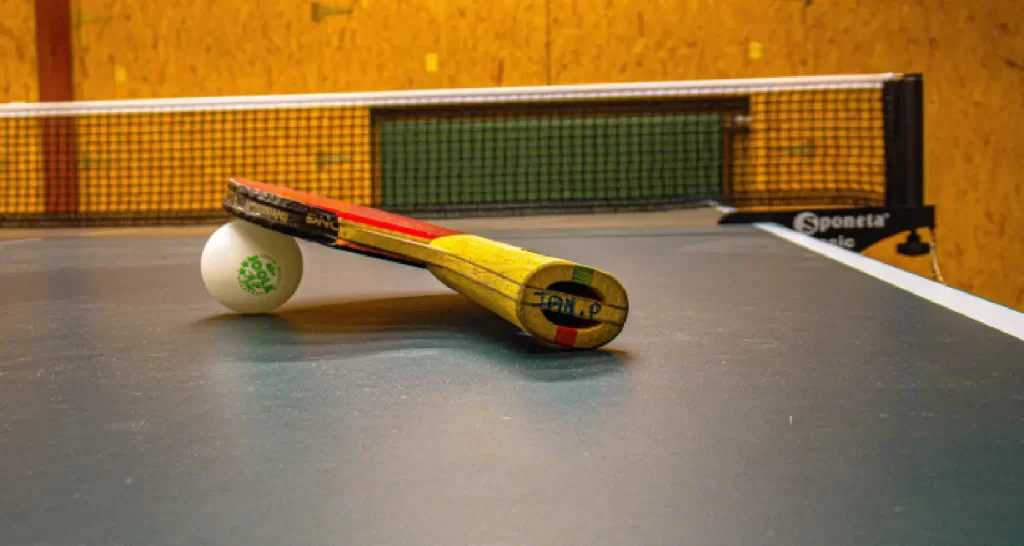 General Ping Pong Table Characteristics
There are several types of ping pong tables, each with different characteristics and features that set them apart. Let's have a look at the most significant ones.
Location
Location is the first thing you must consider regarding ping pong tables, including outdoor, indoor, and conversion top options. The location you choose will depend on your preferences and specific needs.
Size And Dimensions
Size and dimensions are crucial factors that assist you in choosing an ideal ping-pong table. If you have ample space at home, what can be better than a regulation-sized table with ideal length and width?
However, even if you have compact space, the options are endless, and you can find the dimensions that best suit your needs.
Portability And Folding
Some types of ping pong tables are equipped with foldable legs and caster wheels designed for easy maneuverability. Some table tops can also be folded for easy storage and portability.
Material And Thickness
Standard table tennis tables have a top thickness of around 0.75 to 1 inch, suitable for ideal performance and durability. Apart from aluminum, metal, and composite materials, wood is the most common material used in their construction.
It is popular for its strength, resistance, classic appearance, and natural resistance to cracks and warping. Medium-density fiberboard and plywood are the premium quality wood used for manufacturing ping pong tables.
Other Considerations
Used vs. New
If you are thinking of buying a ping pong table, you can either purchase a new table or go with the used one. Used tables can be a great option if you are looking for a high-quality table but have a tight budget.
Don't forget to examine the table carefully to ensure it is in good condition.
Brand
The brand of your ping pong table will greatly affect the quality of your gameplay. So, it's important to consider it carefully. Some brands like STIGA provide high-quality tables better than others at different prices.
So do in-depth research and go through testimonials to find a good brand.
Play Type
The play type you intend to buy a table for also impacts the type of ping pong table you must choose. Some tables are categorized for professional use and intense matches, while others are designed for recreational play only.
Color And Customization
Ping-pong tables come in various colors, including blue, green, black, orange, etcetera.
The best thing is that you can even personalize the table with your logos and preferable designs to make it unique and double up the fun.
Crazy and Custom Ping Pong Tables
Crazy ping pong tables are a unique way to level up the thrill and excitement of the game.
These custom tables come in various shapes and sizes and even colors are also equipped with special features like sound effects and LED lights to add a fun element to the game in a unique way.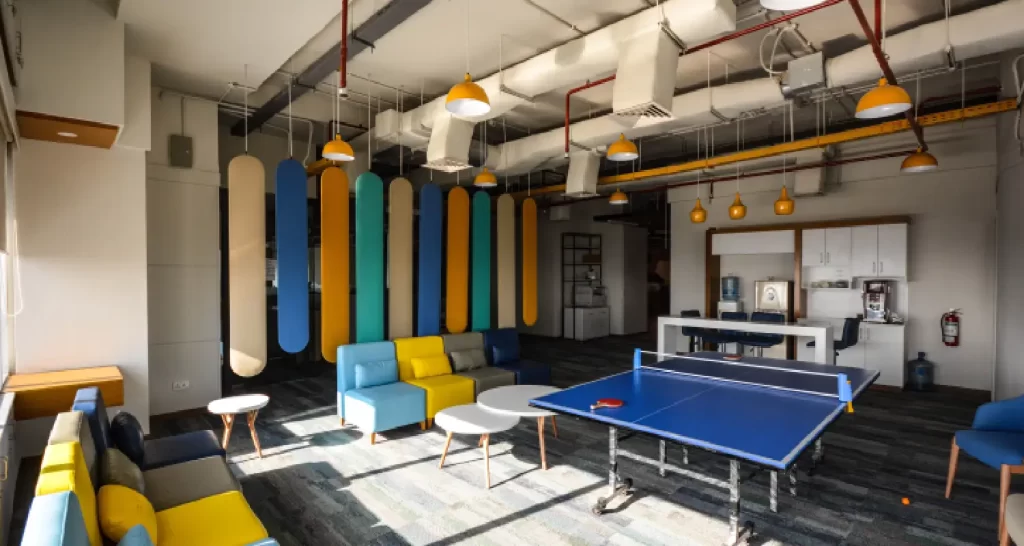 Conclusion
Choosing the right type of ping pong table demands you to consider various factors, including size, location, portability, material, and many more.
Whether you are looking for a table to play table tennis in the backyard or an indoor option, many options are available to suit your specific needs and preferences.
However, if you are not sure which option you should go with, it's always a good idea to go through reviews, compare prices, and seek advice from professionals in this field.
Wish you a thrilling ping-pong weekend with hours of fun!