Ready to experience the thrill of one of the fastest sports in the world? Table tennis, also known as ping pong, is not any average game you play for recreation.
This sport demands quick reflexes, unwavering focus, and strategic thinking. Once you step into a table tennis arena, the adrenaline rush in your veins is enough to make you go crazy over this sport.
If you have also felt that electrifying energy and want to purchase a table tennis table for your home, office, or recreational center.
In that case, STIGA is an excellent brand you can opt for. STIGA offers many different table tennis tables, so if you are confused about which one will best suit your requirements, you have just come to the right place.
In this article, we'll be your guide to help you look for some of the best STIGA table tennis tables with all of their features explained. Let's get straight into it!
Why STIGA?
STIGA is a well-known and the most trusted brand in the world of table tennis for producing premium quality table tennis tables for both professional and casual use.
Their commitment to quality and durability with the blend of innovation makes them the most preferred brand for players all around the world.
If you are an experienced table tennis player, you might know how the playing surface of the table tennis table is vital to consider while purchasing.
STIGA ping pong tables are equipped with exceptional surfaces crafted to provide excellent ball control and consistent bounce.
Another significant factor about STIGA table tennis tables is their unique and solid design followed by sleek and contemporary layout.
These designs not only look stunning but also offer some fantastic practical features, such as foldable legs for easy transport and storage.
So, whether you are an avid player who stepped into this wonderful table tennis arena or a seasoned pro, STIGA offers a wide variety of table tennis tables to match everyone's needs.
Best STIGA Table Tennis Reviews
We have curated a list of the top 10 best STIGA table tennis tables, including superior quality tables and budget-friendly options without compromising quality.
So, get ready to serve up the storm and take your table tennis skills to the next level.
Our Rating: 4.8/5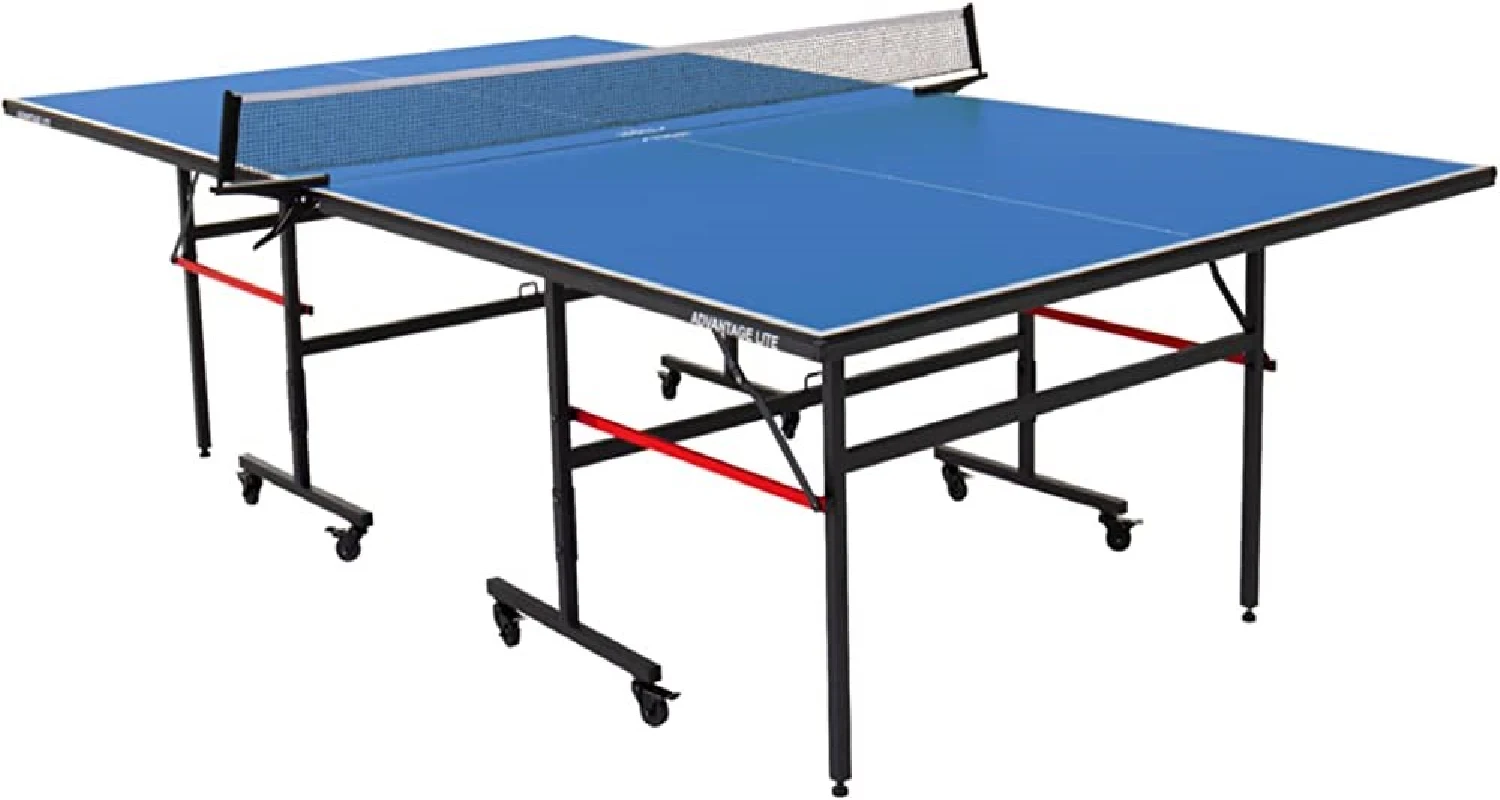 Check Price
STIGA advantage competition-ready indoor table tennis table is a top-of-the-line table designed for beginners to professional players who demand the highest gameplay.
The table is constructed with a heavy-duty steel frame, ensuring durability and high stability during intense games. One of the most loved features of the product is its easy portability and compact size.
This way, the table can be easily folded and stored in tight spaces when not in use, making it the best option for apartments, offices, and average-sized homes.
Its tabletop thickness of around 19mm provides a consistent bounce and precise shots. STIGA advantage professional table tennis tables offer built-in storage for paddles and ping pong balls, keeping it easily accessible and organized during the gameplay.
The sleek and stylish table top with powder-coated legs and white edge banding features assist the table to stand out with pride.
Moreover, it comes with a high-quality net and post set that is super easy to install and adjust to the perfect height and tension, making your game crisp and smooth.
Overall, the STIGA advantage table tennis table is the best investment for high-end players. Its portability, premium construction, durability, and outstanding design leave no stone unturned in providing the ultimate level of gameplay and joy.
Rating: 4.8/5.0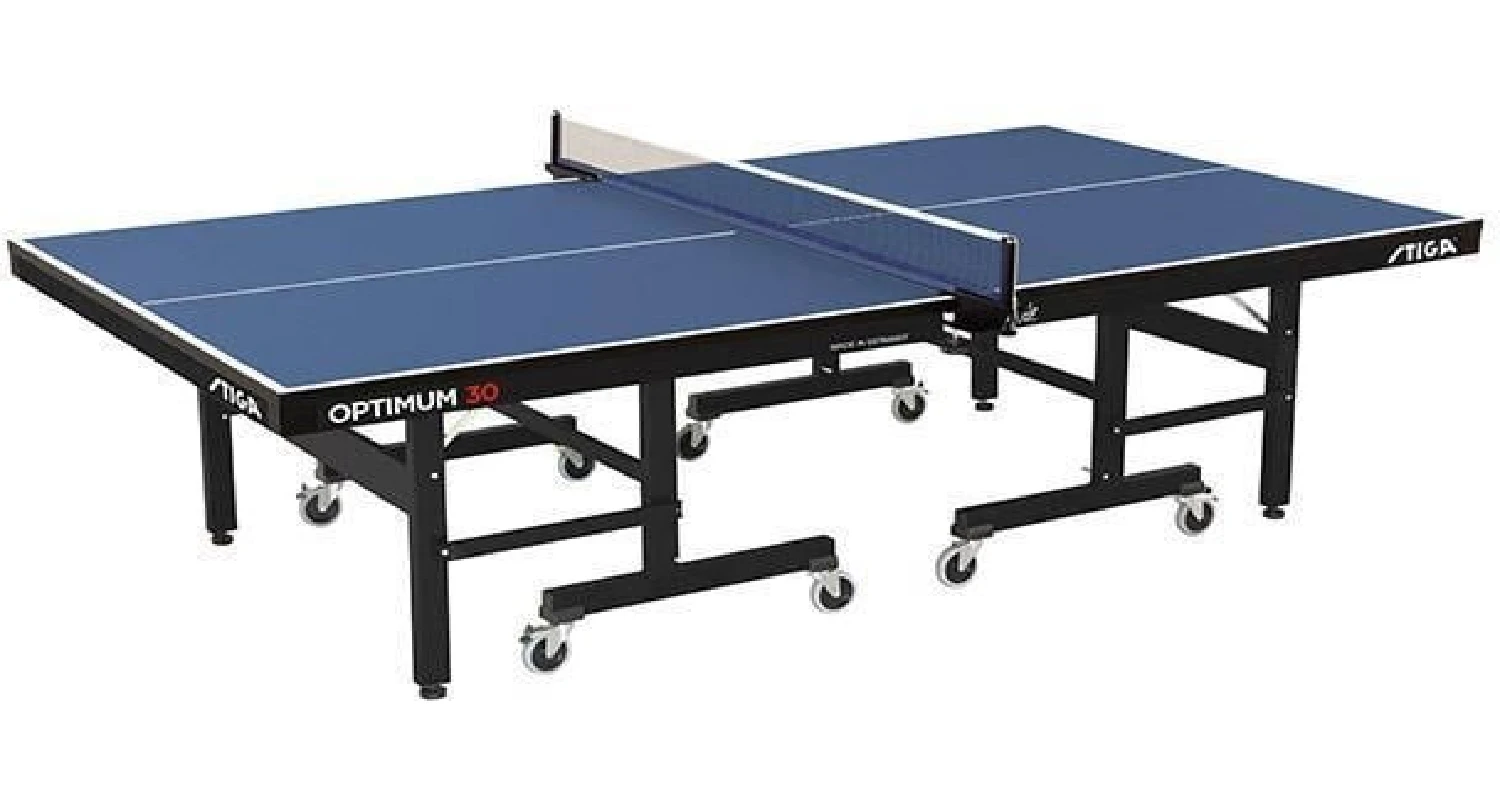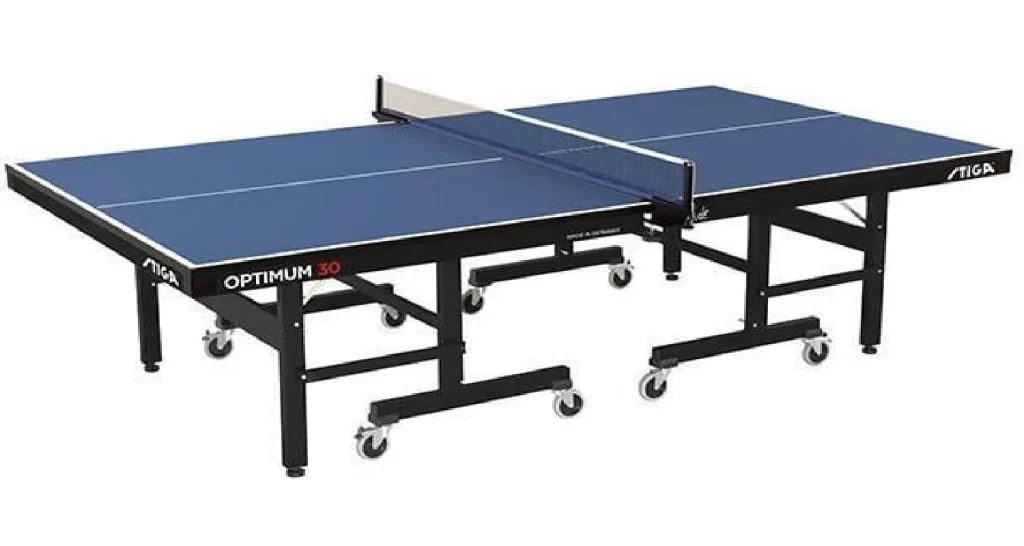 Check Price
STIGA optimum is a premium table tennis table that provides unrivaled quality and performance for high-end players. With the combination of innovative design and advanced features, this table proves ideal for professional players, tournaments, and clubs.
The 30mm tabletop thickness is one of the most notable features of this table, which provides excellent playing characteristics.
The surface of this table is constructed with superior-quality wood fiber and layered with a special lacquer to provide resistance against any wear and tear.
Furthermore, it has a patented lock system ensures the playing surface is perfectly balanced and there is no unwanted movement during the gameplay.
A ball storage system incorporated into the table enables the players to store up to 16 balls at a time and brings the utmost convenience to the players.
Rating: 4.8/5.0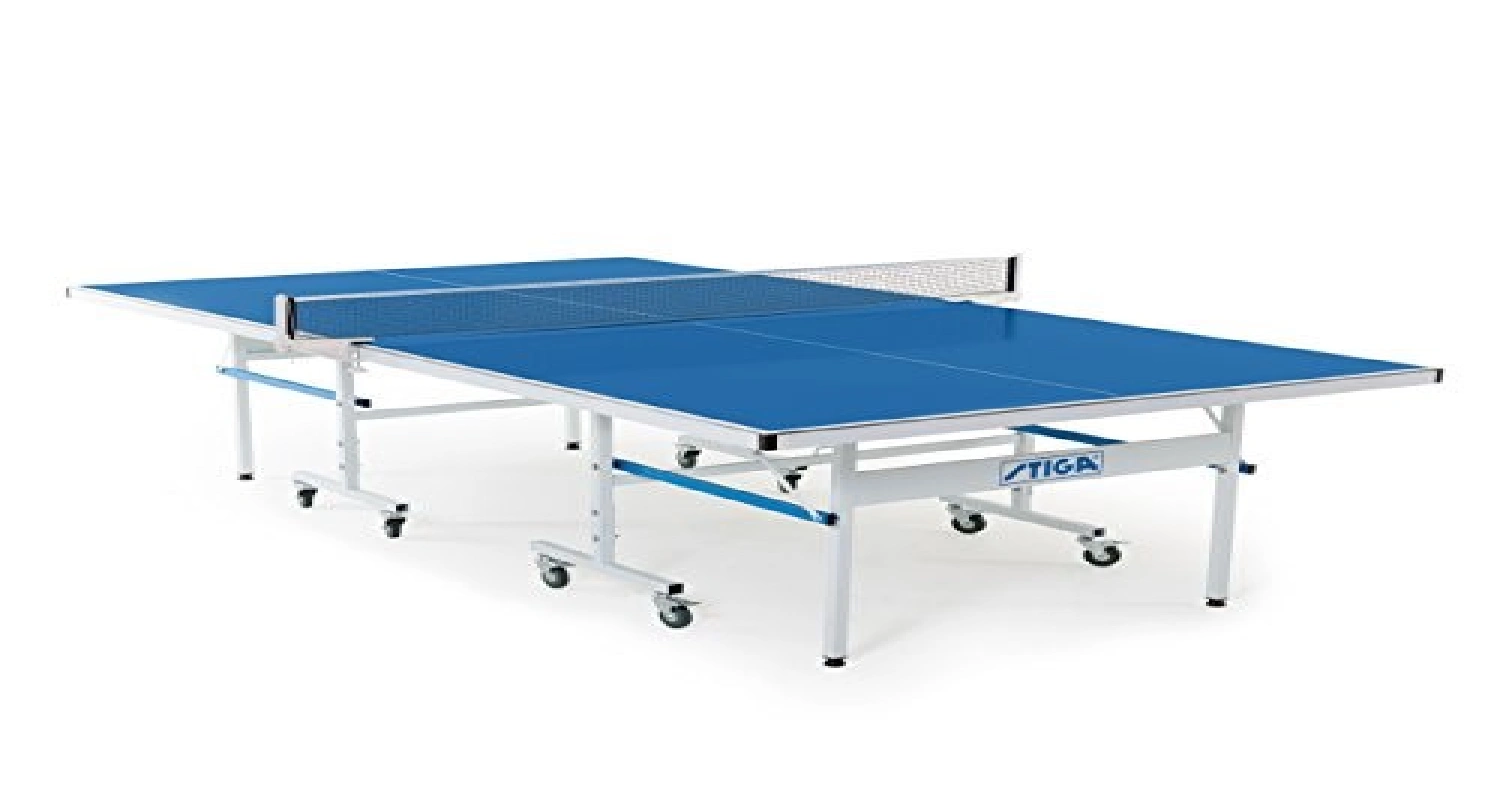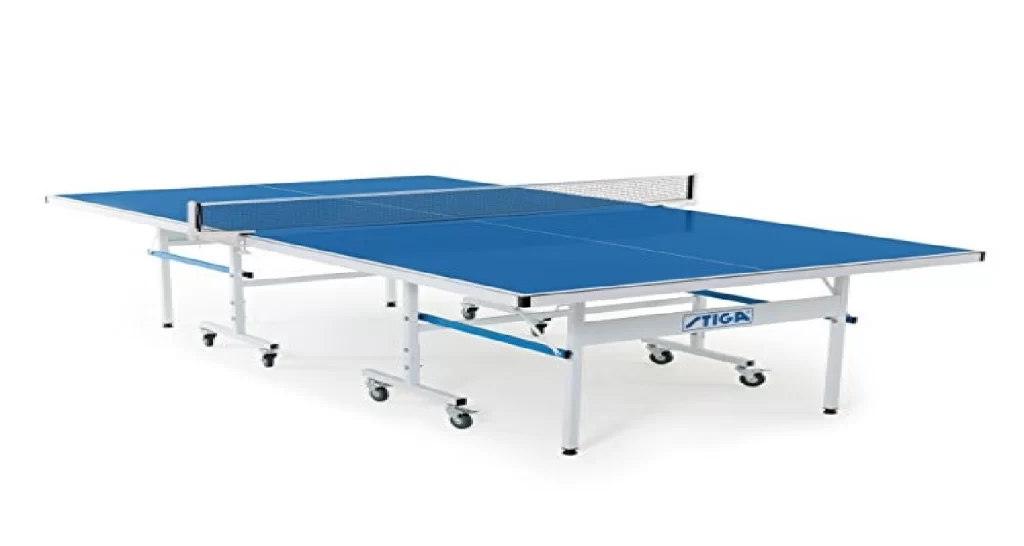 Check Price
If you are looking for high-level performance and durability at budget friendly STIGA table prices, then the STIGA XTR is one of the best table tennis tables.
This versatile table is designed for indoor and outdoor use, making it an excellent option for people who want to use tables in different settings.
It offers rugged construction followed by super sturdy legs and a steel frame, ensuring utmost stability during gameplay.
Furthermore, it is one of the most loved STIGA ping pong tables under 500 dollars because of the excellent value it provides for its price. Users admire it for its sturdiness, versatility, and quality.
The playback mode offered by the STIGA XTR series is the current highlight of this product allowing players to practice independently without needing an opponent/partner.
Our Rating: 4.2/5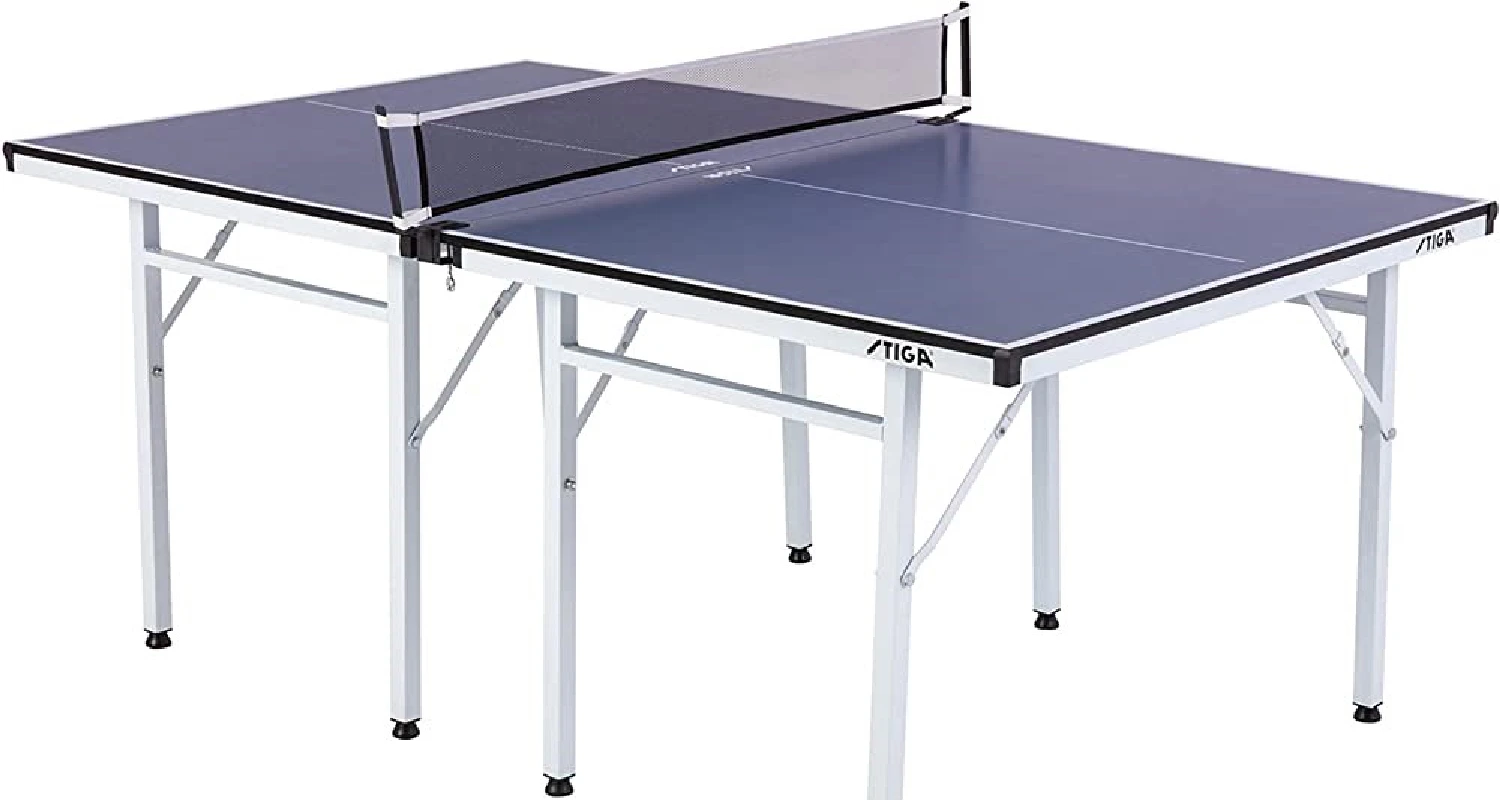 Check Price
STIGA space saver table tennis table is the true representation of versatility and portability as the size of the table tennis table makes it perfect for players having limited space. The table is crafted with a unique wood grain design, providing a super stylish and trendy look.
The best part is that this table tennis table is available at the lowest prices, making them easily accessible for players of all levels.
Another standout feature of this table is its quickplay design, making it a king time saver product. All it demands is that you just unpack and unfold it, and it's ready to play in minutes, making it an ideal option for players who want to play exactly on their schedule without wasting any time.
When it comes to comparing JOOLA and STIGA ping pong tables, this table stands out because of its remarkable foot levelers that maintain a perfectly stable playing surface on uneven floors.
The STIGA space saver table tennis table is also designed for multiple uses. It means you can conveniently use it for recreational play and intense competitions. The feature that overwhelms players the most is the convenience and stability it brings, making it an ideal option for those looking to play table tennis in a compact space.
STIGA Synergy Indoor Table Tennis Table – For Beginners
Rating: 4/5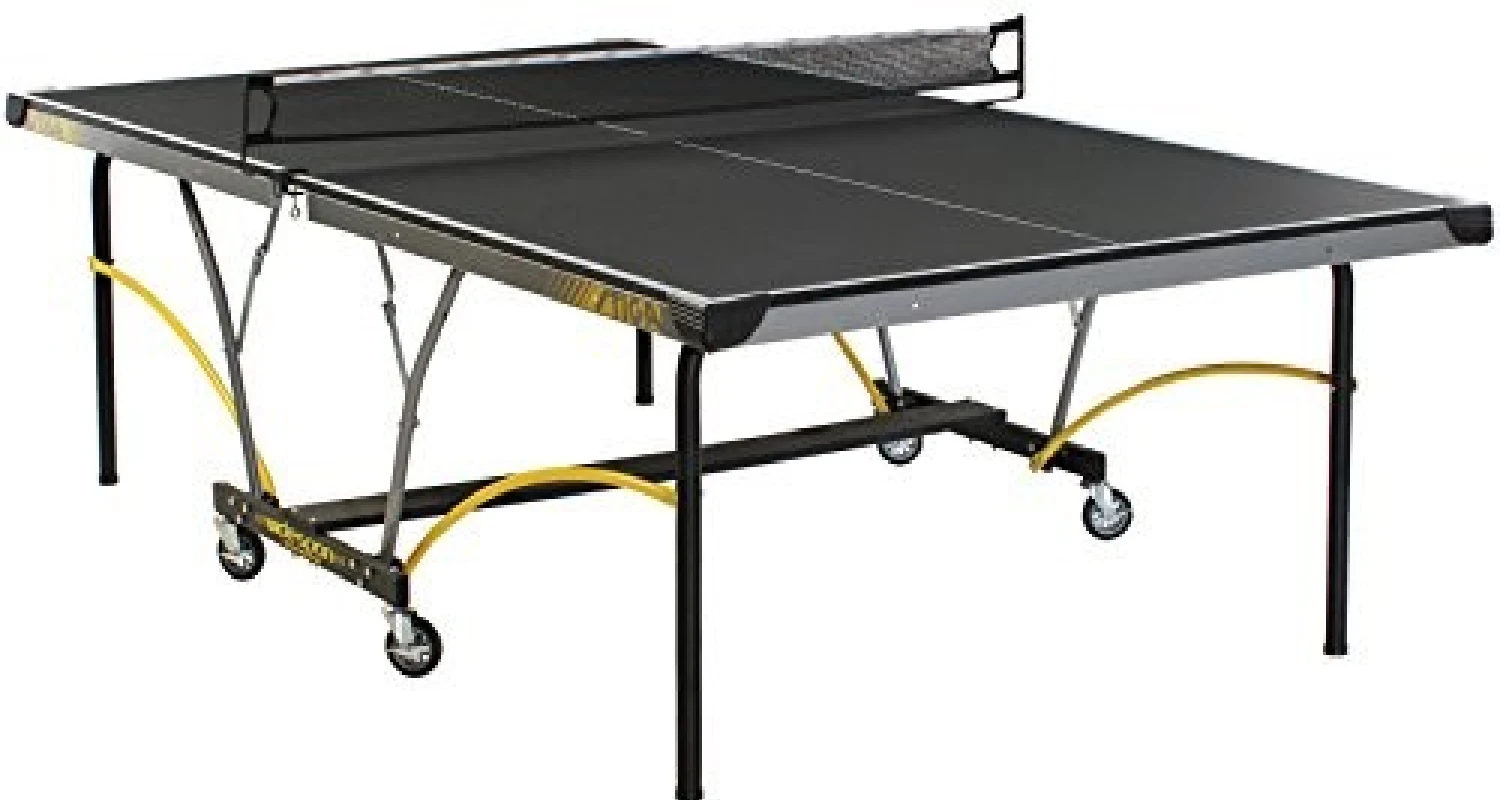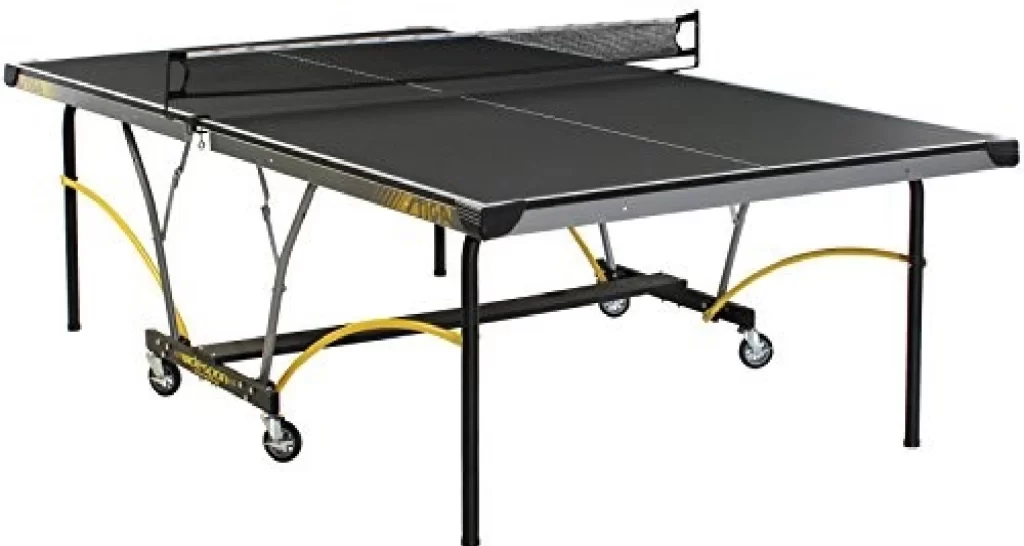 Check Price
STIGA synergy indoor table tennis table is a top-notch table specifically designed for indoor use only. Synergy features a 5/8″ thick black tabletop, providing smooth and consistent bounce.
It makes it an ideal option for beginners and professionals who demand precision and accuracy in their gameplay. Another incredible feature of this table is its quickplay chassis which assists you in the super-fast assembly in just 20 minutes.
Its 2" steal apron accompanied by corner protectors provides ultimate protection from any damages making it a long-time quality investment for the players. The table also comes with a 66″ net and post set included, which favors the users to play it right after bringing it out of the box.
Moreover, this table features 1-3/4″ self-opening steel legs and 3″ mag wheels with locks catering to easy movement and stability. Since the table is designed for indoor use, so make sure it is not placed outside.
Rating: 4.1/5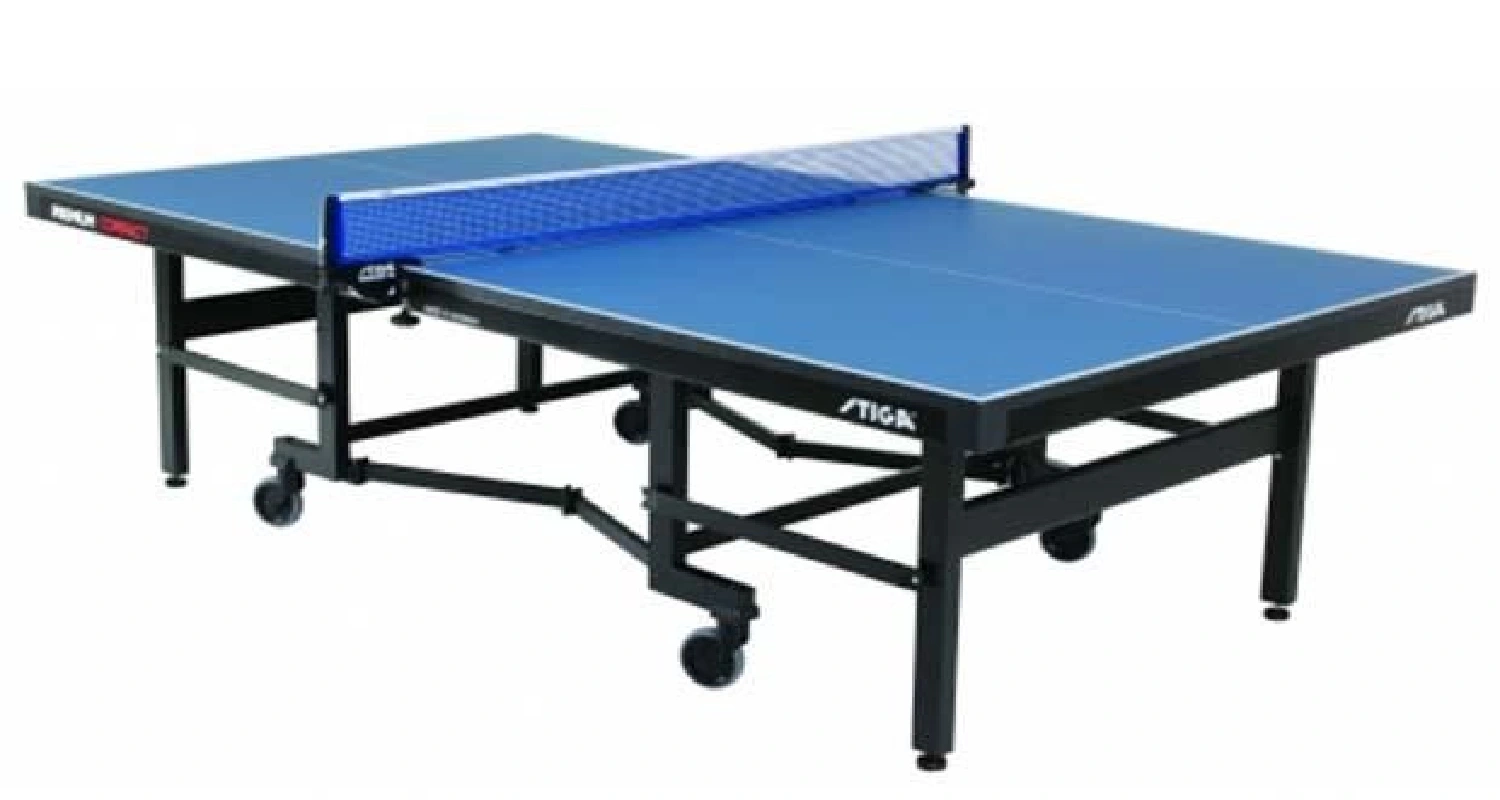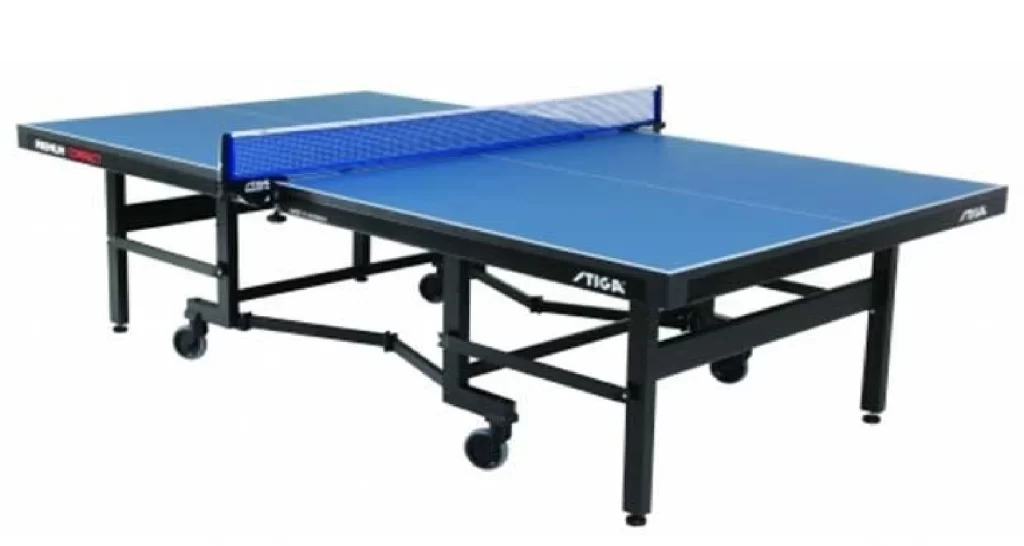 Check Price
STIGA premium ITTF-approved compact table tennis table is the king option for people looking for exceptional quality and performance in the sport. The table is ITTF approved, which means it has successfully passed the higher standards test by International Table Tennis Federation for top-class performance.
Starting from its remarkable features, it possesses commercial-grade pistons, which assist in opening both table halves simultaneously, making it an incredible time saver.
Another interesting twist about this product is that it comes 100% preassembled, providing complete relief from the hassle of assembly and disassembly. On top of that, the table features a 1" tournament top, 2-2/5" steel apron, and silkscreen striping, which provides a reliable and consistent playing surface.
In comparing prince vs STIGA ping pong tables, premium ITTF is typically considered a higher-end choice with superior quality and unbeatable performance. It might be more expensive than most other table tennis table brands.
However, its advanced features and ITTF approval make it a worthwhile investment for players who want to bring the best potential out of them, which is only possible with the finest equipment.
Rating: 4.9/5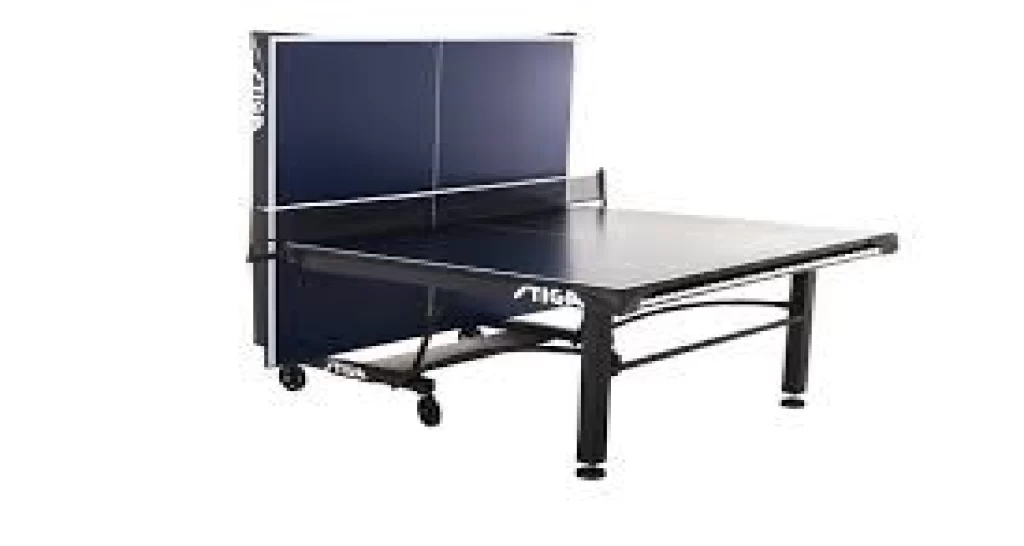 Check Price
STIGA ST4100 table tennis table is a state of an art option for anyone seeking to level up their ping pong game.
However, this table is a perfect companion for serious players who must practice day and night to improve their game. However, it is also loved by families and recreational players who prefer a sturdy table that can hold frequent use.
One of the most remarkable features of this STIGA table tennis table is its impressively designed frame which helps you to store it effortlessly when not in use.
It is one of the best STIGA folding ping pong tables having a quick fold-up feature that helps stow away the table in just a few minutes. This table boasts a plethora of impressive features that make it stand out from other options in the market.
A thick table top of around 5/8″ provides exceptional bounce and doubles up the thrill making players of all levels enjoy the game.
What makes this table different from others is the elite status that it has gained because of its superior performance. Summing up all the components, this table tennis table has everything professionals dream of, including steel legs and levelers to ensure optimum stability during the gameplay.
STIGA Expert Roller Css Table Tennis Table – Best For Professionals
Rating: 5/5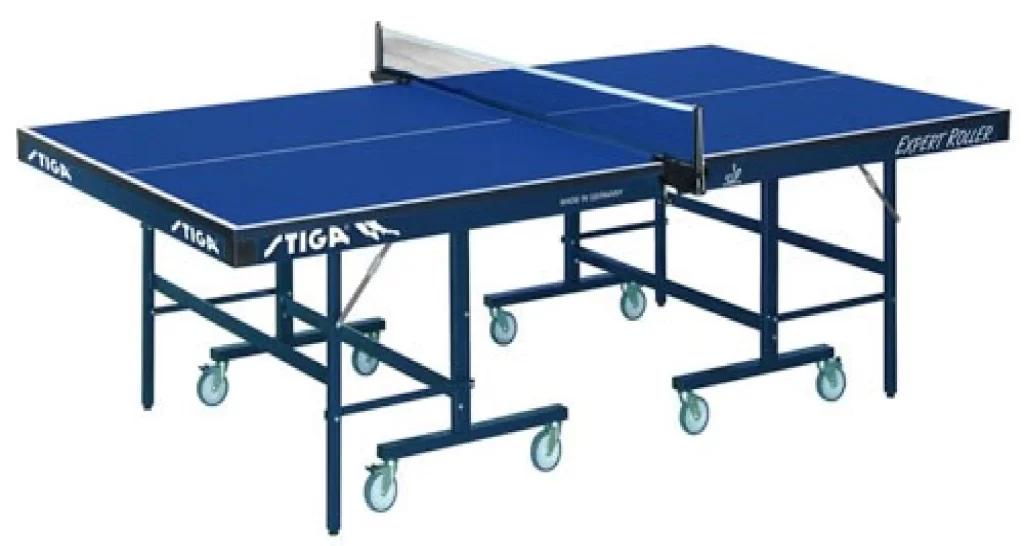 Check Price
STIGA Expert Roller CSS table tennis table is an exceptional choice for players seeking a heavy-duty performance competition table. The fact that the table is ITTF approved and has 5-star ratings screams its credibility.
It comprises professional-grade features which ensure an unrivaled playing experience. The table is constructed with a 1'' thick fiberboard with a glue-casted surface, providing excellent ball control and optimum bounce.
Its compact storage system technology is another innovative feature that allows minimal storage space when the table is unused. It is a perfect option for ping-pong lovers with limited space.
STIGA expert roller CSS is made in Germany and is crafted with high precision and attention to detail, ensuring exceptional durability and performance.
Also, the package includes a premium quality net set, which makes you all set to hold a fierce competition with your partners right after taking it out of the box.
Rating: 4.9/5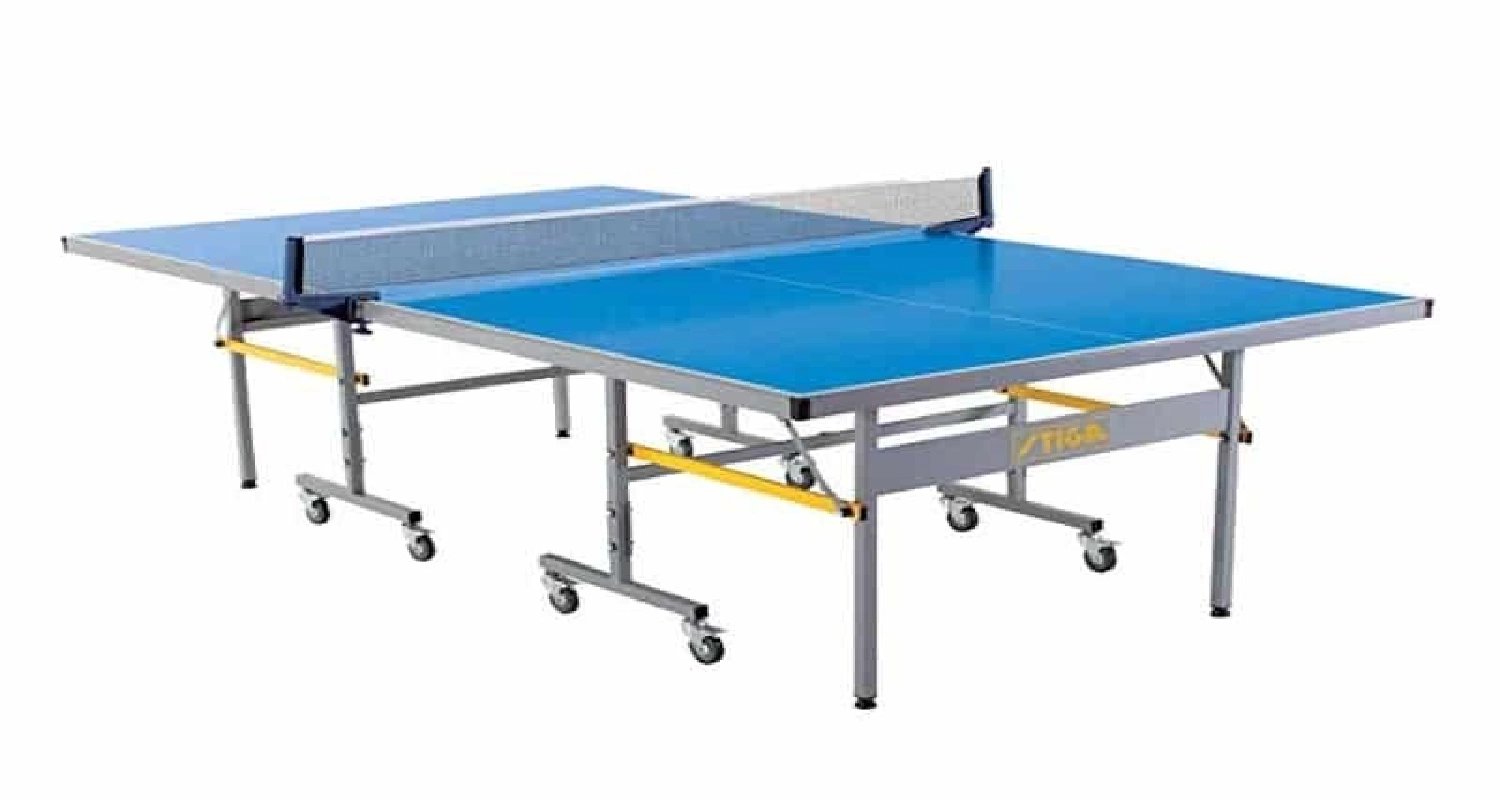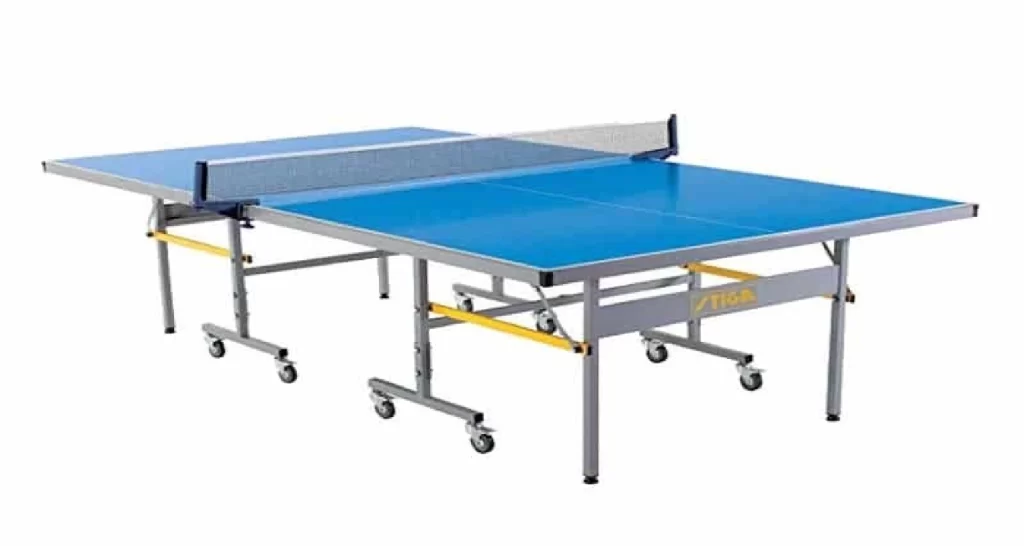 Check Price
STIGA Vapor Table Tennis Table is a perfect combination of performance and affordability. Featuring a 5/8″ thick playing surface, the table provides fantastic bounce providing hours of fun and intense gameplay.
The table is supported by robust steel legs along with solid levelers, which ensures perfect balance and stability during intense matches. One of the most exceptional features of this table is its quick and easy assembly.
The table comes partially disassembled with all of its hardware included that can be put together in no time. What makes the STIGA vapor table tennis table different is the value it provides for money.
Despite impressive features and heavy-duty construction, it is reasonably priced, making it easy for players of all skill levels to afford. Lastly, with the STIGA brand in reputation, you can rest assured that the product you are going to purchase will provide years of fun and entertainment.
So, if you are looking for a STIGA table tennis table that won't shake up your budget, this product can be a perfect choice.
Rating: 4.2/5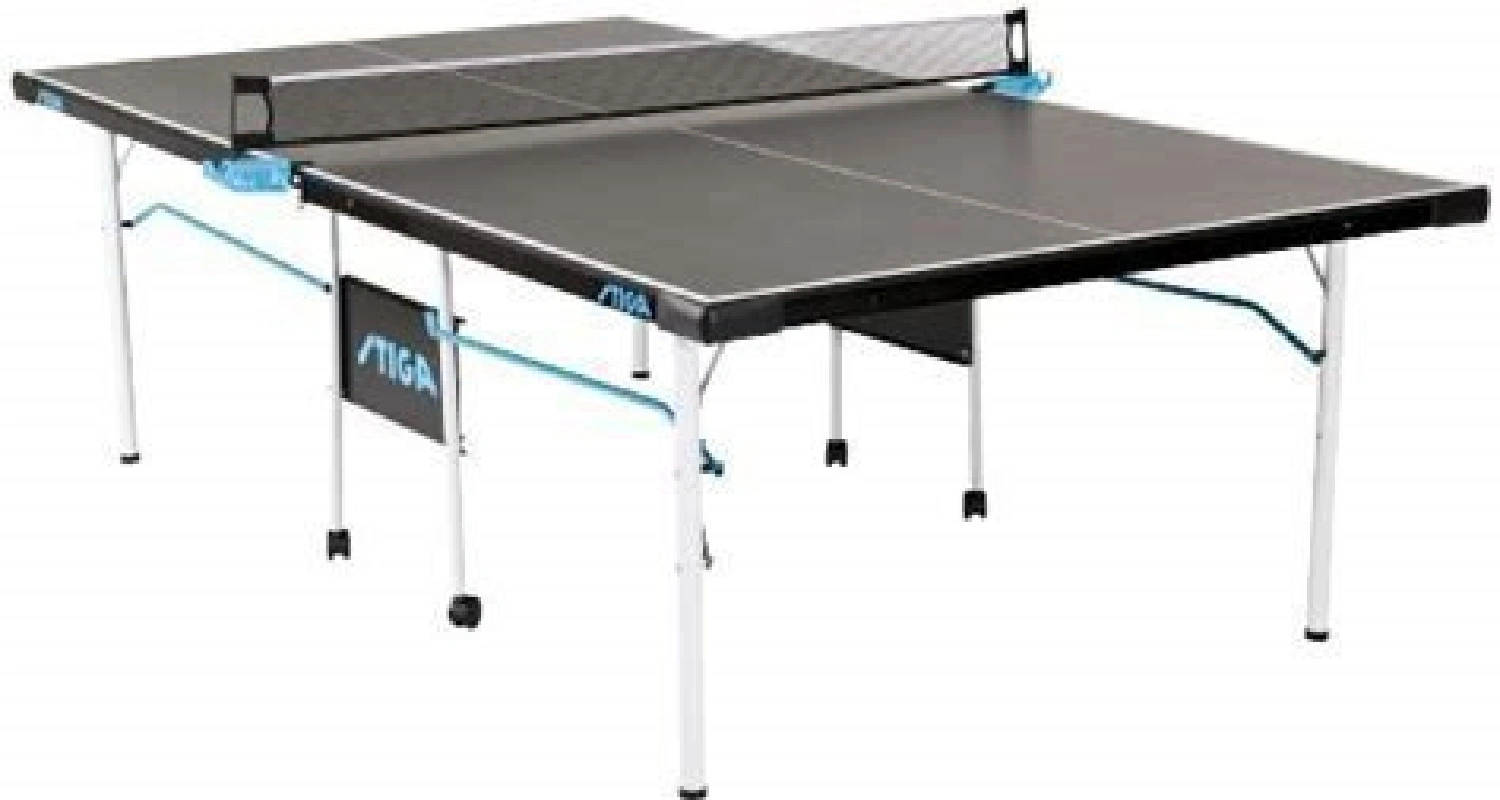 Check Price
STIGA ST2100 Table Tennis Table is an ideal choice for indoor recreational play. It features a ½" thick black tabletop that delivers excellent playability giving out a powerful bounce every time you make a shot.
STIGA ST2100 is a table for those looking to hone their skills or just have a fun weekend with their friends and family. One of the most stunning features of the table is its 1.5″ steel self-opening legs which can be automatically deployed from storage, ensuring convenience and safety side by side.
Moreover, it contains 2" double wheel casters, making it a breeze to transfer the table from one place to another without breaking your back in lifting it. It means you are not restricted to one room only; you can shift it wherever you want and enjoy the game at its best.
Thanks to the 66″ net and post system included in the package, you can start playing immediately as soon as you set up the table.
Overall, STIGA ST2100 is a fantastic choice for those looking for premium quality STIGA ping pong tables under 500 dollars for recreational play.
Frequently Asked Questions FAQs
How Much Do STIGA Ping Pong Tables Cost?
The cost of STIGA table tennis tables can vary depending upon the features, model, and where you purchase them. Generally, the price of their recreational models starts from around $200 onwards.
On the other hand, their high-end competition tables can cost up to $2000 and more depending upon the features and quality of the table. For the mid-range tables, the price is mostly around $400-$800.
However, make sure that you always consider your budget and genuine needs while choosing a ping pong table that fits both your budget and playing style.
Where are STIGA Table Tennis Tables Made of?
STIGA table tennis tables are made in various countries, with China and Germany at the top. The high-end models that used to be in professional tournaments are typically manufactured in Germany.
However, China mainly produces affordable models for all the players, but whether they are expensive or reasonable models, Stiga never compromises on quality.
Where Can I Order Parts for STIGA Ping Pong Tables?
You can order STIGA table tennis table parts directly from the manufacturer's website or the customer service hotline. However, like every other market, the parts may be available through third-party retailers dealing in table tennis equipment.
Is STIGA a Good Brand for Table Tennis?
Absolutely yes. STIGA is a well-established and renowned brand in the world of table tennis for producing superior quality equipment for players of all skill levels.
Their accessories, including table tennis paddles and tables, are used regularly in professional tournaments and are highly admired for their performance, durability, and playability.