Tired of those cumbersome, bulky ping-pong tables taking up too much space in your home while providing an average or subpar gameplay experience?
STIGA Premium compact table tennis table is the ultimate solution for anyone looking to make the most of their space without compromising playability. This super compact table is designed considering all the professional standards and your convenience to give a next-level boost to your performance.
So, whether you are a seasoned pro or just a recreational player, this high-quality table tennis table is an excellent investment. You might be wondering what sets this table apart from others.
Fret not; this STIGA Premium ITTF-approved compact table tennis table review will unlock all the information you need to learn about this table. Stay tuned!
Buy STIGA Premium ITTF Approved Compact Table Tennis Table Now
STIGA Premium Compact Ping Pong Table Specifications
Our Rating: 4.1/5
Price: $$$
Size: 70″L x 62″W x 22.5″H
Assembly Time: No assembly is required
Material: Alloy steel
Weight: 300 pounds
Table Top Thickness: 25 mm
Color: Blue
Warranty: 1 year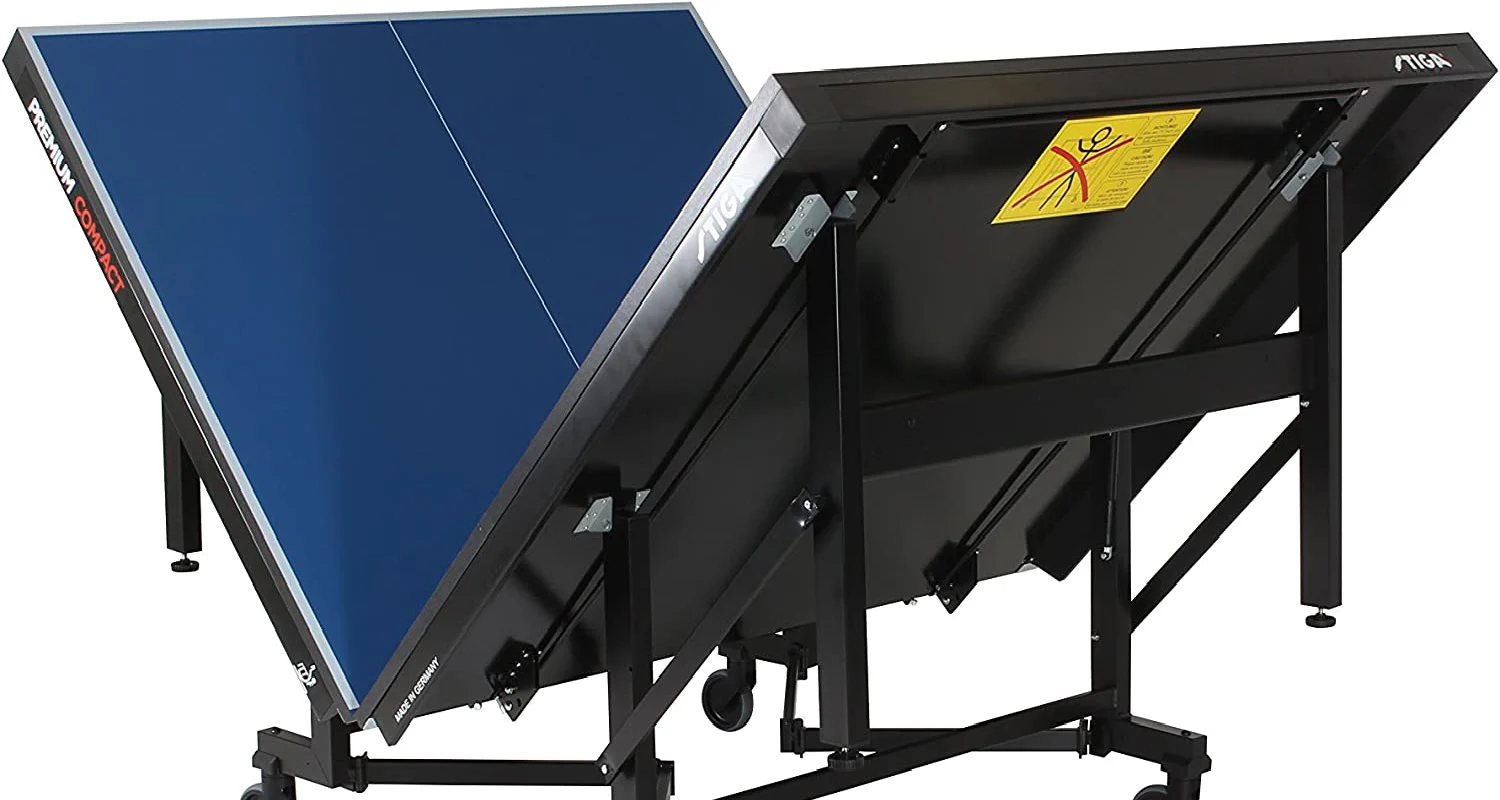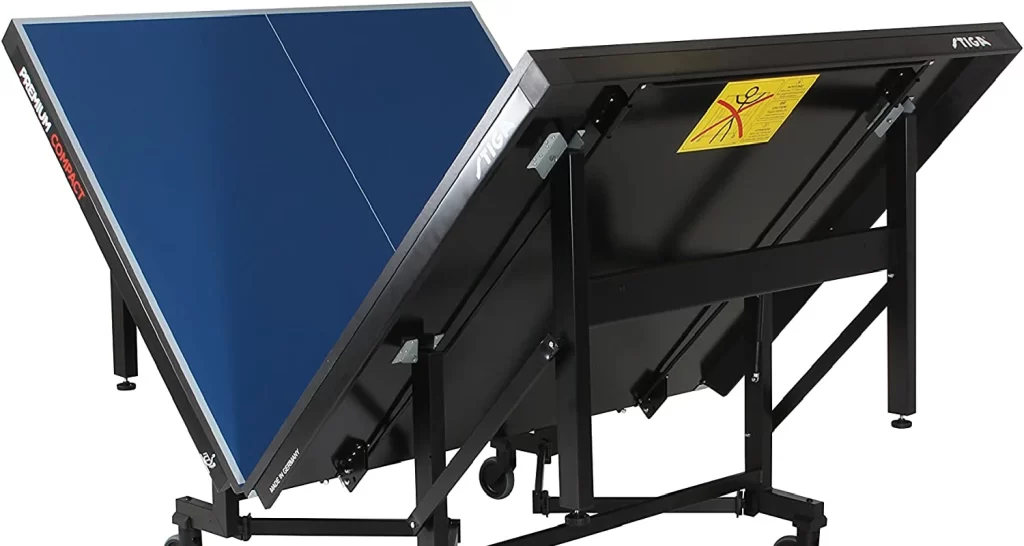 What to Expect
While going through tons of testimonials and deeply analyzing its features, we are convinced that this STIGA table has left a significant impact everywhere it went. Its performance, design, and quality are loved by professional and recreational players alike. But how? Read on to know.
Superior Performance and Quality
STIGA Premium compact table tennis table comes with a 25mm thick tabletop carefully crafted to provide you tournament-grade playing experience at home.
The table is UV filled, sanded, and finished with a special paint to ensure smooth, consistent, and optimal playability for players of all skill levels.
Steel Legs with Multiple Cross Beams
Equipped with heavy-duty steel legs, STIGA Premium provides ultimate stability during the match and keeps the table leveled on any surface. Moreover, multiple cross beams add to the support, preventing the table from wobbling and tripping.
These features help you bring out the best potential in your game by focusing quality on your shots without any distractions.
Super Compact Storage Design
Featuring a super compact storage design, this table is an incredible space saver that can be stored in small spaces without any hassle. Thanks to its commercial-grade pistons, you can open the table's both halves at once without any help and start playing in no time.
ITTF Approved
The best thing about the STIGA Premium compact table tennis table (ITTF-approved) is that it is designed to meet all the standards set by the International Table Tennis Federation.
It means all of its aspects, including the size, thickness, and quality of a professional table, fall perfectly on the standards required for a professional gameplay experience.
Silk Screen Striping and 2-2/5" Steel Apron
Combining steel apron and silk-screen striping enhances the table's aesthetics and guarantees smooth and consistent bounce and optimum stability during intense matches. On top of that, it is built to withstand the rigors of regular use for years to come.
The elegant striping on the table adds a stylish touch to your table and makes it a great addition to your indoor space.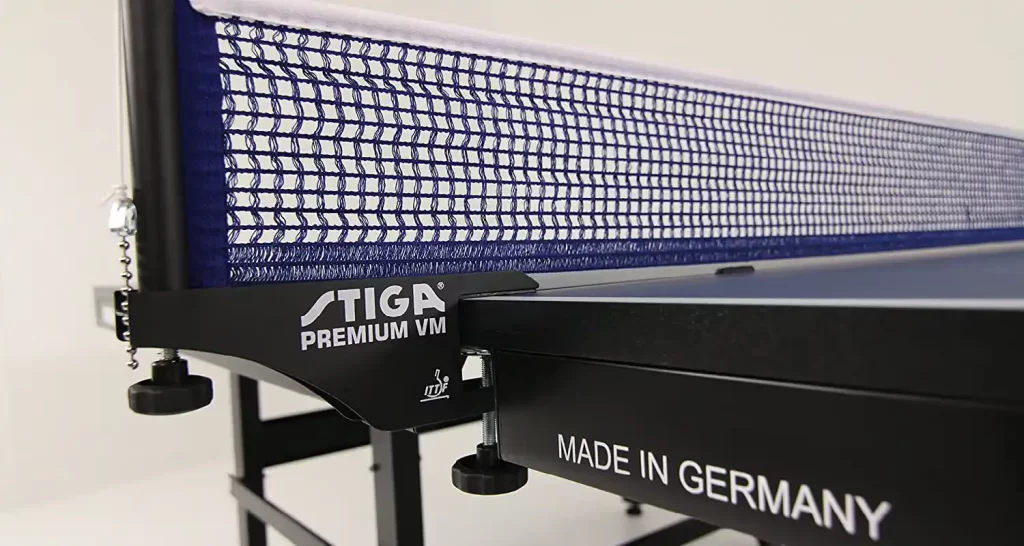 Pros
100% Preassembled
STIGA Premium ITTF-approved compact ping pong table comes 100% preassembled. This feature works best for people who struggle to understand complicated instructions and deal with confusing parts. All you need to do is open both halves, and you can start playing right away.
Easy Maneuverability
The table comes with heavy-duty 5-inch machine-grade ball-bearing casters, making it easy to move around on any surface. This allows you to store the table in different locations when not in use while clearing up space for other activities. It is perfect for small apartments, offices, or game rooms.
Level Playing Surface
STIGA Premium ITTF-approved compact ping pong table with top-tier leg levelers fixed on all four sides of the table, allow you to adjust the height of the table. Furthermore, these leg levelers ensure the table is perfectly leveled even on uneven floors providing a stable and optimal playing experience.
1 Year Warranty
With an exclusive one-year warranty, this one is one of the best STIGA tables if you're looking for the peace of mind that comes from knowing you have invested in a top-tier product.
If you encounter any inconvenience or defects in the first year of ownership, you can rely on a warranty for necessary repairs and replacements from the company.
Cons
Not Suitable for Outdoor Use
STIGA Premium compact table tennis table is designed to be used indoors and shouldn't be used outdoors. Continuous exposure to outdoor elements can damage the table's frame and overall surface in no time.
Heavy Weight
This table weighs around 300 pounds, making it heavier than other ping-pong tables like the Butterfly Centrefold 25. It can make it difficult to move without assistance and be a great hassle for those needing to move the table frequently.
No Playback Mode
STIGA Premium ITTF-approved compact ping pong table doesn't offer a playback feature which might not be a deal breaker for all the users. It might be a disadvantage for people who like practicing alone or have limited access to a partner to assist with practice sessions.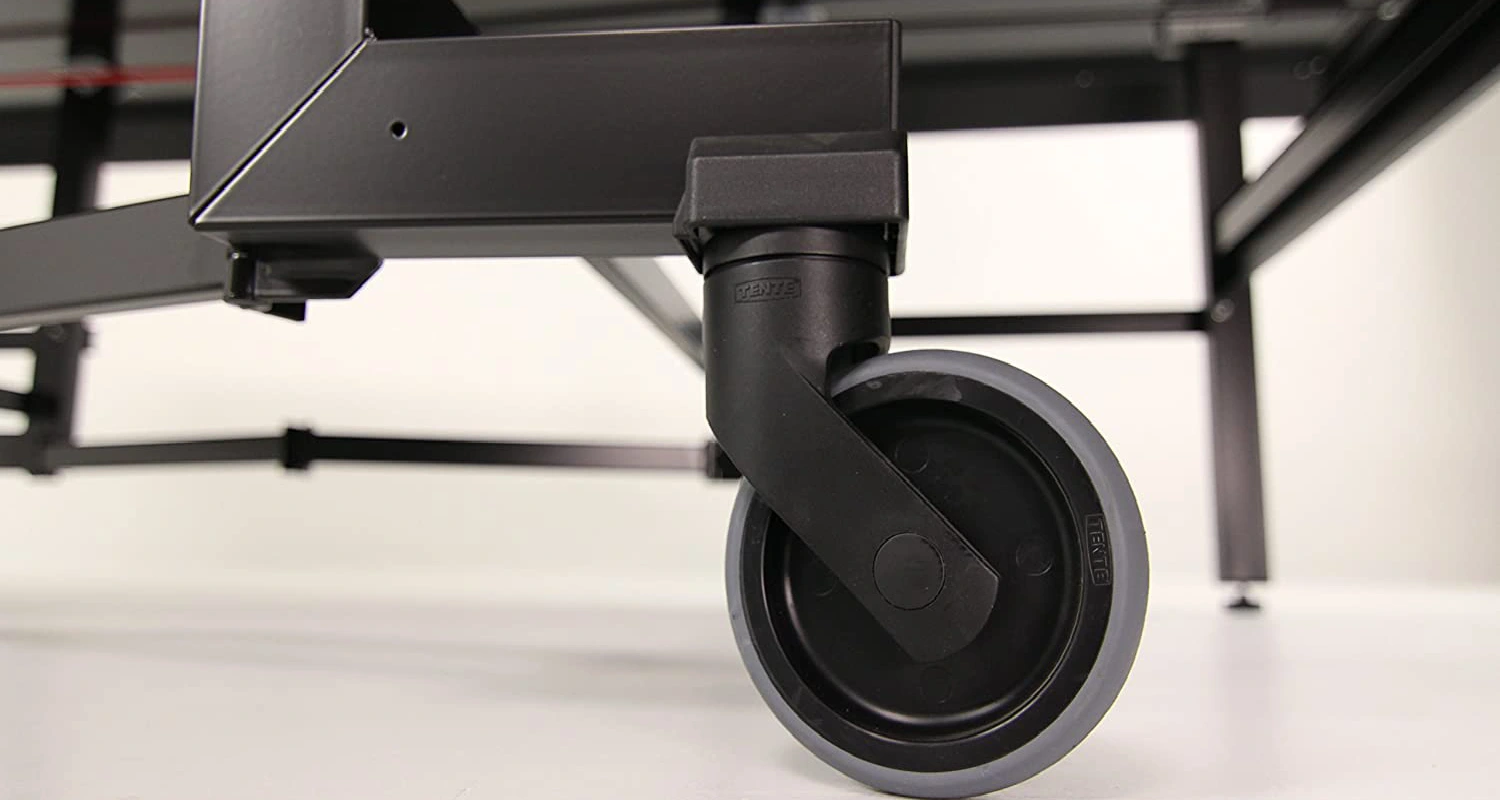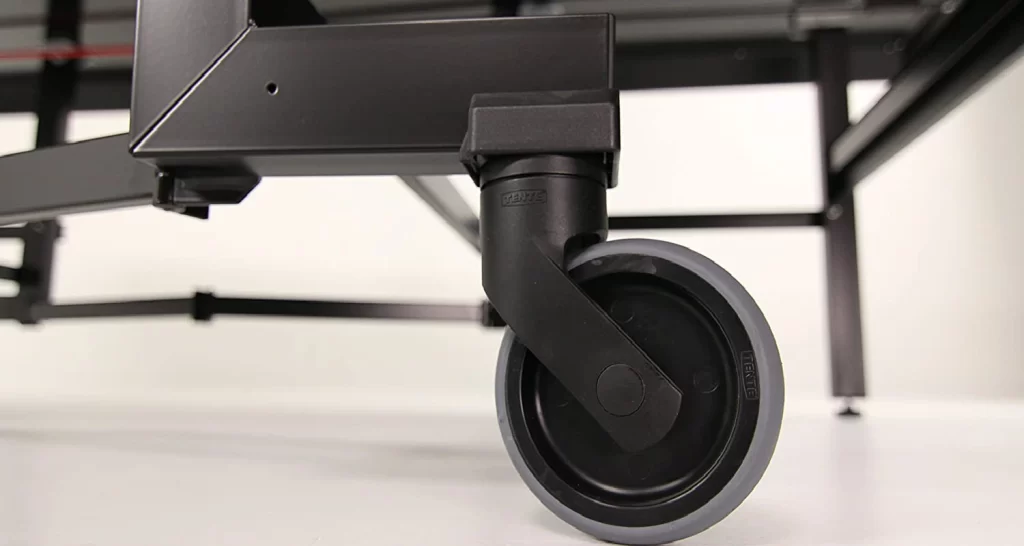 Our Rating: 4.1/5
STIGA Premium compact table tennis table has been gathering buzz among ping pong players for its promising features and the value it provides. Its top-of-the-line features include commercial-grade pistons, space-saving design, and durability that sets it apart from others.
Moreover, it comes 100% pre-assembled and 1-year Warranty that takes all the stress off the shoulders of its users.
Thanks to its top-notch construction, it requires no serious maintenance; however, it is advised not to use it outdoors to extend its lifespan. With all these outstanding features, the STIGA Premium ITTF-approved compact ping pong table is a perfect companion to assist you in the long run.
Frequently Asked Questions (FAQs)
Does the table come with balls and paddles?
No. STIGA Premium ITTF-approved compact table tennis table doesn't include balls and paddles in the package. You will have to purchase these equipment separately.
What are the exact dimensions of this table when folded?
The folded dimensions of the STIGA Premium ITTF-approved compact ping pong table are expected to be around 26 inches wide, making it easy to store in compact spaces when not in use.
Is STIGA Premium Compact suitable for solo practice?
Unfortunately, the table doesn't provide a playback feature, so you can't use it for solo practice. However, it comes with a built-in adjustable net and post system and is ITTF approved for the outstanding features that make it an ideal option for players of all skill levels.
How long does it take to assemble this table?
Fortunately, the table comes 100% preassembled, so you won't have to stress out over the assembly. However, it may take some time and effort to set it up due to its weight and regulation size.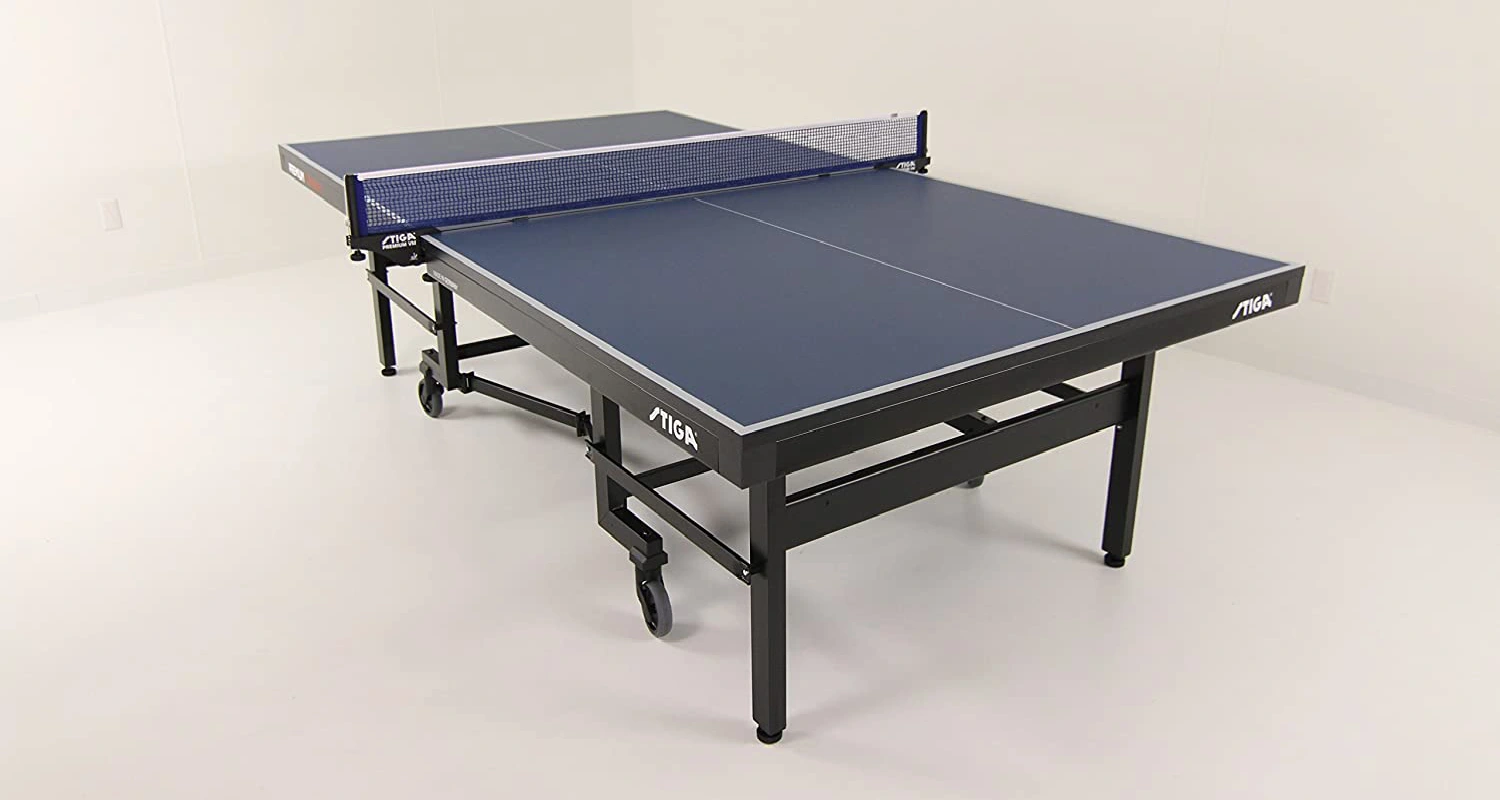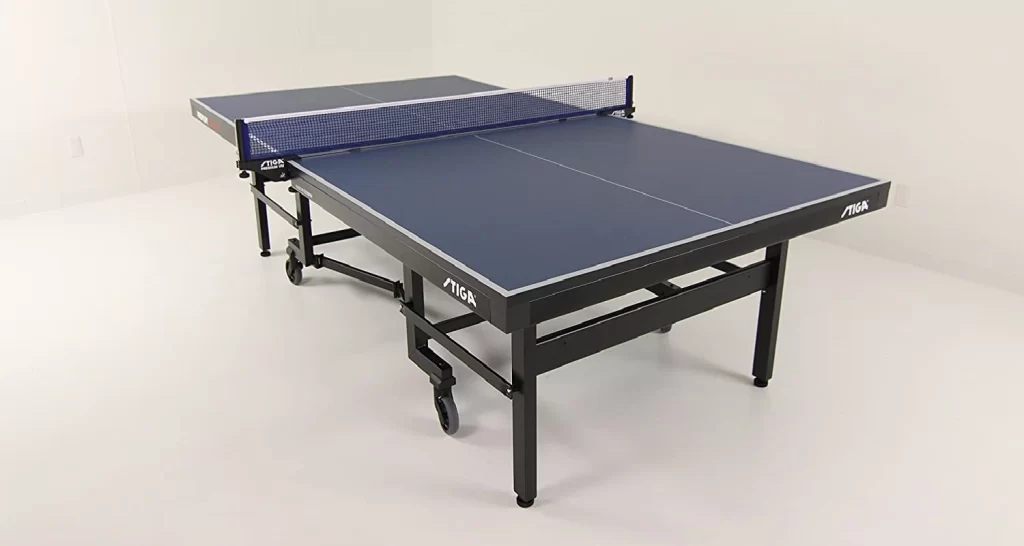 Conclusion
In a nutshell, the STIGA Premium ITTF-approved compact table tennis table is a state-of-the-art table with plenty of impressive features. Its robust construction, compact storage design, and easy maneuverability make it a dream come true for players seeking a professional-grade table but having limited space.
While it may cost more than other indoor tables, its focus on quality and durability makes this investment completely worth it.
However, despite being able to withstand the rigors of regular use and intense matches, exposure to outdoor elements can make it weary before time. So, make sure you keep it inside and make the best use out of it.
Whether you are a professional table tennis player or just starting out, the STIGA Premium ITTF-approved compact ping pong table is sure to be an ideal option for you.