The Butterfly Centrefold 25 is one of the best tables made. It is not only used in official tournaments but also used by amateurs and it is a very high-end product.
The Butterfly Centrefold 25 table tennis table is one of the highest-selling products of Butterfly with top-quality reviews and one that they certainly pride themselves on because it a great example of their quality production.
Buy Butterfly Centerfold 25 Table
Butterfly Centrefold 25 Table Specifications
Our Rating: 4.7/5
Price : $$$
Assembly time: 0 minutes
Weight: 290 lbs / 131.5 kgs
Table top thickness: 1" (25mm)
Square steel wheels: 2″
What to Expect
In this detailed Butterfly centrefold 25 review, we take a look at all the features you will get if you break the bank on the this table. It is an ITTF-approved table, so you can expect the very best!
Consistent Bounce
For a table that is approved by the International Table Tennis Federation, you can be sure that it has the most consistent bounce ever.
Butterfly centrefold 25 table tennis table comes with a thickness of 1", which is equivalent to 25mm, which means that you will get a consistent bounce, as long as you own this ping pong table, and take care of it. It is supported with alloy steel from beneath.
Strong Protection
If the perfect grip top of the table excited you, then wait when you find out what is underneath the brilliant table sur. This indoor ping pong table is supported by a base, made from a strong 2 inch steel apron, 2 inch steel rim and protected by a hard PVC band, that not only safeguard the table surface but also stops it from getting knocked down or potential scratches.
The best thing about this official table is that it has magenta corners which act as protector pieces.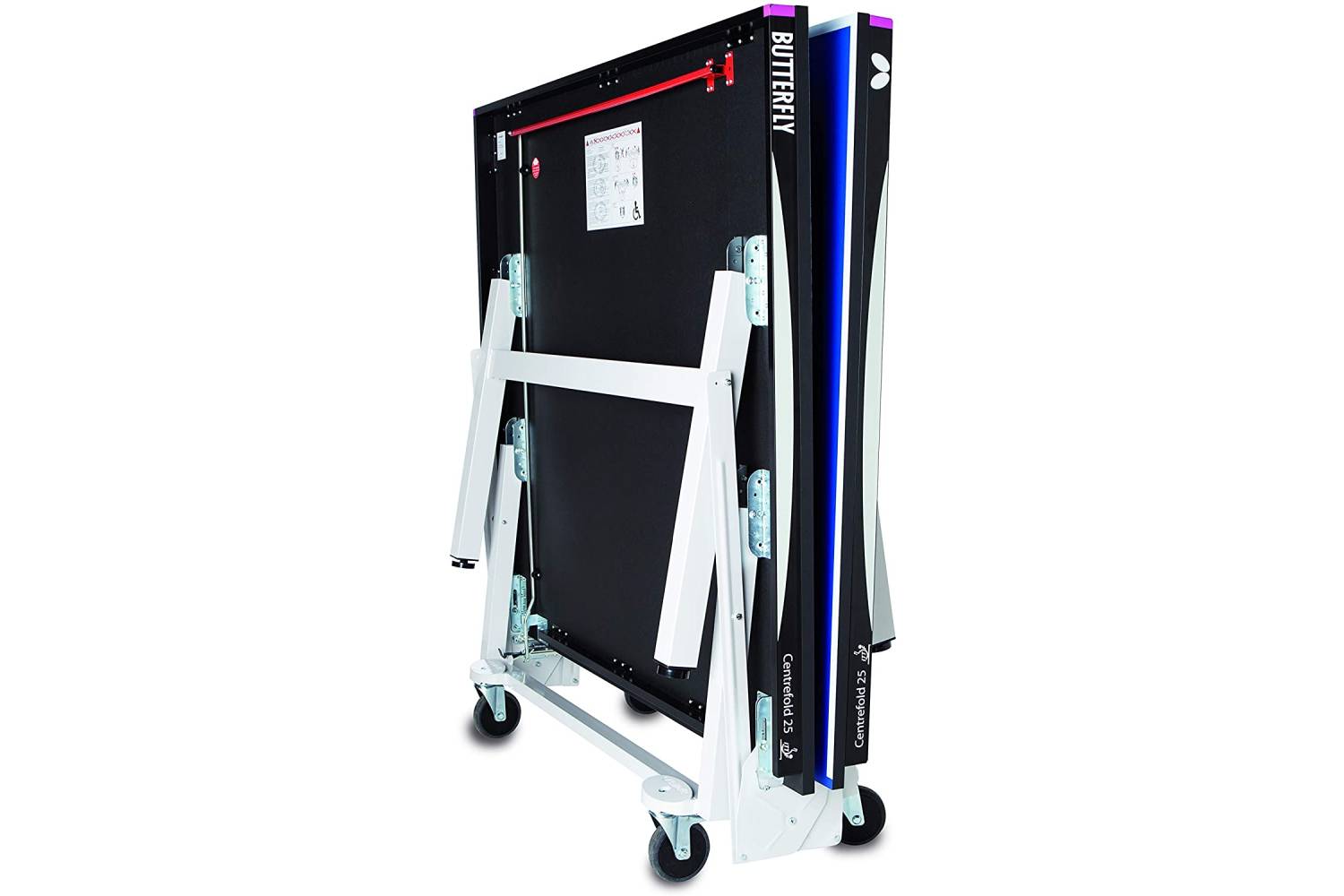 Fold & Roll Design
The Butterfly Centrefold 25 as the name suggests, comes with a new design that can be folded and easy to roll.
This also includes a safety locking mechanism that can hold the ping pong table in a strong position when it is folded, which means it will not open up unexpectedly.
This easy fold design makes the table very easy and convenient to store in smaller storage spaces, as you can just fold it into storage position within seconds, when not in use, and move the two halves together. Whether you have one or multiple tables in the home game rooms, you can easily store them compactly.
Adjustable Feet and 5-Inch Locking Rubber Wheels
The table is supported by adjustable feet and steel legs that ensure a level playing surface. These are supported by height adjusters on four of the outer legs, making sure that the table does not move. You can also adjust the height of the table thanks to this support. Another noticeable point is that the legs are positioned 400mm inward which complies ruling for wheelchair competitors.
In addition to the adjustable feet, there are 5-inch locking rubber heavy duty wheels which are large enough to roll the table across any surface. Transportation of the table seems like a breeze and you can also use the locks to secure the table during play. The locking rubber wheels weight is around 280 lbs.
Fully Preassembled
The Centrefold 25 is a professional quality ping pong table that people seem to love for many different reasons.
However, the best fact about the Centrefold 25 is that it is delivered fully assembled, which means as soon as you take it out of the packaging, you can play at the same time. You do not need to assemble it like many other ping pong tables which require hours of assembly before you can start playing. It also has the right dimensions for tournament play.
ITTF Approved
The best part about the Centrefold 25 is that it is approved by the International Table Tennis Federation – ITTF. This official table has been used in many different top-level tournaments including ITTF Pro Tour Championships and it is ideal for professionals, as well as, amateurs. You get to experience the highest level of table tennis by playing on the Centrefold 25!
Available in Two Colors
The Centrefold 25 ping pong table is available in two beautiful and vibrant colors. You can buy it in either green or blue. The green color is what we prefer, but it is really up to you, both look great!
Tournament Approved Net Included
The Europa Net Set, which is a tournament-level net set, is also included in the packaging of the Centrefold 25 table tennis table. Having a free professional net set in the packaging can help you to start playing right away after taking the table out of the box.
This professional net set is used exclusively by more than half of the world-class players at World and European championships.
Pros
Packed with a Warranty
Butterfly Centrefold 25 table tennis table comes with a 5-year warranty! While this makes up for the exorbitant amount of money you have to pay to buy this fantastic ping pong table, it also means how certain Butterfly is, regarding their product.
As a leading brand worldwide, they bet on their ping pong tables to last, at least, 5 years, ensuring longevity and quality so that you can enjoy top playing conditions while staying worry free for a long time.
Quality Table Top
The playing surface that comes with the Centrefold 25 not only ensures consistent bounce thanks to its 25mm or 1-inch perfect grip thick tabletop, but it also comes with a scratch-proof top backed up by a hard PVC band. This makes the table surface one of the best in the market to enhance your playing experience, and it is one of the biggest reasons why this ping pong table is used across most tournaments in the world.
No Assembly Required
The Butterfly Centerfold 25 table tennis table comes with complete preassembly, unlike its weightier counterpart, the Butterfly Playback Rollaway. This means that you do not have to worry about assembling the table, when it comes, you can be satisfied that the company sends it fully assembled.
All of this is convenient and means that you only have to concern yourself with playing table tennis and not assembling the table.
Easy Storage
The storage is made fairly easy, despite how much the table weighs. This is because of the red safety levers, which are on each half of the folding table, and it can be done with the help of a maximum of two people. Once you fold it in storage position, its dimensions become 20" across, which means you can pretty much store it anywhere.
Strong Frame & Undercarriage
There is a rail attached to the table apron which is made of steel and is 2.75". It also protects the surface and it has square steel legs consisting of 2" making it strong and durable table. The legs are positioned 400mm inward which complies ruling for wheelchair competitors.
The table is also supported by locking wheels, which are of top quality as they are 5" and are securable. It also has adjustable feet for extra smooth play.
Net & Posts Included
Most ping pong tables that come with a net and posts, usually have a terrible net which simply does not compliment the quality of the table. That is not the case with the Centrefold 25 table tennis table, it comes with the Europa release lock net Set, a tournament standard net set that can be easily attached and removed. This holder hassle free net has a ring chain feature that allows you to adjust the perfectly tight and upright tension.
Butterfly takes their responsibility of delivering quality products very seriously! They test every product multiple times and look for new possibilities to optimize techniques using innovative playing materials in their research center to ensure only the best!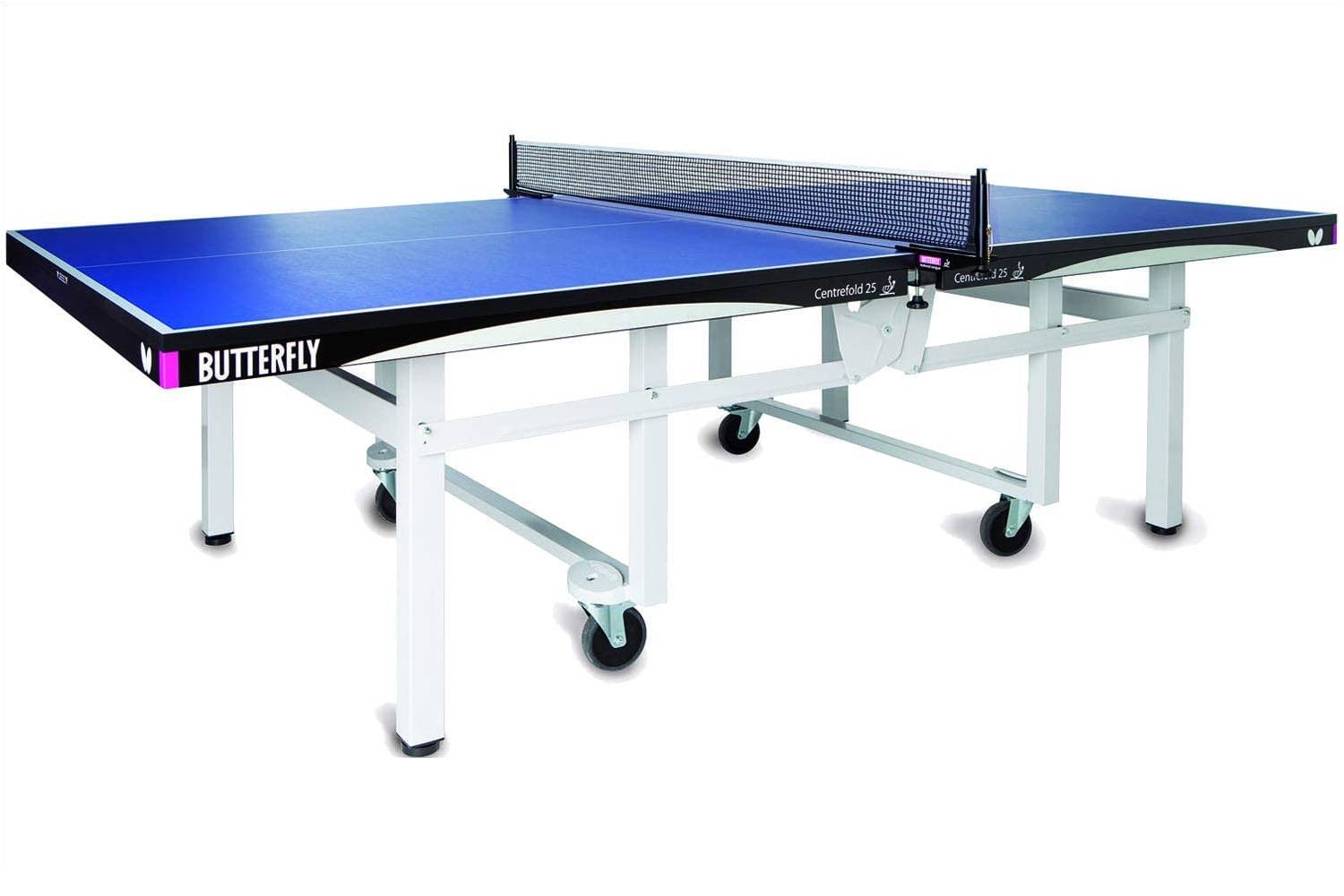 Cons
Costs (possibly) an arm and a leg
Without exaggeration, this is one of the most expensive tables in the market that counts as the only downside for many players. There is good reason to pay the money, but it is very expensive and might not suit most of the buyers. This is because most people cannot afford it, and that is primarily down to the fact that it is very expensive!
However, if you love table tennis, have a profound technical knowledge about it, and can bear additional expenses, then you should definitely go for it. Most of the Butterfly table tennis tables comes with free curbside shipping in the US, so add to the cart butterfly centrefold 25 table right away!
Without play-back position
As we talked about how expensive the table tennis table is, it should have been accompanied by a playback option. However, the problem is that the Centrefold 25, folds from the center, which means there is not a lot of option for giving the playback position, as well.
Very heavy
The table weighs approximately 290lbs. It is a very, very heavy table and might not be easy to move around on your own. However, it is supported by big wheels, but it is still quite expensive.
Our Rating: 4.7/5
The Butterfly Centerfold 25 is one of the best table tennis tables around. It is a fantastic product made by Butterfly and it offers smooth and consistent play thanks to its 25mm table top. It makes for the perfect professional grade table tennis table, with the big wheels and easy storage.
We love the fact that it is wheelchair friendly, comes in two quality colors, and with such a long warranty, but it is still quite expensive. However, if you can afford it, you should not buy any other table!
Frequently Asked Questions
How to Assemble the Butterfly Centrefold 25?
It is usually asked by buyers, that how can they assemble the Centrefold 25. This is a non-issue because the table comes preassembled by Butterfly. You do not have to stress over assembling this fantastically engineered table, this official table will be delivered to you in a ready-to-play style and you can play as soon as it arrives!
Conclusion
Conclusively, the Butterfly Centrefold Table Tennis Table is one of the best tables made. It is not only supremely well-constructed, but it also comes with a lot of convenience for the buyer, especially with the wheels and the folding. In addition to the convenience, the Butterfly Centrefold 25 is also aesthetically pleasing and appeals to more than one set of fans, as it comes in two separate colors of blue and green!
We love the Centrefold 25, despite its expensive price tag, because it comes with a five-year warranty. This means you can easily contact Butterfly in case of any potential problems, but there should not be any problem, because of its strong frame and scratch proof table surface. The best thing, though, has to be the fact that it comes 100% preassembled, and you can start playing as soon as it arrives!
We also love how small it gets with the folding mechanism, and how that means you can store it almost anywhere, you want. This makes it perfect for those with minimal storage space and allow home game rooms to store multiple tables compactly. The table lock is an exceptional feature that helps the table surface staying level and you do not have to worry about the table opening unexpectedly.