The Butterfly Playback Rollaway Table is also known as the TW24B Outdoor. It is a durable table created ideally for outdoor play.
It has numerous features, and it is the product of one of the best companies in table tennis. Is this table worth buying for your outdoor adventures? We take a look at all of the features and give our verdict to help you decide!
Butterfly Playback Rollaway Table Specifications
Our Rating: 4.7/5
Price: $$$$
Size: Regulation (9 feet x 5 feet)
Assembly Time: 3 hours (2 people needed)
Weight: 150 lbs / 68 kgs
Table Top Thickness: ¼ inch (almost 6mm)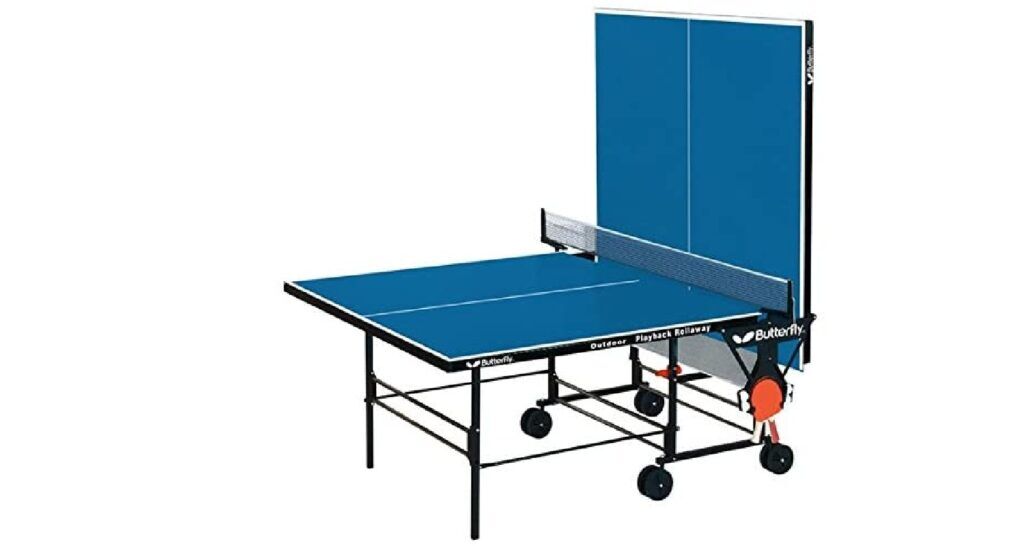 Butterfly Playback Rollaway: What to Expect
For its cost, the Butterfly Playback Rollaway is by no means a poor purchase. It majorly depends on your playing expertise, the reason for buying, and whether or not you take care of it.
It is important to consider your playing surface and then make the decision of whether or not you should buy this model.
Available in Two Colors
The Butterfly Playback Rollaway is available in two fantastic colors! You can decide between the traditional blue color or the less-commonly used green (we suggest the green). This is an option that is very rare to find in tables, these days, as most of them come in blue color.
All-Weather
The table is manufactured to last all kinds of weather conditions. From pouring rain to a sunny day, your Butterfly Playback Rollaway will remain a great option. It has a terrific table top that is made to be durable, so it should not have any issues for a long, long time.
Easy Storage
Storage of the Butterfly Playback Rollaway is made easier with its two-piece design that can be folded upwards. It helps the table occupy a lot less, and you can put it away in the storage or behind any single thing you want. It is lightweight and can be stored in most places.
Single-Player Mode
We love the fact that Butterfly has included the single-player mode in this table. The two-piece design allows this to happen as the table can remain upright, which you can use for solo play and practice. This is an important feature as you can improve your gameplay or even play when you do not have friends over.
Assembly
You can expect that upon receiving your table, you will have a job at hand. Setting up the Butterfly Playback Rollaway is not a piece of cake. It will take up a few hours, two pairs of hands at least, and you will have to carefully read the instructions and assemble it before you can play.
We suggest assembling the table with meticulous detail to avoid any potential harm to the table in the long run. Once you assemble it, you will have a fine table to play ping pong on.
Durability
The table is made from incredible materials to ensure durability that will allow the table to last a long time. This means that the wheels are durable enough and can be moved over multiple different surfaces. It is a fantastic table and it has the stamp of approval of quality because it is manufactured by one of the best companies in table tennis, Butterfly.
Pros
Weather-Resistant Table Top
The table top is weather-resistant thanks to the SLT, which is, synthetic laminate top. This material is not approved by the ITTF (International Table Tennis Federation) for tournaments like the Olympics Tokyo 2020, but it still offers exceptional bounce considering the thickness of the table is only 6mm. It is decent enough for recreational purposes.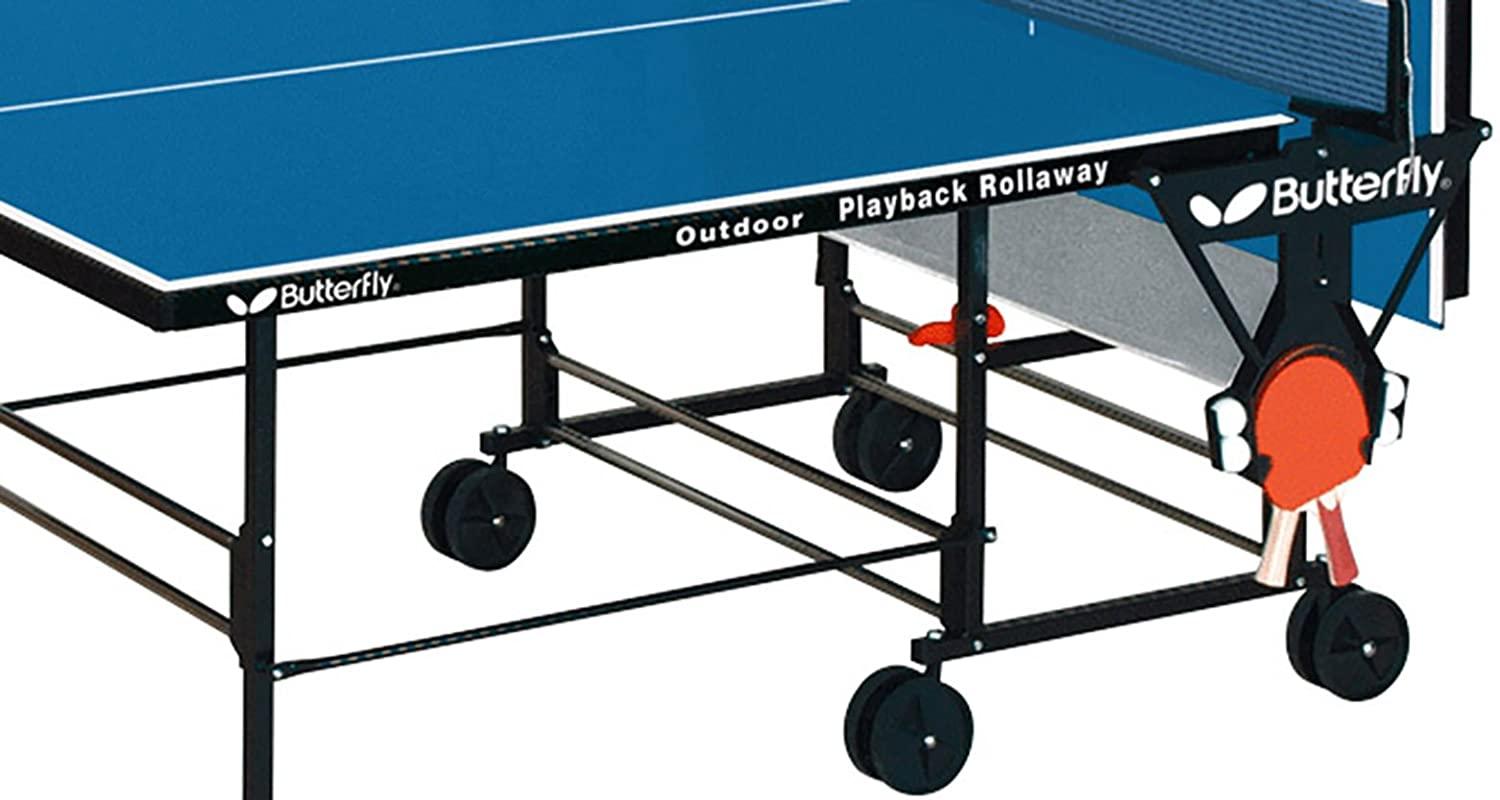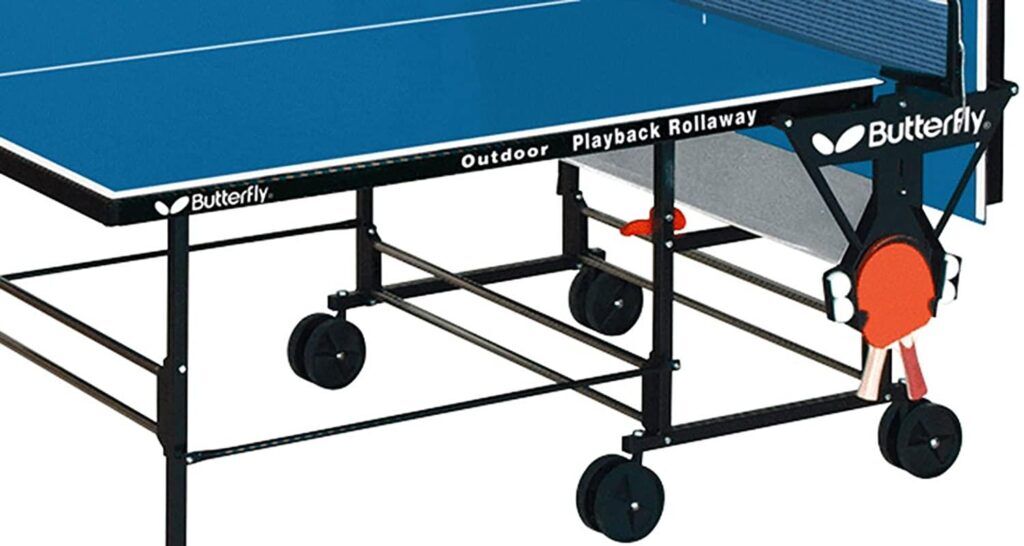 Steel Frame
The table is helped by a strong steel frame and an undercarriage that is a lot sturdier than the Butterfly Outdoor Home Rollaway. The legs of the table are 1-inch square steel and have supporting steel rods along with a reinforcing plate. If that was not already strong enough, they also added a 1.5-inch steel rim on the table edges to avoid any damage.
Portability
Portability is made easier thanks to four wheels which are 5 inches thick. It does not matter how uneven the surface is, you can move your table with ease. The legs of the table are indented, which is a plus because it makes it easier to move the table from one spot to another.
Safety Latches
When in the storage position, the table will require a safety latch to ensure that it will not open up, on its own. For that purpose, the Butterfly Playback Rollaway comes with safety latches that secure the table in the upright position making it easier to store.
Holders
The table is accompanied by holders that can help in holding the four paddles, as well as, eight balls! This is a feature that we love because you do not have to look for the ping pong balls all over the porch.
Perfect II Net Set
The Perfect II Net Set is included with the table. It is a weather-resistant net set that compliments the table. In addition to being weather resistant, it also attaches to the table and you do not have to remove it, even after folding the table for storage.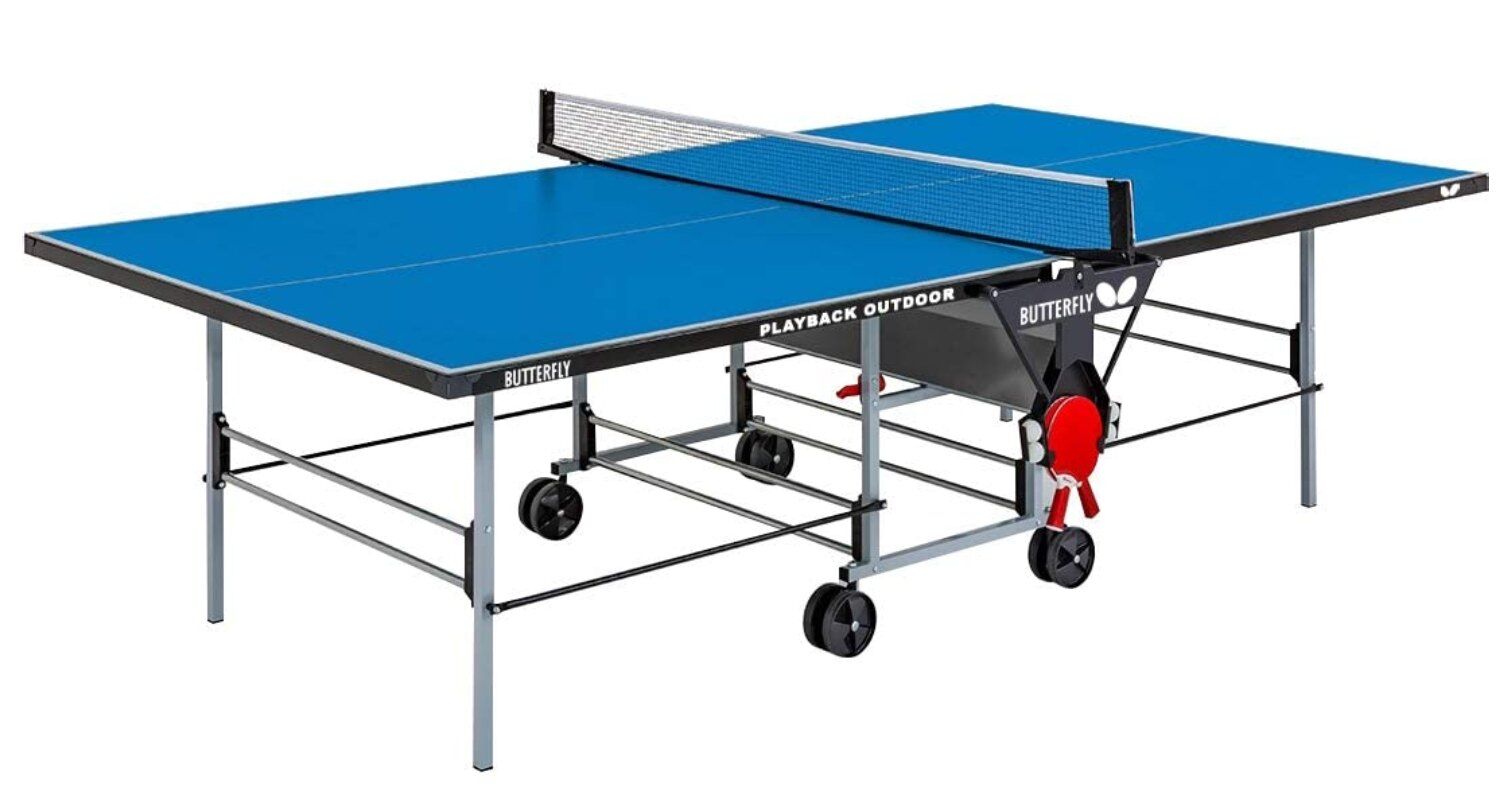 Cons
Difficult Assembly
The assembly of the Butterfly Playback Rollaway is a nightmare! It can take up to three hours almost and that is if you know what you are doing! You will require at least two people to set it up, so that is one of the biggest problems of buying this table.
You will probably need to follow a couple of YouTube tutorials and learn how to set it up.
Plastic Parts
Some of the parts of the table are made of plastic. This includes the five-inch wheels and that raises a few questions over the durability of the table. People have reported broken wheels and sometimes it can be tough pushing the table over rough surfaces because of the plastic wheels.
No Adjustable Feet
One of the major problems of the Butterfly Playback Rollaway is the lack of adjustability. Despite being indented, the legs of the table are without the adjustability feature. That is a big problem as it makes it harder to play on uneven surfaces.
Really Lightweight
The table being heavy is a problem but sometimes your ping pong table being lightweight is also a problem. Especially when a light breeze could easily knock it over in storage. It is sturdy enough to not move when you are playing, but there are no guarantees that it will stay in an upright position unless supported by something else.
Our Rating: 4.7/5
The Butterfly Playback Rollaway is a very decent option to have if you want to buy a table for recreational purposes, only. It does lack in some departments, so if you are looking for the best possible experience, this is not your table. There are some manufacturing errors, as well.
However, on the plus side, there are many reasons to go for it, as we discussed earlier. In addition to all of that, as this table is a Butterfly product, you get a great deal on a warranty, as well. A 10-year warranty on the table top and a 3-year warranty on the sturdy frame and manufacturing faults is a pretty decent deal!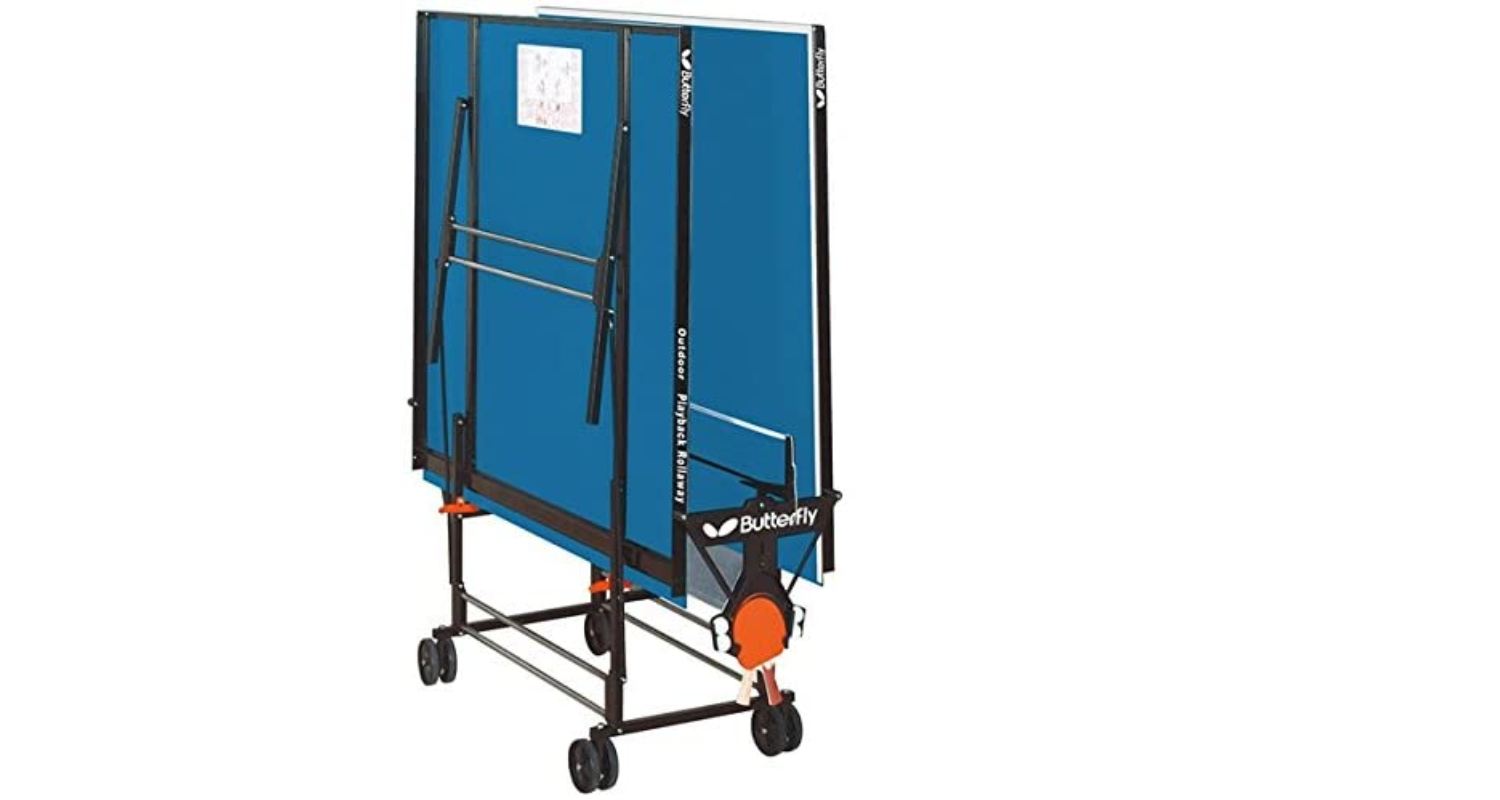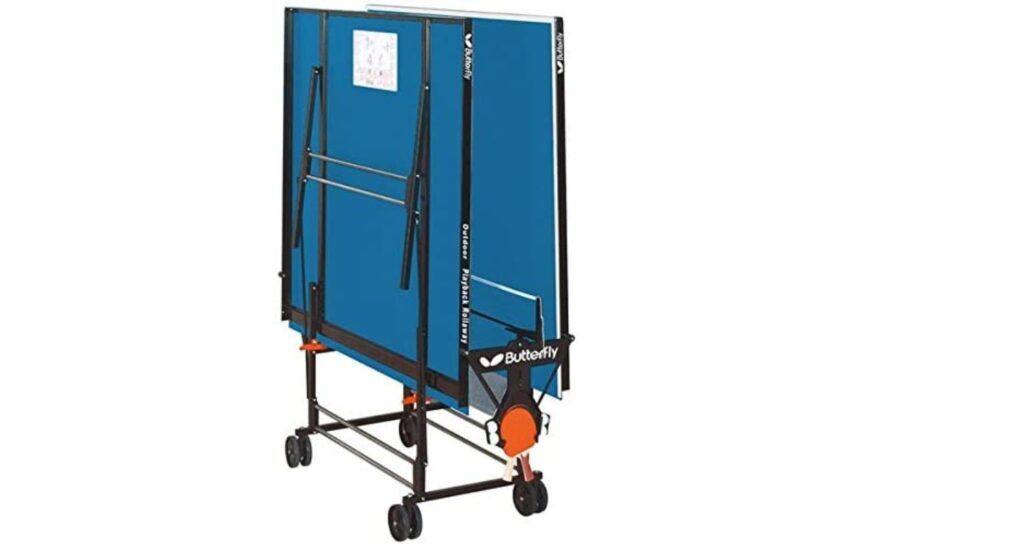 Frequently Asked Questions
How to Assemble the Butterfly Playback Rollaway?
This is a commonly asked question because the assembly of the Butterfly Playback Rollaway is a tough job. It can take multiple hours and at least a couple of people to get it done.
For your convenience, we have listed some tips. We suggest paying Amazon the extra $100 to let them handle the assembly, however, if you want to do it on your own then, be prepared!
It would be helpful to get a 19 mm wrench and four bolts/nuts. 3–4-inch ones would work, too. Study the directions before getting to work and layout all the pieces in clearly marked groups. The rest is all about following the diagrams carefully!
Conclusion
The Butterfly Playback Rollaway is a good investment, but some might feel it is too pricey for the quality it offers. We disagree as the table is primarily made for recreational usage, it has features which cater to that purpose. The only problem is that there is only so much you can add to a table.
There are a few limitations, though, even if you keep in mind the purpose of the table. These range from a few engineering faults to how well you can take care of your product. If the place where you are supposed to play is fairly even and your players play only for fun purposes and do not plan to pursue it professionally, then there can be nothing better!
However, we suggest keeping it in storage when not in use. Making sure that the table is not prone to falling easily and has support on either side. Butterfly's insanely good warranty deal makes it a must-have and that is why we suggest splashing the cash on it.