The STIGA Advantage Pro is the ideal table for anyone who does not want to spend very big on a table but also wants a table for professional usage. Forget design, this is the table that offers maximum level of practicality and makes for an effective purchase at the price that it comes.
This is a highly recommended purchase and it has the approval of thousands of other customers, to back up our word, that are super satisfied with their STIGA Advantage Pro.
Buy STIGA Advantage Pro Table
STIGA Advantage Pro Table Specifications
Our Rating: 4.8/5
Price: $$$
Size: Regulation (9 feet x 5 feet)
Assembly Time: 10 minutes
Weight: 211 lbs / 95 kgs
Table Top Thickness: 19mm
What to Expect
We will share our experience of using the STIGA Advantage Pro, especially, with most of the important takeaways that we found while using it. If you were to buy the STIGA Advantage Pro, you can expect:
Strong Playback
For playback, this might just be the ideal piece. The STIGA Advantage Pro can be set up in a way which allows you to play even if you do not have friends over, or just want to practice on your own. All you have to do is, fold up one side of the table, and it will act as a rebound wall and you can use this feature to hone your skills.
Simple (but Weighty) Assembly
We love how easy it is to assemble the STIGA Advantage Pro. However, not everything is ideal in the assembly of the table. For one, it is very heavy, weighing almost 100 Kgs, you need another person initially to move it, but setting it up is fairly easy.
Despite the strong frame and the easy assembly, it takes up less space as compared to other tables when in storage position.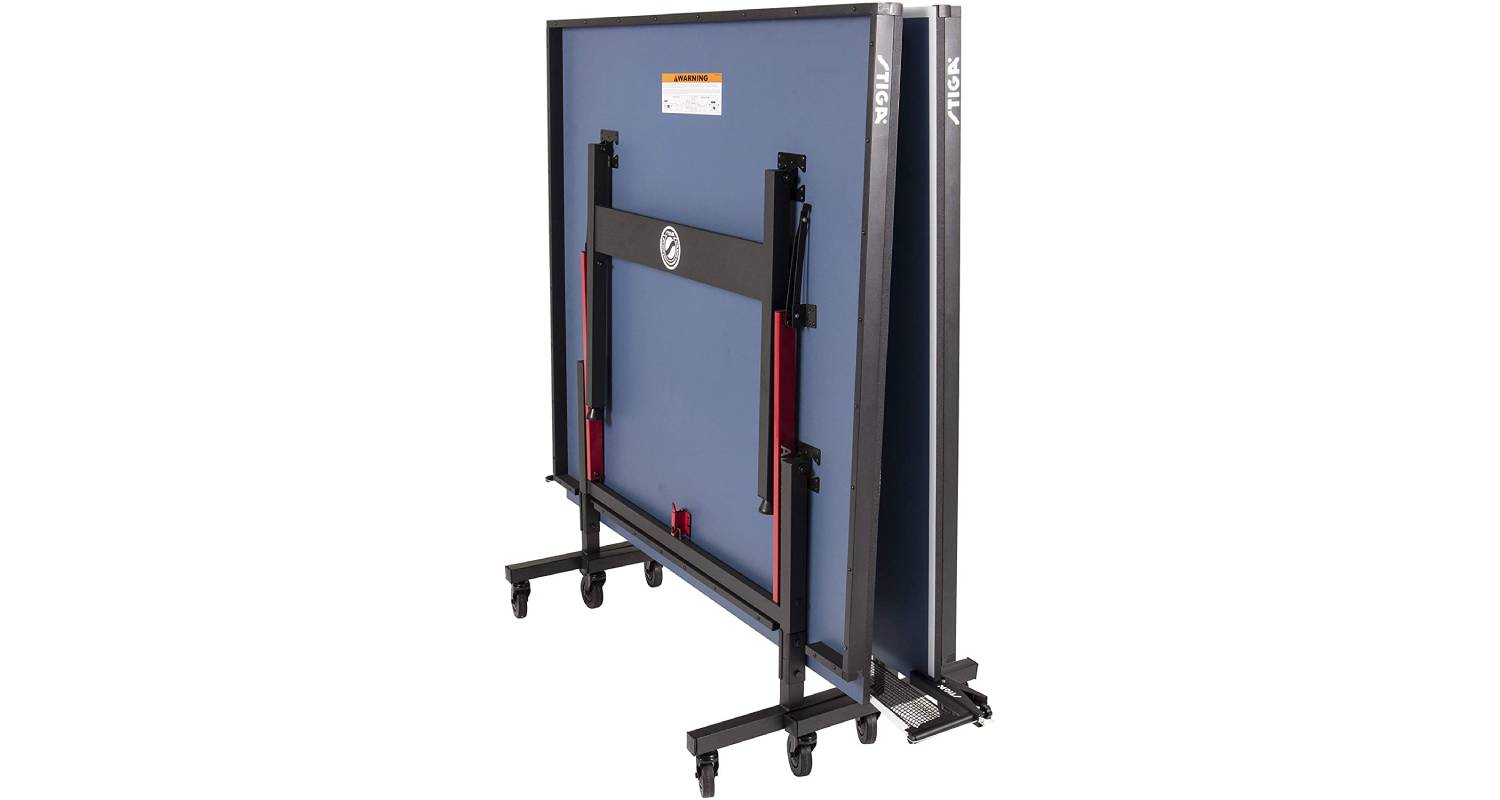 Consistent Bounce
The bounce surprised us by far, the most. 19mm is more than decent for amateur usage, it is what pros use, as well. It makes for the perfect table, especially because of the price and the bounce that it ensures.
Maximum Durability
If you invest in the STIGA Advantage Pro, you can be sure that this table is not going anywhere, anytime soon.
It has a strong frame, the engineering done by STIGA has been top-notch and this is a table for the ages. Your kids will grow up playing on this!
Bright Color
The STIGA Advantage Pro has a dark blue color that tends to stand out. It is bright and does not cause any kind of contrast with the ball. In addition to being a good purchase, it also passes the eye test as it looks like the traditional table made from regulation material and colors.
Pros
Swift Set-up
A pro-quality model, the Stiga Advantage Pro table comes with all the features that a hardcore ping pong player is looking for. The best quality of this massive table is that it won't take you long to put together its pieces. The swift set-up of this table allows you to put its pieces together in hardly ten minutes.
Easily Movable
When looking for a top-notch table, an important feature you all need to keep in mind is if it's easy to store and easy to move when needed. The convenience of the Stiga Advantage Pro table is that it is equipped with eight 4″ caster wheels making it easily moveable. Once it is in position, you can lock the wheels to ensure safety.
Easy to fold
Another great feature the Stiga Advantage Pro table has to offer is its quality to fold away. It easily splits into two halves when it is not needed. It is an important feature when considering safety and ease of use as the legs of the table automatically deploy back once you unfold it. Not to mention that it takes up less space in storage, too.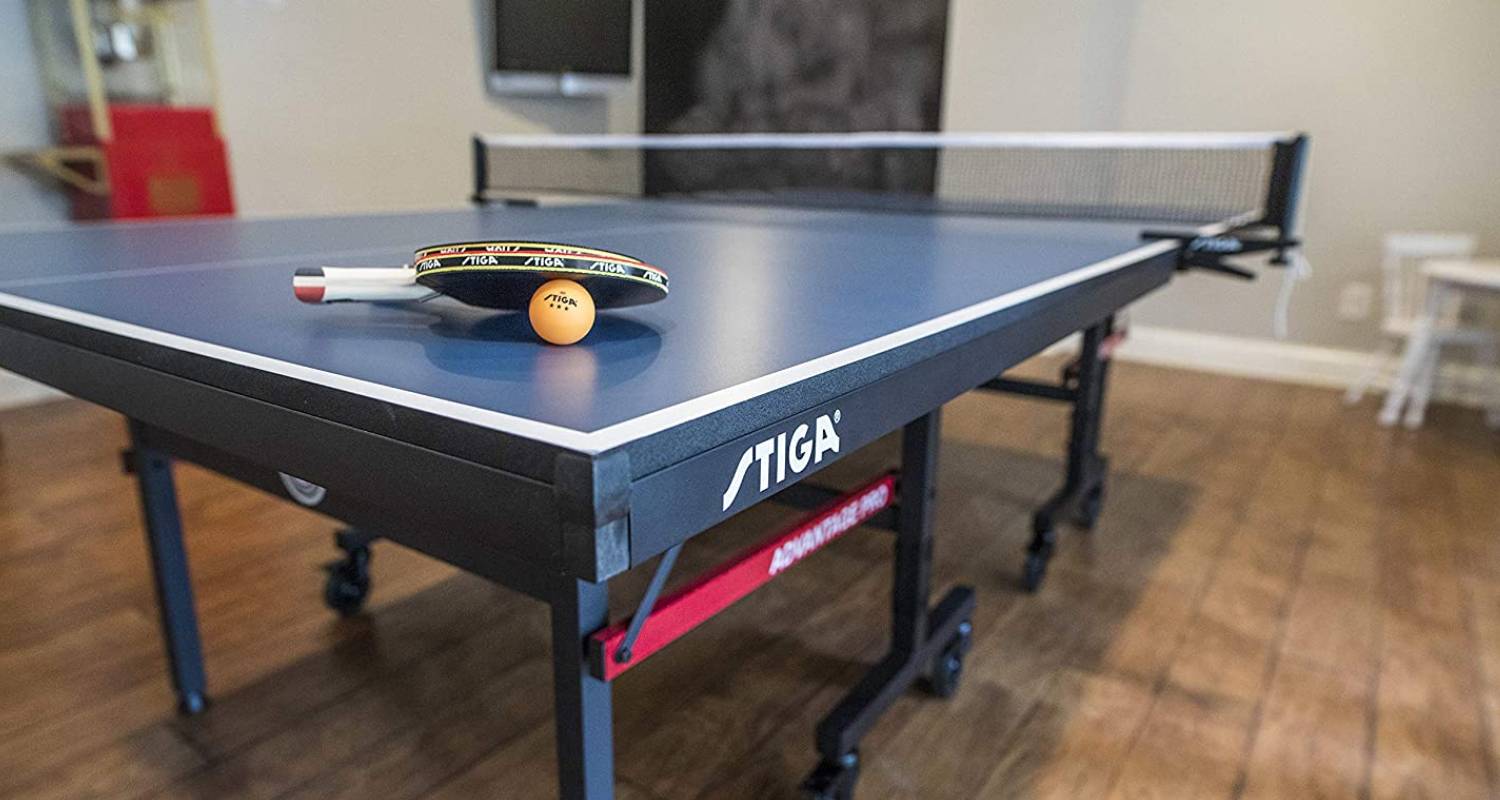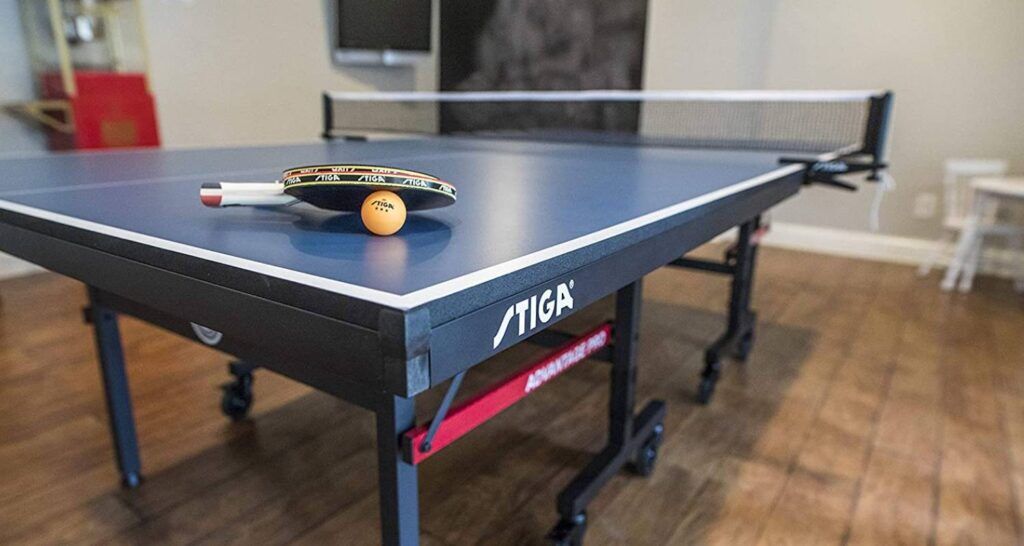 Playback Position
Due to its quality of splitting into two halves, the Stiga Advantage Pro Table enables you to practice on your own by turning one half of the table into a rebound wall. The playback mode allows you to play professionally.
Professional Net and Post
A professional-spec heavyweight clamp net and a post set is all you need to have with your Advantage Pro table. In this amount, the Stiga Advantage Pro Table offers you great quality post set and net.
Satisfactory Reviews
Due to its pro-quality, the Stiga Advantage Pro Table offers a lot of things in one. This is the reason why it is liked by many people all around the world, with its durability, exceptional bounce and quick assembly.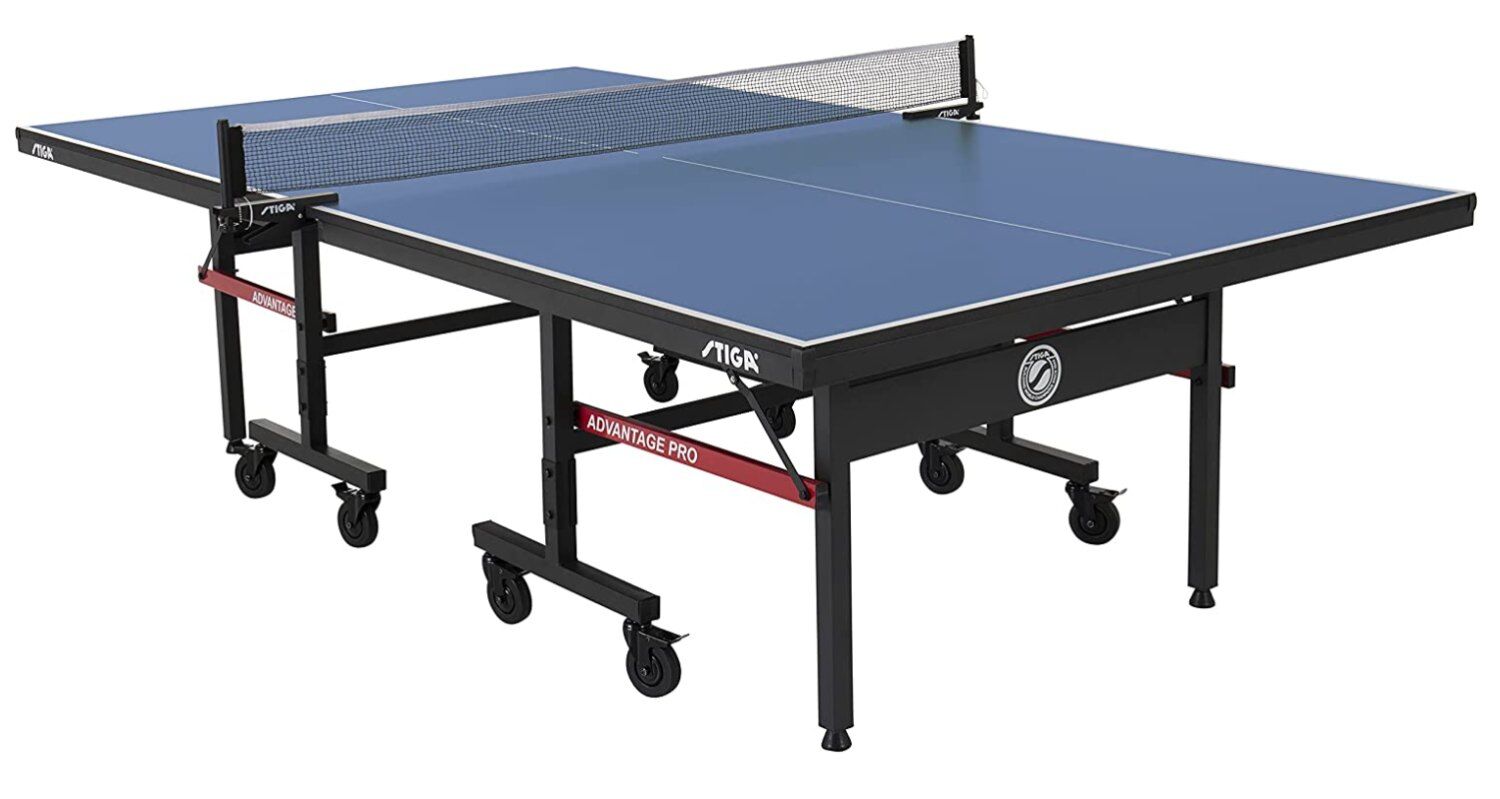 Cons
Big Budget
STIGA Advantage Pro comes with so many reasons to buy that it becomes fairly expensive. That is the one of the biggest drawbacks of the table.
Really (!!) Heavy
The table is also quite heavy and if not for its 4" wheels, it would have been a nightmare for portability and storage.
Our Rating: 4.8/5
Purely because STIGA Advantage Pro justifies the price tag and perhaps should cost more than it does. The bounce is highly consistent, the table is sturdy enough, and setting up takes barely 10 minutes. Not to mention how well it plays and the high-quality net that assembles with ease. It is a table for the ages and we love it!
Keep in Mind
Do remember that the STIGA Advantage series have three tables. They are as following: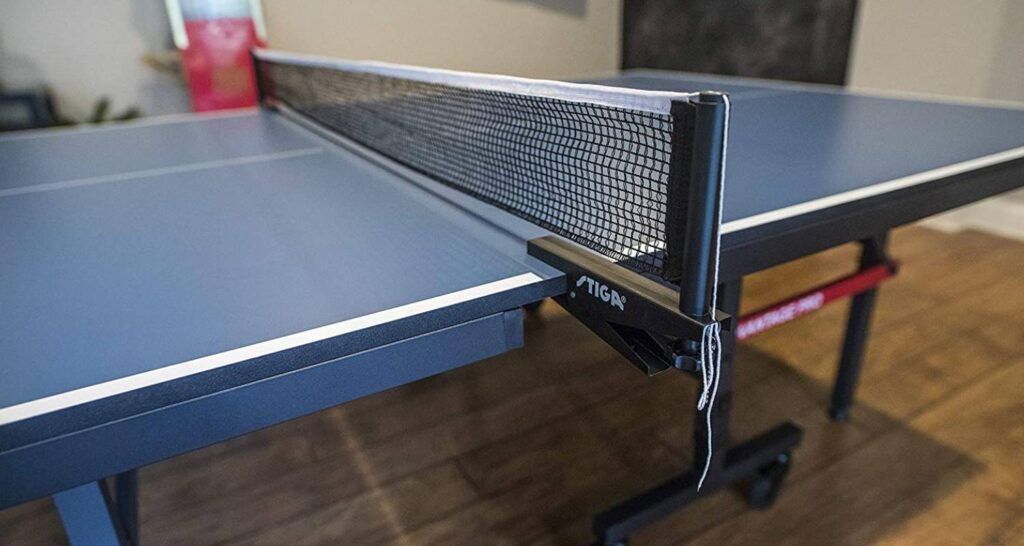 1) STIGA Advantage Lite Recreational Indoor
This is the cheapest and the lowest quality of table in the STIGA Advantage series. It has a very thin table top that is certainly not ideal for serious playing. The table is still a sturdy and decent option for recreational usage, as it was intended.
2) STIGA Advantage Competition Ready
This is the ideal product for amateur and serious players. It has a table thickness of 16mm and a very decent frame. It is lighter as compared to the Pro but it still is heavier as compared to other tables that have similar qualities.
3) STIGA Advantage Pro Tournament-Quality
This is the top-end product of the Advantage series. The Pro is the table we are reviewing and it is an elite product with 19mm thickness and frame with understudy that will outlive you, possibly.
It also is the most expensive among the three tables and it is expensive because of the right reasons, as we have discussed here.
FAQ
How to assemble a STIGA Advantage Pro ping pong table?
Assembling the STIGA Advantage Pro is fairly easy, as it comes 95% preassembled in the box.
It comes in two separate halves, which are to be assembled individually. Once they are assembled, they are easy to roll and join together. The folding and unfolding of the table are a one-man job and the net is easy to strap on.
How much does the STIGA Advantage Pro Table Tennis Table weigh?
The STIGA Advantage Pro table is quite heavy. As it has a strong frame and tough understudy, it is hardly a surprise that the table weighs 211lbs or 95 Kgs.
What is the difference between the STIGA Advantage Pro and the STIGA Triumph table?
The STIGA Advantage Pro is the better option when compared to the STIGA Triumph table. This is due to a number of things that include the table thickness which is 19mm for the Advantage Pro and barely 16mm for the STIGA Triumph.
The STIGA Triumph also requires more time to set up when compares to the Advantage Pro, however, the Triumph is the cheaper option, as well.
STIGA Advantage Pro versus the ST3100
The ST3100 is one of the best products of STIGA. It is a well-engineered product and comes with large wheels that allow for easier rolling, however, setting it up can be a nightmare.
There is not much difference in how the tables play out, as both tables have the same amount of table thickness, but in some cases the Advantage Pro fares better, for example the ease with which the net assembles. As compared to the ST3100, the Advantage Pro has a more professional look, too.
Conclusion
There is no doubt that the STIGA Advantage Pro is a top-quality table which is not only to set-up but also one you will not need to upgrade on, for a long, long time! The wheels on the table are 4 inches thick, which means that the table can be moved around the house with ease and comes with great portability.
The only problem we see in the table is how heavy it is, but the playback experience has convinced us that you only need to set it up once and enjoy until you have friends over, who can help you in setting it up for an evening full of ping pong fun!
Compare the Advantage Pro against other STIGA tables to see how it stacks up.