Want an indoor ping pong table used by champions? Stiga Optimum 30 has been used in many World Championships including the Olympics.
Aimed at intermediate to advanced players, it is a tournament quality table that promises to deliver a professional feel. It has also managed to get the attention of pros and is one of the most top-rated ping pong tables.
One standalone feature of this ping pong table is the 30 mm thick top, as it is the thickest surface available in the market right now. It has really good reviews and customers have reported the table to be durable with a tournament-quality gaming experience.
This ping pong table is ITTF-approved, which might explain the hype. Let's look at it in detail and see what makes it so special.
Stiga Optimum 30 Product Specifications
Price: $$$
Rating: 4.8/5.0
Type: Indoors
Color: Dark Blue
Weight: 250 lbs /70 kgs (approximately)
Dimensions (after setup): 108 x 60 x 30 inches (length x width x height)
Thickness: 30mm
Top Material: MDF
Base Material: Metal
Accessories: Net and Post Set, Nuts and Bolts
Assembly Time: 1 ½ to 2 hours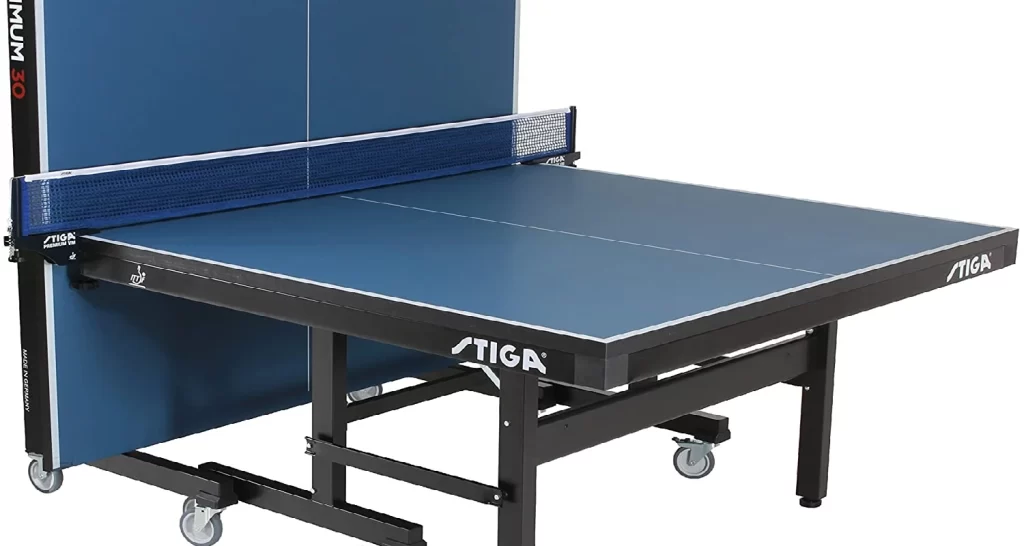 What to Expect?
STIGA is a German table tennis equipment manufacturer and is one of the most famous companies when it comes to ping pong tables.
Stiga Optimum 30 is no exception and is used at famous clubs all around the US due to its optimum bounce, an ideal amount of friction, and the response to spin.
It is widely considered a supreme indoor table and has garnered significant attention. We expect this table to live up to its reputation.
Construction
The most attractive feature of Stiga Optimum 30 is the top. The 30 mm MDF top is pre-treated and multiple coats of varnish are applied to ensure an even bounce and ideal friction.
This top is supported by a superbly heavy-duty frame and robust legs. The 2⅖ and 1⅗ legs have built-in levelers so that the table height can be adjusted.
Although this is a very heavy table, Stiga made things easy by using 4-inch heavy-duty ball-bearing caster wheels. They can easily glide and roll over uneven indoor surfaces and have locking systems to keep the ping pong table stable during play or storage.
Another very convenient aspect that helps in storage and transportation is the fact that this ping pong table has two individual halves which can be moved completely independently. You can also enjoy playback mode with these foldable halves.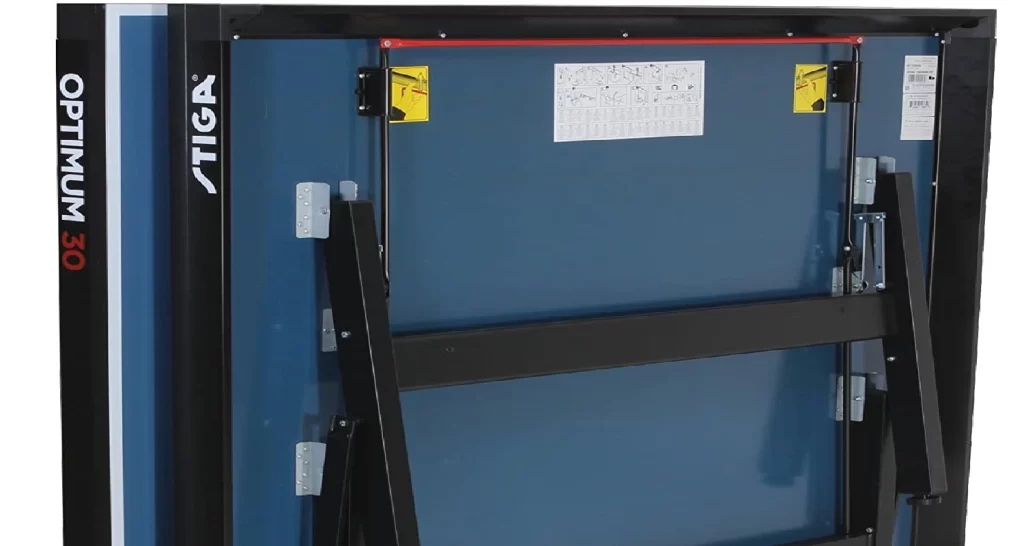 Pros
Playability
The consistent ball rebound that Stiga Optimum 30 offers is unparalleled. Even though the table consists of two parts, the connection is almost seamless and doesn't affect the quality of the game at all.
Predictable trajectory and superb response to spin allow a fantastic playing experience.
Durability
Stiga table tennis tables are known for being durable and sturdy. These tables will last you decades and Optimum 30 is no different. This is a heavy-duty table, designed to sustain damage due to daily wear and tear.
It won't budge during an offensive play and would give you a perfect tournament-level feel.
Response to Spin and Bounce
Most indoor tables have a maximum thickness of 25mm but Stiga stands out. When it comes to ping pong tables more is more and we all know thickness means a quality bounce.
Ping pong balls react fantastically and spin is very effective on this table. It also responds well to spin and is one the best table tennis tables in this price range.
Premium Net and Post Set
When a company offers a net and post set with the table, the net will likely be low-quality and you would have to replace it sooner or later.
The Stiga Optimum 30, however, comes with a premium VM net and post set which is ITTF approved. Its height and tension are also adjustable. The perfectly aligned high-quality net makes the playing experience even better.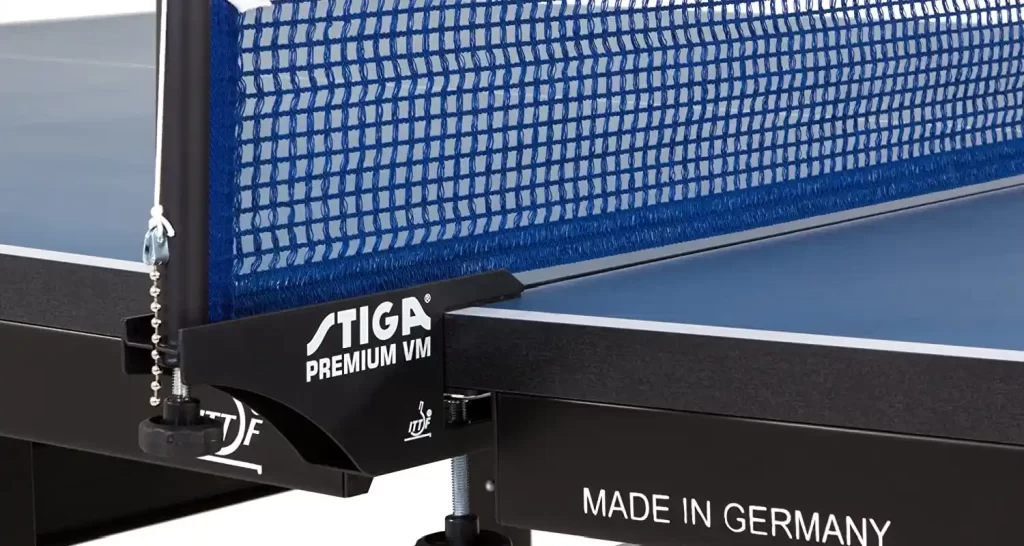 Cons
Long Assembly Time
In a world of JOOLA which has heavy-duty table tennis tables that come 95% pre-assembled, this ping pong table's assembly time is slightly disappointing. It is a very heavy table too, so assembly is not an easy process.
Stiga should have considered preassembled legs which might have made the process easy. You have to attach some parts including wheels and legs and the whole process takes 1 to 2 hours, which can be very off-putting for some people.
Lack of Convenience Features
Competition has upgraded their game when it comes to ping pong tables. Most Cornilleau tables, for example, come with added features such as cup holders, ball dispensers, and storage compartments.
With a high price tag, Stiga should also introduce such features, since consumers are paying a hefty price for an indoor table.
Another significant problem that the customers have pointed out involved an important component. Although this table screams heavy-duty, the pieces which are used to align the table top are made of plastic.
The rest of the table may last you decades but these pieces are bound to fall apart sooner or later. We wish Stiga would have used better quality material here.
Our Rating: 4.8/5.0
If you are a serious player looking for a professional-level indoor ping pong table to train on, then Stiga Optimum 30 would be among your best choices. It is priced the same as other brands such as JOOLA and Butterfly but offers a 30mm thick table top which is simply priceless.
The table offers an incredible playing experience. However, if you are looking for a recreational table then this one is not for you, as it's designed for professionals.
Conclusion
Although it is light on convenience features, Stiga Optimum 30 is a high-end tournament quality table. It is among the best consumer ping pong tables with a sturdy frame and professional feel.
The ITTF approval attests to the table's quality and we are also impressed. This ping pong table is durable, reliable, and sturdy and yet offers a fantastic playing experience. It is praised by professionals all over the world and has graced many championships.
We highly recommend this table if you are looking for the thickest yet premium quality indoor table.