A good cover like the STIGA premium ping pong table cover is a must to extend the lifespan of your table and protect it against the likes of moisture, scratches, dust, warping, and what not. It's particularly handy in keeping your table tennis table durable against all kinds of weather conditions.
But it's not always easy to find a suitable cover to insulate your ping pong table from the potential wear and tear. There are so many products available in the market that you always run the risk of being confused when you have to pick one.
Having said that, we have recently tested the STIGA premium ping pong table cover that's marketed as suitable for both indoor and outdoor use. Let's dive in and see what it has in store for you.
STIGA Premium Ping Pong Table Cover Specification
Our Rating: 4.3/5.0
Price: $$
Type: Indoors and Outdoors
Item Dimensions: 11.75 x 9 x 3.25, L x W x H (inches)
Item Weight: 4.19 Pounds
Material: Polyester
Warranty: 90 Days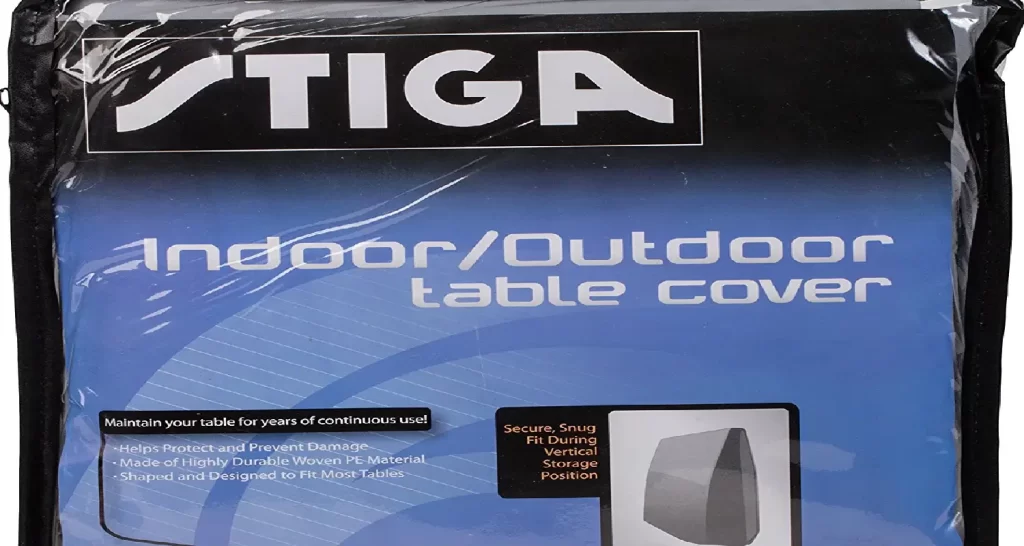 What to Expect?
Since 1944, STIGA has made its name as a renowned leader in table tennis equipment. The brand has sponsored international table tennis games and is known for creating top-notch products.
Here we share our experience with the STIGA premium ping pong table cover. We have listed down some key takeaways so that you know what to expect from this product.
Designed for Most Sizes (In Folded Position)
STIGA premium ping pong table cover is crafted to fit most ping pong tables in the storage position. The elastic hems that come along with the cover offer a stable fit that works for regulation 9 x 5 tables that are folded in a storage position.
Premium Material
No player, amateur or pro, would want to spend money on a cover that will tear off easily. Created with woven polyethylene (PE) material, this cover is sure to last at least a year even in harsh outdoor conditions.
Excellent Protection from Sunlight, Dust, and Scratches
STIGA premium ping pong table cover features a phosphorous coating that helps protect it from sunlight, dirt, and scratches. The cover is heavy, almost 5 pounds, so you don't have to worry about sun fading or dust.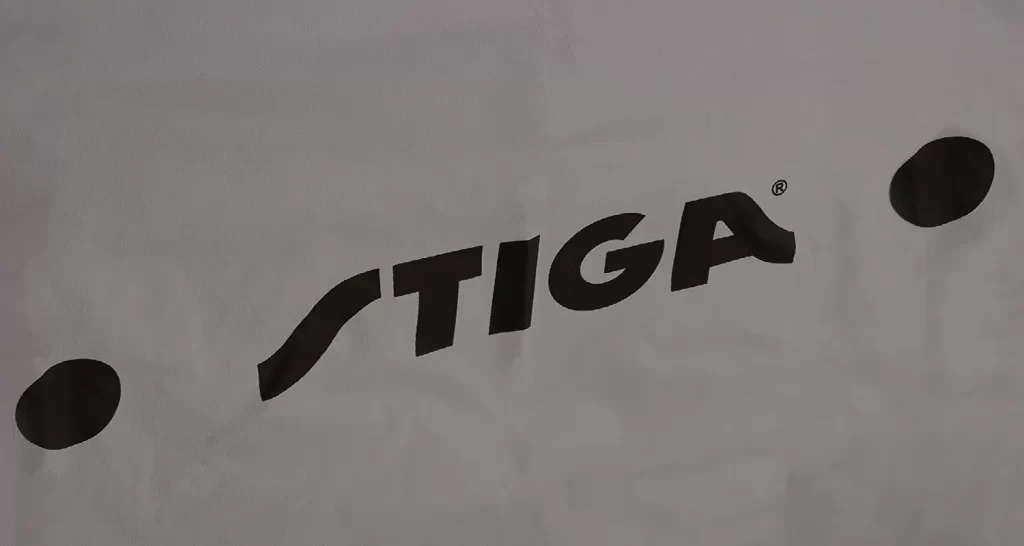 Pros
Suitable for Both Indoor and Outdoor
Usually, ping pong table covers are either suited for an outdoor or an indoor environment and you might have to buy two separate ones for each setting.
STIGA premium ping pong table cover is suitable for all environments and can be used for both heavy-duty protection from sunlight and minor protection from dust.
Fits Most Tables in Storage Positions
When trying this table cover, the most important thing we were focused on was the size. STIGA premium ping pong table cover is made to fit most sizes of tables when folded. The cover has elastic hems that you can use to make necessary adjustments.
Value for Money
For a cover that is suitable for both indoor and outdoor environments, we think STIGA premium ping pong table cover is a good value for the money. It features good material and fits even a regulation-size table.
Most good quality covers, especially when bought from well-known brands, usually cost doubt the price of this one.
Convenient to Use and Store
This cover is very easy to use as it takes seconds to put on and off. Just use the elastic hems to secure it on your table and when taking it off, pull it gently and store it. It is also easily foldable and provides compact storage.
Cons
Essential Accessories and not Included
Most ping pong tables come with a storage bag these days. We were a bit disappointed to see that STIGA didn't include a storage bag for this. On top of that, the cover also doesn't come with clips to hold it firmly down in case of wind.
Fits Table in Storage Position Only
It can be a nuisance to fold the table every time after playing. Most players would prefer a cover that could be used for a table in playing position as well. This cover, however, fits tables only when they are in a vertical storage position.
Not Waterproof
Unlike the product description, STIGA premium ping pong table cover is not waterproof, it is only water resistant.
Many customers have complained that water seeps through the cover in cases of extreme rain. If left too long in the water, the cover won't be able to protect your table from warping and rust caused by moisture.
Does not give a secure fit
STIGA premium ping pong table cover can easily blow off in the wind as there is nothing to secure it firmly to the table. We think that STIGA should have used Velcro straps so that one could secure the cover at the bottom of the table.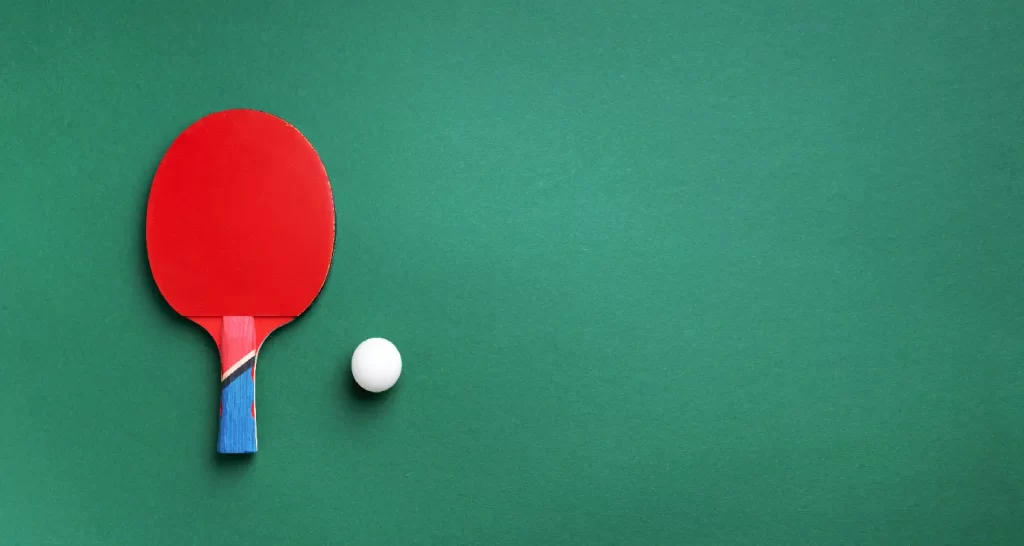 Our Rating: 4.3/5.0
Overall, the STIGA premium ping pong table cover is a good option for ping-pong lovers to protect their table for a long time.
It is specifically designed for both outdoor and indoor tables in a storage position and provides good protection. With convenient storage and suitable dimensions, the cover features a good-quality material and will last a long time.
FAQs
Do you need a cover for an outdoor tennis table?
If you are going to keep your table outdoors, a durable and waterproof table cover is recommended to keep it safe from any water or sun damage. No matter how weather-resistant your table seems, it can get damaged outside without a proper cover.
Is this cover waterproof?
STIGA premium ping pong table cover is not waterproof. It is not recommended to store the table outside for a long time in the rain and use this for protection.
Will it fit both sides of the table?
It will fit perfectly on the table when it is folded up. It nicely covers the table in a folded position and is recommended to use that way.
Conclusion
The STIGA premium ping pong table cover is a good purchase if you want an affordable cover that works for both indoor and outdoor tables. It is crafted wide enough to perfectly envelop the table in a vertical position.
Some downsides of this cover are the fact that it only fits in a folded position, is not waterproof, and doesn't come with additional accessories.