When your table tennis table is not used, it is important to keep it covered with a ping pong table cover to help increase its lifespan. A ping-pong table can get damaged by harsh weather conditions, moisture or any other substance that could "vandalize" the surface.
Regular cleaning and the use of durable and reliable table covers is one way to ensure that your table is protected.
The use of a table cover will not only protect it; it is also going to keep your table clean and will help minimize moisture absorption. However, it is important to choose the right kind suited to your purpose. This complete guide is going to help you decide which are the best table covers according to your need.
What is a Ping Pong Cover?
A Ping Pong table cover is a covering made of polyester, vinyl or PVC. It is designed to protect your table from sun damage or moisture. A suitable cover will help increase the life of your table by keeping it in good shape by not only protecting it but also by keeping it clean and dust-free.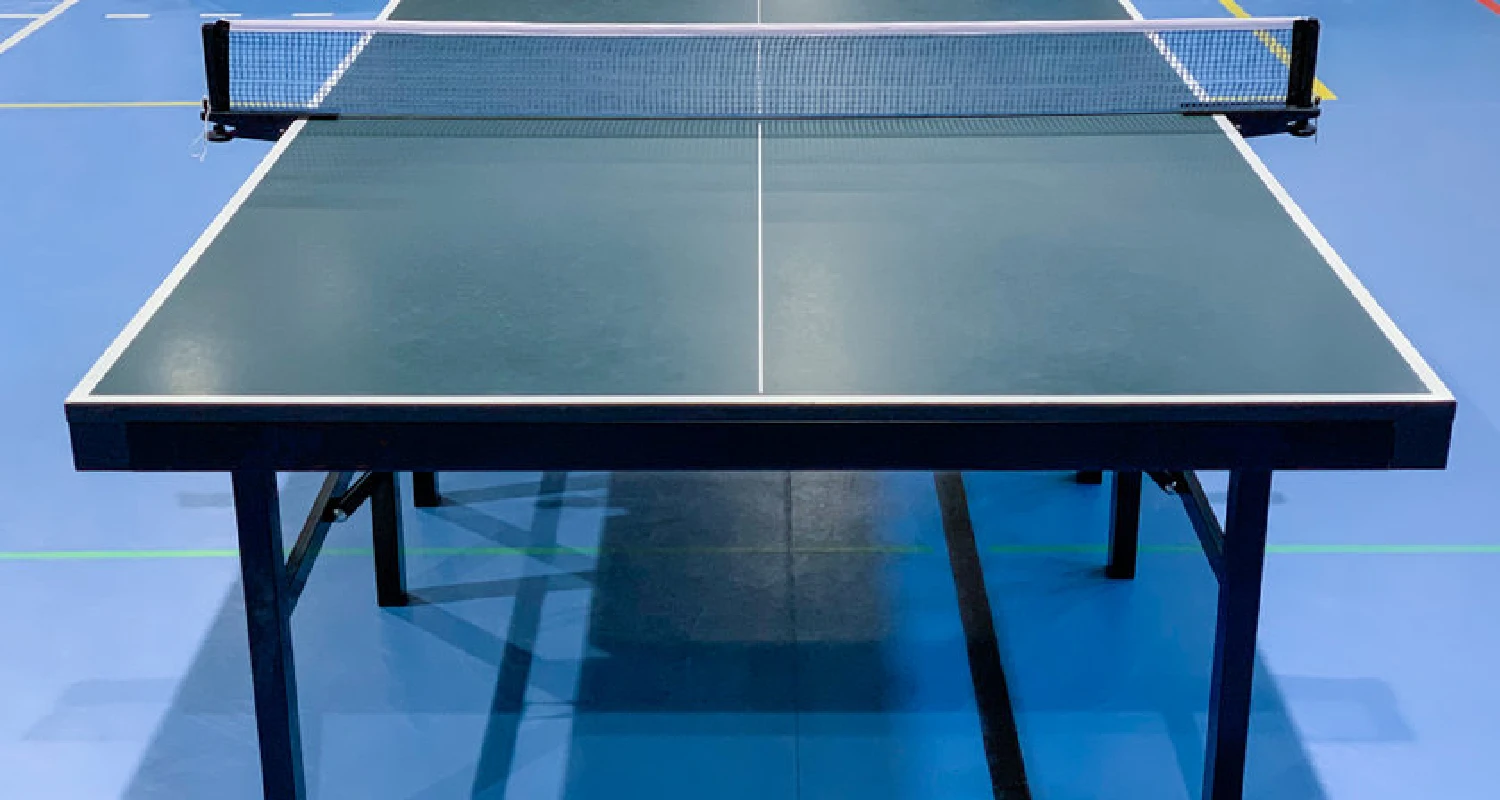 Why does Your Table Need to be Covered?
A good-quality Ping Pong table will help protect your table from damage, even in the worst weather conditions. It is important to consider what is a threat to the longevity of your table:
Water can cause the surface to have blisters and to warp. Metal frame can also get rusted due to moisture in air or direct water.
UV light can also warp the surface of the table tennis table. Wind might carry dust, other unidentified objects (not green skinned with bulging eyes), pollen and debris. All these substances might scratch and discolor your table, and consequently damage its surface.
Bird droppings can cause the surface of a table-tennis gear to warp, while of course dirtying it.
All of these can cause irreparable damage to your table. Even a small blister or warped spot can ruin your gaming experience and therefore leave your table unusable.
This is where covers come to save the day. The right cover will help keep the surface of your table smooth by protecting it from damage, dirt and discoloration.
A Good Table Cover: What to Look For?
It is important to know about the right material, size and dimension, price and even removal in order to know how to find the best one. Looking closely at all these aspects is surely going to help you decide which table cover best suits your need.
It's always easier and more practical to choose covers from the brand/s from where you have gotten your table. The same brand that manufactured your table is likely to have cover that fits perfectly, and suits your needs best.
Material
The selection of right material is also an important factor while choosing your cover. For instance, if your table is placed outdoors, its important to look for water proof, weather resistant and UV resistant material.
Vinyl covers are known to have all of these characteristics. Therefore, for an outdoors table, covers with vinyl material is the most suitable. If you are looking for a durable material, polyester lining is recommended. It adds more stability to the cover, thereby protecting the table from damage.
If your table is stored in a standing position, there are covers available of more sturdy material such as plastic and wood. These provide ultimate protection; keeping your table safe from harsh weather and even nicks in paint and scratches.
It is important to look for a well-built cover, whether you have stored the table indoors or outdoors. A good ping pong table cover can stand up to really harsh weather conditions, moisture and even dirt.
Correct Size & Dimension
The size of your Ping Pong table cover depends on your table. It is useful to look for table covers that have pockets to protect the table's legs as well. This feature is also going to protect your table from a sudden gust of wind.
Most of the designs for table covers in the market are suitable to foldable/collapsible tables. It is important to keep this in mind while choosing your cover.
Moreover, because there is a variety of table sizes/dimensions available, it might be difficult to find the perfect size. Therefore, it's always important to have the dimensions of your table in mind, with proper research to get what you want.
Removal
A zipper makes it easier for the user to remove the cover. It also ensures that the table is properly covered. This additional feature creates ease for the user, as it becomes easier to cover and uncover the table.
Additional buckles or straps, that not only help secure the table but also make it easier for the user to take of the cover, must also be considered while purchasing the cover.
Price
Of course, one wants a good quality object in the least possible price. However, as with all good things, a durable, sturdy and reliable cover doesn't come cheap. Therefore, its recommended to invest in a good quality table cover.
Ping Pong tables are not cheap, and if not protected, it can cost you a lot. However, you can always search for good quality covers that are at a good price, with warranty. Remember! It's important to research.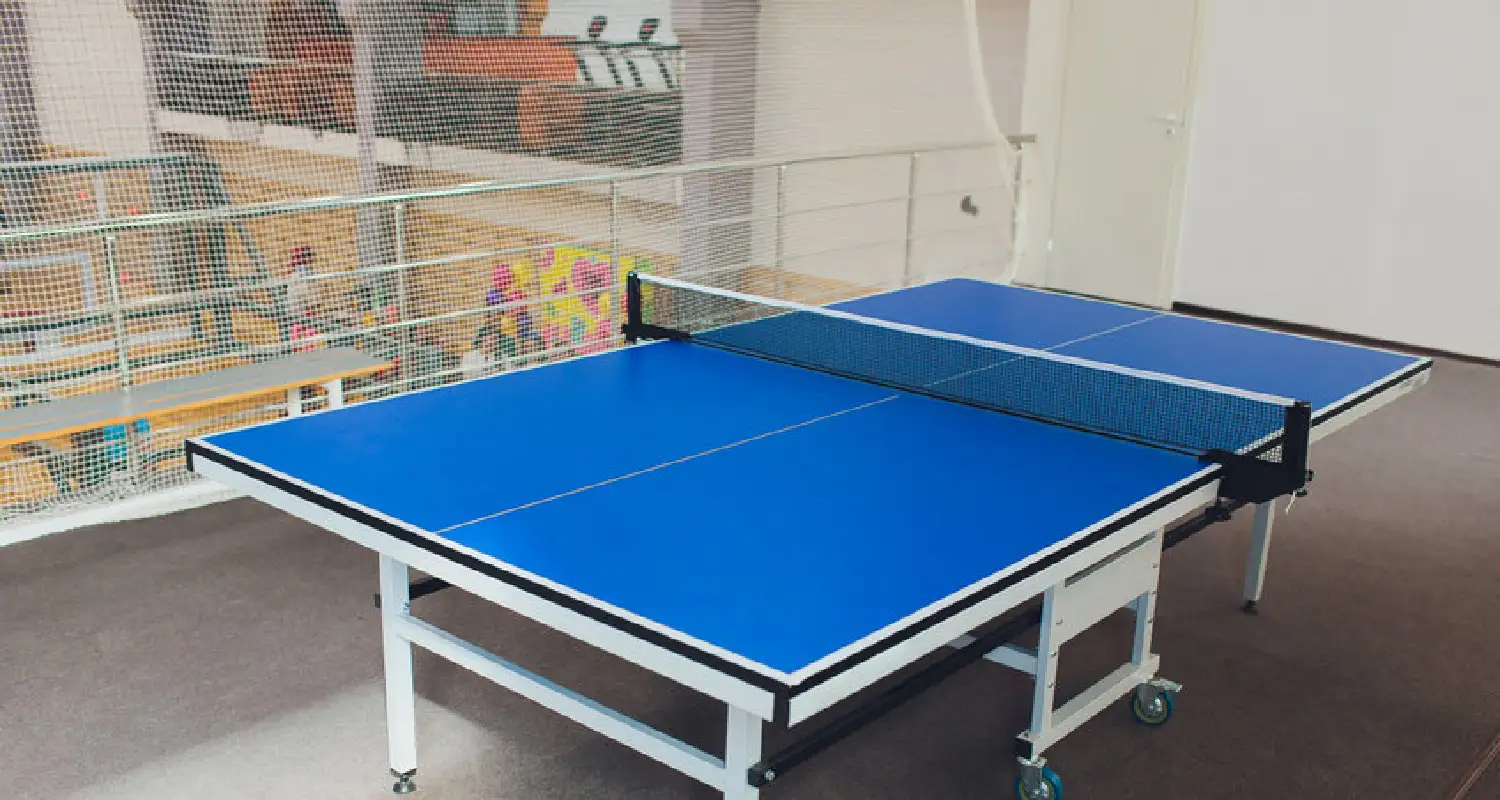 Best Ping Pong Table Covers
Here is a brief list of the best available covers in the market. We have put together reviews of some of our most favorite covers. It is important to know about the dimension/size and your need before diving into this guide.
Ping Pong Table Covers for Pool Tables
Yes! It is fairly easy and practical to convert your pool table into a Ping Pong table. There are several conversion tops available that will do the job.
This multipurpose conversion top doesn't only transform your pool table, but also converts any appropriately sized table—including dining table, billiard or picnic table—into a regulation-sized Ping Pong table.
This top is easy to assemble, as the conversion takes minutes. There are foam pads which act like a protective cushion between the table and the top. On top of all, it's a JOOLA product. The brand name itself speaks volume to the reliability of the product.
This conversion top comes with a three years warranty, and converts your pool table into a Ping Pong table. It also includes foam pads which protect your pool table. The top is divided into two foldables halves, which lock together to prevent sliding or skidding while you are playing.
This conversion top is tournament sized, suitable for official regulation play. It supports multiplayer game due to its big size. This comes with net and all the necessary accessories to fix it on the pool table including clamps and foam pads.
One of the biggest advantages of this table is that it is divided into four pieces instead of the standard two. This makes it easier for the user to store the top and therefore save space. Foldable size also makes it more portable.
Indoor Table Covers
Indoor tables are less susceptible to weather damage, but more prone to moisture and mold. It is important to see what fits best to your need and what area you must target, i-e whether you need protection from dirt, moisture or mold.
This dual function tables covers your table in flat and upright position. It has enough room to store your net while it is still attached to the table. Made of lightweight but sturdy nylon fabric, this cover is easy to pull off and on.
This cover is also water resistant and protects your table from scratches and dust. Velcro edges keep the cover in place, and ensure easy closure.
This woven polyester cover is perfect for your indoor table. Made for a table in upright position, this cover is water-repellent and water resistant. It features zips and buckles that make it handy. Air flaps prevent air condensation and has a warranty of three years.
The important aspect of this cover is that it looks very aesthetic and sophisticated, in tune with your interior. The design is durable and resistant to damage yet handy. It is a bit pricy, therefore ideal for someone who is looking for a more aesthetic piece.
This is a durable and sturdy cover that is dust-proof, most suitable for indoor tables. The material is also waterproof, thereby giving maximum protection. Made for folding positioned tables.
The table is wind resistant as well, which means it has a drawstring design and straps that tighten the cover on the table's grills. This feature allows a secure fit and your cover will not be blown by wind.
Outdoor Table Covers
Made of polyester, this cover is specifically designed to protect your outdoors tables. The good things about this cover is that your table doesn't have to be in standing position for this cover, as it protects your table in playing mode or storage as well.
This also includes different kinds of fasteners and clamps so that the cover is secure and fitted. It also comes with a storage bag to store the cover when not used.
This is one of the ultimate pieces that offers the best features in a very reasonable price. It is a PVC cover, that is UV resistant, lined with weatherproof fabric which provides protection against rain, dirt and sunlight. It is ideal if your table is placed outdoors, as it is waterproof.
It features tough corners that make it durable and air vent to allow heat and moisture to escape. Its design makes it convenient to cover and uncover the table in no time. The cover fits a table only its folded position.
CoverMates is one manufacturing company that specializes in outdoor covers for tables. They make heavy duty and sturdy covers, designed specifically to protect your table from dirt and harsh weather. They come in four different variations to suit your budget and need.
The standard weatherproof outdoor cover comes in two variations, one for flat table and one for a table that is stored in an upright position. This cover is affordable and will not weigh on your pocket.
However, if you are looking for something more heavy duty, (and don't have to worry about budget!) their elite weatherproof covers are a good choice.
Standard covers are available in black and elite in khaki, both have a two years and three years warranty respectively. Both variations come with buckles and straps to hold the covers in place, and are weather resistant. One point of consideration is the fact that all CoverMates covers are water resistant not waterproof.
Indoor/Outdoor Table Covers
Yes, there are dual function covers in the market that can be used on both outdoor and indoor placed tables. It saves you a lot of money of you are someone who constantly shifts their table.
This dual function cover is weather resistant and water proof. It is made for tables in a storage position and can be used for both indoor and outdoor tables. Made from oxford fabric (which is UV cured), the cover has air pockets to ensure circulation of air and prevent condensation.
This cover also has bottom buckles to ensure that it fits perfectly and stops the cover from blowing over. The cover is sturdy, yet light-weight to survive harsh weather conditions but easy to manage.
Made of high-quality woven PE material, this is also a dual function cover. It is particularly designed to fit most tables in an upright position. This comes with a one-year manufacturer warranty. The material is lightweight thus making it easy to put on and off.
This indoor/outdoor cover is designed to cover a table which is in a playing/flat position. This is also water resistant, weatherproof and UV resistant. It features buckle straps which are fixed in the legs.
The cover also comes with two pockets for Ping Pong paddles and balls. Also features a compression bag so that the cover is stored without taking much space.
If you are looking for a heavy-duty cover, that provides ultimate protection, Kettler's dual function cover is one of the best pieces available. It is made for upright/storage position. Made of polyester and PVC, this cover provides superior water-proofing and extra protection from UV rays.
This cover also features vent flaps to allow air flow. The zipper makes it easier to pull on and off the cover. The best feature of this cover is that it is made of a sturdy material and stitched in such a way that even the cover itself is tear-resistant.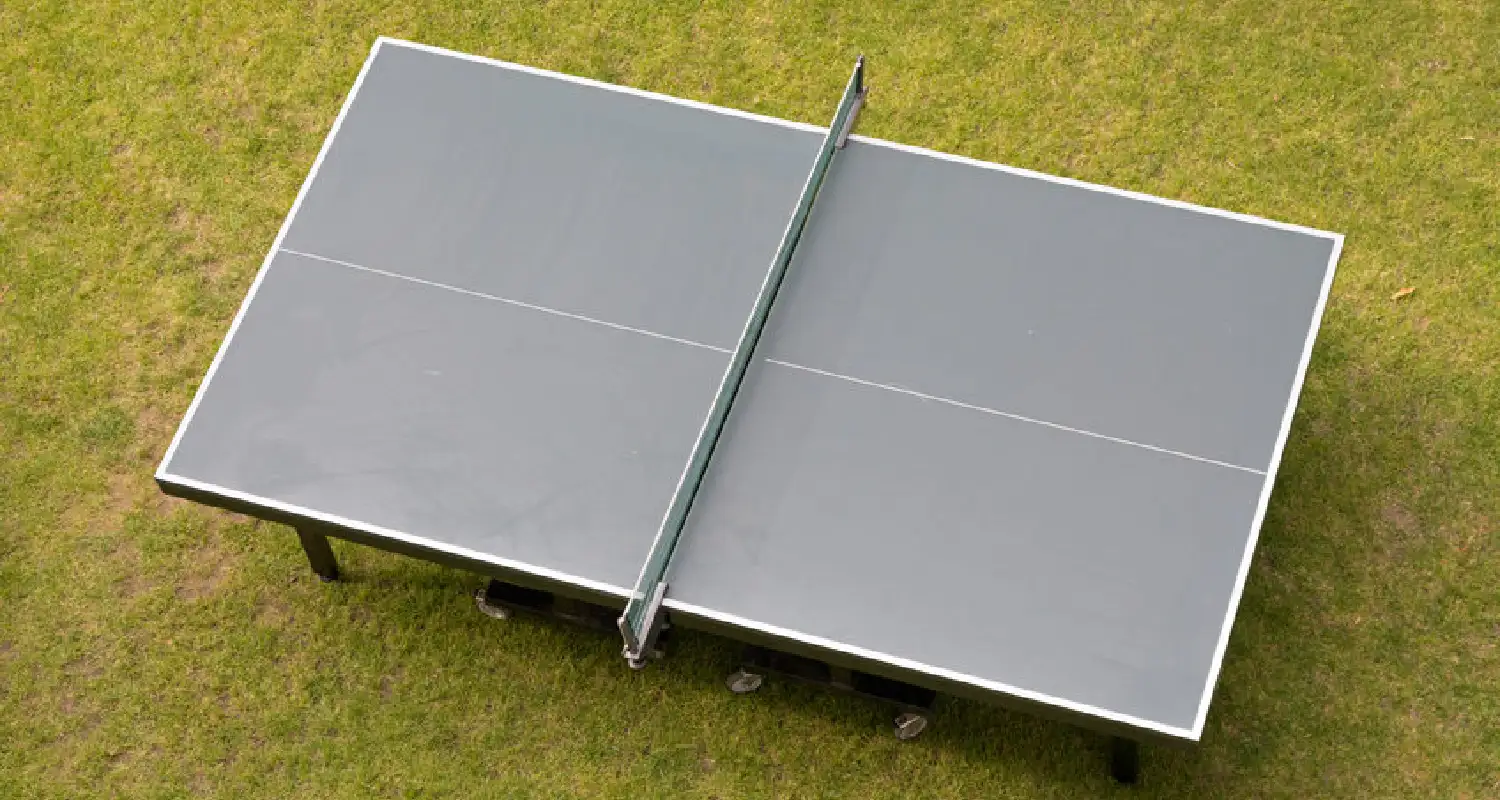 Frequently Asked Questions
What is the difference between being water-resistant and waterproof?
Water resistant means that the cover will resist water absorption but is not completely immune to it. Any accumulated water is likely to penetrate the cover. It is suggested to remove any water or ice collected over the cover, in order to avoid the risk of water penetration. Water proof means completely impervious to water penetration.
Is it possible to have a design that fits all the possible variations: upright/foldable/flat table?
No, for the most part you should look for a cover specifically designed for what you need. There are very few one size fits all table covers that fit your table whether it is in playing position of stored, but there are specific covers for foldable tables that will not fit those which do not fold.
Does color matter while choosing a cover?
Since certain shades absorb heat and others don't, color is an important consideration while selecting a table cover. For example, for a table that is placed outdoors, it's recommended to get a lighter shade for your table cover.
Light shades absorb less heat, however darker ones build it up, which might cause damage to the table.
Is it necessary to get table tennis cover from well-known brands?
Well-known brands have a market and they have to maintain their position. Therefore, its highly likely that these brands would come up with ways to ensure maximum protection of your table.
Therefore, it is recommended to invest in a good-quality brand, as it is practical and wise.
Conclusion
Investing in a good table cover is wise, as Ping Pong tables are not cheap and susceptible to damage. Anything from dirt to harsh weather conditions can destroy the surface of your table, and finding the right kind of cover will help increase the lifespan of your table.
It's important t decides which cover suits best your needs as there are a variety of covers available in the market. We would also recommend investing in a high-quality fabric, that would stay put itself and also protect the table from possible damage, scratches and even nicks in paint.